Don't let the name of the delicious rustic rhubarb dessert put you off. Rhubarb Grunt is a very easy, relaxed dessert with sweetened, cooked rhubarb covered in a golden cakey topping! Can be made gluten-free or with regular baking mix.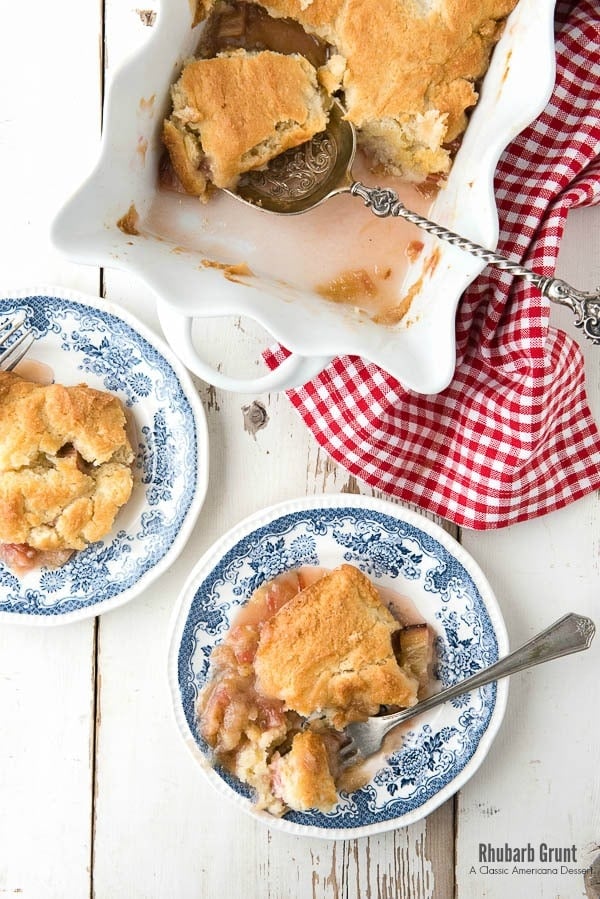 This classic dessert recipe was originally published in 2016 and has been updated in 2018!
I really need to get something off my chest. I love the English language. I love waxing poetic and tweaking word use to convey an meaning untraditional to the original meaning.
There are some words however that I just don't like. I don't like to say them. I don't like how they sound. I don't like what they mentally conjure for me. This dislike diverts me from a freewheeling lexicon to a bit of a dead stop. I really don't like these words in my mouth let alone coming out of it. I guess that makes me a selective 'word prude'.
Despite the mouthwatering quality of this classic rhubarb dessert, Rhubarb Grunt, is not a name I relish saying….though I do love to eat it!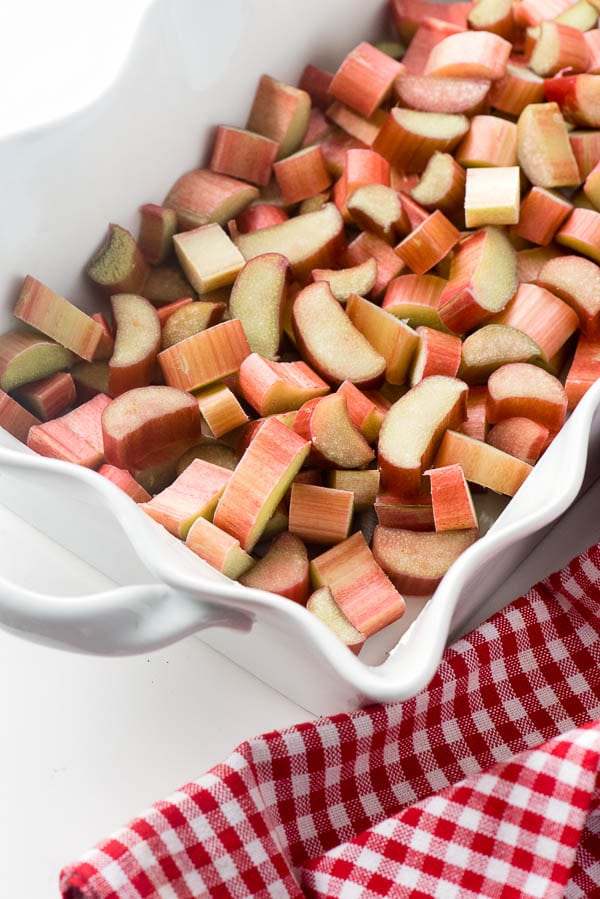 One such cringey word is in the title of this recipe. And it's not 'rhubarb'. I found myself swallowing the word when telling my family about the dessert I made. They looked quizzically not able to understand my answer. I'd respond with 'it's a rhubarb dessert'. 'Yay, Mom, but what KIND of rhubarb dessert?'.
I finally fell on my linguistic sword and blurted out 'it's a Rhubarb Grunt!' They again looked at me like I'm gone mad and simply said 'just call it something else if you don't like that word' (clearly they do not share the same distaste as me).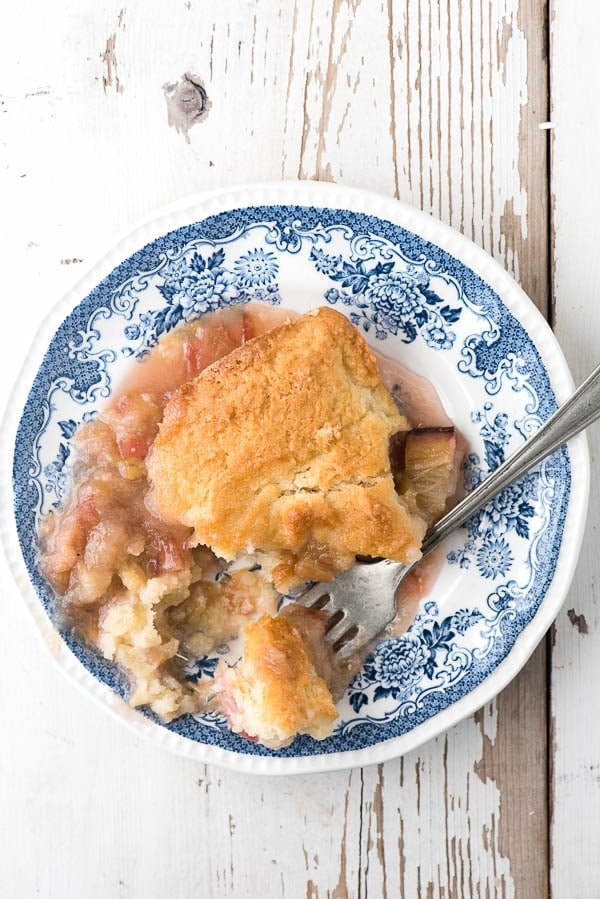 WHAT IS RHUBARB GRUNT?
I went on to explain I COULDN'T call it something else. A grunt, like a Slump, Pandowdy, Brown Betty. Buckle, Crisp or a Cobbler is a classic Americana dessert. Changing its name would be like deciding to start calling George Washington 'Bob' or something. And regardless of the name, I love these desserts. They have history and roots.
This family of quinessential comfort food desserts are rustic, flavorful, simple, relaxed and SO easy to make. They are not one of those prissy desserts where you wait by the oven door HOPING they work. Or those that make you feel Martha Stewart, regardless of where she might be in the world, knows what yours looks like and she's disappointed in you.
These Americana desserts are perfect partners with seasonal fruits, generally have 10 or fewer ingredients and all ingredients you have in your pantry (perhaps less the particular featured fruit).
WHY THIS RHUBARB DESSERT IS CALLED A 'GRUNT'
Sort of a charming thing about grunts and slumps, if something called that can be charming, is the names are about their appearance or sounds they make when cooking.
I did not stand by the oven door to verify mine made such sounds but generally since the fruit is on the bottom mixed with sugar and butter, it bubbles up like a little mud pot to let the cooking steam out of the cakey layer on top.
Knowing that makes me a bit more comfortable calling it by name.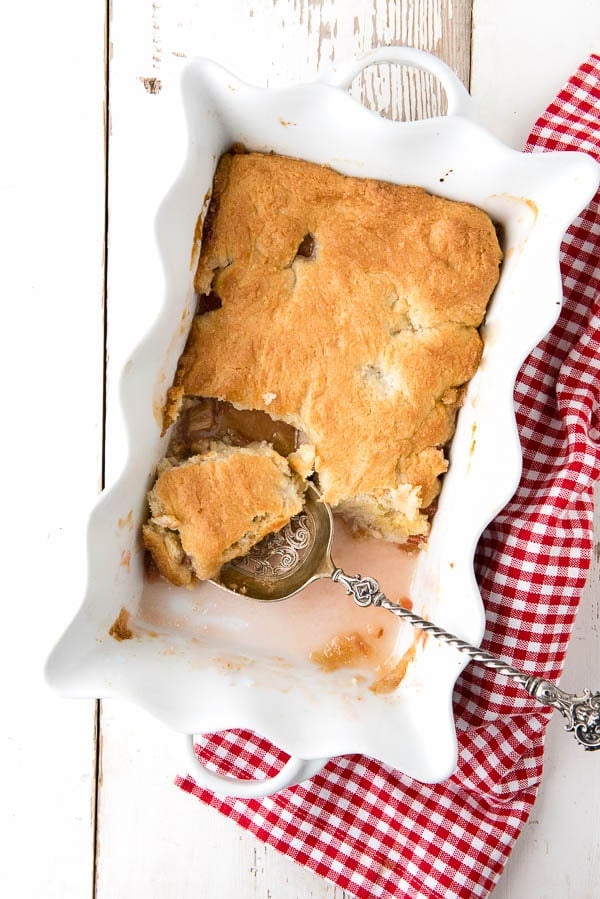 THE DIFFERENCE BETWEEN A GRUNT AND A SLUMP
Grunts and slumps are similar and are differentiated by the geography from where they come. Grunts and slumps are generally cooked on the stove top; however, this recipe goes in the oven.
It takes about 10 minutes to prepare, depending on how quickly you slice rhubarb (might be more like 5 minutes). It emerges with a golden cakey top and perfectly cooked rhubarb underneath; not overly sweet or mushy. It really is perfection.
For those who have not really cooked with rhubarb, thought it only can be combined with strawberries or think it will be too tart, fear not.
Rhubarb does have a unique tang like no other fruit or vegetable but that is tamed in this recipe. It showcases beautifully all on its own; it does not need berries; it shines in this recipe.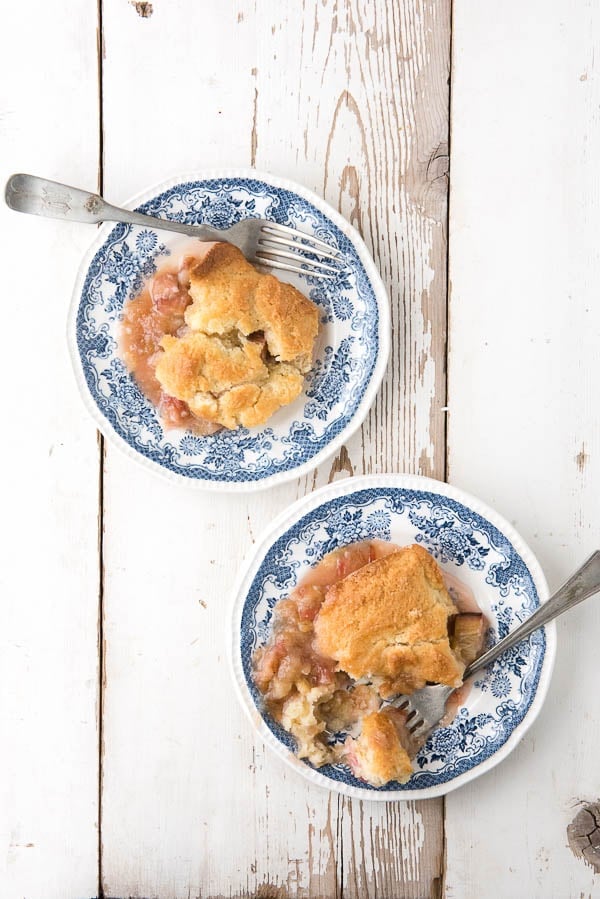 For me finding new season produce waiting in the store is like running into a long lost friend. I'm always delighted at my first finding. With rhubarb showing up I couldn't wait to snatch some up before it oh-so-quickly disappears.
This Rhubarb Grunt is a wonderful, easy rhubarb dessert recipe to celebrate its spring arrival!
More Easy Rhubarb Recipes You'll Love:
If you've tried this Rhubarb Grunt recipe or any other recipe on BoulderLocavore.com please don't forget to rate the recipe and let me know where you found it in the comments below, I love hearing from you!
You can also FOLLOW ME FACEBOOK, TWITTER, INSTAGRAM and PINTEREST to see more delicious food and what I'm up to!
Recipe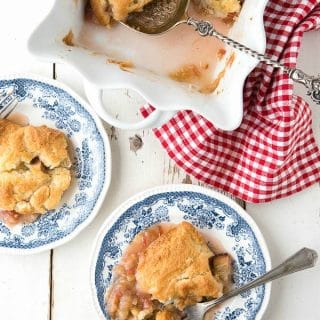 Rhubarb Grunt: A Classic Americana Rhubarb Dessert
This easy dessert will be the star of the dinner table. Sweetened cooked rhubard with golden cakey topping. Can be made with gluten-free or regular baking mix.
Print
Save Recipe
Recipe Saved!
Pin
Rate
Ingredients
1

pound

Rhubarb

, trimmed and cut into ½ inch slices

1

cups plus ¼ cup

Granulated Sugar

4

ounces

Unsalted Butter

, sliced into tablespoons and then cut into fourths

1

cup

Baking Mix

(I used King Arthur's Gluten-Free Baking Mix)

½

teaspoon

Kosher Salt

1

cup

Heavy Whipping Cream
Instructions
Preheat the oven to 350 degrees. Butter an 8 by 12-inch baking dish. Line the bottom evenly with the rhubarb slices.

Sprinkle the rhubarb evenly with 1 cup of the sugar. Evenly distribute the butter on top of the sugar.

In a medium mixing bowl, combine the baking mix, ¼ cup sugar, and salt. Whisk to blend completely.

Add the heavy whipping cream to the mixing bowl and stir to combine (the mixture will be sticky). Spoon the mixture on top of the sugar and butter in the baking dish. Tip: spraying a silicon spatula with non-stick cooking spray before spooning and spreading the flour mixture helps with the sticking.

Cook until the topping turns golden and the fruit is soft and seeping through the top (approximately 40 minutes). Scoop onto plates to serve; a scoop of ice cream or whipped cream may be added if desired.
Nutrition
Calories:
535
kcal
|
Carbohydrates:
58
g
|
Protein:
3
g
|
Fat:
33
g
|
Saturated Fat:
19
g
|
Cholesterol:
95
mg
|
Sodium:
469
mg
|
Potassium:
280
mg
|
Fiber:
1
g
|
Sugar:
44
g
|
Vitamin A:
1135
IU
|
Vitamin C:
6.3
mg
|
Calcium:
131
mg
|
Iron:
0.7
mg