Stir-fry recipes are perfect for a fast cooking filling meal. This Spicy Southwestern Steak Stir Fry with Cilantro-Lime Rice shares the flavor inspiration from Santa Fe, New Mexico and makes an exciting East-meets-Southwest satisfying meal!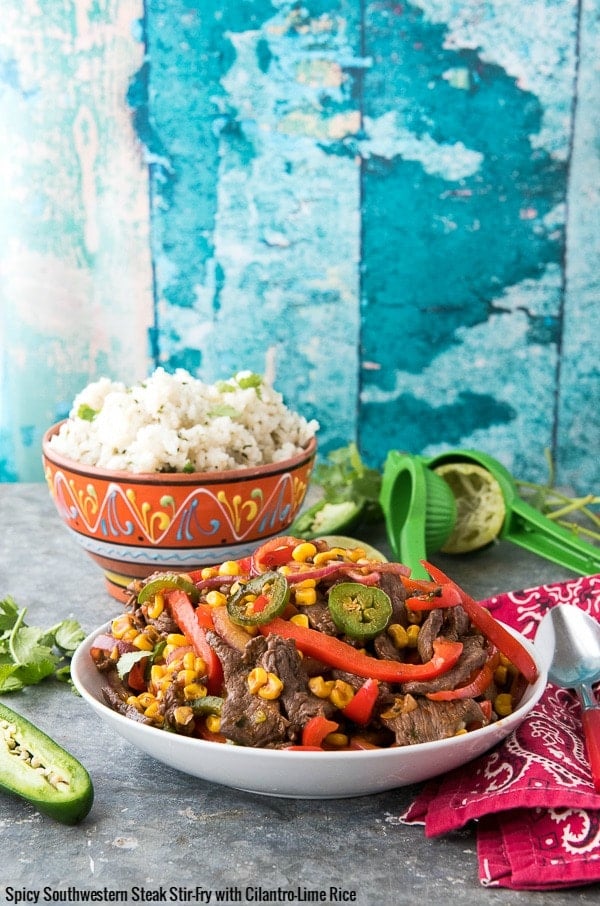 This delicious recipe was originally posted in March 2015 and has been updated in March 2018!
I love making quick stir fry dishes. Selecting fresh seasonal ingredients, favorite protein sources and preparing a scrumptious meal in less than 30 minutes? It's a win every time. Spicy Southwestern Steak Stir Fry has deep, fresh flavors of the Southwest whipped up in a quick stir fry. Marinated top sirloin steak strips, red pepper, jalapeno rings, corn and onion over Cilantro-Lime Rice create a filling but light meal.
My recipe for Spicy Garlic Sriracha Shrimp and Broccoli Stir Fry, made me remember how much I love making stir-fry meals (and a number of you commented to the same effect). It kicked off a flurry of stir fry recipe-making in my kitchen with today's Spicy Southwestern Steak Stir Fry being an all time favorite.
It's a misconception that just because it's stir-fry with lots of fresh ingredients that it isn't also filling and satisfying. This recipe is a perfect example!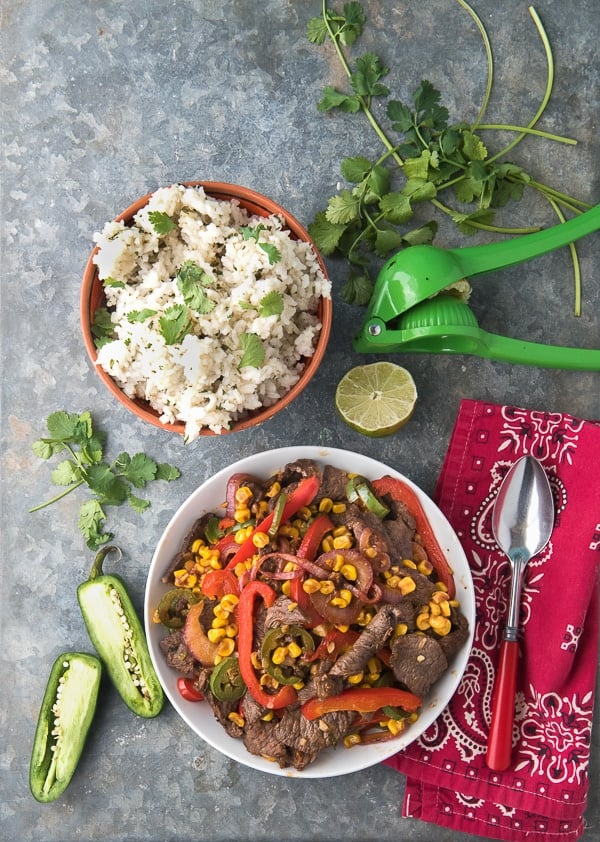 When I shared this recipe for Spicy Southwestern Steak Stir Fry originally, I was traveling in the Southwest rounding some delicious recipes to share with you. Southwestern cuisine is known for its earthy chilies which deliver not only some heat but really deep, serious flavor as well.
Southwestern cuisine is truly is my favorite type of food. I even took a salsa cooking class from the Santa Fe Cooking School. I love being able to make a regional recipe when I'm back at home. It's a perfect souvenier.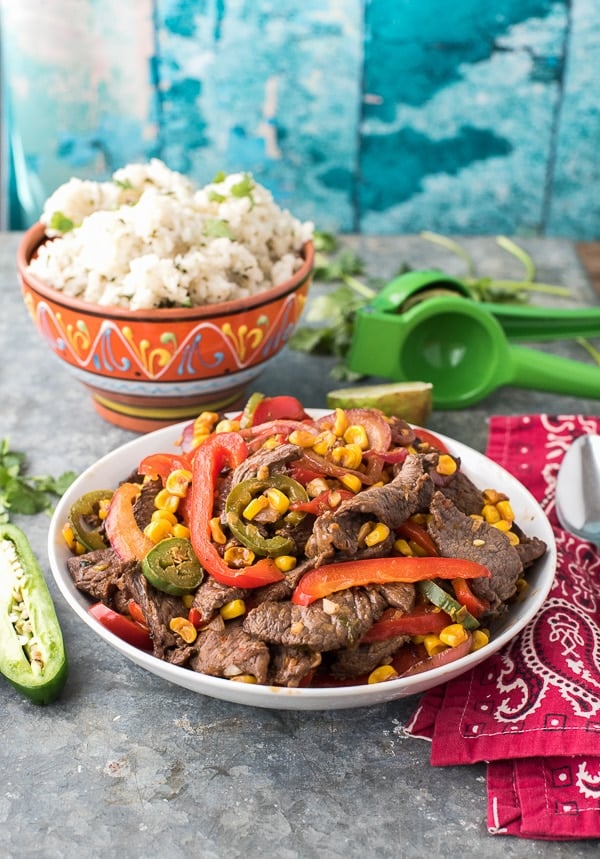 How to Make Spicy Southwestern Steak Stir Fry
Thinly sliced top sirloin is marinated overnight in a cilantro-cumin-red pepper marinade then quick stir fried in a wok or skillet with corn, red pepper, red onion, jalapeno and a chipotle-lime sauce all served with Cilantro Lime Rice. The steak adds substance to the recipe however the slices are about 1/8 inch thick, the dish is not heavy. It's a very flavorful and satisfying dish that will have your diners wanting more!
The Cilantro-Lime recipe is an easy side dish perfect to serve topped with the steak stir fry. It can be used with any recipe and is great in rice bowls or a light side to grilled proteins.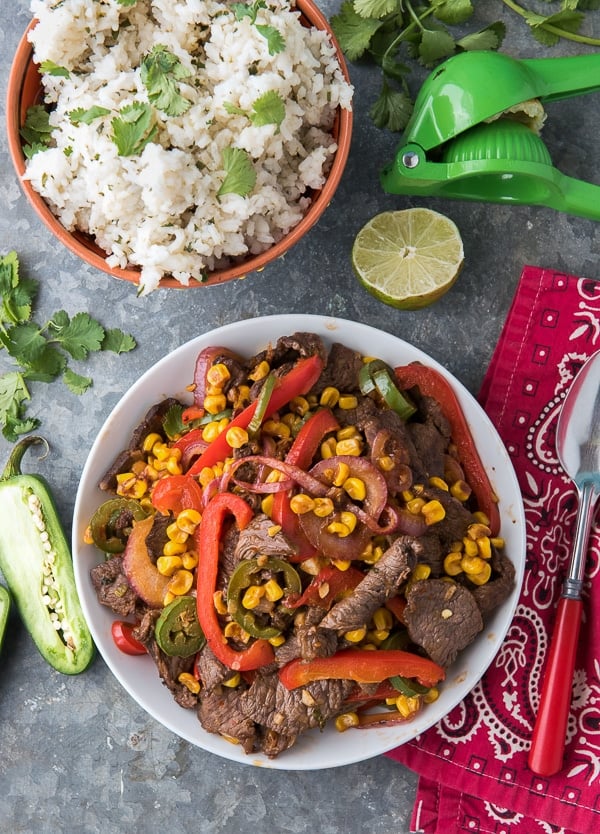 Stir Fry Best Tips
Stir frying is best done in a wok or a large skillet(non-stick is a bonus). A high heatproof silicone spatula is a great utensil as well.
It is a fast cooking method with the ingredients only cooking for a few minutes tops. Make sure you have all the ingredients prepped before beginning! It goes so quickly you won't have time to stop and prep somthing you didn't prepare before beginning!
More Easy Stir Fry Recipes You'll Love:
If you've tried this Spicy Southwestern Steak Stir Fry recipe or any other recipe on BoulderLocavore.com please don't forget to rate the recipe and let me know where you found it in the comments below, I love hearing from you! You can also FOLLOW ME FACEBOOK, TWITTER, INSTAGRAM and PINTEREST to see more delicious food and what I'm up to!