Stir-fry recipes are perfect for a fast cooking filling meal. This Spicy Southwestern Steak Stir Fry with Cilantro-Lime Rice shares the flavor inspiration from Santa Fe, New Mexico and makes an exciting East-meets-Southwest satisfying meal!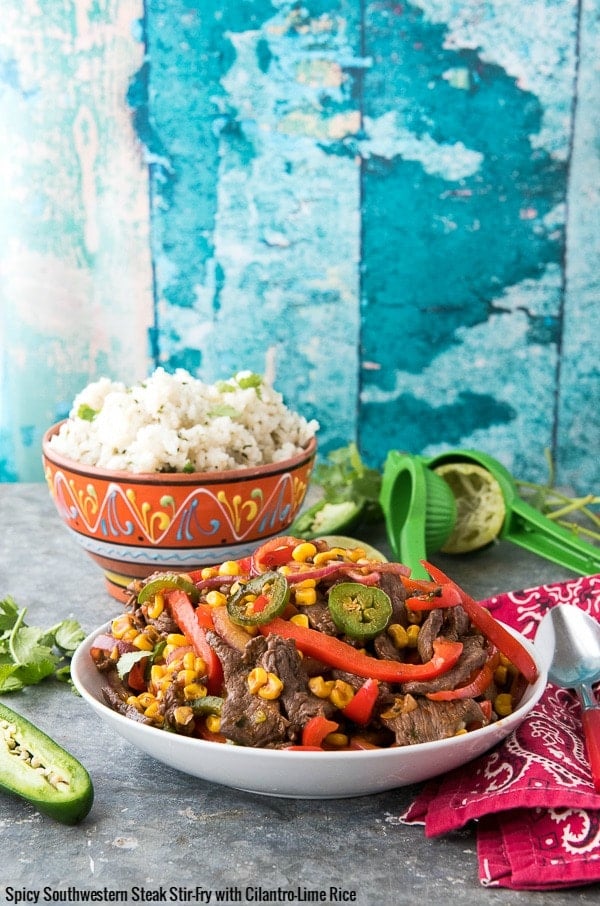 This delicious recipe was originally posted in March 2015 and has been updated in March 2018!
I love making quick stir fry dishes. Selecting fresh seasonal ingredients, favorite protein sources and preparing a scrumptious meal in less than 30 minutes? It's a win every time. Spicy Southwestern Steak Stir Fry has deep, fresh flavors of the Southwest whipped up in a quick stir fry. Marinated top sirloin steak strips, red pepper, jalapeno rings, corn and onion over Cilantro-Lime Rice create a filling but light meal.
My recipe for Spicy Garlic Sriracha Shrimp and Broccoli Stir Fry, made me remember how much I love making stir-fry meals (and a number of you commented to the same effect). It kicked off a flurry of stir fry recipe-making in my kitchen with today's Spicy Southwestern Steak Stir Fry being an all time favorite.
It's a misconception that just because it's stir-fry with lots of fresh ingredients that it isn't also filling and satisfying. This recipe is a perfect example!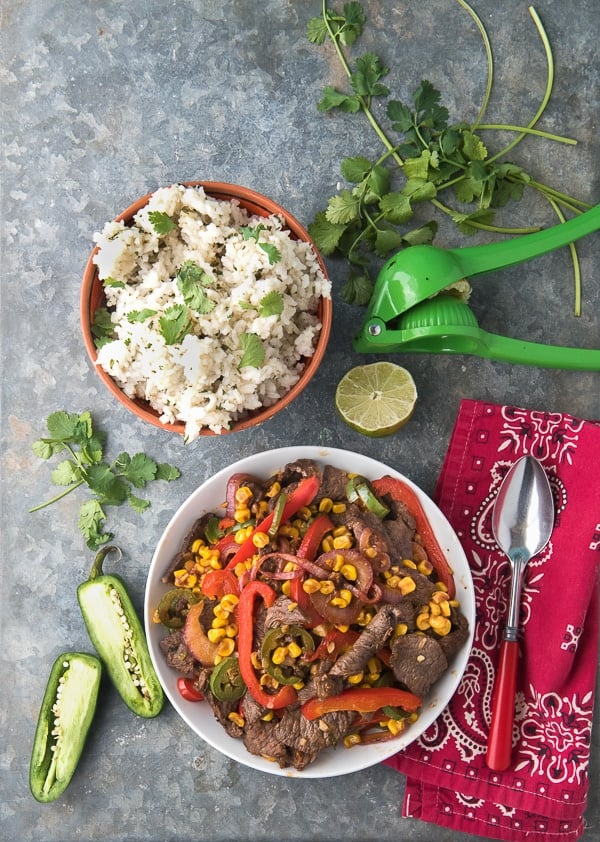 When I shared this recipe for Spicy Southwestern Steak Stir Fry originally, I was traveling in the Southwest rounding some delicious recipes to share with you. Southwestern cuisine is known for its earthy chilies which deliver not only some heat but really deep, serious flavor as well.
Southwestern cuisine is truly is my favorite type of food. I even took a salsa cooking class from the Santa Fe Cooking School. I love being able to make a regional recipe when I'm back at home. It's a perfect souvenier.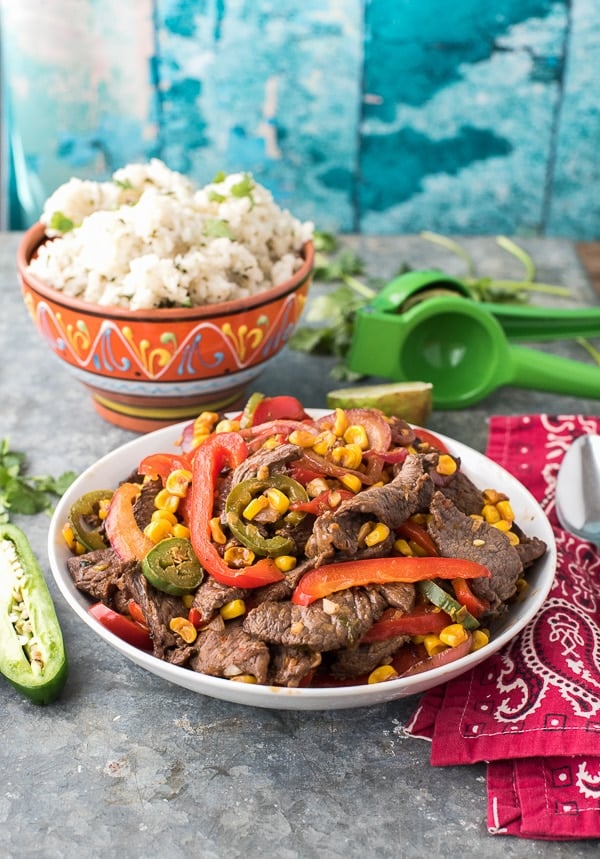 How to Make Spicy Southwestern Steak Stir Fry
Thinly sliced top sirloin is marinated overnight in a cilantro-cumin-red pepper marinade then quick stir fried in a wok or skillet with corn, red pepper, red onion, jalapeno and a chipotle-lime sauce all served with Cilantro Lime Rice. The steak adds substance to the recipe however the slices are about 1/8 inch thick, the dish is not heavy. It's a very flavorful and satisfying dish that will have your diners wanting more!
The Cilantro-Lime recipe is an easy side dish perfect to serve topped with the steak stir fry. It can be used with any recipe and is great in rice bowls or a light side to grilled proteins.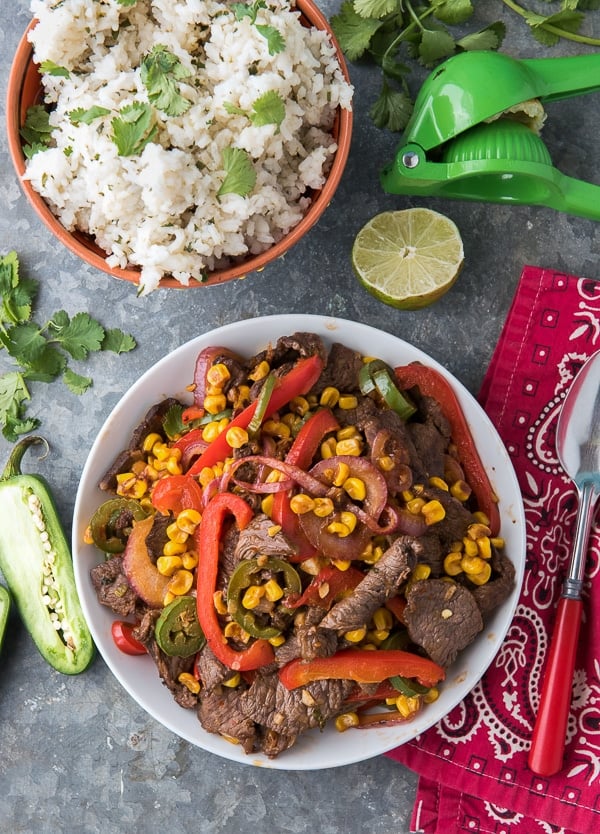 Stir Fry Best Tips
Stir frying is best done in a wok or a large skillet(non-stick is a bonus). A high heatproof silicone spatula is a great utensil as well.
It is a fast cooking method with the ingredients only cooking for a few minutes tops. Make sure you have all the ingredients prepped before beginning! It goes so quickly you won't have time to stop and prep somthing you didn't prepare before beginning!
More Easy Stir Fry Recipes You'll Love:
If you've tried this Spicy Southwestern Steak Stir Fry recipe or any other recipe on BoulderLocavore.com please don't forget to rate the recipe and let me know where you found it in the comments below, I love hearing from you! You can also FOLLOW ME FACEBOOK, TWITTER, INSTAGRAM and PINTEREST to see more delicious food and what I'm up to!
Recipe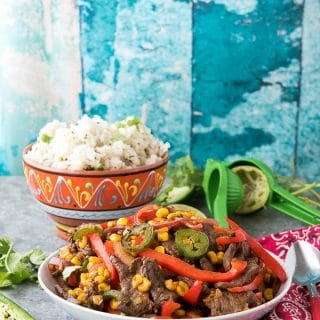 Spicy Southwestern Steak Stir Fry with Cilantro-Lime Rice
This unique spicy Southwestern steak stir fry will liven up your dinner table! The majority of the recipe time is the overnight marinating of the steak slices. The stir fry may be made while the Cilantro-Lime Rice is cooking. Be sure to have the ingredients for the rice and stir fry prepared and available before beginning to cook as the stir fry goes quickly!
Print
Save Recipe
Recipe Saved!
Pin
Rate
Ingredients
Ingredients for the Steak and Marinade:
1

pound

Top Sirloin Steak

, cut against the grain (across the steak) into thin 1/8 inch slices

2

tablespoons

Tamari Sauce

(low-sodium Soy Sauce may be substituted if the dish will not be gluten-free)

¼

cup

freshly squeezed Lime Juice

(approximately 3 limes)

¼

cup

Sunflower Oil

2

tablespoons

Cilantro

, chopped

1

tablespoon

ground Cumin

2

tablespoons

Apple Cider Vinegar

4

large

Garlic Cloves

, chopped

1

medium

Shallot

, diced

1

teaspoon

Red Chile Pepper Flakes
Ingredients for the Cilantro-Lime Rice:
1

cup

Long Grain White or Jasmin Rice

1

cup

low sodium Chicken Broth

1

cup

Water

1/4

cup

chopped Cilantro

Zest of 1 Lime

1

teaspoon

freshly squeezed Lime Juice
Ingredients for the Stir Fry:
3

tablespoons

Tamari Sauce

(low-sodium Soy Sauce may be substituted if not making the recipe gluten-free)

2

teaspoons

Adobo Sauce

(can use it from Chipotle en Adobo just do not use the peppers themselves)

1

tablespoon

Cornstarch

Juice of ½ Lime

2

tablespoons

Sunflower Oil

1

large

Garlic Clove

, diced

½

Red Onion

, sliced in 1/8-inch rings

1

cup

Corn Kernels

(fresh or frozen; take frozen corn out of the freezer when beginning to cook, they do not need to be fully thawed)

1

large

Red Pepper

, seeded and cut into 1/8-inch vertical strips

1

Jalapeno Pepper

, stem and seeds removed, cut into thin rings
Instructions
To Prepare the Marinade (marinate steak the night before cooking):
Place all the marinade ingredients into a sealable container or a 1 gallon zipper plastic bag (tamari, lime juice, sunflower oil, cilantro, cumin, apple cider vinegar, garlic, shallot and red pepper flakes); do not add the steak yet. Seal the container or bag and shake to combine all the ingredients.

Add the steak slices and stir or massage (if in a bag) to cover all the steak with the marinade. Place in the refrigerator overnight.
To Prepare the Cilantro-Lime Rice:
In a medium saucepan, combine the rice, chicken stock and water. Bring to a low boil, reduce temperature to low, cover and allow to cook for 20 minutes (or for the length recommended on the rice package). Note: if substituting brown rice, the cooking time will be longer; consult your rice package for exact timing, it's usually doubled.

Once the rice is done, remove it from the heat and allow it to sit covered for 5 minutes. Fluff the rice with a fork and stir in the cilantro, lime zest and lime juice. Stir together with a fork.
To Prepare the Stir Fry (start the stir fry 15 minutes into the rice cooking time to complete at the same time):
In a small bowl, whisk together the tamari sauce, adobo sauce, cornstarch and lime juice. Set aside.

Place a colander in the sink and pour the contents of the marinade container/bag into the colander. Allow it to drain for a minute and shake it to release any excess liquid. Don't work about any of the solid ingredients remaining on the steak.

In a large skillet or wok over high, heat 1 tablespoon of the sunflower oil. When ripples can be seen on the oil's surface add the steak.

Allow steak to sear for about 30 seconds and then continuously stir the beef until there is no visible pink color remaining; about 3-3 1/3 minutes. Note: with this recipe it may be difficult to see the pink color due to the marinade. 3 ½ minutes should be enough time to cook the beef without over cooking it; it should still be moist. Remove from the skillet/work and set aside. Any excess marinade which was released during the cooking of the steak may be drained before proceeding.

Add the remaining tablespoon of sunflower oil over medium-high heat. When ripples are visible on the oil's surface, add the garlic and stir for 30 seconds.

Add the red onion rings and continue to stir until the onions become limp; about 2 minutes. Add the red pepper, corn and jalapeno rings. Continue to stir until the vegetables are cooked but not limp; 3-5 minutes.

Return the steak to the skillet/wok, along with the sauce prepared in the first step (tamari-adobo). Stir rapidly to coat the ingredients; 30 seconds to 1 minutes. Serve immediately.
Nutrition
Calories:
599
kcal
|
Carbohydrates:
55
g
|
Protein:
34
g
|
Fat:
26
g
|
Saturated Fat:
3
g
|
Cholesterol:
66
mg
|
Sodium:
1863
mg
|
Potassium:
773
mg
|
Fiber:
3
g
|
Sugar:
4
g
|
Vitamin A:
1590
IU
|
Vitamin C:
63.7
mg
|
Calcium:
64
mg
|
Iron:
4.4
mg