A roulade is an exciting dinner recipe that never disappoints. Turkey Roulade with Apple-Cranberry Stuffing and a Bacon Weave is perfect for holidays and entertaining!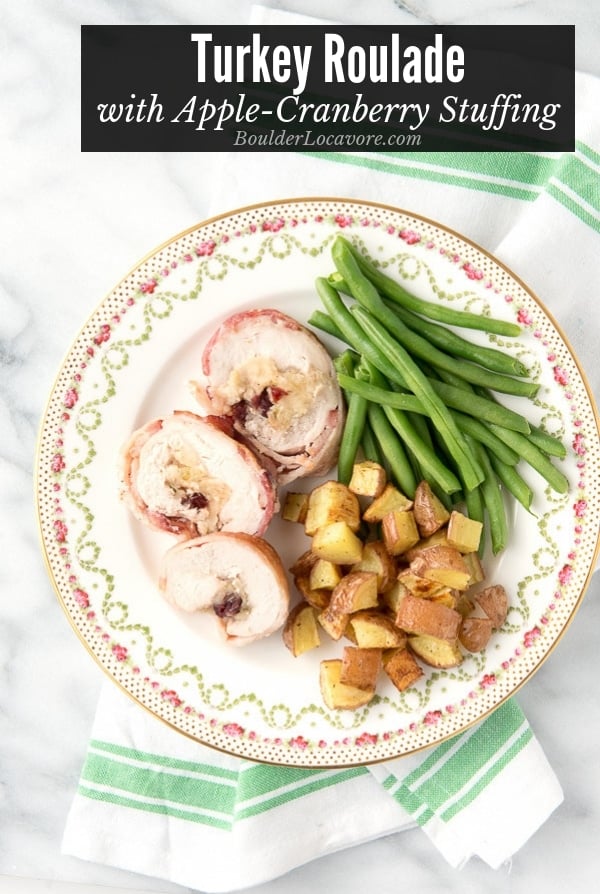 Sometimes an occasion calls for a special dinner recipe. One that's perfect for entertaining guest, for a holiday like Thanksgiving or Christmas, or just to elevate a regular dinner.
Turkey Roulade with Apple Cranberry Stuffing in a Bacon Weave is just that.
Usually my M.O. is to serve up easy recipes with big flavor.
There are times when a bit more time yields an end result that's worth the extra time taken.
That is definitely the case with a roulade.
A roulade is a unique dish that won't soon be forgotten and lets your diners know you care.
Don't be afraid by the length of the recipe; I promise it's worth it!
What is a Roulade?
A roulade (pronouned roo-lahd) is a dish that is cooked in the form of a roll. It can be savory or sweet.
A roulade is stuffed with something between the rolls too.
The exciting thing about a roulade, besides a great combination of flavors, is its appearance.
When the roll is cut, the slices are served. They create a wonderful visual of the roll.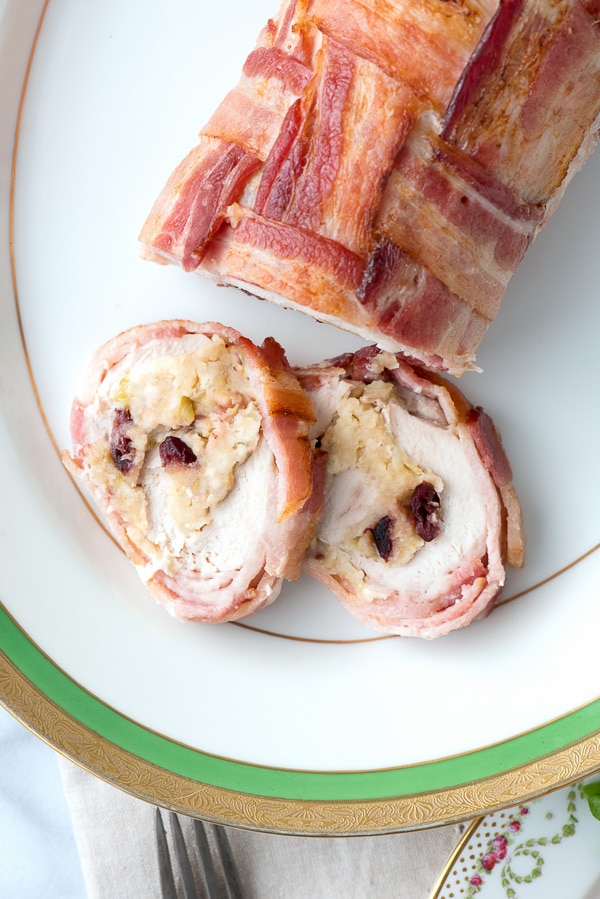 What is Turkey Roulade?
A turkey roulade is a deboned, butterflied turkey breast, pounded to an even thickness; then lined with stuffing and rolled into round roll, usually tied with twine and roasted.
When the roulade is done, horizontal slices are taken with turkey and stuffing as one.
When it is cut, elegant and unexpected spiral slices are revealed.
They are so eye-catching on the plate and really combine two holiday meal favorites into one!
Apple Cranberry Stuffing
Adding Apple Cranberry Stuffing to this roulade recipe takes the flavors up a notch. Sweet, tart, comforting stuffing pair perfectly with the turkey.
Unlike regular stuffing recipes which are cooked on their own, the stuffing for the roulade is prepared and cooked with the turkey.
It allows the flavors to blend beautifully and shortens the overall meal preparation time.
Panko Crumbs: Gluten-Free and Gluten options
The stuffing may be made with either traditional wheat panko crumbs or gluten-free panko crumbs.
The absorbency of each may differ. Follow the instructions and Notes if you are making a gluten version with wheat panko crumbs.
Special Trick for Apple Cranberry Stuffing
This apple cranberry stuffing is made with dried cranberries.
The great thing about this is dried cranberries are available all year so this recipes can be made at any time!
The dried cranberries are soaked in heated orange juice!
This softens them for a plump tasty element in the stuffing. It also infuses orange flavor into the cranberries as they plump up.
Timesaving Tip for Apple Cranberry Stuffing
I use a mini chopper whenever I can.
To make preparation of apple cranberry stuffing even easier, use a mini chopper to chop the apple, celery and onion!
Taking the Roulade Up a Notch: Adding a Bacon Weave
I love using a bacon weave in grilling projects. Why use a bacon weave on this roulade?
Creates an impressive lattice appearance for great presentation
Infuses bacon flavor into the roulade
Helps keep the lean turkey breast moister by sealing the roulade so the turkey isn't directly exposed in cooking potentially drying it out
And who doesn't love bacon?!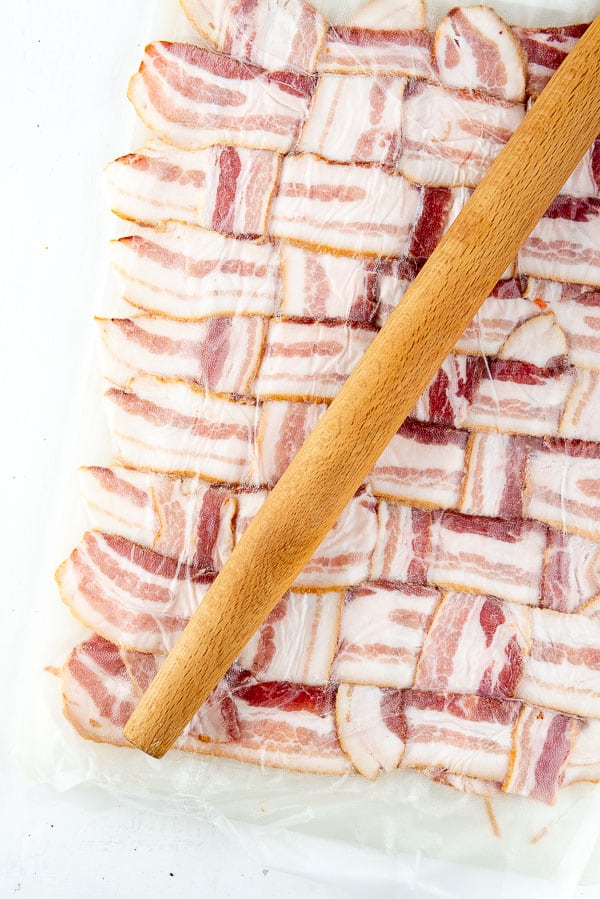 How to Make a Bacon Weave
Strips of bacon are laid out horizontally with additional strips woven through, making a pork mat.
Both for flavor and appearance, I love to use it when I can.
This tutorial goes into more detail on how to make one: Everything you need to know about a Bacon Weave (including step-by-step photos)!
Chef's Notes on Making the Turkey Roulade
This recipe is prepared in four main steps:
starting with making the stuffing in a skillet,
creating the bacon weave,
stuffing the turkey breast, and
rolling it all together to cook.
Preparing the Turkey Breast for the Roulade
I recommend having your butcher prepare the turkey breast.
The recipe requires a deboned and butterflied turkey breast meaning the bone is removed and the breast is cut so it can be rolled into one solid piece.
Meat counters at most stores have attendants who can do this for you.
Stores like Whole Foods have experienced staff in butchery and will know exactly what you need.
There is a video link in the instructions should you wish to debone and butterfly the turkey breast yourself.
How Long does it Take to Prepare the Roulade?
It takes approximately 30 minutes to make the stuffing, create the bacon weave and roll the turkey roulade together for cooking.
How Long Does the Roulade Cook?
The cooking time is low and slow requiring about 1 ½ hours plus 5 minutes to crisp up the bacon under the broiler.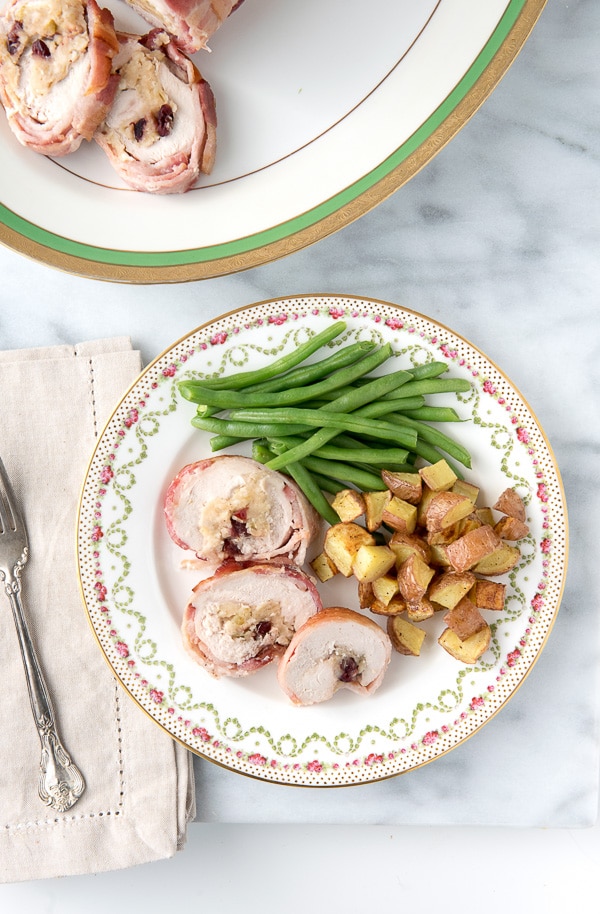 Special Trick: No Tying of the Roulade
Normally a roulade is secured with kitchen twine before cooking.
Instead in this recipe foil and parchment paper are placed down first followed by the bacon weave.
The turkey roulade is assembled, placed on the bacon weave for final rolling.
The parchment paper and foil fully enclose the roulade and the foil ends are sealed to keep it in place while cooking without twine.
Supplies for Making this Roulade recipe
Cooling rack that fits the baking sheet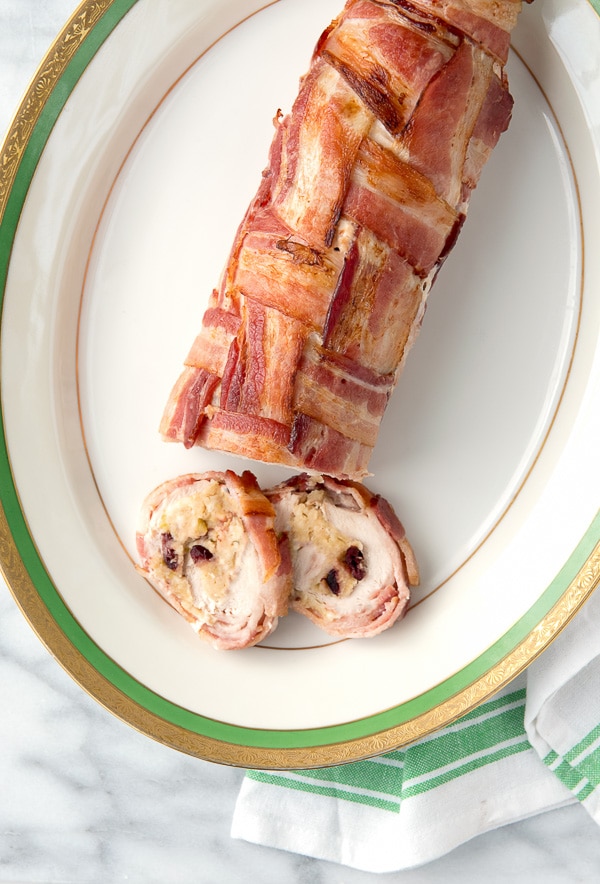 More Recipes You'll Love
If you've made this Turkey Roulade with Apple Cranberry Stuffing recipe please RATE THE RECIPE below!
SUBSCRIBE and FOLLOW ME on FACEBOOK , TWITTER , INSTAGRAM and PINTEREST !