Mongolian Beef is a favorite dish at Chinese restaurants that's so easy to make at home! This fast stir fry recipe has rich beefy flavor with soy garlic ginger sauce you'll love. Dinner is on the table in about 30 minutes.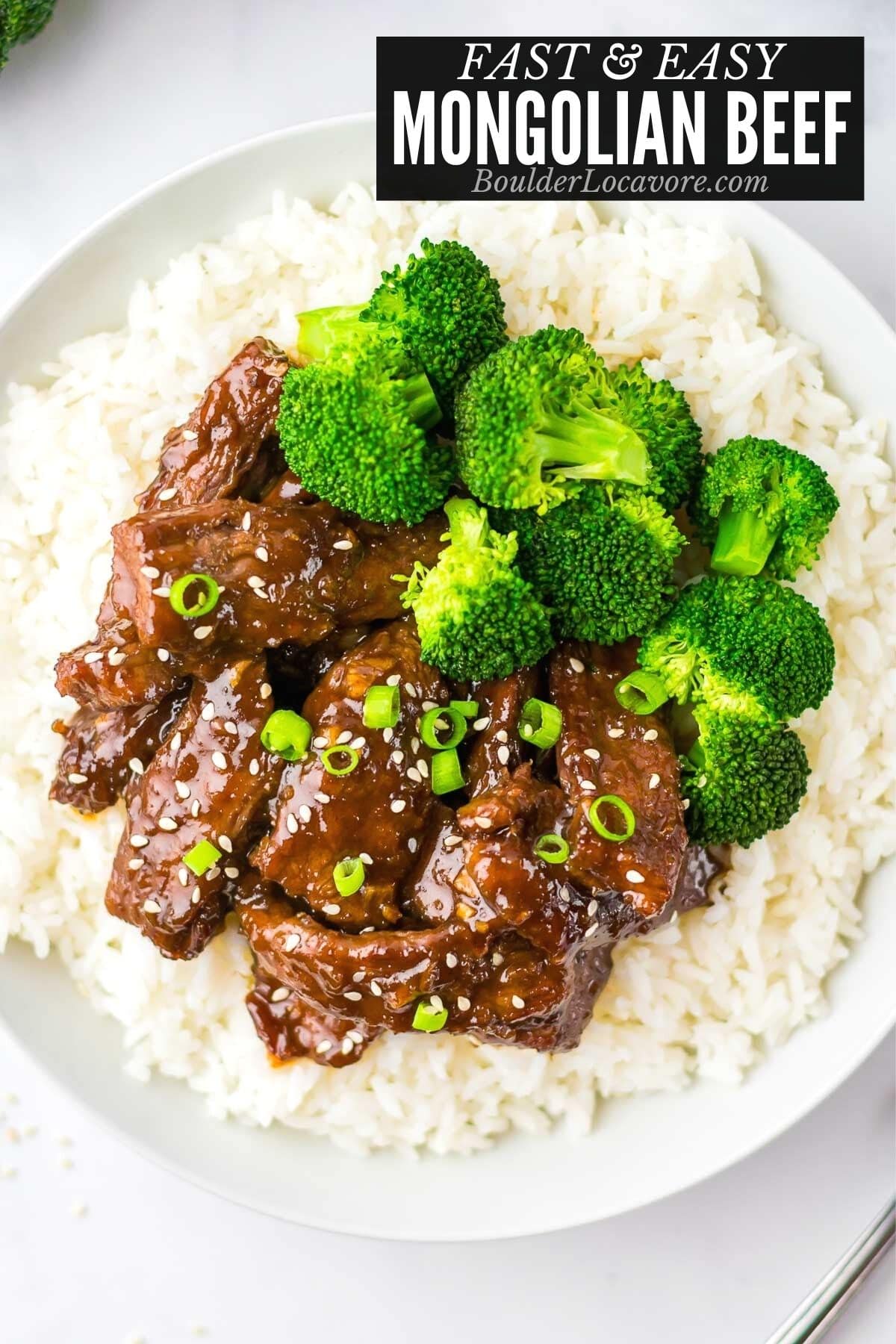 Chinese takeout is some of the best loved food. For good reason!
It's delicious, with bold flavors and you don't have to cook.
This Mongolian Beef recipe will rival your favorite take-out recipe and it's fast to cook!
Perfect for busy weeknights or lazy weekends. Whenever you want great tasting food with little effort.
If you love these flavors try out easy recipe for Mongolian Beef Salad with Ginger Vinaigrette too!
Jump to:
What is Mongolian Beef?
It is a American Chinese restaurant dish of thinly sliced tender pieces of beef (typically flank steak) quickly fried in an Asian savory sauce. It's usually paired with scallions or vegetables. It is made with simple ingredients that the whole family will love!
The name of the dish refers to Mongolian style barbecue. It did not originate in Mongolia or is it a barbecue dish.
If you eat at P.F. Chang's you've most likely had it at least once. It's a very popular dish, for good reason!
After trying this easy Mongolian Beef recipe you won't have to wait to go out to your favorite Chinese restaurant to enjoy this flavor-packed delicious tender beef recipe!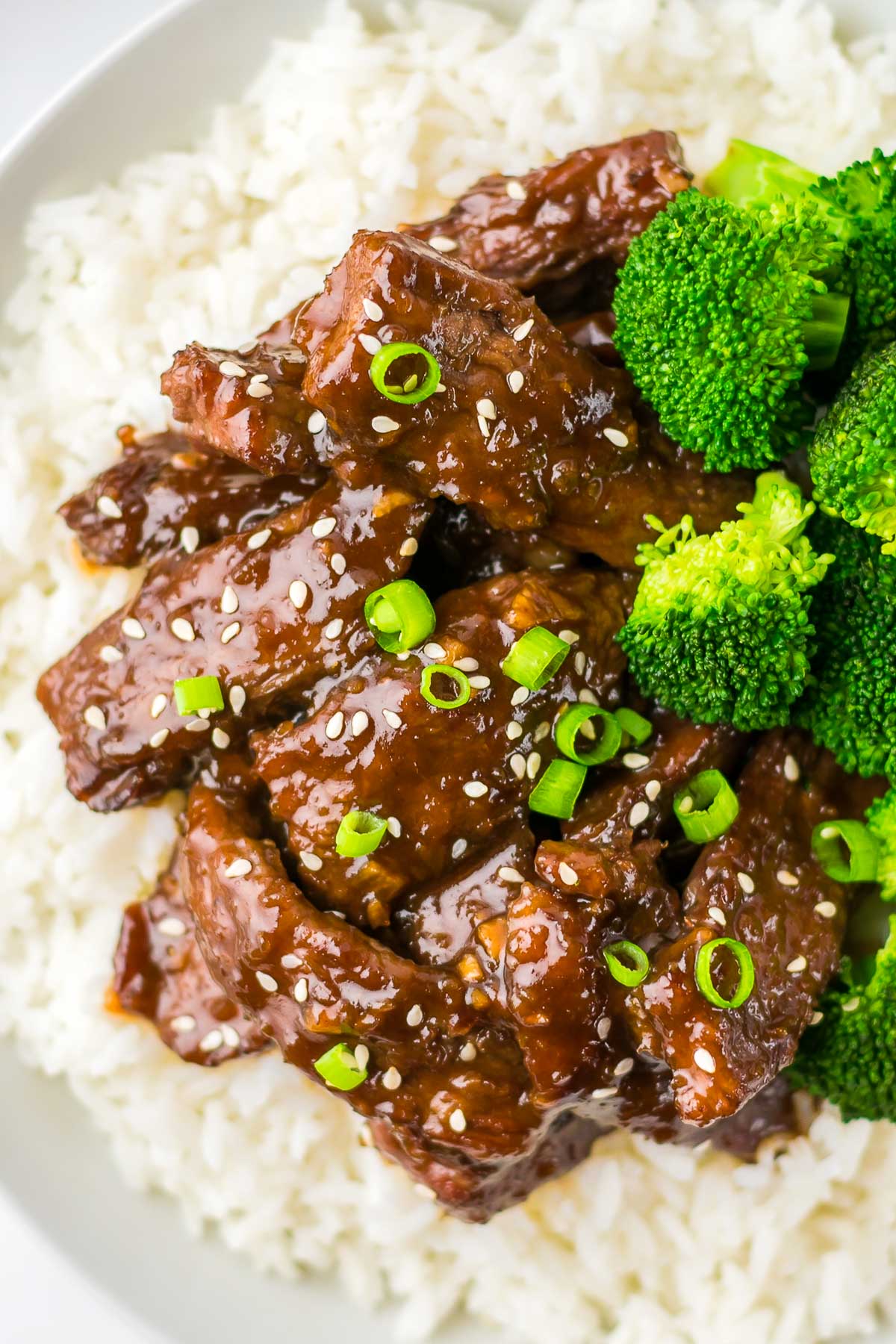 Recipe Ingredients + Notes
All the ingredients should be available at the grocery store in the Asian foods section.
Flank Steak. Flank steak has a ton of beefy flavor making it a perfect cut to match with the flavor of the sauce in this recipe. It can be a tough cut of meat unless cut properly. More details on that below.
Cornstarch. Tossing the sliced steak in cornstarch protects the exterior of the beef helping to protect from overcooking. The coating also adds to tenderizing the steak slices as well as thicken the sauce in the last step.
Vegetable Oil. We recommend a neutral flavored oil that will withstand higher temperatures while cooking. Vegetable oil works great in this recipe.
Garlic and Ginger. This flavor power couple gives the signature flavors in the Mongolian Beef. Fresh garlic and fresh ginger cook first laying the foundation for the beef and the sauce.
Soy Sauce. A classic ingredient, soy sauce gives a salty flavor to the dish.
Regular or gluten-free soy sauce can be used. We've tested it with both! If you like it less salty use low sodium soy sauce.
Brown Sugar. A sweet caramel-y flavor complement to the salty soy sauce for a perfect flavor balance.
Hoisin Sauce. Another classic ingredient in Chinese cooking. Hoisin sauce is salty and sweet with ingredients like soybeans, garlic, red chili and more. Use regular or gluten-free hoisin sauce based on your needs.
Garnish. Sliced green onions, sesame seeds.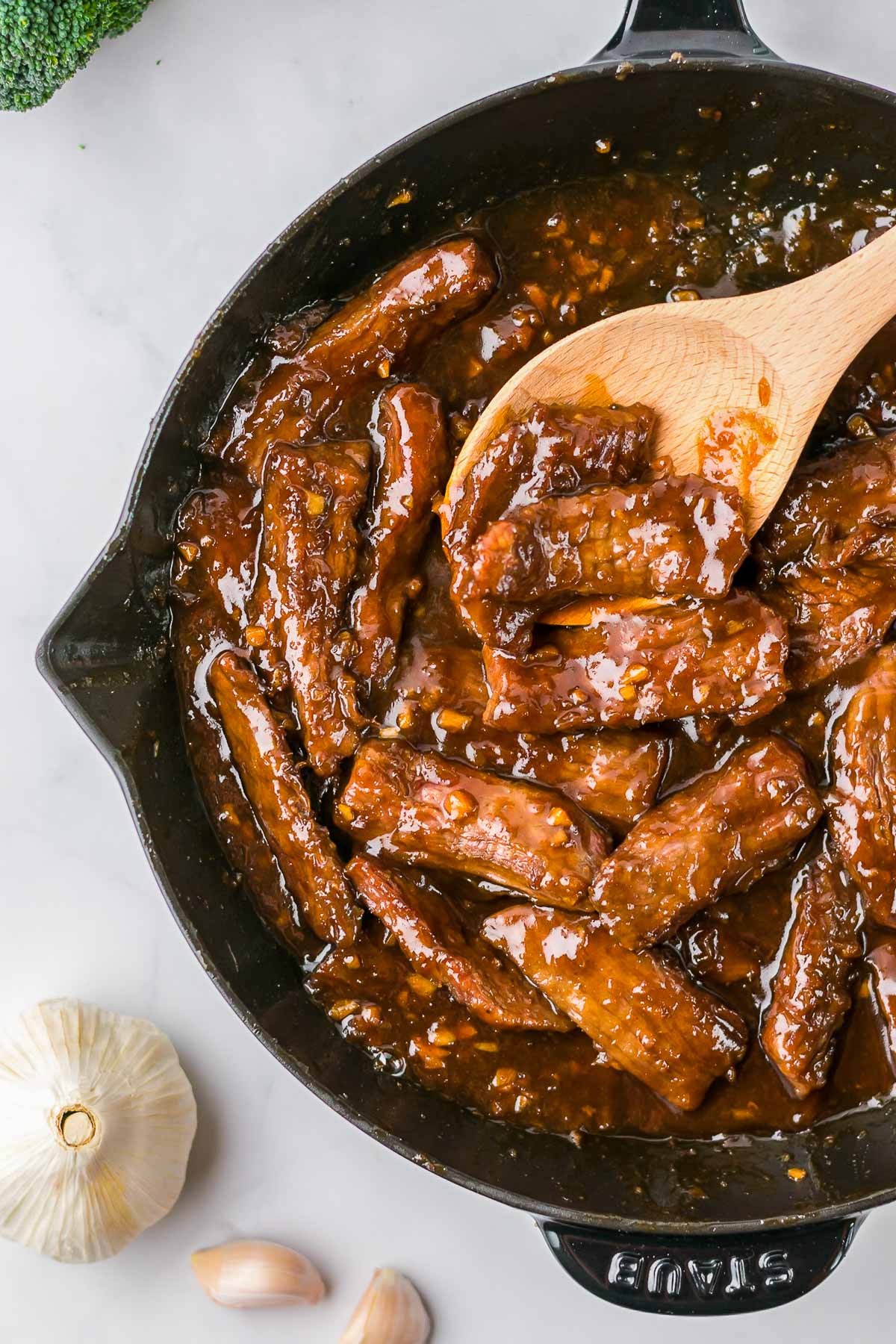 How to Correctly Slice Flank Steak
To end up with tender flank steak it should always be cut ACROSS the grain not with the grain.
The grain are the lines in the meat. Refer to photo 1 below.
If cut with the lines instead of across them, the steak can be very chewy when cooked.
Slicing it thinly (1/4 inch slices) and across the grain is the correct way to cut it.
Pro Tip: you can put the steak in the freezer for 15-20 minutes before slicing to make slicing easier too.
What if the Flank Steak slices are really long?
Flank steak can be in many different sizes. It isn't always long and narrow as in photo 1 below.
If after slicing the steak the slices seem too long to cook and serve easily, cut them in half for shorter slices.
This will make them easier to stir fry.
What is the best pan to use to make Mongolian Beef?
Use a large frying pan or killet (non stick if possible) or a wok.
These give plenty of room to stir the beef while it cooks.
This allows all slices to cook evenly and in the same amount of time.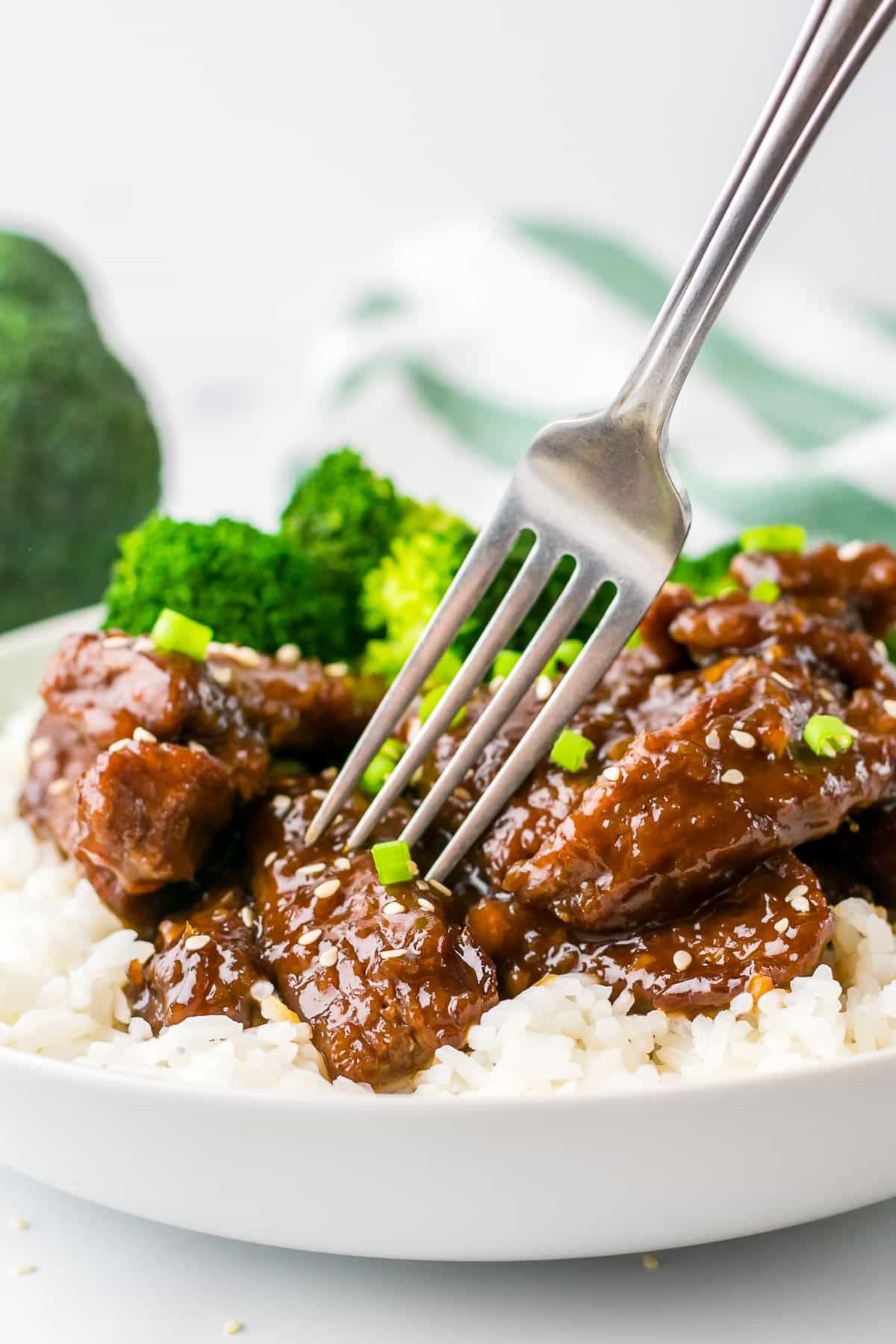 How to Make it – Step-by-Step
This is 30-minute Mongolian Beef!
STEP 1. Prepare the Flank Steak
Cut the flank steak in 1/4-inch to 1/2-inch slices across the grain (photo 1). Add the thin slices to a gallon size plastic bag with the cornstarch (photo 2).
Seal and toss to coat all the steak slices with the corn starch (photo 3). Set aside.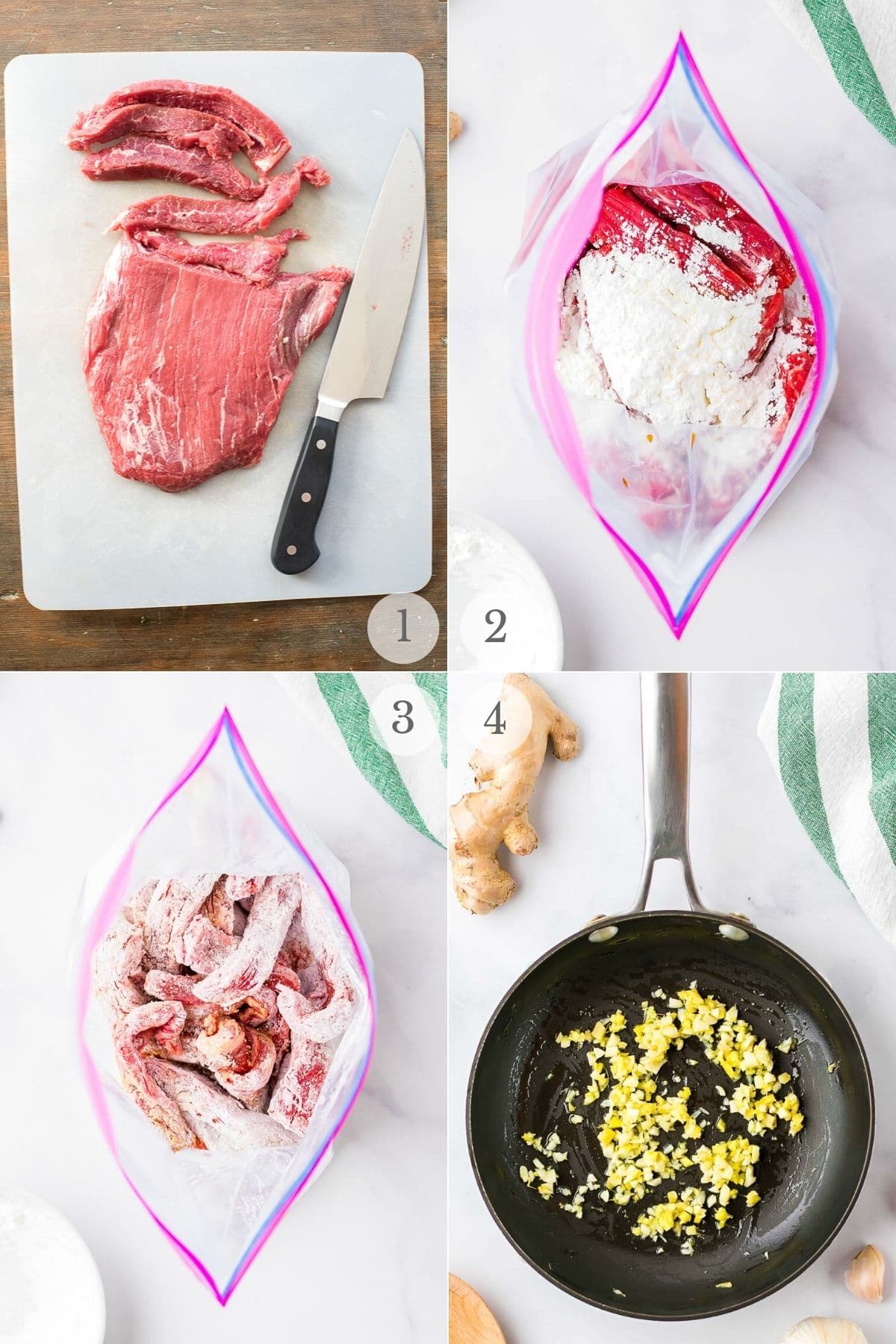 STEP 2. Make the Sauce
In a small saucepan over medium heat, heat 1 tablespoon of the oil. Add the ginger and garlic; cook for 1 minute (photo 4).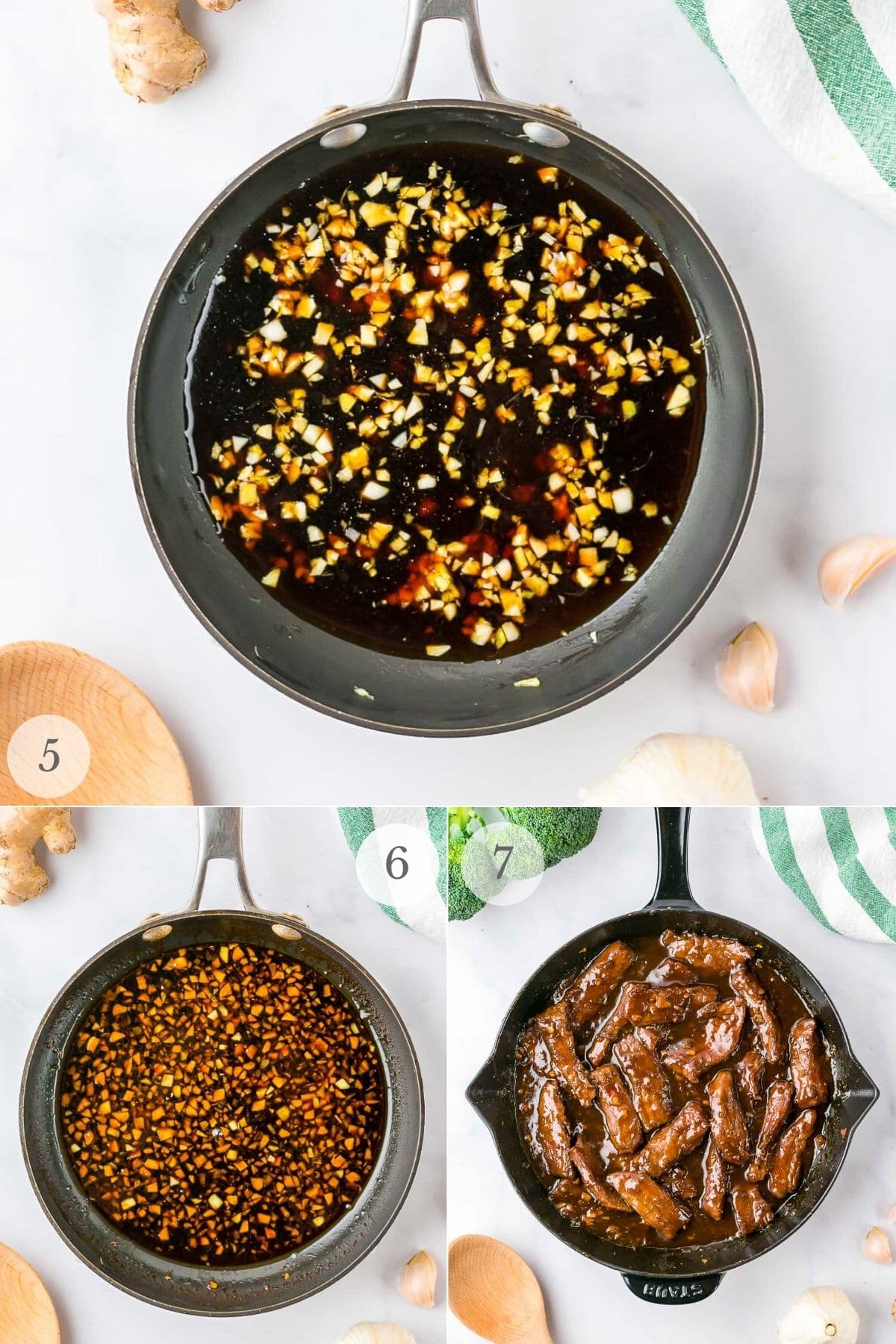 Add the soy sauce, water, brown sugar and hoisin sauce (photo 5). Bring to a simmer for 3-5 minutes. Remove from heat (photo 6).
STEP 3. Cook the Steak
In a large skillet or wok, heat the remaining 2 tablespoons of oil over medium-high heat. Add the steak slices in a single layer and cook until browned on all sides; 2-3 minutes. Cook in small batches if needed for pan space.
Pour in the sauce and stir to coat the beef. Turn heat to medium and cook until sauce begins to thicken and bubble (photo 7). Remove from heat.
STEP 4. Serve it
Serve the recipe over cooked white rice or brown rice, drizzling extra sauce over the dish.
Garnish with sliced green onions and a sprinkle of sesame seeds.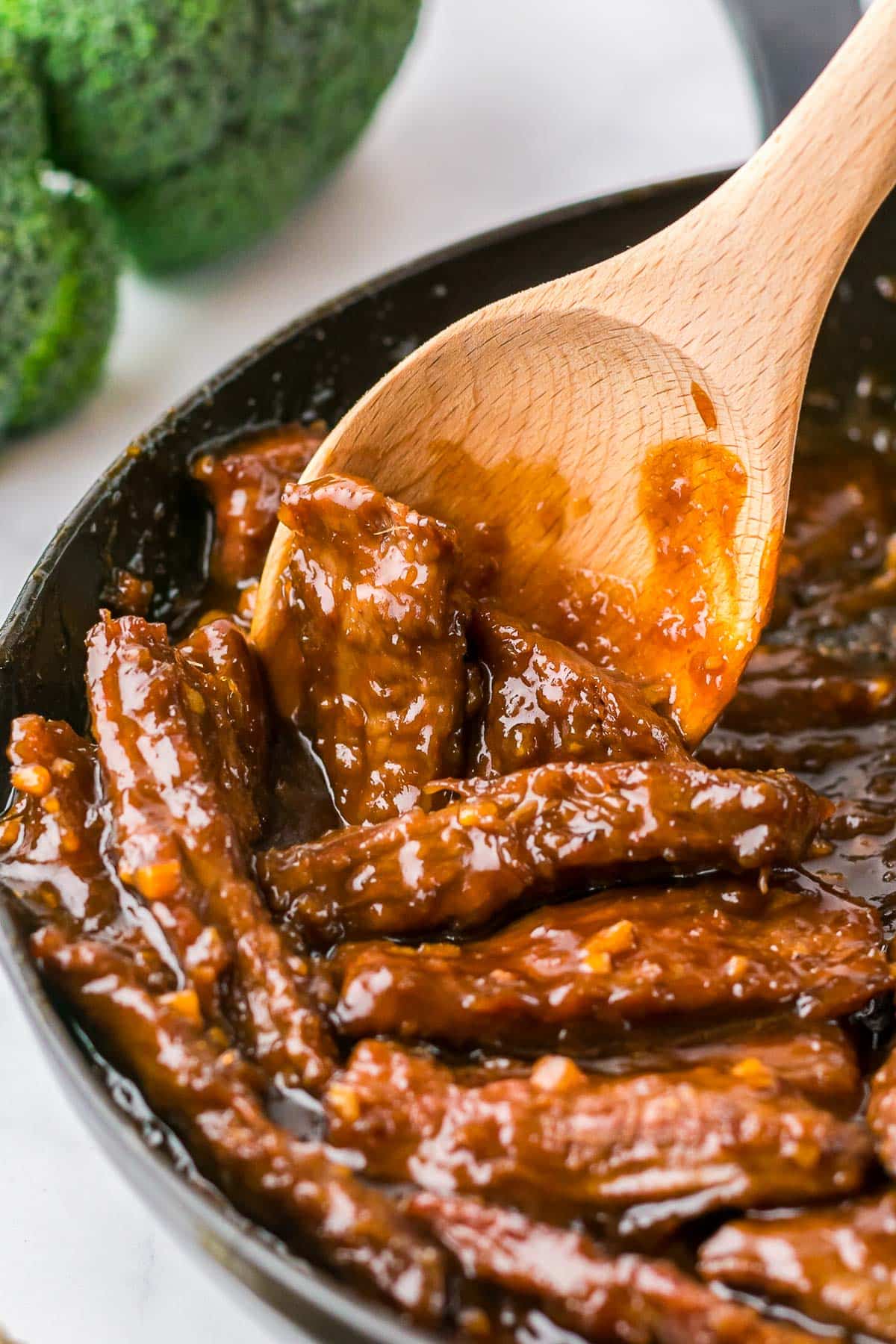 Pro Tips
For the most tender steak:
Slice across the grain as described above. Use photo 1 for reference.
Toss with cornstarch (a natural tenderizer)
Don't over crowd the pan when cooking the beef. Use a large skillet or wok. Alternatively you can cook the steak in batches, then combine it all when adding the Mongolian beef sauce.
Have all ingredients prepared before cooking. Stir fry recipes move quickly. There is no time to prep ingredients while you cook. Have everything ready before starting.
Storing Leftovers
Store any leftovers in a sealed airtight container in the refrigerator for 2-3 days.
Leftovers can also be frozen in individual portions for quick reheating.
What to serve with Mongolian Beef
Serve it on a bed of steamed rice. It can be plain white rice or brown rice.
Or try Instant Pot Cilantro Lime Rice, Coconut Rice with Turmeric or Instant Pot Coconut Lime Jasmine Rice
Stir fry noodles are another option.
You can serve this as a main dish for 2 people or with multiple other side dish recipe or main dish recipes for more people.
Go for a full P. F. Chang's copycat recipe and serve with Orange Chicken.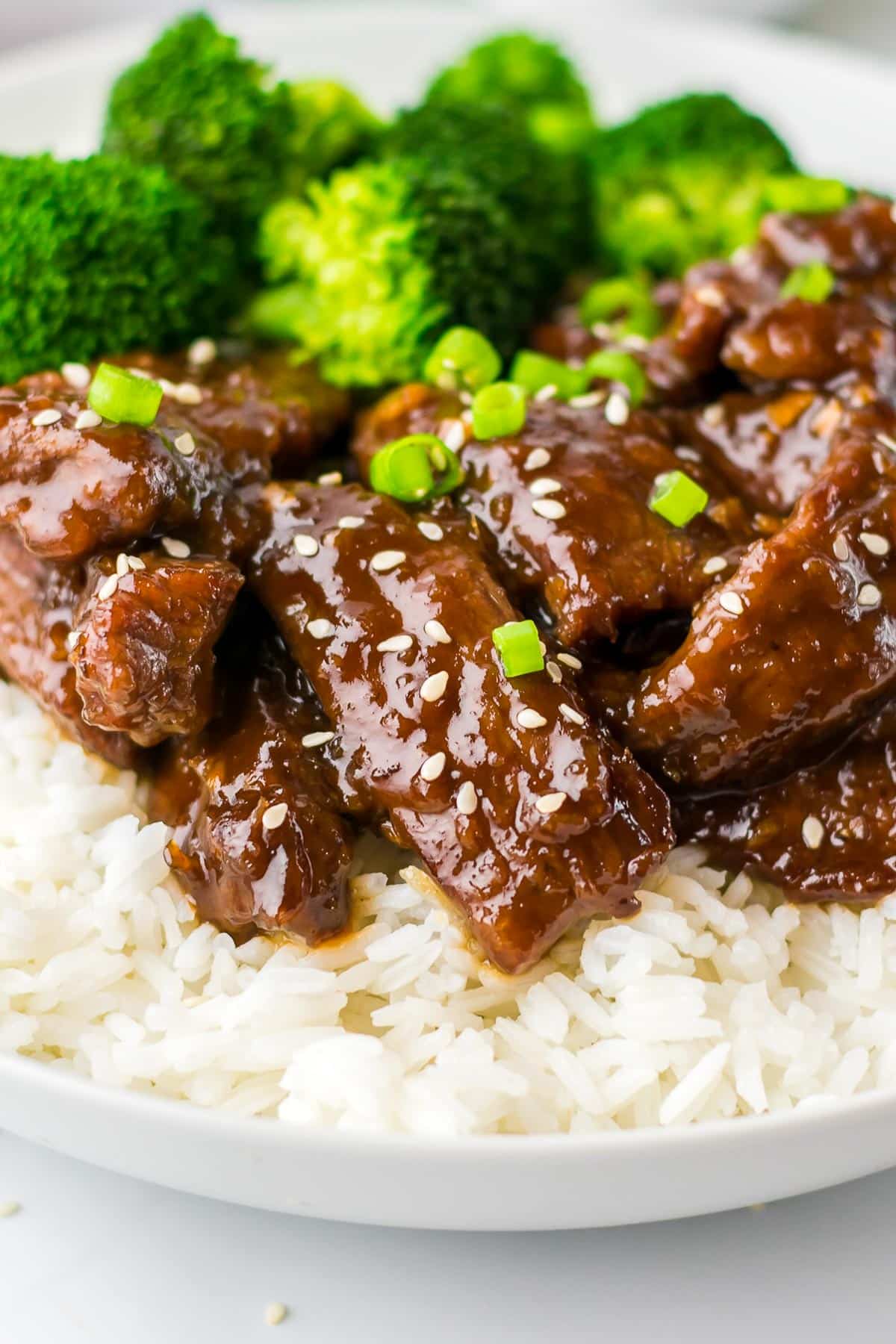 Did you make it? Please RATE THE RECIPE below!
Please
SUBSCRIBE
and
FOLLOW ME
on
FACEBOOK
,
TWITTER
,
INSTAGRAM
and
PINTEREST
!
Recipe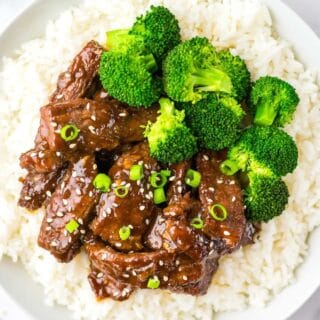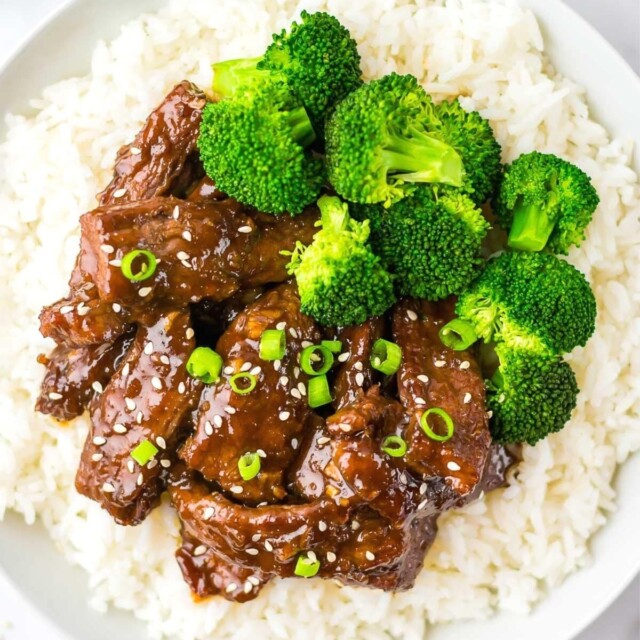 Mongolian Beef
Rich tender slices of flank steak stir fried with a sweet soy ginger garlic sauce. As good as your favorite take-out!
Print
Save Recipe
Recipe Saved!
Pin
Rate
Servings:
2
as main dish; 4 servings with other side dishes
Ingredients
1

pound

flank steak

sliced in ¼-inch thickness across the grain

1/4

cup

cornstarch

3

tablespoons

vegetable oil

1

teaspoon

fresh ginger

minced

3

cloves

garlic

minced

1/3

cup

soy sauce

1/4

cup

water

1/2

cup

brown sugar

packed

1

tablespoon

hoisin sauce

regular or gluten-free

2

green onions

sliced (optional garnish)

Sesame seeds

optional garnish
Instructions
Place the sliced flank steak in a gallon zipper-close plastic bag.

Sprinkle the cornstarch into the bag. Seal and toss to fully coat the flank steak. Set aside.

In a small pan over medium heat, add 1 tablespoon of the oil. Add the ginger and garlic. Cook and stir for about 1 minute, until fragrant.

Add the soy sauce, water, brown sugar and hoisin sauce. Bring the mixture to a simmer and simmer for 3 – 5 minutes. Set aside.

In a large skillet or wok over medium heat, add the remaining 2 tablespoons of oil. When the top of the oil is shimmering, add the flank steak and cook until it's browned on all sides, about 2 – 3 minutes.

Pour the sauce into the skillet and stir to coat the beef. Cook until the sauce begins to thicken and bubble.

Serve over cooked rice and garnish with green onions and sesame seeds.
Notes
How to cut the flank steak
Cut the flank steak across the grain (not with it). To make cutting it easier, put it in the freezer for 15 – 20 minutes before slicing. Thinly slice your beef across the grain in about ¼" – ½" thick pieces.
Pro Tips
Have all ingredients ready before starting to cook. The recipe moves quickly.
Don't over crowd the pan when cooking the beef. If needed cook it in batches and combine it all before adding the sauce at the end.
Nutrition
Calories:
814
kcal
|
Carbohydrates:
77
g
|
Protein:
54
g
|
Fat:
33
g
|
Saturated Fat:
22
g
|
Cholesterol:
136
mg
|
Sodium:
2430
mg
|
Potassium:
980
mg
|
Fiber:
1
g
|
Sugar:
57
g
|
Vitamin A:
120
IU
|
Vitamin C:
4
mg
|
Calcium:
118
mg
|
Iron:
5
mg