They are all the rage and make the best cup of hot chocolate ever! Now you can make Hot Chocolate Bombs at home too! They are fun to make and explode when hot milk is added (in the tastiest of ways)!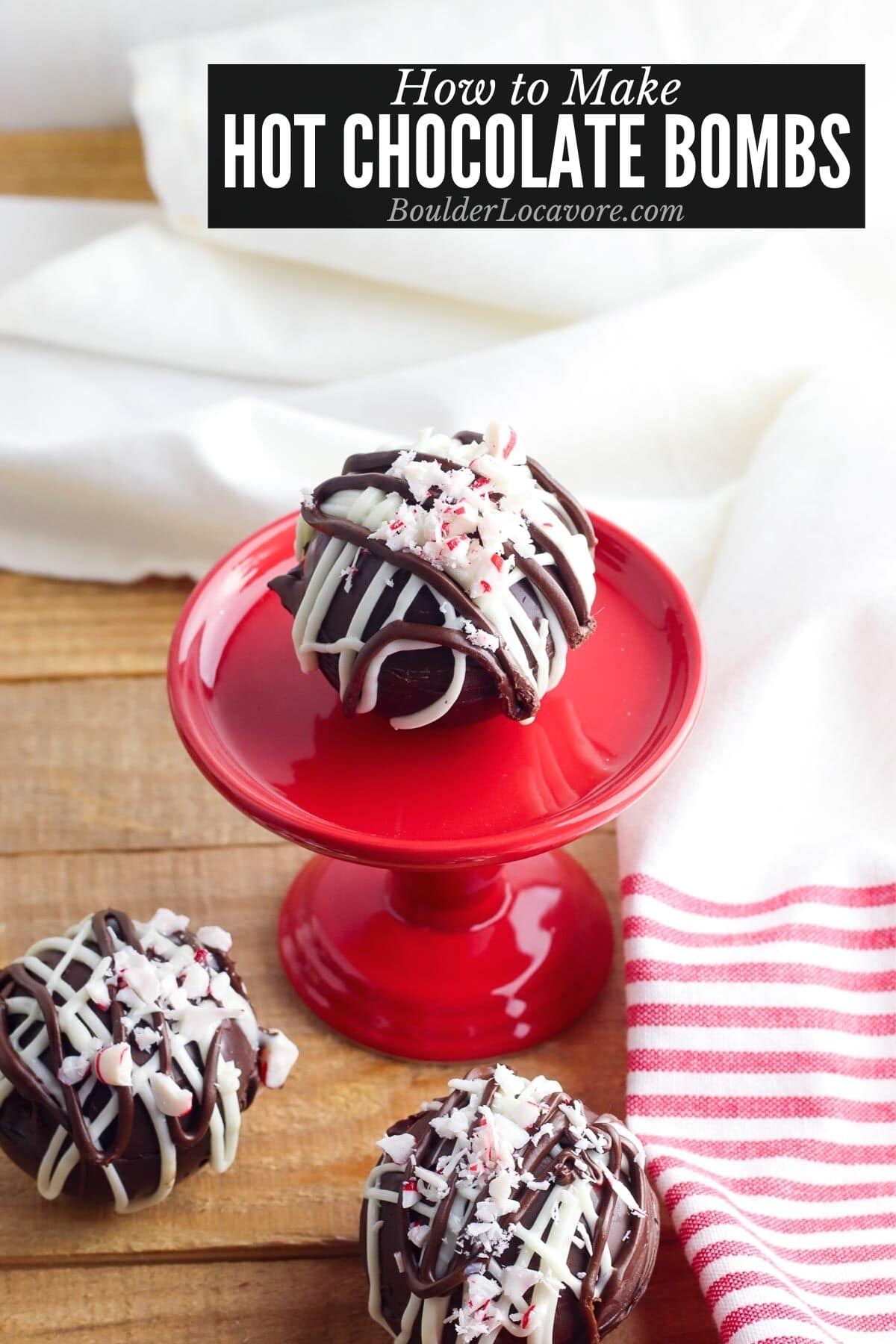 They sell them at Costco. They are all over TikTok. And now you can make them yourself!
They are a magical and delicious way to make hot cocoa and to give as gifts.
Some time is needed to make them but they aren't difficult.
We've shared how to make Candy Cane Hot Cocoa Pops and Homemade Hot Chocolate mix. You'll love this new way to get a creamy chocolatey mug of cocoa!
Multiple variations are listed too!
What is a Hot Chocolate Bomb?
A round ball of thin chocolate is filled with mini marshmallows, instant hot cocoa powder and crush peppermints.
When hot milk is poured on it the chocolate exterior quickly melts away letting the inside explode out!
When stirred together it all makes a creamy chocolatey cup of hot chocolate.
The exciting part is the ingredients exploding to the top of the milk when the chocolate outside has melted.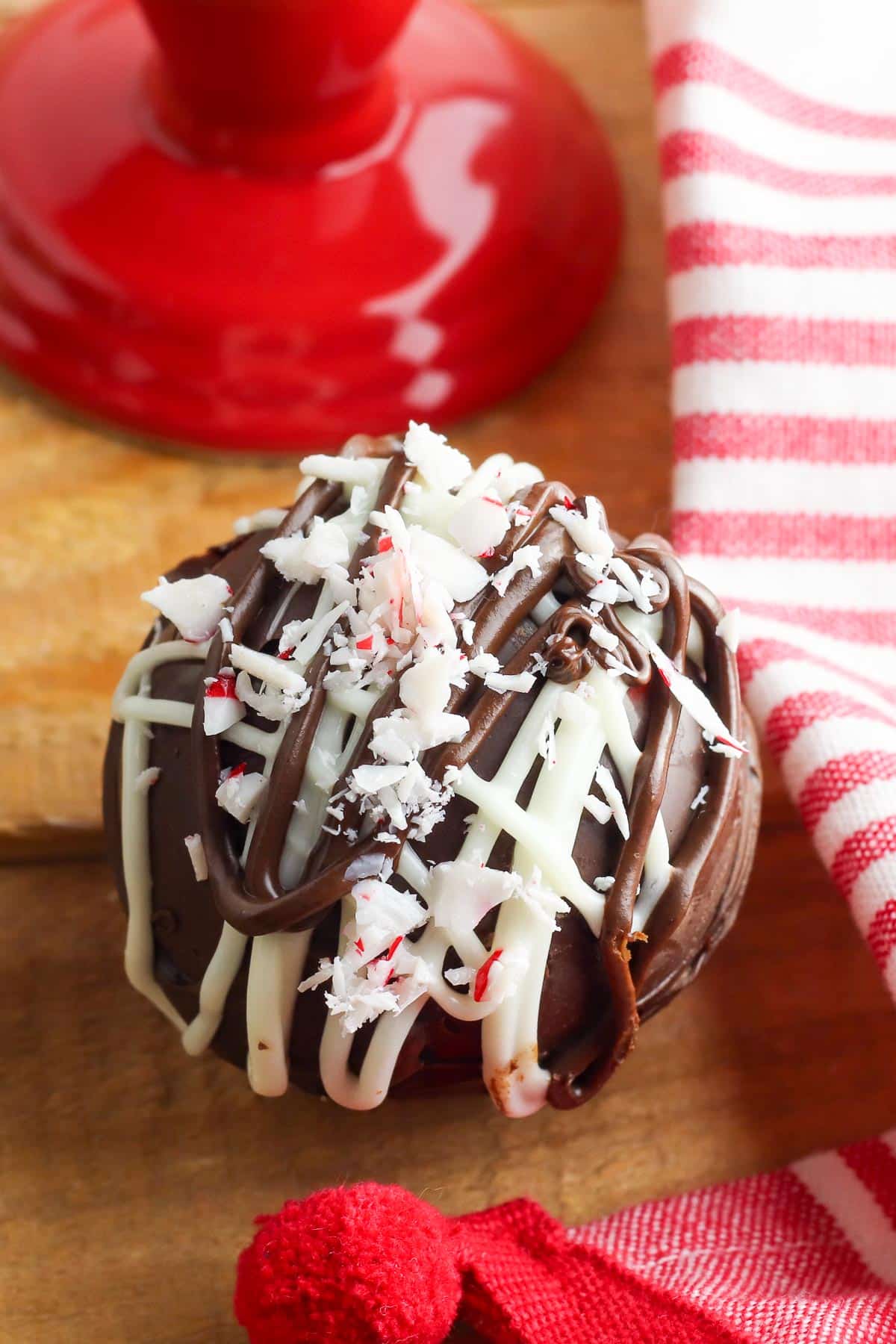 Recipe Ingredients + Notes
The ingredients used are basic and easy to find at any grocery store. A mold is required and some suggestions are included below.
Dark Chocolate Chips. These are melted to make the ball. Some is also drizzled on the finished bomb for decoration and flavor.
Instant Hot Cocoa mix. Just a bit is added to the inside of the chocolate sphere. We used dark hot chocolate but any type will work. Just be sure it's instant mix.
Mini Marshmallows. The perfect size to fit inside!
White Chocolate Chips or melting wafers. These are melted to drizzle on the outside for decoration and flavor.
Additional Ingredients
These can be changed up in many ways to include different flavors and decorations. We share some favorite versions below.
What Mold to use for Hot Chocolate Bombs?
You'll need a half dome/circle/sphere silicon mold. These molds are used for both baking and soap making.
Be sure to select one that is 'food grade' meaning it's safe to use for food creations.
The mold should hold 1-ounce and that will be in the product description.
Using a mold with 12 cavities allows making both halves of the hot chocolate bombs at once.
Here is the mold I used but there are many options included in the link above.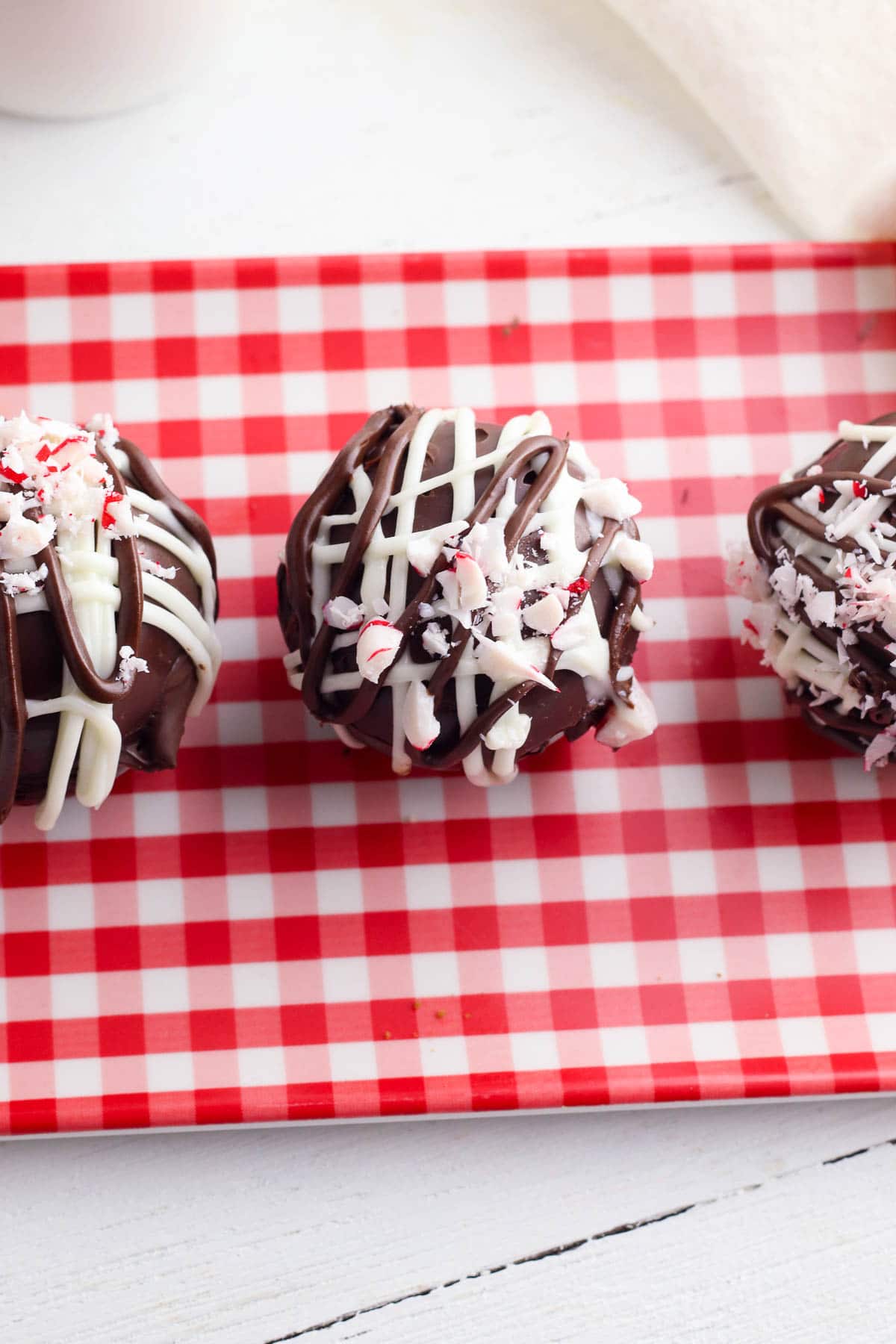 How to Make it – Step-by-Step
STEP 1. Melting the Chocolate.
Place the chocolate chips in a microwave safe bowl (photo 1). Microwave for 30-second intervals, stirring after each interval, until melted.
STEP 2. Molding the Chocolate.
Place a spoonful of the melted chocolate into a mold cavity. Use the back of the spoon to smooth the chocolate to cover the inside of the cavity (photo 2).
Allow the chocolate to fully set (2-3 hours). It can be placed in the refrigerator to speed up the process.
When the chocolate had fully hardened, gently press it out of the molds.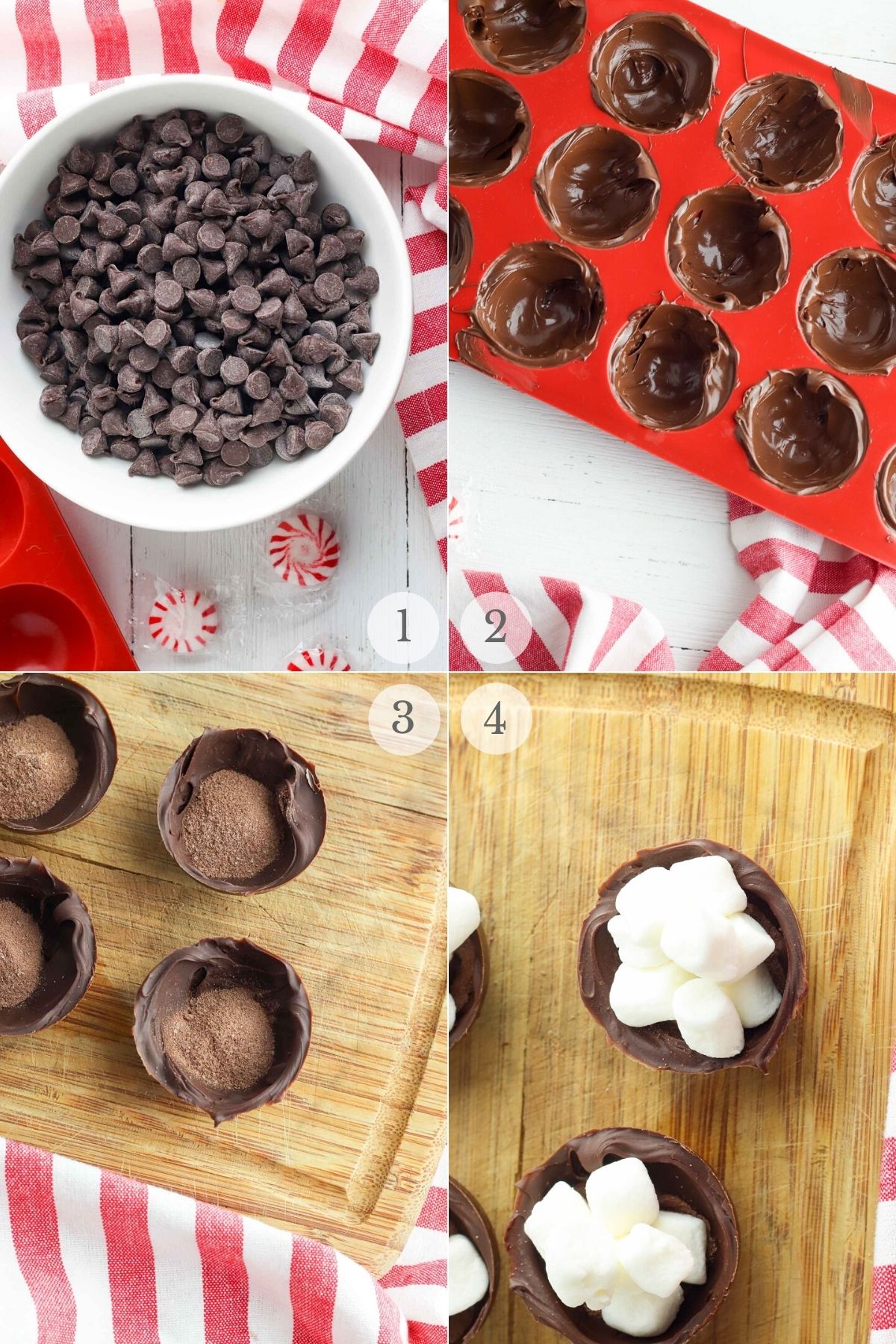 STEP 3. Making the Chocolate Bombs.
Add a small amount of instant hot cocoa powder in 6 of the half spheres (photo 3). Follow with mini marshmallows and some of the crushed peppermints (photos 4-5).
One by one, dip the edges of an empty half sphere into the melted chocolate (photo 6). This will make the 'glue' to hold the two sides together.
Gently hold it on a filled half so the edges are touching. Use fingers to smear the chocolate to secure the seam (photo 7).
Allow them to set.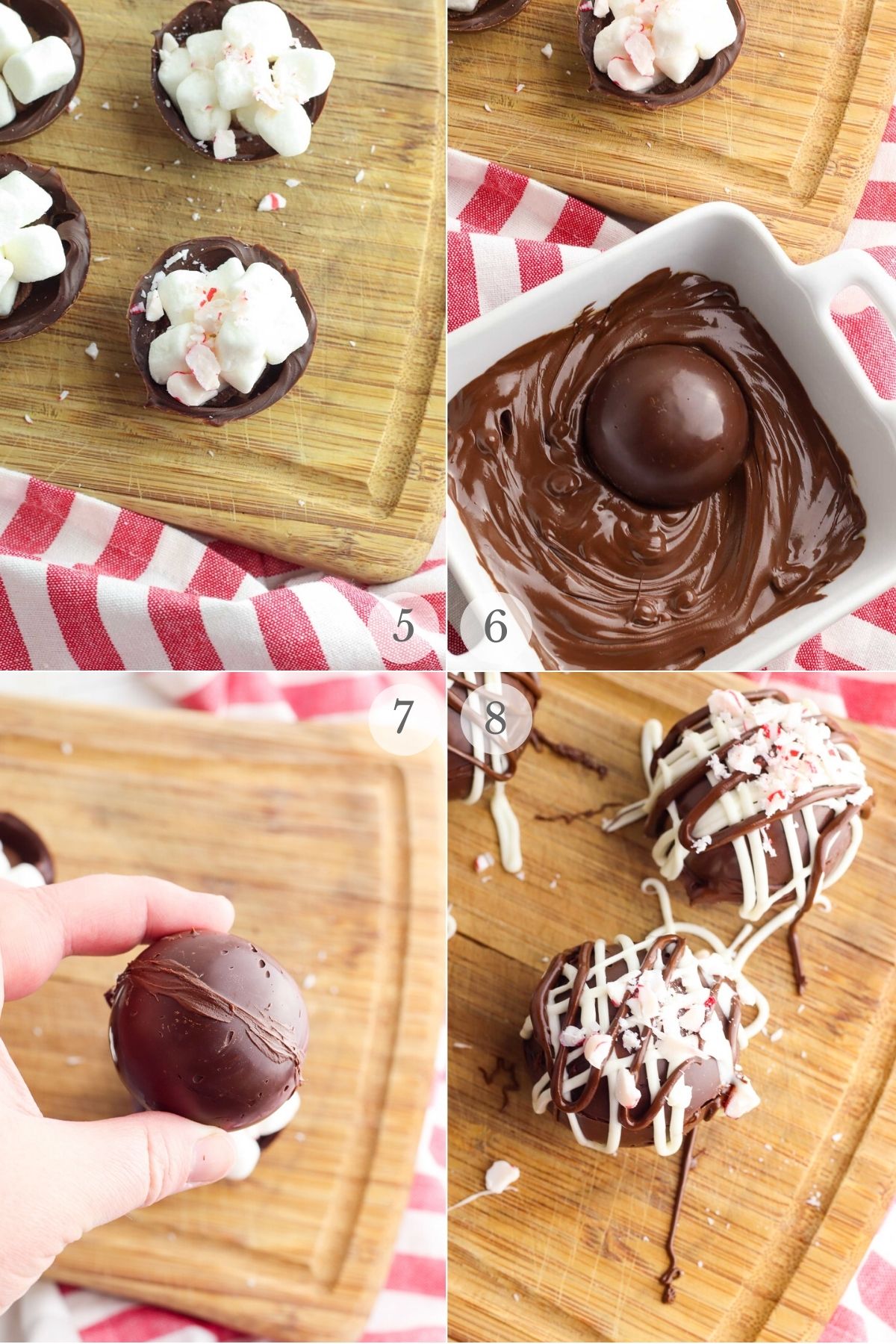 STEP 4. Decorating them.
Melt the white melting chocolate (candy melts) in 15-second intervals, stirring in between.
Place the melted white chocolate and remaining melted dark chocolate each in a separate piping bag or plastic zipper close bag (snip the very corner off).
Pipe the chocolate over the top of the bombs and sprinkle some crushed peppermints on top (photo 8).
Hot Cocoa Bombs – Variations
Once you get the basic recipe down, it can be changed in all sorts of ways! Here are a few favorites:
Peppermint
We added some crushed peppermints into these hot chocolate bombs. It's a perfect wintery flavor addition both inside and some on top for decoration.
These are a great gift idea too.
This version is shown in the recipe steps photos!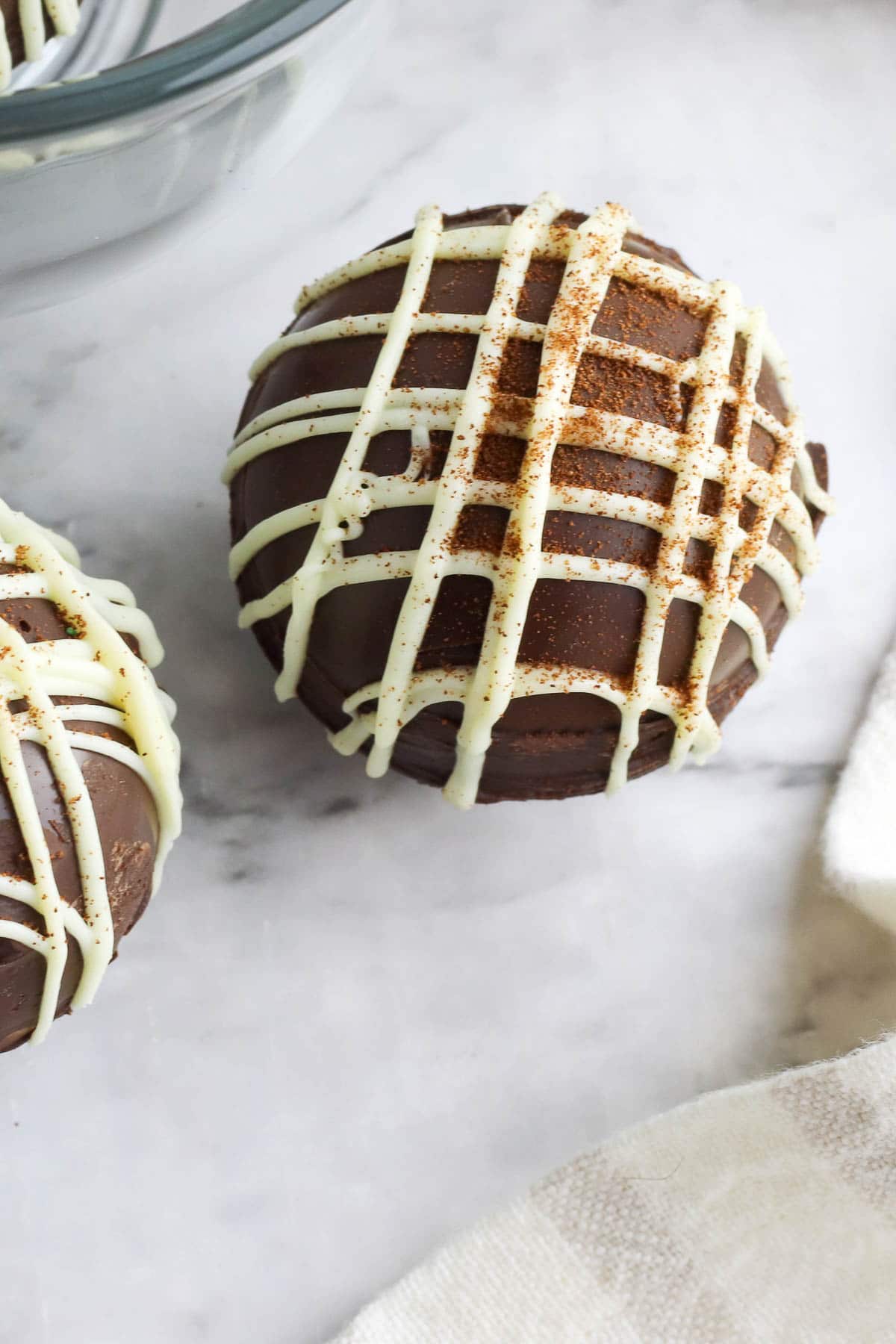 Mocha
The classic flavor combination of chocolate and coffee give these mocha cocoa bombs a delicious twist.
Instant espresso powder is added inside the chocolate pods.
White melting wafers are used to drizzle a pattern on the outside. Additional espresso powder can be sprinkled on the white chocolate too.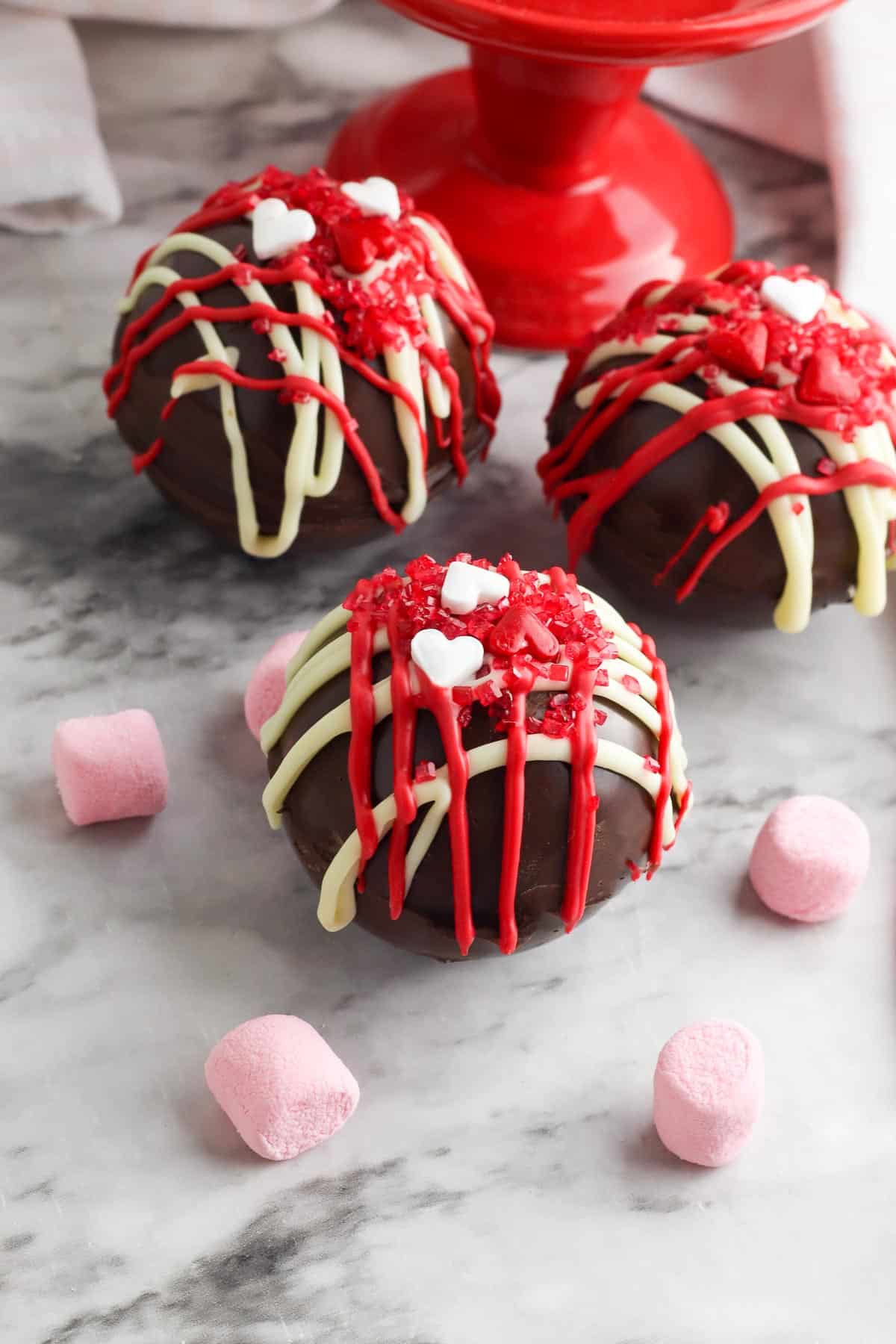 These sweet holiday treats are filled with 1 cup pink marshmallows and red sprinkles along with instant hot chocolate mix.
The tops are piped with red and white melted candy wafers, sprinkled with more sprinkles and heart sprinkles.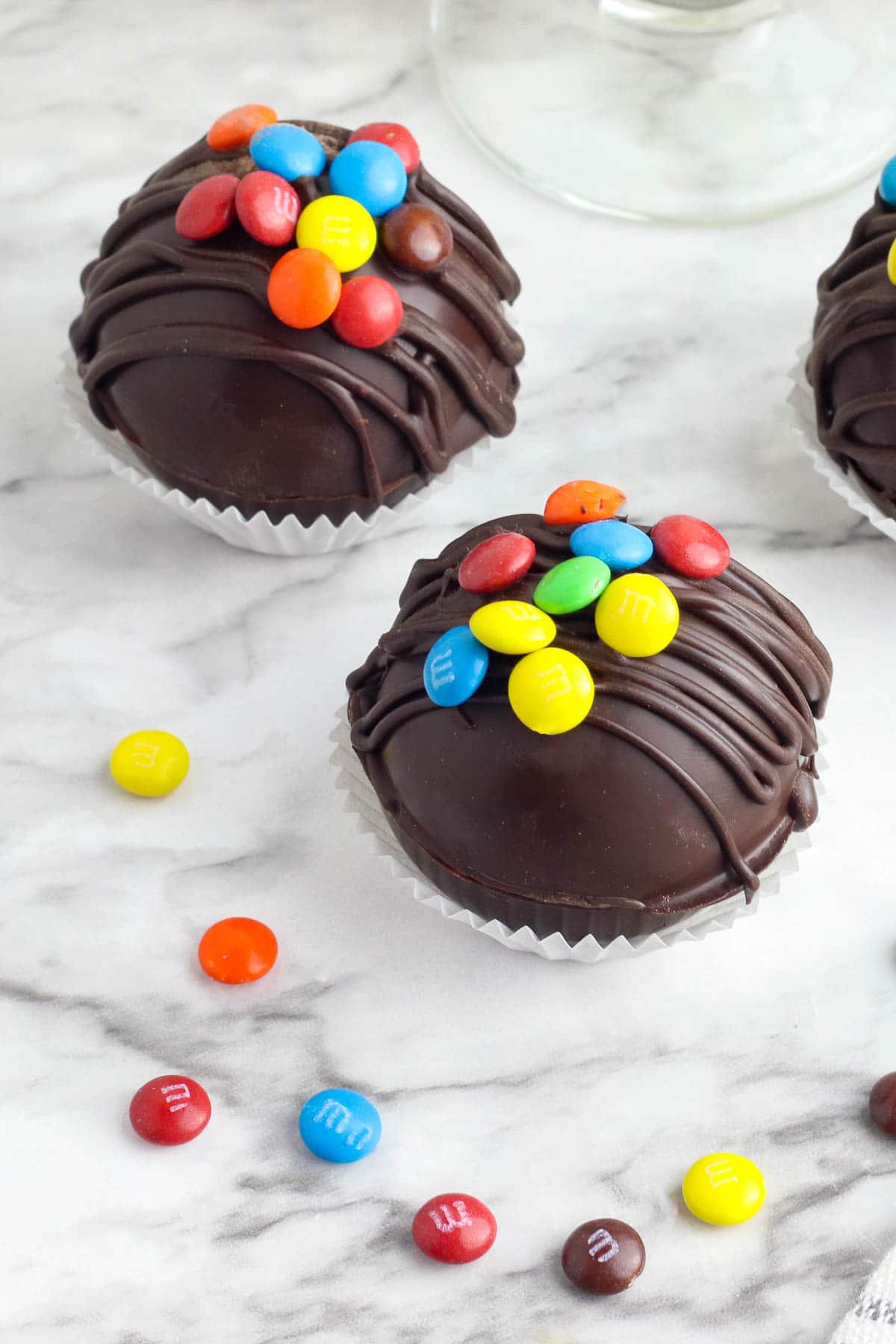 Mini M & M's candies
This colorful version uses 1/4 cup of mini M & Ms candies. Half go into the chocolate sphere and half are reserved to add on top for decoration.
How to Use them
Place one hot chocolate bomb into a mug. Pour one cup of hot milk over it into the mug.
The outside chocolate will melt releasing the inside ingredients!
Stir everything together to melt the remaining chocolate and enjoy!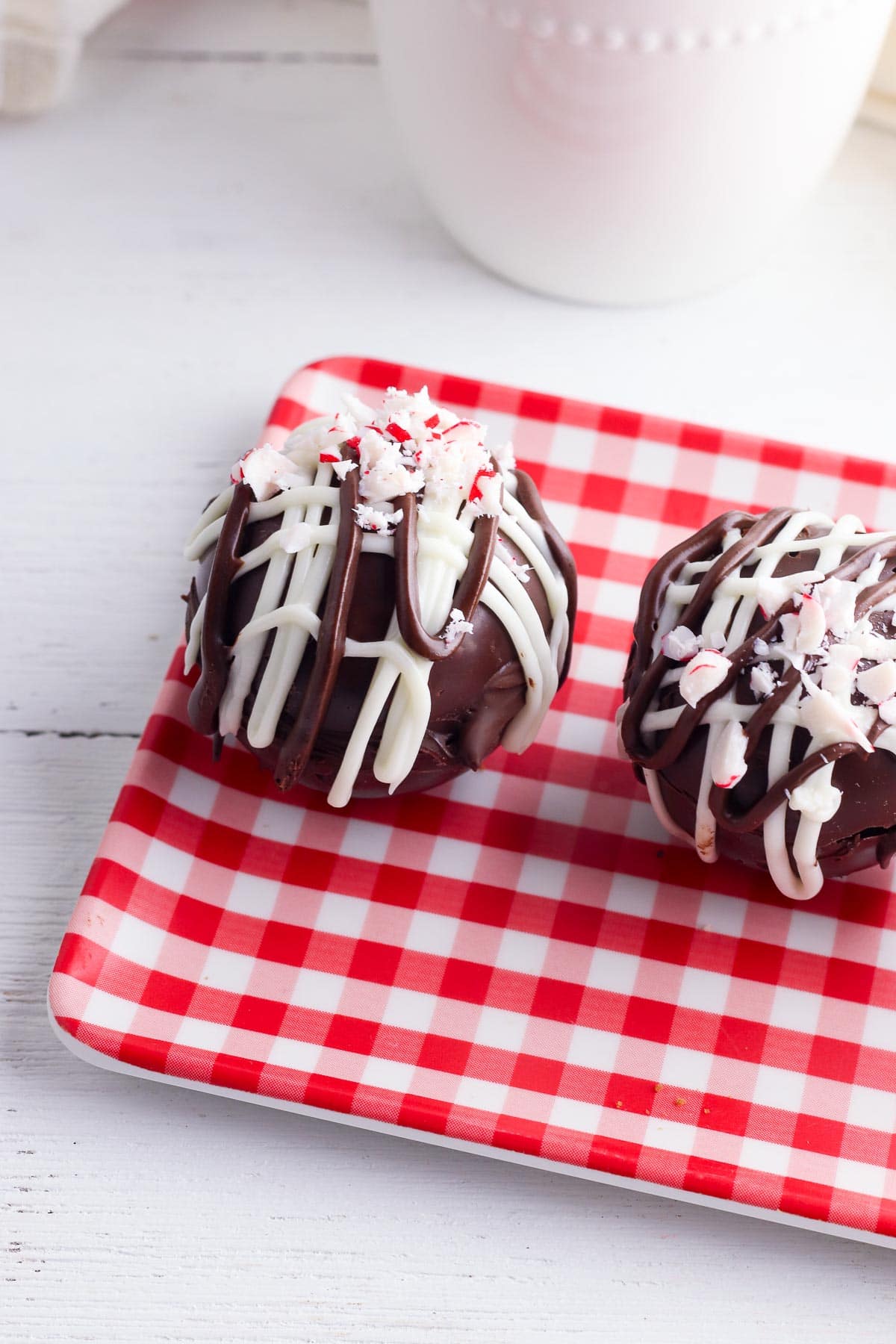 Pro Tips
Don't make the chocolate spheres too thick or too thin. This sounds like a Goldilocks situation I realize. If the spheres are too thick they won't melt as easily when mixed with hot milk.
If too thin they can crack when handled. Refer to the photos for thickness guidance (photos 3 and 4 above).
Work with chilly hands. When handling the chocolate spheres warm or hot hands will begin to melt a bit of the chocolate. Rinsing your hands in cold water before combining the chocolate halves will help. Using food grade chocolate gloves also helps and keep from getting fingerprints on the chocolate if you care about that.
Use a gentle touch when combining the two chocolate halves. Don't push hard when sealing the two halves together so the chocolate doesn't break in the process.
Don't heat the chocolate too fast; especially the white chocolate. If chocolate is over heated it will 'seize' meaning it becomes dry and can't be stirred. This is particularly true of white chocolate. Cross check the package instructions for melting before starting.
Wants a really smooth seam? If the chocolate doesn't lay as flat as you'd like on the seam you can try one of these two things.
Dip a spoon in a glass of hot water (hot enough to warm the spoon but not boiling hot so it will melt through the chocolate). Use the back side of the spoon to run along the seam to flatten the chocolate.
Dip a finger in some of the melted chocolate and run it on the seam for a smoother finish.
Practice Makes Perfect. There is a learning curve with projects like this. However you make them they'll be delicious. If you are planning for giving as gifts you might consider adding some extra ingredients so you can do a practice run as you are getting the hang of it.
Storing them
Store them in an airtight container in a cool area in your pantry.
If needed (in a hot or humid area) they can be stored in the refrigerator if the container is airtight. The refrigerator can cause condensation to develop on the chocolate.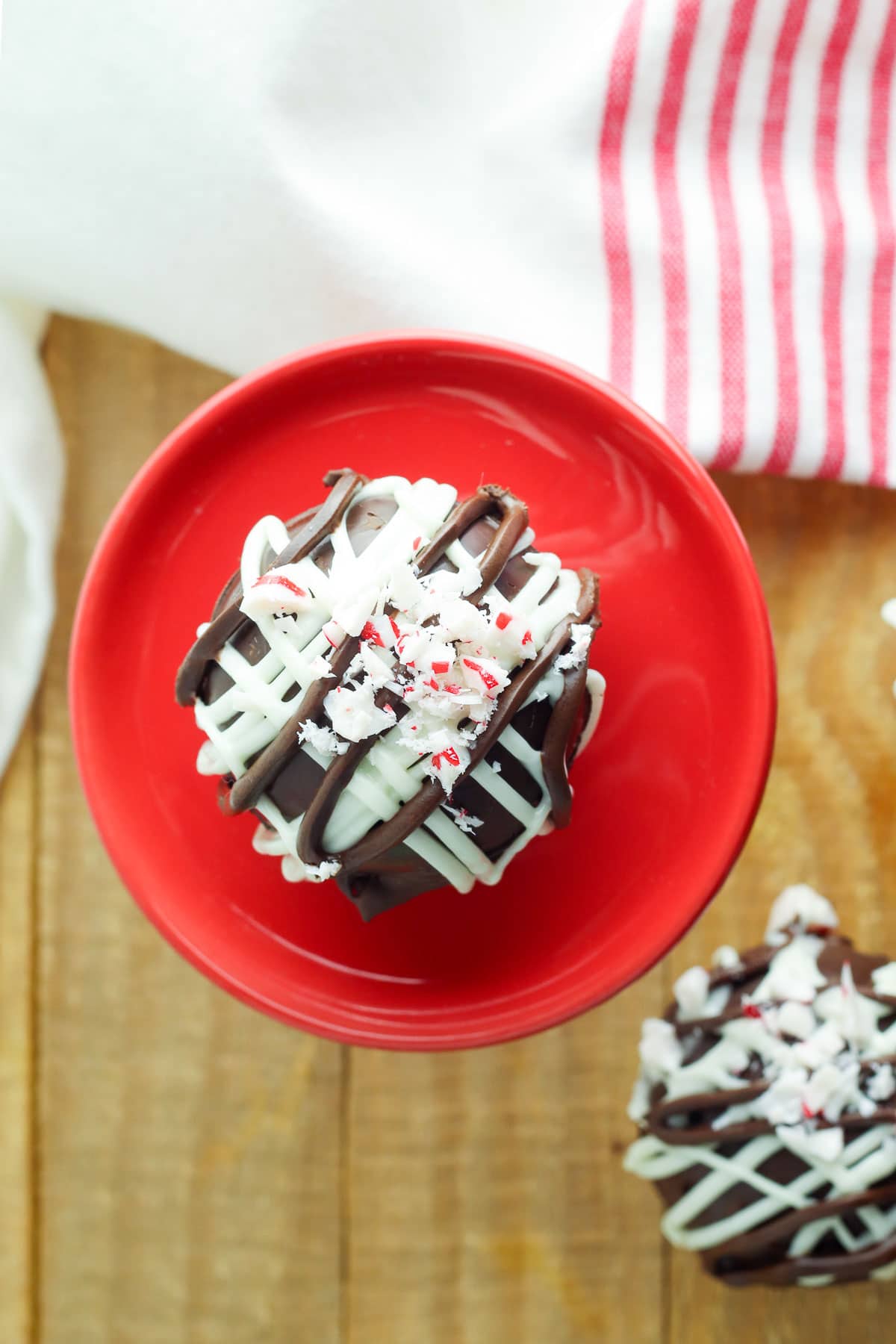 More Recipes You'll Love!
Did you make it? Please RATE THE RECIPE below!
Please SUBSCRIBE and FOLLOW ME on FACEBOOK , TWITTER , INSTAGRAM and PINTEREST !