Spicy Ginger Chicken Stir Fry is a fresh and flavorful stir fry recipe, made in mere minutes. Looking for an easy, fast, naturally gluten-free recipe for busy nights? You'll love this easy chicken recipe!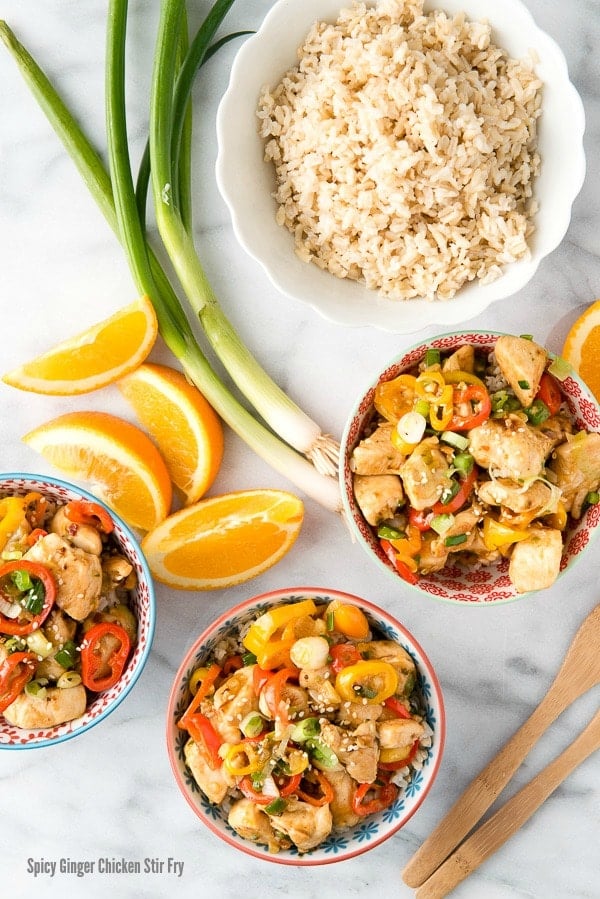 I'm so excited to share this Spicy Ginger Chicken Stir Fry recipe today! Each time I stir-fry I'm reminded how easy and fast it is. It serves as a nudge to do it more often!
My first introduction to real Chinese food was when I would visit my grandparents in San Francisco as a child. The city was full of ethnic pockets where authentic cuisine could be found and we tried it all. We would walk from their apartment near Fisherman's Wharf down to Chinatown for a bite to eat. There were a few restaurants they would frequent and we were often the only non-Chinese diners to eat there. The restaurant owners were very friendly and would bring items not on the menu for us to try. It was so exotic and delicious; like no other food I had ever tasted.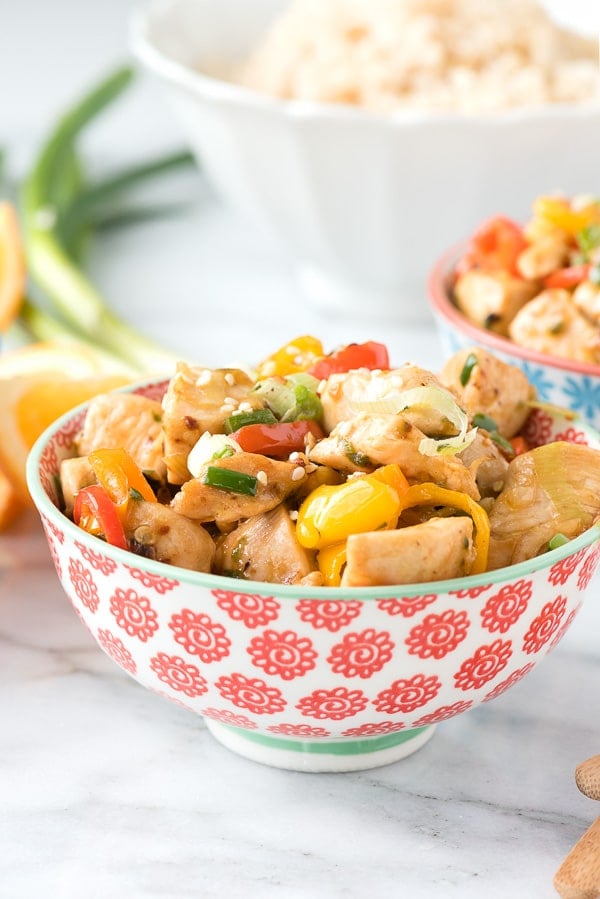 One of the restaurants in particular was very small with only six tables. From where we would sit I could peek into the little kitchen and see the cooks madly stir-frying in their woks. It was a sight to behold. Fresh ingredients being madly tossed into the sizzling woks as they stirred frantically often while yelling at each other! The food would arrive at the table steaming hot, colorful, often spicy and still crunchy (which I loved not being a fan of over-cooked vegetables).
Now being a busy mom, with two hungry kids and not much time for meal preparation, especially on a school night, stir fry is back in action in my kitchen. It's a fantastic option, full of flavor, with loads of possibilities for fresh ingredients.
Gluten Free Spicy Ginger Chicken Stir Fry
For those of us who are gluten-free, Asian cuisine is relatively easy to adapt, as well as prepare naturally gluten-free as I've done today. Instead of traditional soy sauce, Tamari may be substituted; it's a variation of soy sauce that does not contain wheat but tastes the same. Instead of wheat-based noodles, rice noodles or glass noodles can be used. Most of the rest of the cuisine is naturally gluten-free (but of course when eating out be sure to ask before ordering).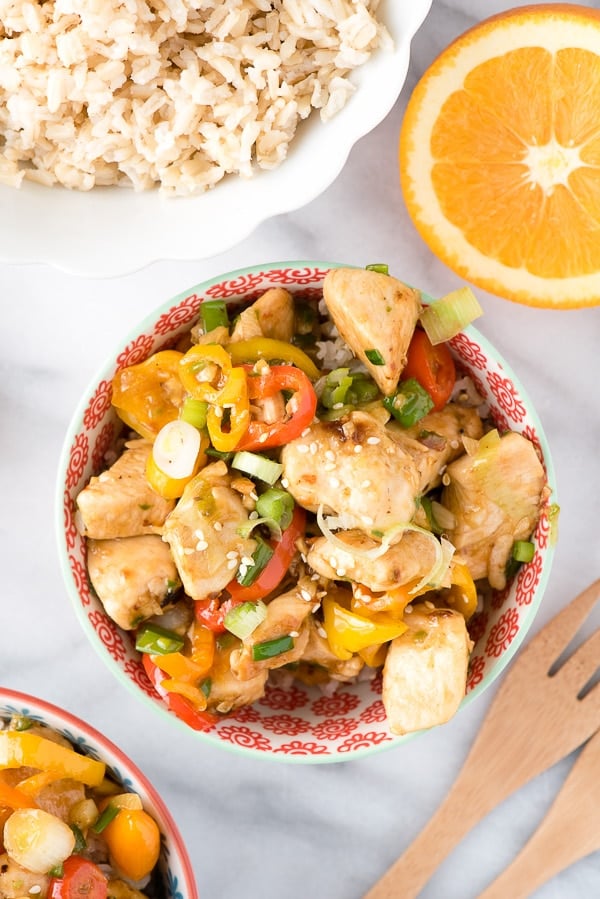 Stir fry isn't limited to Asian dishes either. One of our favorite family recipes is Spicy Southwestern Steak Stir Fry with Cilantro Lime Rice. YUM! Today's recipe is a simple Spicy Ginger Chicken Stir Fry made colorful with a variety of sweet peppers. If you have not made stir fry before, the preparation is key. Having everything staged and ready in arm's reach is a must before you begin as many ingredients only cook for a minute or two over high heat. Most of your time will be spent preparing the ingredients, with the entire cooking time being less than 10 minutes! Have some rice ready before you begin and dinner will be on the table in a flash!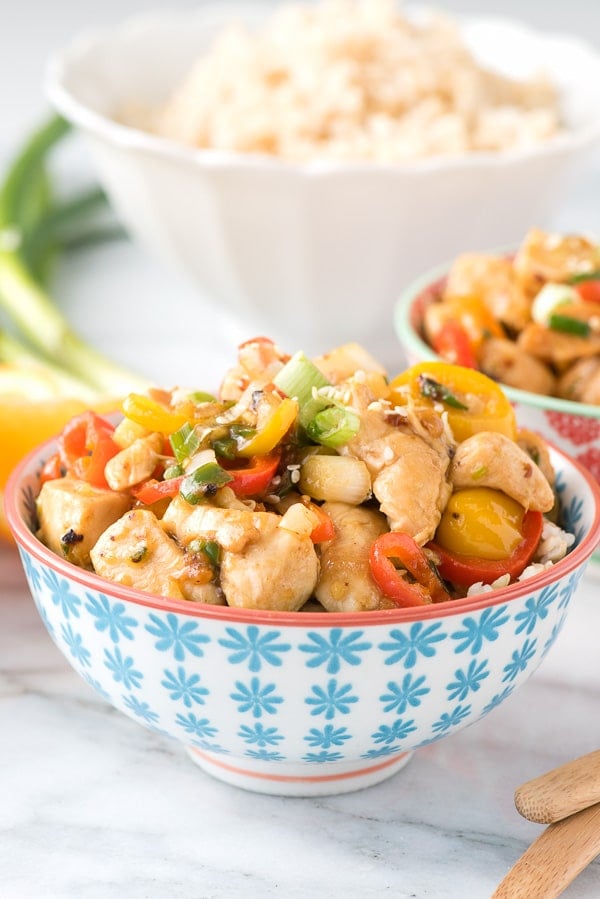 Once you make stir-fry I feel sure you'll be hooked. Woks are affordable and a perfect way to cook a stir fry recipe to perfection.
Try these Recipes too!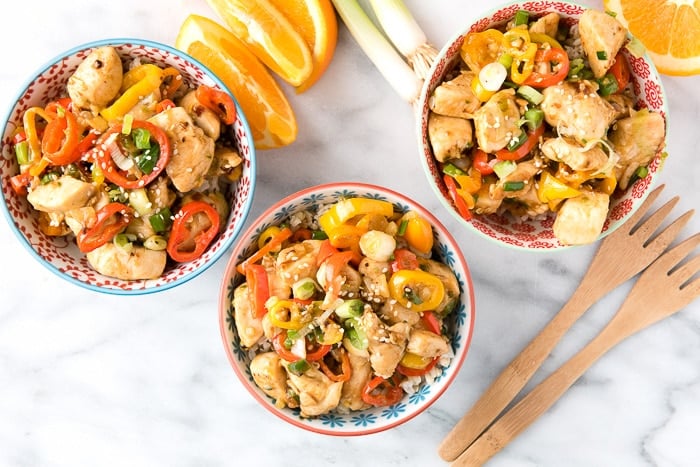 How to Make Spicy Ginger Chicken Stir Fry:
Recipe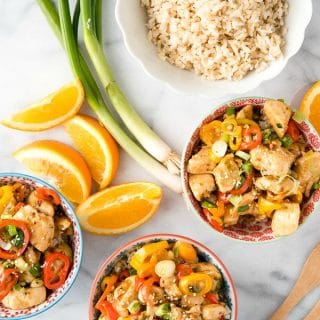 Ingredients
1/4

cup

Orange Juice

Freshly squeezed or purchased

2

teaspoons

Cornstarch

2

tablespoons

Sunflower Oil

Divided

6

cloves

Garlic

Large, diced

2

teaspoons

Fresh Ginger

Peeled and diced

1

Jalapeño

Seeded and diced

1 1/2

cups

Bell Pepper

Green, red, yellow, orange or a mix, seeded and chopped into bite-size pieces or miniature sweet peppers cut into rings

3

Scallions

Cleaned and sliced in 1/2 inch pieces, white and green portions

1

pound

Boneless Skinless Chicken Breast

Cut into 3/4 inch pieces

1

teaspoon

Sesame Oil

1/4

teaspoon

Kosher Salt

1/4

teaspoon

Crushed Red Pepper Flakes

1/2

teaspoon

Apple Cider Vinegar
For Garnish:
Sliced Scallions

White and light green portions

Sesame Seeds

Cooked Rice

Optional
Instructions
In a small bowl, combine the orange juice and cornstarch. Whisk to fully combine and set aside.

Heat a wok or large skillet on medium-high. Add 1 tablespoon of the oil; when rippling can be observed on the oil's surface it's hot (less than 30 seconds).

Add the garlic, ginger and jalapeno to the wok and stir constantly for 30 seconds.

Add the sweet bell peppers and scallions; stir-cook for 1 minute. Remove the vegetables from the wok and set aside.

Add the remaining tablespoon of oil to the wok. Add the chicken and cook, stirring constantly, until the outside has turned golden and the inside is white and cooked (do not overcook); approximately 5 minutes.

Add the orange juice mixture to the wok and toss the chicken pieces to fully coat.

Reduce the heat to medium and add back the vegetables that were set aside and toss to combine. Add the sesame oil, salt, red pepper flakes and apple cider vinegar; toss to coat.

Serve immediately atop rice (if desired) garnished with scallions and a sprinkle of sesame seeds.
Nutrition
Calories:
161
kcal
|
Carbohydrates:
6
g
|
Protein:
16
g
|
Fat:
7
g
|
Saturated Fat:
1
g
|
Cholesterol:
48
mg
|
Sodium:
214
mg
|
Potassium:
407
mg
|
Fiber:
1
g
|
Sugar:
2
g
|
Vitamin A:
1295
IU
|
Vitamin C:
56.6
mg
|
Calcium:
16
mg
|
Iron:
0.6
mg
This recipe is a contribution to Food Fanatic in my role as as the Naturally Gluten-Free Fanatic.