This favorite summer salad is full of peppery grilled flank steak, peaches and mozzarella cheese on a bed of cool romaine lettuce. Homemade Basil Balsamic Vinaigrette is the finishing touch!

Sweet, savory, cool and hot ingredients makes this main dish salad recipe a favorite.
Lightly grilled peaches and fresh Mozzarella cheese combine with thinly sliced grilled flank steak.
Fresh Campari tomatoes and red onion round out this filling meal that has a little bit of everything.
The chilled lettuce and hot sliced steak are a fantastic duo. All topped with fresh basil.
This flavor-packed recipe is a favorite of all ages and fast to pull together.
Ingredient Notes
This salad is made with just a handful of wholesome ingredients perfect to celebrate summer.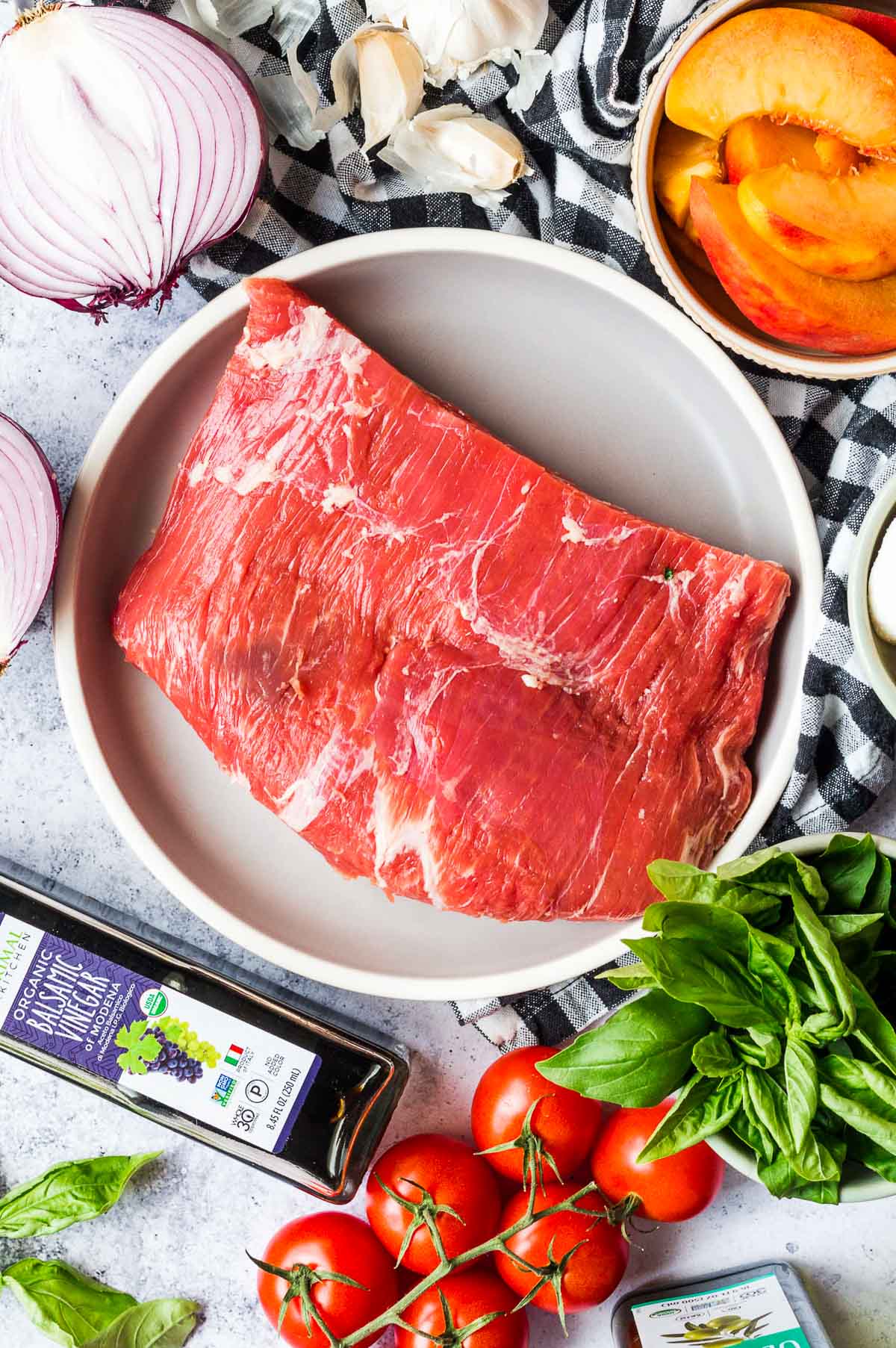 Flank Steak
This is a thin steak that has the best final texture when either cooking fast and hot or long and slow. This recipe sears the steak in a cast iron grill pan then finishes it for about 5 minutes in the oven.
Flank steak has a definite grain that you'll see in the photo above. The grain is the direction of the texture. In the photo above the grain is running diagonally, from top right to lower left.
For the most tender results it should always be cut across the grain (not in the same direction as the grain) in thin slices.
If possible to cut diagonally (still across but make the slices on an angle) all the better, but straight across is fine.
Peaches
Either yellow or white peaches may be used. Yellow peaches tend to have more peach flavor so are recommended.
The peaches do not need to be peeled. They should be rinsed well especially if not using organic peaches.
Peaches are a fruit that tends to be sprayed with more pesticides.
If you prefer to peel the peaches I have a trick to do it easily and quickly in this Peach Crumble recipe.
Select ripe but firm peaches which will hold their structure best when being cooked.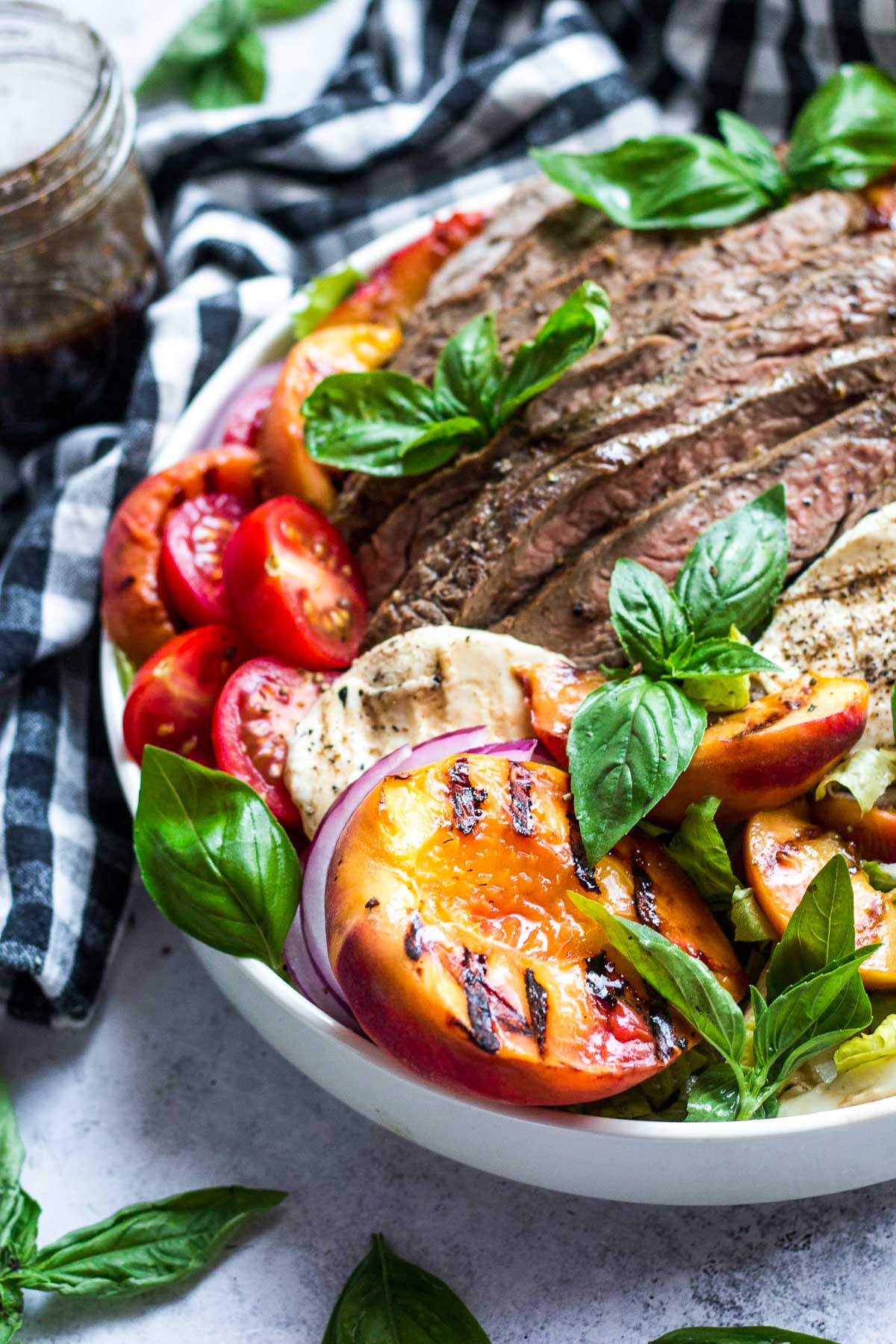 Lettuce
Romaine lettuce or hearts are recommended for this recipe. A whole head of Romaine lettuce can be sliced thinly or Romaine hearts can be torn.
One large head of lettuce or a 5-ounce container of lettuce is needed.
If possible chill the lettuce after preparing it. The cool contrast to the hot steak is so good!
Another recommended option is a 5-ounce container of arugula, spinach with mixed greens.
What are Campari Tomatoes?
Campari tomatoes are a bit larger than cherry tomatoes. They are known for their sweetness, low acidity and nice texture.
I typically quarter them for this salad recipe.
If they are unavailable I suggest substituting grape tomatoes to add sweetness to the salad.
Basil Balsamic Vinaigrette
This fast, easy dressing is naturally sweet from the vinegar. It's bursting with fabulous basil flavor from fresh basil.
If you want a sweeter dressing add 1-2 teaspoons of honey.
How to Make it
The recipe has three main steps:
Making the dressing
Grilling the steak, peaches and mozzarella cheese
Preparing the salad

Making the Dressing
So easy! All ingredients are added to a jar, lid sealed and it's shaken to combine.
Grilling
Heat the oven to 350 degrees and place the grilling pan in the oven for 15 minutes.
Remove and place on the stove top over medium heat.
Peaches
Lightly spray the pan with cooking spray. Add the peach wedges and cook 30-45 seconds on each side to warm and produce grill marks.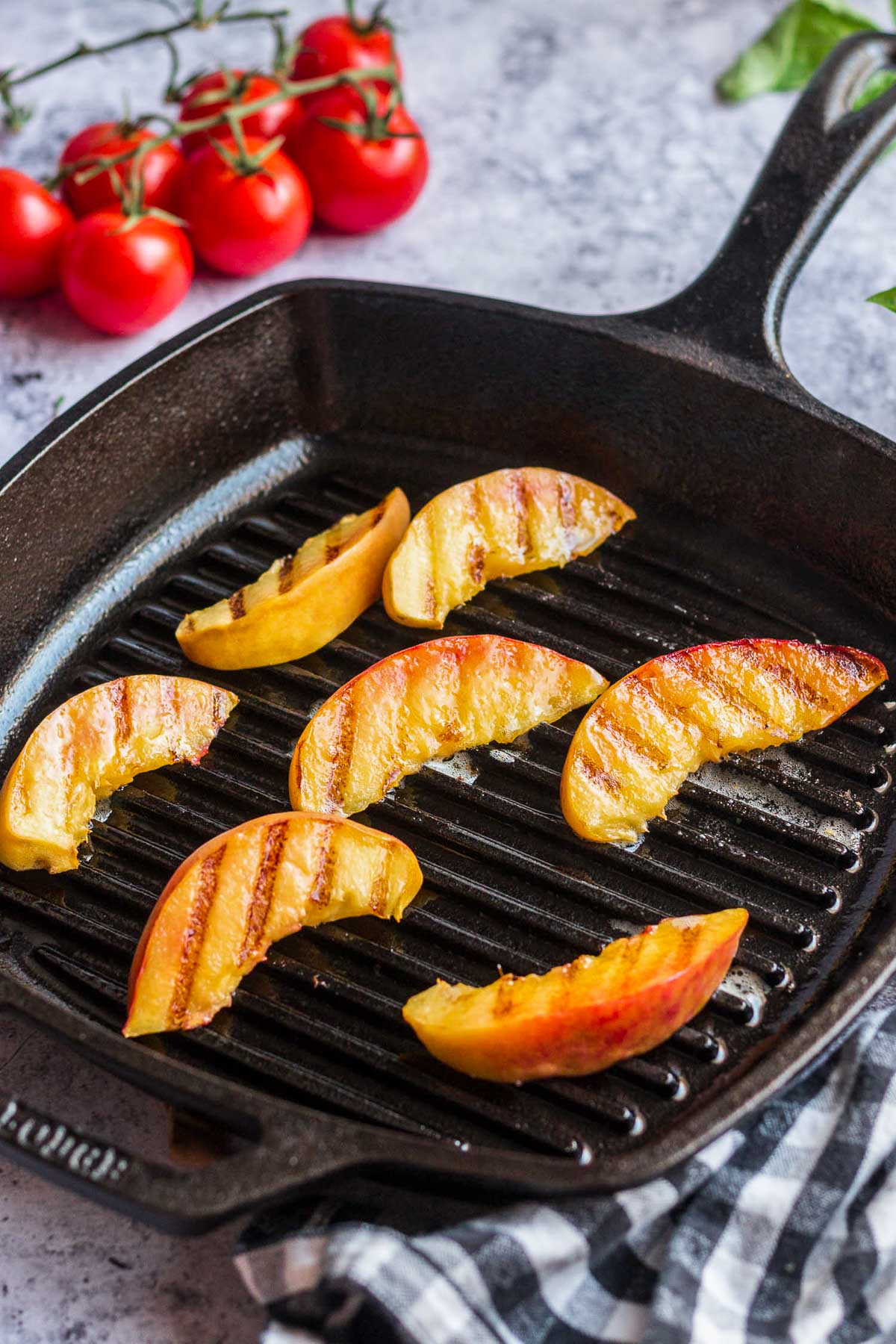 Flank Steak
The flank steak is sprinkled with a salt, pepper and garlic powder mixture (photo 1). And sits while the grilling pan heats in the oven for 15 minutes.
After the peaches, sear the flank steak 2 minutes on each side (photo 2).
Transfer the pan with the steak into the oven to cook until the internal temperature reaches 135 degrees F (about 5 minutes). Remove the steak to rest for 5 minutes.
After resting, slice the steak thinly across the grain (not WITH the grain).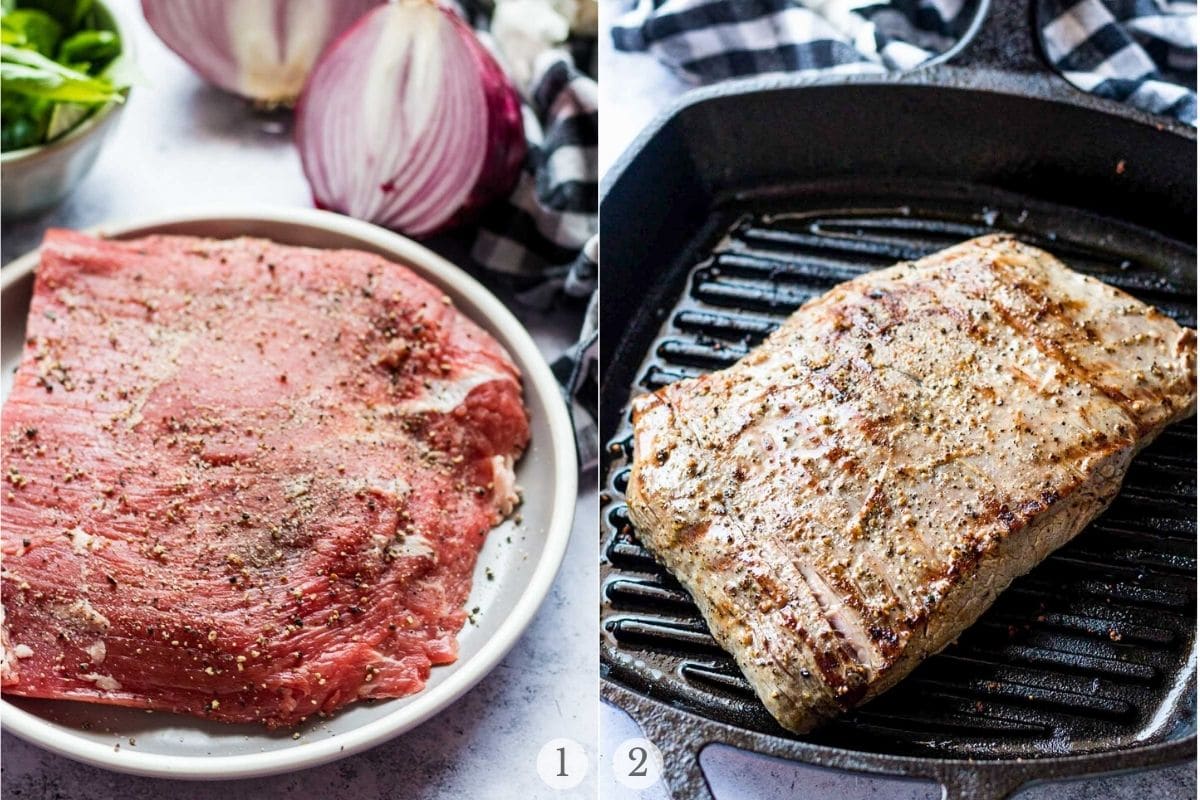 Mozzarella Cheese
After the steak has cooked and is removed to rest, add the mozarella slices to the pan to cook about 30 seconds per side.
DO NOT allow to cook longer than this or it will begin to melt.
Assemble the Salad
Divide the lettuce between four large bowls. Layer with the red onions, grilled steak slices, peaches, tomatoes and mozzarella.
Drizzle with the dressing equally between the bowls.
Grilling Methods – 2 Options
Using a Cast Iron Grilling Pan
A grilling pan is a heavy, cast iron skillet with raised ridges that make grill marks when heated to high temperature.
The advantage is cooking any time of the year and not having to use an actual grill but being able to produce similar results.
The pan is used both on the stove top and in the oven.
Though flank steak is very lean, any fat can also drain into the grooves between the ridges.
Using a Grill
An actual grill is another option. For some this may create a weather dependent limitation to when to make the salad recipe.
It adds extra flavor however all the ingredients cook very quickly so controlling the heat and any flare-ups may be more challenging.
If using the grill, follow the instructions to prepare the flank steak.
Heat grill to medium heat (350 degrees) and grill for 10 minutes or until reaching 135 degrees internal temperature. Rest 10 minutes before slicing.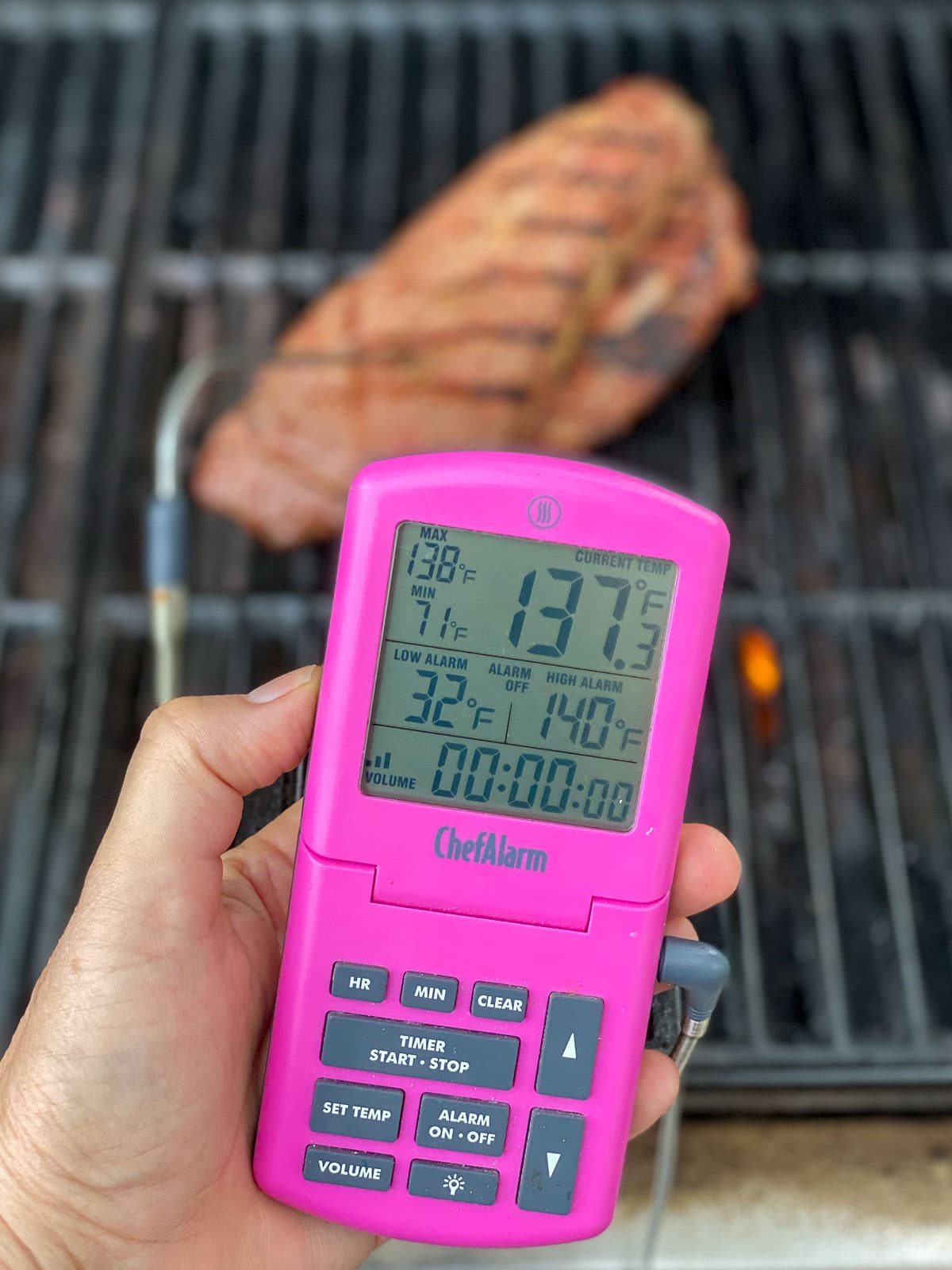 Non-Grill Option – Cast Iron Skillet
The last non-grilling option is to use a cast iron skillet.
Because the ingredients will be flat against the cooking surface they will probably cook more quickly. There also will not be any enticing grill marks.
Pro Tips
We use thinly sliced romaine lettuce in this recipe, but this would also be great with arugula, mixed greens or baby spinach.
If you'd like a sweeter dressing, you can add 1-2 teaspoons of honey to the dressing prior to shaking it up.
I used a cast iron grill pan that was already well seasoned. I like to use oil in a spray bottle to help the oil distribute evenly, but you can also brush a little oil on or use non-stick cooking spray.
Feel free to use a grill instead of a grill pan. Heat the grill to medium heat (350 degrees), brush with a grill brush and make sure the grates are well oiled prior to grilling the peaches. Grill the steak 10 minutes total or until reaching 135 degrees internal temperature.
Use an Instant Read thermometer to check the steak temperature. The thickness of cuts of flank steak vary, so using either an instant read thermometer or a thermometer with a probe that you leave in the meat is the best way to ensure the steak is cooked to perfection.
Let the steak rest. This step is important to allow the juices to redistribute giving the best result. Rest before slicing for 5 minutes is using the grill pan or 10 minutes if using an actual grill.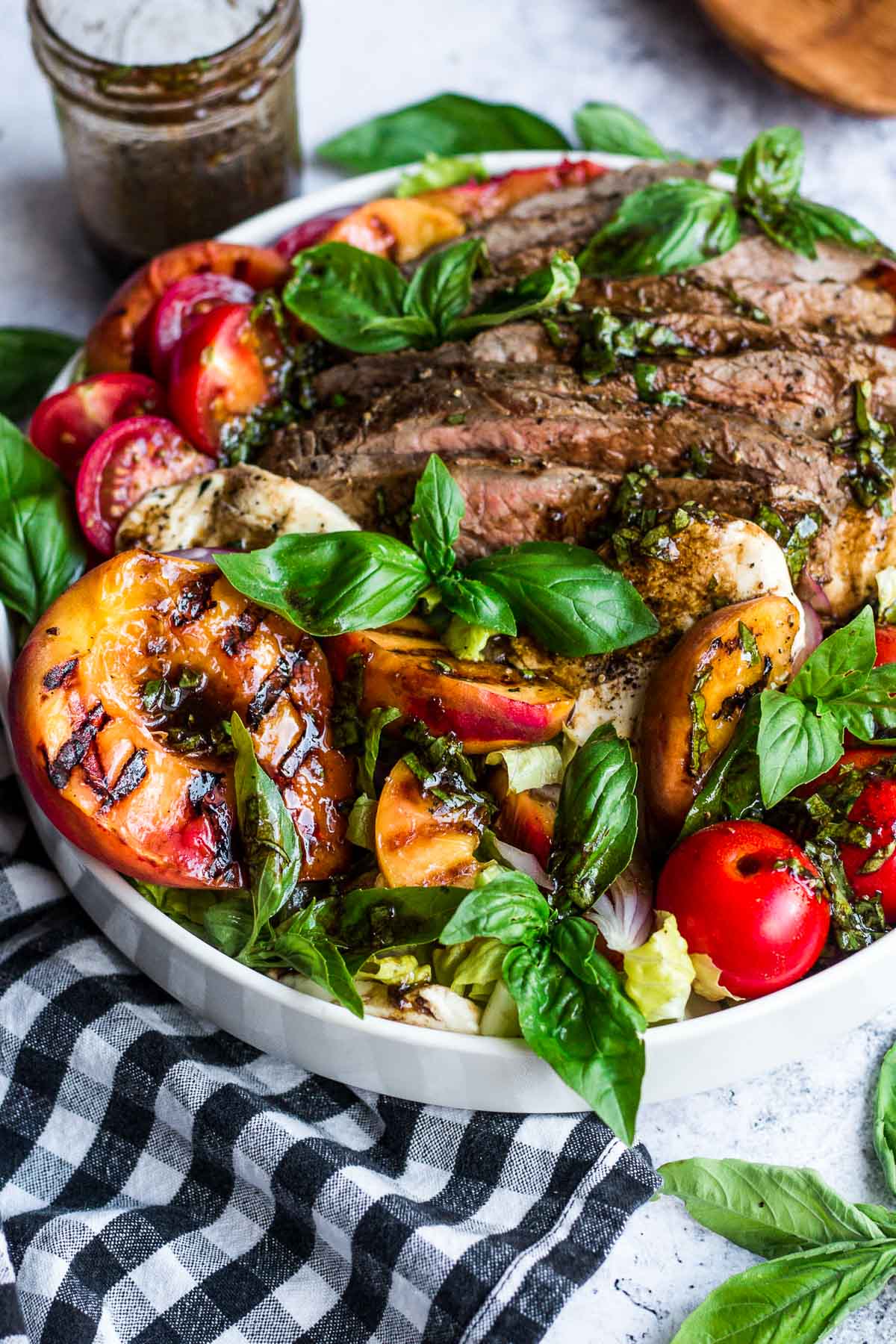 More Steak Recipes You'll Love!
Try these Grilling Recipes too!
Did you make it? Please RATE THE RECIPE below!
Please SUBSCRIBE and FOLLOW ME on FACEBOOK , TWITTER , INSTAGRAM and PINTEREST !