Spicy Garlic Sriracha Shrimp and Broccoli Stir Fry recipe, great for busy weeknights and lazy weekends. Only takes 20 minutes. Gluten-free.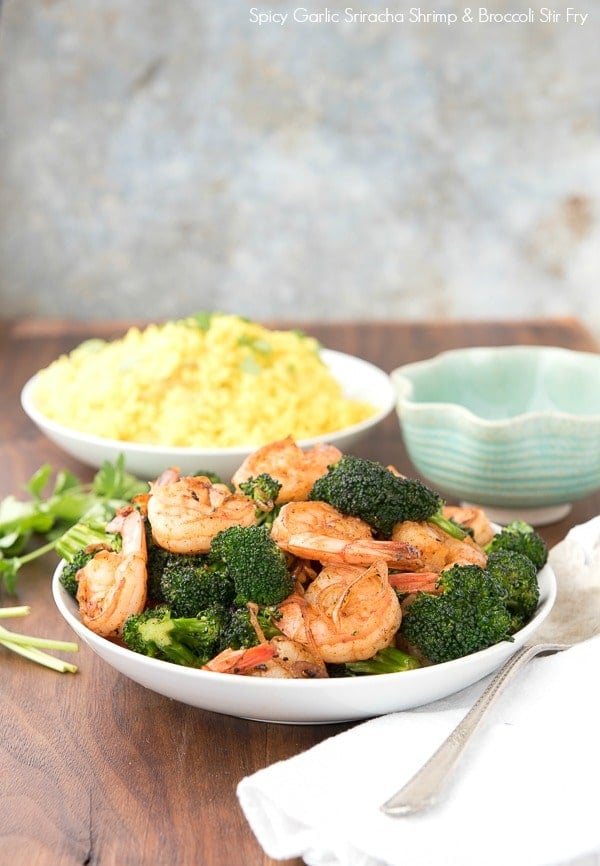 Immediately after making this shrimp and broccoli recipe (and devouring a few shrimp), I called a longtime girlfriend and left a message: "why are we not making stir-fry e.v.e.r.y. DAY?!" I love this dish. Spicy, garlicky shrimp and crunchy broccoli fit for a Chinese food restaurant menu. It's not saucy but rather delivers the aromatic flavors straight-up, no mincing about.
The thing that always knocks my socks off is the speed with which stir-frying can be done. Preparing the ingredients for this recipe is about 5 minutes consisting of chopping garlic and slicing a shallot. Oh, and salt and peppering the shrimp (add 35 seconds to my prior timing). The cooking time is about 10 minutes. Seriously; 10 MINUTES! I'll say it again, why am I not making this every day?!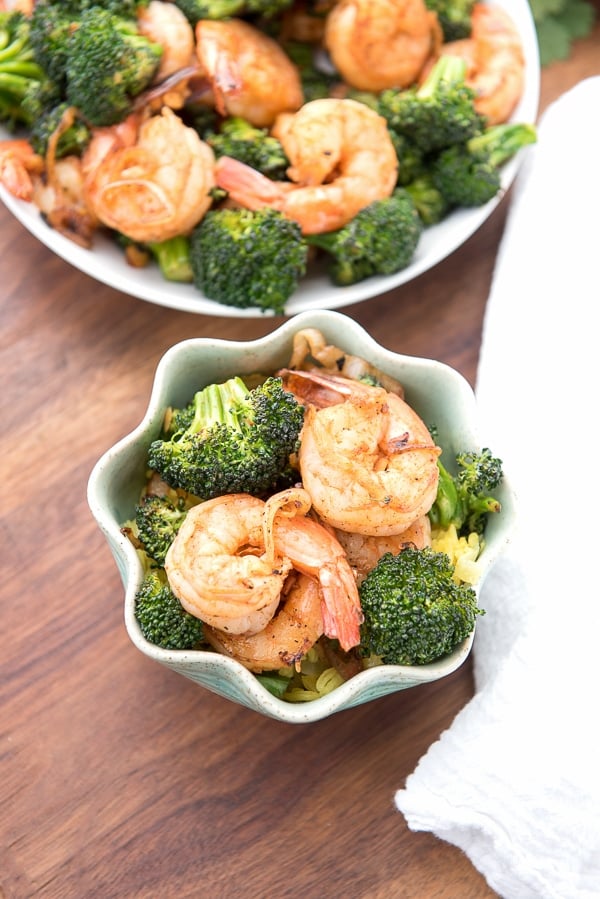 I added about 20 extra minutes onto the meal prep by making a batch of Coconut Jasmine Rice (my husband's recipe shared on Boulder Locavore prior). It's a beautiful turmeric-yellow color and a perfect partner to dampen some of the heat from the shrimp.
It recently has caught my attention how every grocery store I visit, big and small, include a prepared ingredient section in the produce area. Have you noticed that? It has been a staple of the Whole Foods stores for some time along with actual prepared food (I laughed last year when they included food-dyed Easter eggs as available for purchase too along with the Easter meal side dishes). It struck me that though I always prepare my own ingredients, this store feature leaves no reason that healthy meals can't we whipped up with no muss or fuss. All this making stir frying even more feasible for a busy or lazy night. If you can stand and stir for 5-10 minutes, you are golden.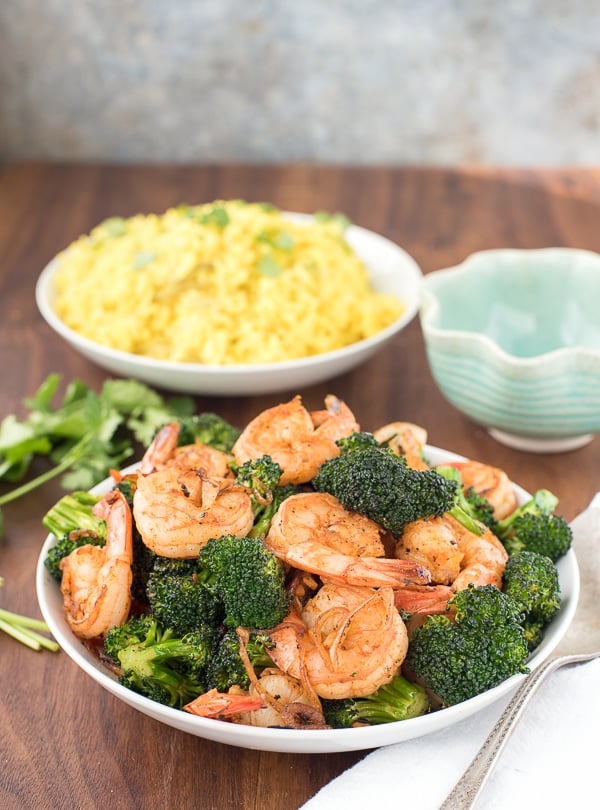 I have been hankering for an uber-flavorful dish recently. Having been happily subsisting on Irish comfort foods lately, I think my palate is ready for a zippy meal. I love a good shrimp dish when we go out for dinner. Those shrimp that are cooked just right; still firm, not rubbery or mushy, and highly seasoned. When I bought the ingredients for this recipe my son began to eat the broccoli raw signaling that more dishes with vegetables should probably in the works for the Boulder Locavore family kitchen!
Throw in a simple fruit salad to offset the spiciness of the Spicy Garlic Sriracha Shrimp and Broccoli Stir Fry recipe and you'll enjoy a delicious, quick and healthy meal whenever you feel like making it!
Spicy Garlic Sriracha Shrimp and Broccoli Stir Fry Recipe