Tangy, sweet, creamy Lemon Cheesecake is guaranteed to bring a sunny smile to a room. Whether to brighten the mood or for a holiday celebration, this cheesecake recipe will quickly become a new favorite.

Creamy cheesecake is always a favorite dessert recipe no matter when it's served.
Lemon Cheesecake brightens the dreariest winter day. Or perks up the Easter table.
This cheesecake recipe is extra special. The crust is made with Lemon Oreos!
Jump to:
There are some great substitution options if you are gluten-free too!

Ingredients

Ingredient Notes
Lemon Oreos
The star of the lemon cheesecake crust is made with Lemon Oreos sandwich cookies.
They are a standard Oreo flavor and should be available at most stores or online.
If you cannot find them OR are gluten-free (they are NOT a gluten-free cookie) use:
Cream Cheese
Ensure the cream cheese is room temperature before beginning the cheesecake.
This will ensure there are no lumps in the cheesecake!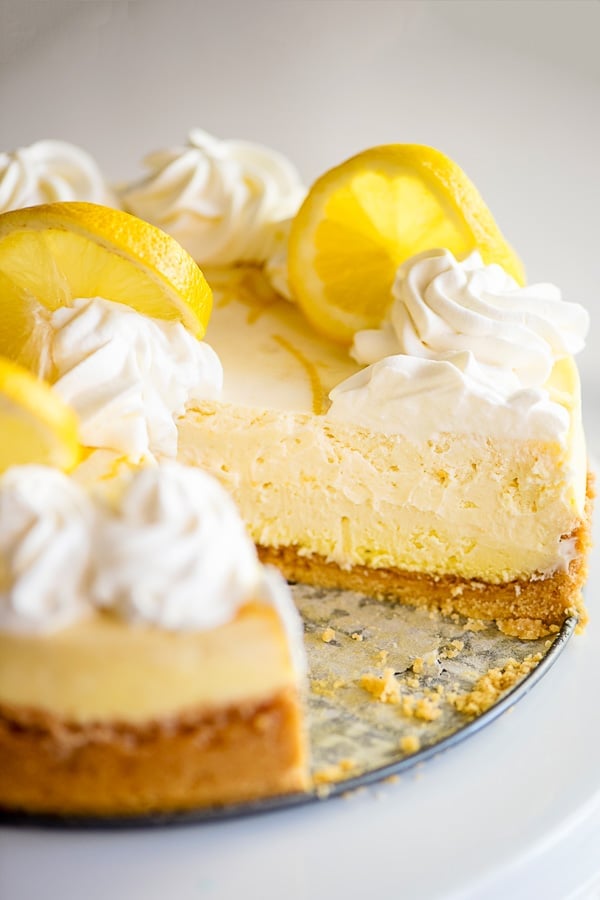 Flour
This cheesecake can be made with regular flour or make it gluten-free using a gluten-free measure-for-measure flour blend.
My recommended gluten-free flour is Bob's Red Mill Gluten-Free 1-to-1 Baking Flour.
Lemon Juice
Freshly squeezed lemon juice does taste different than bottled lemon juice.
For fast squeezing AND more juice I recommend:
Put the lemon in the microwave for 10 seconds.
Use a hand held lemon juicer. Slice the lemon in half.
Squeeze the half lemon then flip it over in the juicer and squeeze it again.
You can also hand squeeze the lemon or use an alternative juicer.
In a pinch bottled lemon juice will also work.
Lemon Zest
Always zest the lemon first before juicing it.
This is my favorite zester. It makes quick work of zesting any citrus fruit.
For longer strands of zest as seen on the top of the cheesecake in the photos you can use this type of zester.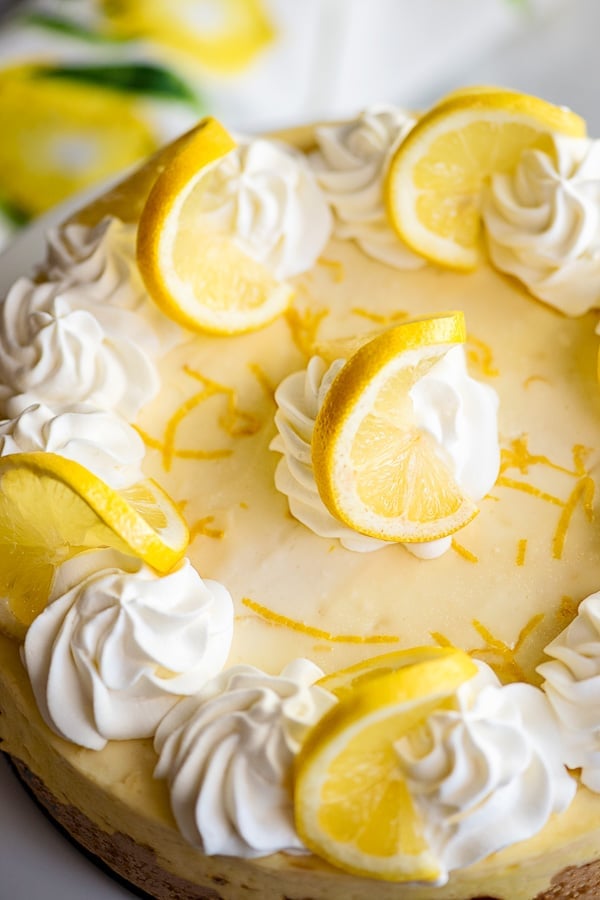 How to Make Lemon Cheesecake – Step-by-Step
STEP 1: Preheat the oven to 325 degrees F. Prepare a round 9-inch springform pan by spraying with non-stick spray and lightly dusting with flour.
NOTE: if you are not gluten-free non-stick spray WITH flour may also be used.
Making the Cheesecake Crust
STEP 2: Combine the lemon Oreos with melted butter in a food processor (photo 1). Process into fine crumbs (photo 2).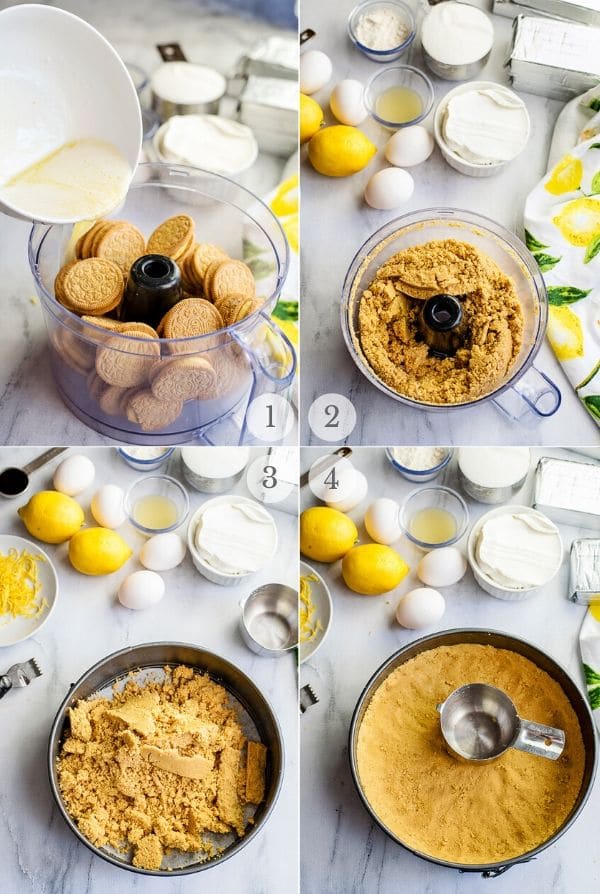 STEP 3: Put the crumbs into the prepared pan (photo 3) and press them into a crust (photo 4). Bake for 10 minutes. Set aside to cool while making the filling.
Making the Lemon Cheesecake filling
STEP 4: In a large mixing bowl combine the cream cheese, sugar, flour, vanilla, lemon juice and lemon zest (photos 5-11). Mix well until creamy (photo 12).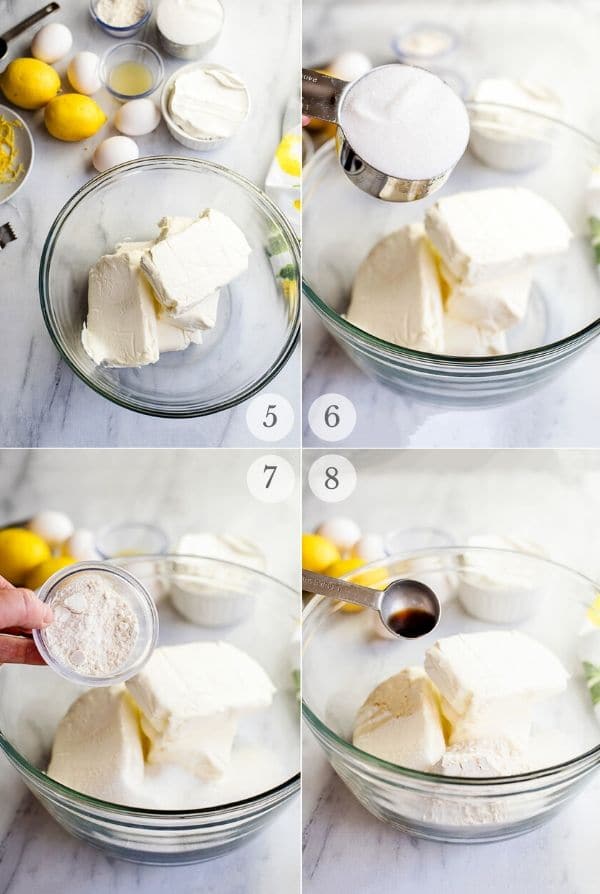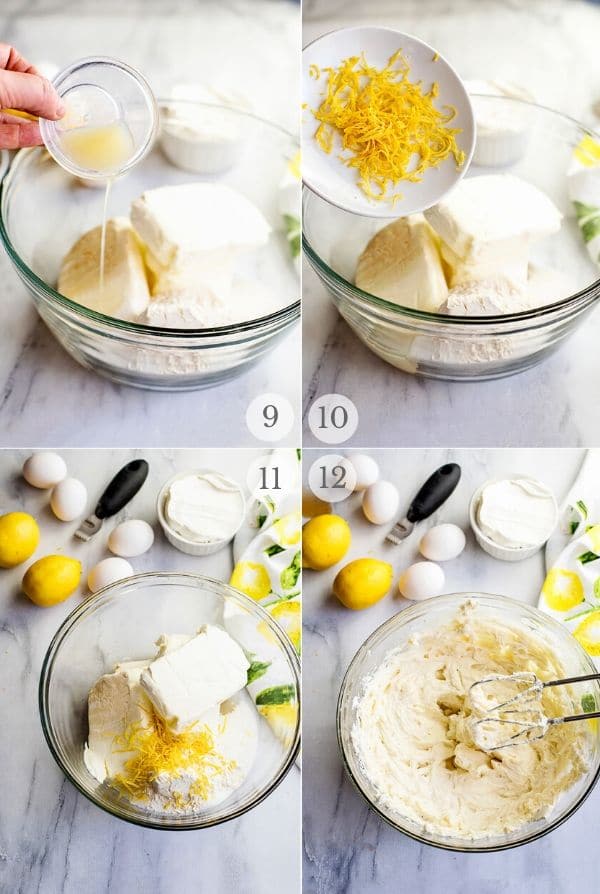 STEP 5: Add the sour cream (photo 13) and mix again (photo 14).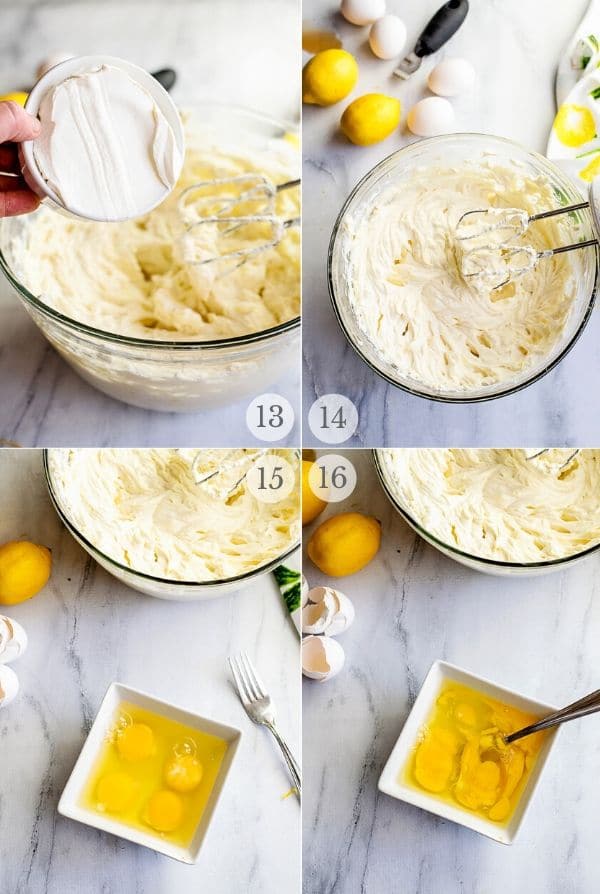 STEP 6: Whisk the eggs (photo 15) lightly just to break them up (photo 16).
STEP 7: Add the eggs to the cream cheese mixture (photo 17). Mix just until combined; DO NOT OVERMIX.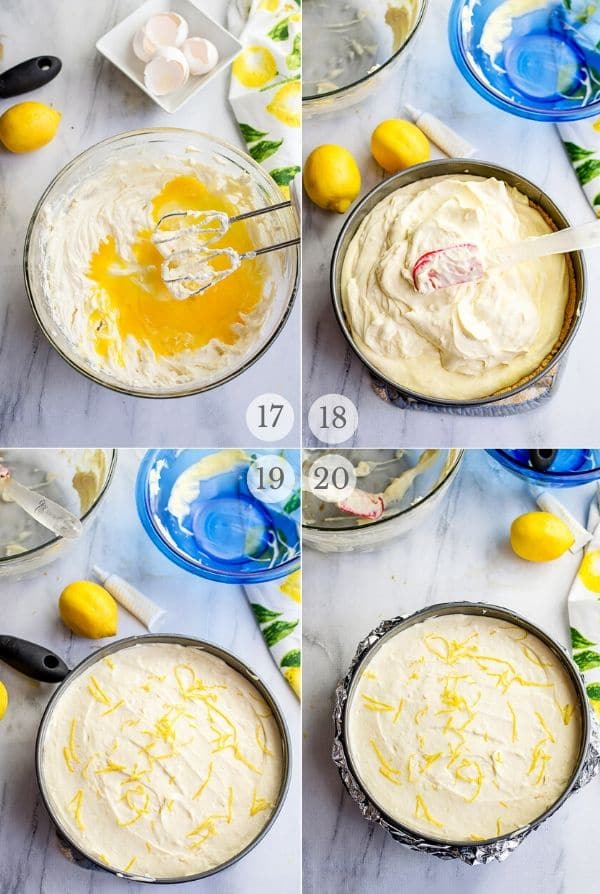 STEP 8: Spoon the mixture into the crust (photo 18) and smooth the top. Add some lemon zest on top for decoration if desired (photo 19).
Making a Water Bath & Baking the Cheesecake
STEP 9: Cover the bottom of the pan and up the sides with two sheets of foil (add one sheet then a second sheet) (photos 20-21). Place the pan in a rimmed baking sheet (photo 22).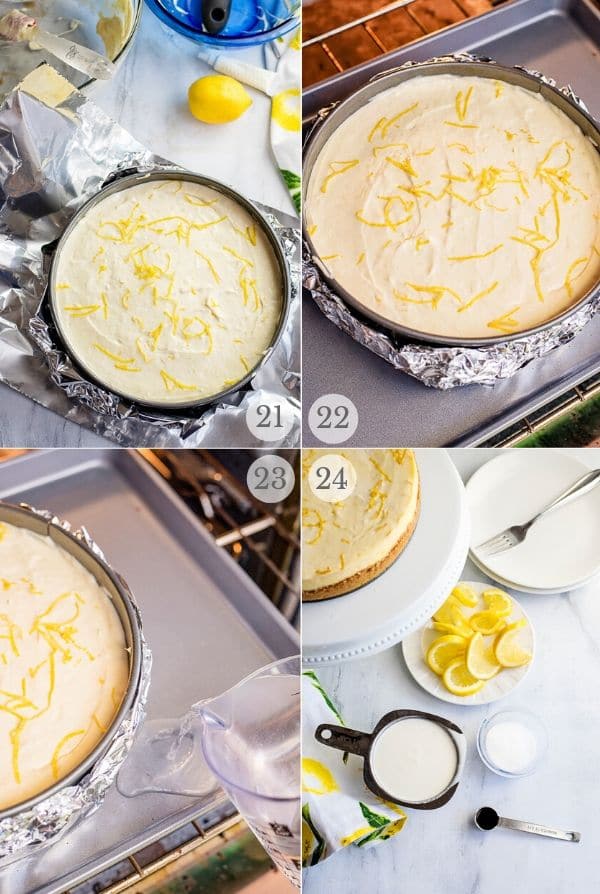 STEP 10: Pour 2 cups of water into the baking sheet (photo 23). Bake at 325 degrees for 60-70 minutes just until the sides begin to pull away from the pan and are golden.
NOTE: the cheesecake will still be a bit jiggly; it will firm up as it cools. DO NOT OVER BAKE.
Cooling the Cheesecake
STEP 11: Leave the baked cheesecake in the oven. Turn off the heat and crack the oven door. Allow it to cool for 1 hour. NOTE: Cooling in this way prevents cracking and sinking.
STEP 12: Refrigerate, covered, at least 5 hours before serving.
Making Whipped Cream Topping
STEP 13: Place mixing bowl and mixer attachment (whisk or beaters) in the freezer for 10 minutes.
STEP 14: Combine the cream, sugar and vanilla (photo 24) in the chilled bowl (photo 25). Mix on high until soft peaks form (photo 26); just a few minutes. DO NOT OVERMIX.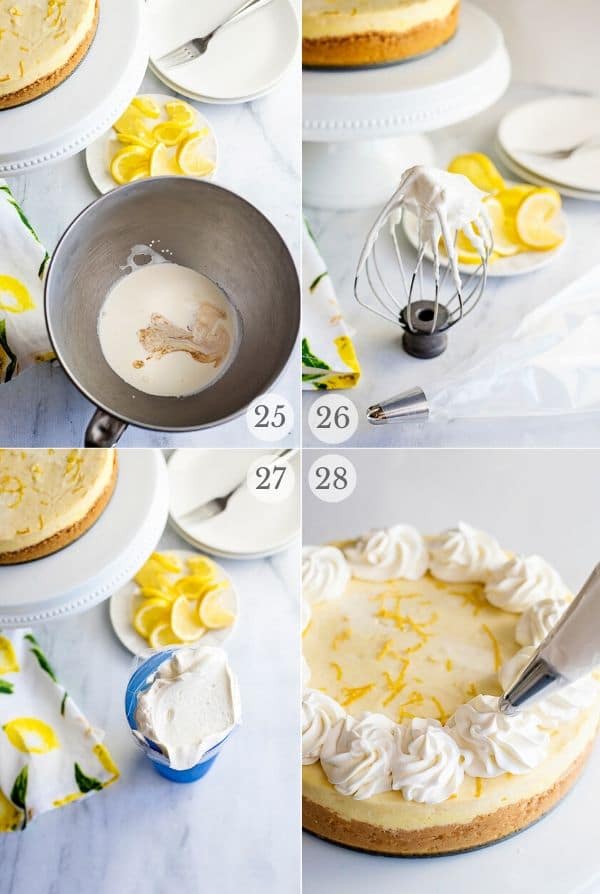 STEP 15: Spoon the whipped cream into a piping bag (photo 27) fit with your piping tip of choice. Decorate the cooled cheesecake (photo 28).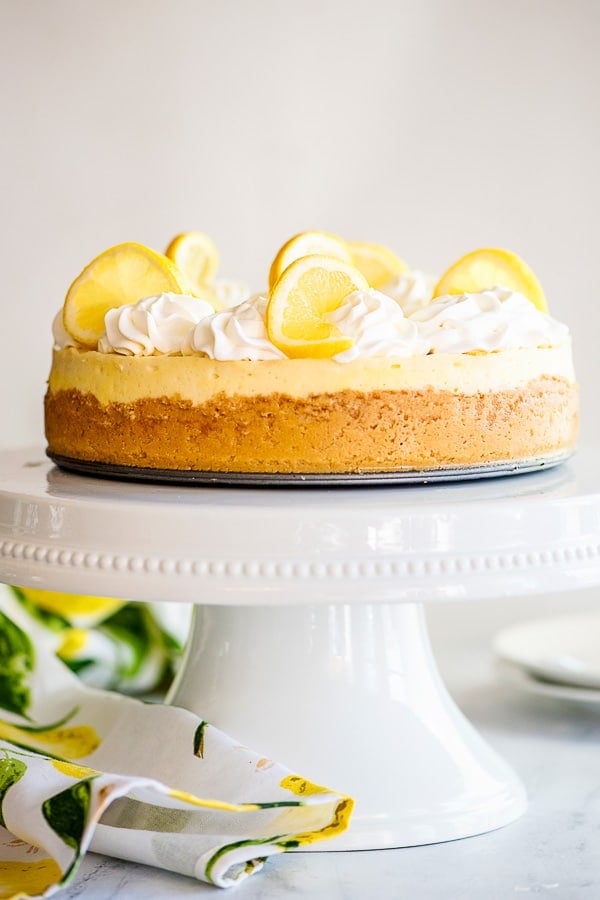 Pro Tips for a Perfect Cheesecake
Room Temperature Cream Cheese. This is key to ensure no lumps in the cheesecake.
Do Not Overbake. Cheesecake will come out of the oven with a little jiggle in the middle. This is normal! The cheesecake will firm up while it cools and chills.
Cool in Oven with Door Cracked for 1 hour. After baking be sure to turn off the heat, crack the oven door to allow cooling. This will make sure there is no cracking or sinking of the cheesecake.
Chill at least 5 hours before Serving. This is key to develop the creamy cheesecake consistency and firmness.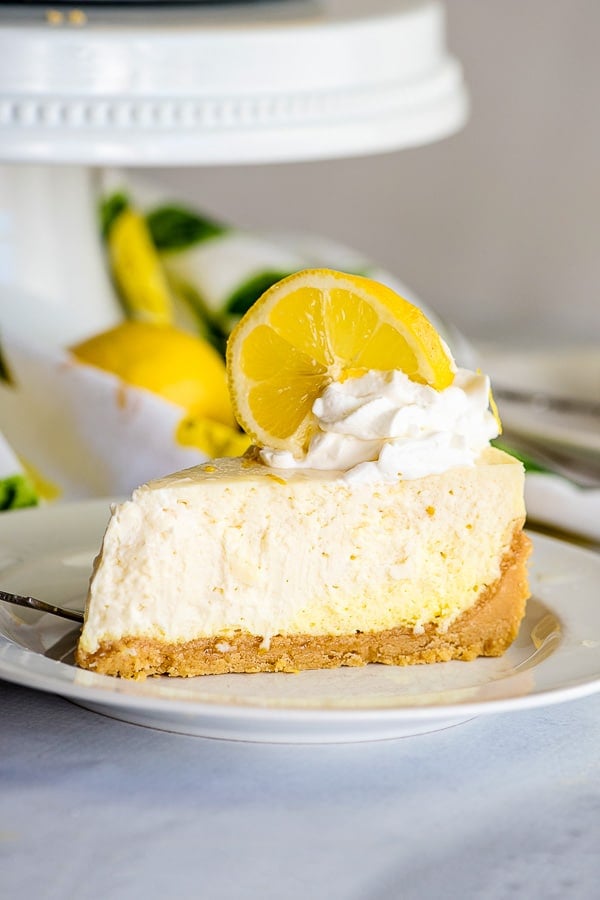 How to Store
In the Refrigerator
Keep the cheesecake in the pan for protection and wrap with plastic wrap or foil. Keep up to 1 week in the refrigerator.
It can also be kept in an airtight cake or pie container.
NOTE: if topped with whipped cream a cake container will allow more room.
In the Freezer
Freezing a Whole Cheesecake
place the cheesecake on a cardboard cake circle. Wrap with plastic wrap then foil.
Freeze for 1-2 months. Thaw in the refrigerator.
Freezing Slices
Cover each slice well with plastic wrap then foil. Freeze for 1-2 months. Thaw in the refrigerator.
NOTE: My recommended plastic wrap is Press-n-Seal. It's very easy to work with and seals on itself well.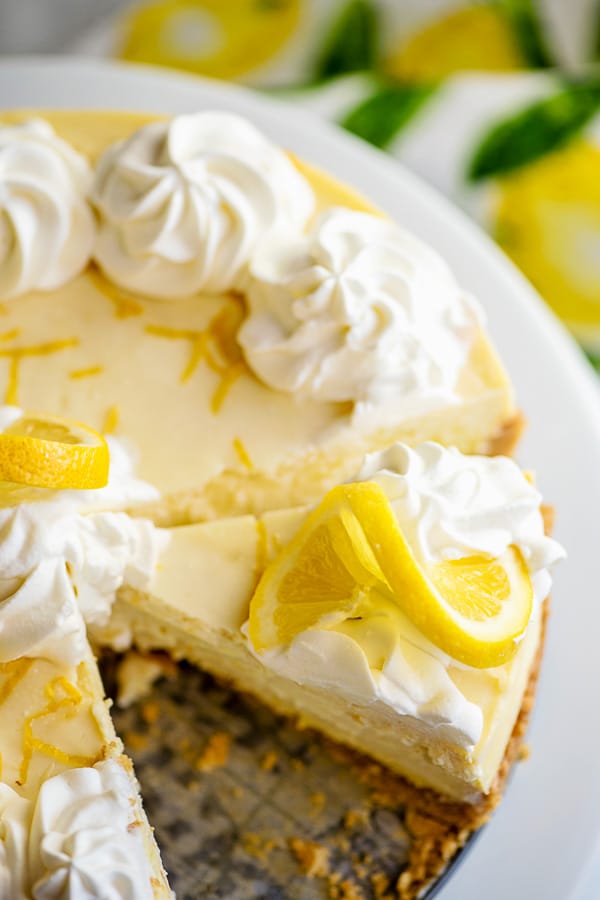 More Lemon Recipes You'll Love
More Cheesecake Recipes to Try too!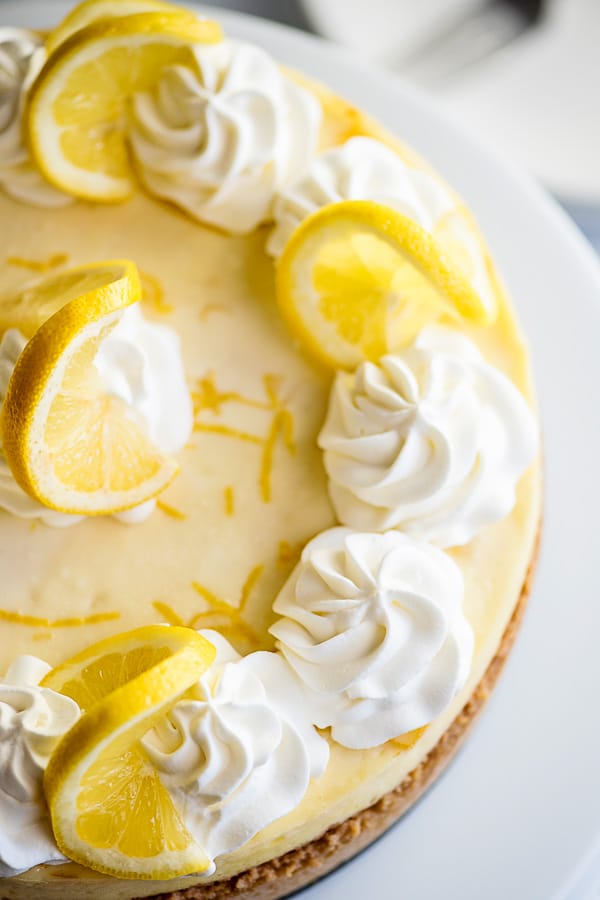 Did you make it? Please RATE THE RECIPE below!
Please
SUBSCRIBE
and
FOLLOW ME
on
FACEBOOK
,
TWITTER
,
INSTAGRAM
and
PINTEREST
!
Recipe