Blueberry Coffee Cake with Crumble Topping is your favorite blueberry muffin transformed into an exciting breakfast cake! So fast and easy to make. Perfect for entertaining or just for you!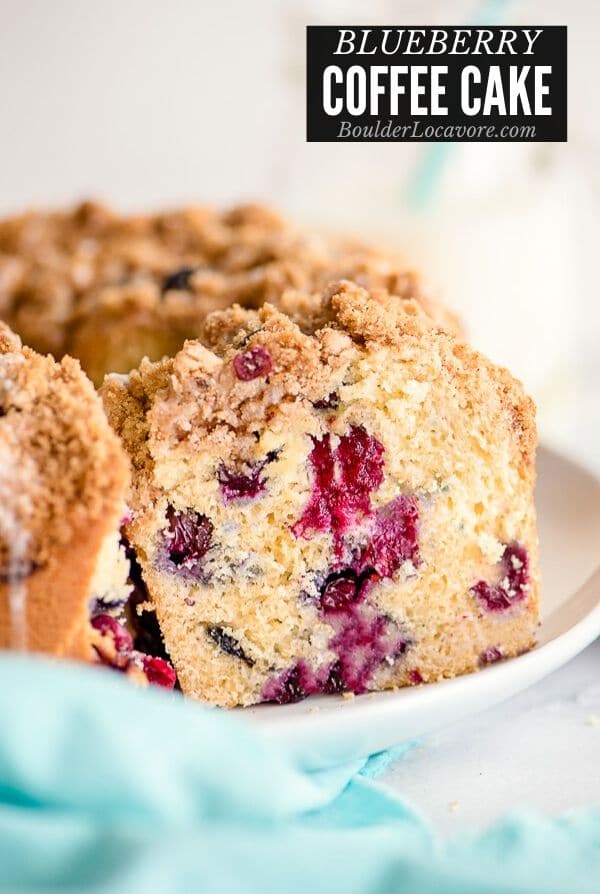 There is never a bad time for cake and this coffee cake recipe proves that!
Full of fresh blueberries, buttery cake and a sweet, crunchy crumble topping.
Great for a special breakfast treat or a midday snack.
Anytime is the perfect time for this recipe.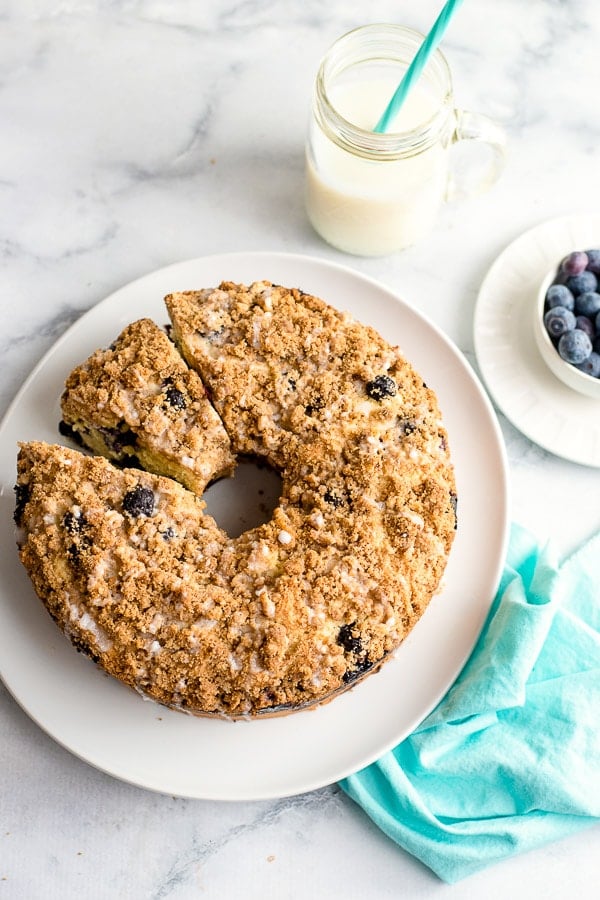 What is Coffee Cake?
Coffee Cake is a light, sweet cake meant to be enjoyed with coffee.
Whether for breakfast or a mid morning treat, the combination are a long time favorite.
It is easy to make and is usually flavored with fruits, spices and/or nuts. Fresh blueberries are the hit of this recipe.
Usually finished with a glaze and/or crumble topping for some extra sweetness!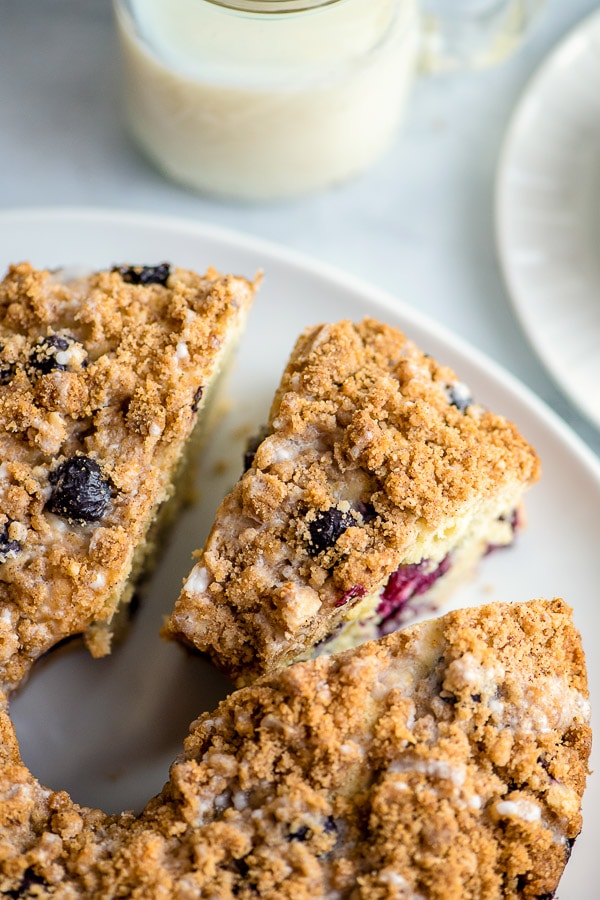 What's in Crumble Topping?
Crumble topping is usually made with three main ingredients: flour, sugar and butter.
Some versions also include chopped nuts or spices.
The ingredients are combined and sprinkled on top of coffee cake or muffins.
When baked it creates a sweet, crunchy crust.
It adds to the sweetness of the coffee cake much like frosting does to traditional cake.
The Crumble Topping for this recipe includes cinnamon and brown sugar!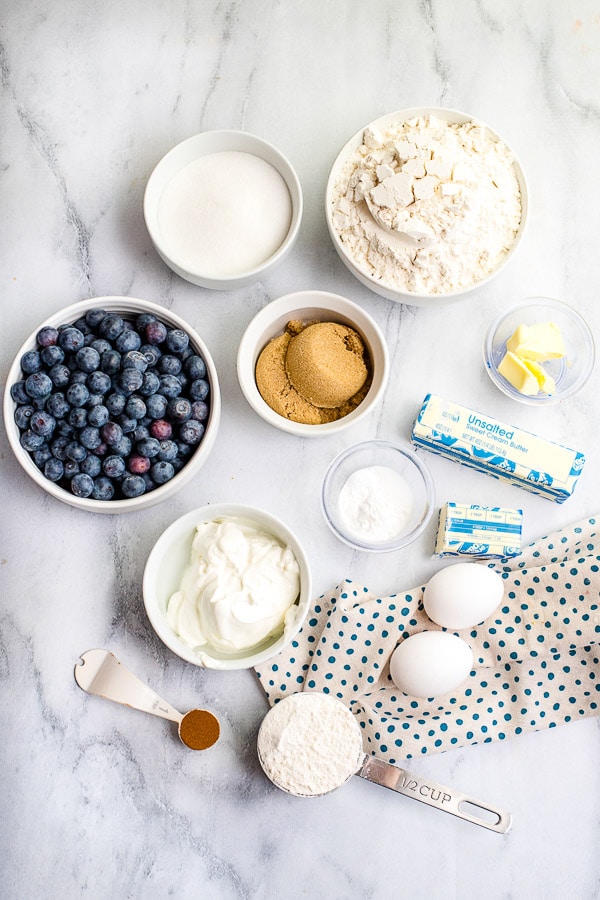 Ingredients
Unsalted butter
Granulated sugar
Sour cream
Eggs
Baking soda
Baking powder
Salt
All purpose flour (regular or gluten-free measure-for-measure flour blend)
fresh Blueberries
Light brown sugar
Cinnamon

Ingredient Notes
Flour
This recipe can be made with regular all purpose flour or gluten-free measure-for-measure flour blend.
My preferred gluten-free flour blend is Bob's Red Mill Gluten-Free 1-to-1 Flour Blend.
Blueberries
This recipe uses fresh blueberries.
They integrate with the batter best and retain their shape.
If in a pinch, you can use frozen, thawed blueberries.
They will not hold their shape as well as fresh blueberries but will still be delicious.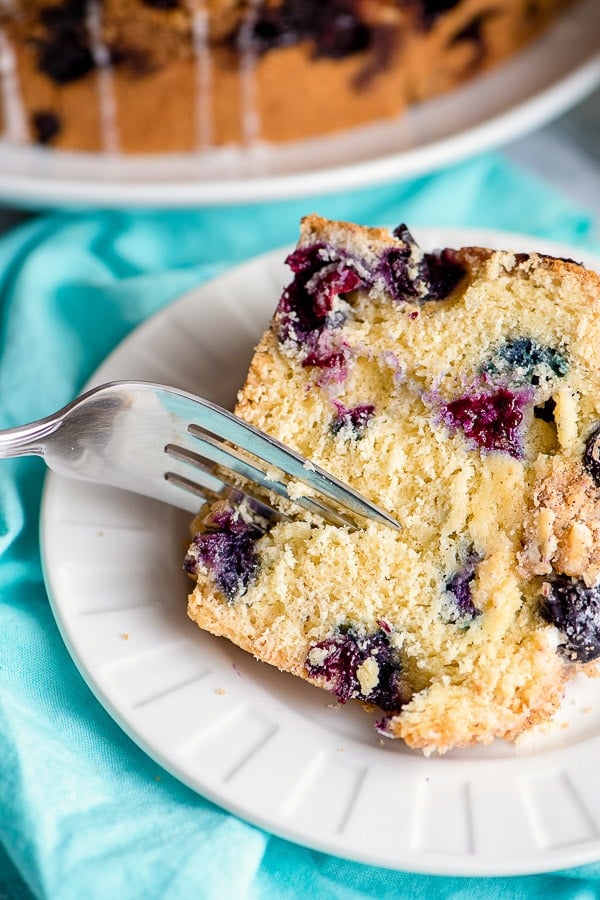 How to Make Blueberry Coffee Cake – Step-by-Step
Making the Cake
STEP 1: Preheat oven to 350 degrees F. Prepare a 9-10 inch angel food tube pan with removable bottom with non-stick spray (photo 1).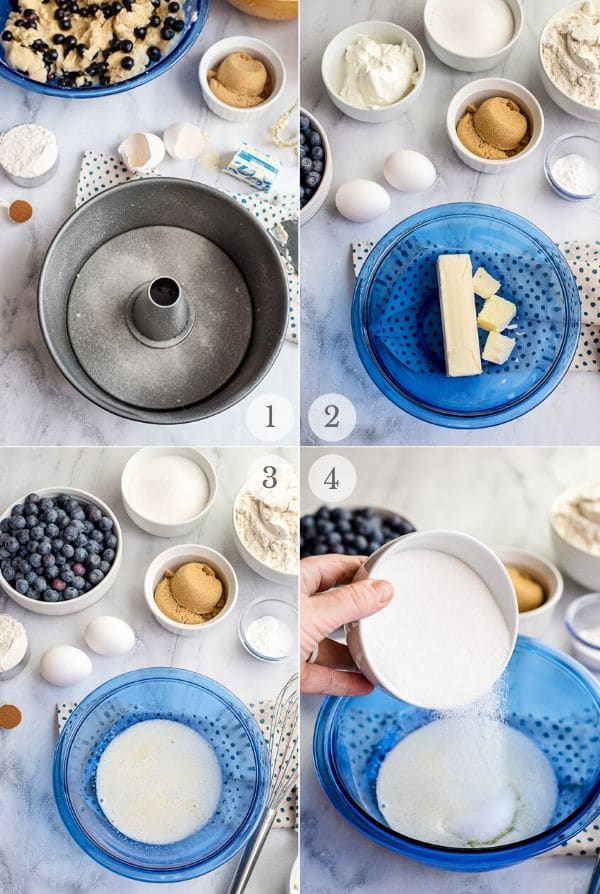 STEP 2: In a large bowl combine the melted butter (photos 2-3), granulated sugar, sour cream and eggs (photos 4-6). It will look like photo 7.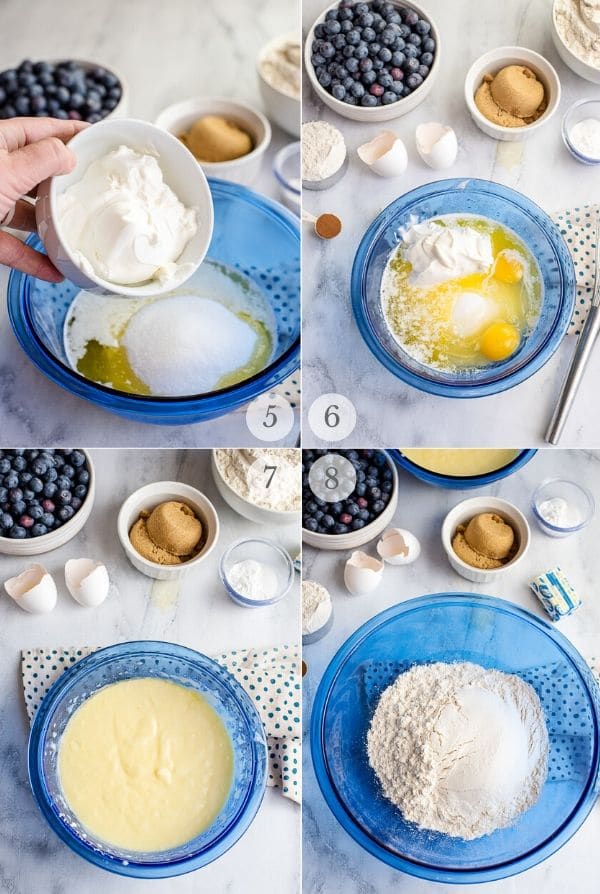 STEP 3: In a second mixing bowl combine the dry ingredients (3 cups flour, baking soda, baking powder, salt) (photos 8-10).
STEP 4: Slowly combine the dry and wet ingredients (photos 11-12). For best results DO NOT OVERMIX!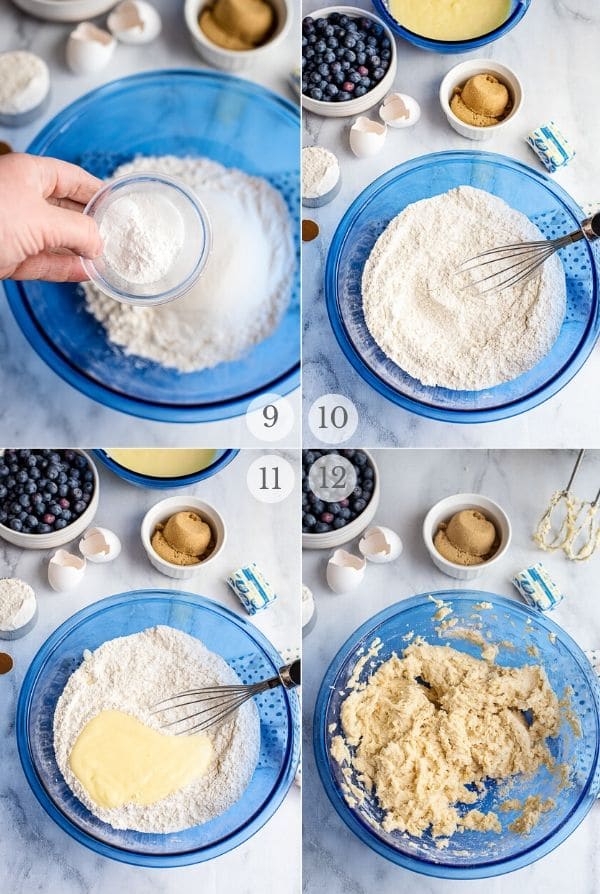 STEP 5: Coat the blueberries with the 1 teaspoon of flour (photos 13 -14) and gently fold into the batter (photos 15-16).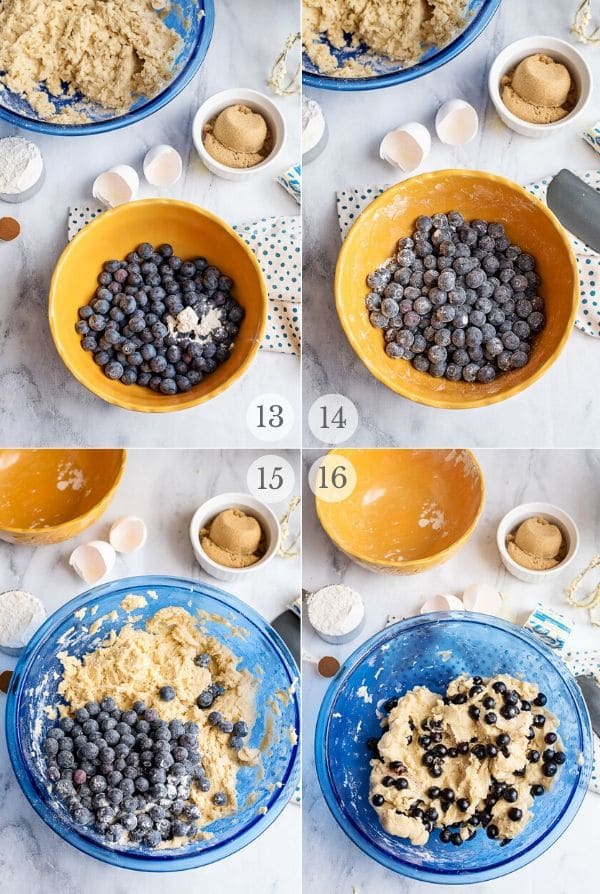 STEP 6: Spoon the batter into the prepared pan, spreading it evenly (photo 17).
Making the Crumble topping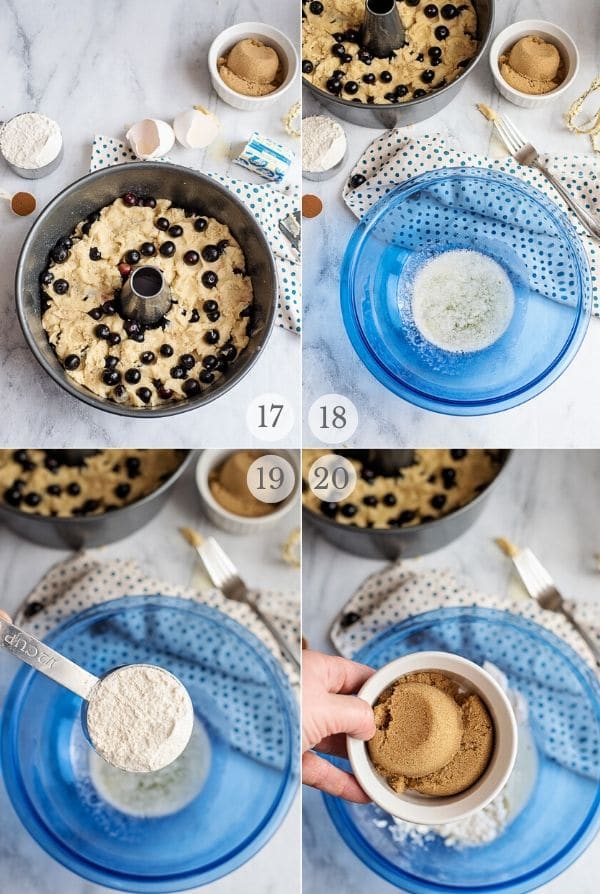 STEP 7: In a medium mixing bowl, mix the crumble ingredients together using a fork until crumbly (photos 18-22). Sprinkle it evenly over the batter (photo 23).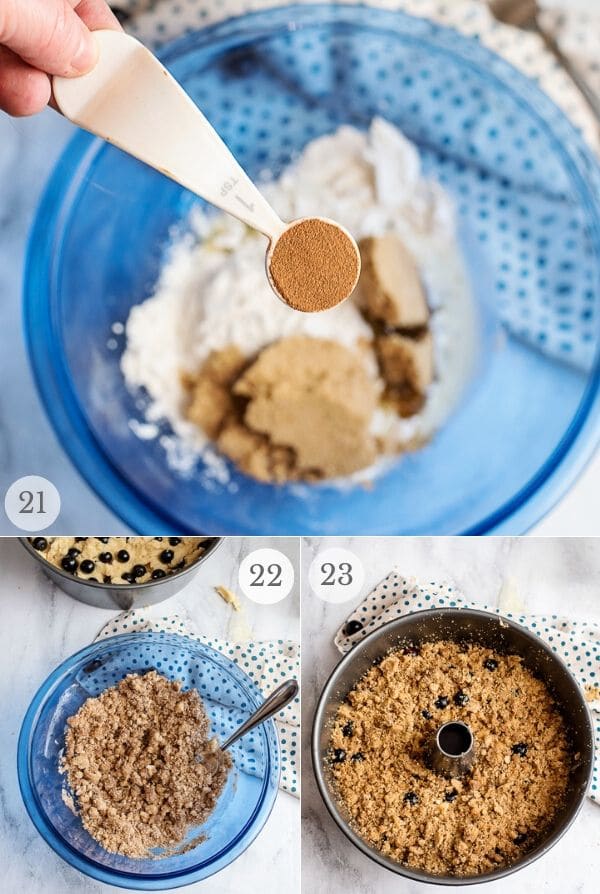 Baking, Cooling and Glazing
STEP 8:Bake for 55-60 minutes, until a toothpick comes out clean. Place on a cooling rack for 10 minutes in the pan.
STEP 9: When cool enough to handle, remove the coffee cake from the pan. Place on the cooling rack to cool completely.
STEP 10: Prepare the glaze as described in the recipe card below.
STEP 11: Drizzle the glaze over the cake and let it harden. Slice and enjoy!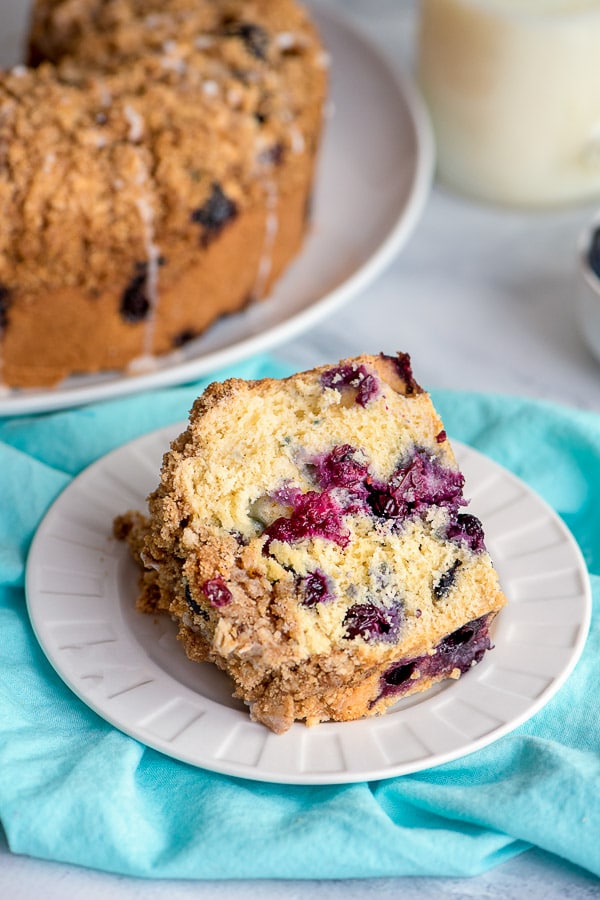 Glazing – Pro Tips
Be sure the coffee cake is completely cooled before glazing. Otherwise the glaze will slide off creating a sloppy mess.
Adding a foiled-lined rimmed baking sheet underneath the cooling rack with the coffee cake does two things:
Allows any excess glaze to drip into the pan. For easy clean up, once the glaze hardens, fold up and discard the foil.
It prevents the coffee cake sitting in extra glaze which is both messy and softens the cake.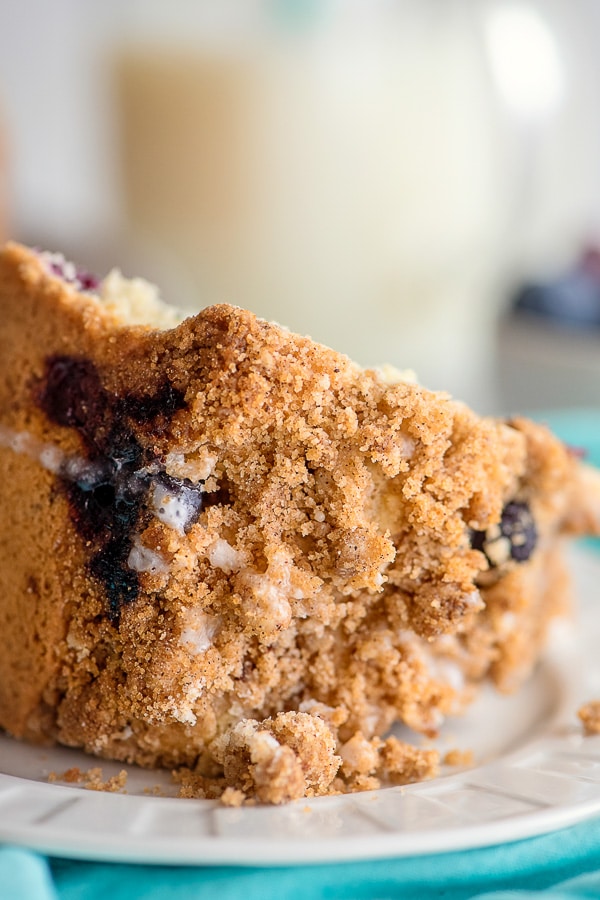 How to Store
Room Temperature
Store in an airtight container at room temperature for 2-3 days.
In the Refrigerator
For longer storage, wrap snugly in plastic wrap and store in the refrigerator for 5-6 days.
In the Freezer
When freezing coffee cake I recommend two layers of protection.
Wrap it tightly in plastic wrap and either place in a freezer bag or wrap with foil.
Store up to 2-3 months. Thaw in the refrigerator.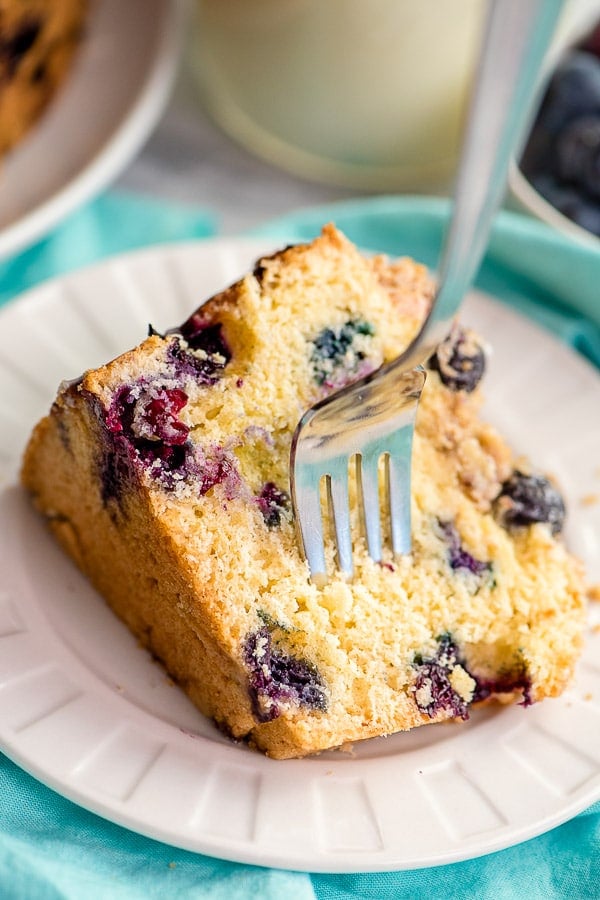 Try these Recipes too!
Did you make it? Please RATE THE RECIPE below!
Please SUBSCRIBE and FOLLOW ME on FACEBOOK , TWITTER , INSTAGRAM and PINTEREST !