Stuffed Bell Peppers are classic comfort food. Brimming with ground beef, rice, onions, savory seasonings and more. They are even easier now in the Instant Pot. This fast dinner recipe is drizzled with a sauce you'll love too!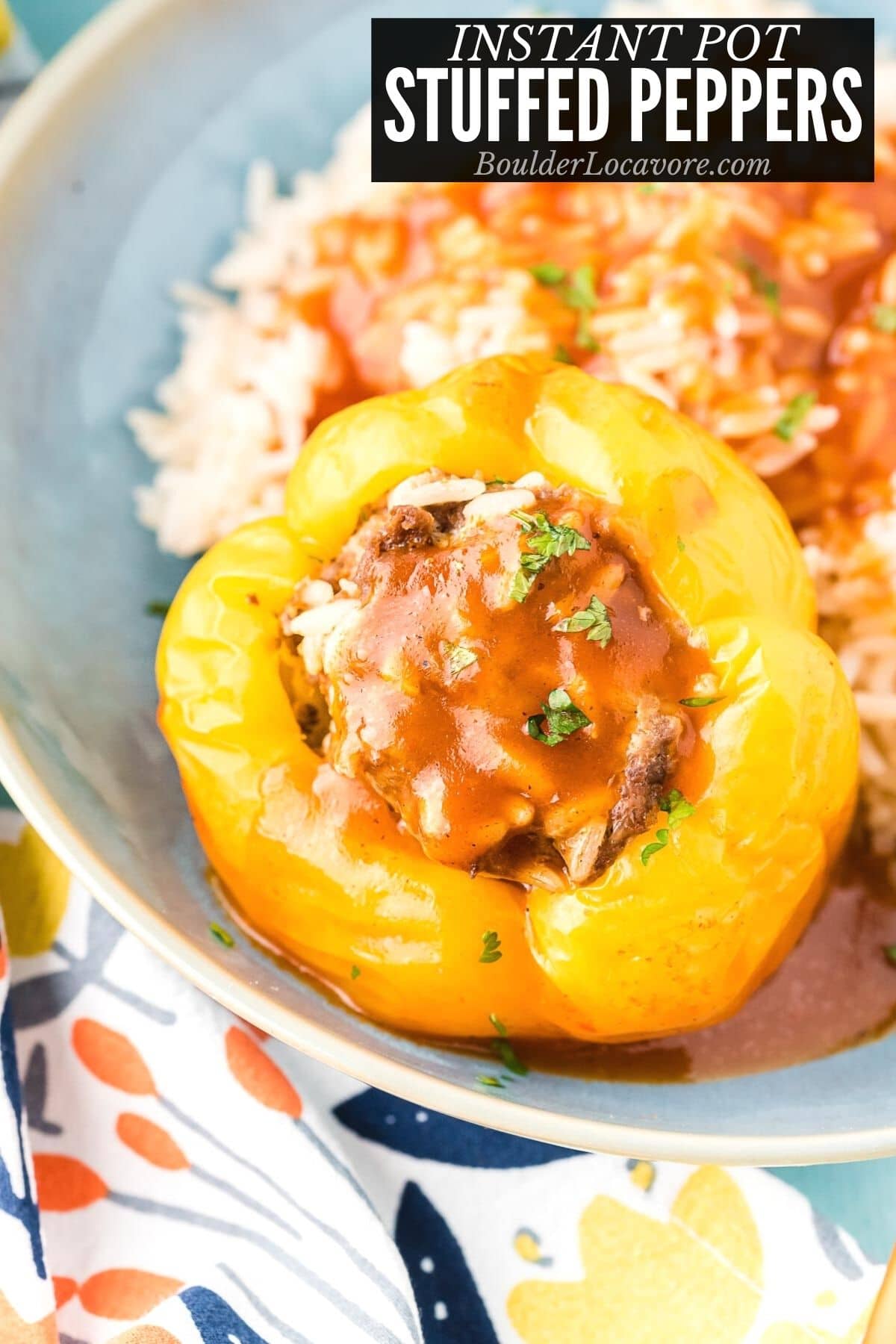 If you love hearty comfort food like meatloaf you will love this great recipe!
Full of great flavors in a homey filling dinner recipe.
Instant Pot recipes are always a favorite because they are fast and easy. Pressure cooking also retains more nutrients in the food.
It's a perfect way to prepare this classic dish. Everything cooks together in an 8 minute cooking cycle.
It's easy to get dinner on the table in less than 30 minutes with this tasty recipe!
Don't use an Instant Pot? Try these Sausage and Orzo Stuffed Sweet Peppers cooked in the oven.
What are Stuffed Bell Peppers?
If you've never tasted them, stuffed bell peppers are filled with what's very close to a meatloaf type filling.
Ground meat, rice, spices and binding ingredients that all cook quickly in the Instant Pot.
When they are done the hearty filling makes a filling meal.
In this recipe the cooking liquids are turned into an ample amount of sauce.
Perfect for drizzling over the cooked peppers.
We love serving them on a bed of mashed potatoes (or sweet potatoes) and rice, always covered in sauce.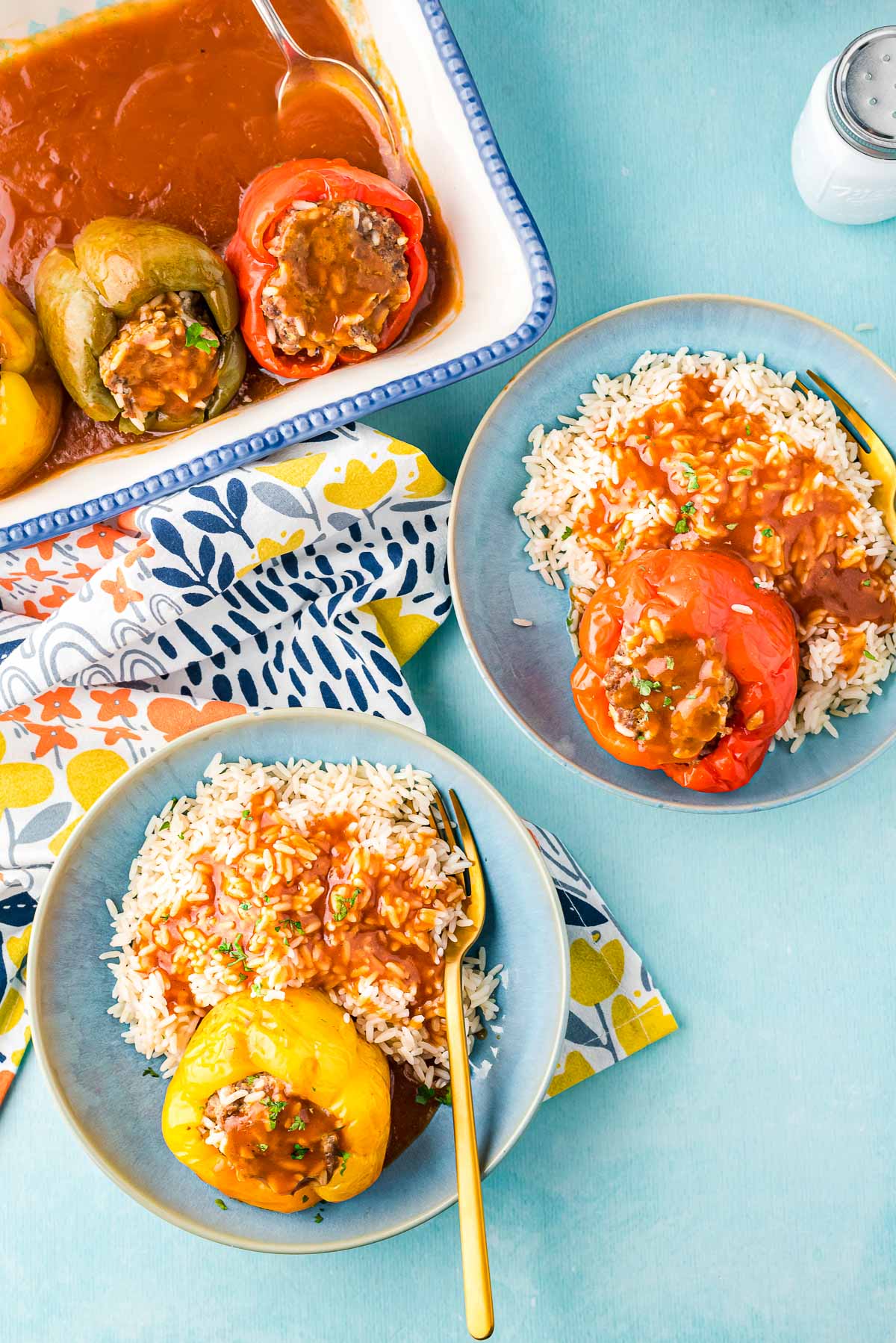 Easy Instant Pot Stuffed Peppers
This is a recipe every family has probably made for generations.
This combination of flavors will please all family members.
It's a familiar mix of ground beef, rice, onion, garlic and spices you'll love.
When it cooks it makes a mini meatloaf inside that is easy to cut and eat.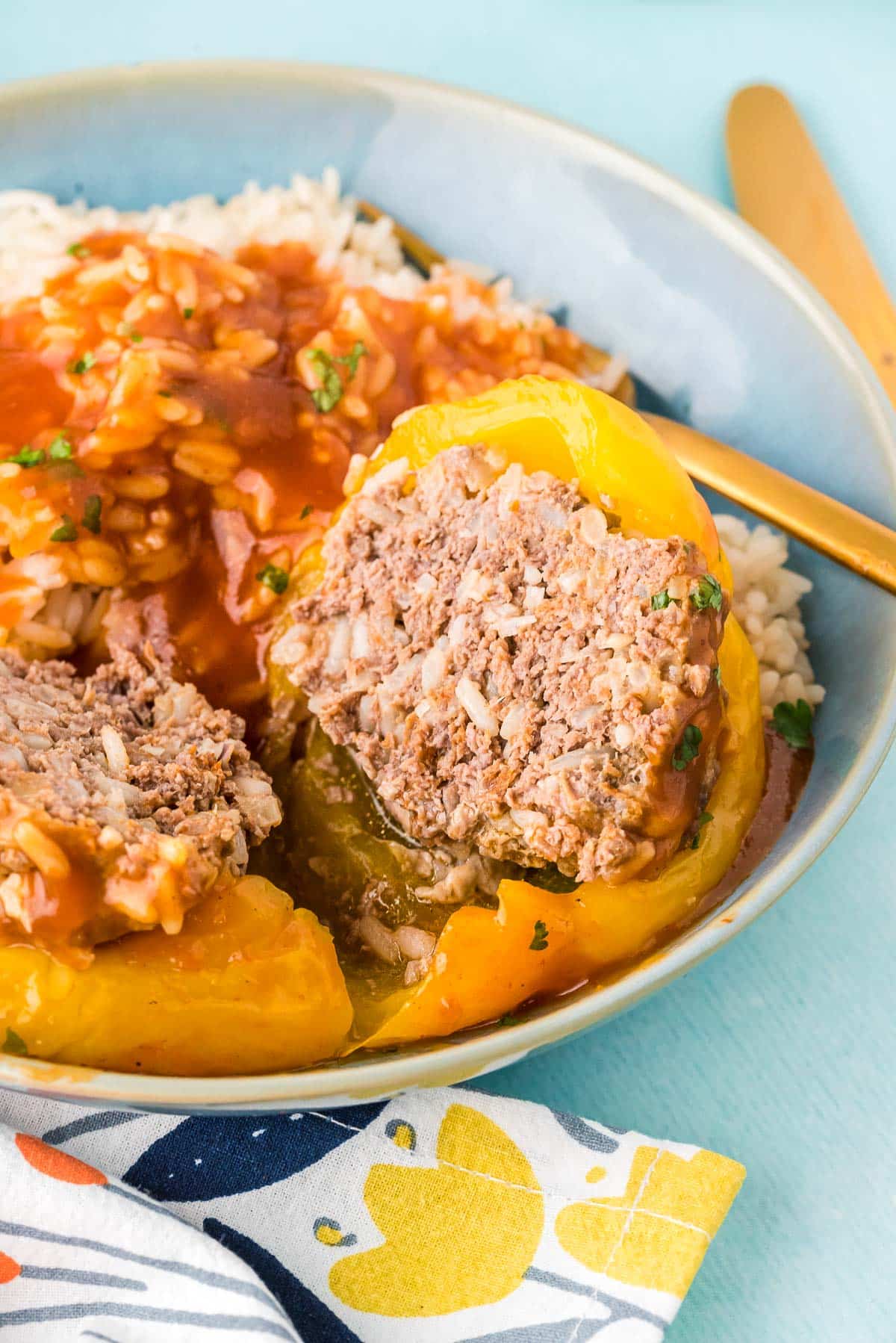 Why we Love Them in the Instant Pot
Making them in the Instant Pot cooks them quickly and perfectly. The texture of the bell peppers are fantastic.
The filling cooks to be moist and fully done.
Everything is cooked in one pot including the tomato sauce.
This keeps everything out of the way of the stove top and oven.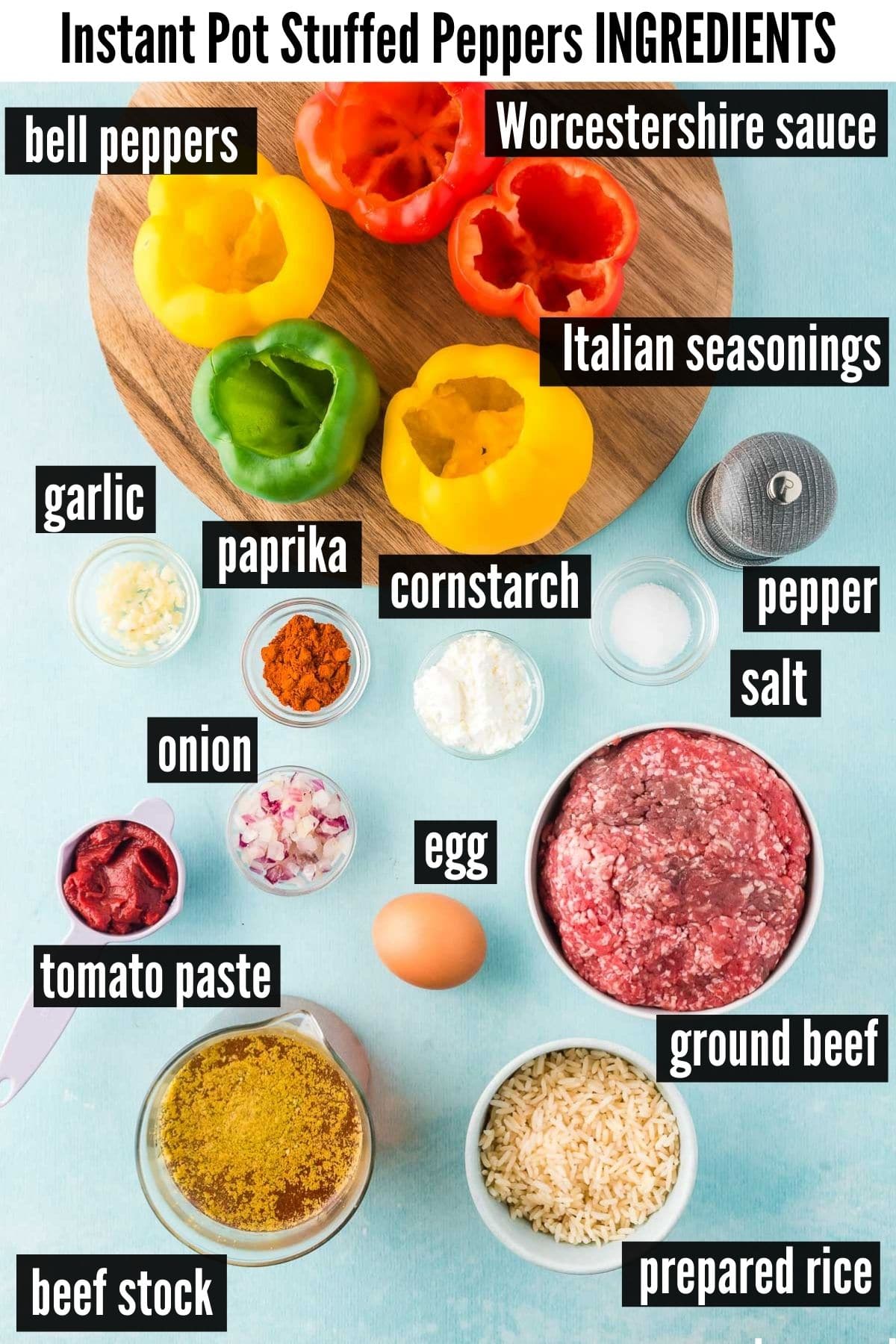 Recipe Ingredients + Notes
Many similar recipes add cheese. This recipe does not include cheese. So it is a dairy-free recipe.
Bell Peppers. I recommend 4 large bell peppers, any color you choose. I find red, yellow and orange as a bit sweeter than green. Using mixed peppers is great too.
The filling amount will also stuff 5 small-medium size peppers (as seen in the process photos) too.
Ground Beef. Because the ground beef cooks in the instant pot (it is not pre-cooked) using a leaner beef reduces excess fat. Choosing 90-95% lean ground beef is delicious and won't render lots of fat in the cooking process.
Onion and Garlic. This dynamic flavor duo add flavor to the filling.
Cooked Rice. Pre cooked rice is added as a binder to the filling. White or brown rice can be used. It's a great way to use leftover rice!
Seasonings. Paprika, Italian Seasoning, Worcestershire sauce, salt and pepper.
Egg. The egg acts to bind the ingredient as it does in meatloaf.
Tomato Paste. This is added to the beef broth to make the cooking liquid and the sauce after cooking!
Beef Broth. Using beef broth instead of water brings much more flavor to the recipe while cooking. It makes a delicious base for the sauce too.
Cornstarch. Combined with some water and added to the cooking liquid after cooking it will thicken the sauce.
Is the Ground Meat and Rice Cooked or Uncooked?
The ground meat is added to the filling UNcooked. The rice will be cooked before adding to the filling.
Variations
Use different ground meat. Ground turkey or chicken will make leaner stuffed peppers. Adding some ground sausage will give more flavor. Or do a combination!
Like it Spicy? Substitute chili powder for the Italian spices for a little kick of heat and southwestern flavor.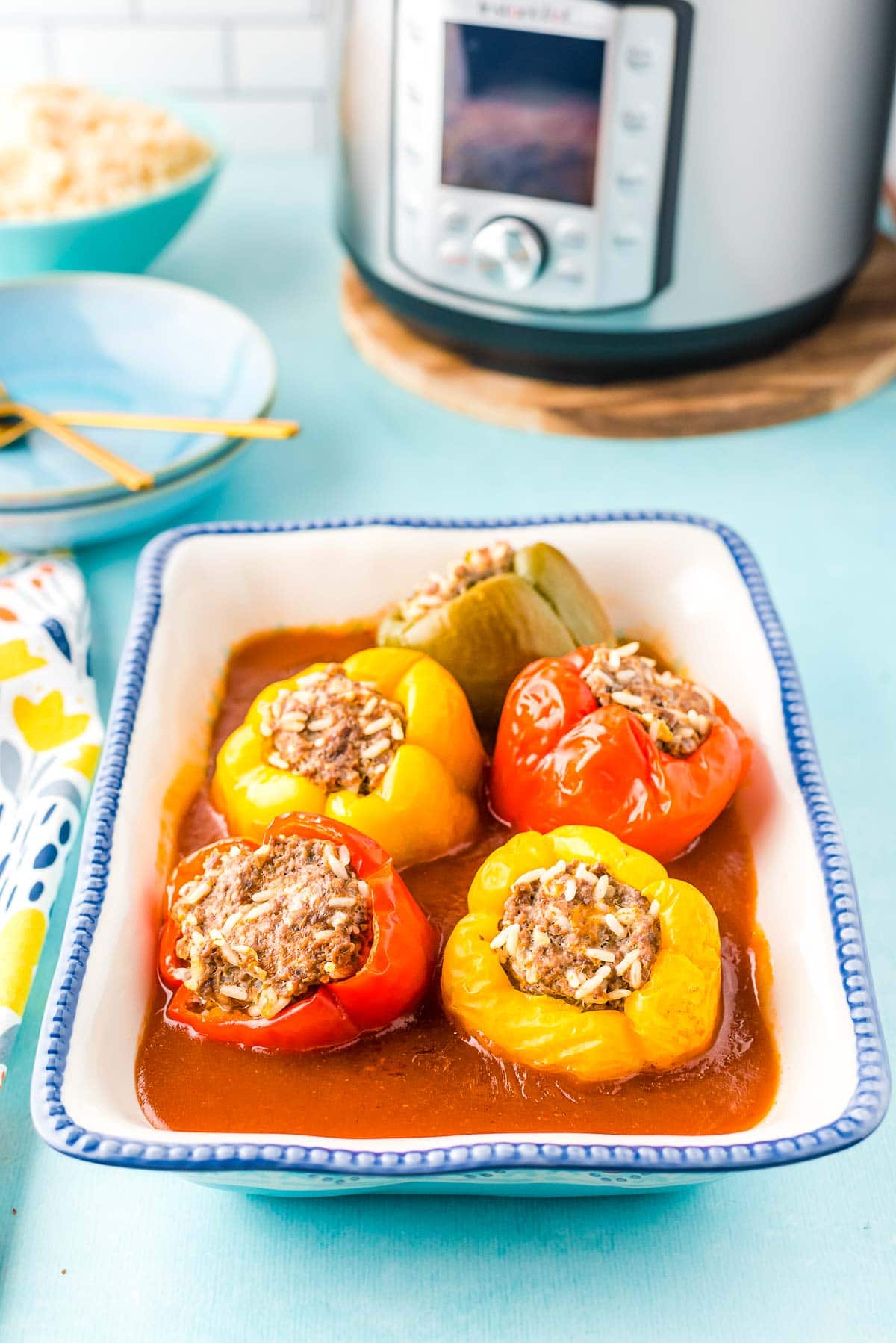 What Size Instant Pot is Needed for this Recipe?
This recipe is made with a 6-quart Instant Pot.
How to Make it – Step-by-Step
STEP 1. Making the filling.
In a large bowl combine the filling ingredients. Ground beef, onion, garlic, add the rice, egg, paprika, Italian seasonings, Worcestershire sauce, salt, black pepper (photo 1).
Mix with a spoon or hands to fully combine (photo 2).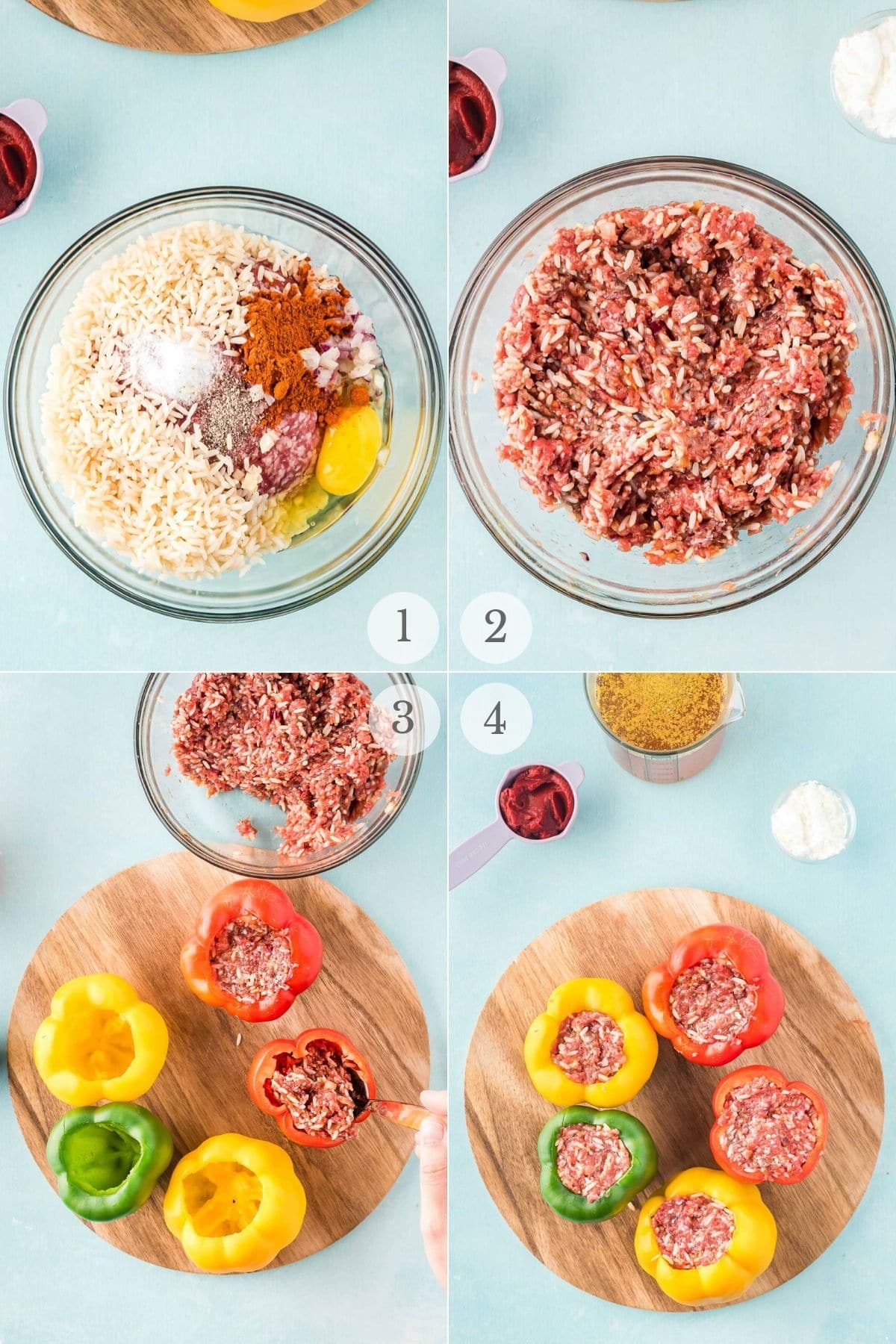 STEP 2. Stuffing the Peppers.
Cut out the stem and surrounding areas of the bell peppers. Remove the seeds and membrane inside (photo 3).
Spoon the meat mixture evenly between the prepared peppers (photos 3-4).
STEP 3. Cooking the Stuffed Peppers.
Combine the tomato paste and beef broth in the Instant Pot (photos 5-6). Stir or whisk together.
Place the trivet into the Instant Pot and the bell peppers on top (photo 7).
Seal the Instant Pot and. Cook time on HIGH PRESSURE is 8 minutes. Allow a NATURAL RELEASE for 5 minutes. Manually release any remaining pressure.
Gently remove the cooked peppers with tongs or a large spoon and set aside.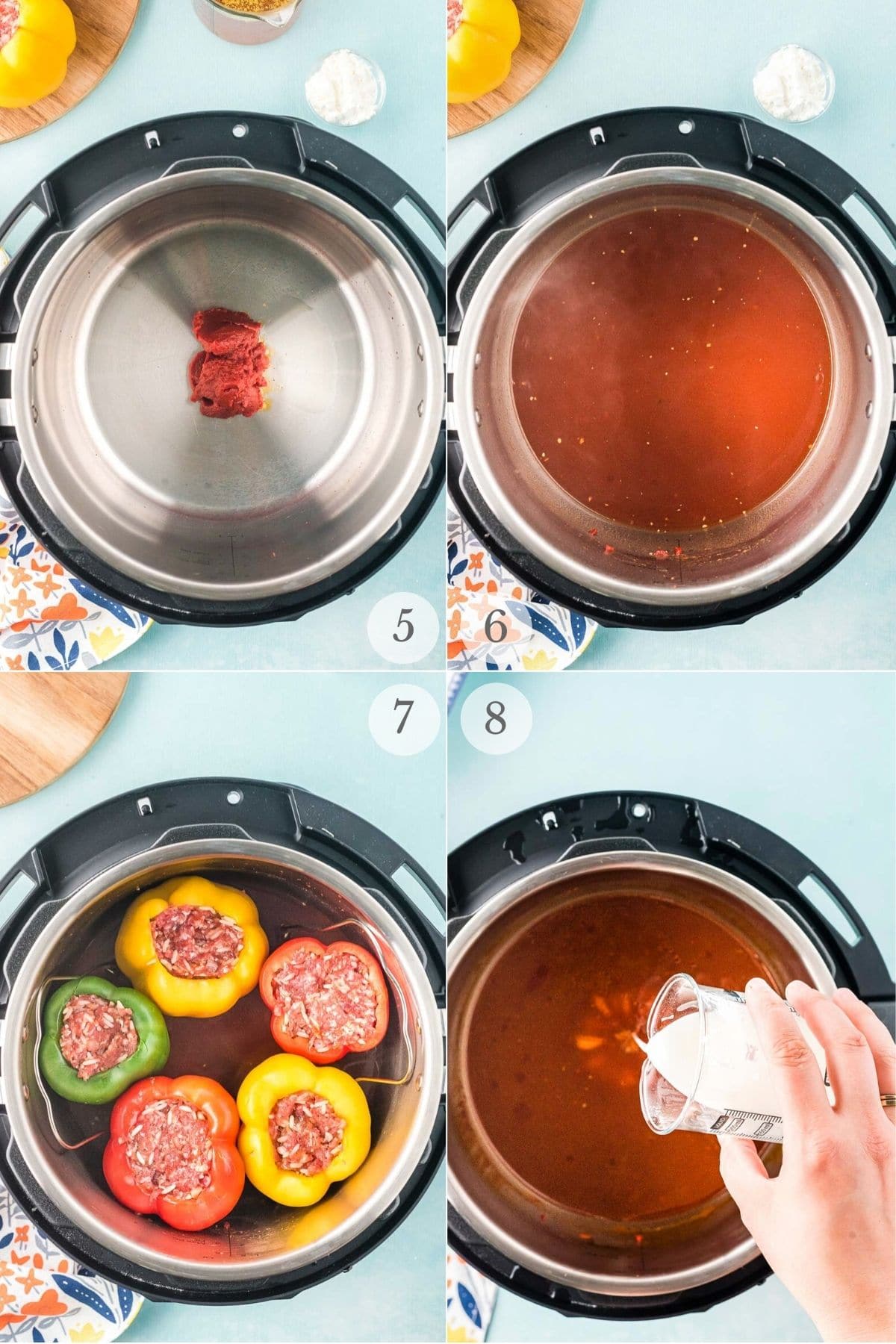 STEP 4. Making the Tomato Sauce.
Remove the trivet and select the SAUTE setting on the Instant Pot.
Mix the cornstarch and water. Pour into the Instant Pot (photo 8).
Stir often for around 2 minutes or until the sauce has thickened (photo 9).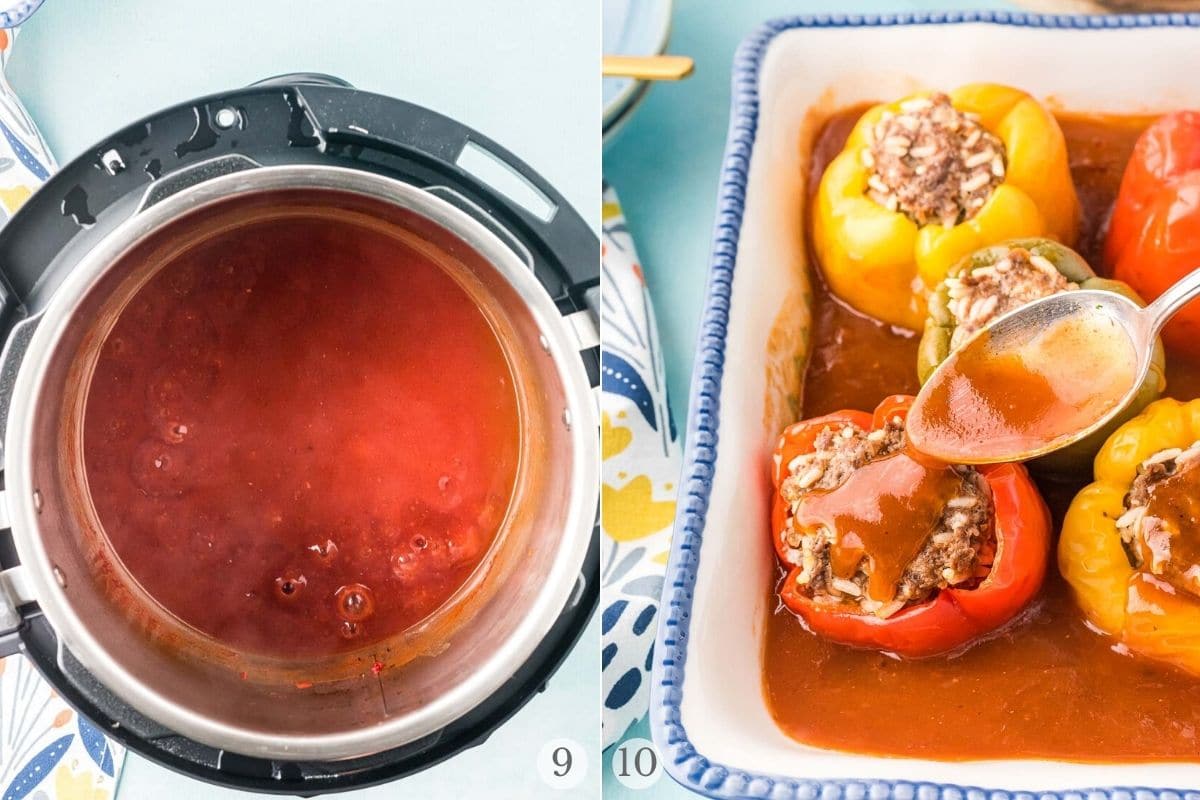 STEP 5. Serve.
The recipe makes an ample amount of sauce. Some can be spooned on top of the peppers (photo 10).
Or serve on a bed of mashed potatoes or rice and drizzle everything with the tomato sauce.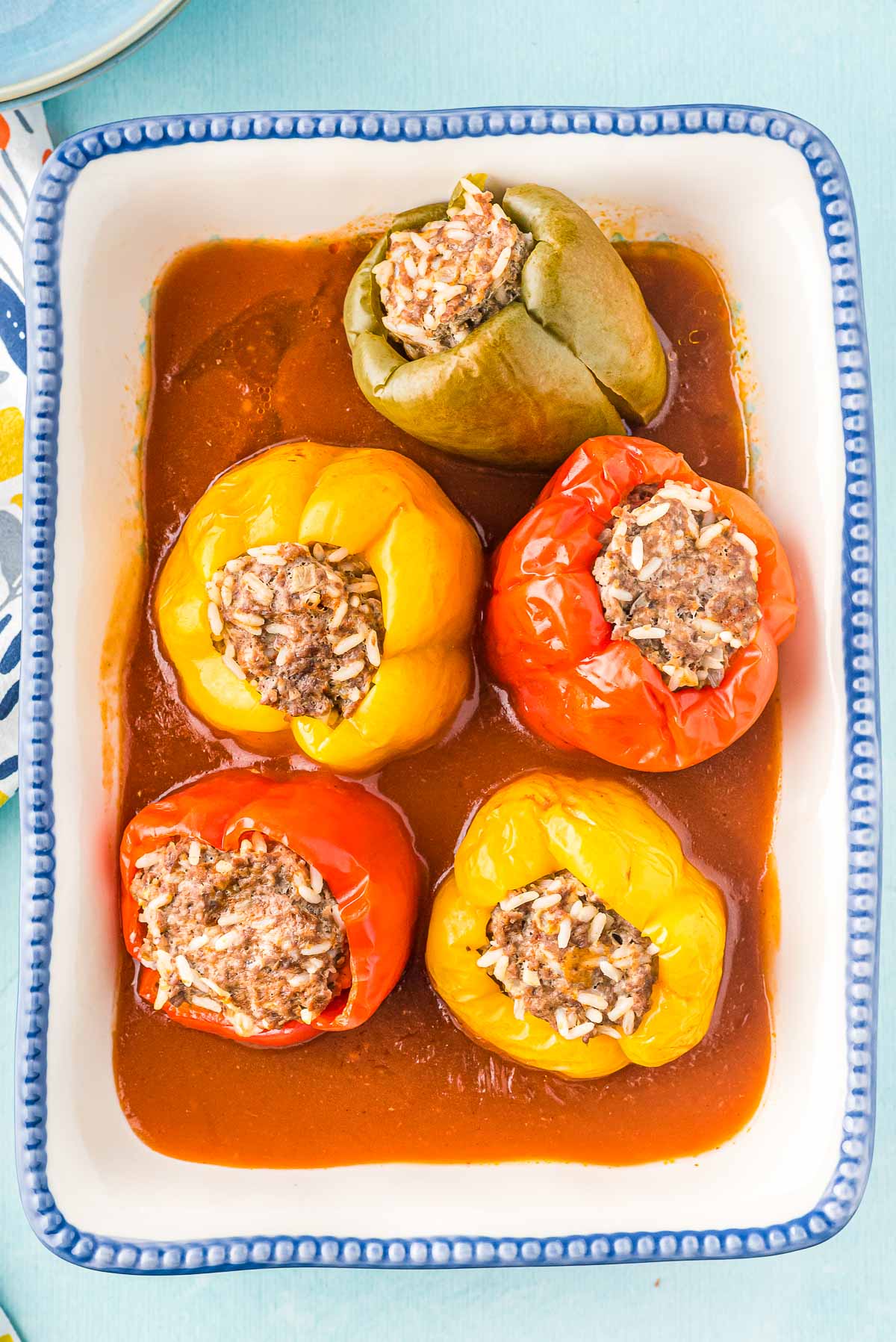 Pro Tips
Ensure the filling is fully cooked by checking the internal temperature. Ground beef should reach 165 degrees as measured with an Instant Read thermometer.
Storing Leftovers
Allow the peppers to fully cool. Store in a sealed container in the refrigerator for 3-4 days.
Reheat in the microwave for fastest results.
Can Stuffed Peppers be Frozen?
Yes! This recipe is so fast to make we recommend making it fresh. However if you want to freeze them:
Allow to fully cool after cooking.
Wrap the peppers individually with plastic wrap followed by foil. Place in a gallon size freezer bag; seal.
Freeze for up to 3 months.
Thaw fully in the refrigerator and reheat in the microwave for fastest results.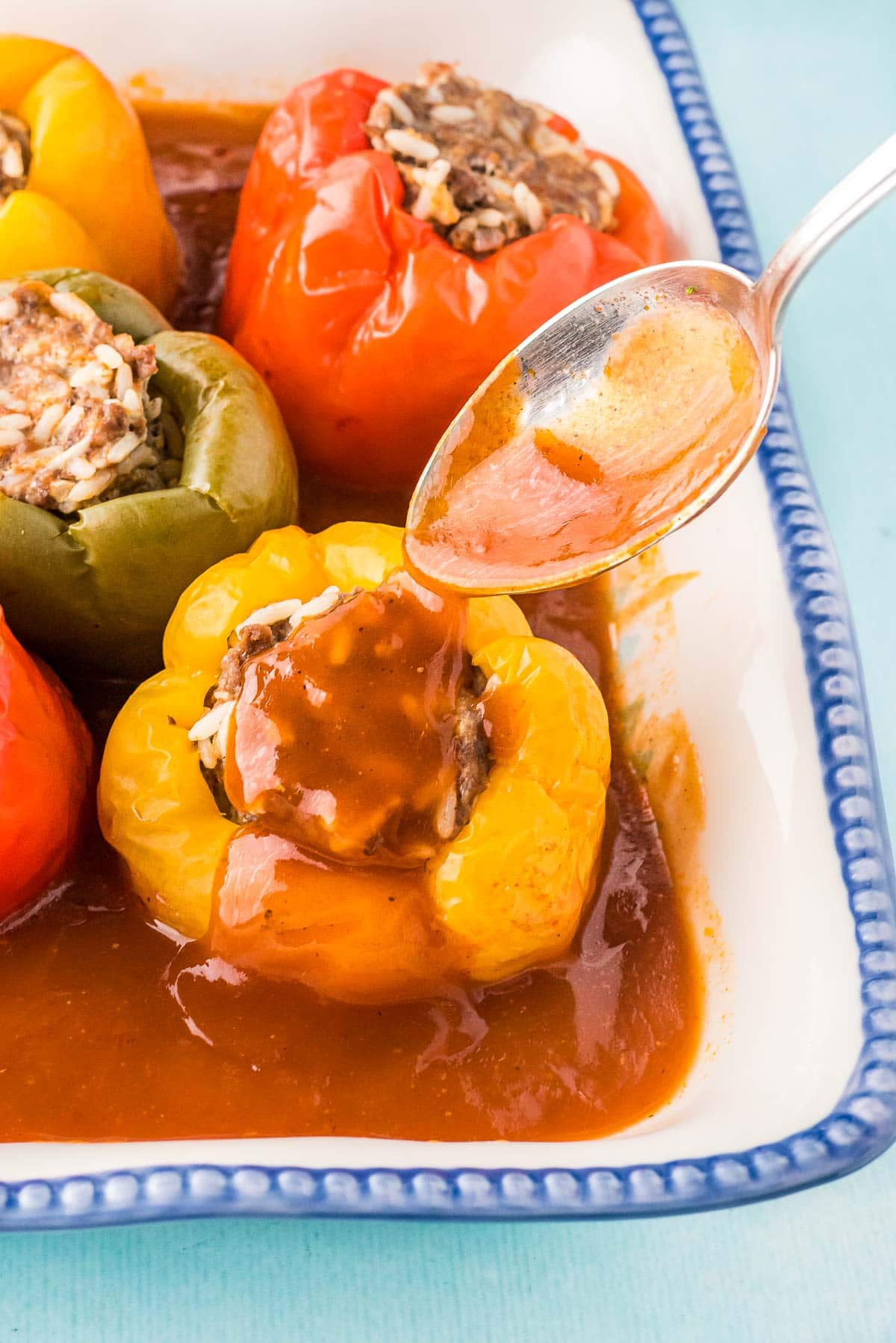 More Recipes You'll Love!
Did you make it? Please RATE THE RECIPE below!
Please SUBSCRIBE and FOLLOW ME on FACEBOOK , TWITTER , INSTAGRAM and PINTEREST !