If you thought you don't have enough time (or aren't comfortable) baking a fantastic treat I'm here to prove differently! Chocolate Chip Cookie Stuffed Brownies are a rich, chocolate fudgy, chewy baked dessert that are also a boxed mix hack! This recipe is allergy-friendly and gluten-free too!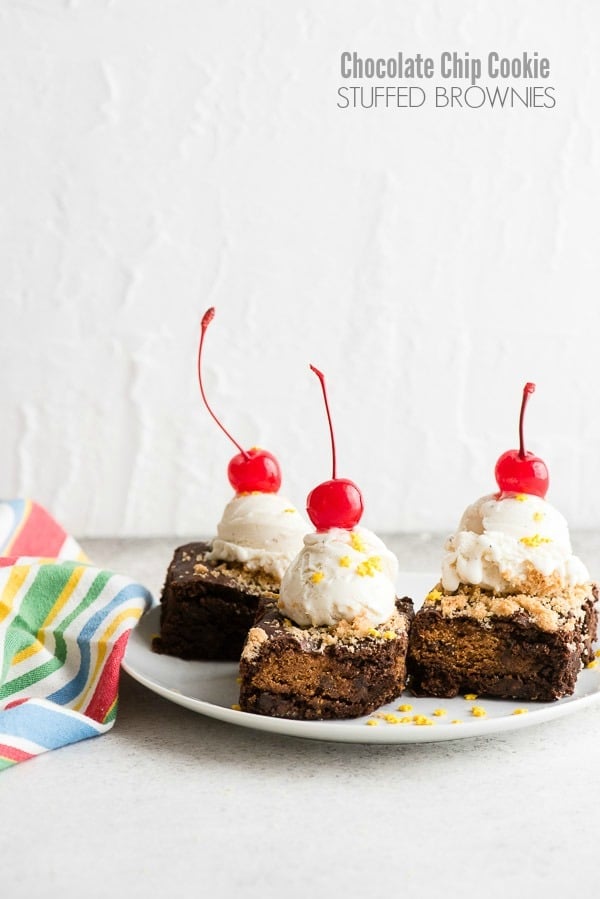 This allergy-friendly post is sponsored by Enjoy Life Foods. All opinions are my own.
As much as I love baking from scratch, I really have trouble finding the time to do so. At this time of year especially, as we careen madly to the end of the school year like a car that has lost its brakes on a steep, winding decline, I'm swamped. I'm sort of dreading the month of May. With two kids graduating from their current schools and a billion events springing from that, it will be 'rigorous'. Despite this I've found a way to whip up a special dessert with a little trick to share with you today: Chocolate Chip Cookie Stuffed Brownies.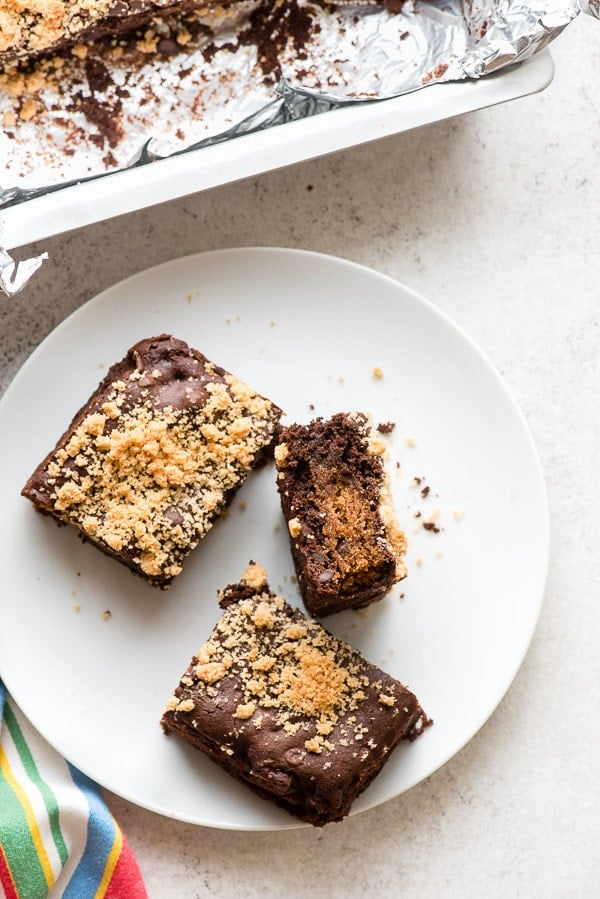 I'm struggling right now to get dinner on the table nightly with all we have doing on. Fortunately, my husband cooks and my kids are definitely capable of making quesadillas, pizza and warming up leftovers. Even so, I love to whip up a special treat that's unexpected.
I think there used to be a bad connotation if baking from a mix. These days I feel prepared mixes are a smart way to solve the problem of not enough time. Certainly, when becoming gluten-free a decade ago there were no gluten-free box mixes for anything. If my kids had a last-minute need to bring cupcakes to school, I was pinned to the wall to bake from scratch no matter what other plans I may have had. Fortunately, my friends, that is no longer true.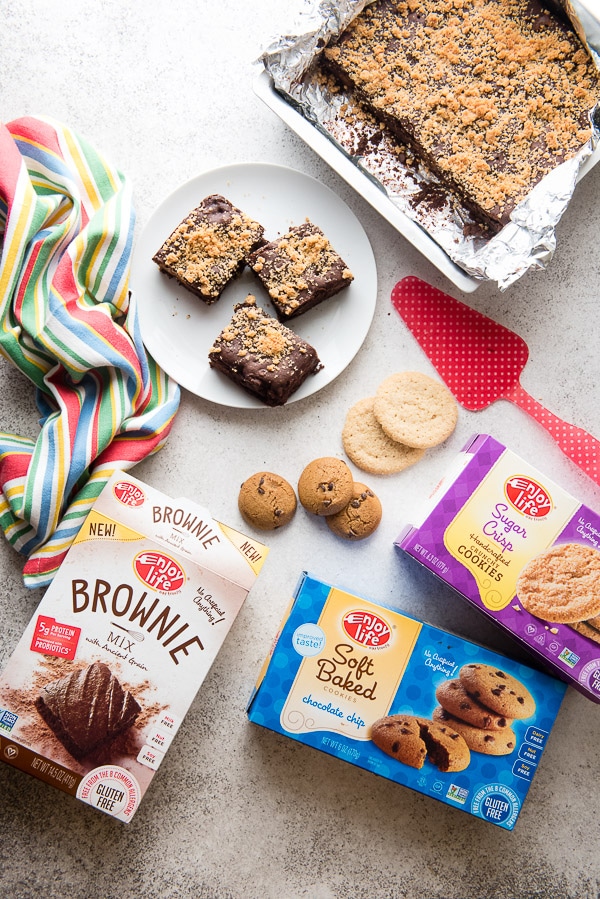 To celebrate Celiac Awareness Month (yet another thing happening in May) my friends at Enjoy Life Foods asked me to create a recipe to share! Chocolate Chip Cookie Stuffed Brownies; sound good? The truth? They are fantastic! Deeply chocolatey, fudgy, chewy; everything you crave about a brownie. And as a finishing touch they have a golden crunchy sugar cookie topping.
Ok, now the REAL truth; this is a boxed mix hack. Made with prepared cookies too. Do you think that makes them any less irresistible? According to my taste testers, not even for a second. They are a fun surprise having cookies in the middle and even better with a scoop of ice cream on top.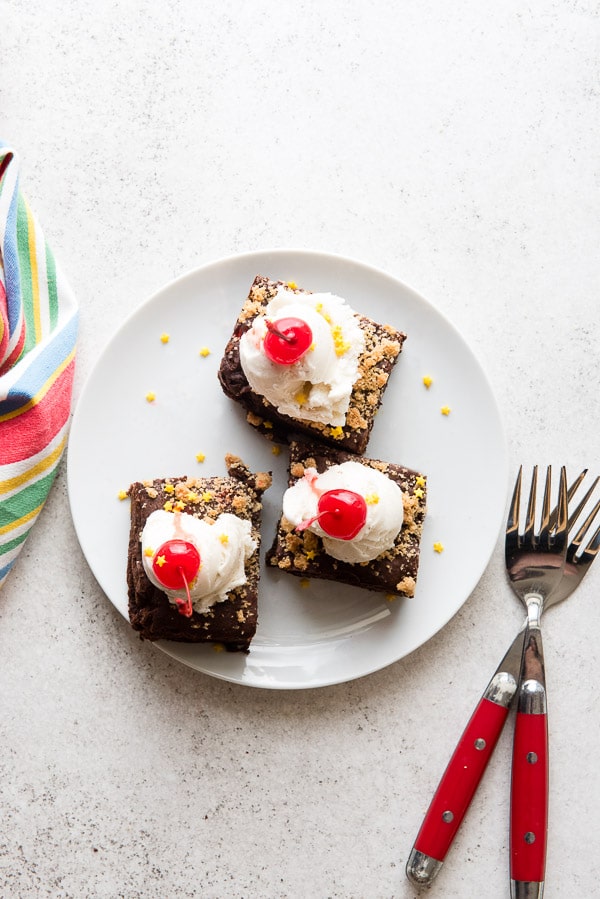 These are made with allergy-friendly mixes (free of the top 8 food allergens). If you want to add a scoop of ice cream, use whatever works for your dietary needs; you can use traditional dairy ice cream, rice based 'ice cream', or coconut based ice cream. I even found these cute allergy-friendly gold star sprinkles to add! These chocolate chip cookie stuffed brownies are something you'll be able to mix up, bake and serve in well under an hour!
Am I feeling any not-from-scratch shame? Absolutely not.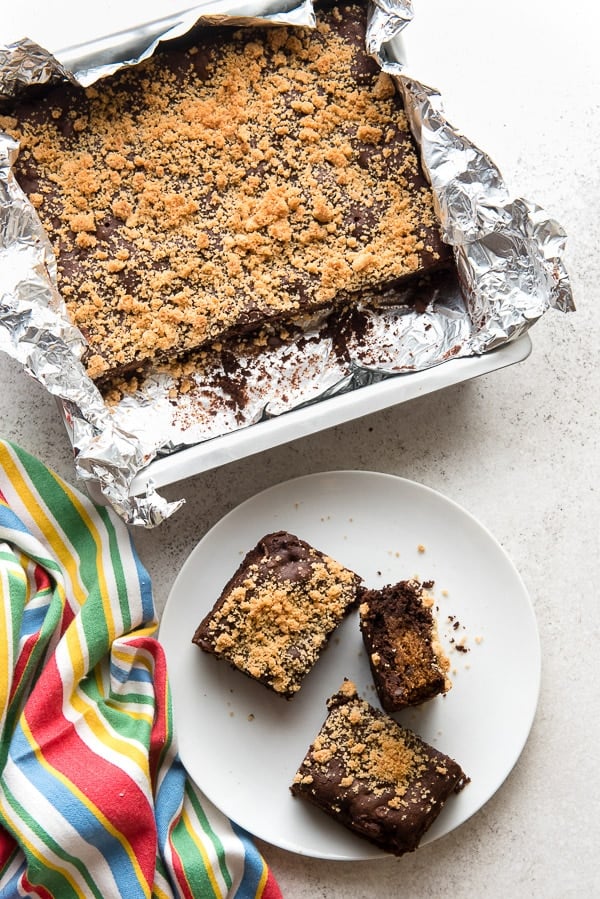 Fantastic desserts do not need to be difficult or take much time to prepare. These Chocolate Chip Cookie Stuffed Brownies are a perfect example of that. Soft prepared cookies added to the middle of a prepared box mix bake to create an unexpected treat everyone will love. Add some crumble sugar cookie crumbs on top for a crunchy golden topping? I think you'll find this recipe on high rotation!
Recipe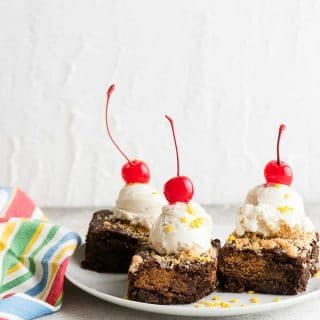 Chocolate Chip Cookie Stuffed Brownies
This recipe is so simple with an end result everyone loves! Basic brownie mix, prepared soft chocolate chip cookies and smashed hard sugar cookies create a wonderful layered rich, chocolate dessert.
Print
Save Recipe
Recipe Saved!
Pin
Rate
Ingredients
2

tablespoons

Oil

4

Enjoy Life Foods Sugar Crisp Cookies

broken into large crumbs (add to a sealable plastic bag and break)

Vanilla Ice Cream (any type to meet your dietary needs)

optional topping

Sprinkles

optional ice cream topping
Instructions
Preheat the oven to 350 degrees. Prepare an 8-inch by 8-inch square baking dish by laying two sheets of foil (dull side up) in opposite directions leaving enough overlap with the edge of the pan to allow holding the foil to lift the brownies from the pan when done. Spray with non-stick spray.

Prepare the brownie mix as directed on the package. Pour half the mix into the prepared pan (aproximately 1 cup of the prepared mix). Using a spatula, spread the mix to cover the bottom of the pan.

Place 16 of the soft cookies, side by side, on top of the brownie mix leaving some room around the outer edge. Pour the remaining brownies mix on top and using a spatula spread to cover the cookies. Sprinkle the broken sugar cookie crumbs to evenly cover the top. Bake for 30 minutes or until a toothpick inserted toward the middle comes out almost clean (it will still have some brownie stuck to it).

Remove from oven and place on a cooling rack. Allow to fully cool before cutting evenly into 12 brownies. Cutting tip: using the foil overlap, lift the brownies out of the pan and cut on a cutting board. They can be reinserted into the pan for storage if desired or sealed into a container and refrigerated.
Notes
Please note the nutritional information for this recipe is only a guide and will vary depending on the prepared ingredients used as well as the size of the brownies.
Nutrition
Calories:
194
kcal
|
Carbohydrates:
28
g
|
Protein:
1
g
|
Fat:
8
g
|
Saturated Fat:
2
g
|
Cholesterol:
1
mg
|
Sodium:
189
mg
|
Potassium:
0
mg
|
Fiber:
1
g
|
Sugar:
18
g
|
Vitamin A:
0
IU
|
Vitamin C:
1.7
mg
|
Calcium:
0
mg
|
Iron:
1
mg