Classic Magic Cookie Bars turn into a tropical dessert with flavors of macadamia nuts, pineapple and coconut. Easy to make, chewy and irresistibly good!

Everyone will come running when they smell THESE Magic Cookie Bars baking!
The classic seven layer bars are transformed into the flavors of a tropical vacation!
Dried pineapple, sweet shredded coconut, white chocolate chips and macadamia nuts brighten any day!
What are Magic Cookie Bars?
Magic Bars, are also known as Seven Layer Bars, Hello Dolly Bars or Five Layer Bars.
They are a dessert cookie bar with a graham cracker crumb crust, layered with chocolate chips, butterscotch chips, flaked coconut and nuts.
Sweetened condensed milk is poured over the bars before baking magically creating a chewy, sweet delicious bar that's very easy to make.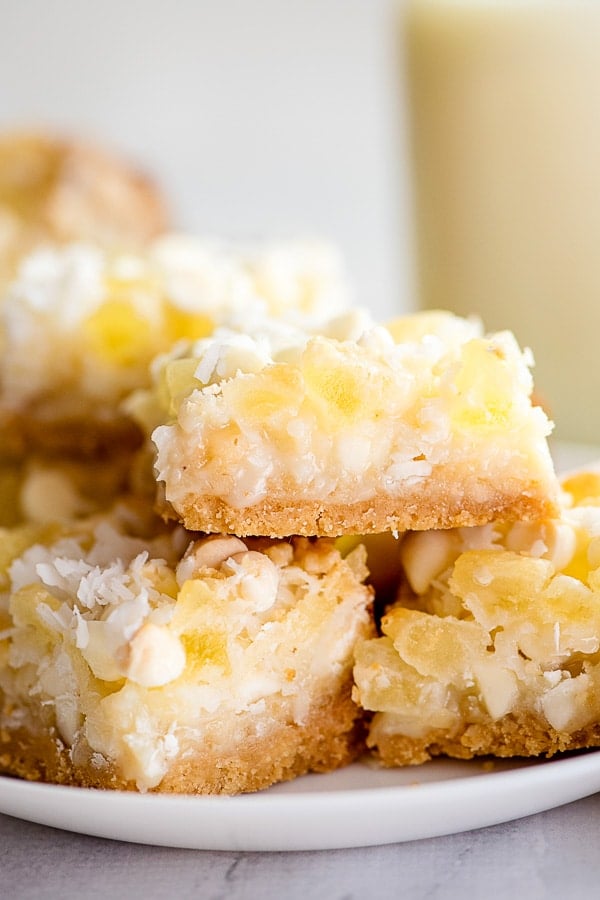 A Topical Twist
This version is changed up to have the flavor of the tropics.
If you can't take a tropical vacation this cookie bar recipe will make you feel like you are having one at home!
White chocolate chips, macadamia nuts, dried pineapple pair up with the traditional coconut and a Golden Oreo crust.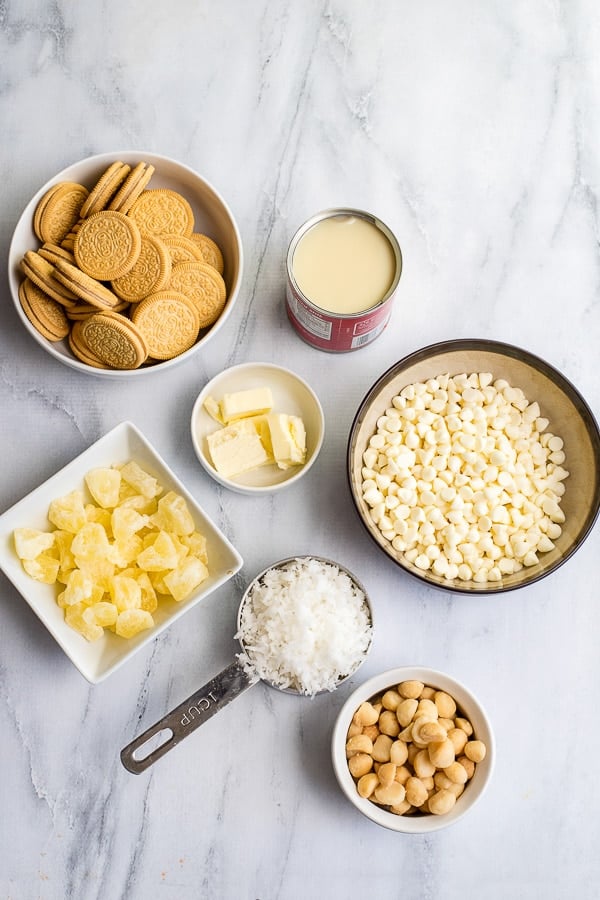 Ingredients
The ingredients in these Magic Cookie Bars last indefinitely in the pantry or refrigerator.
Golden Oreos or Vanilla Sandwich Cookies (regular or gluten-free)
Unsalted butter
White chocolate chips
Dried pineapple
Sweetened Flaked coconut
Dry roasted macadamia nuts
Sweetened condensed milk

Ingredient Notes
Vanilla Sandwich Cookies
Any brand of vanilla sandwich cookies can be used. Either regular or gluten-free cookies work great!
Macadamia Nuts
Macadamia nuts are a fatty tree nut with a unique buttery flavor.
If you cannot find macadamia nuts at your grocery store you can buy them online.
SUBSTITUTION: However if you cannot find them substitute pecans, walnuts, cashews or almonds.
Brazil nuts can also be substituted though are probably more difficult to find.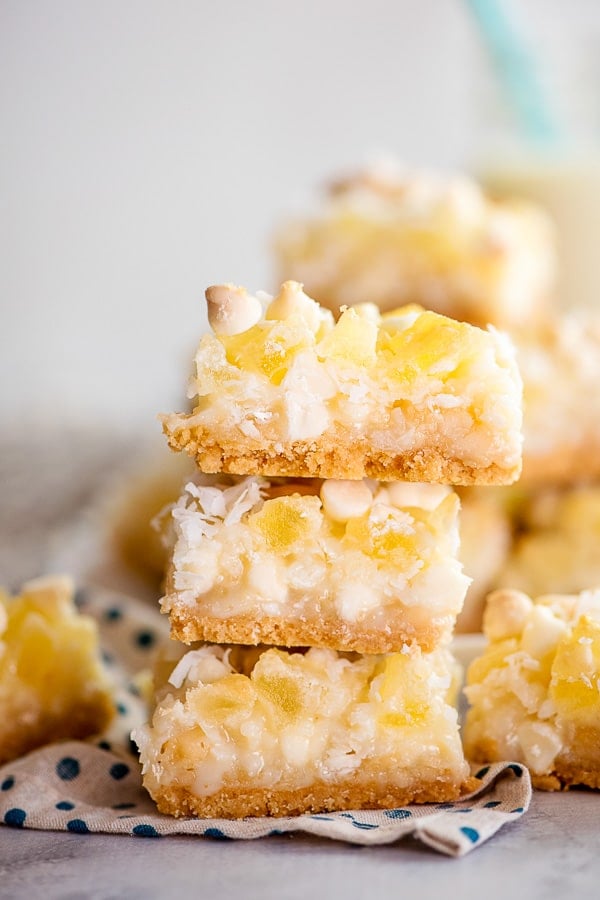 How to Make Magic Bars – Step-by-Step
STEP 1: Preheat the oven to 325 degrees F. Line an 8-inch square baking pan with parchment or foil (shiny side down) sprayed with non-stick spray.
PRO TIP: Leave an overhang of parchment or foil for easy removal of the Magic Bars after baking for easy cutting.
STEP 2: Combine the sandwich cookies and melted butter in the food processor (photo 1). Process into fine crumbs (photo 2).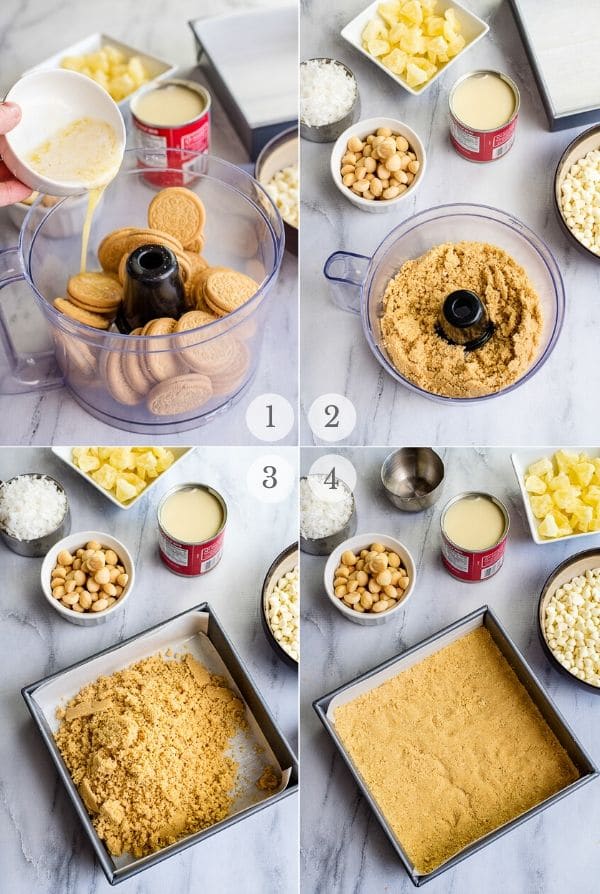 STEP 3: Spoon the crumbs into the prepared pan (photo 3) and press into a crust (photo 4). TIP: using the bottom of a flat measuring cup works great for this!
STEP 4: Bake the crust for 10 minutes; during baking proceed with the recipe preparation. AFTER BAKING remove the crust and turn the oven up to 350 degrees F.
STEP 5: Chop the dried pineapple into small pieces (photo 5).
STEP 6: Process the macadamia nuts in a food processor or mini chopper to form small pieces (photos 6-8).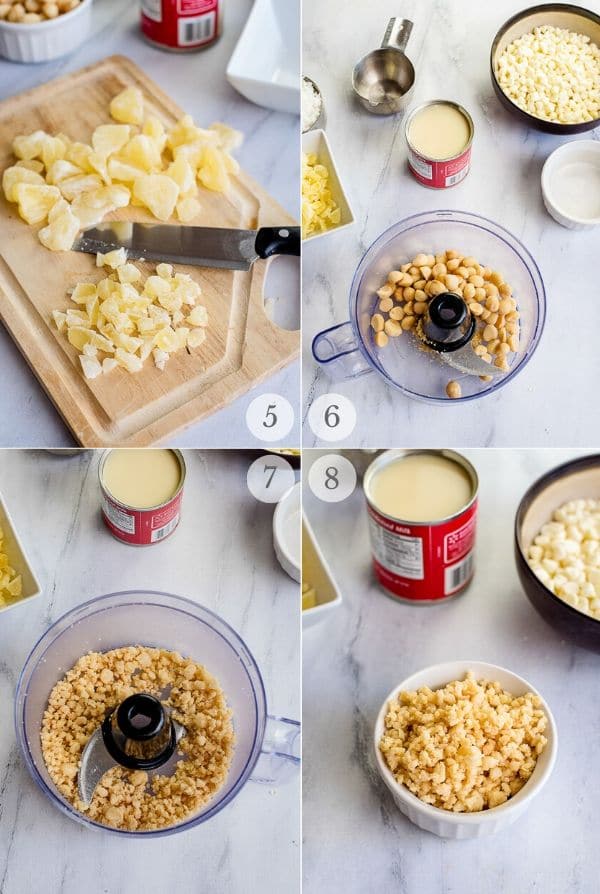 Layering the Magic Bars
STEP 7: Sprinkle the macadamia nuts evenly on the crust (photo 10). Follow with 1 cup white chocolate chips (photo 11), sweetened coconut (photo 12) and dried pineapple (photo 13).

STEP 8: Pour the sweetened evaporated milk evenly over the top (photo 14) followed by the remaining white chocolate chips (photo 15).
STEP 9: Bake for 30 minutes at 350 degrees just until the sides turn golden in color (photo 16).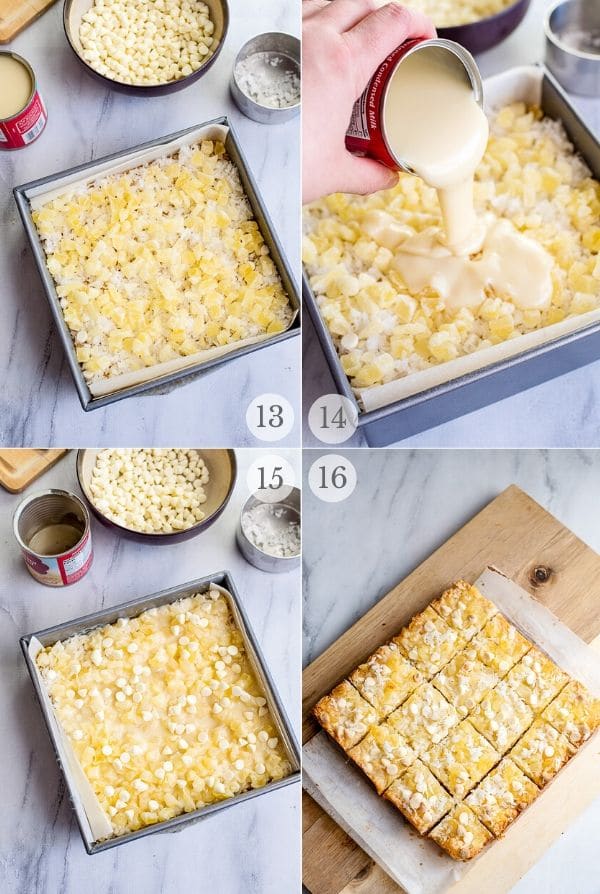 STEP 10: Cool completely on a cooling rack. Cover with foil and chill in the refrigerator for a few hours. Remove from the pan and cut (photo 16).
Allow to stand at room temperature for 10-15 minutes before serving.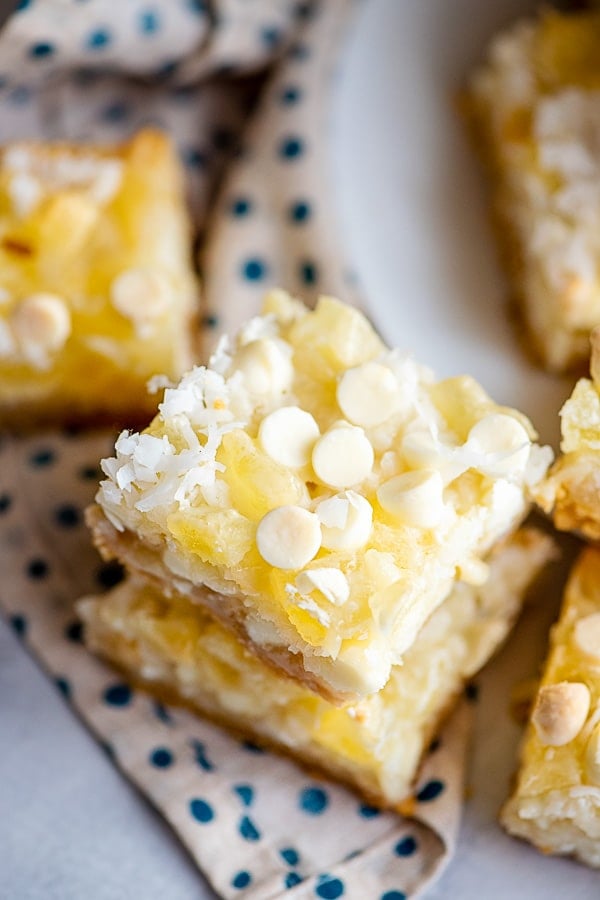 How to Store
At Room Temperature
The cookie bars can be stored, covered, at room temperature for up to 3 days. NOTE: if in a hot or humid climate, store them in the refrigerator.
In the Refrigerator
Store the fully cooled in the refrigerator, cut bars in the pan covered tightly with plastic wrap or foil for up to 1 week.
In the Freezer
After the bars have fully chilled and been cut, wrap individual bars in plastic wrap. Place them in a freezer bag and in the freezer for up to 3 months.
They can be eaten straight from the freezer for a chewy consistency. Otherwise allow them to thaw in the refrigerator before eating.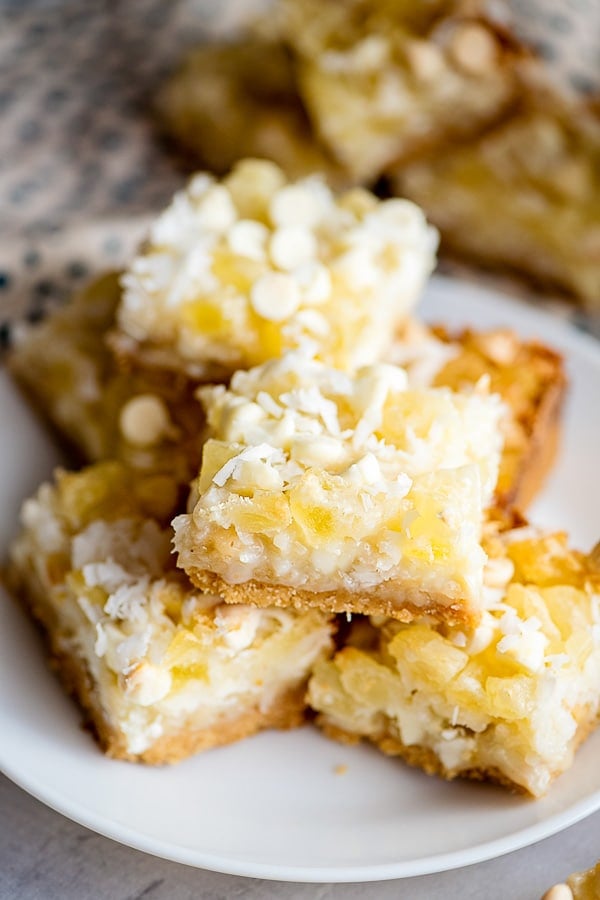 More Dessert Bar Recipes You'll Love!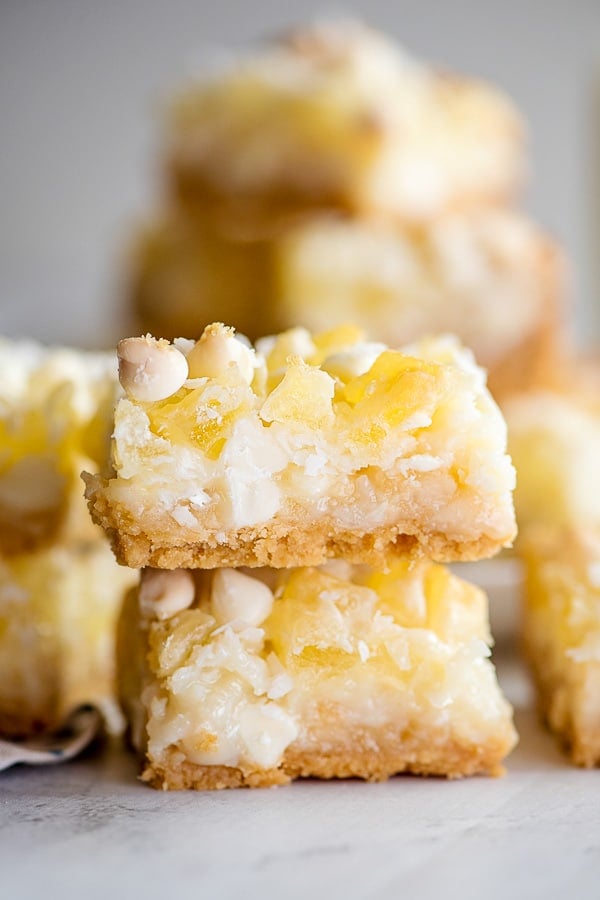 Did you make it? Please RATE THE RECIPE below!
Please SUBSCRIBE and FOLLOW ME on FACEBOOK , TWITTER , INSTAGRAM and PINTEREST !