Looking for a unique seasonal recipe using cranberries that can also be an easy holiday kitchen gift idea? Homemade Cranberry Vinegar is the ticket! The color alone is worth making it.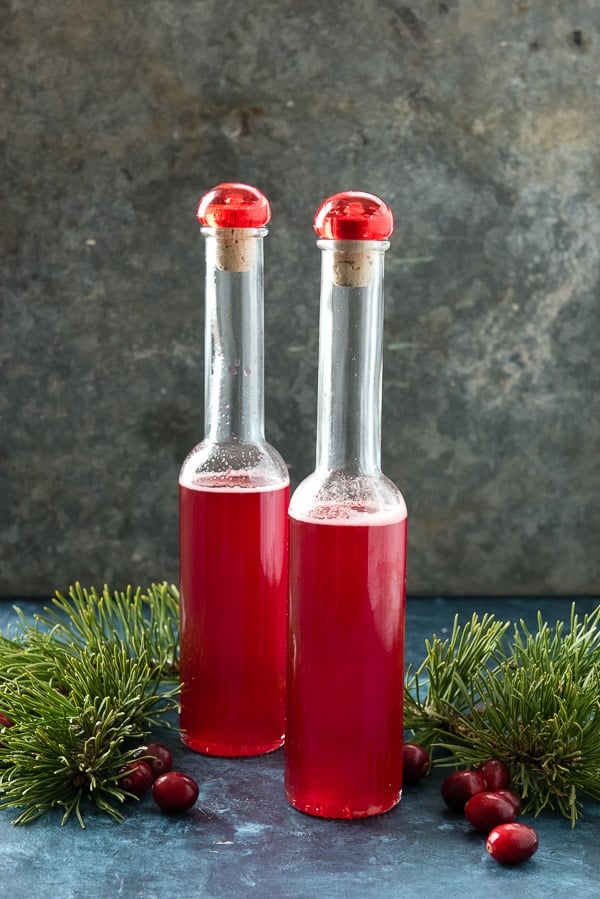 As the cyberwaves are packed to the gills with Thanksgiving recipes I'm taking a step to the side to bring you something different: Homemade Cranberry Vinegar. It's actually a vinegar infusion (though I do love making homemade vinegar from scratch too). The vinegar is very easy to make and its beautiful ruby red color makes it a star choice for holiday gifts from the kitchen!
I feel like the fall and early winter months have very distinct flavors. Pumpkin, cinnamon, cranberry and peppermint lace through the change of seasons like culinary sign posts letting us know the holidays and cooler months are upon us.
Sadly, cranberries feel to be short changed in the versatility department. It's the Pumpkin Spice Lattes people are announcing on Facebook as soon as Starbuck's releases them (it seemed like August this year). Pumpkin covers the gamut from soups, to pumpkin pie, smoothies, pumpkin cookies, pumpkin hot chocolate, spicy pumpkin pasta sauce and so on. I don't recall seeing a cranberry in a pasta sauce. Ever.
Homemade Cranberry Vinegar lets the cranberry spread its wings a bit. The vinegar is an infusion with apple cider vinegar, sugar, water, cinnamon and fresh cranberries creating a tasty vinegar for the season and beyond.
How to Use Cranberry Vinegar
It would be wonderful for:
It can also be infused a second time with herbs to flavor it further for salad dressings.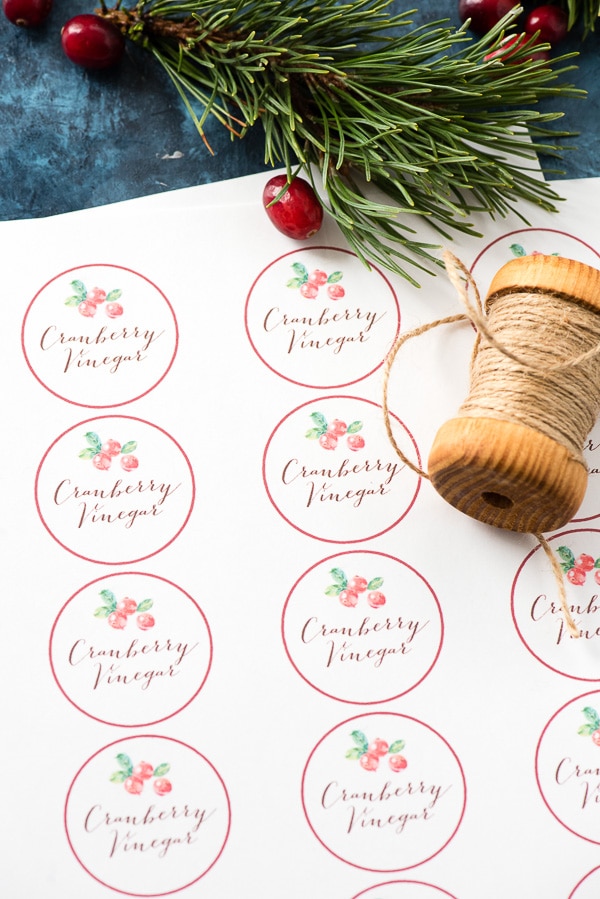 Printable Gift Tags
One of my favorite things to make for the holidays are edible gifts. Maybe I've watched too many episodes of Hoarders but I personally like things I can use up and enjoy thinking of the maker in the process.
With the holidays afoot, I have created some simple gift tags in the event you want to make Homemade Cranberry Vinegar for your gift giving. Just print them out, cut them out and attach to the bottles or jars of vinegar!
EQUIPMENT/WHERE TO BUY:
A key piece of equipment for this recipe is a fine gauge sieve or strainer. If you don't already own one, it is an inexpensive kitchen tool that fill the bill when straining liquids with smaller particles that might pass through a larger strainer. I use both the regular rounded style and the conical style for everything from straining tea to making ice cream!
The bottles used in this post are Limoncello bottles from World Market.