A lightly spicy, soul-warming soup for a chilly winter's day, Spicy Black Bean Soup is easy to make and vegan too! And you'll never guess where I got the idea to make it!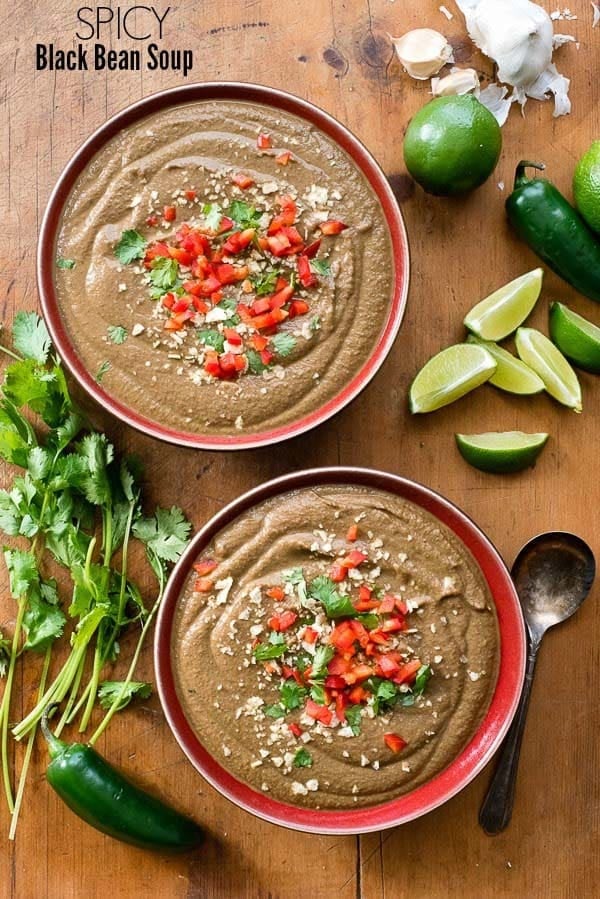 This post is brought to you in partnership with Johnson & Wales University. All opinions are my own.
Have you ever gone out to eat and had a dish that stays with you afterwards? You think about it. You wish it was in your refrigerator. You plot when you'll be able to have it again. Today I'm sharing my latest recipe obsession for Spicy Black Bean Soup. In my case, the soup was superb (and I sort of regret not licking the bowl) but it was the opportunity that facilitated me HAVING the soup that has lingered on.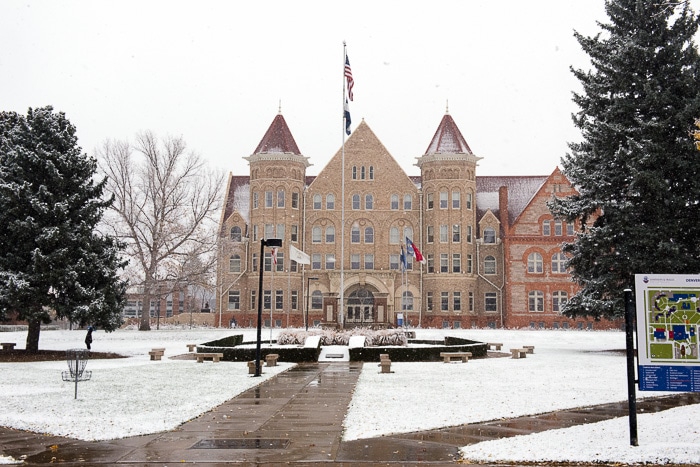 Last week my high school senior daughter and I had the chance to tour Johnson & Wales University in Denver. You may know of 'JWU' (jay-woo) for their exceptional Culinary Arts and Hospitality programs. Or perhaps for their origins as a business school having been founded over 100 years ago. That was my association before touring this beautiful campus, on what began as a gorgeous fall day.
The visual of the private, nonprofit, accredited university campus reminded me of the East Coast or Europe for the impressive historic buildings. A sprawling grassy commons area lies between the buildings, dotted with large shade-bearing trees giving the grounds the feel of having been long established despite the JWU's occupancy only being 16 years old. The historic campus was originally founded by the Colorado Women's College in the late 1800s.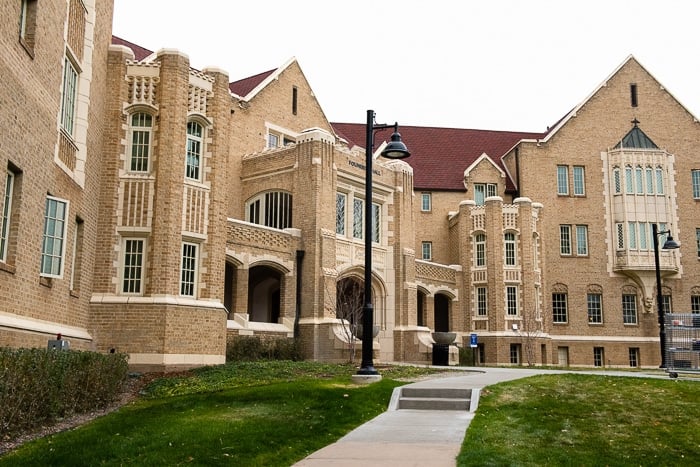 Our tour was led by Andrew, a graduating senior with sights set on a career in software sales in New York City. As he wound us through the different curriculum areas such as Criminal Justice (with their own full size courtroom on campus for practicing mock trials and leveraging the local FBI field office for regular guest lectures), Fashion Merchandising (which had created a hip Día de los Muertos window display) and the School of Business, Andrew described the close-knit student-teacher community. How he had taken courses from many of the same professors over his four years, and that he felt they were invested in his success.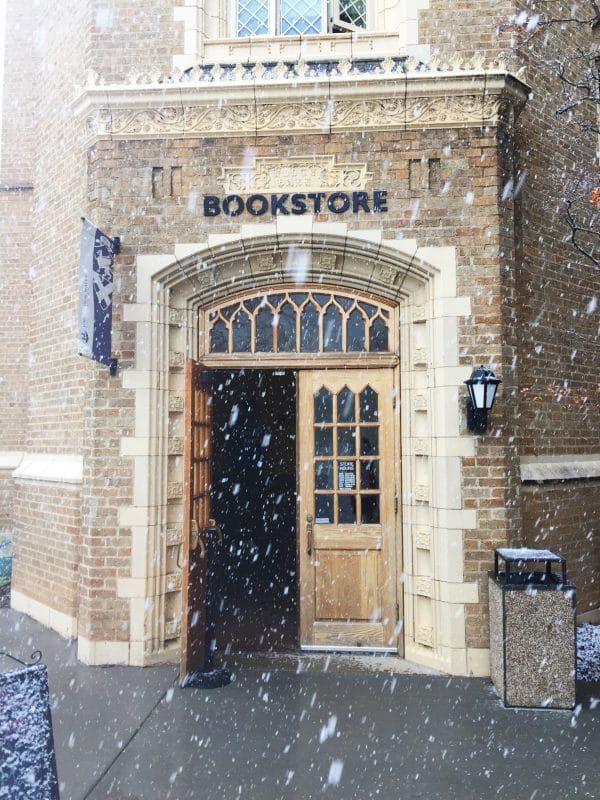 Most of the majors require students to do internships (or 'externships' as one student referred to them) in their field of study. It was obvious Johnson & Wales expertly integrates with the professional community to leverage resources being involved with on-campus activities (teaching, mentoring, guest lecturing) and aligning students with meaningful experiences which help to clarify their future professional interests and acumen, as well as instilling work experiences to make them readily employable as graduates.
Are you wondering where the soup comes into this? Unquestionably a favorite experience of our visit was lunch. I knew we'd be having lunch prepared by a class but did not realize we'd be PART of the class experience. We dined at a table of 7 where the students in a 'front of the house' dining course served us food prepared by an International Cuisine class.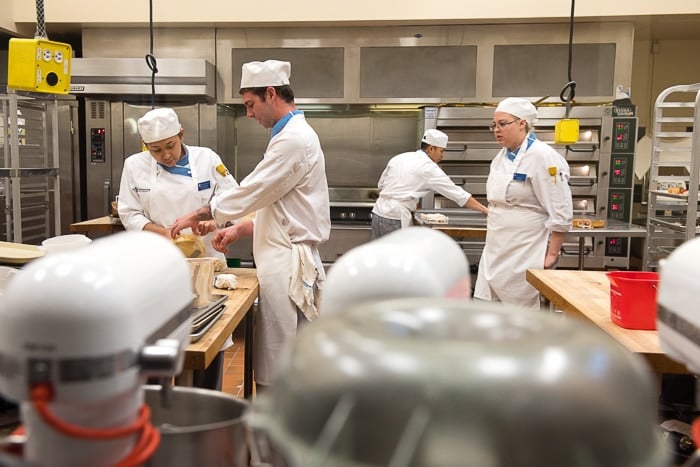 My daughter and I were joined by two faculty members and three senior culinary students. We each were instructed to order something different on the menu to allow the serving students to experience the serving requirements of each menu item.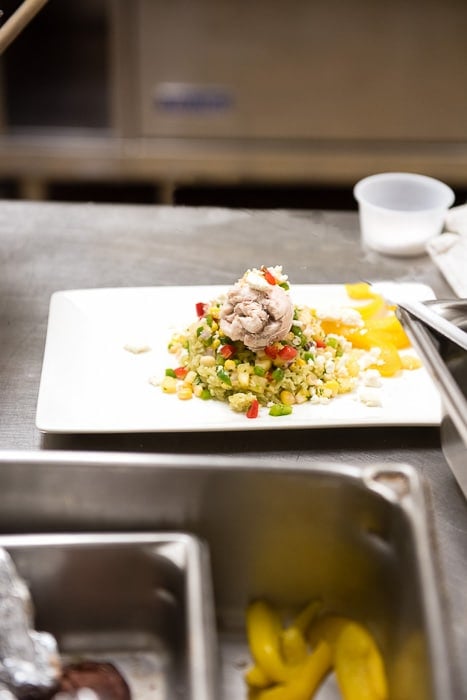 I was fortunate to be first, having the entire menu for the picking. I enjoyed a spicy black bean soup (that I truly can't stop thinking about) and a beautiful African stew with blackened tilapia and mussels. The meal moved at a swift pace with the students shuttling us through three courses and serving the check at the end.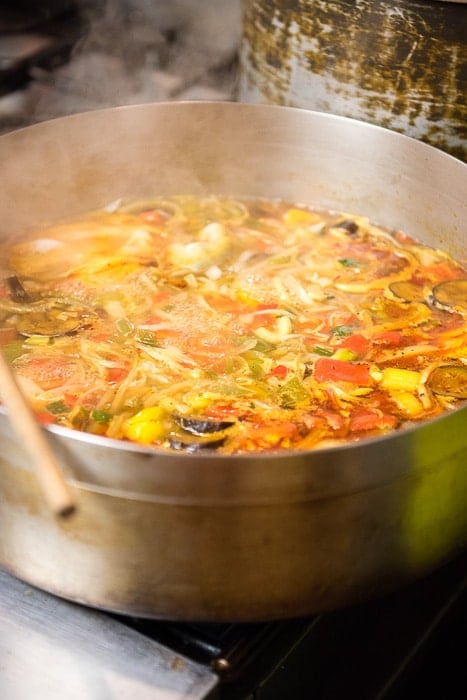 The three senior students lunching with us each had different paths at Johnson & Wales. One was there to pursue the art of butchery. Another enjoys the pastry arts, would love to have a restaurant one day (with a partner to attend to the business side of things not feeling that aspect to be her preferred arena) and plans to write a cookbook upon graduation.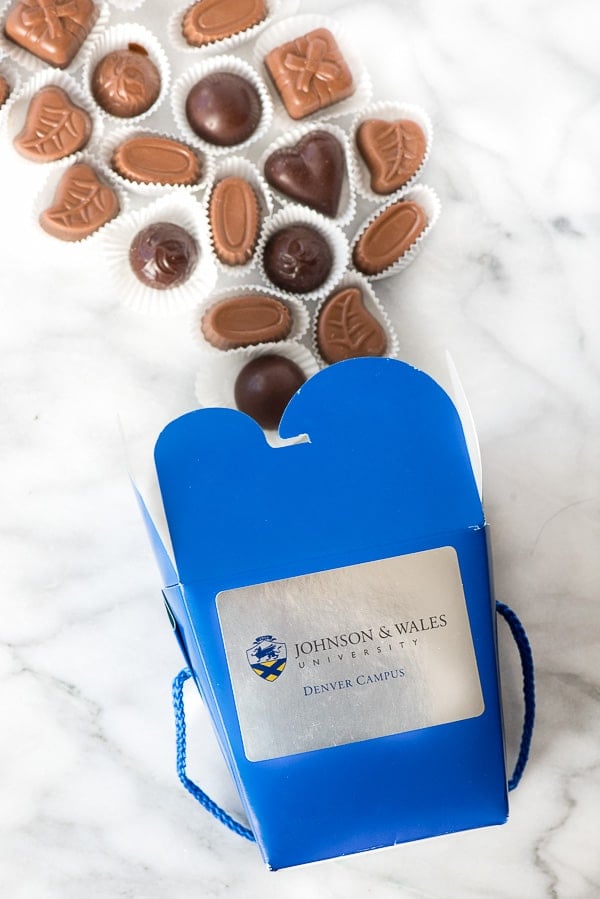 The third student had gone through college receiving an electrical engineering degree and learned he did not love working in an office. After being laid off he came to Johnson & Wales for their Garnish Your Degree program to add some culinary background to his resume with a plan of going into culinary sales. He shared an idea for a fantastic sounding meat smoker to which one of the faculty at our table reminded him of their annual 'Sharkfest' event held on campus for student entrepreneurs to get feedback and potential funding for ideas from business professionals in the community.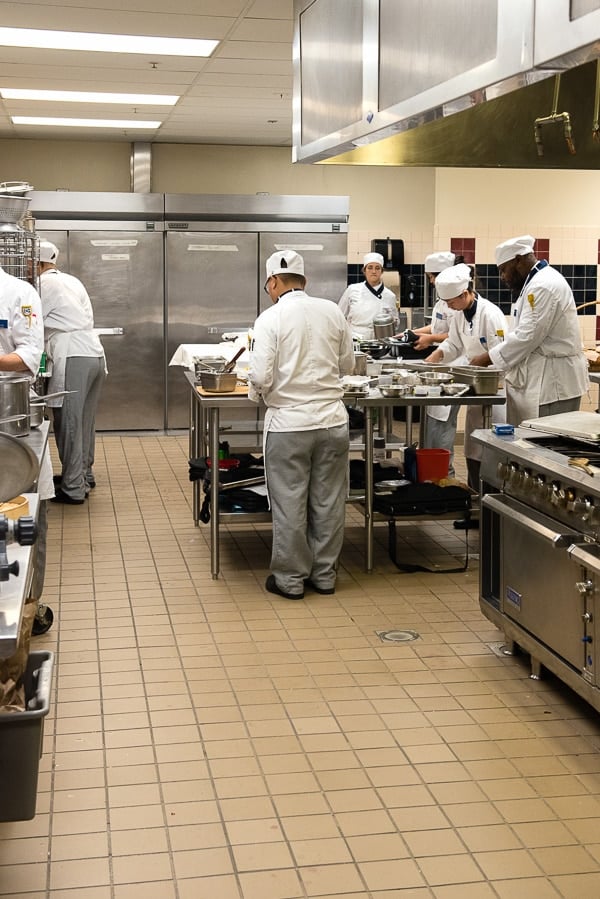 Being focused on ensuring I was properly participating in the class lunch, and not sure how quickly we needed to eat or how much, I did not finish my soup. When we emerged from lunch to finish our tour, the golden fall day had succumbed to a full-on snow storm. The campus was visually transformed into a winter wonderland with students who were seeing snow for the first time, frolicking coat-less in flip flops outdoors, having just finished their finals. The chill in the air, and the regret of leaving one drop of that soup in my bowl inspired me to develop my own version as an homage.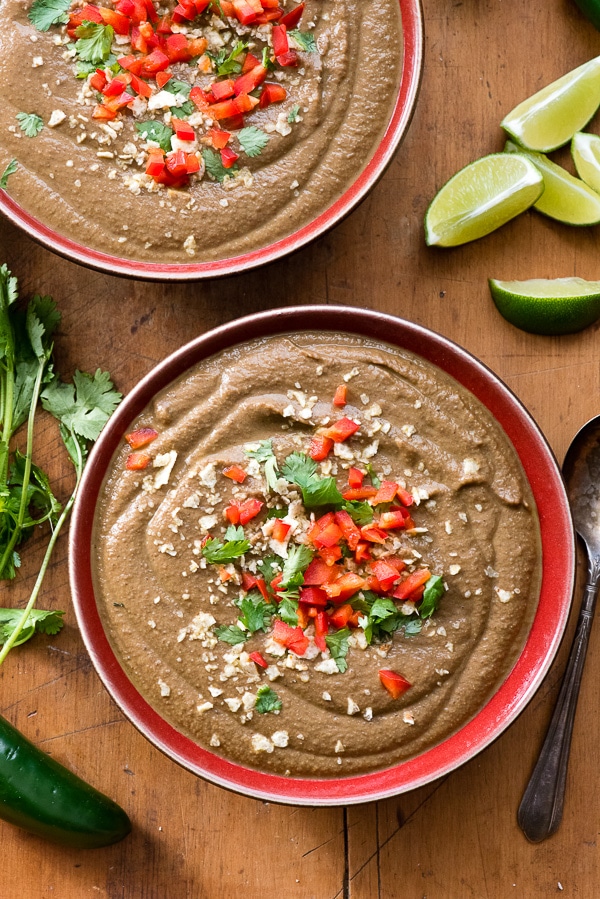 More Recipes You'll Love!
Recipe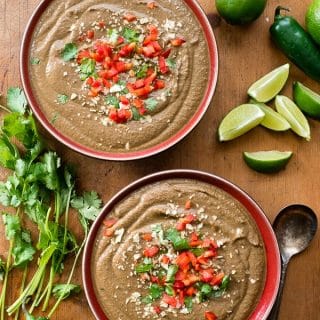 Spicy Black Bean Soup
This comforting soup is full of vegetables and spices to perk up the flavor and warm the senses. It is not overly spicy and can be made more so by adding crushed red pepper flakes or hot sauce for individual servings.
Print
Save Recipe
Recipe Saved!
Pin
Rate
Ingredients
2

tablespoons

Olive Oil

1

large Yellow Onion

, peeled and chopped

4

medium Garlic Cloves

, peeled and chopped

2

large Celery Stalks

, scrubbed and chopped

1

large Carrot

, ends removed, scrubbed and chopped

1

small Jalapeno Chile Pepper

(2 inches long), stem removed and chopped

1 15-

ounce

cans Black Beans

, drained and rinsed

4

cups

Low Sodium Vegetable Broth

(chicken broth also may be substituted though it won't be a vegan soup)

1

tablespoon

ground Cumin

1

tablespoon

Apple Cider Vinegar

1

tablespoon

Lime Juice

¼

cup

fresh Cilantro

1

tablespoon

Adobo Sauce

(can be taken from a can of Chipotle en Adobo)

Kosher Salt and freshly ground Black Pepper

, to taste

1

medium Jalapeno Pepper

, stem removed and finely diced

Garnish suggestions: crushed tortilla chips

, diced red pepper, red pepper flakes, torn cilantro leaves, sour cream
Instructions
In a large Dutch oven, heat the olive oil over medium-high heat. Add the onion, garlic, celery, carrot and chopped jalapeno. Sauté for 5 minutes until the vegetables begin to soften.

Add the beans, vegetable stock, and cumin to the Dutch oven and stir to combine. Allow to come to a simmer, then lower the heat to Low and allow to simmer for 30 minutes.

Stir in the apple cider vinegar, lime juice, cilantro, and adobo sauce. For a chunkier texture: use an immersion blender to blend the soup in the pot to desired texture. _For smoother soup: add the soup into a blender in batches and puree to desired texture (also some may be pureed and some not to have a combined texture)._ Return the soup to the Dutch oven is passing it through the blender.

Salt and pepper to taste before serving. The second diced jalapeno pepper may be added to the bottom of the serving bowls for additional texture and heat, or used as a garnish. Optional garnish (any or a combination): crushed tortilla chips, diced red pepper, red pepper flakes, torn cilantro leaves, sour cream
Nutrition
Calories:
216
kcal
|
Carbohydrates:
30
g
|
Protein:
9
g
|
Fat:
7
g
|
Saturated Fat:
1
g
|
Cholesterol:
0
mg
|
Sodium:
1395
mg
|
Potassium:
465
mg
|
Fiber:
9
g
|
Sugar:
3
g
|
Vitamin A:
2640
IU
|
Vitamin C:
11.6
mg
|
Calcium:
60
mg
|
Iron:
2.9
mg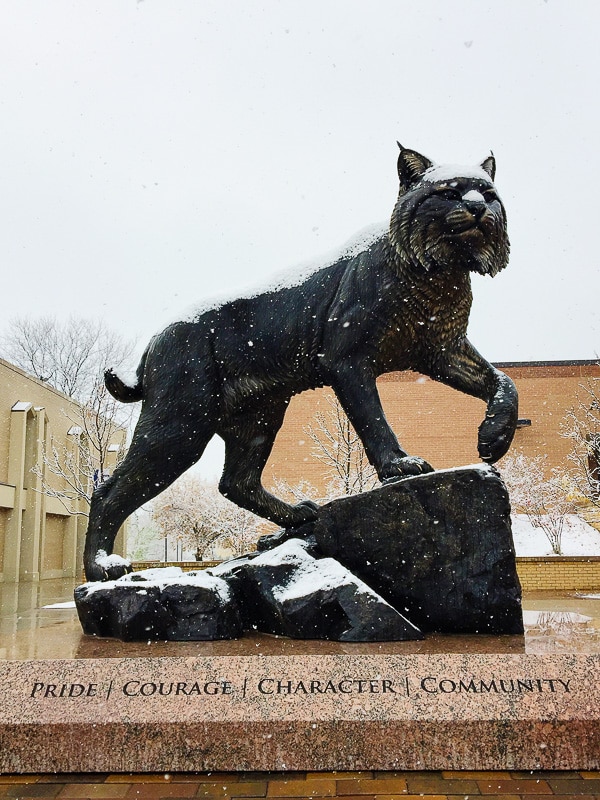 We learned so much during our time at Johnson & Wales University in Denver (note: there are three additional campuses in Providence, RI, North Miami, FL, and Charlotte, NC.). Here is what I loved about JWU:
Everyone really seemed to care. From the President of the University, to the faculty I met and the students, they have cultivated a community committed to a rich, unique learning environment.
The professor and student bond. Many students have the same professor for different classes over their time at Johnson & Wales, coupled with smaller class sizes, allowing the professors to truly know the students.
Mixed instruction mediums of in-class live instruction and some online course options allow students to tailor an approach that works best for them.
JWU's 'Experience Your Future Now' motto, espouses a commitment to mesh practical experience with academic learning. Students gain skills and clarity on working in their major to make good choices when they graduate AND get a job.
The excellence in the Culinary Arts and Hospitality industry majors are only the start of the Johnson & Wales offering. JWU Denver students have access to degrees in arts and sciences, business, culinary arts, nutrition, hospitality, and health science.