Slow Cooker Beef Stew is a comfort food staple. This Middle Eastern inspired version kicks it up a notch with sweet and sassy flavor.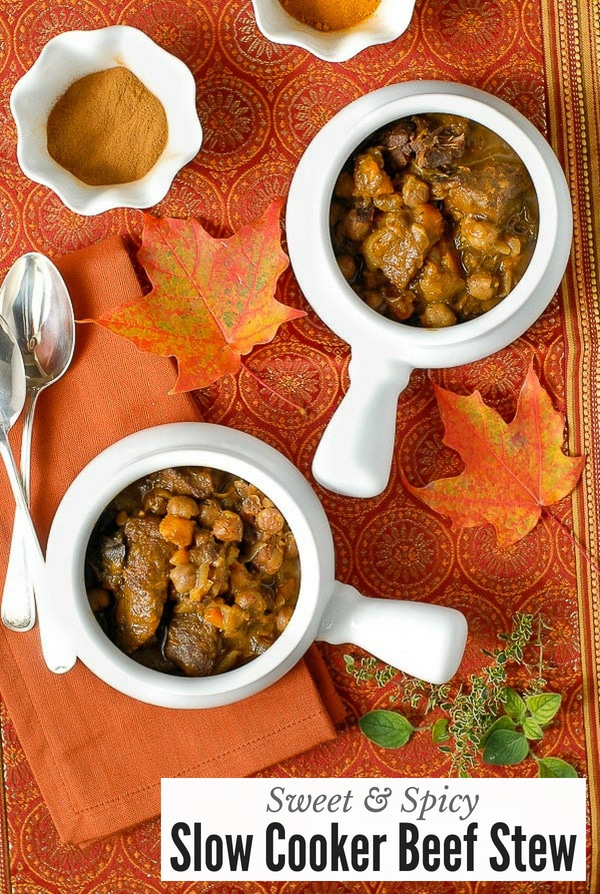 Originally published October 2014; updated September 2018
Beef stew is arguably the most classic comfort food there is. A hearty meat and potatoes dish, with earthy flavor, simple filling ingredients.
At the risk of being controversial, it's boring. It's usually bland and unexciting. My opinion only.
Today I'm taking beef stew into my own hands and making it exciting and keeping it easy.
Sweet & Spicy Slow Cooker Beef Stew is fragrant, bold and exciting while still offering all the comforting aspect we love.
What IS Sweet & Spicy Slow Cooker Beef Stew?
This Middle Eastern inspired recipe swaps out some classic ingredients and pumps up the spices BIG time! It's satisfying, easy to make and will make your house smell delicious in the process
The aromas and flavors will take you on a culinary journey without living your kitchen!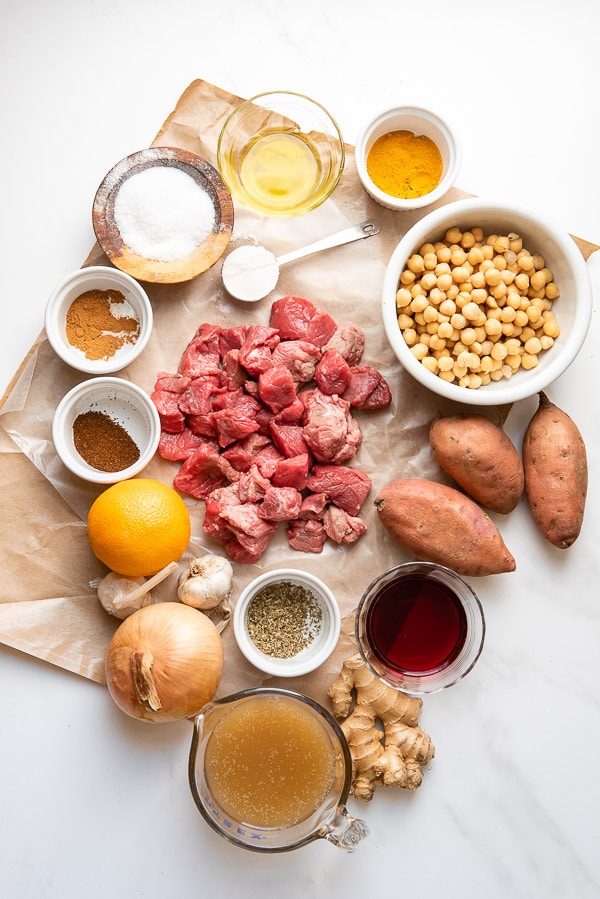 Ingredients in Sweet & Spicy Slow Cooker Beef Stew
Classic beef stew usually has beef chunks, carrots and potatoes in a savory broth.
This slow cooker beef stew recipe includes lean stew meat making it less fatty and healthier. Eye of round or Top Round are great choices but if you love traditional stew meat, use that!
Instead of white potatoes, yams or sweet potatoes add beautiful color and some sweetness to the slow cooker beef stew. Their sweetness takes the place of the carrots (in color too) and the starch of a classic white potato.
Garbanzo beans are added too for great texture and nutrition.
An array of exotic spices gives the life to this beef stew recipe: turmeric, cinnamon, chili powder (just enough to make it sassy without being overwhelmingly spicy), garlic, ginger, and oregano.
Orange zest and juice, along with beef stock and some red wine are the basis for the sweet, savory, richly-flavored broth.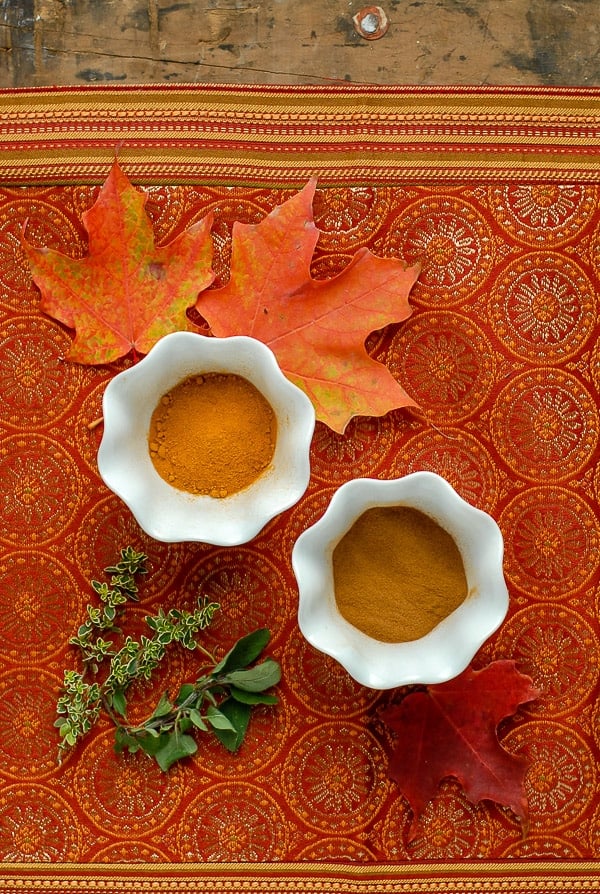 Timesaving Shortcuts for Slow Cooker Beef Stew
Stew meat is usually cut up at the butcher counter of the grocery store. Did you know you can request they cut up meat to your specification at no extra charge? Have them cut up the beef you choose into 1-inch cubes to save you from doing it at home.
Chop the onions in a mini chopper (which I use for everything)
If you are really pinched for time, use prepared garlic or ginger (available in jarsor tubes in the produce section). It will save the peeling and mincing.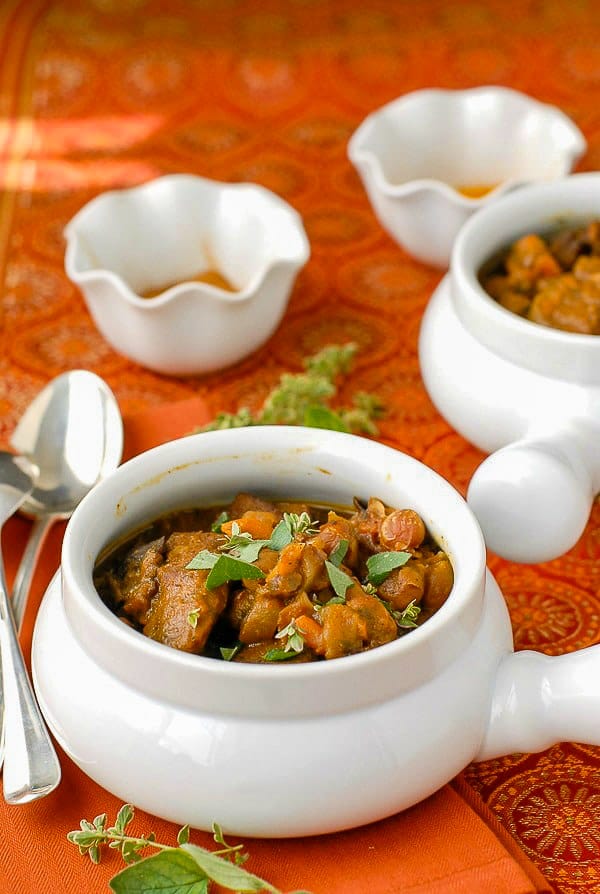 Why Browning the Beef Is Worth It
I'm usually all about making things easier and faster but some steps make a big difference when using a slow cooker.
Browning beef cubes in the spices is one. A beautiful crust forms as the beef browns in the skillet, coated in the pungent spice mix. It allows the beef to have a wonderful end flavor and only takes a few extra minutes and one extra pan to clean up.
How to make this Slow Cooker Beef Stew – Step by Step:
Because you ask: this is the slow cooker I use (and love). You can 'set it and forget it' as well as the lids has latches if you are taking the slow cooker to a party or gathering.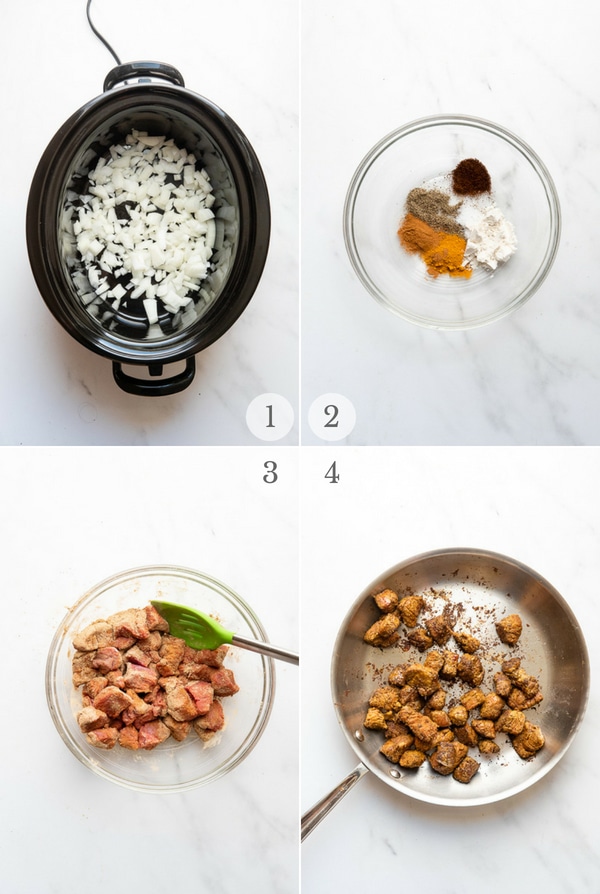 Spread the onions on the bottom of the slow cooker (photo 1)
Combine the flour (gluten-free or regular), turmeric, kosher salt, pepper, cinnamon and chili powder (photo 2).
Toss the beef cubes in the spices to fully coat (photo 3)
Heat the olive oil in a large skillet and brown the beef for 2-3 minutes (photo 4). Place on top of the onions in the slow cooker (photo 5)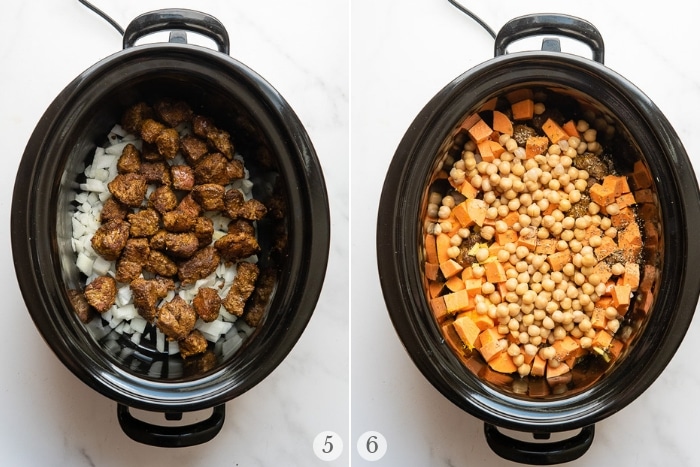 Deglaze the skillet (which means adding liquid to boil and free any cooked bits by scraping while cooking the boiling liquid) with half of the beef stock and add that to the slow cooker.
Add the yams, garbanzo beans, orange juice and zest, ginger, garlic, oregano (photo 6) followed by the rest of the beef stock and red wine.
Cook on LOW heat until the beef is tender and yams are soft; 6-8 hours (usually closer to 6 hours)!
A Controversial Ingredient
There is one last ingredient I LOVE in this stew: pitted prunes.
Prunes get a bad rap and are almost exclusively associated with the biological function they can produce if consumed in bulk or juice form (which shall remain nameless here).
Combined with the beef and the spices in this beef stew recipe, they add a sweetness and a delicious depth of flavor that makes this recipe all the richer.
HOWEVER, it's a fantastic beef stew recipe with out them too.
Two things:
Prunes are just dried plums.
If they are too weird for you, don't add them. This will still be your new favorite slow cooker beef stew recipe without them!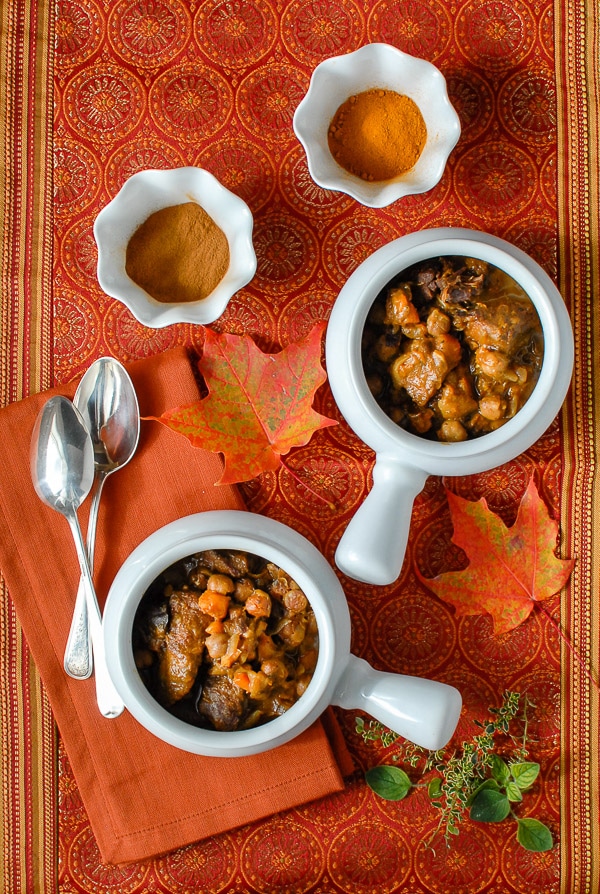 Love a savory stew recipe? We've got you covered!
If you've tried this Sweet & Spicy Slow Cooker Beef Stew recipe please RATE THE RECIPE below!
Please SUBSCRIBE and FOLLOW ME on FACEBOOK , TWITTER , INSTAGRAM and PINTEREST to see more delicious food, travel and what I'm up to!