If you haven't been swept up by the Sweet Potato Toast trend now is your chance to try fun twist on a healthy breakfast! Slices of sweet potato replace regular toast and are loaded up with sweet or savory toppings!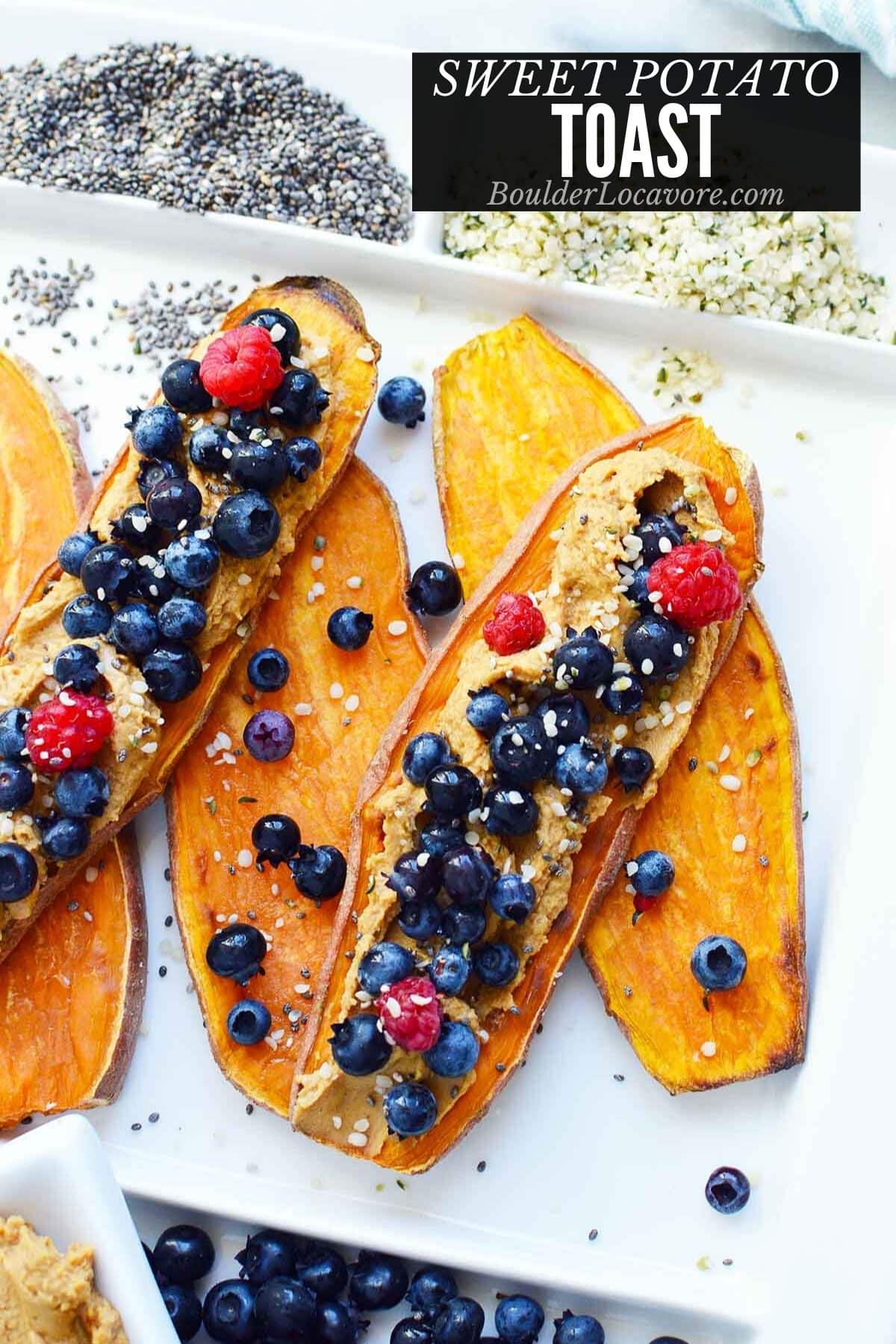 If you haven't heard of this food trend the idea of toasting a fresh sweet potato as a tasty breakfast option, it may seem crazy. It's a great alternative to regular bread and combined with the topping options can create a fantastic flavor combination.
This sweet potato toast recipe is a delicious, nutrition-packed way to start the day! So easy to make and how you can top them is endless.
The slices of sweet potatoes have a wonderful flavor and consistency. This new toast concept can use any toast toppings you'd put on regular bread (suggestions included below).
Kids love it too!
Jump to:
What is Sweet Potato Toast?
Instead of bread, slices of sweet potato are baked and used as toast.
The slices are thick enough to have a rigid consistency without being too thick.
Sweet potato toast has a pleasing 'bite' and the flavor goes with loads of topping ideas. Sweet potatoes are a naturally gluten-free toast option too.
They are also a fabulous source of vitamins, minerals and fiber making the toast a great nutritious breakfast choice!
Recipe Ingredients Notes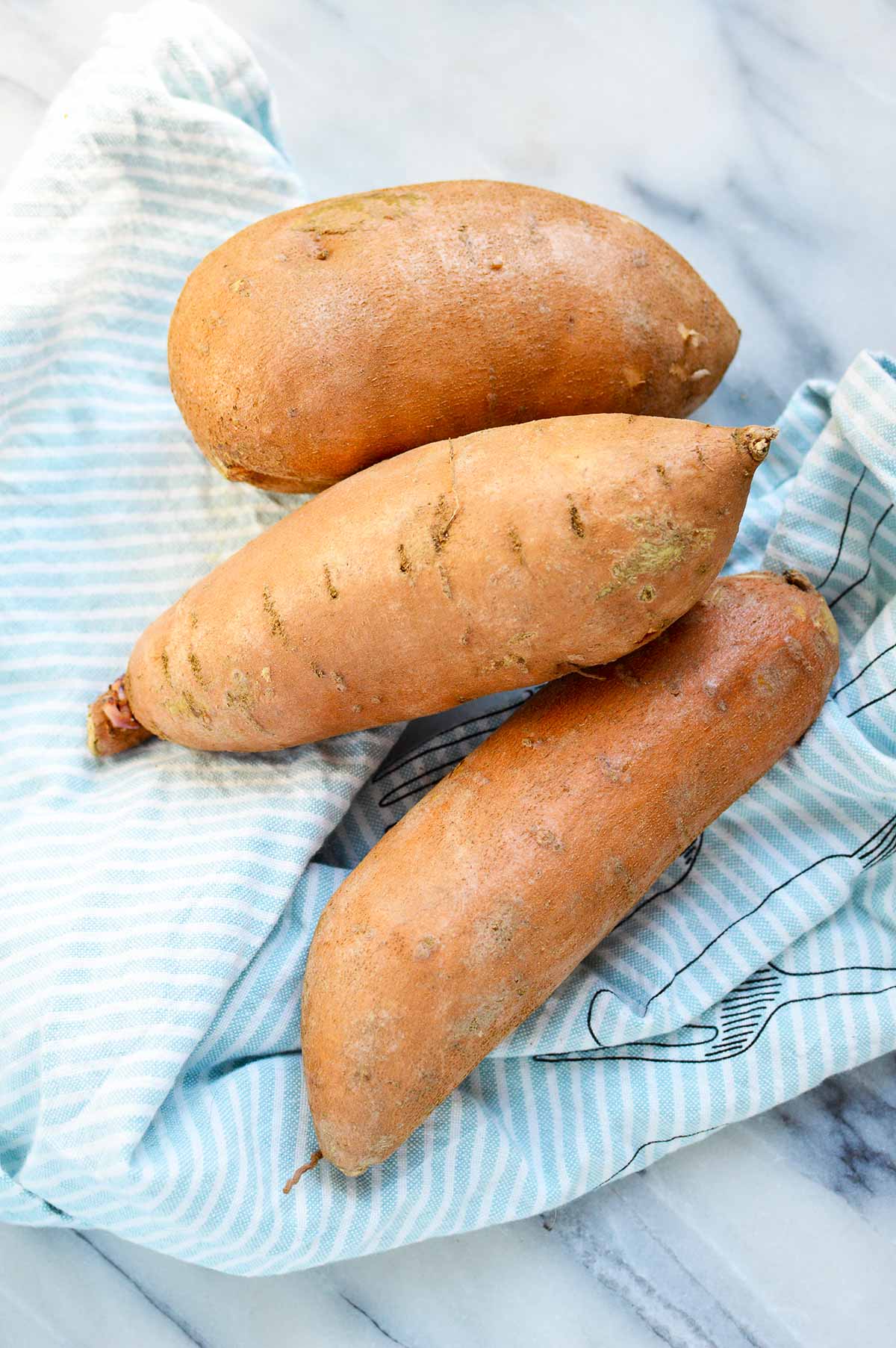 Sweet Potatoes. Any type of sweet potatoes can be used for this sweet potato recipe. Rinse and dry the sweet potatoes and leave the skin on; it's edible!
Sea salt. You'll sprinkle the sweet potato slices with this salt before baking.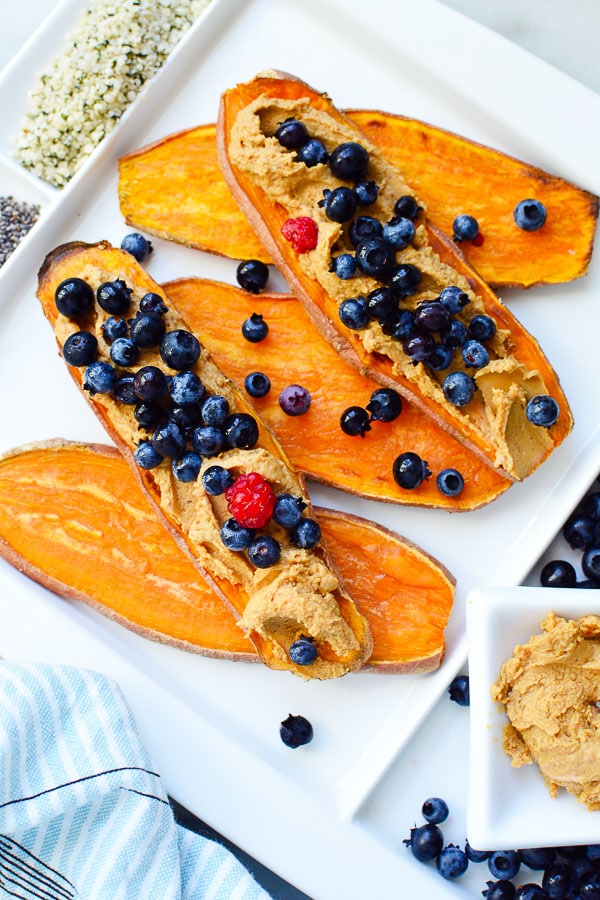 Best Ways to Slice Sweet Potatoes
The thickness of the sweet potato slices makes the toast a winner.
Cut the sweet potatoes lengthwise into ¼-inch thick slices.
Our recommended way to slice the sweet potatoes is using a mandoline slicer.
Using a Mandoline Slicer
If you have not used one, a mandoline is a slicer what allows setting the thickness of whatever you are slicing.
The sweet potato is placed on the slicer and held firm with a guard (this protects hands too).
The guard easily pushes the potato against the slicing blade creating uniformly thick slices in a seconds.
You can buy mandolin slicers at grocery stores, Asian supermarkets, and online. They are affordable and a great kitchen tool for many uses.
Using a Knife
A heavy large sharp knife and a sturdy cutting board can also be used. Because sweet potatoes are dense, slice carefully; both to get uniform slices but to ensure not to cut yourself.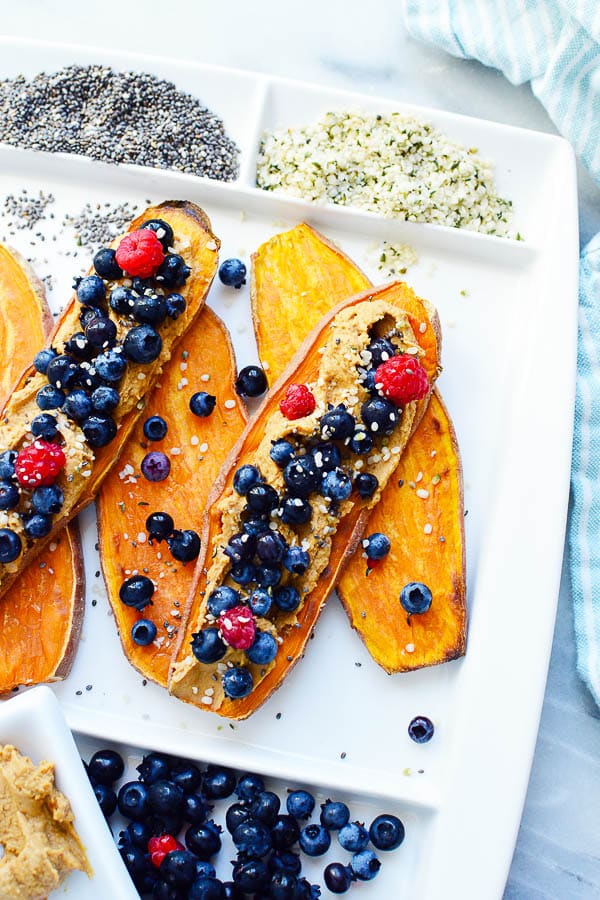 How to Make Sweet Potato Toast – Oven instructions
The key to success when toasting sweet potato slices is to bake them. Once they have been baked, slices CAN be popped in the toaster for future servings.
In my experience this method produces the best results. Toasting raw sweet potato slices doesn't reliably cook them all the way through.
STEP 1. Preparation
Slice the sweet potatoes lengthwise using one of the suggested methods above.
Preheat the oven to 425 degrees. Line a baking sheet with parchment paper or a Silpat.
STEP 2. Bake
Place the sweet potato slices on the prepared baking sheet in a single layer. Sprinkle lightly with sea salt. Bake for 25-35 minutes; until slices are cooked to be fork-tender when pierced but not mushy.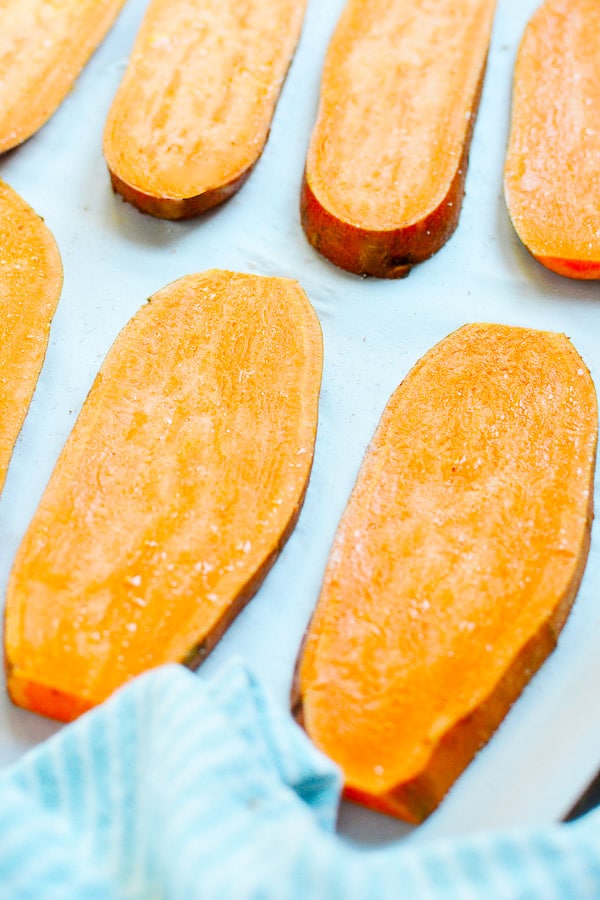 STEP 3. Top and enjoy
Remove from oven. Allow to cool slightly to handle, top as desired and enjoy! Remaining slices can be chilled or frozen as noted below.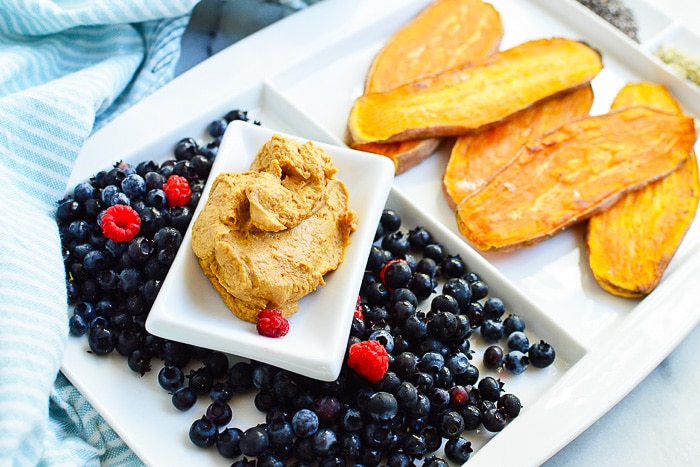 Topping Ideas
The favorite toppings you love on traditional toast is great on Sweet Potato Toast.
Nut Butter or Sun Butter. Make peanut butter toast, add almond butter, cashew butter or other favorite nut butter. Or sun butter made with sunflower seeds. This is a delicious way to add protein and some healthy fat to the sweet potato toast.
Fruit. Fresh blueberries, banana slices, pears or apples. TIP: adding honey, maple syrup or nut butter first helps keep the fruit in place.
Avocado. Avocado toast isn't just for bread! Prepare your favorite recipe, avocado slices or mashed, to top sweet potato toast sliced.
Eggs. Top with fried egg or scrambled eggs. Add some cooked bacon for a wonderful sweet and salty flavor.
Chia seeds. Chia seeds are a favorite ingredient to add a big dose of protein without much flavor. Sprinkle on top of other favorite ingredients as shown in the photos.
Hemp Hulls. Also called hemp hearts or hemp seeds, are another great source of protein. They have the consistency similar to a shelled sunflower seed.
Hummus. Hummus is great for a savory option.
Cream Cheese, Ricotta Cheese or Cottage Cheese. Layer fruit or seasonings on top like Everything Bagel seasoning!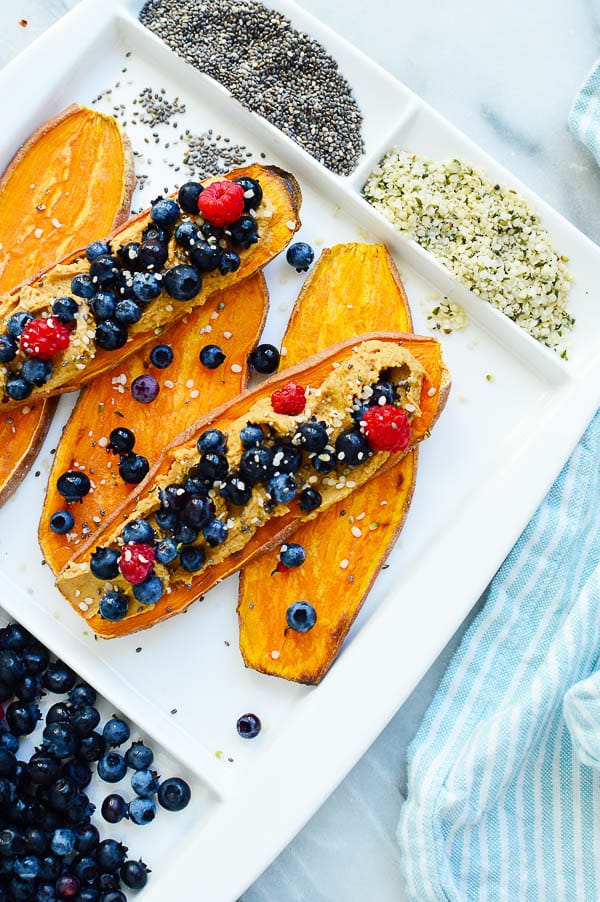 Frequently Asked Questions
Can I make these in a toaster oven?
In my experience putting raw slices of sweet potato into the toaster does not create optimum results. Once the slices have been cooked initially in the oven, they can be rewarmed in the toaster!
How to Store
In the Refrigerator
Store fully cooled baked slices in a sealed container for up to 4 days. Rewarm slices in the toaster.
In the Freezer
Seal prepared slices in an airtight container. Place in the freezer for up to 3 months.
Rewarm by placing slices in a toaster (may take 1-2 cycles to warm through if toasting from frozen).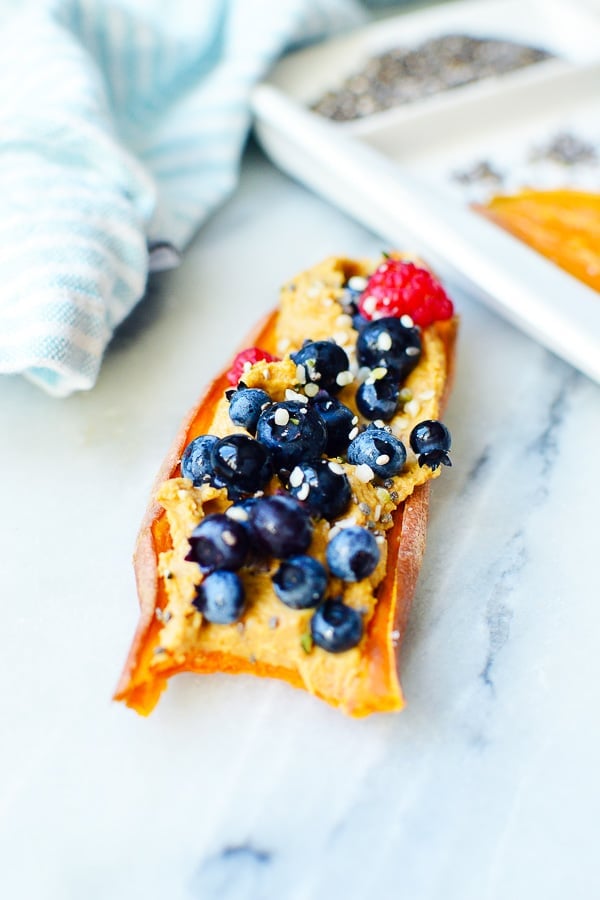 More recipes you'll love!
Recipe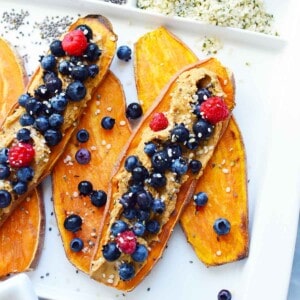 Sweet potato toast
Sweet Potato Toast is a fantastic way to start any morning! A little bit of planning ahead will help you be able to pop a pre-baked slice into the toaster and top with some of your favorite ingredients.
Print
Save Recipe
Recipe Saved!
Pin
Rate
Servings:
12
slices of sweet potato toast
Ingredients
2-3

medium

Sweet potatoes

Quality sea salt
Optional Toppings ideas
Fresh blueberries and raspberries

Nut or sun butter

Chia seeds

Hemp hearts
Instructions
Preheat the oven to 425 degrees and line a large baking tray with parchment paper or a silpat.

Wash and dry potatoes. Leave the skin on, this is edible!

Evenly slice the potatoes into ¼ inch pieces.

Place on the parchment paper, lightly sprinkle with salt.

Bake for about 25 to 35 minutes, you will want them to dry on the surfaces a bit and be fork tender-but not mushy.

Remove from the tray and enjoy a few pieces topped with some of your favorites on hand and let the rest of the slices cool completely before placing in the fridge to use within 4 days or the freezer to use within 1 month.

When ready to enjoy the chilled or frozen pieces, simply pop one into each toaster spot and reheat or they can be warmed in a pan. Top and enjoy!
Notes
Cooking Note: there are many recipes out there claiming the sweet potato slices can be put right into the toaster while raw, but I found they will not actually be able to cook through that way. A toaster oven might be a better bet for trying that but would likely still take more time than using a conventional oven. Slices per Sweet Potato: A medium sweet potato is about 5-inches long and 2-inches wide yielding 4 slices. If using sweet potatoes this size as recommended the recipe should yield 12 slices of 'toast'. TIP: How to Slice: use a large sharp knife of a mandoline (preferred). Cooking Time: the cooking time will vary based on thickness of the slice. 25-35 minutes is the expected range for cooking the sweet potato slices.
Nutrition
Calories:
49
kcal
|
Carbohydrates:
11
g
|
Protein:
1
g
|
Fat:
1
g
|
Saturated Fat:
1
g
|
Sodium:
31
mg
|
Potassium:
190
mg
|
Fiber:
2
g
|
Sugar:
2
g
|
Vitamin A:
8016
IU
|
Vitamin C:
1
mg
|
Calcium:
17
mg
|
Iron:
1
mg
Originally published: January 5, 2020
Sweet potato toast is a unexpected, nutrition-packed, delicious way to start the day!