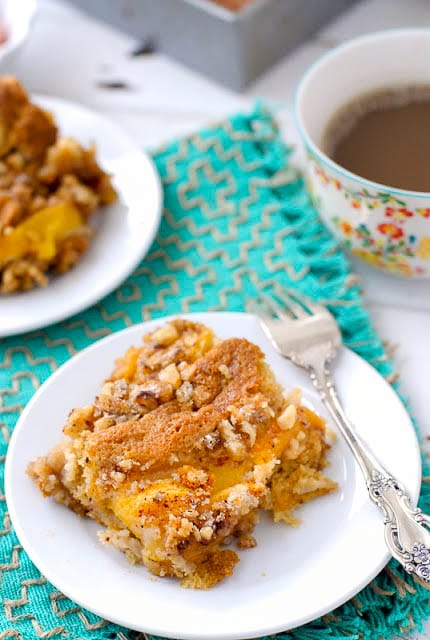 To me peaches are the quintessential summer fruit. Their ripeness signals the height of summer produce. And I don't know anyone who can resist the soft bite followed by dribbling juice. Truly the nectar of the Gods.
We have a miniature peach tree in our backyard. It is miniature in size but the size of the fruit is the same of regular peaches and perhaps even more appreciated since it's ours. The tree does not fruit every year. I'm not completely clear about the rhyme or reason of the fruiting. It may be due to late frosts that burn the buds.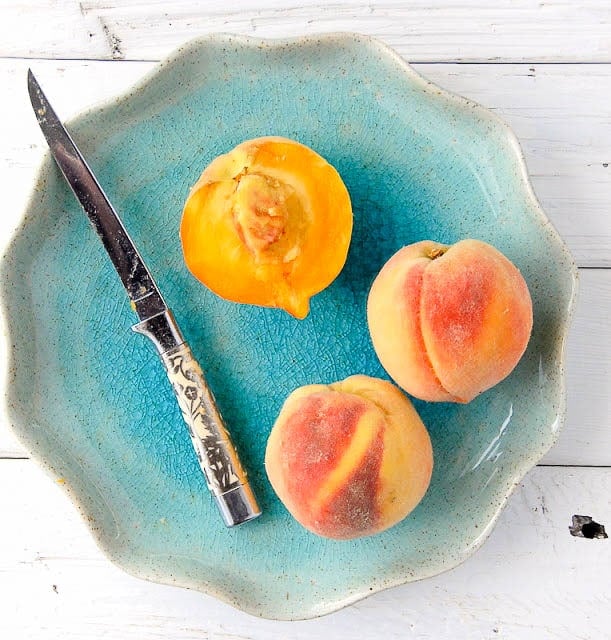 A note about 'freestone' peaches. Heard that term? Peaches are either 'freestone' or 'clingstone' (and there is a hybrid of both called semi-freestone). From the name you can guess that freestone are the peach varieties whose pit comes out effortlessly. The peaches I used are of the clingstone variety. I purchased them due to being Colorado-local not concerning myself about the pit. Either can be used for this recipe though freestone makes the preparation easier and quicker.
This year sadly we are getting a bit of help from a pesky squirrel who I noted crawls nimbly out onto the branches, gnaws away at the tops of the peaches, leaving them half naked, violated and hanging for birds to finish the job. Or for our dogs. Our two black Labrador Retrievers have been spotted circling under the tree, combing the weeds for fallen fruit which they happily gobble up pit and all. Everyone loves peaches.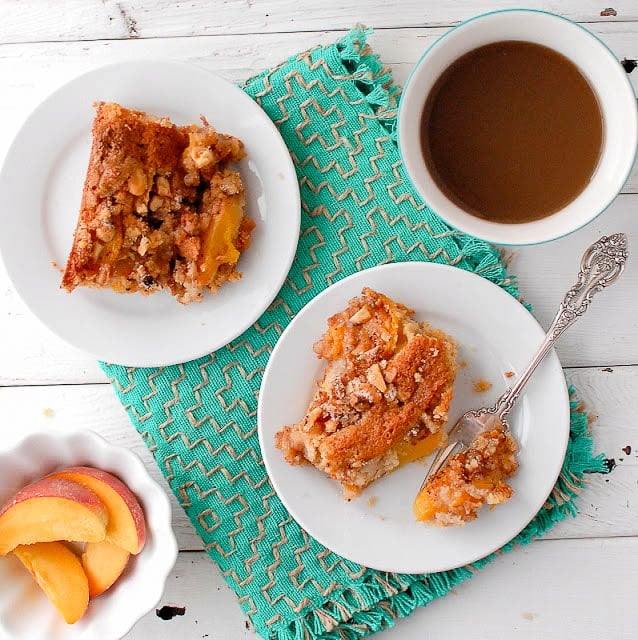 In my Grandmother's recipe box I found this beautiful coffee cake recipe using fresh peaches (one can also substitute nectarines). It bears all the traditional attributes of a coffee cake but is made the more seasonally flavorful with use of fresh peaches and sour cream. It is a delicious addition for weekend brunch and any leftovers are devoured for dessert in my house!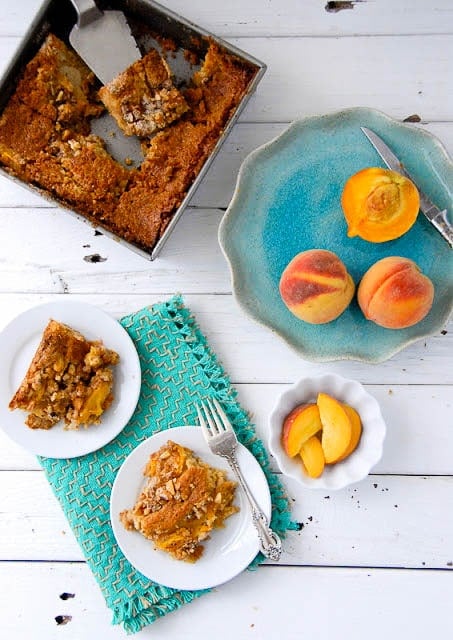 Recipe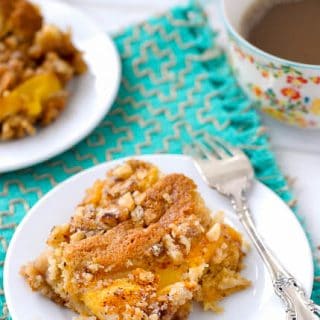 Ingredients
½

cup

(1/4 pound) plus 1 tablespoon unsalted butter

1

cup

granulated sugar

½

cup

light brown sugar

, packed

1

egg

½

cup

sour cream

½

teaspoon

almond extract

1 ½

cup

all purpose flour

(regular or gluten free)

½

teaspoon

baking powder

½

teaspoon

baking soda

½

teaspoon

salt

½

teaspoon

ground cinnamon

½

cup

walnuts

, finely chopped

4

ripe firm yellow peaches

, peeled and sliced into ¼ inch thick wedges*
Instructions
Preheat oven to 350 degrees. Grease a 9 inch square pan.

To make nut topping: In a medium bowl stir together ½ cup granulated sugar, the ground cinnamon and walnuts. Add 1 tablespoon melted butter; stir to fully combine. Set aside.

In the bowl of freestanding mixer combine ½ cup butter, ½ cup granulated sugar and the brown sugar, beat until creamy. Add egg beat until fluffy.

Add sour cream and almond extract and beat to fully combine.

In a medium separate bowl combine the flour, baking powder, baking soda and salt. Add to wet mixture blending on low speed with a mixer or stirring by hand until fully combined.

Spoon mixture into prepared pan. Place peach wedges over top of batter to fully cover. Sprinkle with prepared nut topping. Bake at 350 degrees for 45 to 50 minutes until toothpick inserted (between peach slices) comes out clean. Cool for 15-20 minutes before serving. Note: If made ahead of time reheat in oven at 300 degrees for 10 minutes.
Notes
*if making this out of peach season, frozen thawed peaches may be substituted.
Nutrition
Calories:
399
kcal
|
Carbohydrates:
57
g
|
Protein:
4
g
|
Fat:
17
g
|
Saturated Fat:
8
g
|
Cholesterol:
51
mg
|
Sodium:
212
mg
|
Potassium:
241
mg
|
Fiber:
2
g
|
Sugar:
40
g
|
Vitamin A:
640
IU
|
Vitamin C:
4.5
mg
|
Calcium:
53
mg
|
Iron:
1.5
mg