Flavor-packed Bacon Mesquite Chilies-and-Cherries Chocolate Muffins are smoky, salty, sweet treat fit for cowboys on the open range or kids at the breakfast table!  Gluten-free.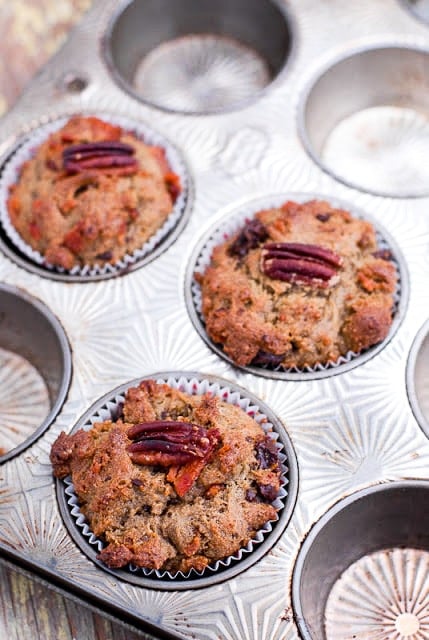 I don't know about you but I feel like I've been freezing for weeks now!  I spend the days in my home office with the fire on full blast and with my trusty companion Lola snoring like a drunk sailor two inches from it.  Normally a barefooter indoors, I am wearing wool clogs or Ugg boots constantly.  I'm craving anything that can be made in a slow cooker, spicy foods and hearty dishes.  Salads and fruit?  I'll meet you again when the mercury tops 40 degrees!  In the meantime Bacon Mesquite Chilies-and-Cherries Chocolate Muffins are in high rotation.
About 8 years ago I discovered mesquite flour.  Originally I found a gluten-free pancake mix using it that was carried locally, made by a small boutique company that eventually went out of business.  I had loved the pancakes mainly for the campfire'ish flavor courtesy of the mesquite flour.  Though I did not make the pancake mix often, when it was no longer available I seemed to constantly crave it (isn't that how it always goes?) and eventually created my own recipe (Mesquite Blue Corn Blueberry Pancakes) which gave me my mesquite fix when I wanted it.
Following publication of the mesquite pancakes, I received many emails from people wanting to know more about mesquite flour.  Mesquite trees grow in desert regions and in the southwest United States (Texas, New Mexico, Arizona), and are viewed largely as weeds.  Mesquite has historically been a big part of the Native American diet.  It's packed with vegetable protein and key vitamins and minerals like calcium.  It's a naturally gluten-free flour and low on the glycemic index, meaning it will not cause blood sugar spiking.  Due to its strong, smoky flavor, mesquite flour can be used traditionally as a flour or as a spice.  The distinct flavor (think 'campfire smoke laced with cinnamon') provides only a small amount, an 1/8th to 1/4 of the flour in a recipe, is best to enjoy the taste and not be overpowered.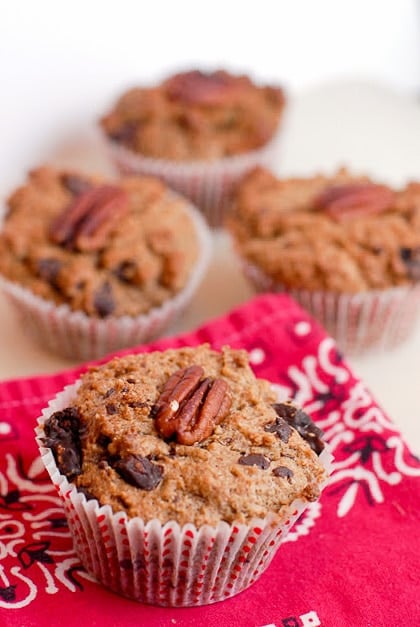 Loving the unique flavor I wanted to develop another recipe using mesquite flour.  The idea of a muffin sprang to mind but not any ordinary muffin.  I wanted something with equally bold, attention-grabbing flavors.  I love to mix opposing flavors too; something sweet, salty and spicy seemed just the answer to the smoky mesquite.  Shortly after making these a friend made a batch and said 'these really should be called Cowboy Muffins', and she's right, the name is completely fitting. You feel like you are in the great outdoors taking a bite of these bold muffins.  Sitting on a log by an early morning fire, bundled up, enjoying the taste of bacon, dark chocolate, cherries and chilies in a smoky muffin.  A good, strong cup of coffee and a chill in the air is all that is needed to go along with them.  I feel the same eating them in my freezing house these days too!
Mesquite flour is not usually readily available at mainstream stores however you can check at stores more fully stocked with unique flours.  Amazon.com carries a number of brands of mesquite flour, as may other online grocery retailers.  Instead of choclate chips, the muffin recipe uses a special dark chocolate, chilies and cherries bar made by Chocolove.  A local company to me, they now distribute all over the U.S. (maybe outside the country too).  Their bars may be purchased from their website, Amazon.com or you can look up where to buy on their website too.  Both of these unique ingredients are worth tracking down.  You'll love them in these muffins and undoubtedly in other recipe creations too!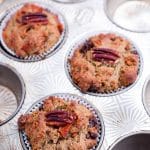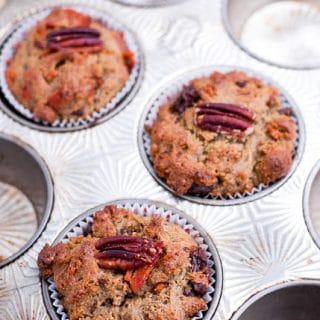 Bacon Mesquite Chilies-and-Cherries Chocolate Muffins
The smoky, cinnamon flavor of these muffins is the perfectly complemented by the bacon (salty), cherries (sweet) and chilies (heat). The muffin name is a mouthful to say but a divine mouthful to devour!Suggestions on where to buy each mesquite flour and the Chocolove Cherries and Chilies bars may be found in the blog post. Should you not be able to find the chocolate bar my suggested substitution would be 1/2 cup dark chocolate chips or a bar chopped up, 1/4 teaspoon of cayenne pepper and a 1/2 teaspoon of cherry extract. It won't be the same exactly but provides and option.
Ingredients
1-3/4

cups

Gluten-Free blend or gluten All Purpose flour

¼

cup

Mesquite Flour

1

tablespoon

Baking Powder

1

teaspoon

Baking Soda

¾

teaspoon

Xanthan Gum; omit if making a gluten version

2/3

cup

Granulated Sugar

¼

cup

plus 3 tablespoons Milk

¼

cup

plus 3 tablespoons Canola Oil

2

large Eggs

½

teaspoon

Vanilla Extract

4

pieces

Bacon

, cooked (not crisp) and drained on a paper towel

1-3.2

oz

Chocolove Chilies & Cherries in Dark Chocolate bar or 1/2 cup semi-sweet chocolate chops

15

Pecan Halves
Instructions
Preheat oven to 350 degrees. Prepare muffin tin with muffin papers or by greasing the muffin pan cavities. Position rack in the middle of the oven.

Sift together the flour, mesquite flour, baking powder, baking soda, xanthan gum into a large mixing bowl. Add sugar to flour mixture and stir to combine.

In a separate bowl combine the milk and canola oil. Beat in eggs and add the vanilla extract.

Slice the bacon strips across into thin strips. Remove and discard any fatty portions.

Chop the chocolate bar into chocolate chip size pieces. Note: Slicing the bar into strips horizontally and then vertically makes this easy.

Add the liquid mixture to the dry mixture;stir to combine. Stir in bacon and chocolate until fully combined.

Fill muffin cups two thirds full. Place a pecan half on the top of each muffin.

Bake for 18 minutes or until muffins are golden in color. Let cool on a cooling rack.