Chicken Soup with Sweet Potato Noodle Soup is light, packed with wholesome ingredients and great texture making it a healthy, satisfying option! Stove top and Instant Pot instructions.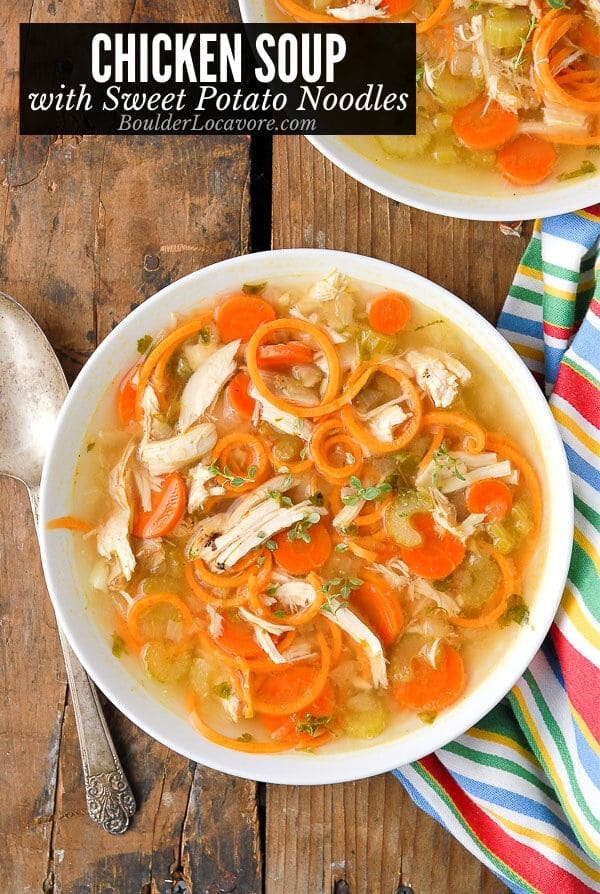 There is nothing more satisfying than a steaming hot bowl of hearty chicken noodle soup on a cold day.
I have a great recipe to enjoy all the things you love about chicken noodle soup in a whole new way: Skinny Chicken and Sweet Potato Noodle Soup.
It's full of wholesome, simple ingredients, great flavor and it's easy to make.
Homey Chicken Soup
Somewhere in everyone's past is a family chicken soup memory.
Whether their Grandma made it from scratch or their mother made it from a can.
It is a flavor footprint associated with warmth and goodness.
It's a staple in my house whenever someone is coming down with a cold.
This chicken noodle soup is no different. It's a homemade comfort food recipe.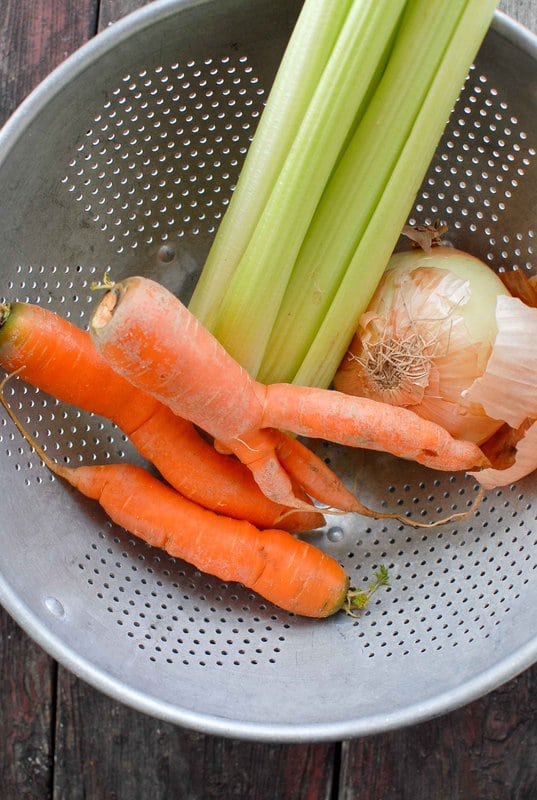 Ingredients
What's in this chicken soup recipe?
Olive Oil
Yellow Onion
Garlic Cloves
Celery
Carrots
Ginger Root
Chicken Stock
Italian Parsley
Fresh Thyme Leaves
Cooked Chicken Breast meat, chopped or shredded
Sweet Potato Noodles
Salt and Pepper to taste
Mirepoix
The trio of onion, carrots and celery are a classic for making flavorful soup. Also called 'mirepoix' (meer-pwa), they combine to build a delicious stock base for homemade soups.
Chicken Breast
This low-calorie soup recipe is a perfect one to use leftover chicken breast meat.
Prepared chicken lessens the cooking time while still lending the flavor and texture we love about chicken noodle soup.
Chicken breasts can be prepared quickly or purchased as a rotisserie chicken, and are a great lean protein choice.
Chicken breast can also be used from a store purchased rotisserie chicken.
If making shredded chicken I recommend this shredded chicken recipe. It's moist and delicious every time.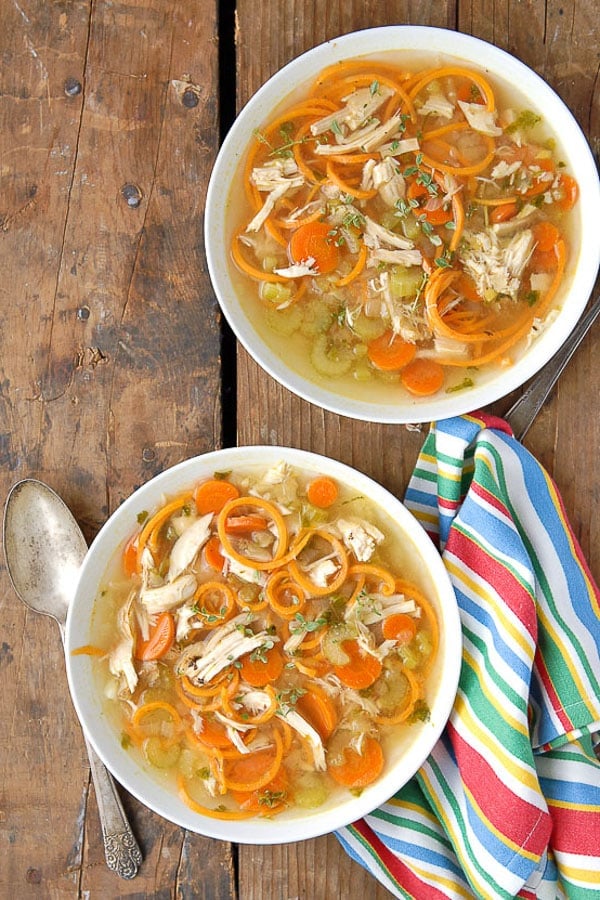 Sweet Potato Noodles
Originally, I considered making the noodles from white potatoes, which you certainly can do.
For this chicken soup I decided on a sweet potato noodles instead.
Their higher dietary fiber (makes you feel fuller), higher Vitamin A and they add color to the soup.
Sweet Potato noodles have the texture of spaghetti noodles when cooked and they add great nutrition to the soup.
There are several ways to make or buy sweet potato noodles.
PRO TIP: Sweet Potato noodles should not be boiled!
Simmering for 5-10 minutes is all they need for a firm but cooked end result.
Use a Spiralizer
I use my Spiralizer to create the sweet potato noodles. It's fast and easy. Instructions included below.
This is the the Spiralizer I use.
Use a Julienne Peeler
If you don't have a Spiralizer using a julienne peeler is a great way to make vegetables noodles.
Simply pull the slicer down the length of the sweet potato to make noodles.
Buy Them
Check the prepared produce area of your grocery store. Whole Foods for instance has fruits and vegetables prepared in multiple ways, including prepared vegetable noodles.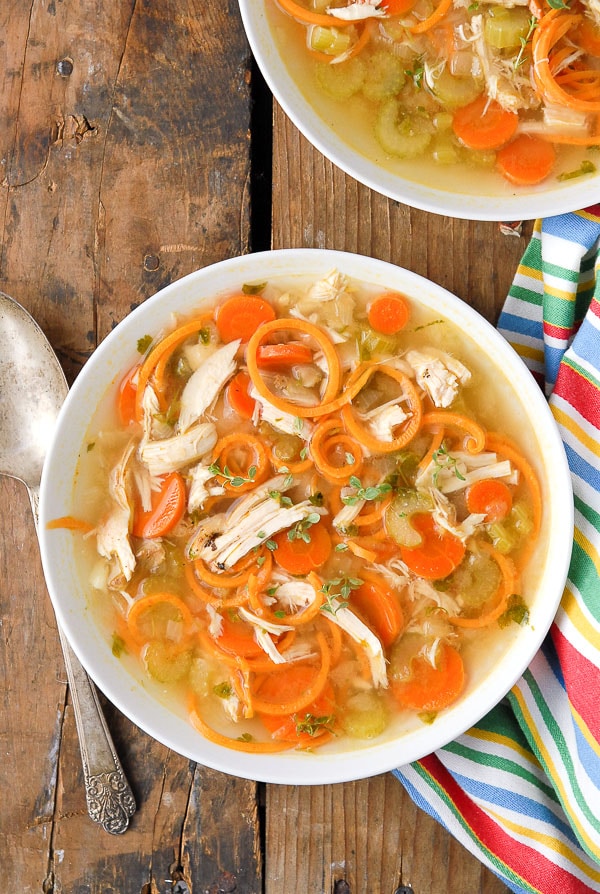 How to Make Sweet Potato Noodles with a Spiralizer
Peel the sweet potato. Insert the 3mm or 1/8-inch noodle blade.
Cut each end to create a flat surface to secure into the Spiralizer.
Spiralize the noodles.
How to Make Chicken and Sweet Potato Noodle soup (Stove Top) – Step-by-Step
STEP 1: Heat the olive oil over medium-high heat in a large stock pot or Dutch oven. Add onion and garlic; sauté 3 minutes.
STEP 2: Add celery, carrots and ginger. Sauté 2 more minutes.
STEP 3: Add the chicken stock, and herbs. Bring to a low boil, lower heat and simmer for 15 minutes.
STEP 4: Add chicken and simmer 10 more minutes.
STEP 5: Add the sweet potato noodles and lemon juice. Cook 5-10 more minutes until the sweet potato noodles are 'al dente' (still firm but cooked). Salt and pepper to taste.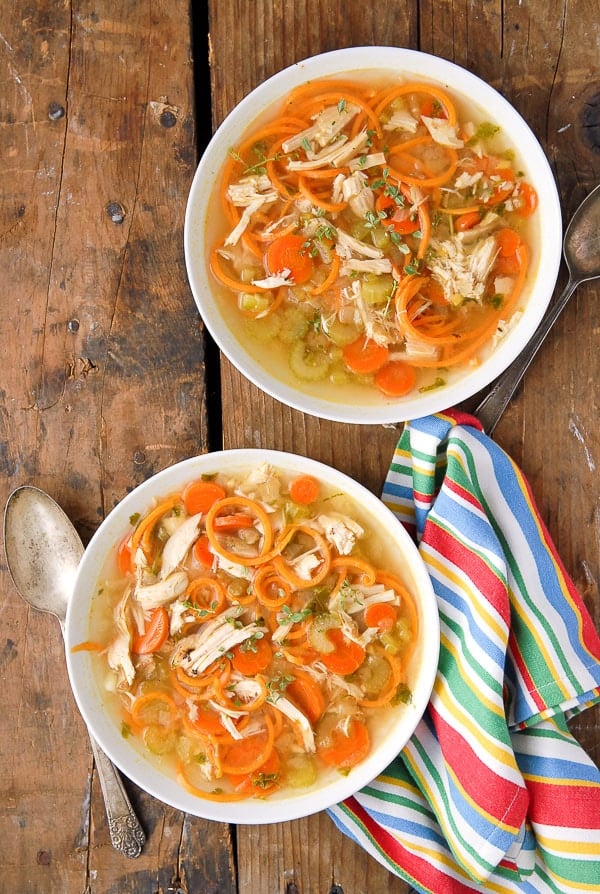 Make it in an Instant Pot
This soup is easy to make in an Instant Pot too.
The Instant Pot develops great flavor quickly due to the pressure cooking.
It also does not need to be monitored as with cooking on the stove top.
If cooking in the Instant Pot the soup can be made with raw chicken which will cook with the broth or adding prepared chicken at the end.
Both methods are included in the recipe.
Instructions for cooking the soup in the Instant Pot are included in the recipe card below.
Try these Recipes Too!
Did you make it? Please RATE THE RECIPE below!
Please SUBSCRIBE and FOLLOW ME on FACEBOOK , TWITTER , INSTAGRAM and PINTEREST !
Originally published: January 4, 2015
This skinny Chicken Soup with Sweet Potato Noodles is a wholesome, comfort food recipe anytime of the year.