Start the year out right with a hearty spiralized Skinny Chicken and Sweet Potato Noodle Soup! The soup light, packed with wholesome ingredients and great texture making it a healthy, satisfying option!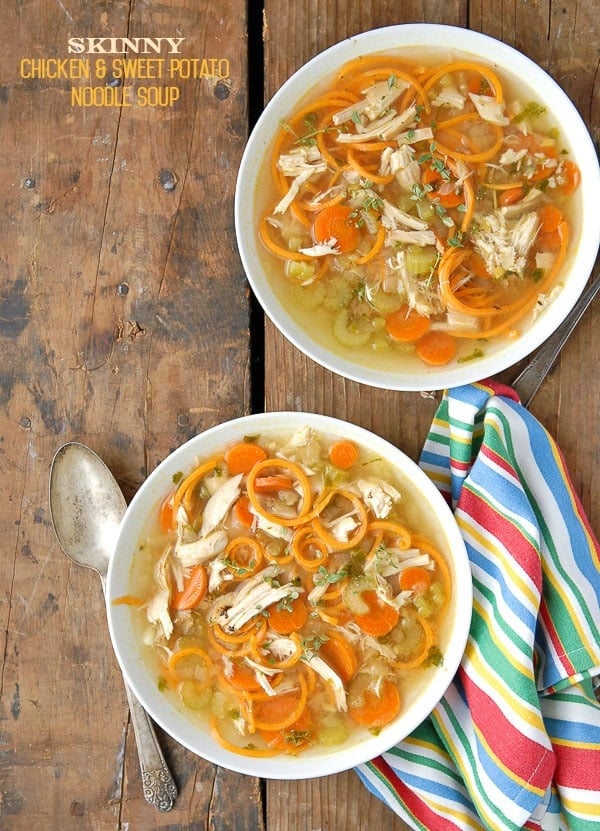 It can be a pretty steep turn from the holiday celebrating to reconciling to a healthier and/or lower calorie diet approach. I frankly think it's an easier change to do in the summer. Fresh produce abounds with lots of salad makings, smoothies, grilling and frankly it's hot so we don't want to eat as much.
Winter is for comfort food. We crave stick-to-your ribs recipes that fill us with warmth. Most of those dishes are heavy and often higher in calories. They make us feel full which I frankly think satisfies an evolutionary need to bulk up in winter when food used to be scarcer.
Sadly unlike the caveman who burned calories braving the elements in winter, most of us are probably less active making the road to a healthier, svelter self a struggle. The Skinny Chicken and Sweet Potato Noodle soup can help satisfy that craving while saving your waistline.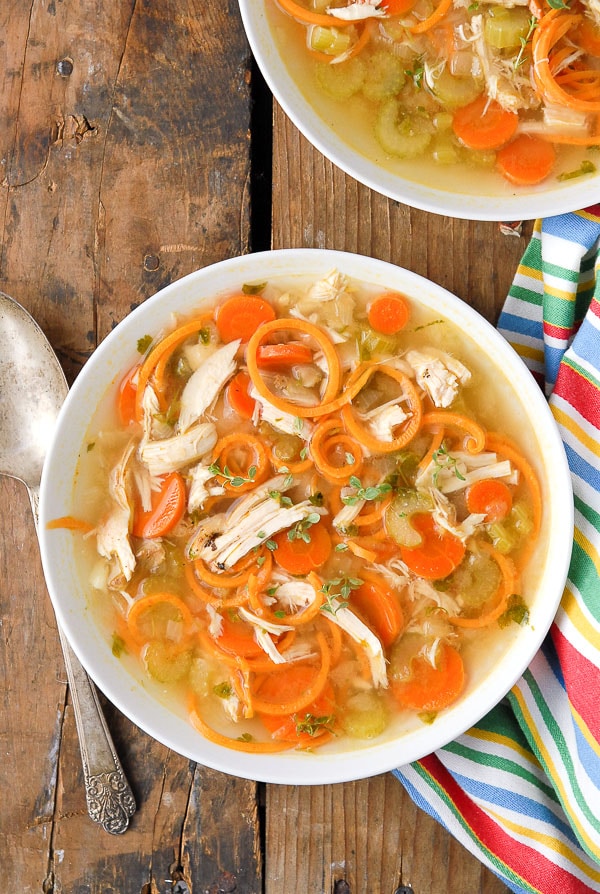 One of the first recipes I shared after starting Boulder Locavore was a homemade soup recipe called War-On-A-Cold Chicken soup.
My knee jerk reaction in the cold months when anyone begins to sniffle is to whip together this soup packed with natural whole foods, some heat from jalapenos to help purge the body and a splash of apple cider vinegar which brightens the soup's flavor as well as soothes a sore throat and clears sinuses.
There have been actual medical studies illustrating chicken soup really does help get over colds but more importantly I believe it is a basic comfort food.
Somewhere in everyone's past they have a family chicken soup memory. Whether their Grandma made it from scratch or their mother made it from a can, it is a flavor footprint associated with warmth and goodness.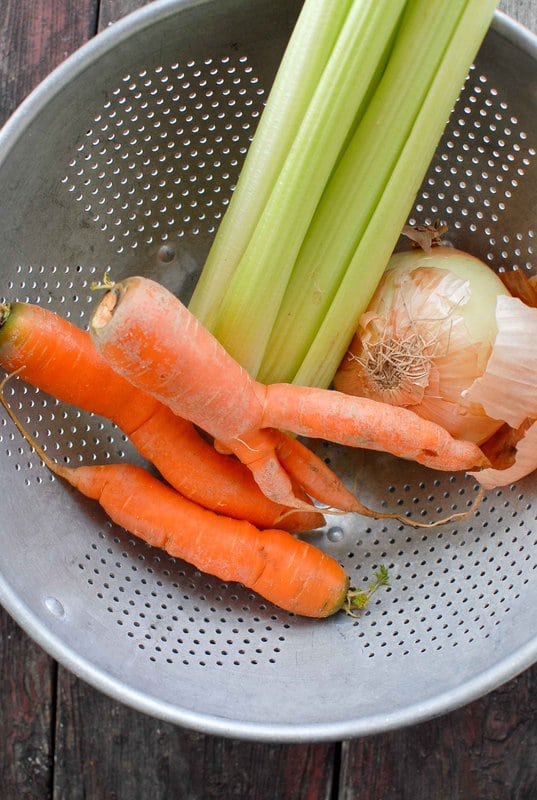 Skinny Chicken and Sweet Potato Noodle Soup
My first soup recipe of the year, the Skinny Chicken and Sweet Potato Noodle soup, is a take on chicken noodle soup but skinnied up a bit as well made in under 45 minutes.
The soup starts with basic vegetables along with garlic and some ginger to make a simple from-scratch stock.
Prepared chicken lessens the cooking time while still lending the flavor and texture we love about chicken noodle soup.
Chicken breasts can be prepared quickly or purchased as a rotisserie chicken, and are a great lean protein choice.
Lastly the noodles are actually spiralized Sweet Potato (shhhh). Their texture is that of spaghetti noodles when cooked and they add great nutrition to the soup.
Originally I considered making the noodles from white potatoes, which you certainly can do, however for this soup I decided on a sweet potato for their higher dietary fiber (makes you feel more full), higher Vitamin A and they add color to the soup.
The soup is not strained so brimming with chunky texture making it a healthy, satisfying option!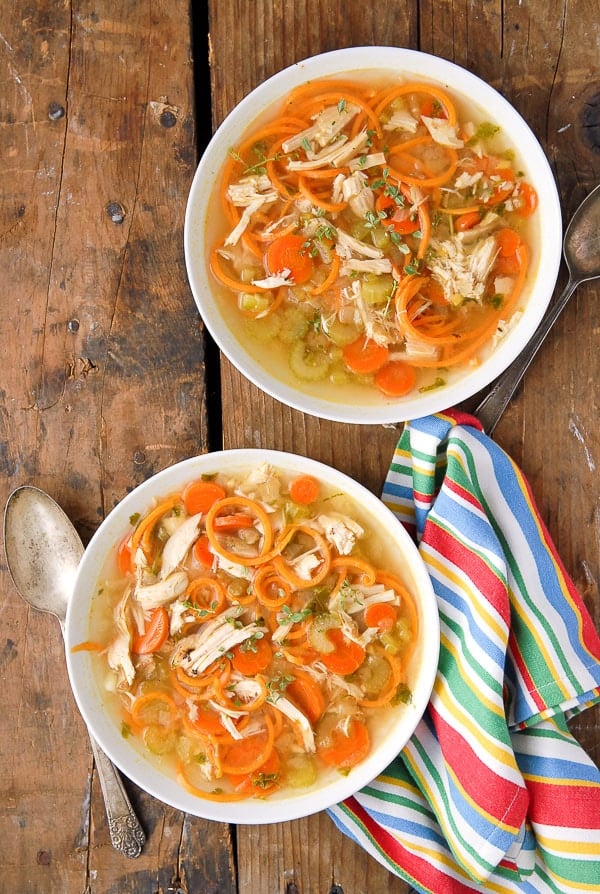 You've asked what Spiralizer I use and I've used this one since I started sprializing and love it!
How to make Skinny Chicken and Sweet Potato Noodle Soup Recipe: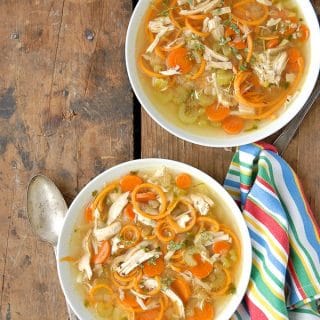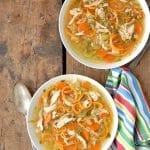 Skinny Chicken and Sweet Potato Noodle Soup
A light, soul-warming soup easily prepared in less than 45 minutes. A savory from-scratch broth is pumped up with garlic and ginger, chunks of prepared chicken and spiralized sweet potato noodles replace starchy egg noodles for a colorful, healthier update!
Recipe can be doubled or tripled keeping the ingredient proportions the same. See the Notes section for a link to an Spiralizer alternative.
Ingredients
1

teaspoon

Olive Oil

½

medium Yellow Onion

, chopped

2

large Garlic Cloves

, diced

2

medium stalks Celery

, rinsed, scrubbed and sliced

1

medium Carrot

, scrubbed and sliced

1 ½

teaspoon

diced fresh Ginger Root

6

cups

low sodium Chicken Stock

1

tablespoon

fresh Italian Parsley

, diced

1

teaspoon

fresh Thyme leaves

1

heaping cup

prepared Chicken Breast meat

, shredded or chopped

1

cup

Spiralized* Sweet Potato noodles

(using the 1/8-inch 3mm noodle blade)

1

teaspoon

fresh Lemon Juice

Salt and Pepper to taste
Instructions
In a large stock pot or sauce pan, warm the olive oil over medium-high heat. Add the onion and garlic; sauté for 3 minutes.

Add the celery, carrots and ginger and sauté an additional 2 minutes. Add the chicken stock, parsley and thyme; bring to a low boil, then lower the heat to a simmer. Allow to simmer for 15 minutes.

After 15 minutes add the chicken and allow to continue simmering for 10 minutes.

Add the sweet potato noodles and lemon juice. Cook 5-10 more minutes until the sweet potato noodles are 'al dente' (still firm but cooked). Salt and pepper to taste.
Recipe Notes
*To prepare sweet potato noodles without a Spiralizer, try this method.
Nutrition Facts
Skinny Chicken and Sweet Potato Noodle Soup
Amount Per Serving
Calories 82
Calories from Fat 18
% Daily Value*
Fat 2g3%
Cholesterol 10mg3%
Sodium 105mg4%
Potassium 366mg10%
Carbohydrates 8g3%
Protein 8g16%
Vitamin A 4265IU85%
Vitamin C 3.9mg5%
Calcium 25mg3%
Iron 0.7mg4%
* Percent Daily Values are based on a 2000 calorie diet.