Perfect for entertaining or group snacking, this Dill Green Onion Cheese Ball recipes is easy and fast to make. Three types of cheese, dill, green onions and a few seasonings are all you need!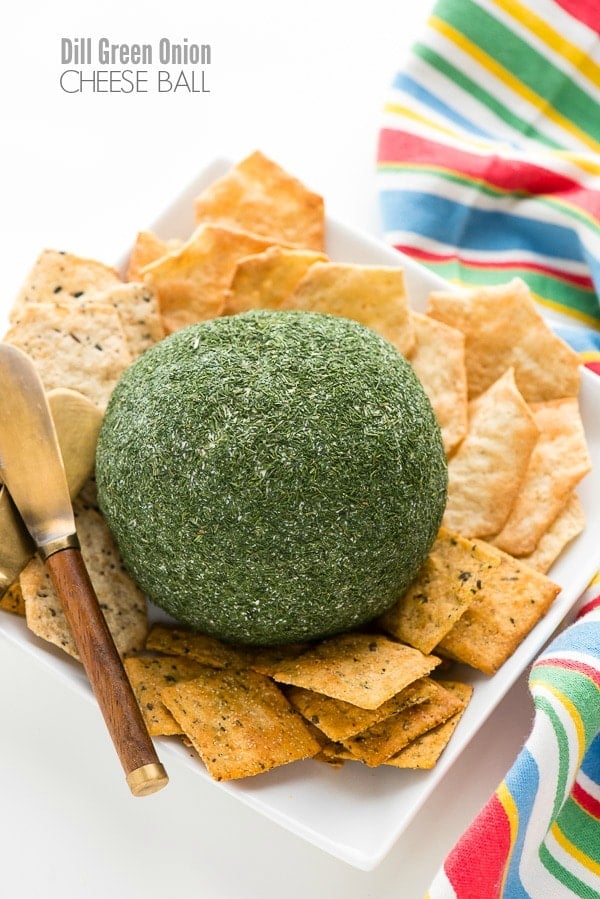 Truth be told I'd happily live on appetizers. I see nothing wrong with crackers, cheese and a glass of wine for dinner. Or chips and dip. Or anything cheesy, like Queso (that covers both cheesy and dips). Creamy Hot Artichoke Dip with Garlic Toast Rounds and Savory Blue Cheese Cake are probably two of my favorites, but I digress.

With Spring arriving, light fresh-flavored food is what we are craving and this Dill Green Onion Cheese Ball is just the ticket. It's easy to make and has a wonderful blend of flavors perfect for snacking or entertaining guest. I love the creamy texture, a hint of tanginess and the blend of irresistible flavors.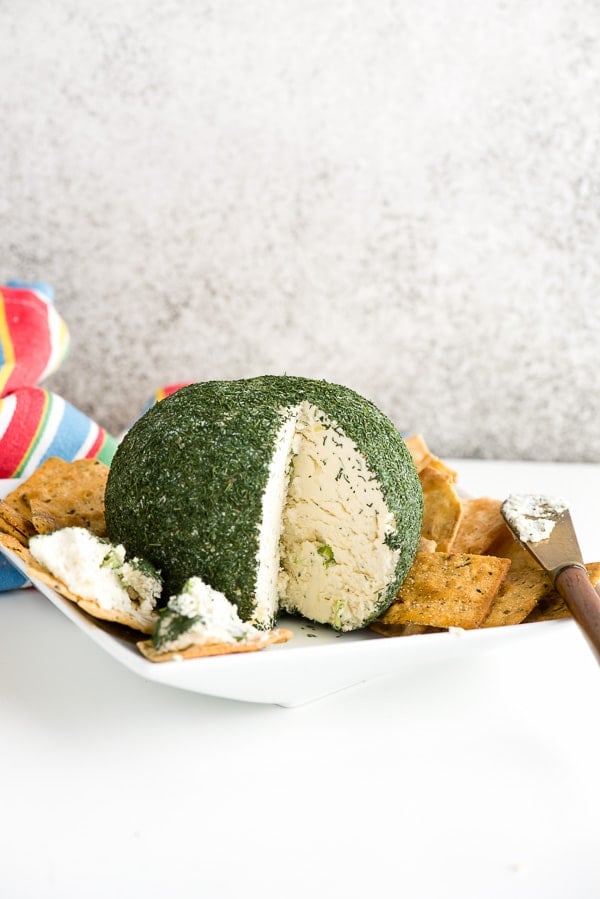 It has been a while since I shared a cheese ball recipe. In fact I think it was a Taco Cheese Ball coated in black sesame seeds for Halloween. By the way that recipe is too good to only have for Halloween. Coat it with crushed tortilla chips and serve it all year long.
Today's Dill Green Onion Cheese Ball is a combination of cream cheese, gouda cheese and goat cheese with some spices and flavorings. It's whipped together in using a mixer and chilled until firm, formed into a ball and coated with dill. I would love it coated in fresh dill for the feathery texture and bright green color but couldn't find any when making it to share with you. Dried dill is just as delicious.
Serve it with a variety of crackers (I used multiple gluten-free options) that are lighter in flavor so the cheese ball takes the center flavor stage. It's perfect when having company or frankly so spring-flavored snacking. I put ours out on the counter with crackers and it was enjoyed for drive-by after school pre-dinner snacking!