Candied Pecans are fast and easy to make. Perfect to snack on or add to other recipes for an exciting treat. These are coated with cinnamon sugar for an irresistible flavor.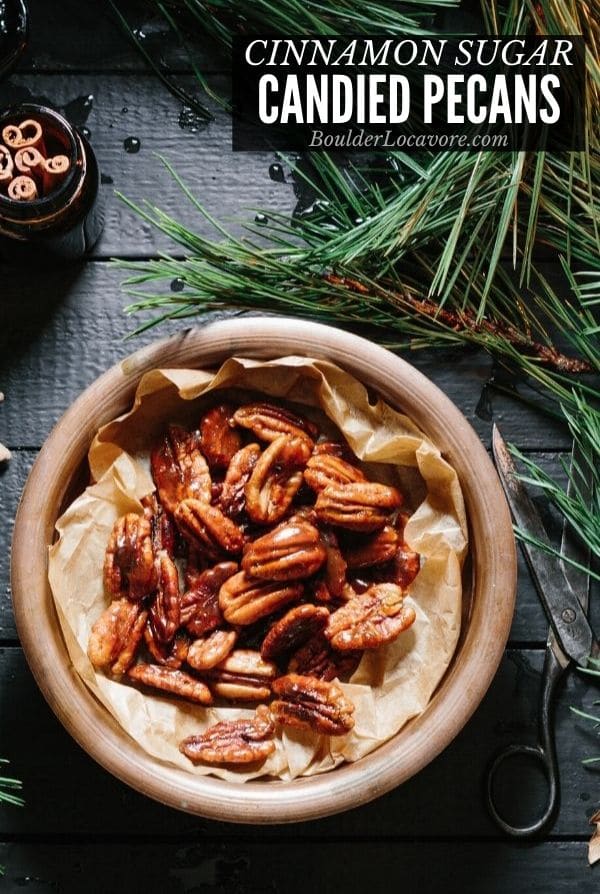 Easy Candied Pecans are a delicious treat and so fast to make!
The brittle coating and soft interior create a wonderful texture.
These are coated with cinnamon sugar making them a delicious (addictive) snack or addition to salads or dessert toppings.
Delicious cinnamon flavor make these perfect gift idea or to take as a hostess gift for holiday parties.
Candied Pecans Ingredients
The ingredients in this recipe are simple and easy to find at any grocery store!
Pecan halves
Butter
Granulated white sugar
Brown sugar
ground Cinnamon
Egg-Free Recipe
This version of Candied Pecans does not include using egg whites.
For those with egg allergies this version is perfect!
Here are two more options to try:
Candied Spicy Pecans (does contain egg white)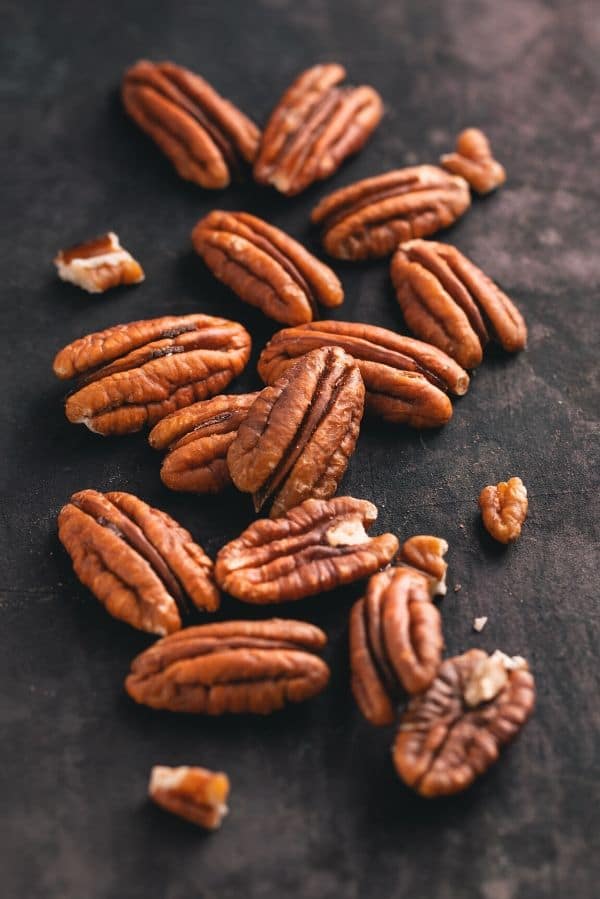 How to Make Candied Pecans – Step-by-Step
STEP 1: Preheat oven to 350 degrees. Line a large rimmed baking sheet with parchment paper.
STEP 2: Add the pecans and melted butter in a medium-size bowl (photos 1-2). Toss to coat.
STEP 3: Add the sugars to the bowl (photo 3). Coat pecans evenly (photo 4).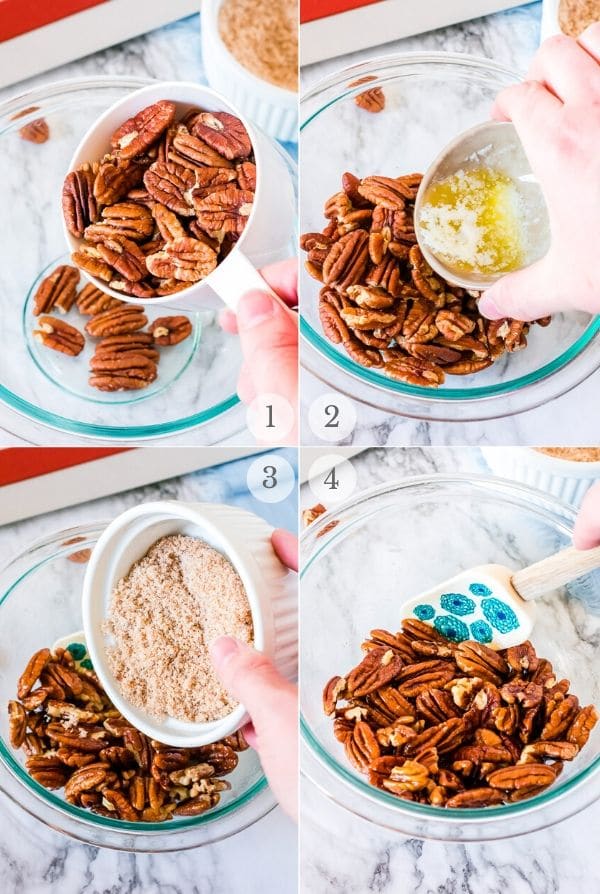 STEP 4: Spoon coated pecans onto the prepared baking sheet in a single layer (photo 5). Bake for 5 minutes.
STEP 5: Flip the pecans and bake an additional 5 minutes (photo 6).
STEP 6: Remove from oven and cool completely.
NOTE: the pecans will still be soft after cooking. Cooling them fully allows the cinnamon sugar coating to become hard and brittle.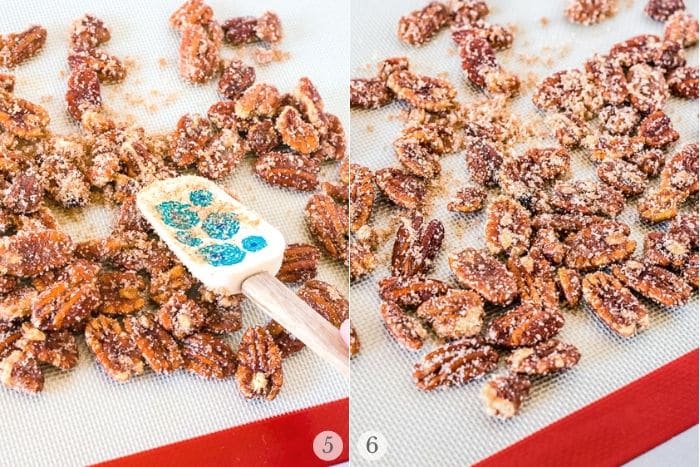 Chef's Notes
When the pecans are done cooking all the sugar may not have dissolved.
The pecans will firm as they cool with any undissolved sugar sticking to the pecans.
How to Store Candied Pecans
Store in an airtight container at room temperature for up to one week.
Can Candied Pecans be Refrigerated?
They can but the moisture in the refrigerator can soften them making their texture not as pleasing.
If kept in the refrigerator they can be kept up to 2-3 weeks.
Can Candied Pecans be Frozen?
They can! Once completely cooled, place in a hard-sided airtight container.
Do not use a freezer bag or the pecans may break apart while in the freezer.
Store for up to 2 months.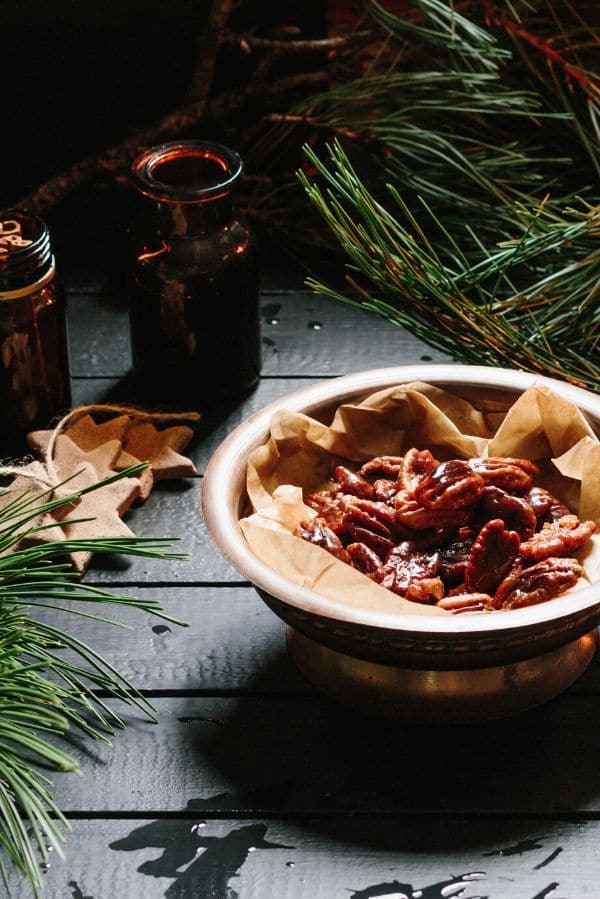 More Recipes For Edible Gift Ideas You'll Love
Try These Recipes too!
Did you make it? Please RATE THE RECIPE below!
Please SUBSCRIBE and FOLLOW ME on FACEBOOK , TWITTER , INSTAGRAM and PINTEREST !
Candied Pecans with Cinnamon Sugar are a fast and easy sweet treat any time!