This easy recipe is great to satisfy that fried potato craving in a fast more wholesome way. Only a tiny amount of oil is needed and the air fryer does the work.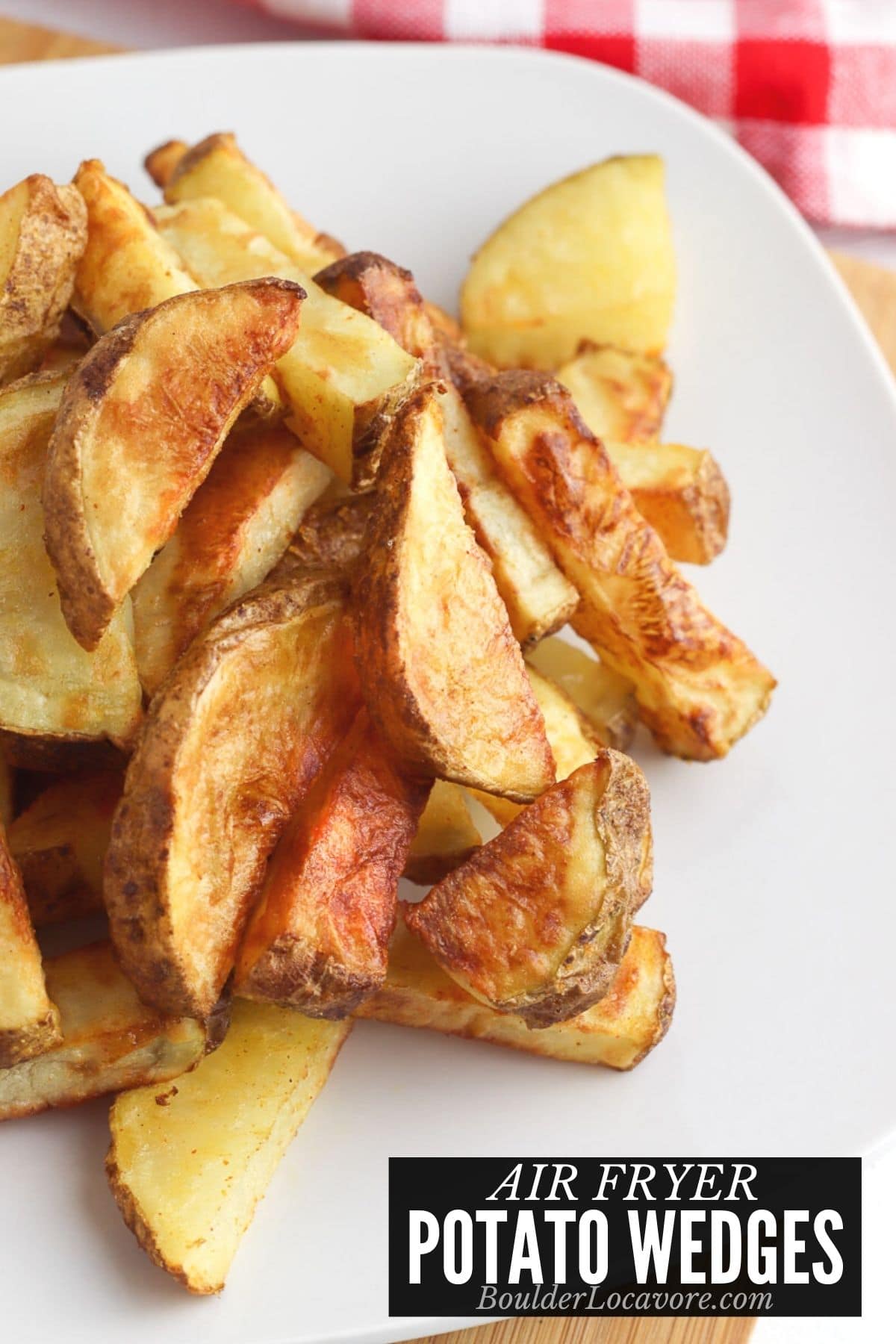 They are just as good as true fried potato wedges.
Eat them as is or in a delicious dish like Greek Fries or Carne Asada over fries.
Jump to:
Easy Air Fryer Potato Wedges
Once you make these potato wedges you'll never miss deep fried potatoes again. Especially if you love fried potato flavor but want to cut back on the fat and calories.
Air frying is where it's at! Air fryer recipes are simple, fast and easy.
I received an air fryer (and a great air fryer cookbook) as a gift last year and quickly discovered the beauty of making potato wedges using it. If you love oven home fries but don't have the time, you'll love this recipe.
Only three simple ingredients and loads of options to change up the flavors.
Soaking the Potato Wedges – the Ultimate Secret Trick
Why soak the potato wedges (the secret trick)?
Soaking any potatoes before making them into fries draws out the starch.
This allows them to become crisp on the outside and yet still have a soft delicious inside.
The fries will be less likely to stick together too. We soak the potatoes for 20 minutes and love the result.
Recipe Ingredients Notes
Russet Potatoes. Russet potatoes make a classic French fry texture and flavor when cooked in the air fryer. They can be peeled OR scrubbed and cooked with the skin on for a more rustic fry.
Oil. Tossing in one tablespoon of oil first helps the seasonings adhere to the potatoes. It's also all that is needed to crisp the outside of the potatoes while cooking.
Vegetable oil or olive oil can be used.
Seasoning. We suggest seasoning salt in this recipe but the options are endless. You can use your favorite herbs with some salt or a favorite spice mix. It's fun to make them different every time!
How thick should the potato wedges be?
Try to cut potato wedges 1/2-inch thick.
Cut the potato in half lengthwise. Then quarter it (cut the two halves each in half lengthwise). Cut the wedges from each quarter.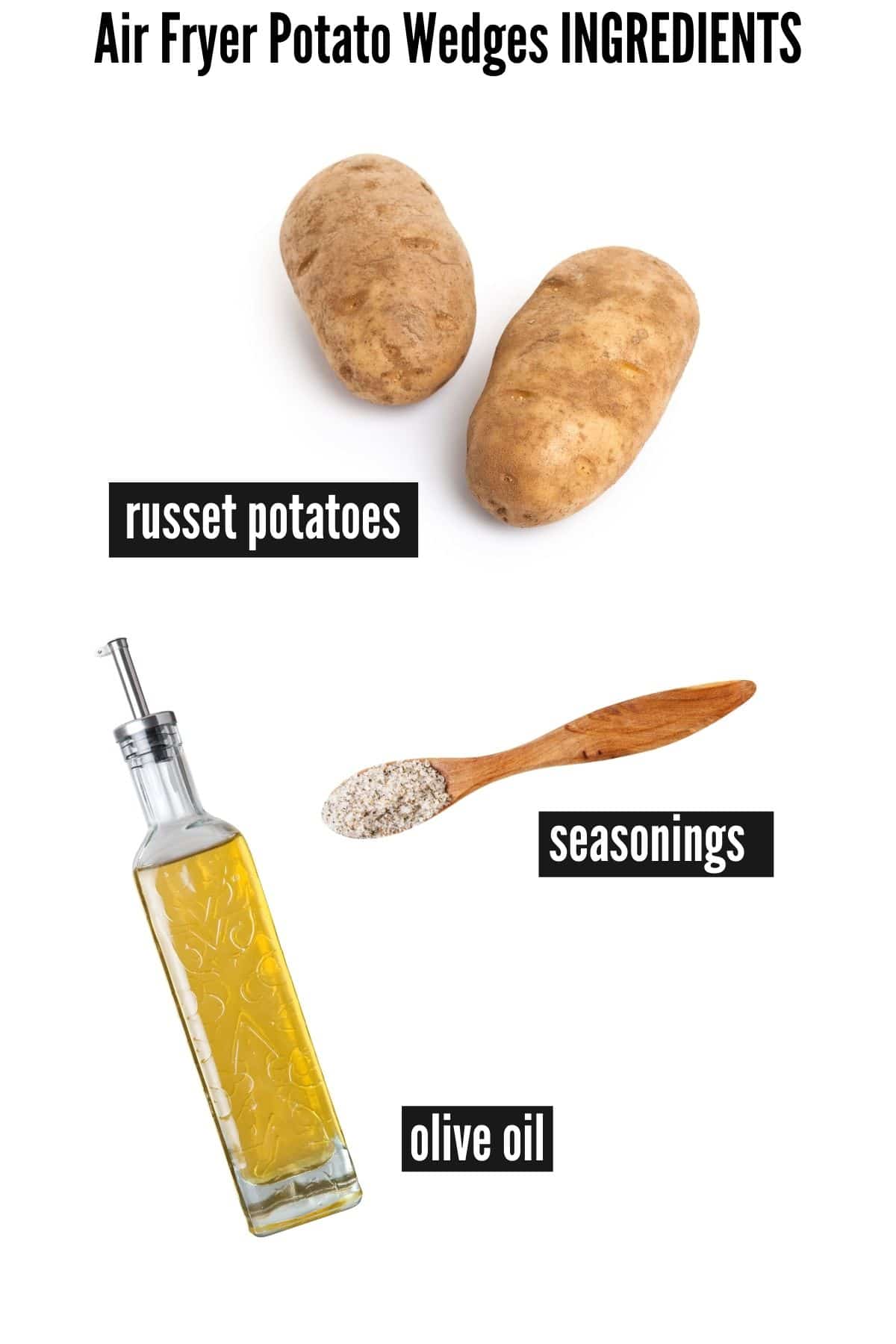 Variations
Sprinkle on some cheese after cooking. Sprinkle on some finely grated parmesan cheese
Try different spices or seasoning blends. These air fryer potato wedges can be seasoned however you like them. Here are some favorites:
Smoked Paprika. This has a very earthy, smoky flavor. If you like it spicy use Hot Smoked Paprika. Add in some garlic powder too!
Cajun seasoning. Great to add some spicy flavors. Try to pick one that doesn't start with salt.
Salt and Pepper. Sometimes the most simple flavors are the best. Adding just sea salt or salt and pepper is delicious.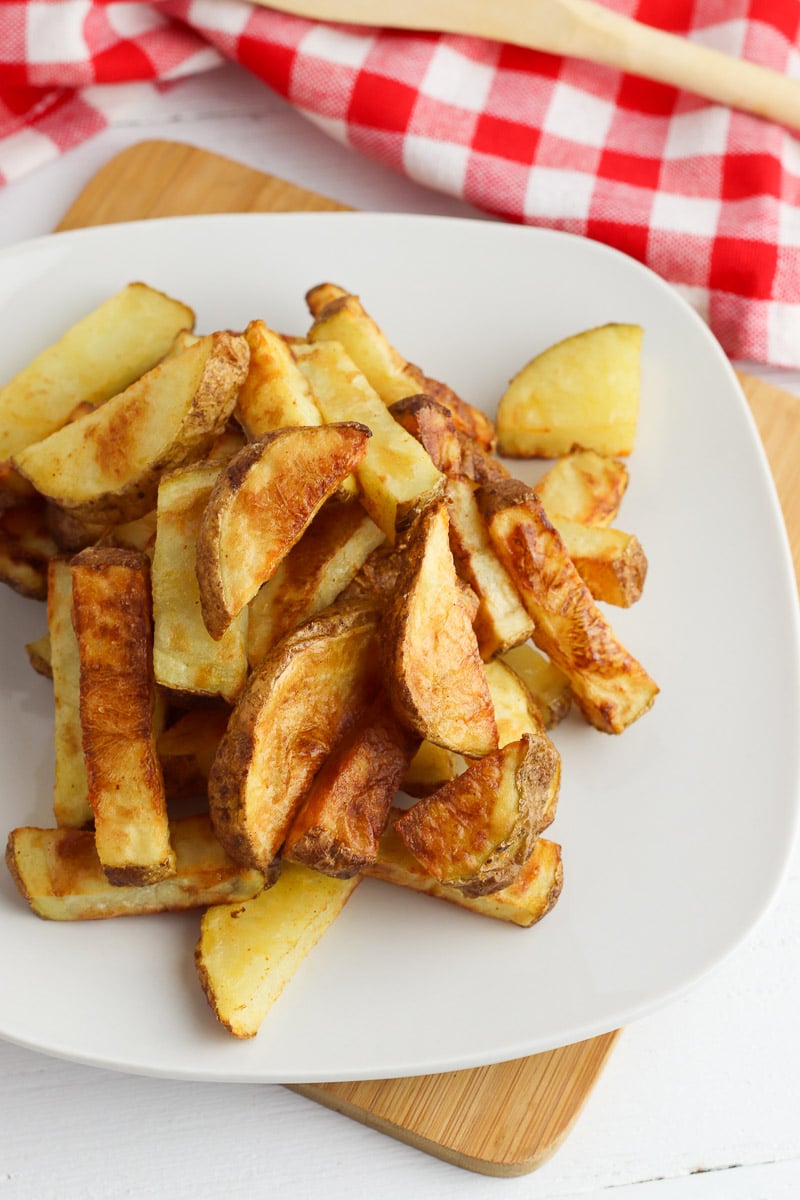 Try some dipping sauces!
Seasoned potato wedges are delicious on their own but perfect for dipping too.
Ketchup is a classic but that's just a start. Try these:
Homemade ketchup. There's a reason this is one of the most popular recipes on this website. Homemade ketchup has a much more well rounded and delicious flavor.
Homemade BBQ sauce. If you are a barbecue sauce fan pair them with these crispy potato wedges.
Tzatziki Sauce. This light yogurt sauce is a perfect cooling compliment to spicier fries.
Homemade Buffalo Sauce. If you can't get enough of the tangy-spicy flavor of buffalo sauce why not dip the potato wedges in it? You could dip them in the sauce them sprinkle on some blue cheese crumbles.
Sweet Chili Sauce. Another tangy and spicy light textured sauce option. If you love Asian flavors this one will be a favorite.
Sriracha Mayonnaise. This has spicy flavor along with a creamy, slightly tangy mayo.
How to Make it – Step-by-Step
STEP 1. Prepare the potatoes
Scrub or peel the potatoes. Cut them into wedges or fries about 1/2-inch thick (photo 1).
Add them to a large mixing bowl and cover with cold water. Allow them to soak for 20 minutes (photo 2).
Drain, rinse with cold water and pat dry with paper towels.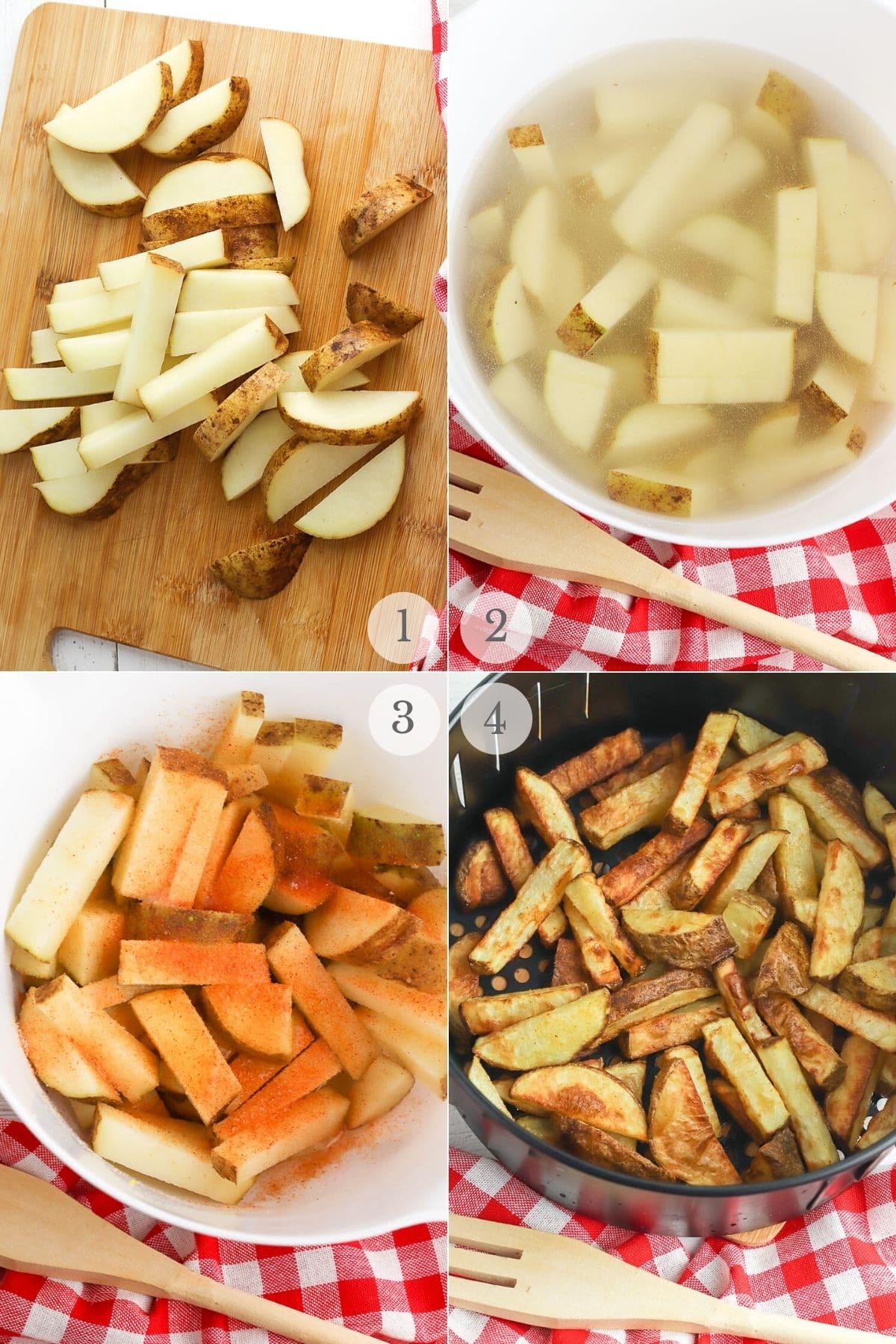 STEP 2. Season the potatoes
Add the potatoes to a mixing bowl. Drizzle with the oil and seasonings (photo 3). Toss to fully coat.
STEP 3. Air fry the potato wedges
Add the potatoes to the air fryer basket. Make a single layer if possible.
NOTE: all air fryers are different. Mine cooks well even if not in a single layer. Adjust for how yours operates.
Cook at 400 degrees for 18 minutes, tossing the wedges halfway through (photo 4).
Carefully remove them from the fryer basket and enjoy.
Pro Tips
Adjust time for smaller potatoes. The smaller the potato the faster they'll cook. The great thing about an air fryer is you can check in process. Either remove the potatoes early if they are cooked or lengthen the time if needed.
FAQs
What type of potatoes are best for making Air Fryer potato wedges?
Russet potatoes work the best to crisp on the outside and still have softness inside. They can be peeled or made with the skins left on. Other potatoes like Yukon Gold also work but the end result is not as close to oven baked potato wedges or home fries.
Storing Leftovers
These French fries are best hot out of the air fryer.
Extras can be stored in an airtight container in the refrigerator for a day or so, and lightly air fried to crisp them. The quality will not be the same as when they are freshly made.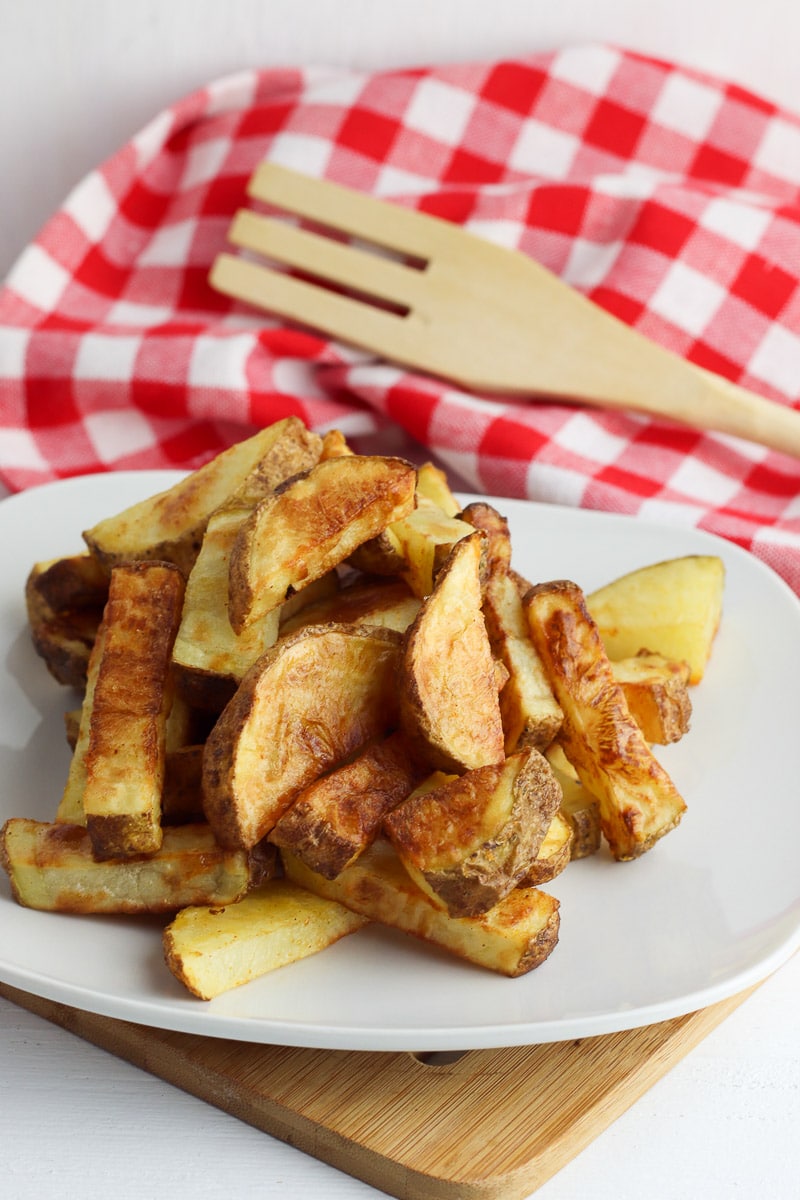 Did you make it? Please RATE THE RECIPE below!
Please
SUBSCRIBE
and
FOLLOW ME
on
FACEBOOK
,
TWITTER
,
INSTAGRAM
and
PINTEREST
!
Recipe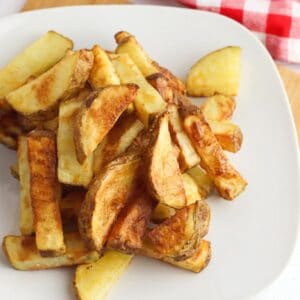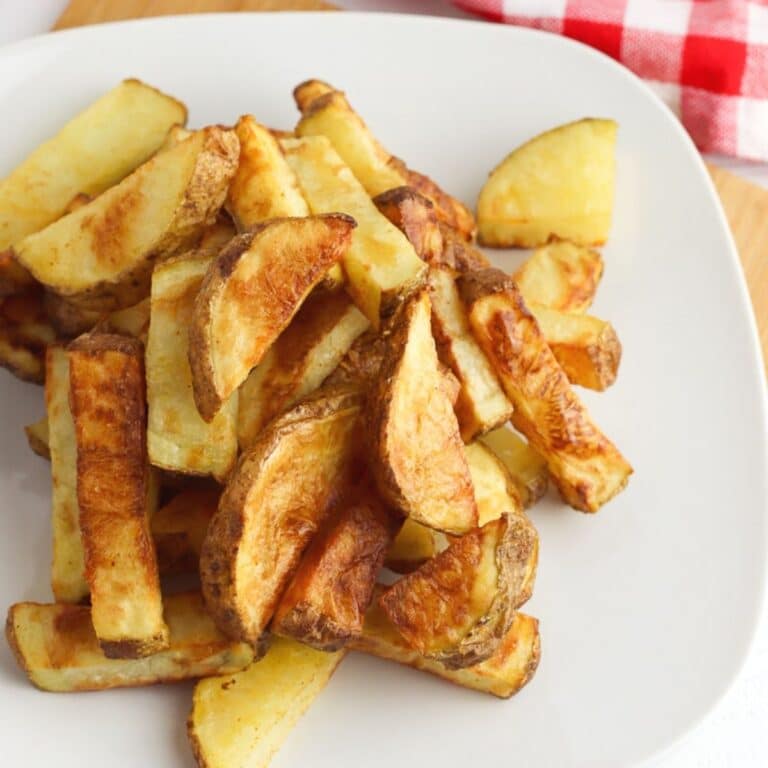 Air Fryer Potato Wedges
Crispy fried potato wedges only use a little bit of oil thanks to the air fryer. Fried crispness outside and soft potato inside. Fast and easy to satisfy any fried potato craving.
Print
Save Recipe
Recipe Saved!
Pin
Rate
Ingredients
2

large

russet potatoes

scrubbed (skin on) or peeled

1

tablespoon

vegetable oil

2

teaspoons

seasoning salt

like Lawry's
Instructions
Slice the potatoes into wedges lengthwise and place them in a large bowl. Cover the potatoes with cold water and allow to soak for 20 minutes.

Drain and rinse the potatoes with cold water. Pat them dry with paper towels, then return them to the bowl.

Return them to a large dry mixing bowl. Toss the potatoes with vegetable oil and seasoning salt.

Preheat the air fryer if recommended by your brand.

Spoon the potatoes into the airy fryer basket. NOTE: depending on the basket size they may need to be done in two batches.

Cook at 400 degrees for 18 minutes, tossing halfway through the cook time. Allow to cool a few minutes until they are safe to handle before eating.

Serve as is or with ketchup or a dipping sauce.
Notes
If your air fryer only goes to 390 degrees lengthen the cooking time by a few minutes. Check for doneness and cook until the fries are cooked through with crisp exterior.
If your air fryer will cook food well in multiple layers there is no need to only cook a single layer. If not cook the potato wedges in multiple batches.
Nutrition
Calories:
176
kcal
|
Carbohydrates:
33
g
|
Protein:
4
g
|
Fat:
4
g
|
Saturated Fat:
3
g
|
Sodium:
1172
mg
|
Potassium:
770
mg
|
Fiber:
2
g
|
Sugar:
1
g
|
Vitamin A:
2
IU
|
Vitamin C:
11
mg
|
Calcium:
25
mg
|
Iron:
2
mg