Looking for an easy grilling recipe for barbecue parties, tailgating or camping? Grilled Cheesy Sausage Pineapple Skewers are just the ticket. A cinch to put together, easily portable, cook in about 5 minutes and flavors can't be beat; salty, sweet, cheesy and smoky too!
CLICK HERE TO PIN FOR LATER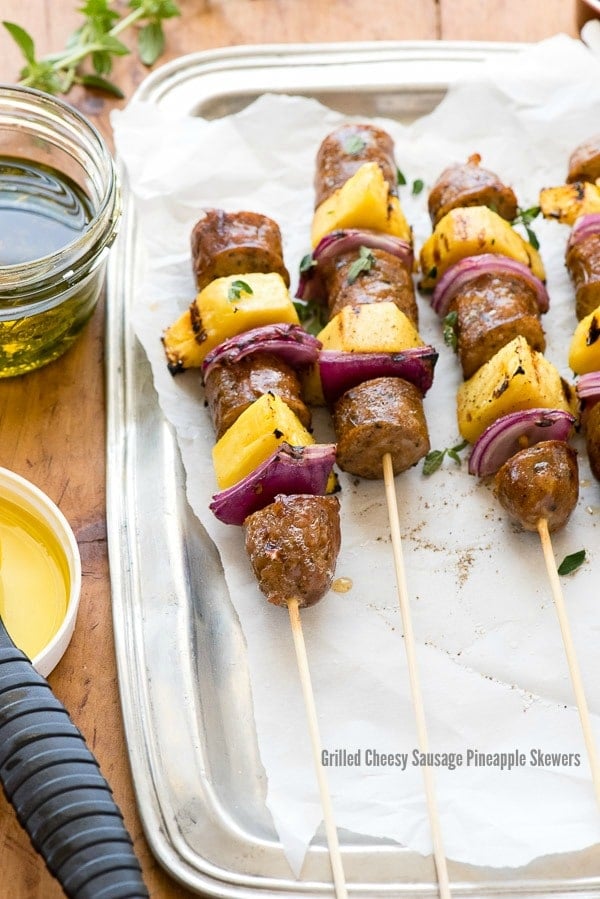 We are deep in the heart of grilling season and there is nothing like the smoky flavors of meat and vegetables (and fruit in the case of this Grilled Watermelon with Smoked Salt and Jalapeno Rings) coming off a searing hot grill. My friends from Sprouts Market asked my help in developing a fun tailgating recipe thinking of fall. Who's waiting for fall?! You'll love this super easy, delicious recipe for Grilled Cheesy Sausage Pineapple Skewers right now AND in the thick of football season too.
People think of tailgating for football season, it's a natural. But football hasn't cornered the market on impromptu grilling at events. Just last week in Boulder a Grateful Dead concert (or as I said to a friend 'the rest of the Grateful Dead') was held for two days at the college football stadium. It was the first concert held there since the 1980's I believe. The sea of tie dye swarming in downtown Boulder was the indication the devoted fans had arrived. And there was a lot of tailgating going down.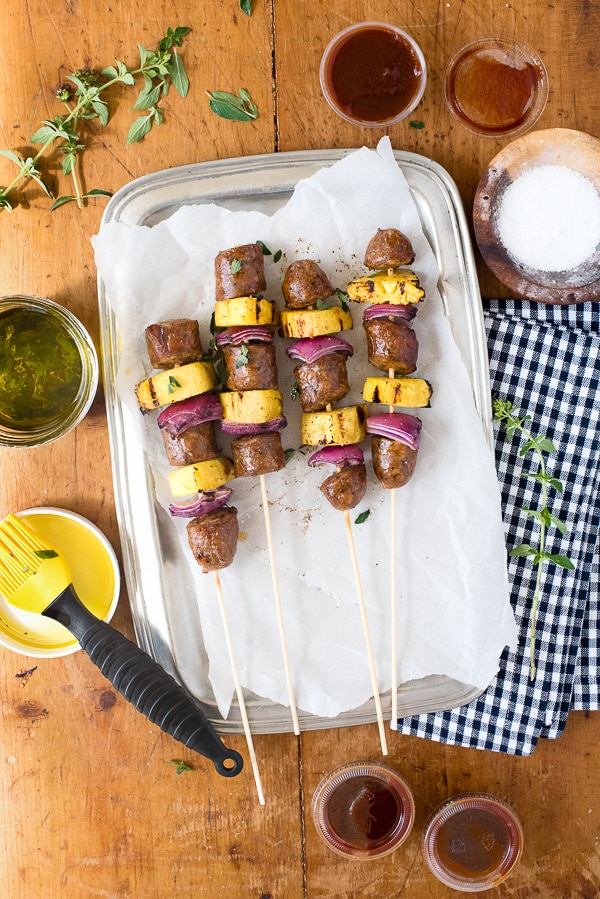 It's not uncommon in the summer for long day or multiple day concerts to see the tailgating scene in full swing. Just as in the fall, the food needs to be easy to prepare, transport, to cook and to eat with ease, often standing and holding a plate of food.
As much as I love things like Smoked Blue Cheese Stuffed Bacon-Wrapped Chile Peppers, I wanted something with great flavor and that was a bit different than the usual sliders, hot dogs, brats and poppers for the grill. Grilled Cheesy Sausage Pineapple Skewers are made with a Sprouts signature brand Mild Italian Sausage with Mozzarella and Parmesan cheese (off to a good start, right?) so the cheesy goodness we love is combined with the grilled sausage.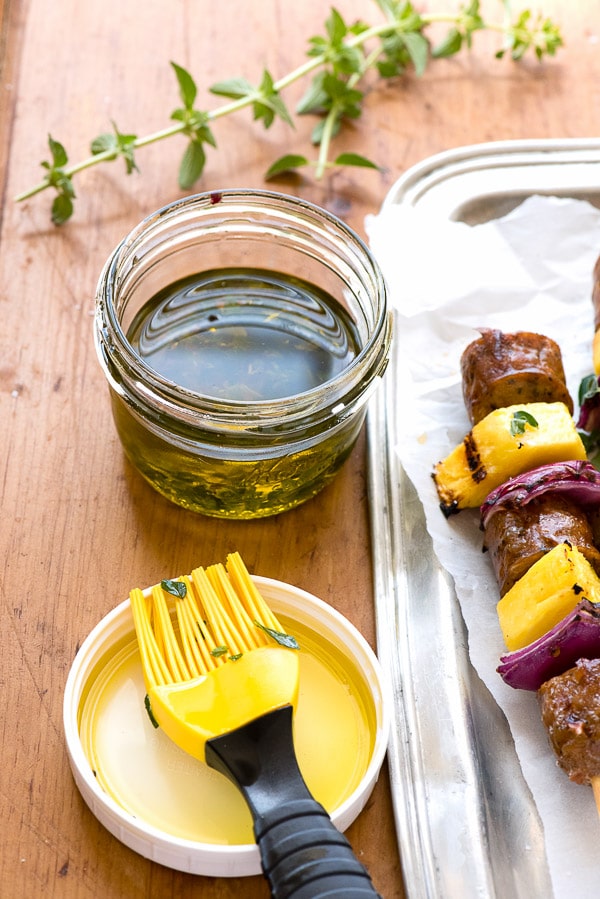 Add in some fresh pineapple and red onions, a light brush with oregano-infused olive oil? Fantastic. A short twirl on the grill and they are ready.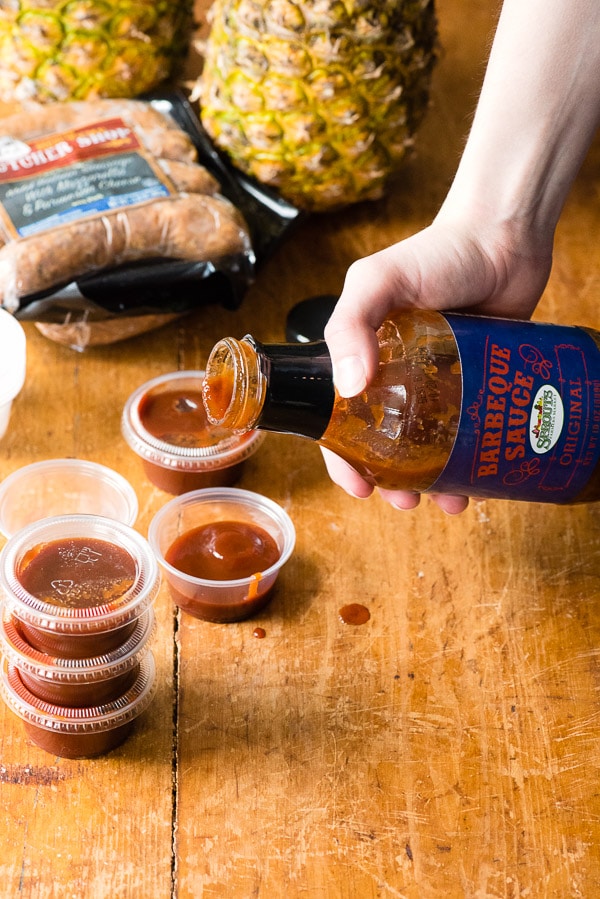 I love barbecue sauce too but it can flame up on the grill causing a higher chance of burning. There are too many things usually going on when grilling or tailgating so having some to dip into works better for this situation. I love to package up individual disposable snack or condiment containers with barbecue sauce at home and then everyone can grab one before eating. No mess. No hassle.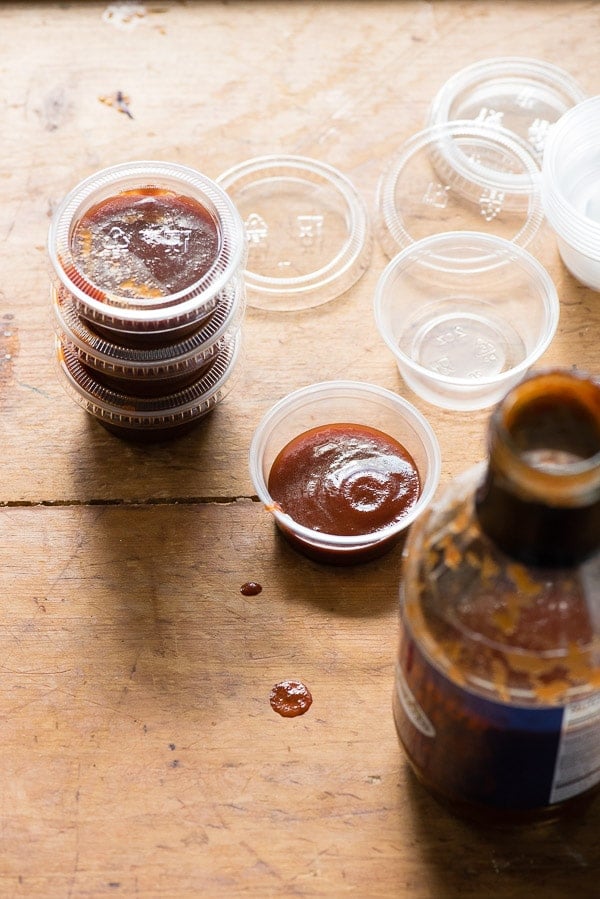 We love to head up to the mountains with a picnic meal, often with food to grill at campsites or parks. These skewers are really perfect for that as well. Easily put together at home and portable. They have the flavors of the out of doors when grilled and they are simple (my favorite word when preparing food to transport.)
I have a few tips to share for the skewers too! First of all, don't soak your bamboo skewers. An experiment demonstrated soaked and unsoaked bamboo skewers catch fire at the same time. Instead, place a piece of foil underneath the exposed ends of the skewers on the grill, ensuring none of the bamboo skewer extends past the foil onto the grill. No burning. Ever.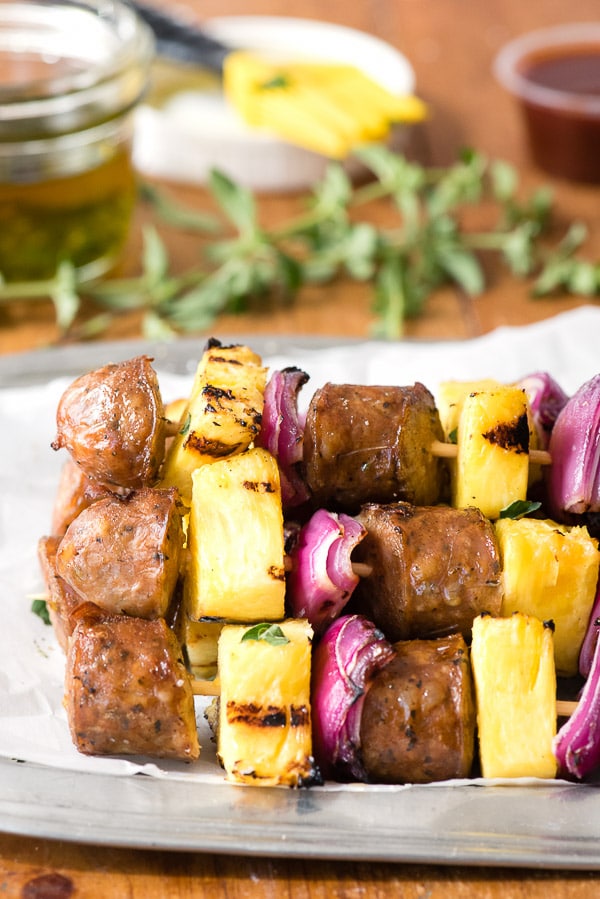 Due to the density of the sausage, these skewers are heavier than lighter options like shrimp skewers. For this reason and to stop the ingredients from spinning on the skewer when rotating them over the grill, I suggest using tongs to rotate them.
Another alternative is to double skewer the ingredients. Allow a bit of space between the two skewers and thread on the ingredients. This prevents the ingredients from rotating on the single skewer as well as provides more strength for the heavier ingredients.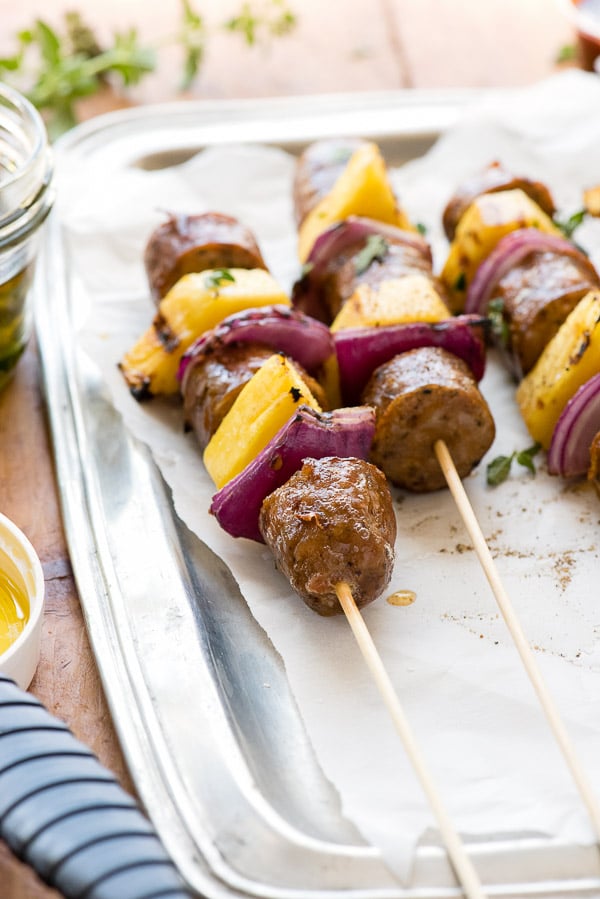 No matter how you slice it these grilled skewers are fantastic. Grilled, cheesy sausage, offset by sweet grilled pineapple and sweet red onions contrasted with the smoky barbecue sauce. Because the sausages are pre-cooked the time on the grill is just to get some great grill-flavor and cook the onions so they take about 5 minutes to cook!
Recipe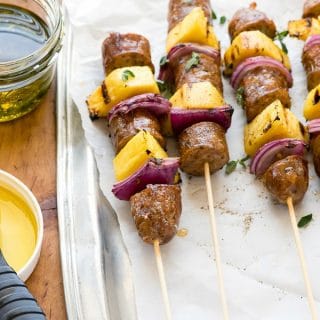 Grilled Cheesy Sausage Pineapple Skewers
These Grilled Cheesy Sausage Pineapple Skewers are extremely easy to make, are portable and cook in about 5 minutes. Perfect for grill parties, tailgating and camping too. The mix of salty, sweet, and smoky flavors makes them a favorite every time.
Served with individual disposable cups of barbecue keeps the mess down too. The recipe may be multiplied for larger numbers of skewers keeping the proportions the same. Also the skewers may be made in half size for appetizers too using 1-2 pieces of sausage, 1 piece of pineapple and 2 layers of onion.
Print
Save Recipe
Recipe Saved!
Pin
Rate
Servings:
8
full size skewers
Ingredients
½

cup

Extra Virgin Olive Oil

(I used Sprouts brand)

2

teaspoons

chopped fresh Oregano

1

12.8-ounce package

Sprouts Old Tyme Butcher Shop Mild Italian Sausage with Mozzarella and Parmesan Cheese

(4 fully cooked sausages); sliced into 1-inch pieces (5 pieces per sausage)

1

ripe Pineapple

1

large Red Onion

Disposable Condiment/Snack cups

1

bottle Barbecue Sauce

Bamboo Skewers

Foil
Instructions
Combine the olive oil and oregano in a sealable jar. Allow to sit for an hour before grilling or longer.

Fill the disposable condiment containers with barbecue sauce for dipping.

Slice off the top/leaves and very bottom off the pineapple. Slice the pineapple into 6 equal wedges (vertically); remove the outer peel, the inner core and cut the wedges into ½ inch slices.

Slice off each end of the onion (root and stem). Peel, cut in half vertically; cut each half into thirds (vertically) making 6 wedges. Cut each wedge in half horizontally.

To thread the skewers: slide on 1 piece of sausage, 2 pieces of onion separated from one of the small wedges, pineapple piece. Repeat and end with a piece of sausage.

Heat the grill to medium heat (350 degrees). Brush and oil the grill. Lightly brush the skewers with the oregano-infused olive oil. Place some of the skewers on the grill with a piece of foil underneath the exposed skewers on the grill. Ensure none of the bamboo is exposed to the grill.

Using tongs rotate the skewers to ensure all sides are grilled. Remove when the onions are cooked; approximately 5 minutes. Serve with individual barbecue sauce containers.
Nutrition
Calories:
183
kcal
|
Carbohydrates:
16
g
|
Protein:
0
g
|
Fat:
13
g
|
Saturated Fat:
1
g
|
Cholesterol:
0
mg
|
Sodium:
4
mg
|
Potassium:
149
mg
|
Fiber:
2
g
|
Sugar:
11
g
|
Vitamin A:
75
IU
|
Vitamin C:
55.1
mg
|
Calcium:
26
mg
|
Iron:
0.6
mg
This mouthwatering grilling recipe is sponsored by Sprouts. All opinions are my own.