Make Greek Fries at home with this easy sheet pan recipe! Baked fries loaded with feta, olives and Greek seasoning are an unbelievable comfort food. Serve as a late night snack, party food or appetizer to share.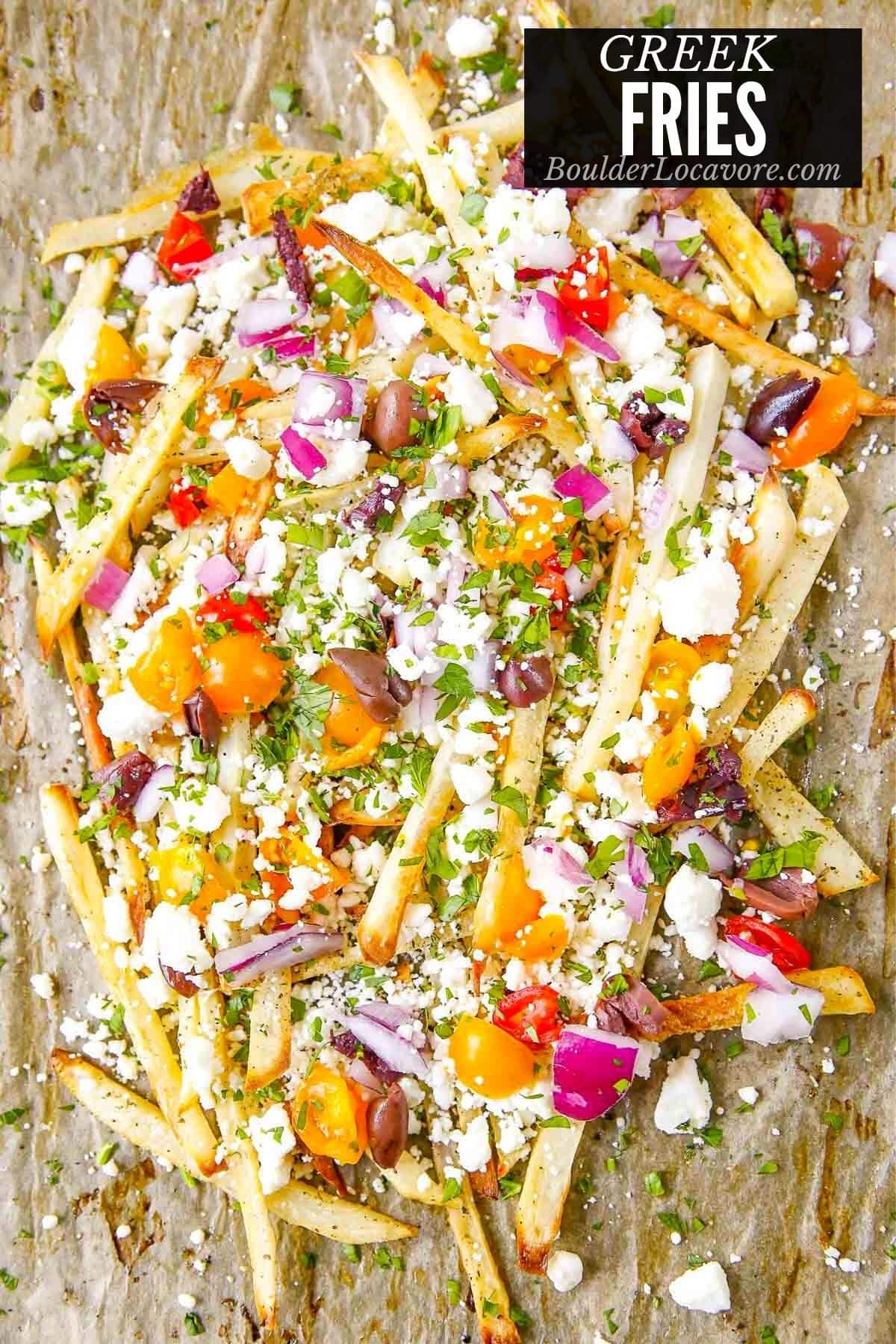 Have you ever had Greek fries? These are not your average loaded fries.
The tangy feta and herbs gives hand cut potatoes a Mediterranean flare.
Add fresh tomatoes and olives and you've got yourself an extraordinary plate of fries!
What Are Greek Fries?
Greek Fries are based on an authentic Greek dish called Patates Tiganites.
Those are a thick cut waxy potato fried in olive oil then topped with a blend of herbs.
Then, Americans did what we do best: load things with toppings and cheese.
Mediterranean restaurants in the USA started topping Patates Tiganites with other staples of Greek cuisine: feta, olives and tomatoes.
And loaded Greek Fries were born!
Why You'll Love this Greek Fries recipe
What sets this homemade Greek Fries recipe apart from other loaded fries?
It's not just the toppings–it's the potatoes. Fresh hand cut spuds are baked (not fried) to a wonderful crisp-on-the-outside and soft-on-the-inside texture.
They are not firm and hard like actual deep fried fries.
A perfect 'fork-able' consistency allows a wonderful bites of fries and toppings.
The toppings we love combine spicy, salty, and tangy flavors.
Serve with Tzatziki Sauce just like at your favorite Greek restaurant.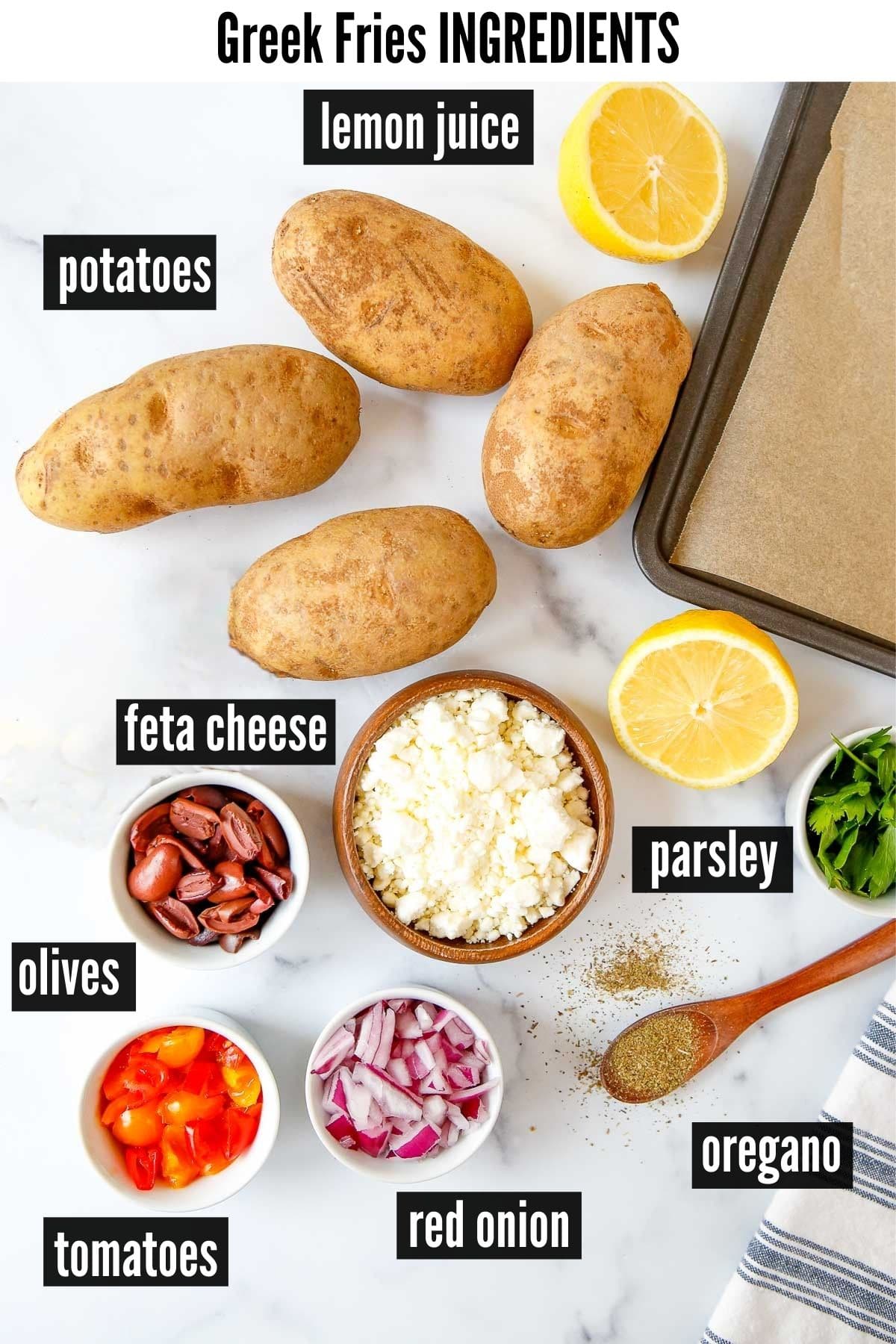 Recipe Ingredients + Notes
Russet potatoes. They can be peeled or scrubbed and not peeled. Either way will work!
Olive oil. Used to toss the fries with before baking.
Seasonings. Dried oregano, salt and pepper are tossed on the potatoes before cooking.
Lemon juice. A little drizzle over the cooked fries add a delicious tangy flavor.
Feta cheese. Buy feta crumbles for an easy short cut.
Red onion. Diced.
Tomato. Using cherry tomatoes is a great choice because they tend to have less liquid. Any tomatoes will work.
Kalamata olives. Remove the pits before slicing, or use pitted olives. You can purchase pitted sliced olives too!
Parsley. Finely minced to garnish the fries after baking.
Variations
Use frozen fries instead of fresh. If you're short on time, a bag of frozen fries works as a quick substitute.
Make the fries as directed on the package and pick up the recipe at Step 6 in the recipe card.
Add a sprinkle of oregano with the toppings to get all the flavors.
Try air fryer fries. Air Fryer potato wedges are another way to make fries from scratch. They are a chunky fry get with this recipe.
Changing up the toppings. The beauty of Greek fries is that it's so easy to adapt the toppings based on your preferences.
Use black or green olives instead of Kalamata. Not a fan of tomatoes? Feel free to leave them out. Add other Mediterranean herbs.
Dipping sauces. My favorite sauce for Greek fries is Tzatziki (creamy yogurt sauce). Sour cream or a lemon garlic aioli are other great sauce choices.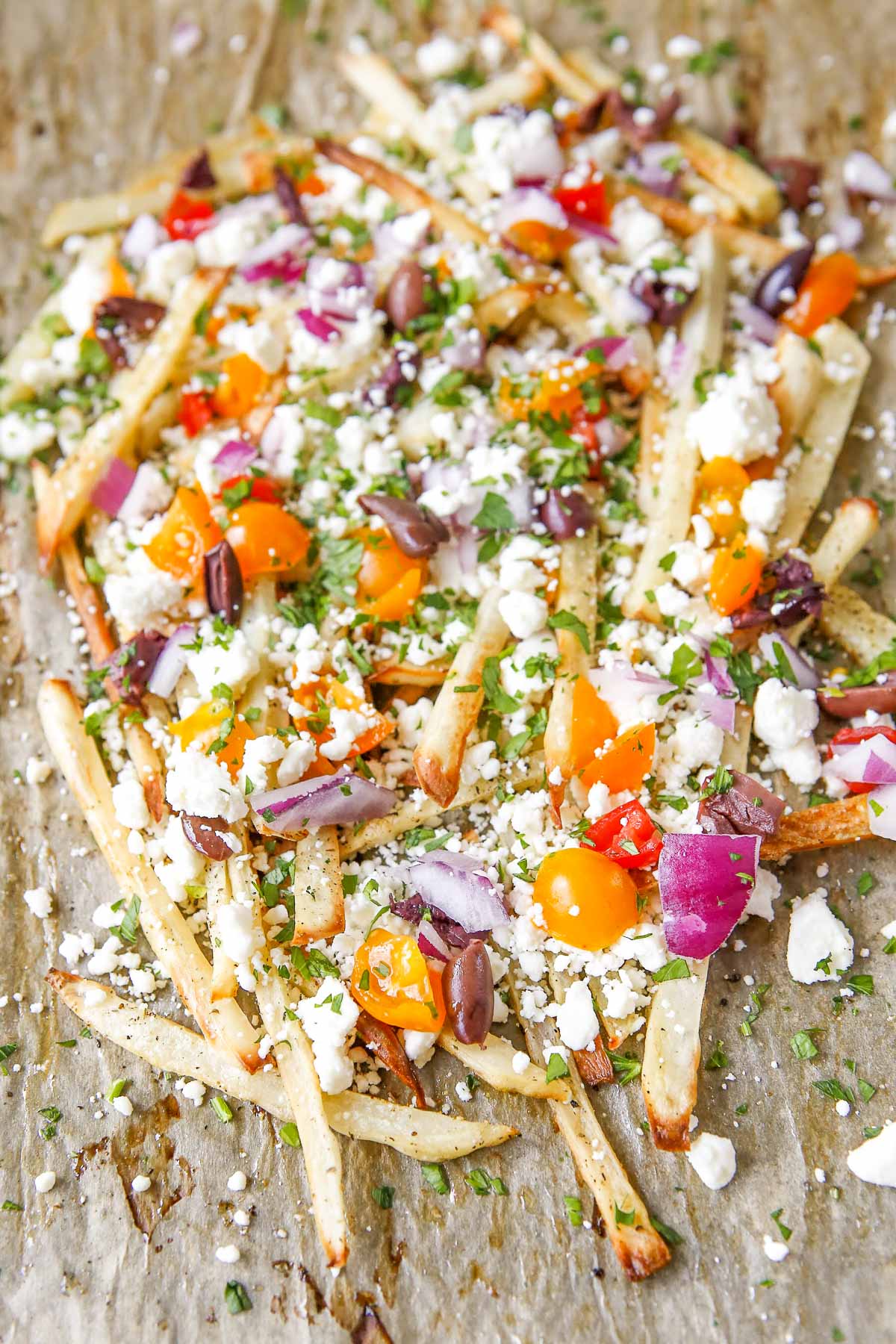 How to Make it – Step-by-Step
STEP 1. Slice the potatoes
Rinse the potatoes and peel if desired. You can also leave the skin on! Cut the potatoes into spears about 1/4 inch thick.
STEP 2. Soak
Transfer the cut fries to a mixing bowl. Pour hot water on top and let them soak for 10 minutes. This step helps remove excess starch so the potatoes come out with a crisper exterior.
Drain and rinse the potatoes. Put them on a double layer of paper towels and pat dry.
STEP 3. Season
Arrange the fries on a parchment lined baking sheet (photo 1). Make sure they're in a single layer with some space between the fries.
NOTE: Fewer fries were used in the photo below than in the full recipe to create a clearer illustration. Your pan will be completely filled with fries when you make this!
If it's crowded, spread the fries over 2 pans for best results.
STEP 4. Bake
Bake at 400 degrees F for 25 minutes. Flip the fries and bake another 20 minutes.
When the fries are done cooking they'll be lightly browned or almost blistered looking in places (photo 2).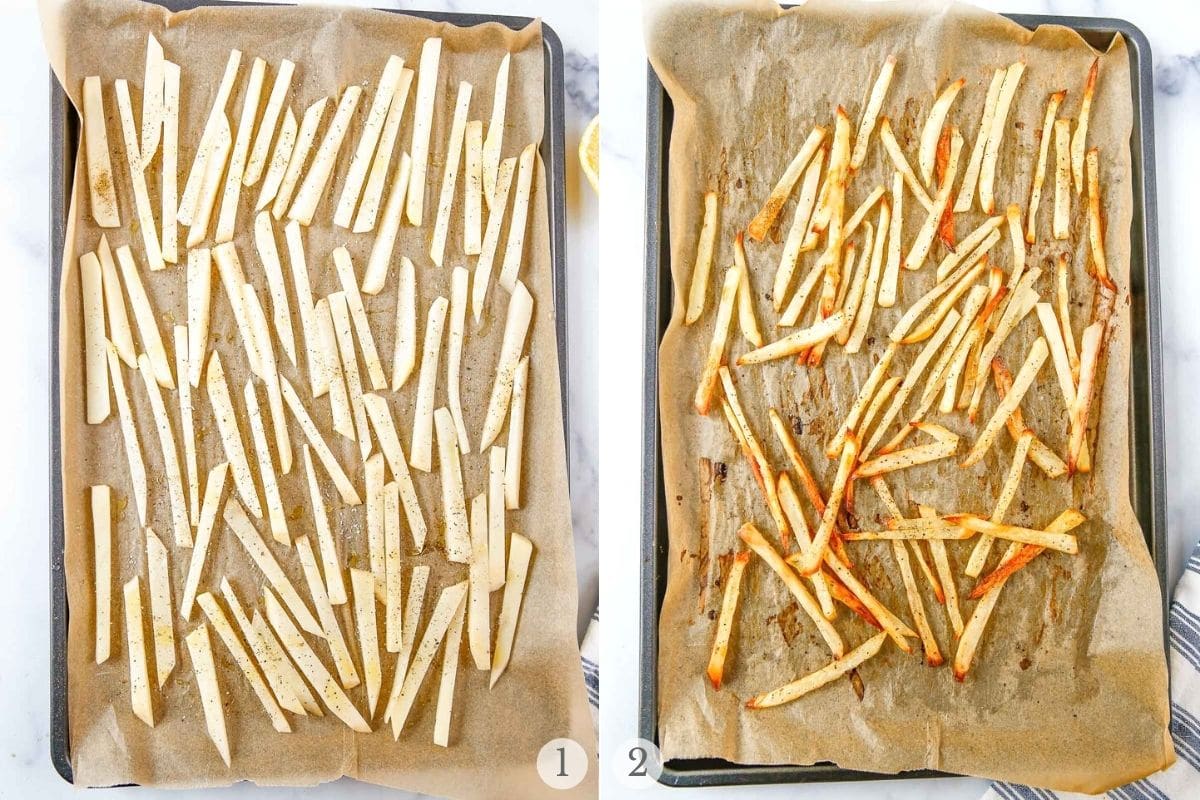 STEP 5. Add toppings
Squeeze lemon juice over the baked fries.
Sprinkle the feta cheese over the fries (making sure to crumble into small pieces) (photo 3) and the tomatoes (photo 4).
Load with the sliced olives (photo 5) and the chopped red onion (photo 6).
Garnish with chopped fresh parsley and serve with Tzatziki!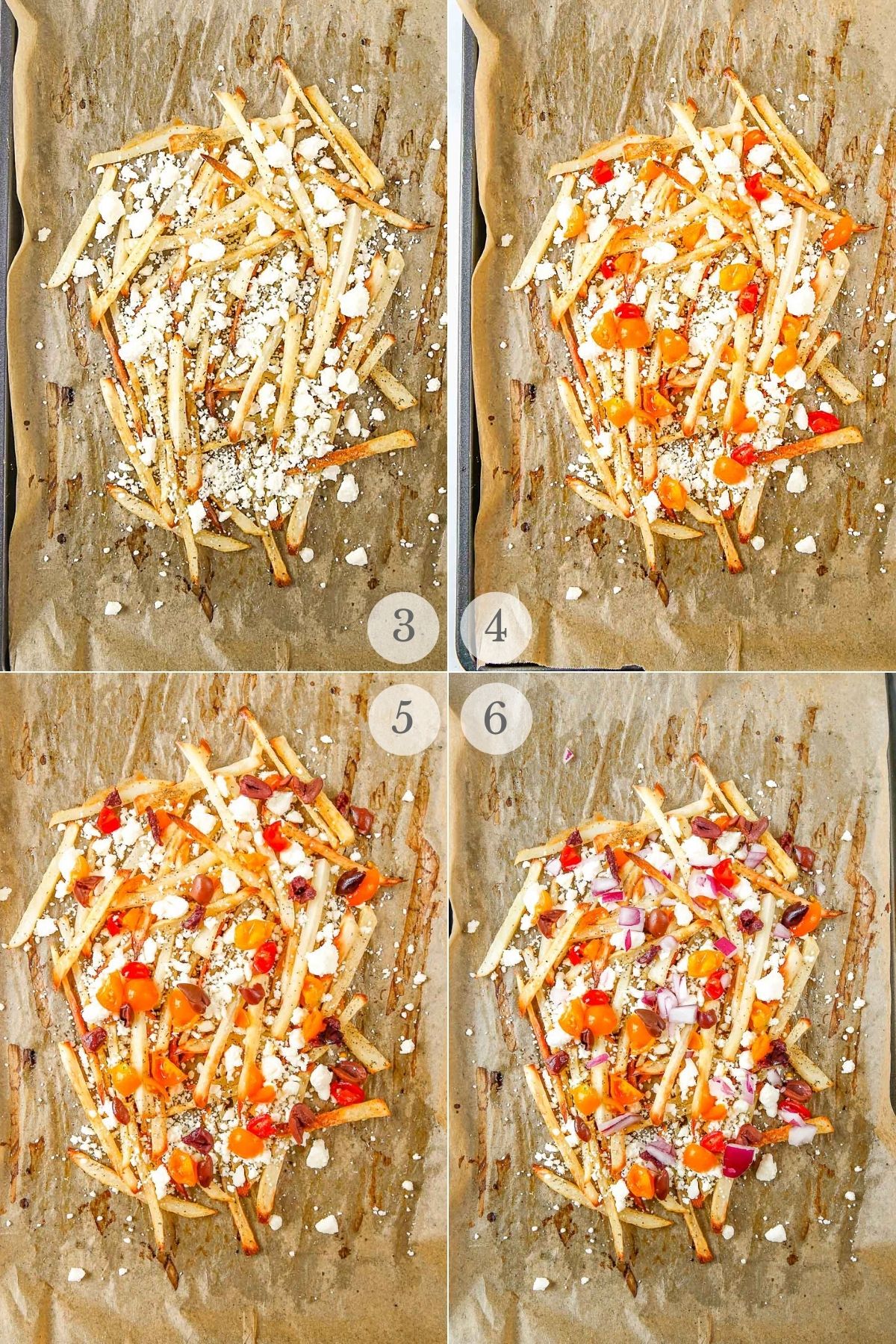 Recipe FAQs + Pro Tips
Secrets to Best Homemade Baked Fries
Use parchment paper. This keeps the potatoes from sticking to the pan. It also absorbs moisture helping the fries crisp up. Do not use a silicone baking mat for this recipe.
Cut evenly. Slice the potatoes to uniform thickness to ensure they cook evenly in the same amount of time. The instructions and cooking time in this recipe are based on fries cut into 1/4-inch thickness. Thicker fries will take longer to cook.
Leave space between fries. Placing the fries in a single layer with as few edges touching as possible helps heat and air circulation. If you're unable to get all the potatoes on your pan without overlap, use two baking sheets to cook them.
Arrange in rows. Line your fries up in long rows running the length of the baking sheet. This way you can easily slide a spatula under the layer and flip them all at once.
How to Serve Greek Fries
These are best eaten on a plate with a fork to get all the loose toppings!
Unlike fries from a fryer, these baked fries will not be firm and sturdy.
Load them onto a plate and grab the silverware. Every forkful is better than the last!
What potatoes are best for baked Greek fries?
We love Russet potatoes (also labeled "baking potatoes" or Idaho potatoes) in this recipe.
They have the right ratio of moisture to starch that allows the fries to get crispy on the outside and soft on the inside.
Storing Leftovers
Greek Fries are best eaten immediately. Leftovers will become soggy and not reheat well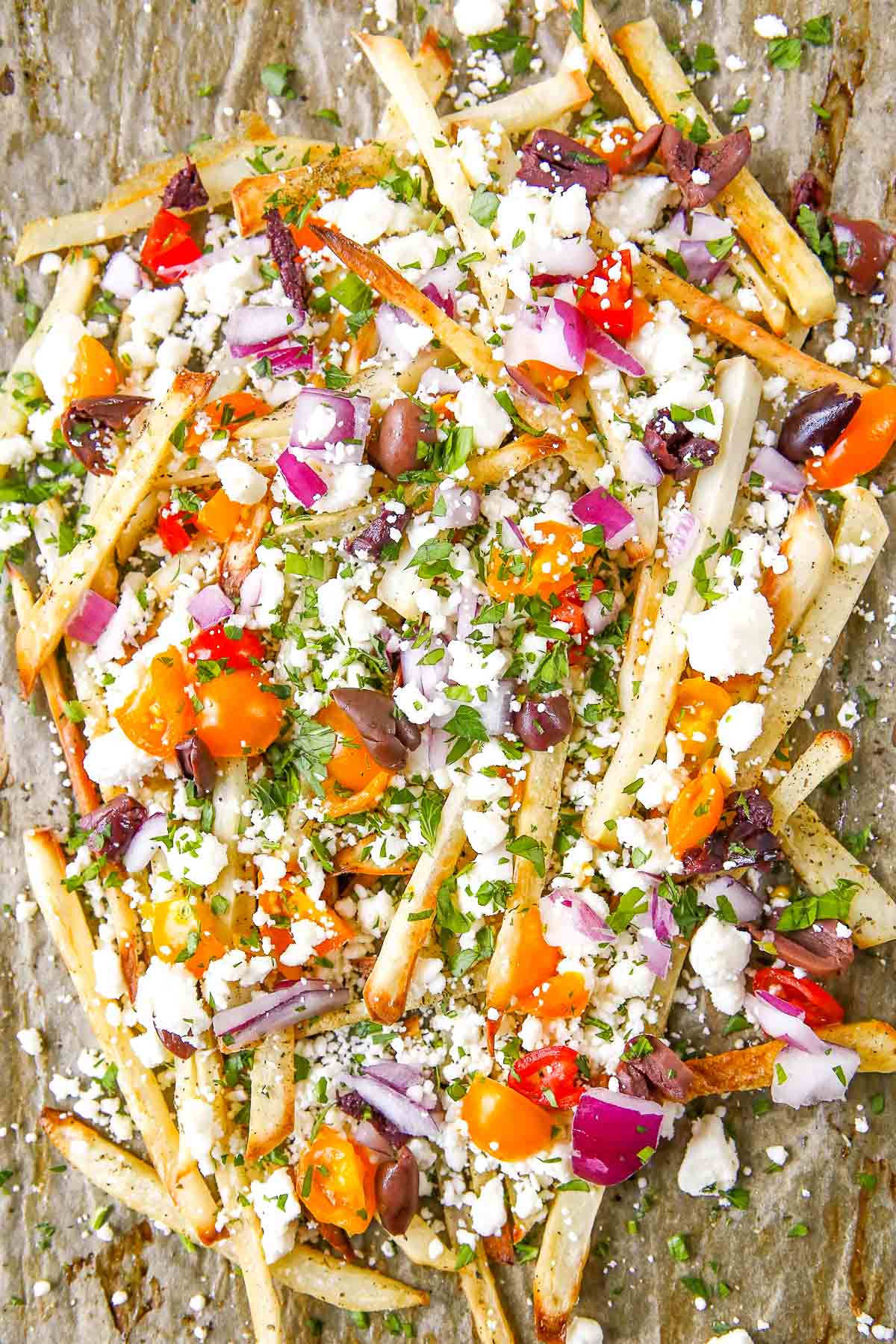 More Recipes You'll Love!
Did you make it? Please RATE THE RECIPE below!
Please SUBSCRIBE and FOLLOW ME on FACEBOOK , TWITTER , INSTAGRAM and PINTEREST !
Recipe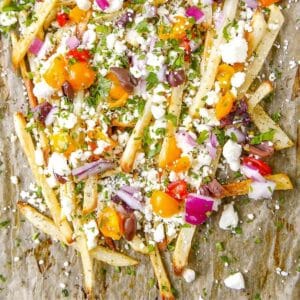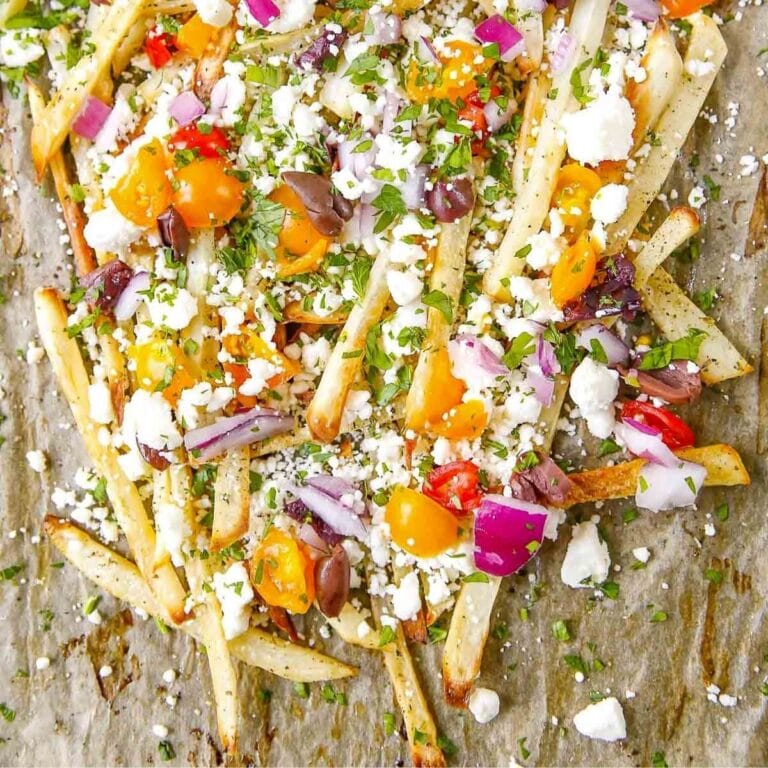 Greek Fries
Greek Fries are loaded with Mediterranean toppings like feta cheese, olives, tomatoes and more. All piled high on top of hand cut baked fries!
Print
Save Recipe
Recipe Saved!
Pin
Rate
Ingredients
4

medium

russet potatoes

rinsed and peeled OR scrubbed and unpeeled

1

tablespoons

olive oil

2

teaspoons

dried oregano

Salt and pepper

to taste

1

tablespoon

lemon juice

½

cup

feta cheese

crumbled

1/3

cup

red onion

diced

1/3

cup

fresh tomatoes

diced

¼

cup

kalamata olives

pitted and sliced

2

tablespoons

fresh parsley

minced
Instructions
Preheat oven to 400 degrees F. Line a large rimmed baking sheet with parchment paper. Use two baking sheets if needed.

Rinse, peel* and slice potatoes into French fry sticks, about ¼ inch thick.

Place the cut fries in a large mixing bowl and cover with hot water. Allow them to soak for 10 minutes to remove some of their starch.

Drain, rinse and place the potatoes on a double layer of paper towels and dab them dry before the next step.

In a large dry mixing bowl add the potatoes. Drizzle with the olive oil, oregano and a generous amount of salt and pepper. Toss to fully coat.

Add the potatoes to the prepared baking sheet in a single layer. Bake for 25 minutes, flip them over.

Bake 20 minutes longer or until they are crisp on the outside, lightly browned and cooked through.

Remove them from the oven. Drizzle lemon juice over fries and load with the toppings. Sprinkle with minced fresh parsley and serve immediately.
Notes
*The potatoes can be peeled or scrubbed and sliced with the skin on based on personal preference.
Pro Tips for Best Fries
Cut them uniformly in size for even cooking time.
Cooking times based on 1/4-inch thick fries. Larger fries will take longer to cook.
Line the rimmed baking sheet with parchment paper. This helps the fries not stick to the pan and will absorb some of the moisture.
After soaking the potatoes, drain, rinse and lay them out on a double layer of paper towels. Pat them dry on all sides.
Cook in a single layer.
Allow room around the individual fries. They should not be jammed onto the pan (use two pans if needed).
For easiest flipping of the fries organize them in long rows running the length of the pan. Then when they need to be flipped slide a spatula under part of the row and flip them over. Easier to ensure all fries are flipped over this way.
They can take 45-50 minutes to fully cook and become crisp on the outside.
Nutrition
Calories:
273
kcal
|
Carbohydrates:
42
g
|
Protein:
8
g
|
Fat:
9
g
|
Saturated Fat:
4
g
|
Cholesterol:
17
mg
|
Sodium:
354
mg
|
Potassium:
980
mg
|
Fiber:
4
g
|
Sugar:
3
g
|
Vitamin A:
404
IU
|
Vitamin C:
19
mg
|
Calcium:
148
mg
|
Iron:
3
mg
Who's ready to try loaded Greek Fries? It doesn't get any better than crispy baked french fries loaded with fresh Mediterranean flavor!