Making potato chips at home is easy with a special trick. This simple recipe bakes fresh potato slices to a crispy chip for a healthier option. Baked Smoked Paprika Potato Chips with Sriracha Sour Cream Dip are a zippy option perfect for spicy snacking or a grilling side dish.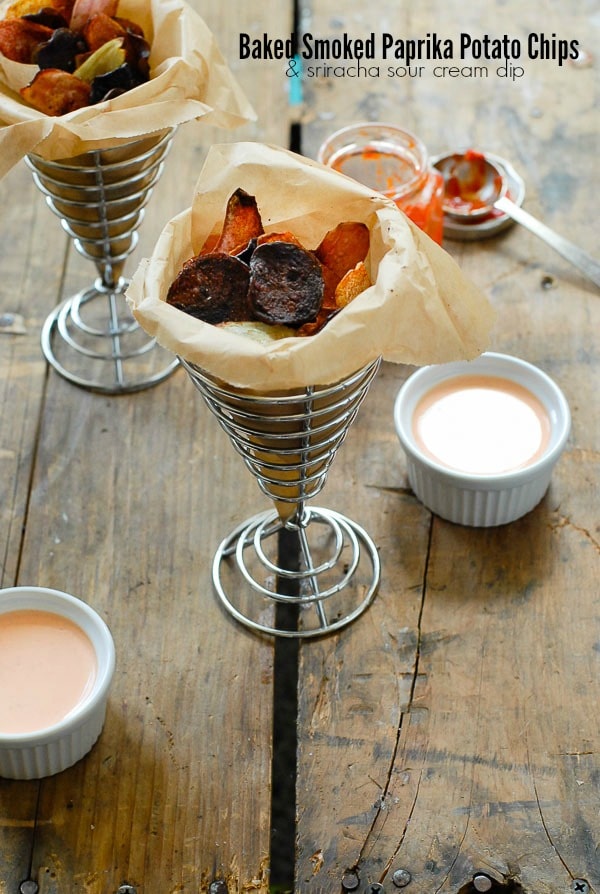 I don't eat potato chips often but sometimes nothing else tastes quite as good as a salty chip. Do you know you can make them at home? Super easy and baking can be just as good a frying (with fewer calories, fat and just as much flavor). You can change up the flavors to suit your mood too. These Baked Smoked Paprika Potato Chips are some of my favorites and paired with spicy Sriracha Sour Cream Dip, they are nothing less than addictive!
The Trick to Making Perfect Homemade Baked Potato Chips
There is a trick to making potato chips at home; using a mandolin slicer. With a mandolin, the potatoes are sliced very thinly in a matter of minutes. Having uniformly sized potato slices aids in consistent cooking time. If slices are different thickensses or sizes, they won't cook at the same time requiring monitoring to ensure they cook but don't burn. It's also possible to cut the potato slices with a sharp kitchen knife although it's tough to get them all the same thickness.

Tips for Buying a Mandolin Slicer
A mandolin is an inexpensive kitchen tool and something once you use it you'll find many more ways to use it for food prep. We have multiple mandolins in our kitchen from those we've purchased at fine cooking stores to less expensive models from Asian super markets. I recommend choosing one with adjustable spacing (so you can adjust it thickness of what you are slicing) as well as a piece that sits on the food for slicing so you don't have your fingers directly on the food itself. They are very sharp and the protective piece ensures you won't cut yourself.
Any type of potato may be used for making homemade potato chips however I chose colored Fingerlings for these baked smoked paprika potato chips, for their shape and to add some visual appeal to the presentation. If using larger potato varieties, the cooking time may need to be increased.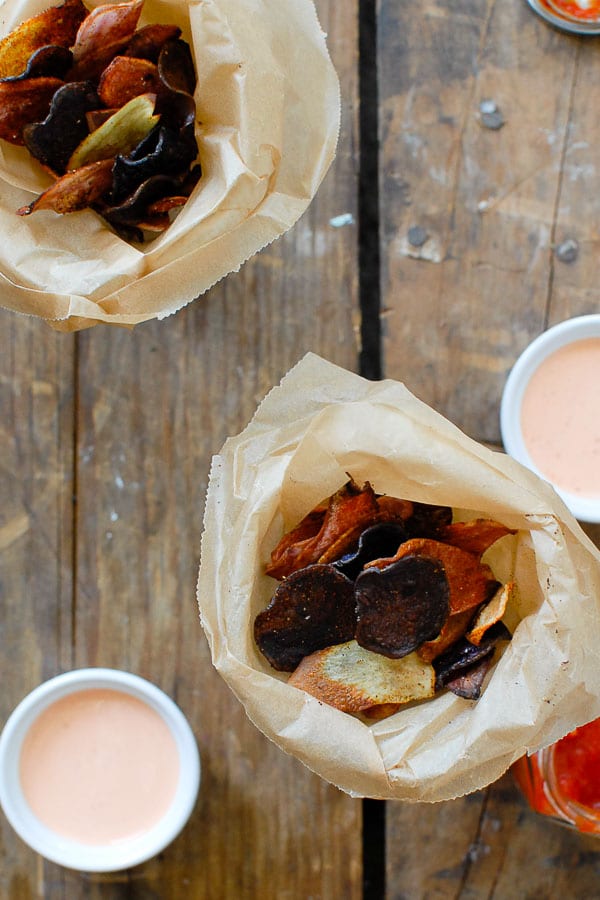 A simple sprinkle of kosher salt is fantastic on homemade potato chips but I hoped to make them a bit zingier with the addition of hot smoked paprika. A little goes a long way however and under seasoning is always best versus covering them completely unless you really love hot spicy chips!
Sriracha Sour Cream dip adds another spicy yet tangy layer of flavor to the baked smoked paprika potato chips. There are suggestions in the recipe to adjust the heat of each the baked potato chips and the dip to match your personal preference.