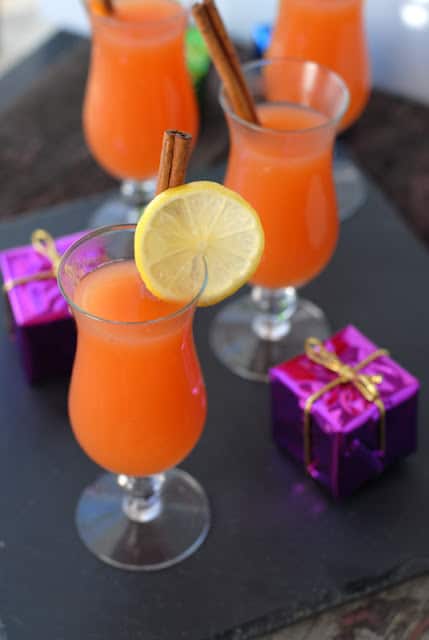 When my brother and I were in elementary school we were stricken with the momentary delusion of believing we could become a singing group.

 

Why did we believe this was possible?

 

Who the heck knows.

 

I had been banned from singing Christmas Carols at family gatherings due to the extremity of my tone deafness; how I catapulted from that to uber stardom in my mind may just reflect an extreme shortfall in my mental capacities as a young child.
We selected a popular (but in hindsight a fairly slow, whiny) song that did not sound good when sung by the original artist and certainly would not be improved when crooned in our dulcet tones.

 

Quite earnestly we set up a recording situation where the song would be playing and we'd record ourselves singing to it.

 

We did not think through what we'd do with this sophisticated 'demo tape'; I suppose feeling confident we'd just be 'discovered'.
Suffice it to say after seriously singing our duet'ish way through the tune we listened to our recording.

 

I don't recall much dialog ensuing, more a 'knowing' being recording artists was not in our collective cards.

 

I'm hopeful someone burned that tape.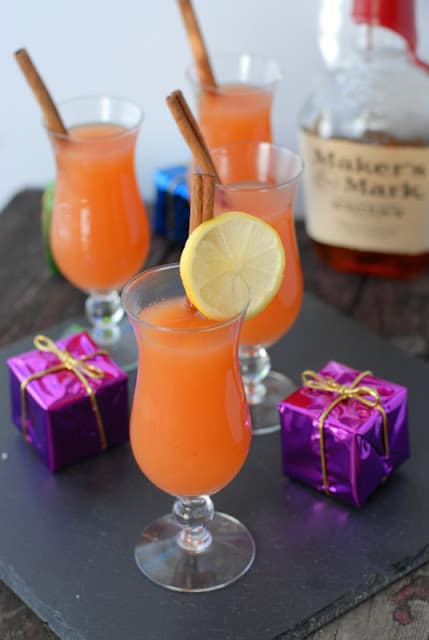 When digging through my Mom's recipe folder and discovering this Wassail recipe in my brother's 'teeny guy' scrawl I knew I had to make it.

 

I don't recall ever having Wassail but seem to have heard it woven in with some Christmas Carol.

 

My first thought of course was how to spike it.

 

I plowed into my favorite neighborhood family run liquor store that has entertained my concoctions over the past year when seeking help.

 

We collaboratively settled on bourbon, feeling rum to be too sweet and Mai Tai'ish when paired with the rest of the ingredients.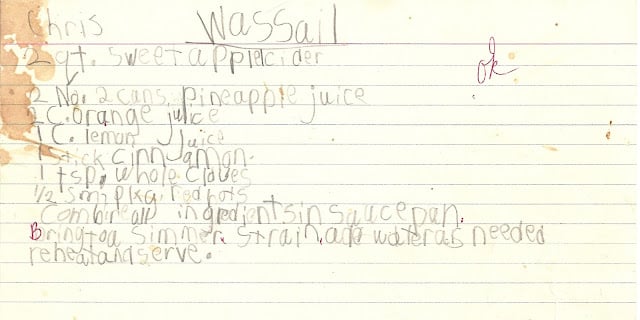 I was charmed to see the little

purple

punctuation prompts on this recipe card, confirming my suspicion it was originally intended as a Christmas send home for parents AND an English assignment.

 

You'll note the 'ok' in the same

purple

pen validating his culinary writing attempt as passable.
I'm here to say he's more than passable.

 

It's been a long time since he was in elementary school.

 

I mean, a LONG time.

 

Like, maybe 164 years ago.

 

Did I mention today is his birthday?

 

And that he won't know anything about this expose until reading this?

 

Did I mention he's now a Big Wig?

 

He is the General Manger of an unnamed restaurant in a large, sprawling, traffic-ridden metropolitan city now.

 

Did I mention he used to love the color purple, adored a little purple leather fringed vest and played the drums?

 

Now you know.
In the spirit of the season I hope you'll enjoy this Wassail, spiked or not, courtesy of my brother's second grade teacher's vision (I'm sure she'd never have guessed this is where it would end up……since they barely had electricity and indoor plumbing at the time).
This drink is yummy on its own.

 

Best served warm.

 

I of course used all organic, fresh juice when possible.

 

I cringed at the idea of 'Red Hots' thinking there must be a way to capture their flavor in a less processed way.

 

I did make the recipe exactly to the original recipe and will say it is the Red Hots (or equivalent) that gives it this

fantastic

to-die-for color.

 

Leave them in.

 

If desired you can add a bit of Bourbon to your cup; it works beautifully with the flavors.
·

        
2 cups sweet apple cider
·

        
5 cups pineapple juice
·

        
2 cups no-pulp orange juice
·

        
1 cup lemon juice
·

        
1 cinnamon stick
·

        
1 teaspoon whole cloves
·

        
½ small package of Red Hots, or cinnamon baking/cake decorations (found in the baking aisle)
1.
 

Combine all the ingredients in a large pot.

 

Bring to a low simmer and allow to simmer for 20-30 minutes for the flavors to blend.
2.
Strain into serving mugs and serve warm.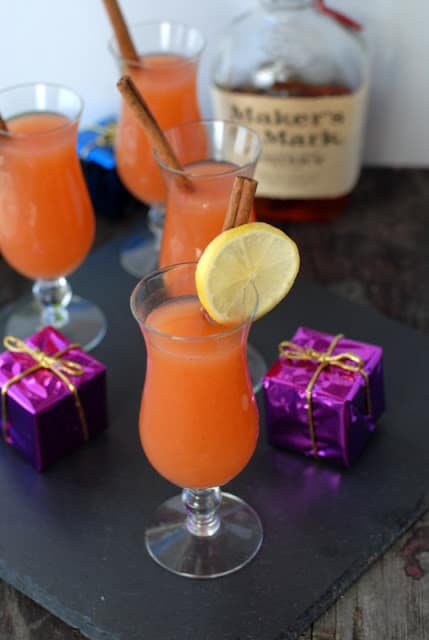 I 'heart' North Boulder Liquor
!

 

I love small local businesses and this one is a favorite.

 

A family owned liquor store in North Boulder with a great selection of everything and good prices.

 

Normally I'd cite specific individuals I've worked with but I think I've worked with every one of their employees. Never once has there been a raised eyebrow about me wanting make 'bug juice' or spiff up a 1970's recipe.

 

They've endured my pulling out vintage recipes at the counter for a brainstorming session, traveling through their wines best suited to Sangria with plums, debating the merits of rye whiskey over bourbon, discussing the difference of Triple Sec to Citronage to Cointreau, and basic explanation of specific spirits.

 

They get down to business and are happy to work with any price point, geographic fixation (mine) or harebrained idea I may have dreamed up.

 

I love them and you will too.