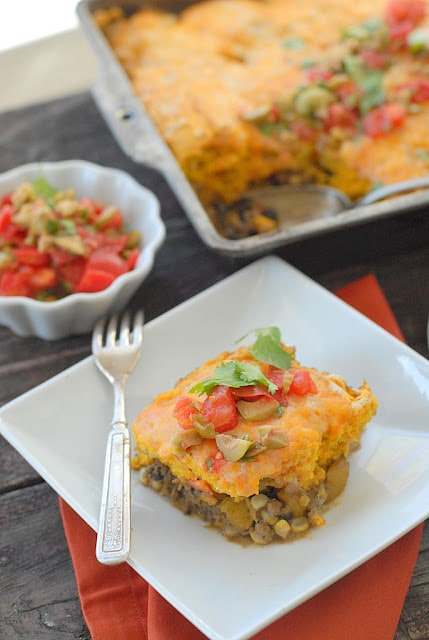 Fall has definitely settled in here.

 

Days in the 60's.

 

Leaves ablaze in yellow, blinding red and orange, begging attention to the risk of traffic accidents for the glorious distraction they cause.

 

The filtered light making everything softer, quietly reminding us to try to slow down and maybe take it all in.
My own hibernation instincts are starting up.

 

I want seasonal comfort food.

 

And I want more time so meals I can put together with ease without sacrificing taste or the touch of seasonality.
I'm embarrassed to admit how limited my vision of using pumpkin has been in my adult life.

 

Pie.

 

I thought pumpkin was for pie.

 

And carving.

 

Over the recent years I've torn appealing recipes from magazines and grouped them seasonally since that's how I eat….and think.

 

I've had a recipe for some time for a Black Bean Pumpkin Tamale Pie.

 

Not sure why I haven't made it but I decided the time had come.

 

So glad I did.

 

It features many aspects of the seasonal produce and flavors I love; pumpkin, chiles, corn and all in a soul-warming package.
The heat in the recipe is moderate so I've provided a suggestion for pumping it up.

 

I also provided a spin on a Jalapeno-Green Olive Salsa as an accompaniment.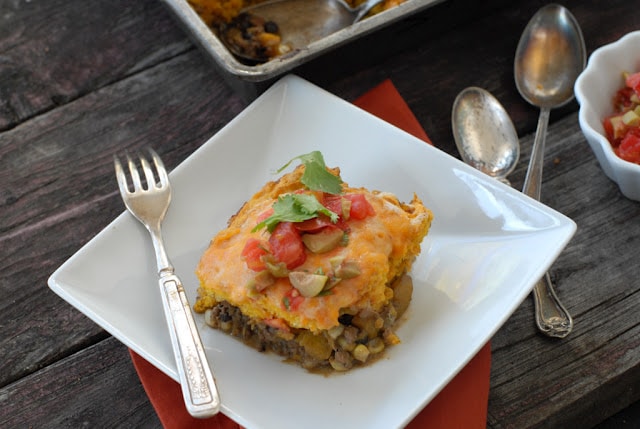 BLACK BEAN PUMPKIN TAMALE PIE
Adapted from Better Homes and Garden
I typically make almost everything I cook from scratch, beans and everything.

 

That's not always practical or of interest so you'll find options to do most of this from scratch or to substitute canned or frozen alternatives.

 

You'll note I specified the fat content of the ground beef.

 

A lot of the flavor of the ground beef often comes from the fat content.

 

The beef is drained after browning so the final dish is not fatty in the least.
Makes 12-3 ½ inch by 3 inch portions
·

        
1 pound 85% fat ground beef
·

        
3 cups, peeled and finely chopped pumpkin
·

        
1 large yellow onion, chopped
·

        
1-15 ounce can black beans, rinsed and drained
·

        
1 cup fresh or frozen corn kernels
·

        
4 ounces mild Anaheim chiles, seeded and chopped OR 1 4 ounce can diced green chiles*
·

        
¼ cup plus 2 tablespoons cup beef broth
·

        
2 tablespoons apple cider vinegar
·

        
3 ounces cream cheese
·

        
1 teaspoon salt
·

        
1 teaspoon ground cumin
·

        
1 ½ teaspoon mild chile powder
·

        
12 ½ ounces cornbread mix (I use Bob Red Mill's Gluten Free Cornbread Mix)
·

        
2 large eggs, lightly beaten
·

        
1/3 cup plus 2 tablespoons milk
·

        
1/3 cup plus 2 tablespoons pumpkin puree (click here to make your own)
·

        
¾ cup sharp cheddar cheese, grated
·

        
¾ cup Monterey Jack cheese, grated (if you want more heat you could use Pepper Jack)
*if cutting your own chiles, wear gloves!

 

Accidental contact with eye, nose or mouth when chopping chiles can lead to significant irritation.
To step up the heat
:

 

Substitute hotter chile powder and hotter variety of chiles such as Serrano or Jalapeno.

 

I'm always a proponent of tasting a recipe the first time before 'pumping up the heat'.

 

If the recipe is not hot enough for your liking you can always add hot sauce.

 

With this recipe I feel the cornbread top layer helps mute the heat some too.
Tip for saving unused Pumpkin Puree
:

 

We all think of saving summer vegetables but not so much for fall.

 

If you make pumpkin puree and don't use it all, freezing it in ice cube trays and them bagging the puree cubes in the freezer

 

for future use allows a space saving way to enjoy fall's spoils in other seasons (do I sound like 'Martha'?)
1.
 

Preheat oven to 400 degrees.
2.
In a large skillet on medium-high heat begin to brown the ground beef.

 

As you note the browning starting (3 to 4 minutes), add the onion and pumpkin.

 

Turn the heat to medium and fully brown the beef and until onions are softened.
3.
Drain any fat from the meat mixture.

 

Add the black beans, corn and chiles.

 

Stir to combine.
4.
Add beef broth, vinegar, cream cheese, salt, cumin and chile powder.

 

Stir to combine and transfer into a 13 inch by 9 inch baking pan.
5.
In a large bowl combine the cornbread mix, eggs, milk and pumpkin puree.

 

Stir to fully combine.

 

Spread the cornbread mixture on the top of the other ingredients in the baking pan.
6.
Place in the oven for approximately 20 minutes until the cornbread begins to brown and a toothpick comes out clean (of the cornbread top only).

 

While the Tamale Pie is baking you can make the salsa!
7.
When baking is complete add the grated cheese on top and return to the oven until it melts (5 minutes maximum).

 

Remove from oven and let cool 5 minutes before serving.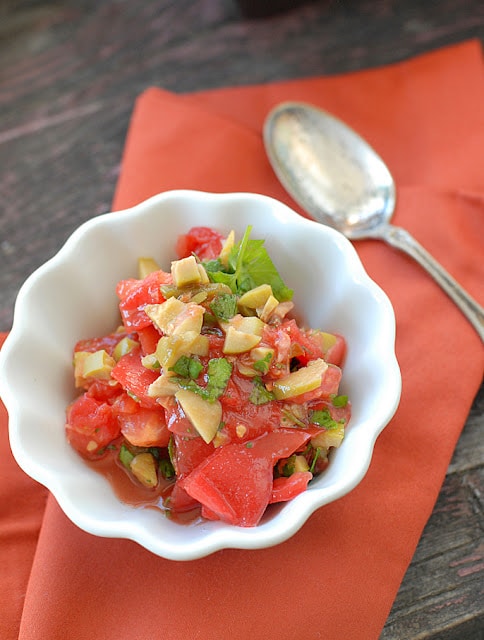 Jalapeno-Green Olive Salsa
Adapted from Better Homes and Garden
·

        
½ cup Jalapeno-stuffed green olives, rough chopped**
·

        
1 ½ cup chopped fresh tomatoes (heirloom variety if possible)
·

        
2 tablespoons cilantro, chopped
Toss all ingredients together and serve with the Tamale Pie.
** If you are unable to find jalapeno-stuffed green olives you can substitute regular green olives and 1-2 jalapeno peppers.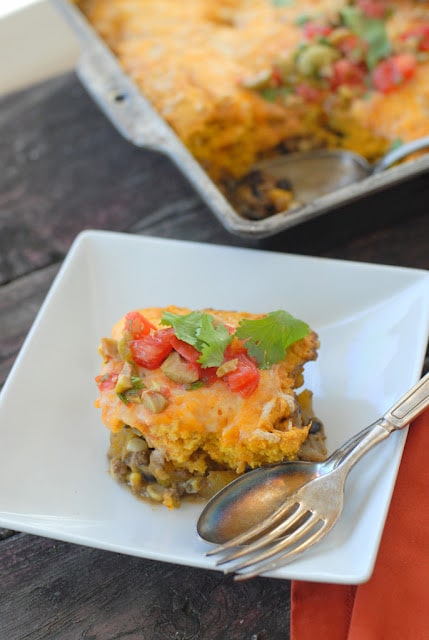 Truth be told some of the group to whom I'm serving this think pumpkin is only for Jack o Lanterns.

 

I knew I'd have to be in stealth mode to pass this by them.

 

The small chop of the pumpkin and the fact they turn the color of cooked potatoes were on my side.

 

It is a delicious dish without forcing those unready to face pumpkin in a pie-less context out of their comfort zone!