Black Bean Pumpkin Tamale Pie is a hearty comfort food recipe just right for all. A saucy layer of ground beef, onion, black beans, corn, pumpkin, green chilies and earthy spices is topped with a cornbread layer and cheese for a mouthwatering dinner recipe or for gatherings. Served with salsa, sour cream, guacamole, fresh tomatoes, and/or fresh cilantro. Gluten-free with gluten option included.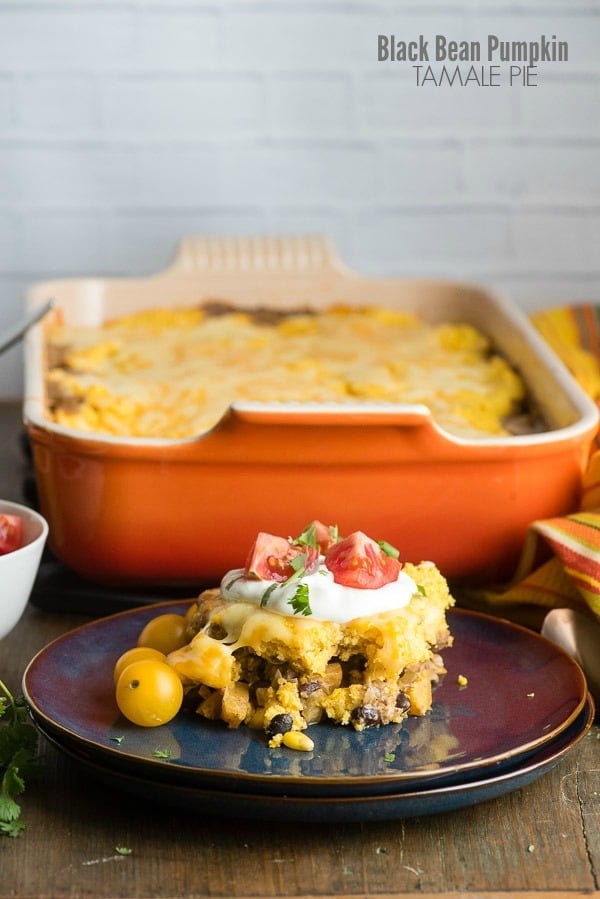 I am a pumpkin late bloomer. I did not like eating it until the last 5-10 years and I blame that on too many holiday meals where it was made into recipes that amplified its natural sweetness. I felt that way about all winter squash until I discovered the secret; compliment the sweetness with spiciness. Black Bean Pumpkin Tamale Pie is a perfect example of this fantastic combo. Hearty, seasonal, cool weather comfort food. And those who are saying 'but I don't like pumpkin', hang in there because you'll love this!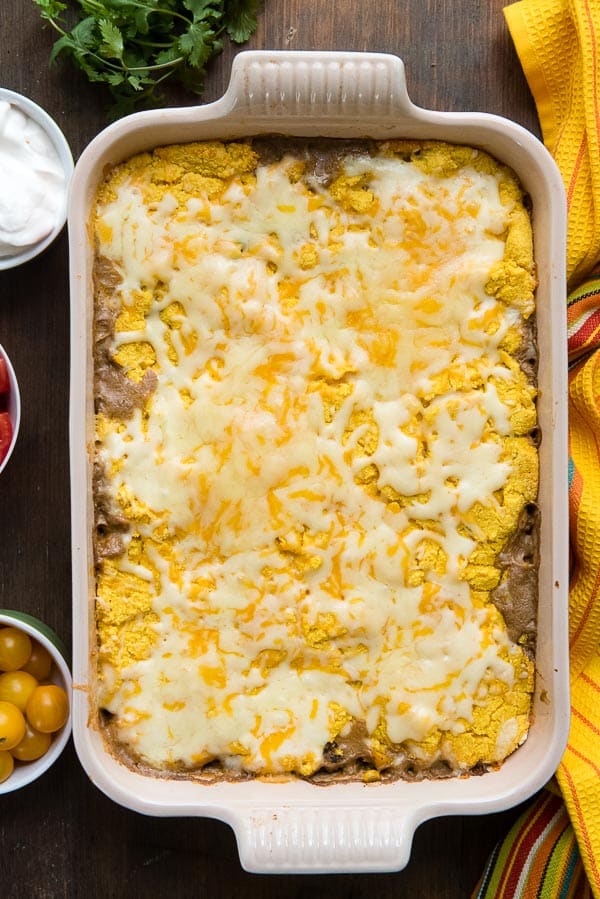 Black Bean Pumpkin Tamale Pie was inspired by a recipe I tore from a magazine several years ago. I loved the southwestern feel and after making it several times, playing with the seasonings, it has become something we look forward to each autumn. It is a one dish meal with a saucy meat portion of ground beef, onion, black beans, pumpkin, corn, green chilies and some earthy spices. It's topped with cornbread mix and some cheese baking into a wonderful dish. Serve topped with salsa, sour cream, guacamole, chopped fresh tomatoes, chopped cilantro, and/or sliced green onions, it's a filling meal and great for gatherings as well.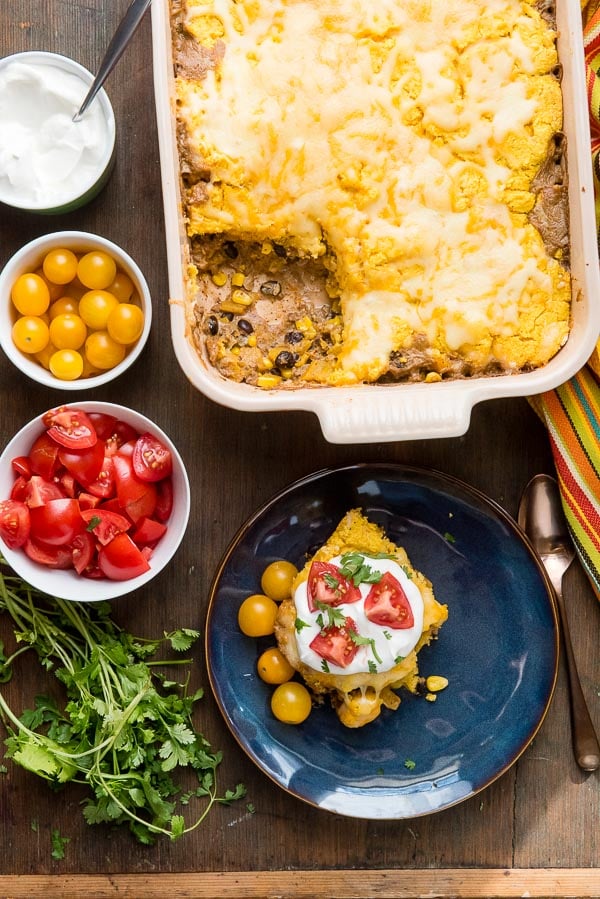 Slow Cooker Spicy Pumpkin Chicken Corn Chowder was probably the personal recipe that swung me around the corner to realize how fantastic pumpkin can be in savory recipe. Pumpkin has some great nutritional benefits but frankly unless you enjoy eating it, who cares. For those worried this Black Bean Pumpkin Tamale Pie may taste overly pumpkin-y, never fear. The recipe features small chopped pumpkin in the savory meat portion; they don't taste like pumpkin and the texture reads like potatoes to your senses.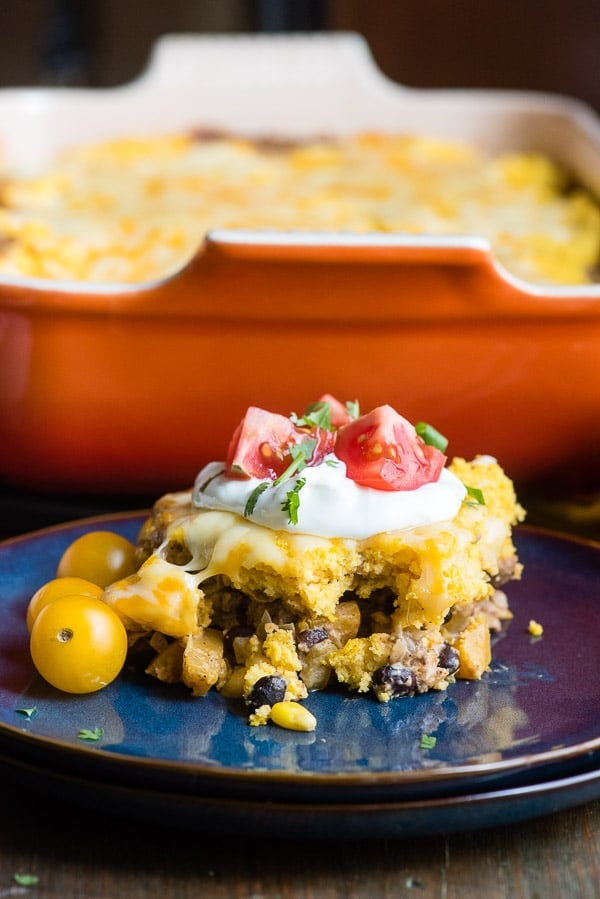 How to Prepare Fresh Pumpkin:
Prepping a pumpkin can take a bit of time. I prefer pie pumpkins which are smaller. Using a heavy large kitchen knife, cut the pumpkin in half and scrape out the inside fibers and seeds (be sure to save this to make the Roasted Pumpkin Seeds the best method ever; it has a trick that separates the goop from the seeds easily). Cut the pumpkin vertically into strips and remove the outer skin with a vegetable peeling. The soft meat of the pumpkin is easy to chop into small pieces.
How to Save Extra Pumpkin Puree:
I love making pumpkin puree from scratch but whether doing this or wondering how to use extra canned puree I have a trick I love. Spoon extra puree into the cavities of an empty ice tray and freeze. Cubes may be removed and stored in a freezer jar or freezer grade plastic bag for future use.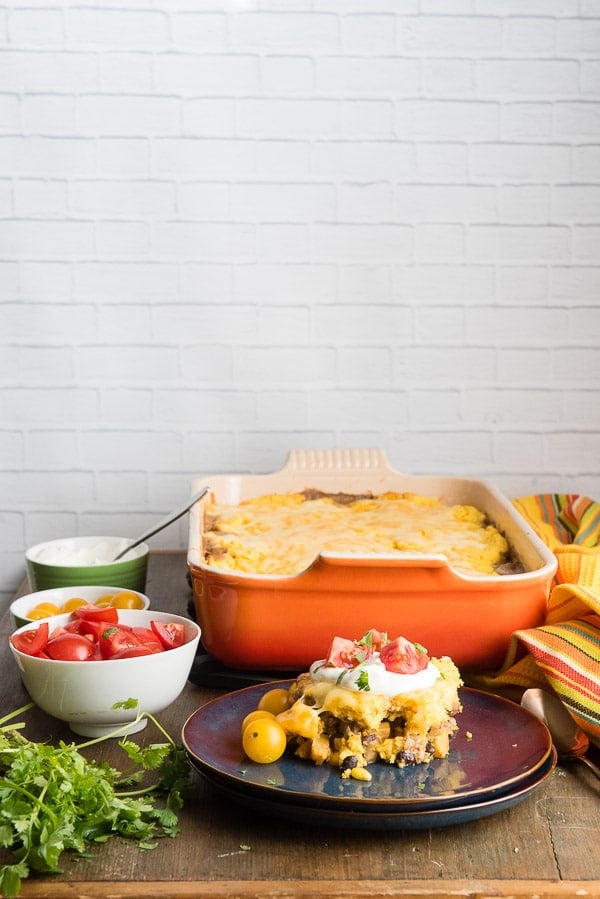 How to make Black Bean Pumpkin Tamale Pie: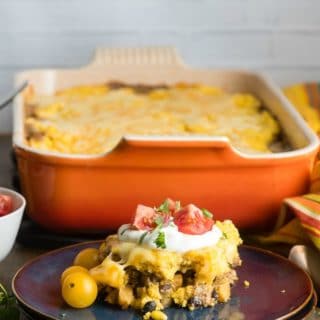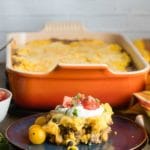 Black Bean Pumpkin Tamale Pie
A saucy meat layer of ground beef, black beans, corn, pumpkin with warming spices is covered with a cornbread layer and cheese, baked to a soul-warming comfort food result.
This recipe is made with a gluten-free cornbread layer. To adapt for gluten cornbread, refer to the Recipe Notes.
Ingredients
1

pound

Ground Beef

85% fat

3

cups

peeled and finely chopped Pumpkin

1

large

Yellow Onions

peeled and chopped

1

15-ounce can

Black Beans

drained and rinsed

1

cup

Corn Kernels

frozen or fresh

1

4-ounce can

Mild Green Chilies

drained

1/2

cup

Low-Sodium Chicken Broth

2

tablespoons

Apple Cider Vinegar

1

8-ounce package

Cream Cheese

1

teaspoon

Kosher Salt

2

teaspoons

Chili Powder

1

teaspoon

ground Cumin

1

12 1/2 ounce package

Gluten-Free Cornbread Mix

2

large

Eggs

lightly beaten

1/2

cup

Milk

1/2

cup

Pumpkin Puree

3/4

cup

shredded Sharp Cheddar Cheese

3/4

cup

shredded Monterey Jack Cheese
Instructions
Preheat oven to 400 degrees.

In a large skillet on medium-high heat begin to brown the ground beef breaking it into small pieces. After 3 to 4 minutes, add the onion and pumpkin. Fully brown the beef and allow onions and pumpkin to soften (5 additional minutes).

Add the black beans, corn and chilies. Stir to combine.

Add the chicken broth, vinegar, cream cheese, salt, cumin and chili powder. Stir to combine and transfer into a 13 inch by 9 inch baking pan.

In a large mixing bowl combine the cornbread mix, eggs, milk and pumpkin puree. Stir to fully combine. Spread the cornbread mixture on the top of the other ingredients in the baking pan.

Place in the oven for approximately 20 minutes until the cornbread begins to brown and a toothpick comes out clean (of the cornbread top only).

When baking is complete add the grated cheese on top and return to the oven until it melts (5 minutes maximum). Remove from oven and let cool 5 minutes before serving.

Serving: top with salsa, sour cream, guacamole, chopped fresh tomatoes, and/or chopped fresh cilantro
Recipe Notes
To use gluten cornbread mix:  use 8.5 ounce cornbread mix with 1/3 cup milk, 1 egg and 1/3 cup pumpkin puree.  Follow directions as written.
Adapted from Better Homes and Gardens
Nutrition Facts
Black Bean Pumpkin Tamale Pie
Amount Per Serving
Calories 188
Calories from Fat 117
% Daily Value*
Fat 13g20%
Cholesterol 71mg24%
Sodium 346mg14%
Potassium 271mg8%
Carbohydrates 6g2%
Protein 11g22%
Vitamin A 2745IU55%
Vitamin C 3.7mg4%
Calcium 127mg13%
Iron 1.5mg8%
* Percent Daily Values are based on a 2000 calorie diet.
This delicious recipe was originally published in October 2011 and has been updated in 2017.