Beer Bread is a relaxed, rustic quick bread recipe that's perfectly paired with hearty soups, chili or butter and jam. Both regular and gluten-free instructions.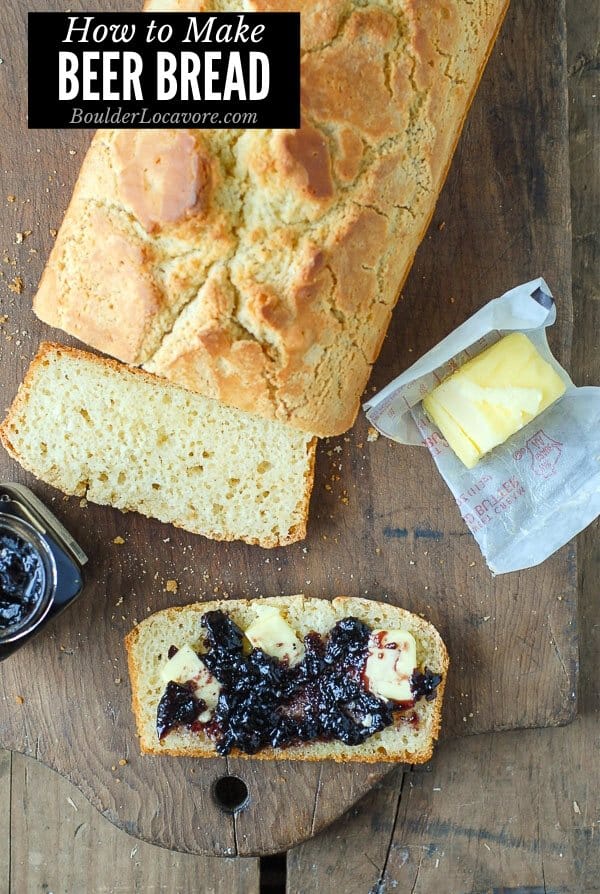 There is nothing to draw people to the kitchen more than freshly baked bread!
A quick bread with just a few wholesome ingredients is an easy way to serve fresh bread anytime.
The star ingredient of these recipes is beer!
What is Beer Bread?
It's a quick bread with the signature ingredient being beer.
'Quick Bread' means it does not have rise like traditional yeast breads and is fast to make and bake.
Both of these recipes make moist, dense bread with a craggy, crusty outside.
It has the light flavor of beer which lessens over the days following baking it.
Two versions are included and the difference between the is detailed below.
Beer Bread Ingredients
The main difference in these two recipes starts with the flour. The classic recipe uses self-rising flour.
The enhanced recipe uses all-purpose flour. Either regular all purpose flour or a gluten-free blend will work.
Additional ingredients are needed in the enhanced version to ensure proper rising of the bread.
Classic Beer Bread
Self Rising Flour
Granulated Sugar
Beer
Enhanced Beer Bread
Yeast
Beer (regular or gluten-free)
All Purpose Flour (regular or gluten-free measure-for-measure flour blend)
Baking Powder
Kosher Salt
Granulated Sugar
Eggs
Unsalted Butter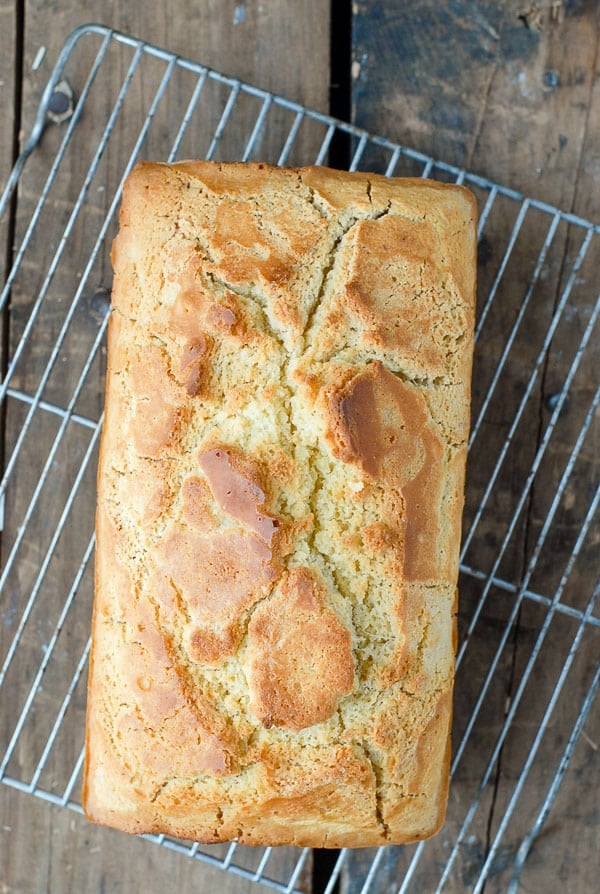 What Type of Beer to Use
Any type of beer can be used when making beer bread.
You will taste the beer flavor in the bread so selecting something that matches your flavor preference is key.
Regular or Gluten-Free Beer Can be used. If gluten-free be sure to use the Enhanced Beer Bread recipe and gluten-free flour.
Do NOT use non-alcoholic beer! The chemical reaction to make the bread work requires regular beer.
Classic Beer Bread
One of the first recipes I learned how to cook in college was Beer Bread.
It seemed a bit more like a stroke of magical chemistry than baking but I loved the dependability of the recipe and the ease of it.
Basically it was two ingredients: self-rising flour and a beer.
It baked to a crusty, soul-warming bread lightly flavored like beer.
That recipe is included however also includes granulated sugar which ensures the right chemical balance to create a delicious quick bread.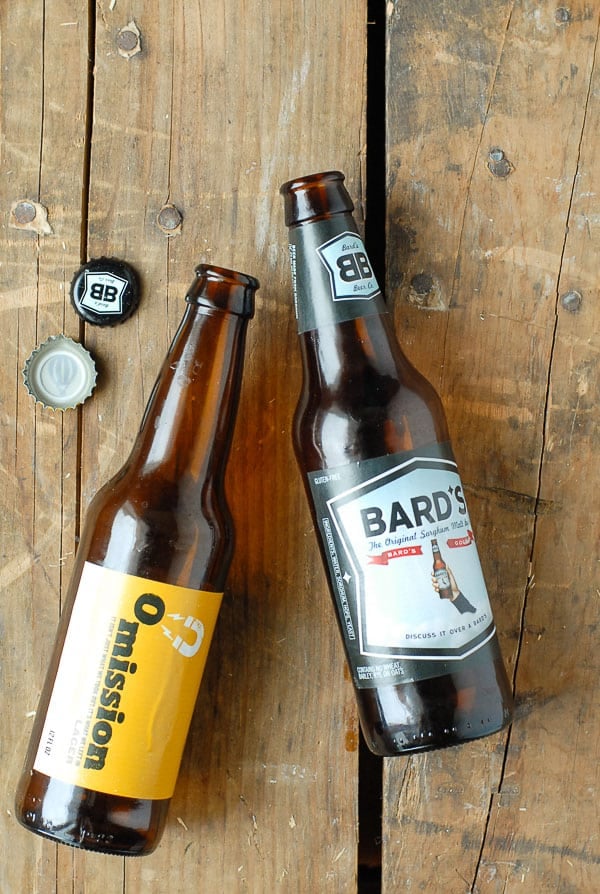 Enhanced Beer Bread
For the purpose of using all purpose flour AND to make an easy gluten-free recipe too, the second recipe adds more ingredients.
Adding some eggs, and yeast gives the modern version a lift while still maintaining the light beer flavor and denser structure.
It is one of the most simple comfort foods, toast with butter and jam, in the most perfect way.
Making Gluten-Free Beer Bread
The tricky thing about Classic Beer Bread for those gluten-free is self-rising flour.
It is not currently available in gluten-free form at stores.
I personally have not tried to make gluten-free self-rising flour to know if it will work in the Classic recipe.
Instead I recommend the Enhanced recipe which uses All-Purpose Flour.
My preferred GF flour blend is Bob's Red Mill 1-to-1 Gluten-Free Baking Flour.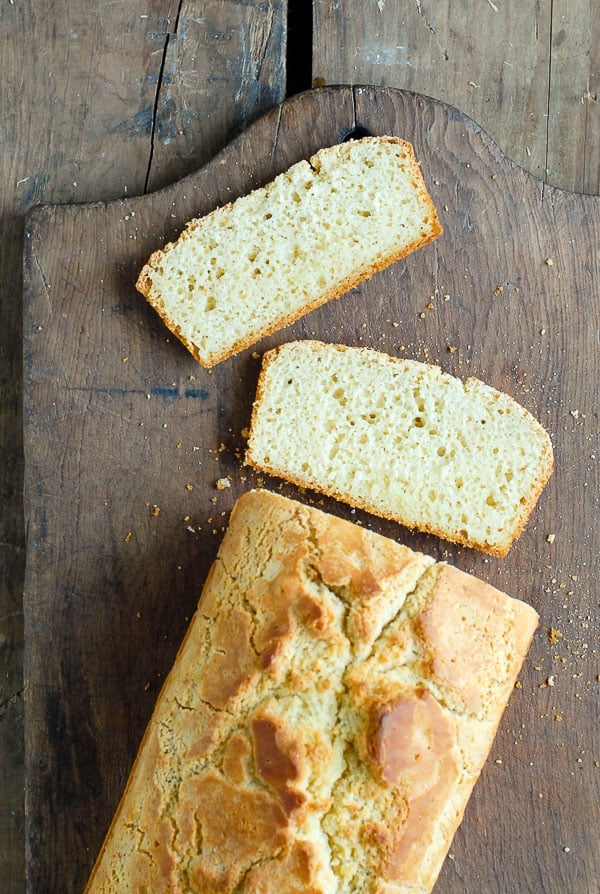 How to Make Beer Bread – Step-by-Step
The two recipes share some recipe steps. The main difference is combining the ingredients as detailed below.
STEP 1: Preheat the oven to 375 degrees F. Grease a 9-inch loaf pan with butter.
Classic Beer Bread
STEP 2: mix the three ingredients together in a mixing bowl. Spoon into the prepared loaf pan.
Enhanced Beer Bread
STEP 2: Combine the yeast and 1/4 cup warm beer in a small bowl. Set aside.
STEP 3: Sift together: flour, baking powder, salt and sugar into a large mixing bowl.
STEP 4: Stir in the eggs, followed by the yeast mixture and the remaining beer. Hand stir with a spoon to fully combine. Spoon into the prepared loaf pan.
Baking & Cooling – Both Recipes
Bake for 45-50 minutes (refer to recipe card below for details). Remove loaf and place on cooling rack to cool for 15 minutes before slicing.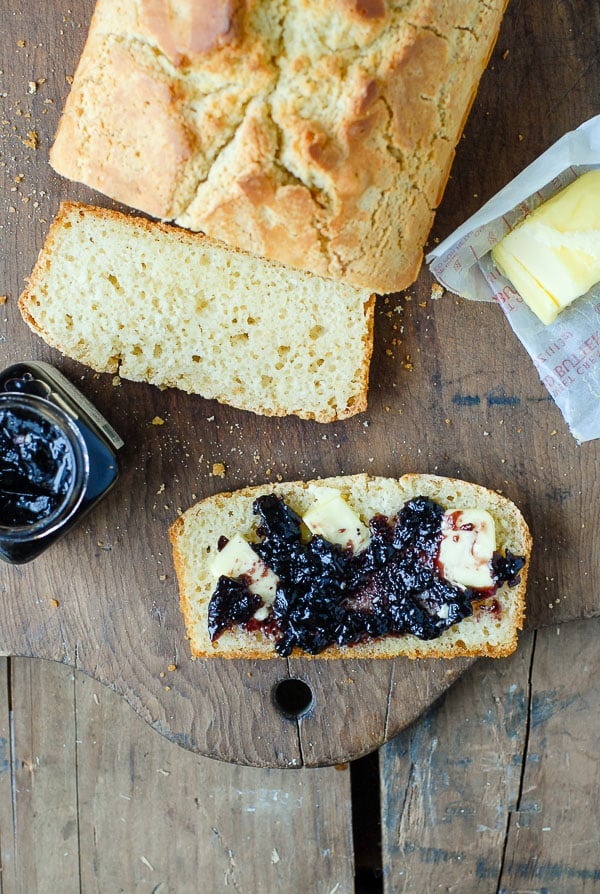 How to Store
Keeping the cooled bread out of the refrigerator keeps the crust crunchy however it won't last as long. Toasting is after it's chilled is recommended.
At Room Temperature
Wrap tightly in plastic wrap and store for 1-2 days. To store it longer refrigerate it.
In the Refrigerator
Wrap cooled loaf in plastic wrap and store in the refrigerator for up to 5 days.
In the Freezer
Though beer bread is best freshly baked it can be frozen.
Wrap tightly in plastic wrap then place in a freezer plastic bag OR wrap with foil. Freeze for up to 3 months.
Thaw in the refrigerator. Toast the bread before use.
How to Use Beer Bread
More Bread Recipes You'll Love
Did you make it? Please RATE THE RECIPE below!
Please SUBSCRIBE and FOLLOW ME on FACEBOOK , TWITTER , INSTAGRAM and PINTEREST !
Originally published: September 25, 2014