Hearty Chicken Soup is the BEST when made in the Instant Pot! It's easy, fast and soul-warming with little effort on your part.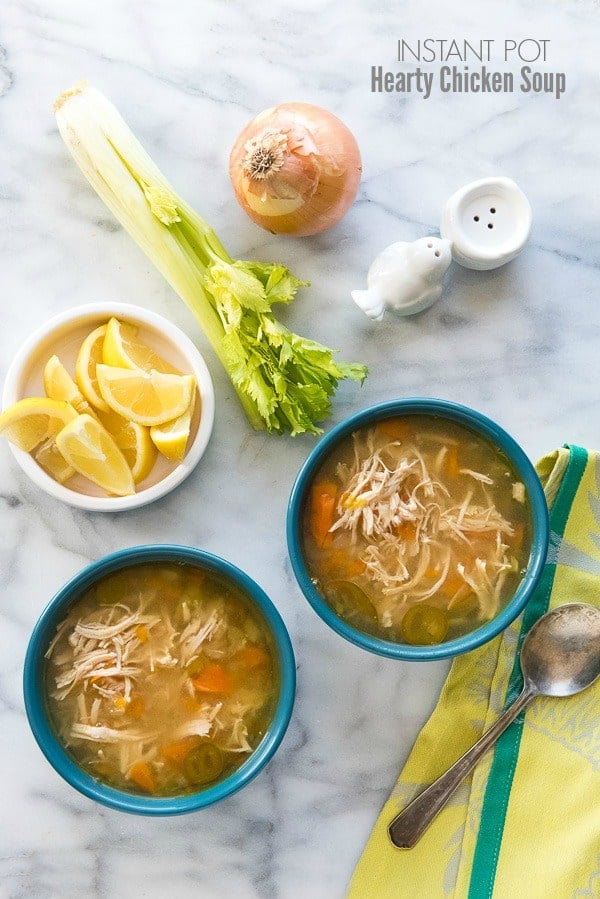 The past two weeks have been crazy in my world. Both of my kids have had birthdays (a week apart). My husband has been traveling. The kids each have had a virus (of course different viruses and at different times), as it seems most of their classmates have as well.
I thought I avoided whatever they each had, then after a night of only 5 hours sleep I woke up with that familiar feeling; I was getting sick! Ug. Who has time for that?!

Whenever anyone in my house begins to come down with a bug I make chicken soup. Does that make me sound like a Grandmother? Possibly, but there are studies done by reputable medical establishments that lend credence to consumption of chicken soup helping a cold!
When I'm getting sick myself the last thing I want to do is cook. If I was more plan-ful I'd always keep some homemade chicken soup in the freezer for such an occasion.
But guess what? I now have an INSTANT POT which is just as good if not better. I was able to whip up a batch of Instant Pot Hearty Chicken Soup even while feeling miserable (it was so easy).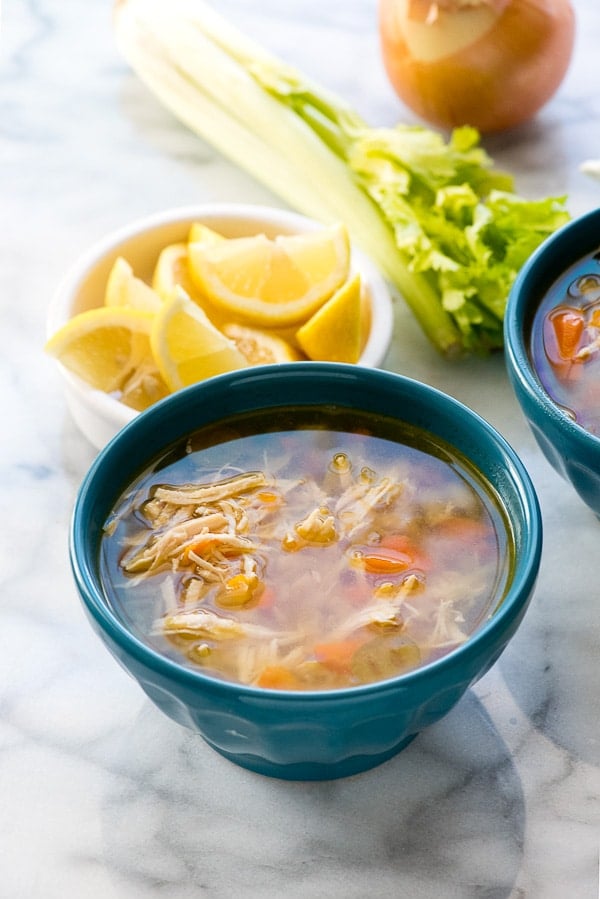 The Benefits of Hearty Chicken Soup
I always have the ingredients for a basic soup on hand in my kitchen. The holy trinity of vegetables, onion, carrots and celery, is what you need to add dimension to chicken stock in a soup.
When I'm making my chicken soup for a cold I add lots of garlic, ginger, and apple cider vinegar too which have great healing qualities to them. Jalapeno chile peppers too (I think getting a sweat going is a good thing).
I have a conventional recipe I make, War On A Cold Homemade Chicken Soup, which I make a bit differently each time. For that recipe, I use a whole fryer. For this Instant Pot Hearty Chicken Soup I use boneless chicken breasts.
Timesaving TIP alert! They cook with the soup and then are removed, shredded (I have a fantastic trick to shred chicken in about 30 seconds with no mess), returned to the pot.
Another trick I use, especially when I'm under the weather, is instead of hand chopping or slicing all the vegetables I use a 3-cup mini electric chopper.
I throw everything that is going to be cooked together in at the same time; in this case, all the vegetables (I sliced the jalapeno but you can put that in there too). Give a whirl and with no effort, all your vegetables are prepared.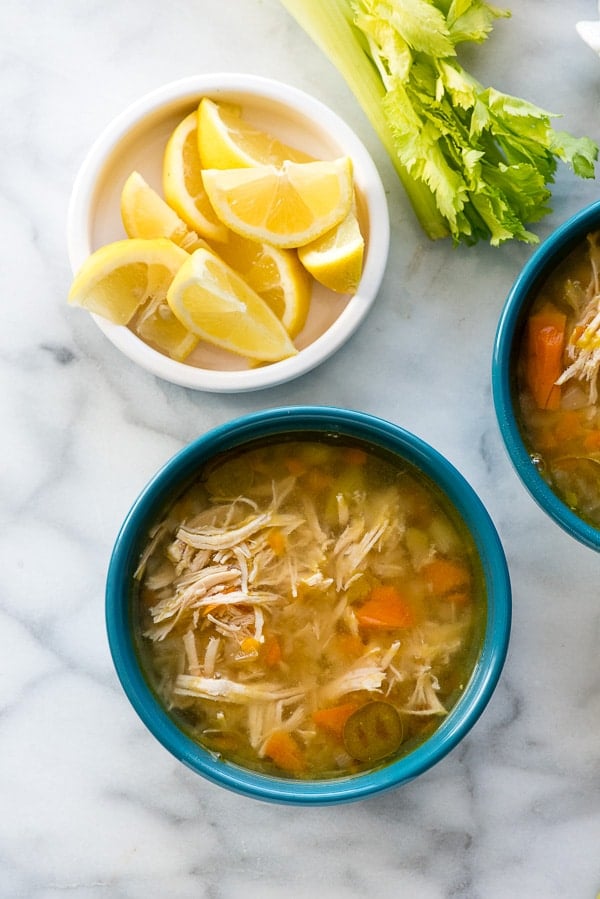 How to make Instant Pot Hearty Chicken Soup
I was able to prepare everything and sauté the vegetables in less than 5 minutes. I set the soup up, using the SOUP setting, lay down and within 30 minutes it was ready and I kept it warm in the Instant Pot all day.
You don't have to be sick to enjoy this hearty chicken soup certainly. You can also change up the flavors easily by adding herbs, putting in some potatoes at the end (or noodles or rice) and cooking for a few extra minutes.
It's a perfect base soup and very comforting on its own too.
You'll love these Instant Pot recipes too:  Instant Pot Cuban Beef Stew and Instant Pot Corned Beef Brisket!