Coconut Curry Turkey Soup with rice is a soul-warming soup that's easy to make and irresistibly good! It will be gone before you can get a bowl for yourself.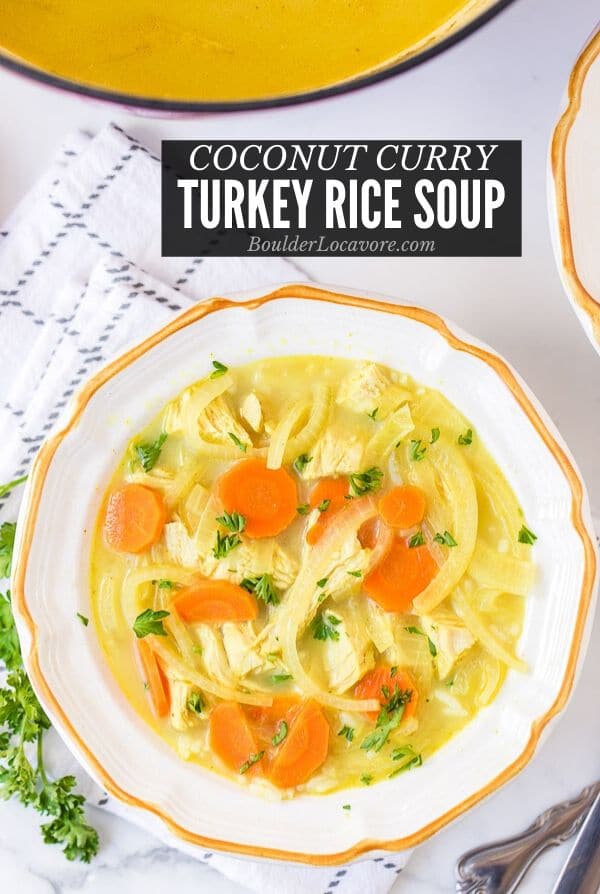 Coconut Curry Turkey Rice Soup is a simple soup.
Easy to prepare and quick to get on the table. It's comfort food that's exciting, out of the ordinary.
One warning however! Be sure to get a bowl of this homemade turkey soup before turning it over to family and friends.
My kids devoured almost the entire batch before my husband and I could dish a meager bowl for ourselves!
Coconut Curry Turkey Soup
One of my favorite curry recipes is one I learned when living in Singapore.
It combines the dry curry powder with some coconut milk to form a dense paste. The mixture cooks for about 10 minutes before starting the rest of the curry dish.
This allows the flavors to blend and become intoxicatingly aromatic, turning one's kitchen into an exotic paradise.
It delivers big, deep flavor and is perfect in this turkey soup recipe.
Turkey Soup Ingredients
Unsalted Butter
Yellow Onion
Coconut milk, unsweetened
Granulated Sugar
Turkey or Chicken Stock (homemade or store bought)
Carrots
cooked Turkey
Lemongrass powder (optional)
prepared Rice (white, brown, wild rice or a rice blend all work well)
Salt to taste
Ingredients Notes
Turkey
This recipe is a perfect turkey leftovers recipe. It's easy to make over a lazy holiday and a wholesome satisfying recipe.
If you do not have leftover turkey, no worries. Buy turkey from your grocery store deli where they will slice it for you.
Request they cut the turkey ¼-inch thick. This will provide a nice size when chopping the turkey for the soup.
Also, of neither option is available, rotisserie chicken is a great substitute.
Madras Curry Powder
Curry powders are a blend of different spices.
Madras Curry Powder shares many of the same spcies as regular curry powder. It is also 'hotter' or spicier due to containing some spicy chilies.
Madras curry powder can be harder to find. Regular curry powder can be substituted in this turkey soup recipe.
It will have the earthy curry flavor; it just won't be as spicy.
Madras Curry Powder can be found on Amazon.com if you cannot find it locally.
Lemongrass Powder
Lemongrass has a bright, almost citrus flavor. Adding a bit of the lemongrass powder to the soup gives a slight tang or familiar flavor found in many Asian dishes.
Lemongrass powder can usually be found in Asian supermarkets or spice shops. Also, on Amazon.com.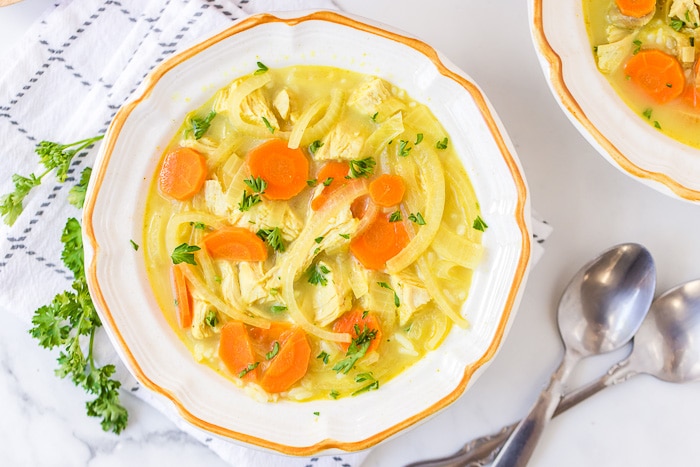 Why Add Granulated Sugar?
Adding just a smidge of sugar to a coconut curry really allows the curry flavors to pop!
It does not make the soup sweet. It just enhances the savory flavors by providing a contrasting sweetness.
Turkey Stock
If possible, try to make stock with your turkey carcass after a holiday. It's easy to make and the stock can be frozen too.
Here are two turkey stock recipes to make it yourself:
Chicken stock or broth may also be substituted.
Canned Coconut Milk vs Coconut Milk in a Carton
The main difference between the two types of coconut milk is how diluted they are with water.
Coconut milk in a carton has a much higher water content so the flavor will be lighter than canned coconut milk.
Coconut milk in a carton can be substituted if needed.
For the most robust coconut flavor use canned unsweetened coconut milk.
How to Make this Turkey Soup – Step-by-Step
STEP 1: Melt the butter in a large, heavy stock pot or Dutch oven; add the onions (photo 1). Saute until they begin to become translucent (photo 2).
STEP 2: Add the curry powder (photo 3) and coconut milk (photo 4). Heat on medium-high heat, stirring often, until the mixture becomes aromatic (5-10 minutes).
When you smell the curry aroma proceed to the next step (photo 5).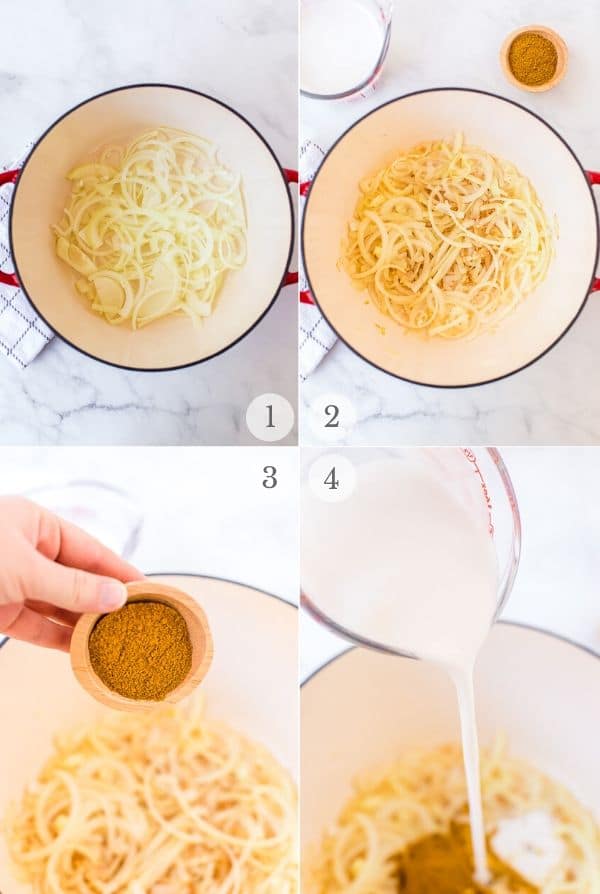 STEP 3: Add the broth, chopped turkey, carrots. sugar and lemongrass powder (photos 6-9). Bring to a boil, reduce heat and simmer for 30 minutes or until carrots are soft.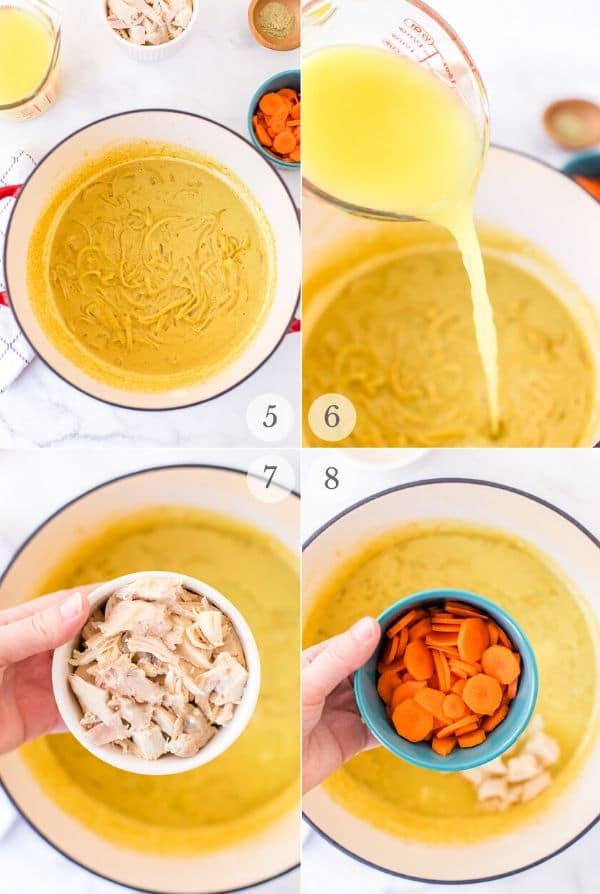 STEP 4: Add the cooked rice (photo 10) and allow to cook 5 additional minutes. Serve hot.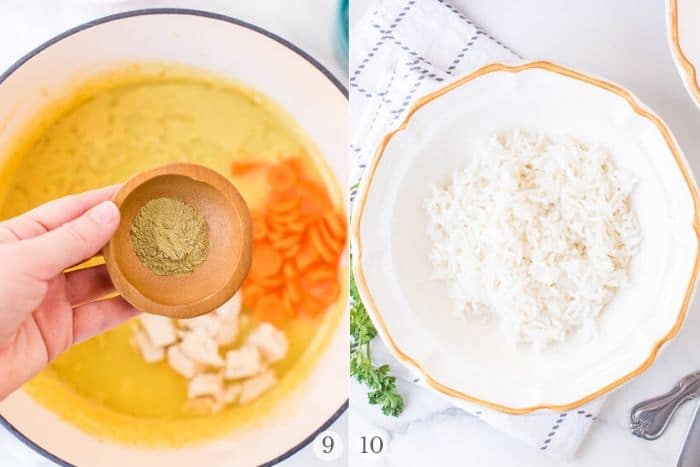 More Soup Recipes You'll Love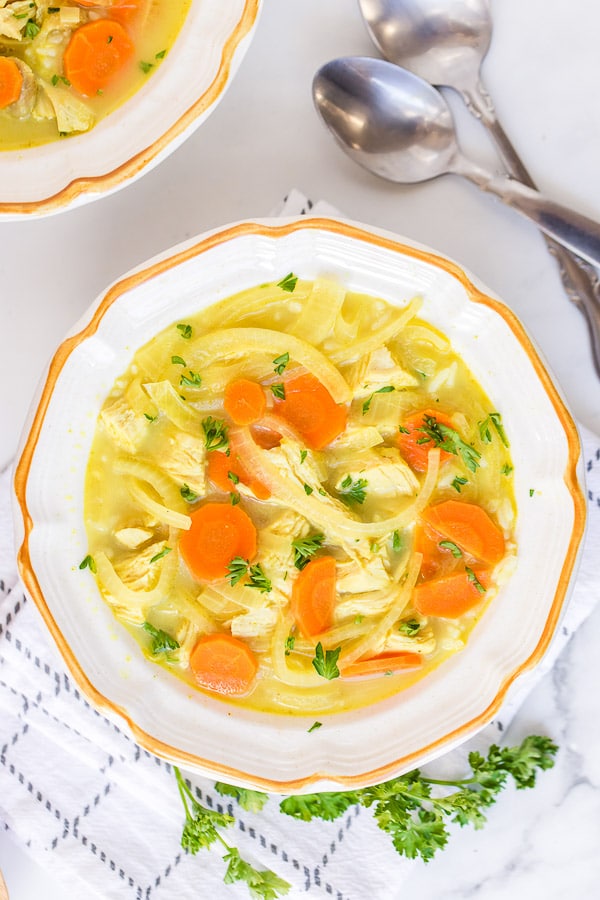 Did you make it? Please RATE THE RECIPE below!
Please SUBSCRIBE and FOLLOW ME on FACEBOOK , TWITTER , INSTAGRAM and PINTEREST !
Originally published: December 4, 2013
Coconut Curry Turkey Soup is a warming leftovers turkey soup!