For a quick and easy pasta dish with lemony, light flavor this Ricotta and Spinach Pasta is just the ticket. Any pasta shape can be used. The ricotta pasta sauce is absolutely delicious!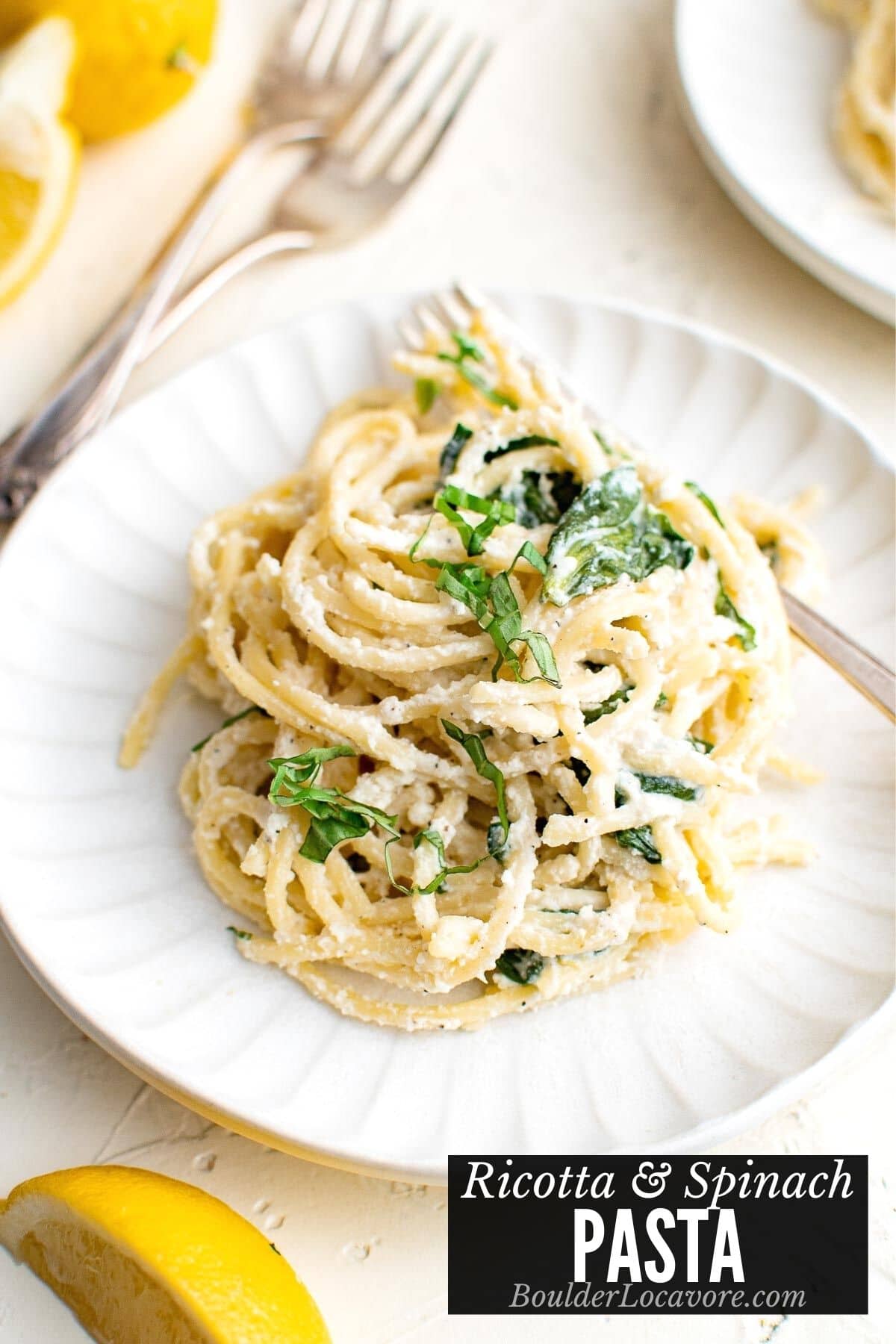 When you aren't feeling traditional spaghetti sauce, this cheesy Ricotta and Spinach Pasta is the perfect pasta solution.
The flavors are light, perfect for spring and summer. It's bursting with lemon flavor.
It's fast enough for weeknights and like Spaghetti Aglio e Olio, it's a great change up from regular pasta dishes.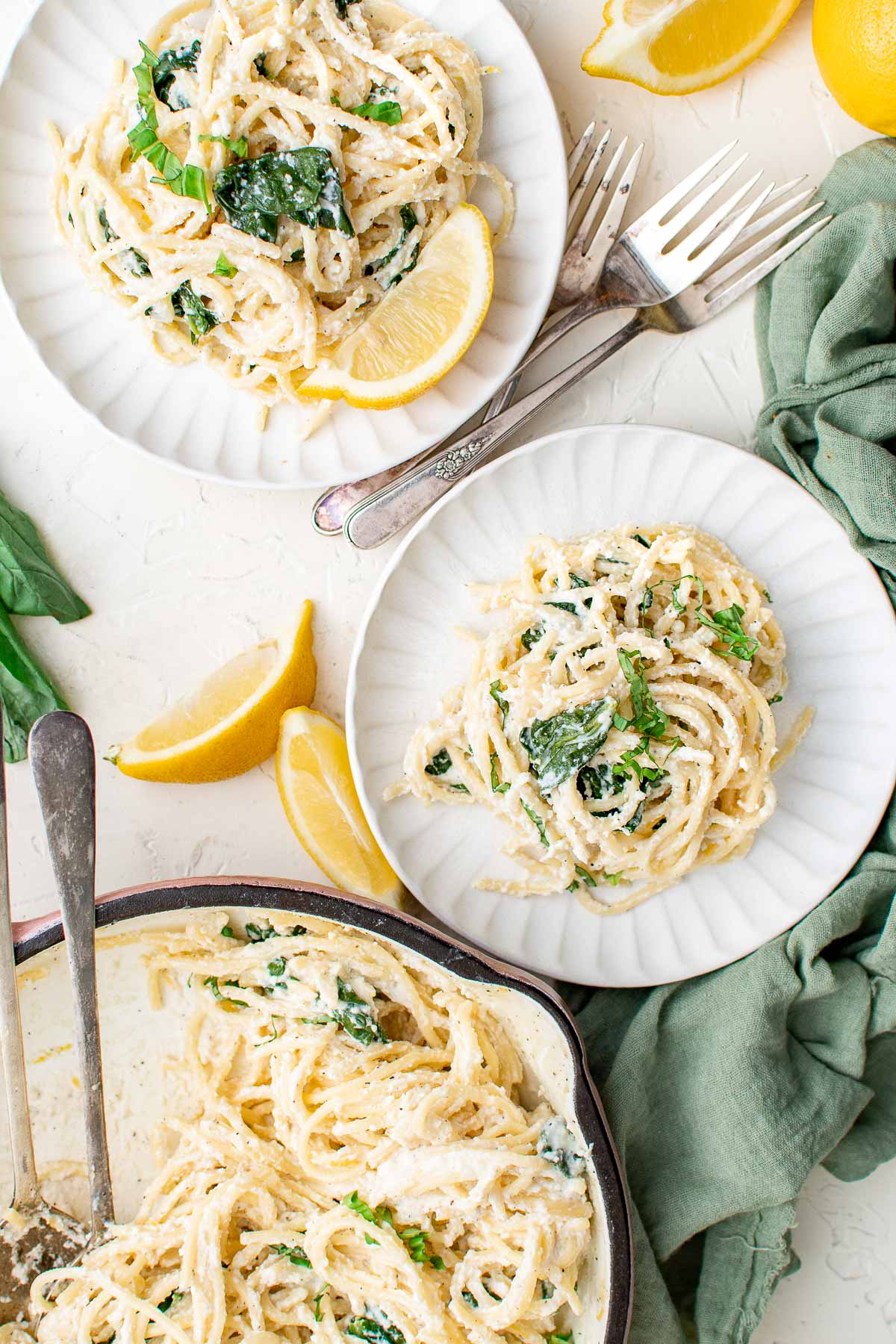 Easy Ricotta and Spinach Pasta
There are several things that make this pasta dish a winner.
Any pasta shape can be used. Pick your favorite or make it different any time.
Regular or gluten-free pasta work great! We've tried both. More than once.
It's fast to make. It takes the time required for making the pasta noodles; 15-20 minutes-ish (depending on your pasta and time to bring the pasta water to a boil).
Lighter flavors. This isn't a heave pasta dish. The lighter flavored cheeses make it satisfying without being heavy handed on the flavors.
Creamy without being too rich. Some half and half keeps the sauce creamy but it's not heavy or overly rich.
Lemony flavor. Fresh lemon zest gives a bright flavor to the ricotta sauce. More can be added at the end too.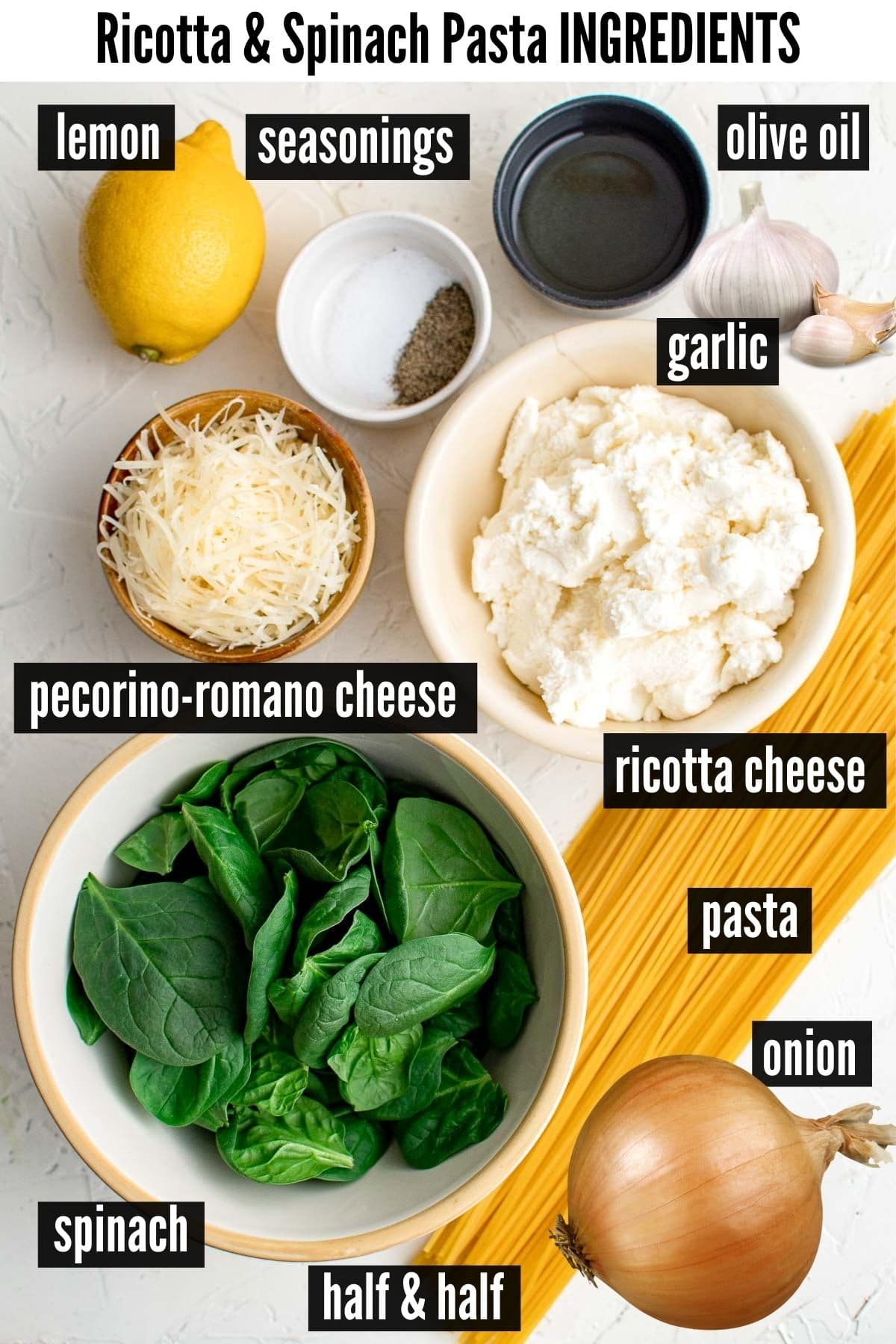 Recipe Ingredients + Notes
Uncooked Pasta. You'll cook the pasta and make the sauce at the same time. This makes sure everything comes out hot at the same time.
Any shape of pasta can be used. It's great with spaghetti or pasta like penne or rotini that get coated with the sauce.
Regular or gluten-free pasta can be used. Our favorite gluten-free brand, for taste and structure, is Tinkyada.
Olive Oil. Used for sautéing the onions and garlic. Use a mild flavored olive oil.
Yellow Onion. Half a large onion is used. A white or red onion can be substituted. Or try a sweeter variety like Walla Walla.
Garlic. One clove of garlic pressed or grated.
Baby Spinach. Fresh baby spinach is used in this dish. On 5-ounce container (a standard size) or about 3 cups. Wash and chop the spinach.
We opted for fresh spinach instead of frozen spinach in this recipe.
Lemon: the juice and the zest. Rinse and dry a large lemon. Zest the lemon first then extract the juice. I like using a handheld juicer.
Ricotta Cheese. The star of the sauce! Use either whole milk or skim ricotta.
Pecorino-Romano or Parmesan cheese. These hard salty Italian cheeses are delicious and add great flavor to the creamy ricotta sauce. Pick either one.
Half and Half. This keeps the sauce creamy without making it too heavy.
Nutmeg. Just a smidge of nutmeg adds some great flavor to the light-flavored sauce.
Salt and pepper. To taste at the end.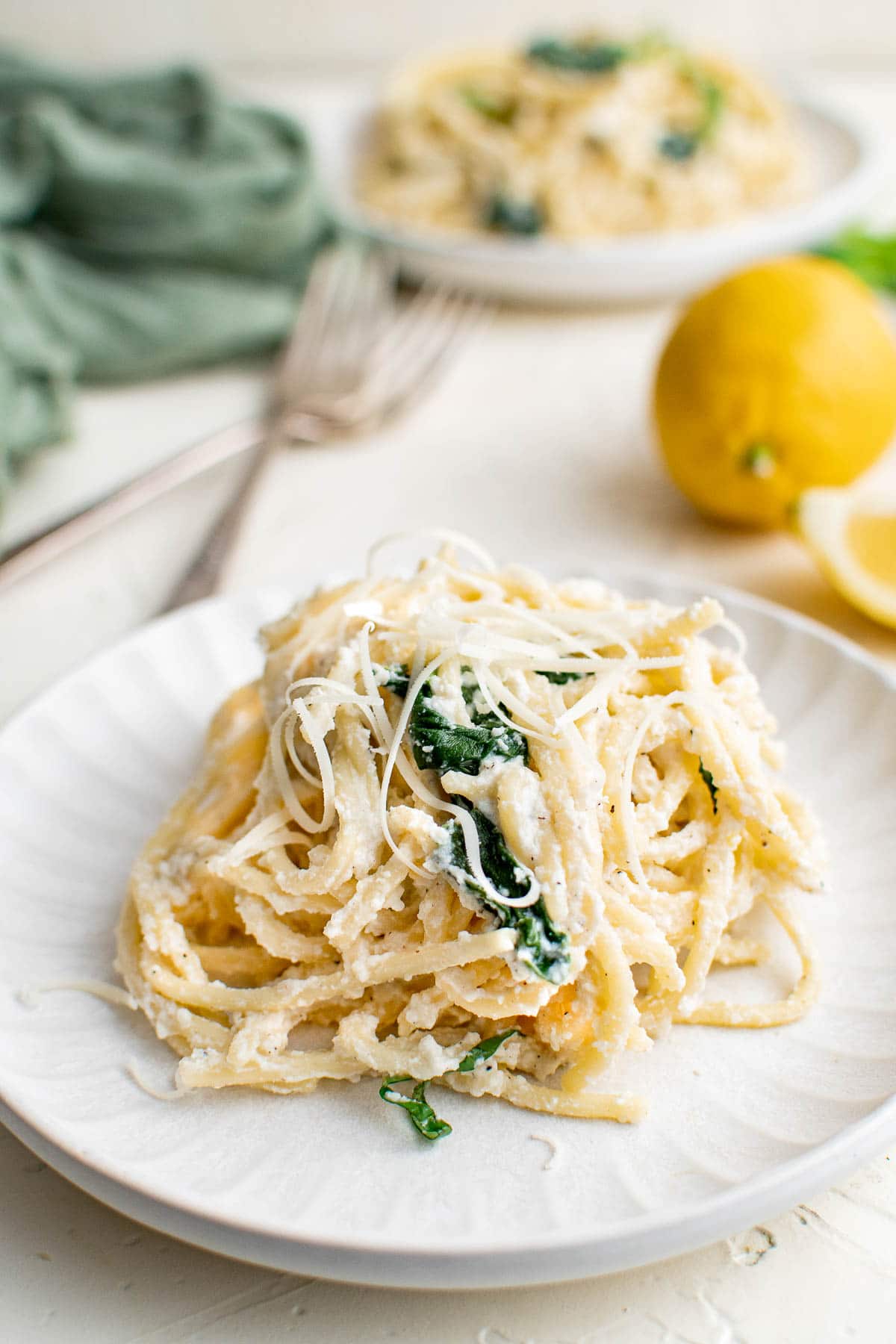 How to Make it – Step-by-Step
STEP 1. Prepare the pasta
In a large pot, prepare the pasta per package instructions until it is cooked al dente..
STEP 2. Make the ricotta sauce
While the pasta is cooking….
Heat the olive oil in a large skillet over medium heat.
Sauté the onions until translucent. Add the garlic and sauté an extra minute.
Add the spinach, lemon juice and zest to the skillet. Cook to wilt the spinach.
Add the ricotta and Pecorino-Romano cheeses, half and half and nutmeg. Stir to melt the cheese and make smooth sauce.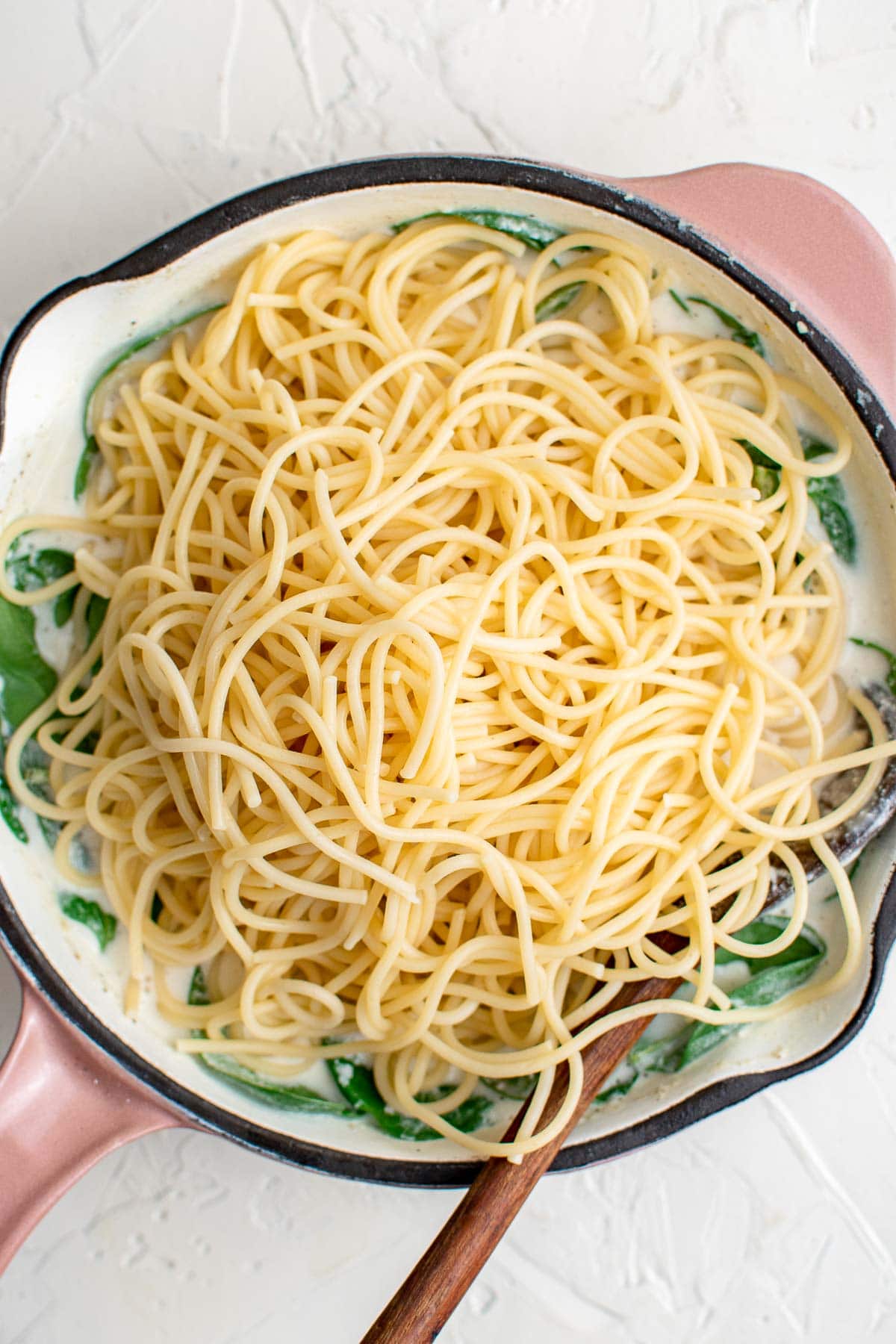 STEP 3. Add the pasta and toss together
When the pasta is done cooking, rinse and drain as directed on the package.
Add to the skillet with the ricotta mixture and toss to fully combine.
Salt and pepper to taste.
For a dash of spicy heat add some red pepper flakes on top. Shredded basil can also be used.
If a stronger lemon flavor is desired, stir in additional lemon zest.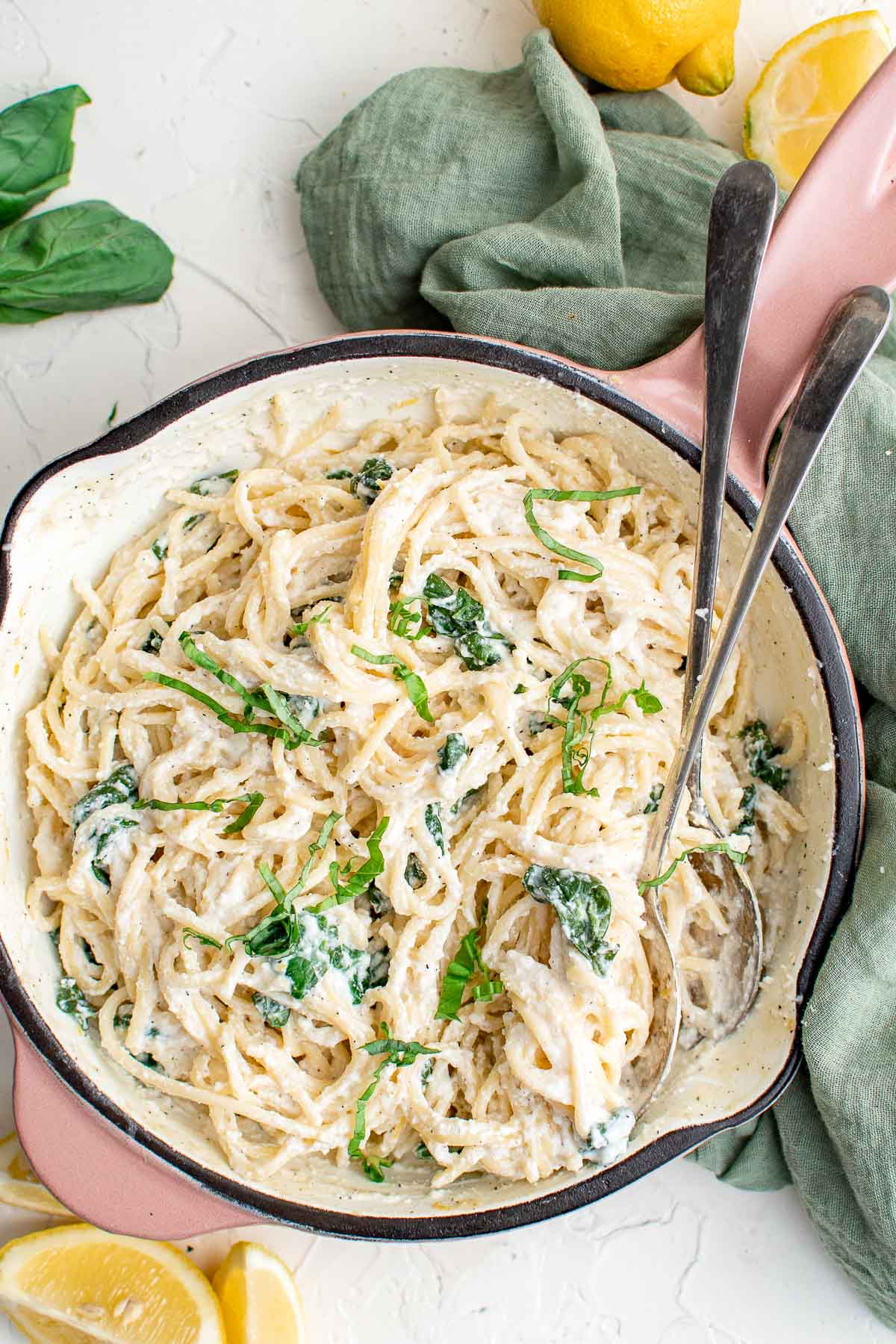 Pro Tips
Add the lemon juice and cheese separately. The reason the lemon juice is added with the spinach instead of the ricotta cheese is so the acid won't curdle the cheese.
If added together the lemon juice can 'break' the cheese causing it be become grainy.
Zest the lemon before juicing it. Fresh lemon ingredients are what give the pasta it's bright flavor. Rinse the lemon, dry it then zest it. THEN juice it. Here is my favorite zester and handheld juicer.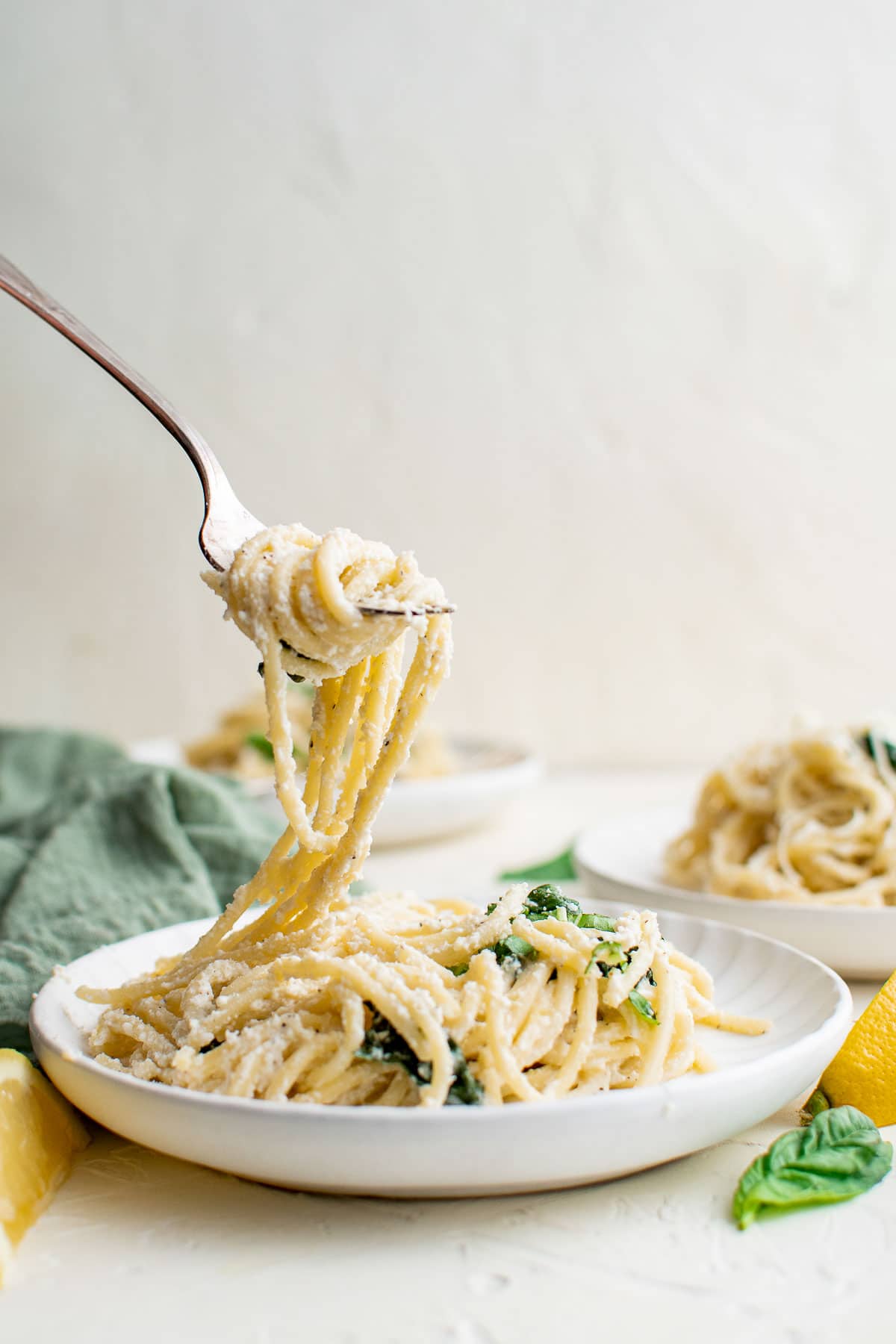 What to serve with spinach ricotta pasta
This light ricotta pasta dish is great just on its own.
But if you want a larger meal, there are some other dishes to pair with it….
Storing Leftovers
The pasta is best eaten with first made.
Leftovers can be stored in an airtight container in the refrigerator for 2-3 days after and reheated.
It won't have exactly the same consistency as when it is freshly made but will still taste good!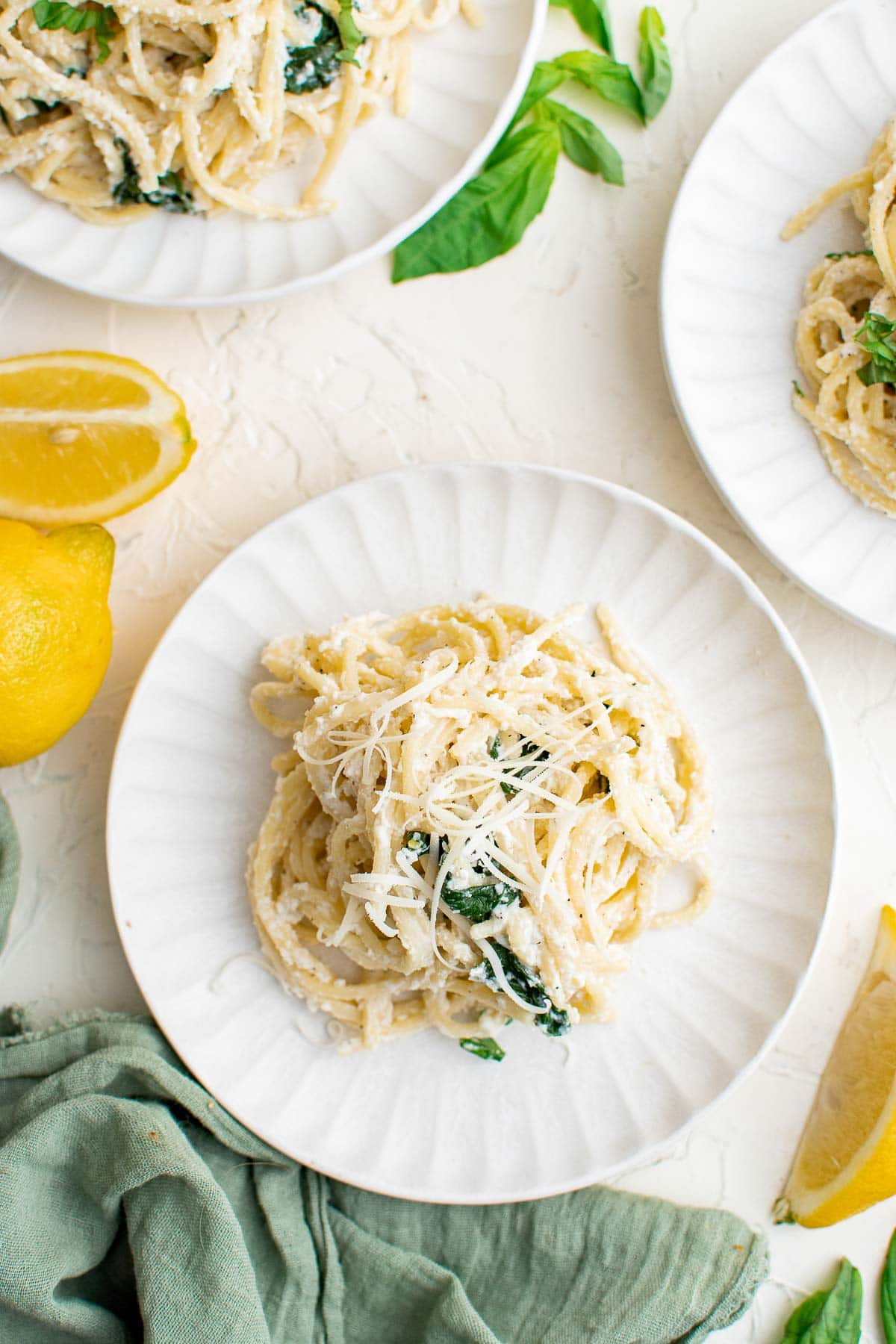 More Recipes You'll Love!
Did you make it? Please RATE THE RECIPE below!
Please
SUBSCRIBE
and
FOLLOW ME
on
FACEBOOK
,
TWITTER
,
INSTAGRAM
and
PINTEREST
!