Spaghetti Aglio e Olio is authentic Italian pasta with a kick from zesty red peppers. A simple garlic and olive oil sauce along with bright and tangy tomatoes take this spaghetti dinner to the next level!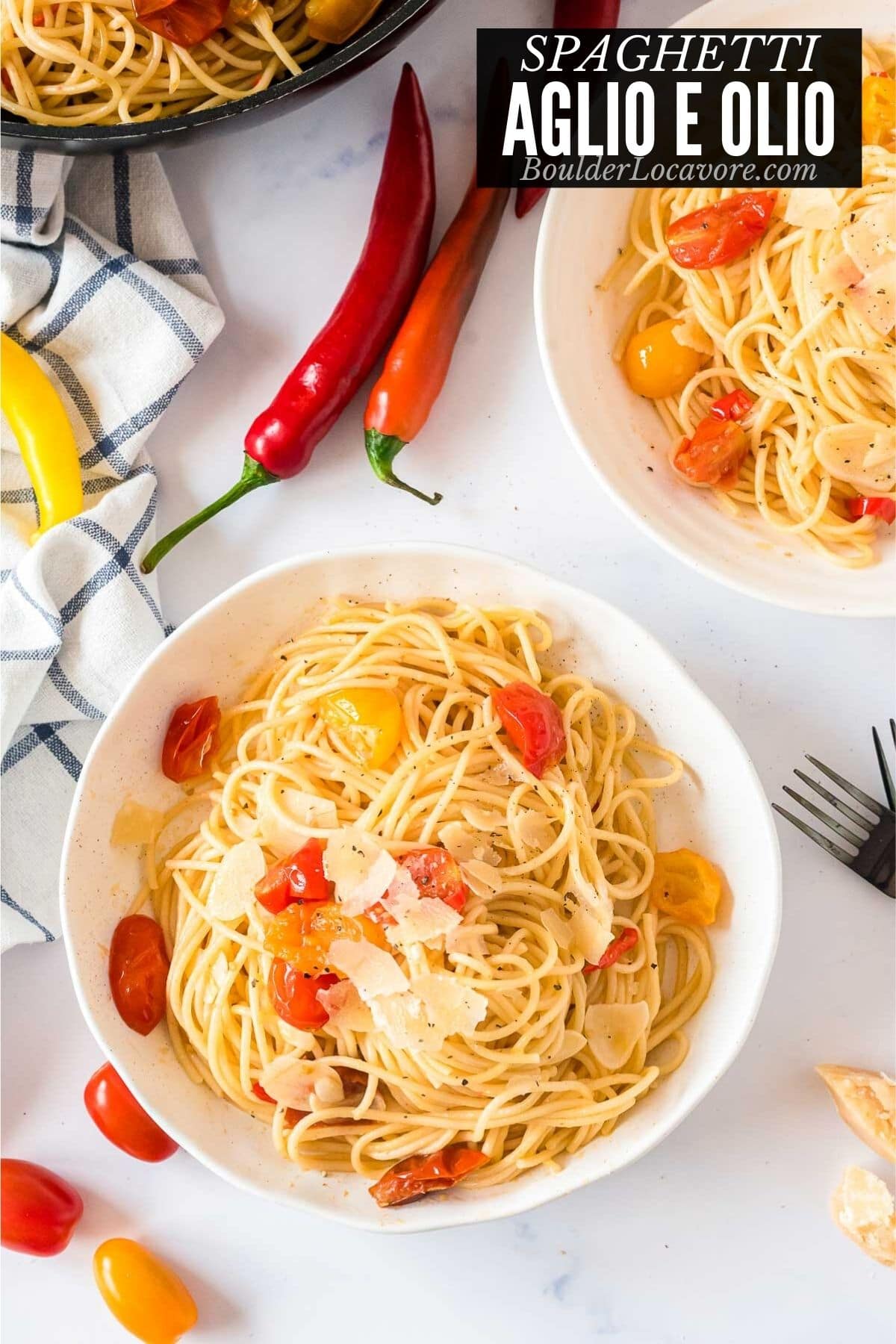 With just a few quality ingredients, you can make this gorgeous, fragrant authentic Italian meal!
It's sure to become a staple of your weeknight (or date night!) menu.
Serve it on its own, or with a side salad. Or create an entire Italian-inspired dinner adding Pasta e Fagioli and Sicilian Cauliflower Salad!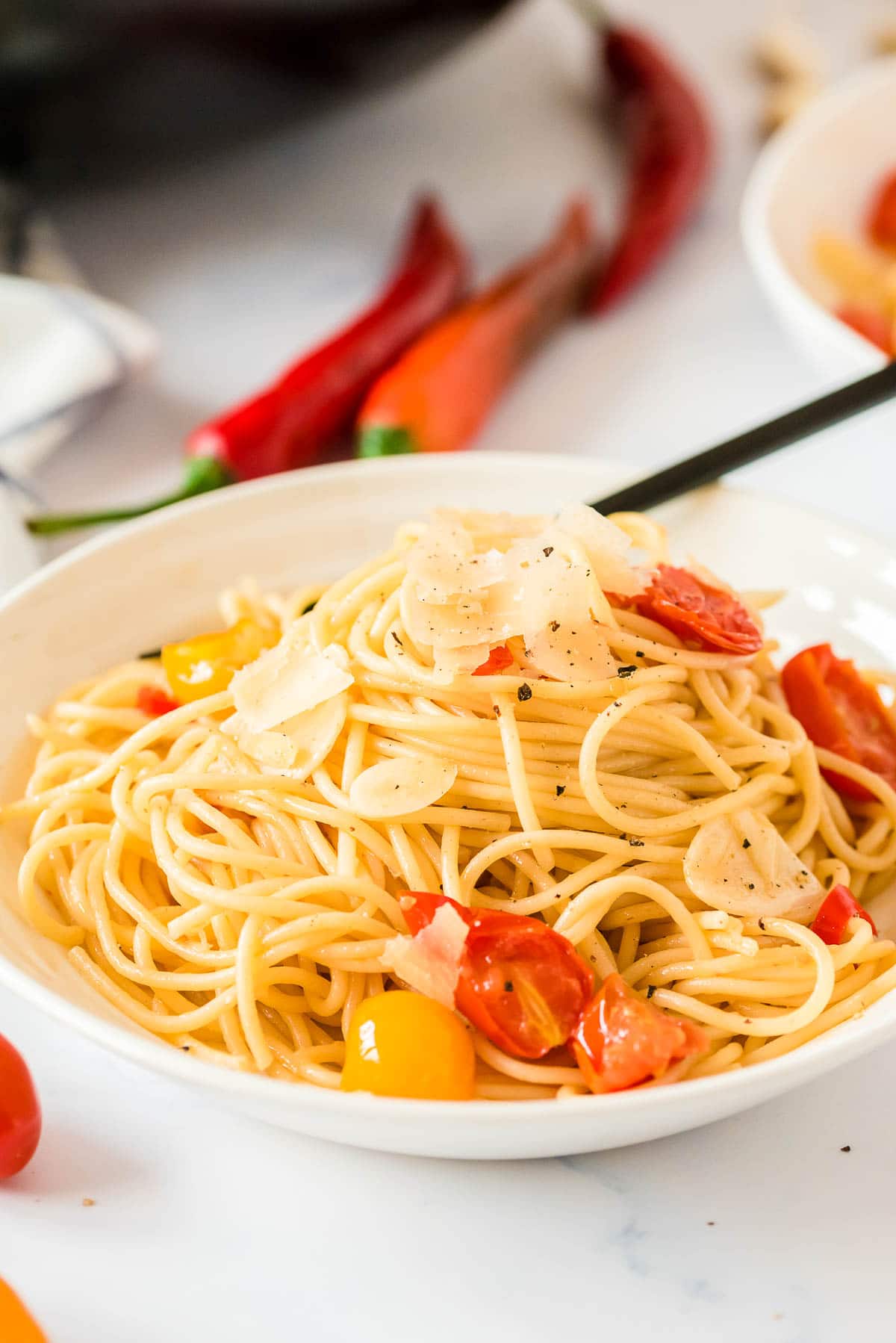 What is Spaghetti Aglio e Olio?
This authentic Italian dish from Naples is simplicity at its finest! It's easy and fast to make.
Translated from Italian 'Aglio e Olio' means 'garlic and olive oil'.
Garlic is sautéed in extra virgin olive oil, then tossed with cooked spaghetti. It's seasoned with pepperoncini (peperoncino in Italian) or red pepper flakes.
It's so easy but the flavors are delicious beyond belief.
I got this recipe from a friend in Italy, who also adds fresh cherry tomatoes to her Spaghetti Aglio e Olio.
They are not used in most traditional versions of this dish. However they add a beautiful color and a burst of sweetness that complements the spiciness of the garlic and peppers.
The recipe can be made with regular or gluten free pasta and is naturally vegetarian too.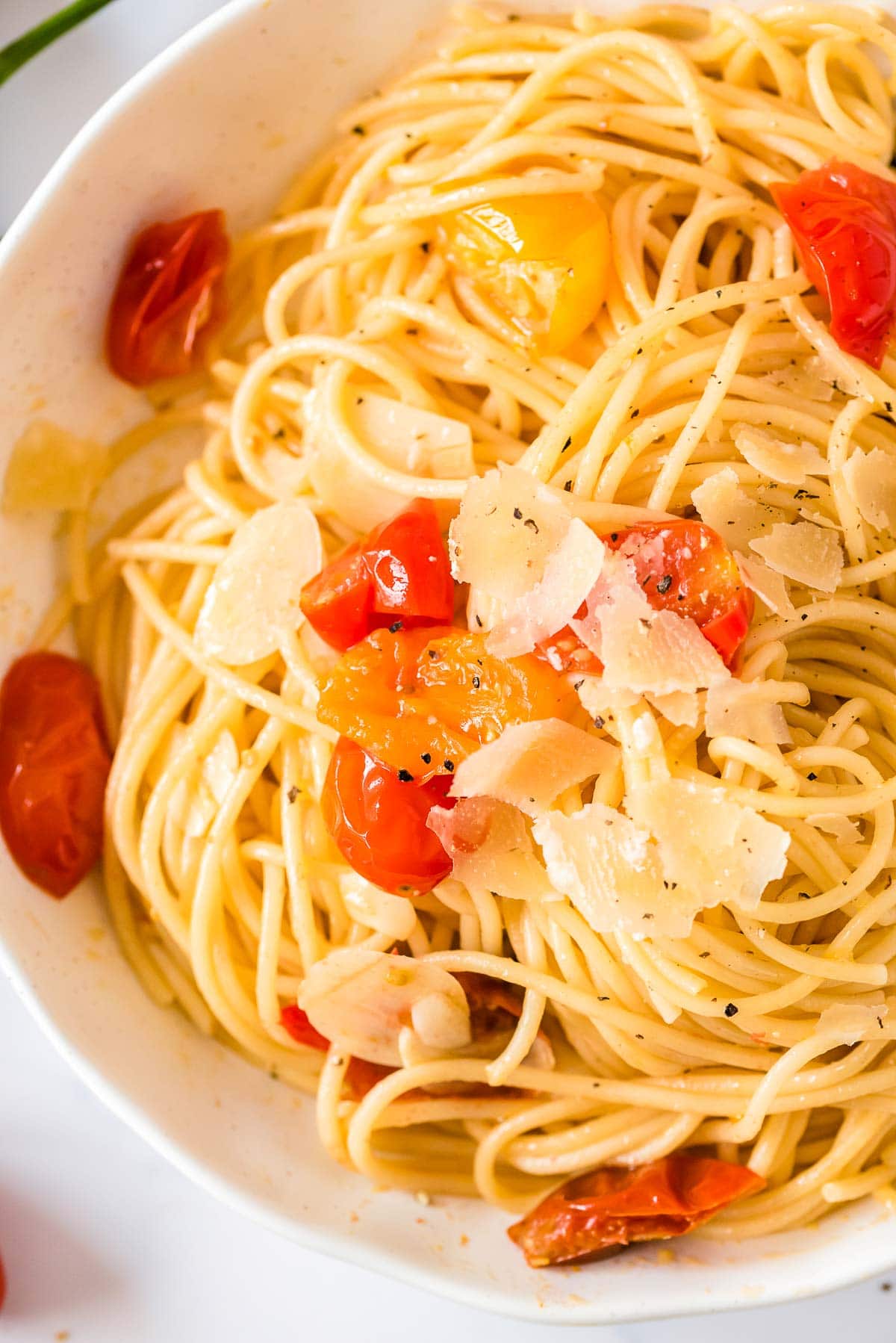 Recipe Ingredients + Notes
Here's everything you need to make Spaghetti Aglio e Olio.
Spaghetti. This recipe is delicious with either regular (wheat) pasta or gluten free noodles. Gluten free spaghetti noodles will release a bit more starch than regular pasta making the sauce a bit creamier.
Olive oil. The oil is a prominent flavor in the dish. Use a good quality extra virgin olive oil for best taste.
Garlic. You'll need five whole cloves, and sliced thinly with a sharp knife.
Fresh pepperoncini OR red pepper flakes. Fresh pepperoncini peppers are used in the traditional version of this recipe. Unfortunately they can be difficult to find in the U.S.!
Red pepper flakes offer an easy and flavorful substitution. If you use the whole pepperoncini, slice it thinly first (see photos A and B below).
Cherry tomatoes. Feel free to omit the tomatoes to make a "classic" version of the spaghetti (or if you just don't love tomatoes!).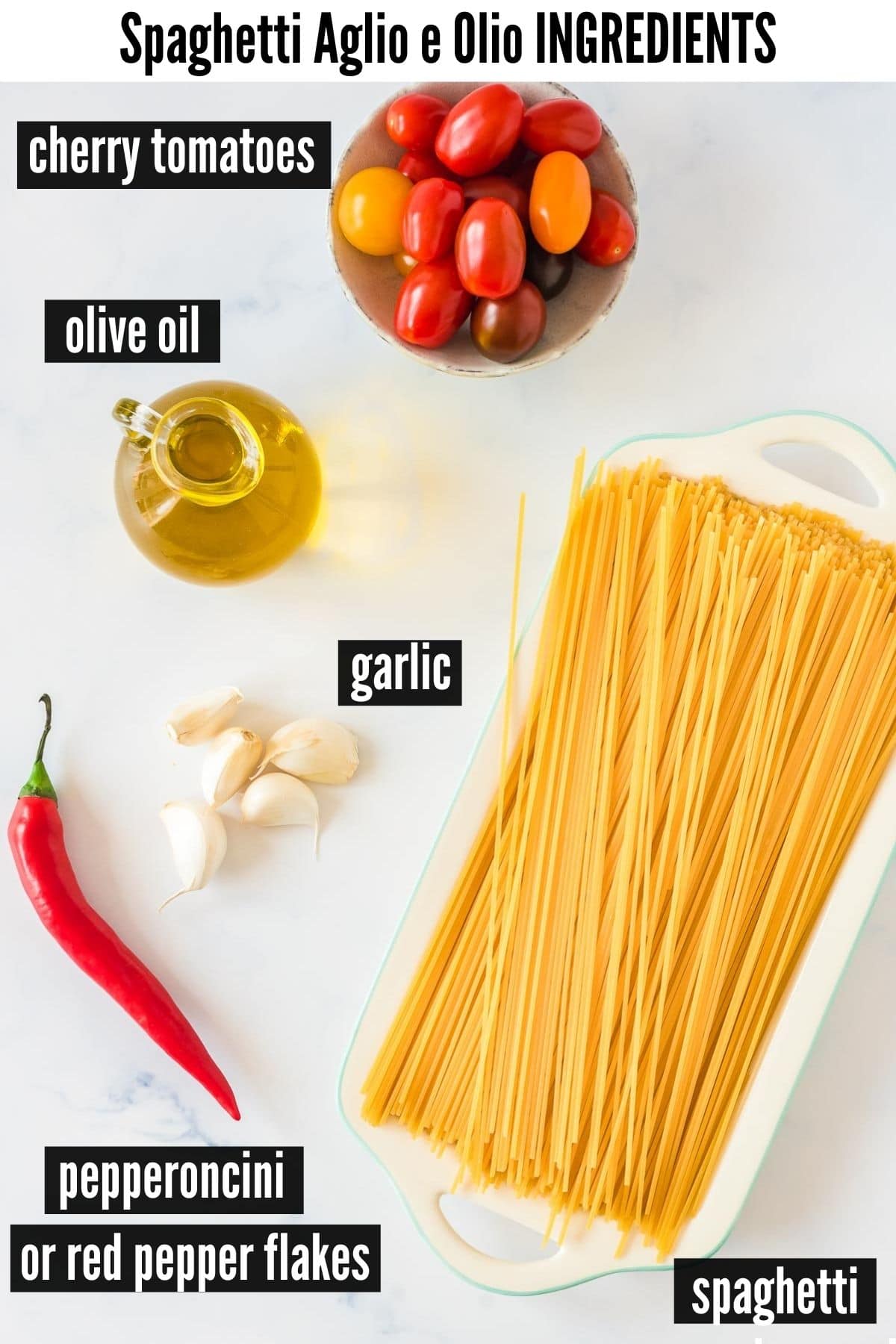 How to Make it – Step-by-Step
STEP 1. Preparation
Slice the garlic thinly as shown in photo 1 below.
If using a fresh pepperoncini prepare it by removing the inner membrane and slicing thinly (photos A and B below).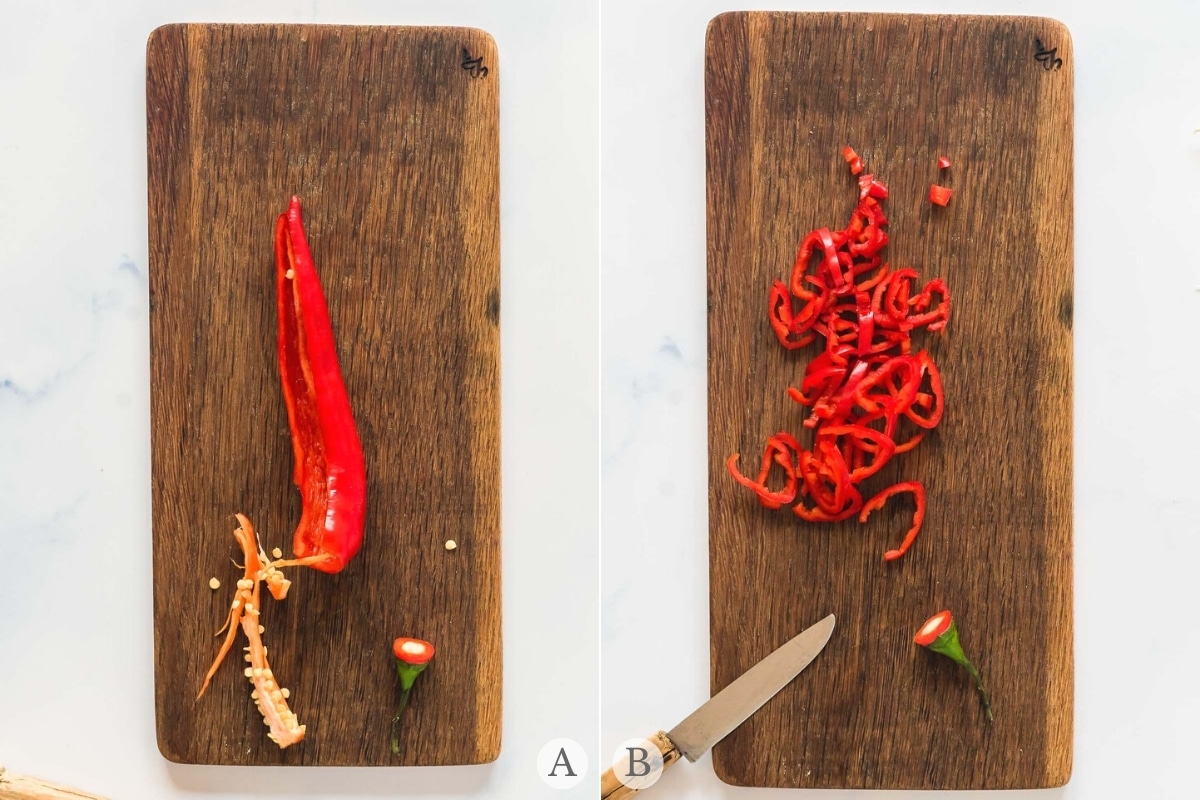 STEP 2. Cook the Spaghetti
Bring a pot of salted water to a boil. Add the pasta to the boiling water.
Cook to the package instructions until the pasta is al dente.
While it is cooking proceed to the next step.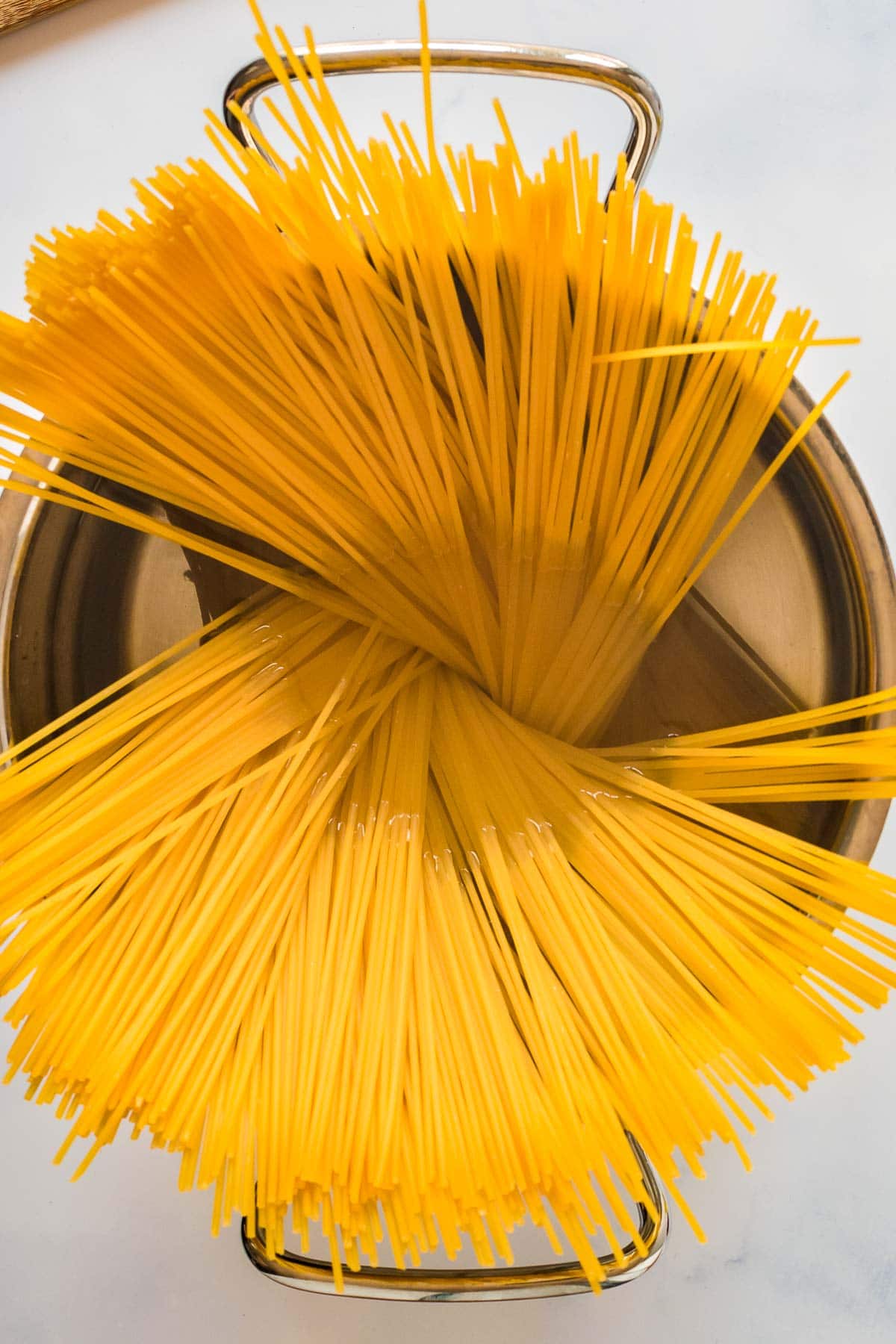 STEP 2. Sauté
Heat the olive oil over medium heat in a large skillet.
Add the garlic, tomatoes and pepperoncini or chili flakes to olive oil (photos 2 and 3). Sauté for about 10 minutes, or until the garlic is soft and fragrant (photo 4).
NOTE: Do not cook over high heat or the garlic will become bitter.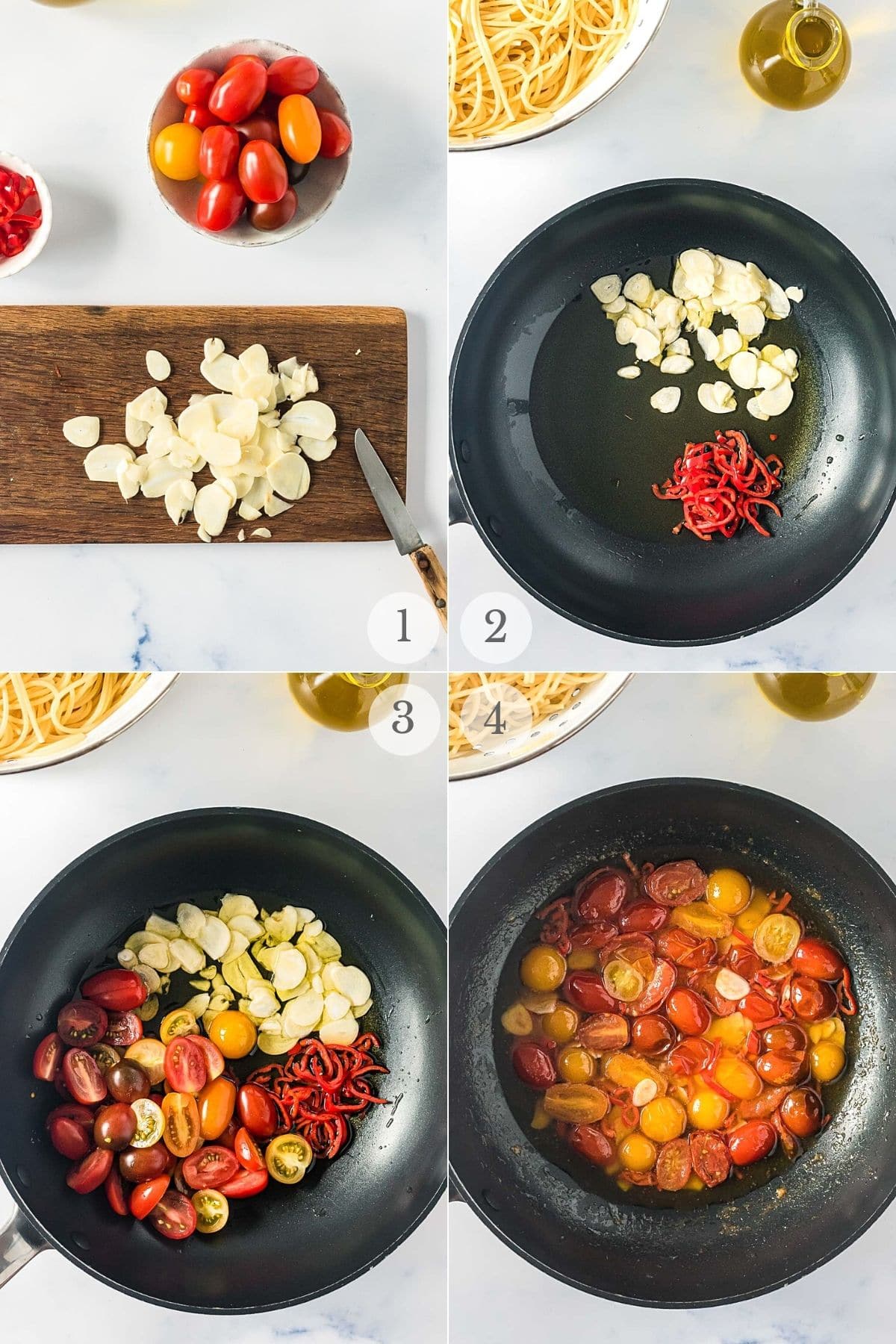 STEP 3. Toss
When the spaghetti is done cooking, transfer it with tongs or a strainer directly into the skillet with the garlic mixture. DO NOT DRAIN OR RINSE the spaghetti.
Add 1/2 cup of the spaghetti cooking water to the skillet and stir to combine (photo 5).
Toss with tongs to combine all the ingredients, then serve immediately seasoned with salt and black pepper to taste (photo 6).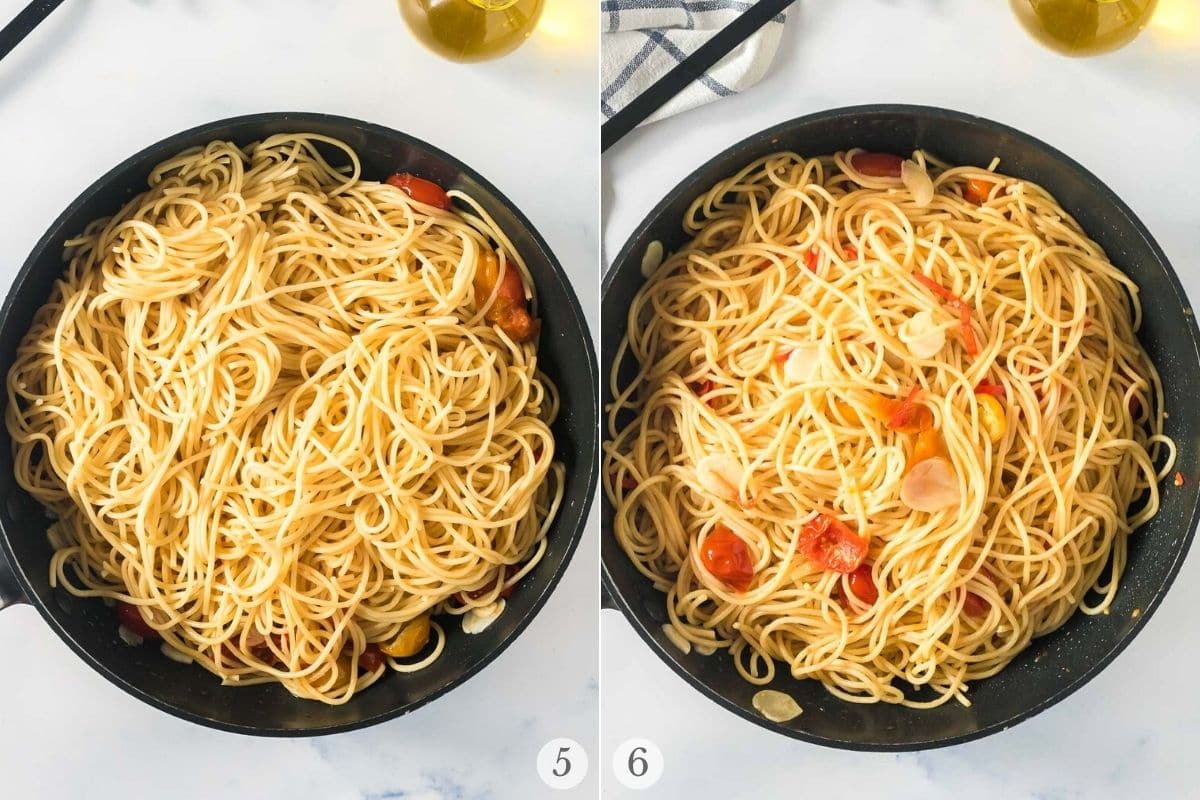 Variations
Sprinkle with Parmesan cheese. Cheese lovers will love Spaghetti Aglio e Olio garnished with a bit of Parmesan or grated Romano cheese! Leave off the additional cheese to make this recipe vegan.
More red pepper flakes. For a spicier version, add even more chili flakes before serving.
Serve with chicken. Although it's a filling meal all on its own, this spaghetti dish would also taste amazing served alongside grilled chicken.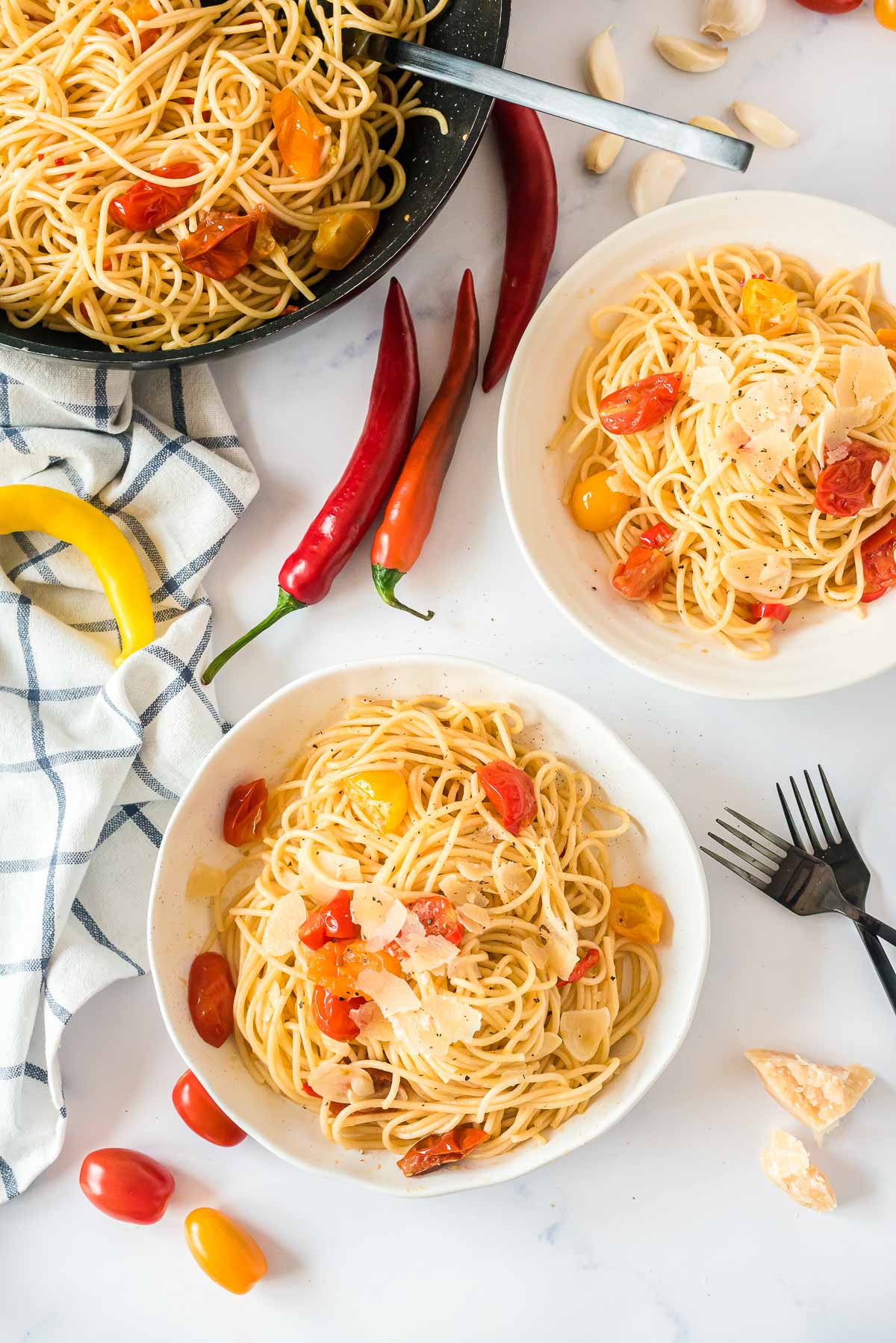 Recipe FAQs + Pro Tips
Do not rinse or drain the cooked pasta
When the pasta is cooked use tongs to pick it up. Allow excess water to drain back into the cooking pot.
Add directly to the skillet. A hand held strainer can be used in this same method.
Add cooking water for a creamier sauce
While you CAN make this recipe without adding the cooking water, doing so gives it a lovely velvety texture.
The starch from the cooking water will thicken the light sauce making it even more irresistible.
What are pepperoncini?
Pepperoncini are red chili peppers from Italy. Not to be confused with the pickled green peppers sometimes called "pepperoncini" in the USA.
You'll want to use these specific red peppers for this recipe. If you can't find them, the red chili flakes make a perfect substitute.
Can I make this without the tomatoes?
Yes, Spaghetti Aglio e Olio was originally made without the tomatoes. The cherry tomatoes add sweetness and a pop of color that I love even more than the original!
Storing Leftovers
This spaghetti tastes best served right away. Store leftovers in an airtight container for 1 -2 days and reheated in the microwave when you're ready to enjoy.
The recipe is so easy you can make a fresh batch of Spaghetti Aglio e Olio whenever the craving strikes.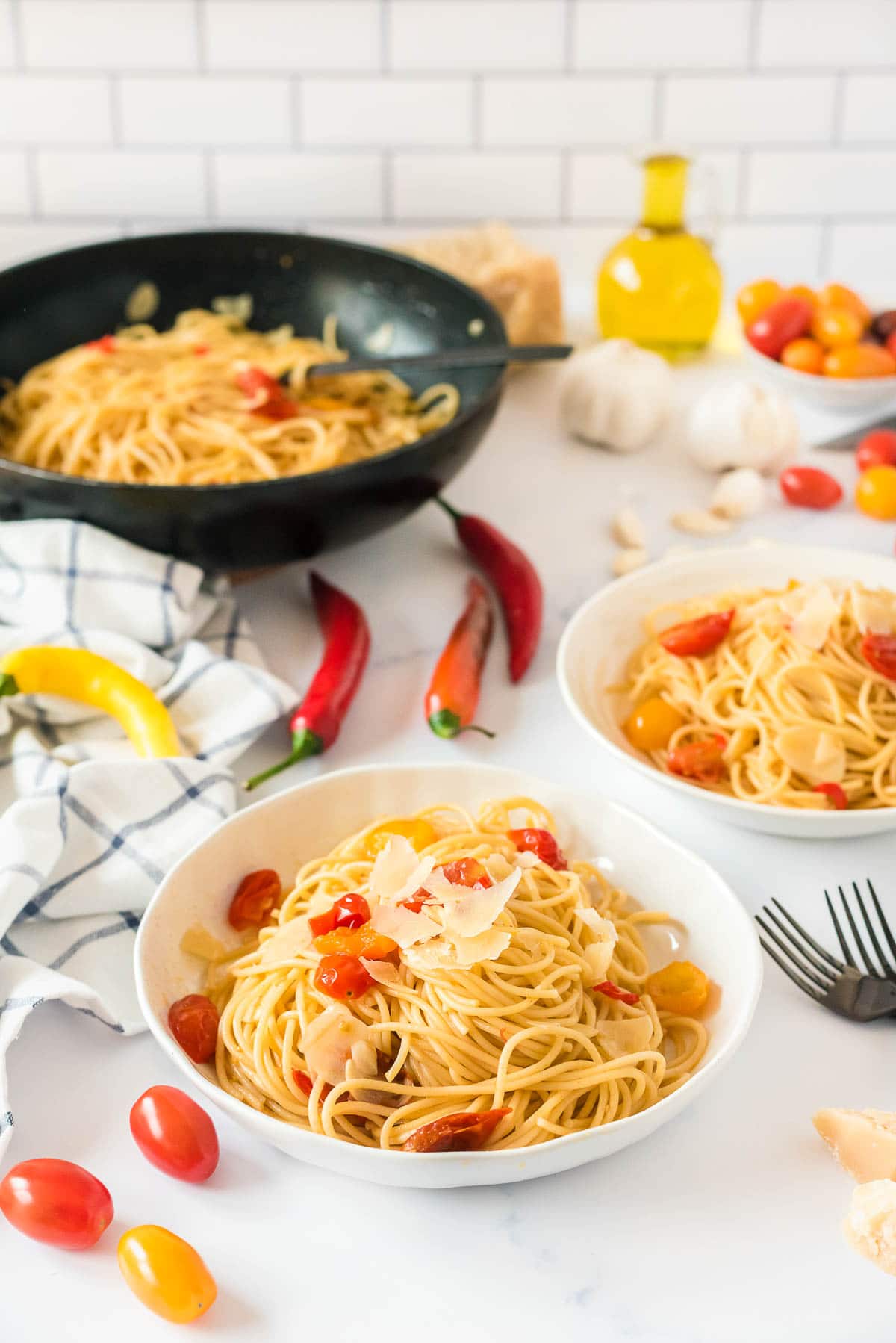 More Recipes You'll Love!
Did you make it? Please RATE THE RECIPE below!
Please SUBSCRIBE and FOLLOW ME on FACEBOOK , TWITTER , INSTAGRAM and PINTEREST !
A taste of Italy at home made in minutes! Spaghetti Aglio e Olio is the perfect combination of fragrant garlic, sweet cherry tomatoes and hot peppers.