Fluffy Cinnamon Pancakes from scratch are a perfect start to the day. Easy to make and flavored like cinnamon sugar. What could be better?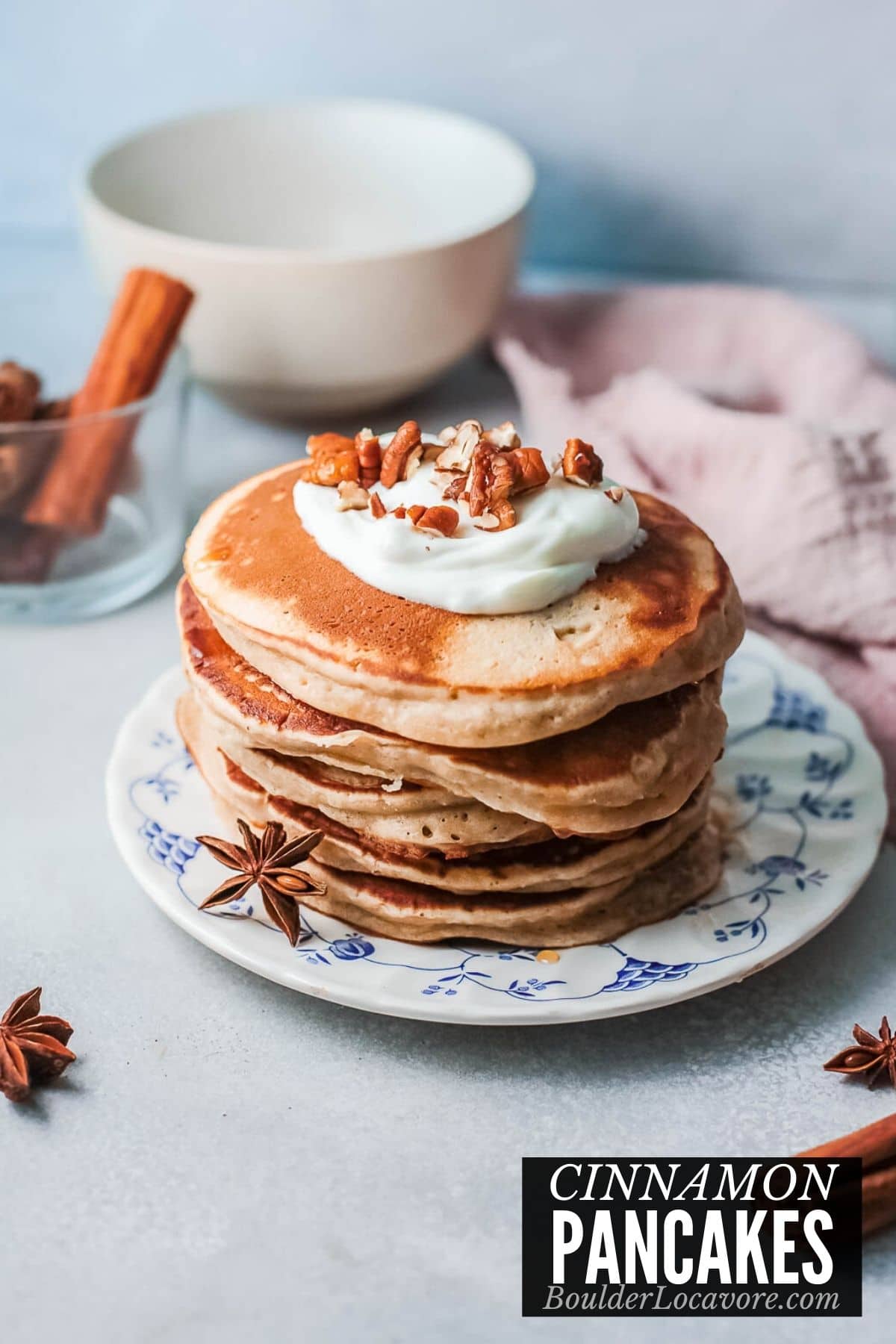 When you want something special for breakfast but aren't feeling an omelet or French toast, these Cinnamon Pancakes deliver.
They are easy to make and lightly sweet. Add a dollop of fluffy whipped cream on top and you are good to go.
If you are a pancake mix user you are in for a treat.
No shame in using mixes. That was my mainstay for years.
Once you realize how easy pancakes are to make from scratch, a whole new world of breakfast options opens up!
Buttermilk pancakes, Apple Pancakes, Banana-Macadamia Nut Pancakes, Fresh Strawberry Chocolate Chip Pancakes, Fluffy Gingerbread Pancakes….you get the drift.
They are easy to make and customize for any season or holiday!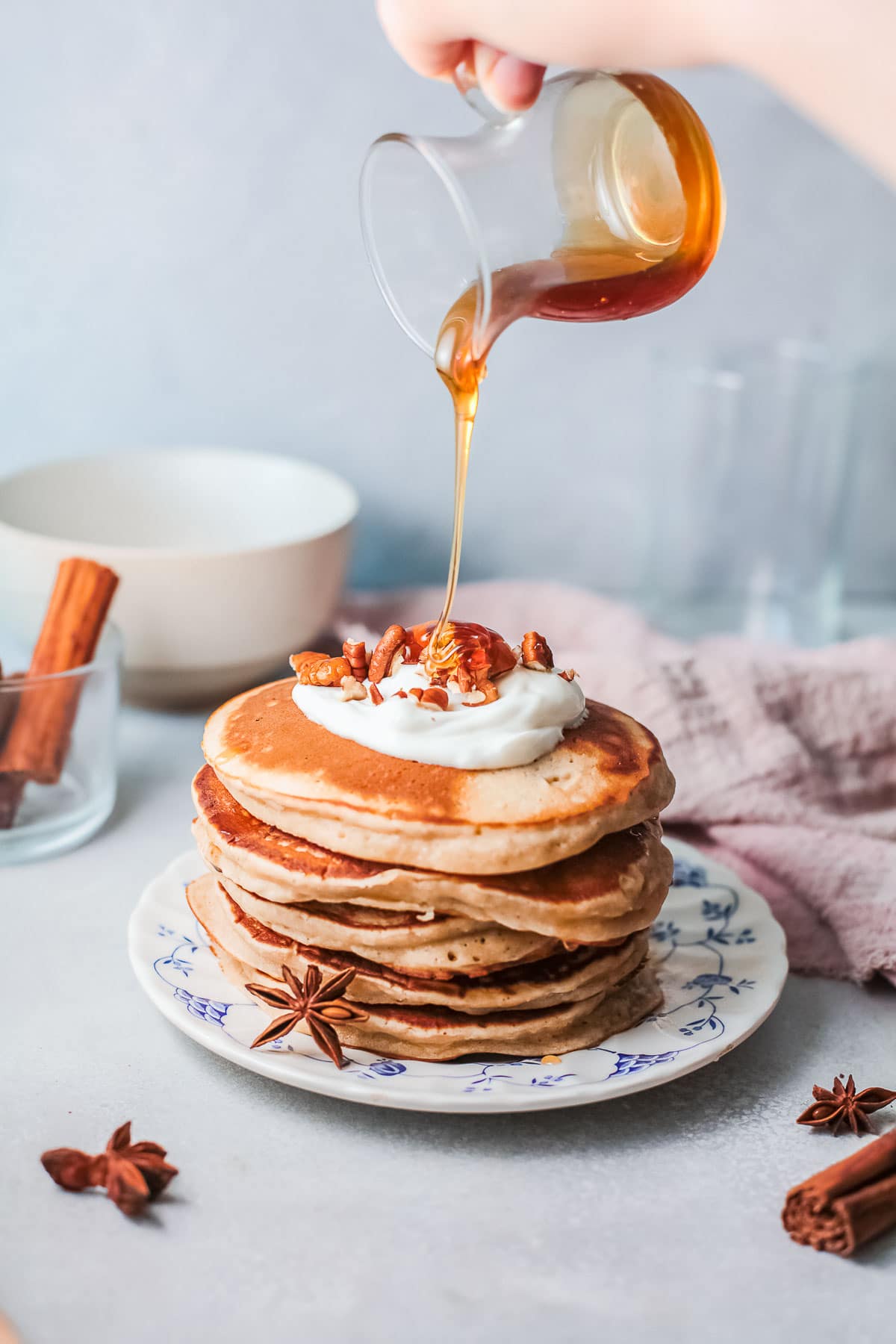 Easy Cinnamon Pancakes from Scratch
These pancakes taste like cinnamon sugar. The kind you probably made for toast.
The flavor is light and not overwhelming. The pancakes are sweet enough that they don't need heavy syrup when served.
They can be made with regular flour or gluten-free (we've tested both) and they are great any way you make them!
Recipe Ingredients + Notes
All Purpose Flour. Regular or gluten-free measure-for-measure flour can be used.
The gluten-free version of all our recipes are tested with Bob's Red Mill gluten-free 1-to-1 Baking Flour.
Baking Powder. This helps the pancakes rise and be fluffy.
Cinnamon and nutmeg. These spices give the pancakes a wonderful warming flavor.
Egg. One medium or large egg helps combine the ingredients and create a structure for the pancakes to rise.
Vegetable oil. A neutral flavor oil keeps the batter moist as it cooks.
Maple syrup. This sweetens the batter instead of using sugar.
Milk. We used dairy milk but any milk should work.
Butter. Use unsalted butter to cook the pancakes in. If you have a non-stick pan no butter should be needed.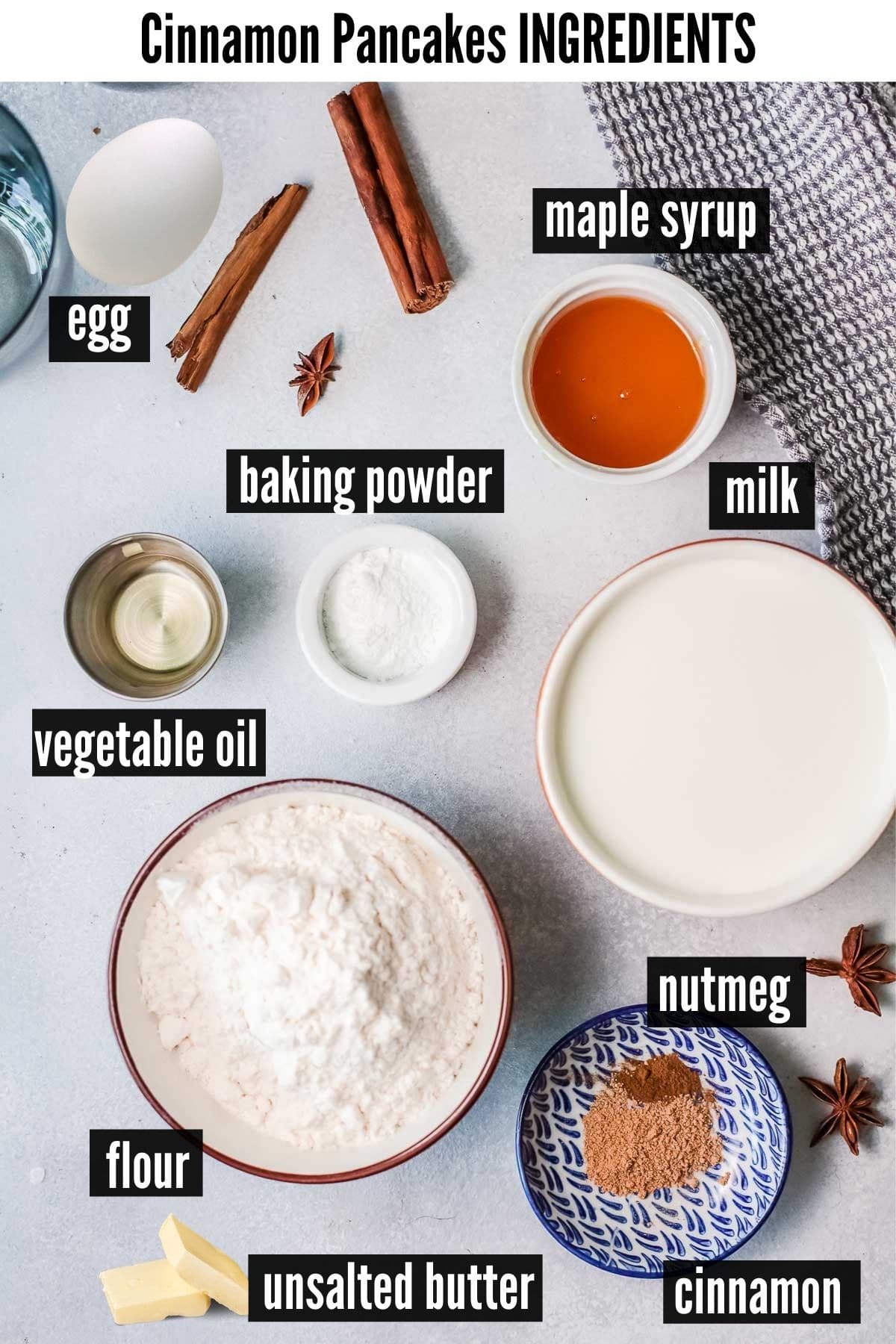 Variations
Mini chocolate chips. Add some mini chocolate chips for some extra sweetness. Using the mini size helps the chips disperse in the batter better.
Sprinkles. You can add sprinkles on top or even in the batter for a colorful surprise. If adding them to the batter stir them in after the batter rests before cooking.
Use agave syrup. Instead of maple syrup for a different flavor of sweetness.
Use coconut oil or melted butter. Try a different fat instead of vegetable oil.
Add fruit. If you like fruit in your pancakes add some sliced banana or blueberries to the batter after it rests before cooking.
What to put on Cinnamon Pancakes
The light cinnamon sugar flavor of these pancakes doesn't need much more on top.
You can always use syrup but adding something like maple syrup will overwhelm the natural flavor in the pancakes.
Here are some ideas:
whipped cream
honey
greek yogurt (vanilla or honey flavor would be great)
Chopped fruits like cherries, berries (they could be tossed with sugar before adding too) or sliced bananas
Chopped pecans
a pat of butter added when the stack is hot so it melts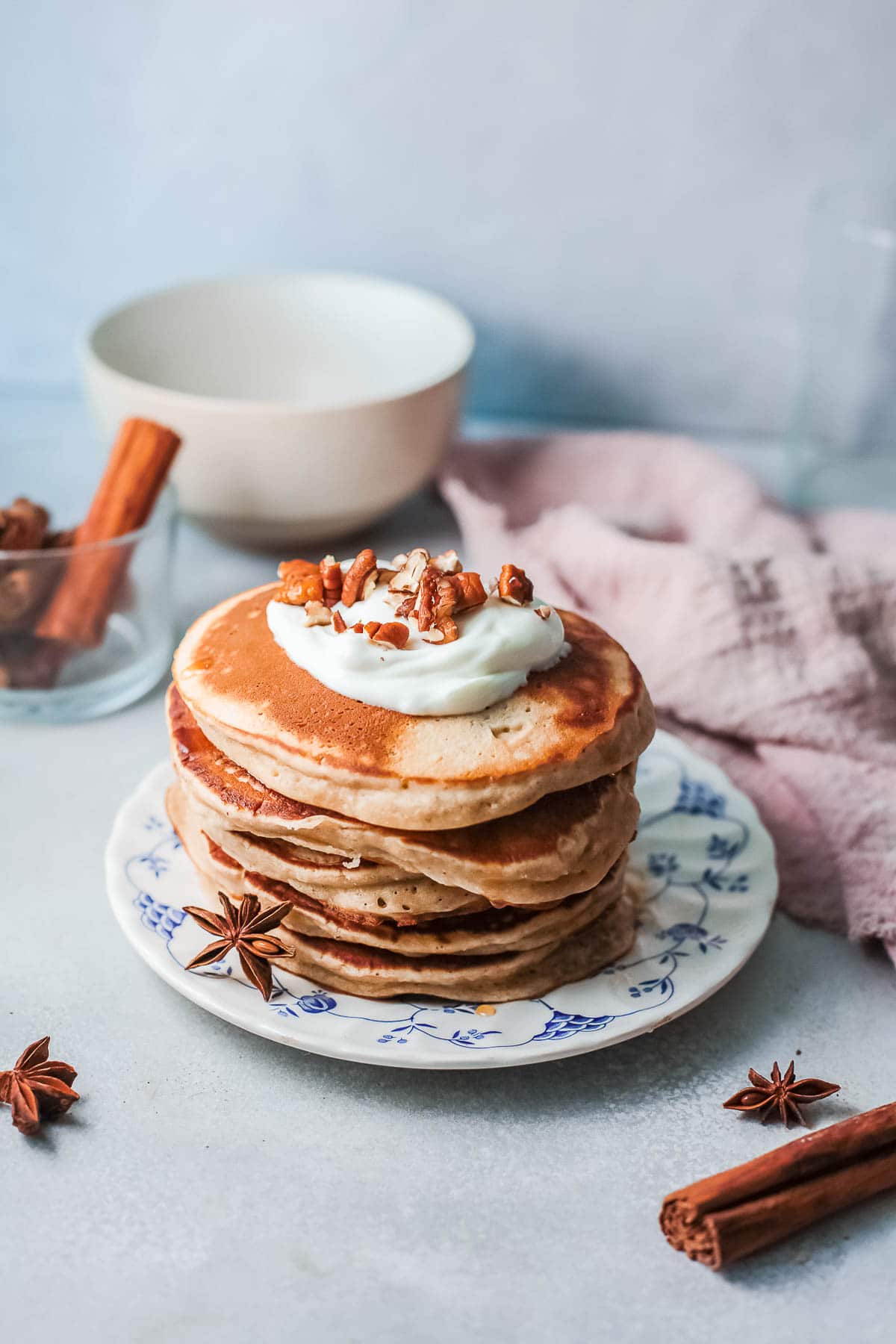 How to make a double batch
You can double or triple the recipe for more pancakes! Keep the measurement proportions the same and just double them or triple them.
Follow the recipe as written.
How to Make it – Step-by-Step
STEP 1. Make the pancake batter
Whisk together the flour, baking powder and spices (photo 1).
Add the eggs, milk and maple syrup (photo 2). Stir to combine (photo 3-4).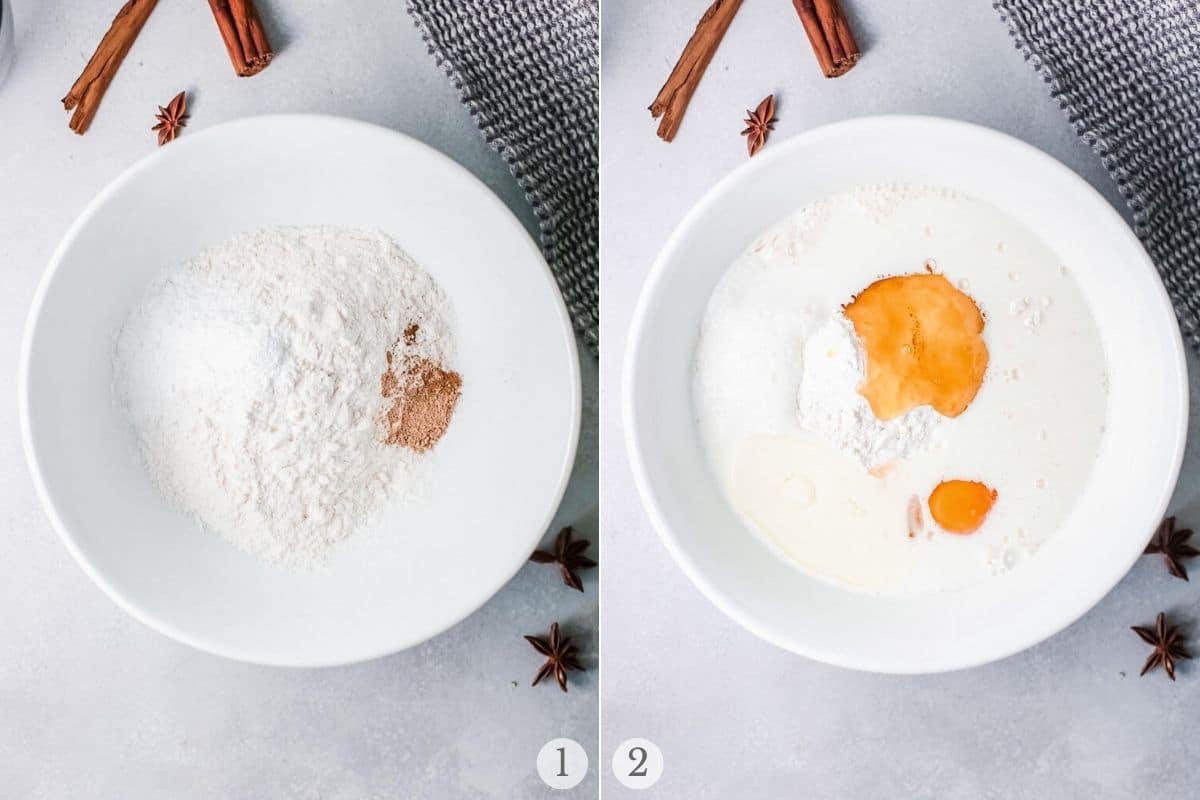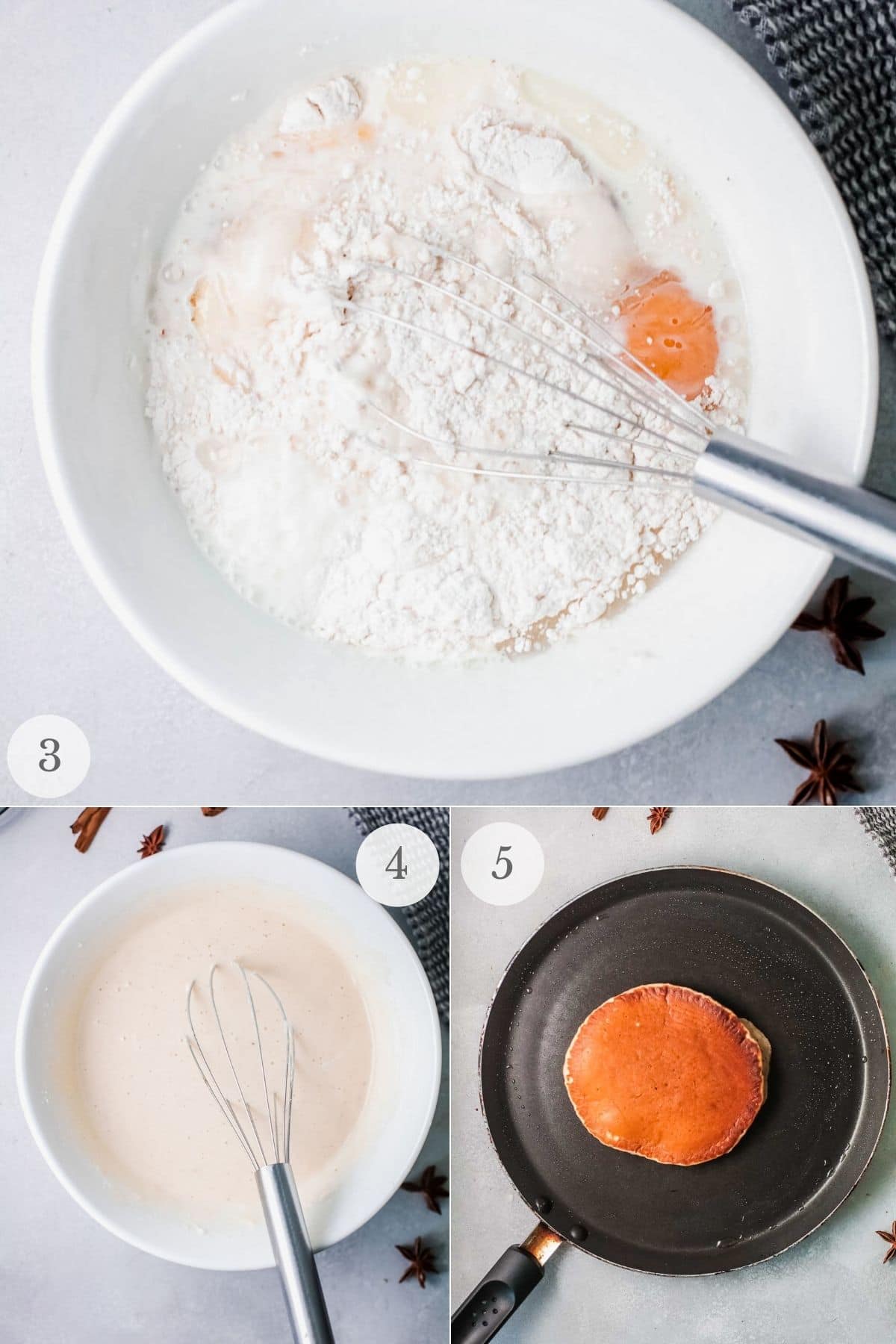 STEP 2. Let batter rest
Let the batter rest for 5 minutes.
Heat a griddle or large skillet over medium heat. Melt butter in pan.
STEP 3. Cook the pancakes
Spoon batter in 1/4 cup amounts onto the heated pan.
Cook 1 1/2-2 minutes or until small bubbles appear on the surface of the pancake.
Flip over and cook 40 more seconds until done (photo 5).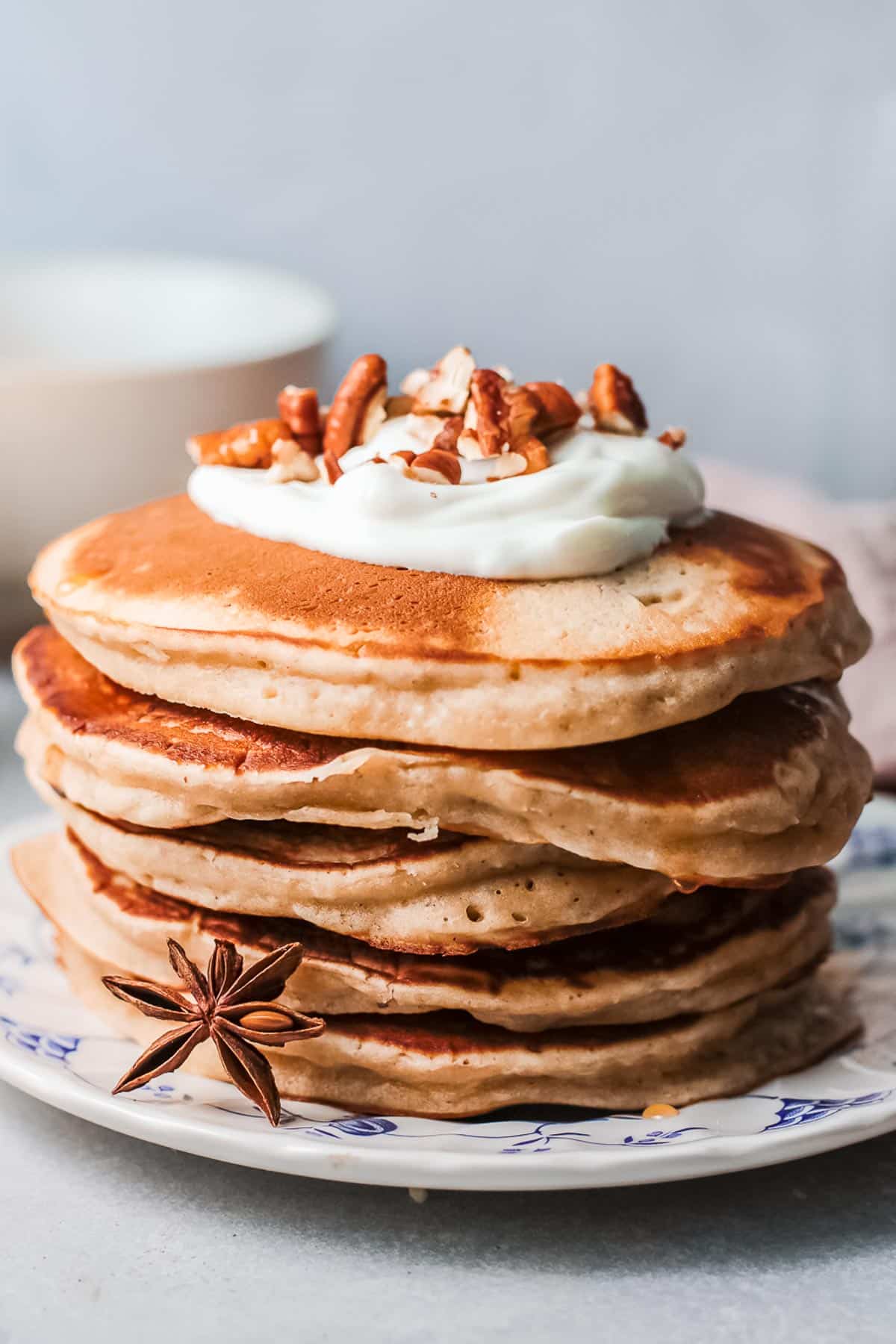 Pro Tips
Cook on medium to medium-low heat. Cooking pancakes on high heat will quickly brown the outside and leave the inside uncooked or partially cooked.
Using even medium heat allows the pancakes to become beautifully golden on the outside and cooked through.
Measure the batter. Pouring out 1/4 cups of batter ensures the pancakes will all be the same size and cook in the same amount of time.
I use a 1 cup liquid measuring cup. Fill it with batter and pour our 4 pancakes worth of batter in a batch.
This liquid measuring cup style makes it easy to do. You can see from overhead how much is in the measuring cup.
Storing Leftovers
After the pancakes cook store in an airtight container in the refrigerator for up to 2-3 days. Reheat in the microwave or oven.
How to freeze pancakes
We often have leftover pancakes and freezing them is a great way to use up leftovers.
This method makes it easy to make serve them for a fast hot breakfast on a school or work day.
Cook the pancakes and allow them to fully cool
Place them side by side in a single layer on a baking sheet
Place in the freezer for 1 hour or until fully frozen
Remove and place them in a freezer bag or container
When ready to cook put them in the toaster or a toaster oven on a medium-low setting!
Freezing them separately first keeps them from sticking together when they are added to the freezer bag.
They do not need to be thawed before putting them in the toaster. Think toaster waffles.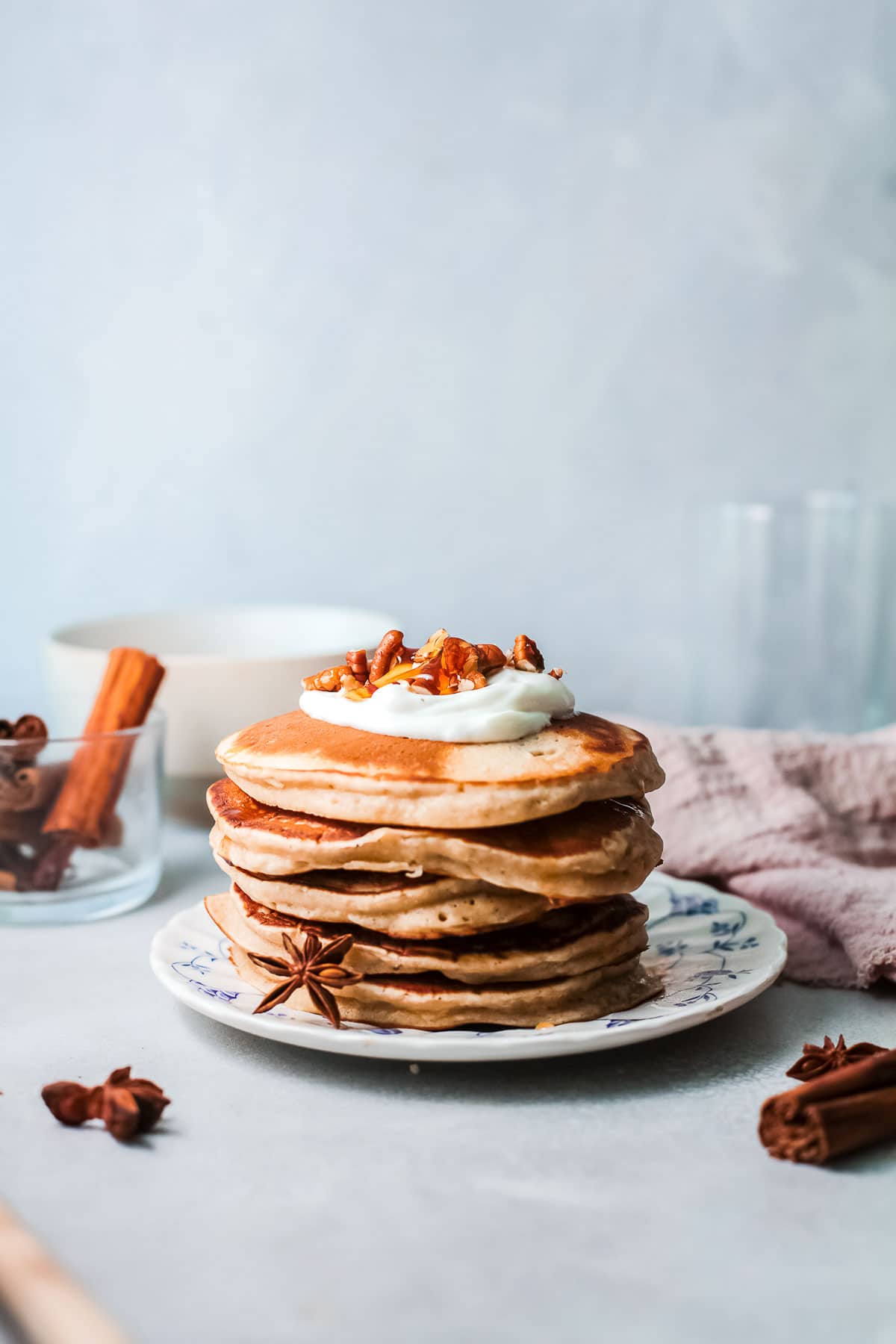 More Recipes You'll Love!
Did you make it? Please RATE THE RECIPE below!
Please
SUBSCRIBE
and
FOLLOW ME
on
FACEBOOK
,
TWITTER
,
INSTAGRAM
and
PINTEREST
!