Rich, cheesy Spinach Artichoke Dip is ready in a flash when cooked in the Instant Pot! This hot dip recipe is fully of cream cheese, sour cream, artichoke hearts, spinach and more. It's the dip no one can get enough of!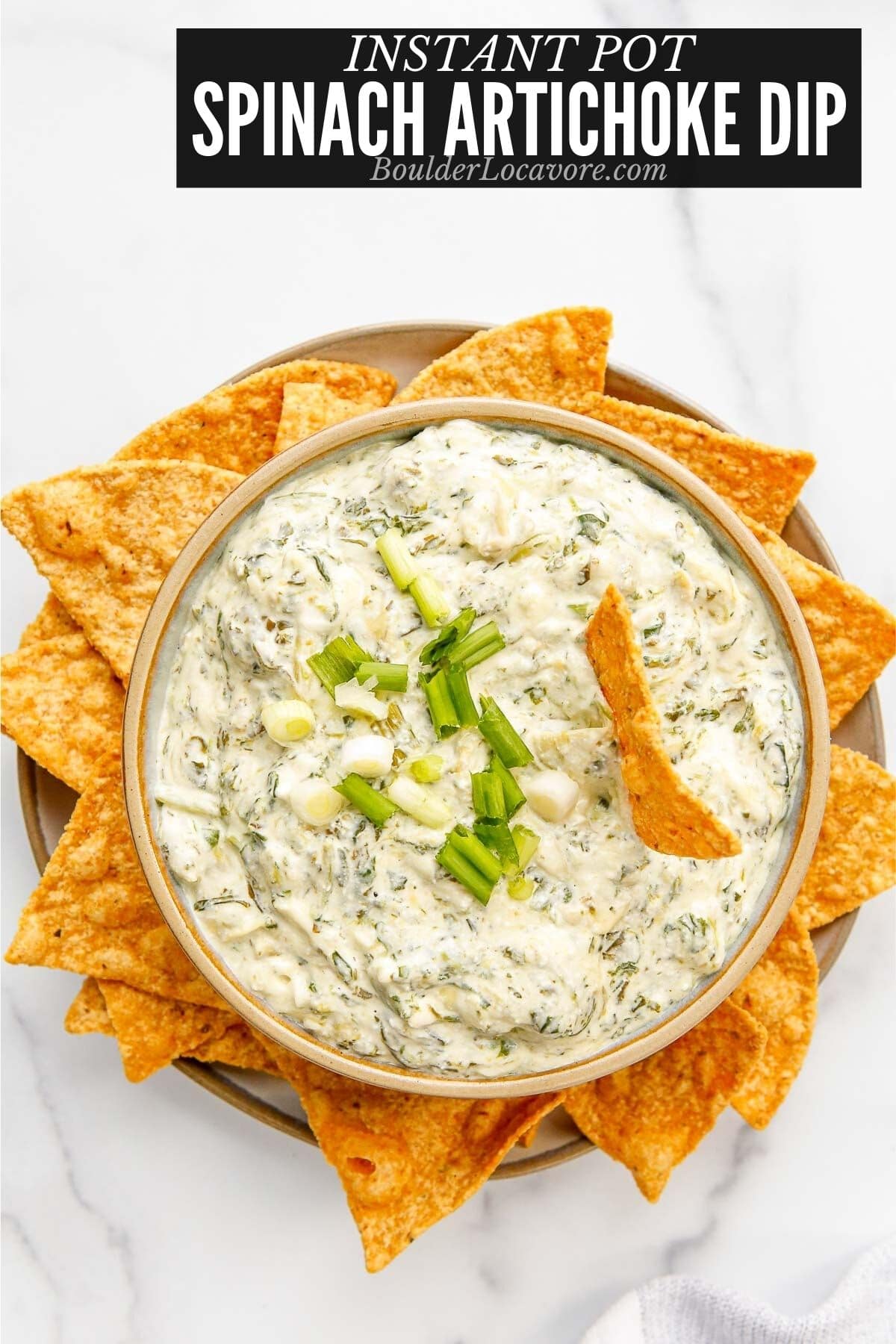 Hot Artichoke Dip has been a long standing favorite appetizer recipe on our website.
This Spinach and Artichoke Dip recipe folds in spinach and loads of cheese for party-perfect recipe.
If you love Hot Crab Dip this is another dip that has creamy, cheesy ingredients that you can't stop eating!
It's that dip people would rather eat than dinner!
Easy Spinach and Artichoke Dip
This recipe may be the easiest Instant Pot recipe ever.
All the ingredients (except the shredded cheese) are added to the Instant Pot.
The cook time is 4 minutes.
The shredded cheese is stirred in and voila, a rich, cheesy hot appetizer dip is ready.
There is very little preparation and it's a perfect recipe for a crowd.
Instant Pot Spinach Artichoke Dip is always a favorite.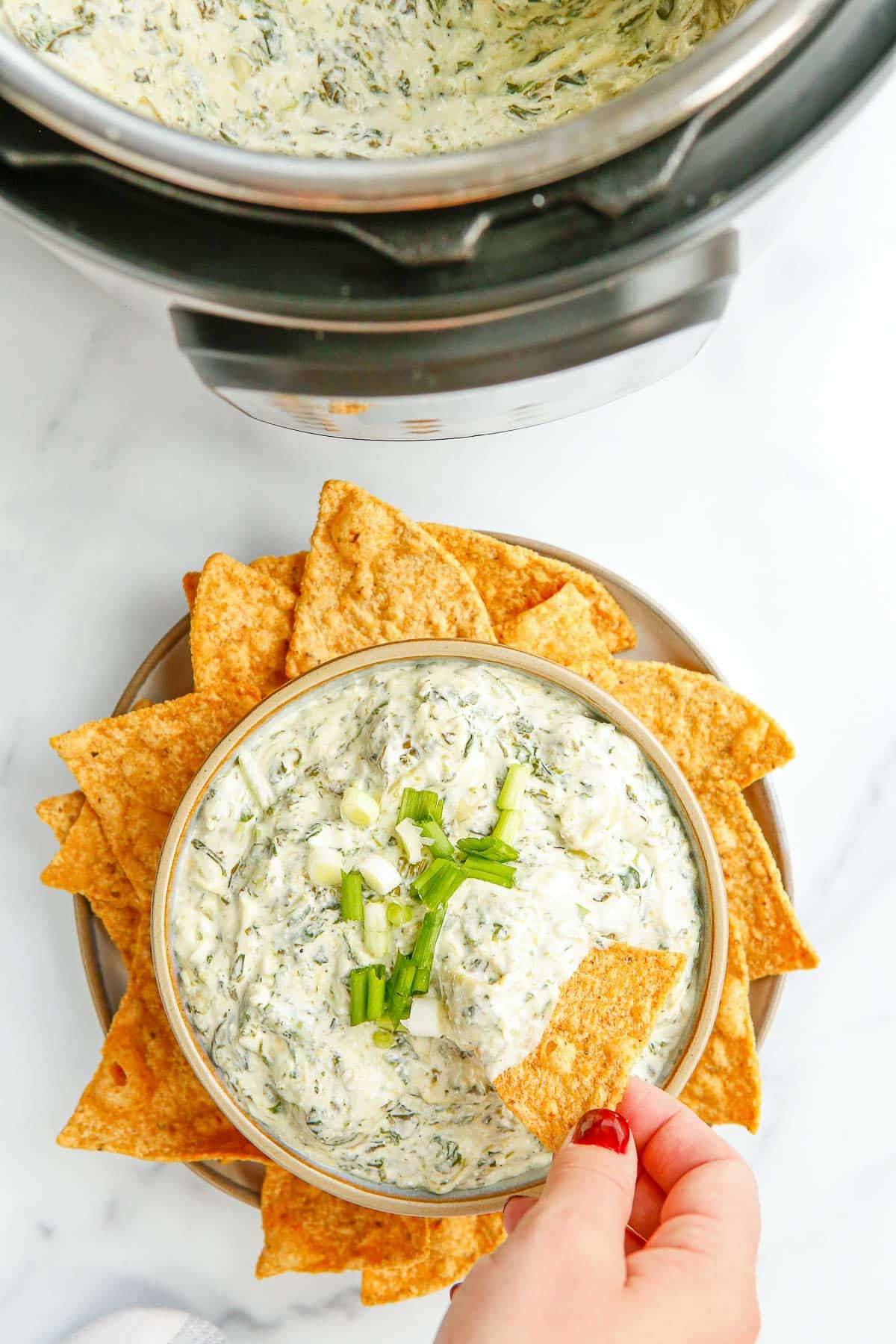 Recipe Ingredients + Notes
Canned Artichokes. Choose quartered artichoke hearts in water. The artichokes will be drained before adding them to the Instant Pot.
Chopped Frozen Spinach. You'll use a 10-ounce package of chopped spinach. It is added to the Instant Pot frozen right from the package! No thawing or other preparation required.
Cream Cheese. Be sure the cream cheese if softened before using. Full fat cream cheese is suggested.
Sour cream. We used regular (full fat) sour cream.
Mayonnaise. We used regular mayonnaise (not low fat).
Green onions (scallions). Sliced green onions will be added (1/4 cup). Approximately 3-4 scallions.
Broth or Stock. Chicken broth (or stock) or vegetable stock or broth can be used. Low Sodium stock is suggested since salt is added to the dip.
Seasonings. Onion powder, garlic powder, salt and ground black pepper. These spices give wonderful flavor to the dip.
Cheese. Shredded mozzarella cheese and Parmesan cheeses are used. Normally I would recommend grating the cheese yourself due to the non-caking agent added to prepared shredded cheese.
However in our recipe testing we found prepared shredded cheese melted well into the dip (and will save some preparation time).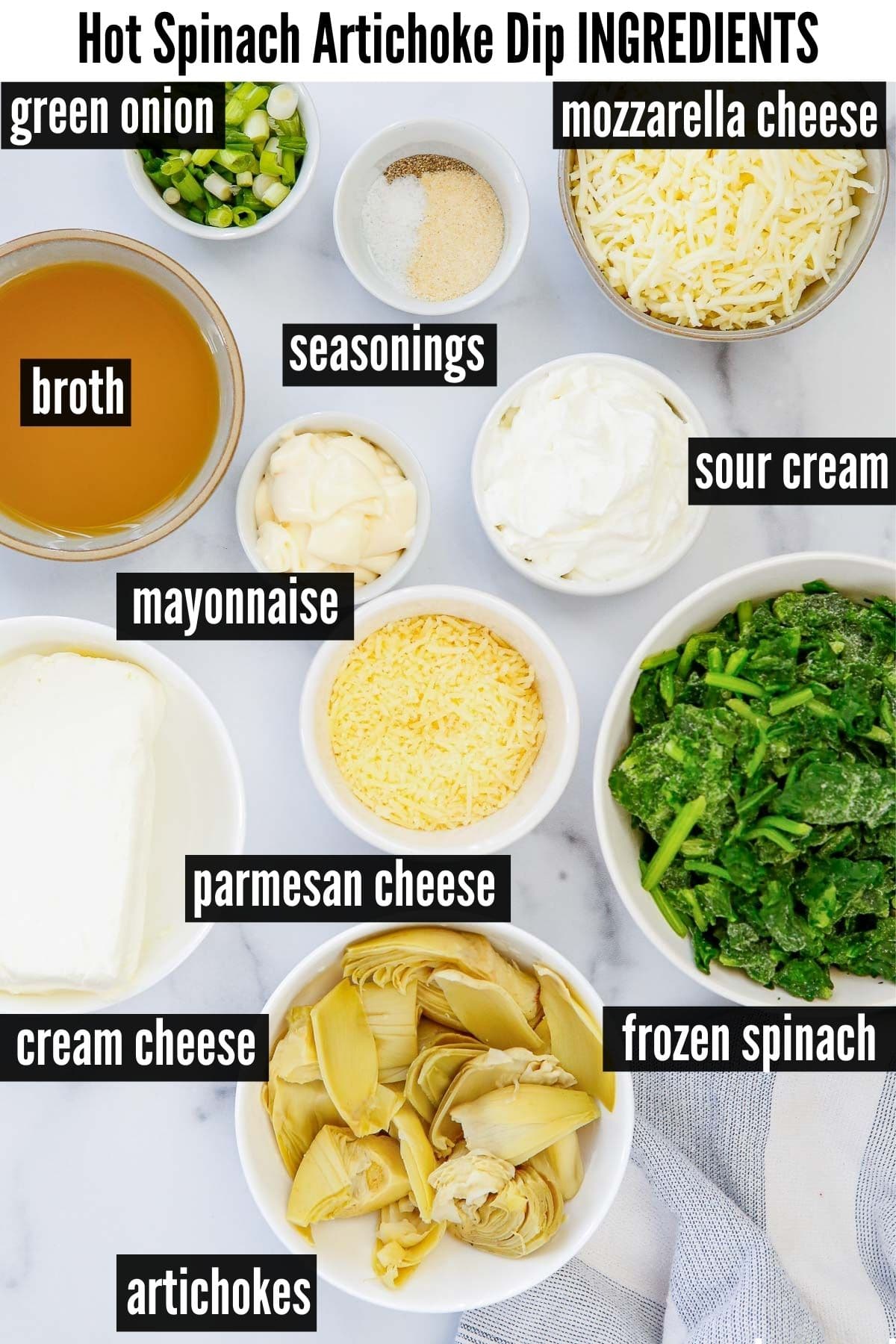 Variations
Change up the cheese. Mild cheddar or Monterey Jack cheese can be used instead of the mozzarella or Parmesan for a change of flavor.
Recipe FAQs + Pro Tips
Can this Spinach Artichoke Dip be made lower fat?
To lower the fat content consider swapping in lower fat cream cheese, sour cream and/or mayonnaise. NOTE: we have not tested this recipe with lower fat ingredients.
Can fresh spinach be used?
We recommend using frozen spinach. Fresh spinach would need to be wilted and any liquids rung out before adding to the Instant Pot.
How to Make it – Step-by-Step
How do you make Spinach Artichoke Dip from scratch? It's so easy you'll never buy it again!
STEP 1. Cook the Spinach Artichoke Dip.
Add all the ingredients except the cheese to the Instant Pot (photo 1).
Drained artichoke hearts, frozen spinach, cream cheese, sour cream, mayonnaise green onions, broth or stock, spices (onion powder, garlic powder, salt and pepper).
DO NOT STIR.
Seal the lid and turn the steaming vent to seal.
Pressure cook on HIGH PRESSURE for 4 minutes. Perform a QUICK RELEASE and remove the lid.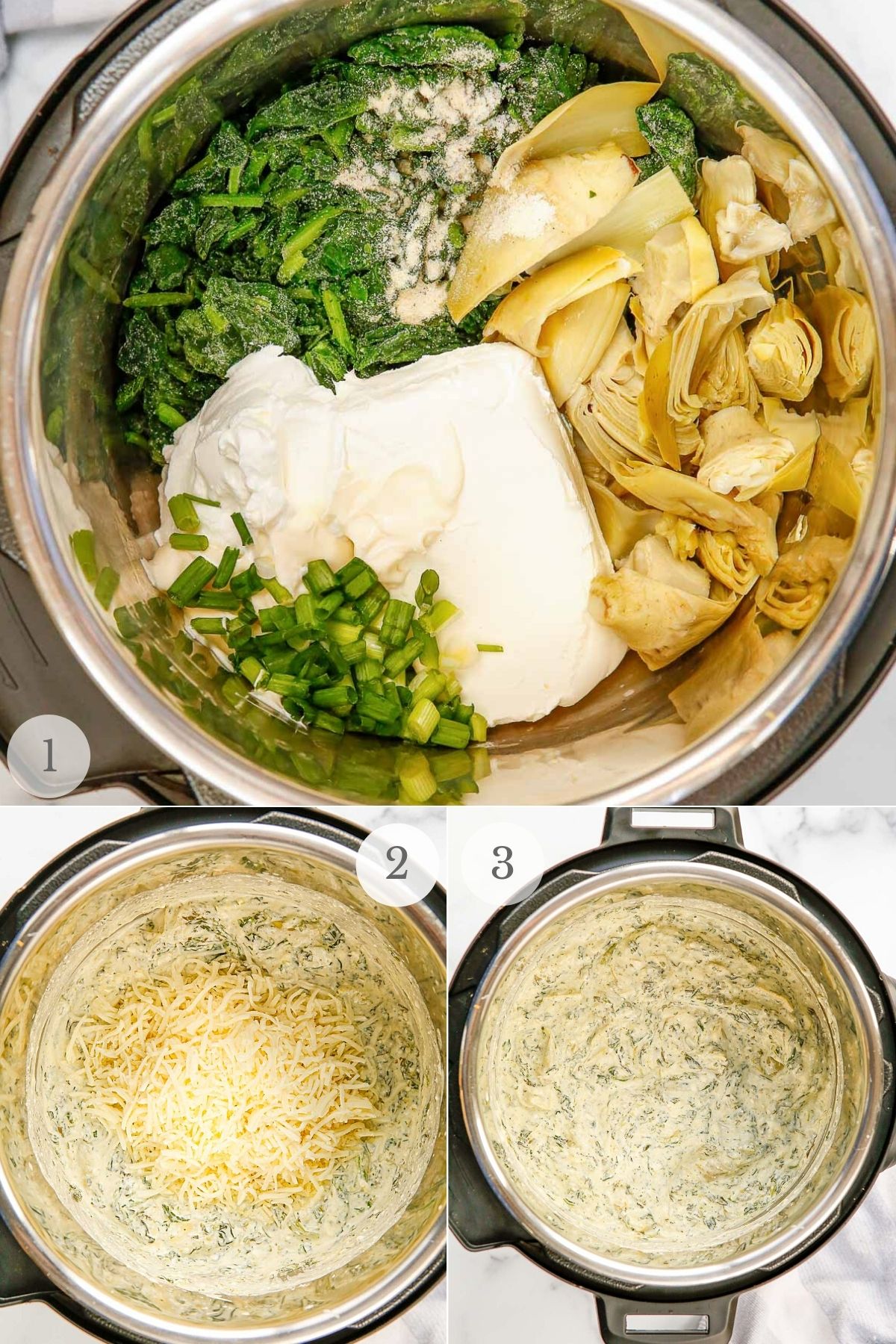 STEP 2. Add the cheese.
Stir the dip. Add the shredded cheese and stir until it has melted fully into the dip (aproximately 2 minutes)(photos 2 and 3).
STEP 3. Serve!
Serve hot with slices of thin baguette, crackers, sliced vegetables and/or tortilla chips.
Homemade Everything Bagel Chips and garlic toast rounds are also great if you want to serve something homemade.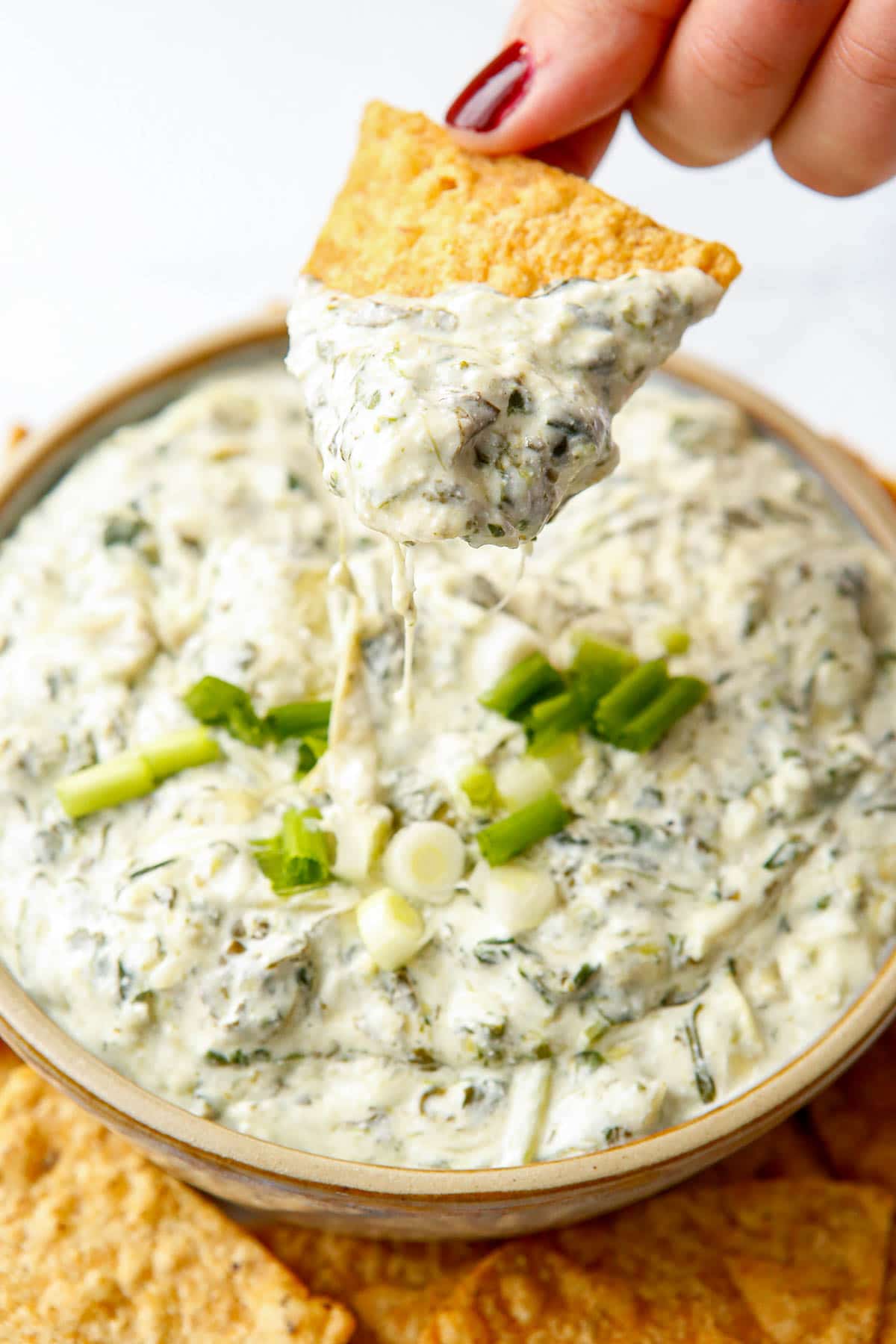 Storing Leftovers
Allow any leftover dip to cool slightly. Store in an airtight container in the refrigerator for up to 4-5 days.
How to reheat Spinach Artichoke Dip?
Reheat over medium-low heat in a saucepan on the stove top or in the microwave (easiest method).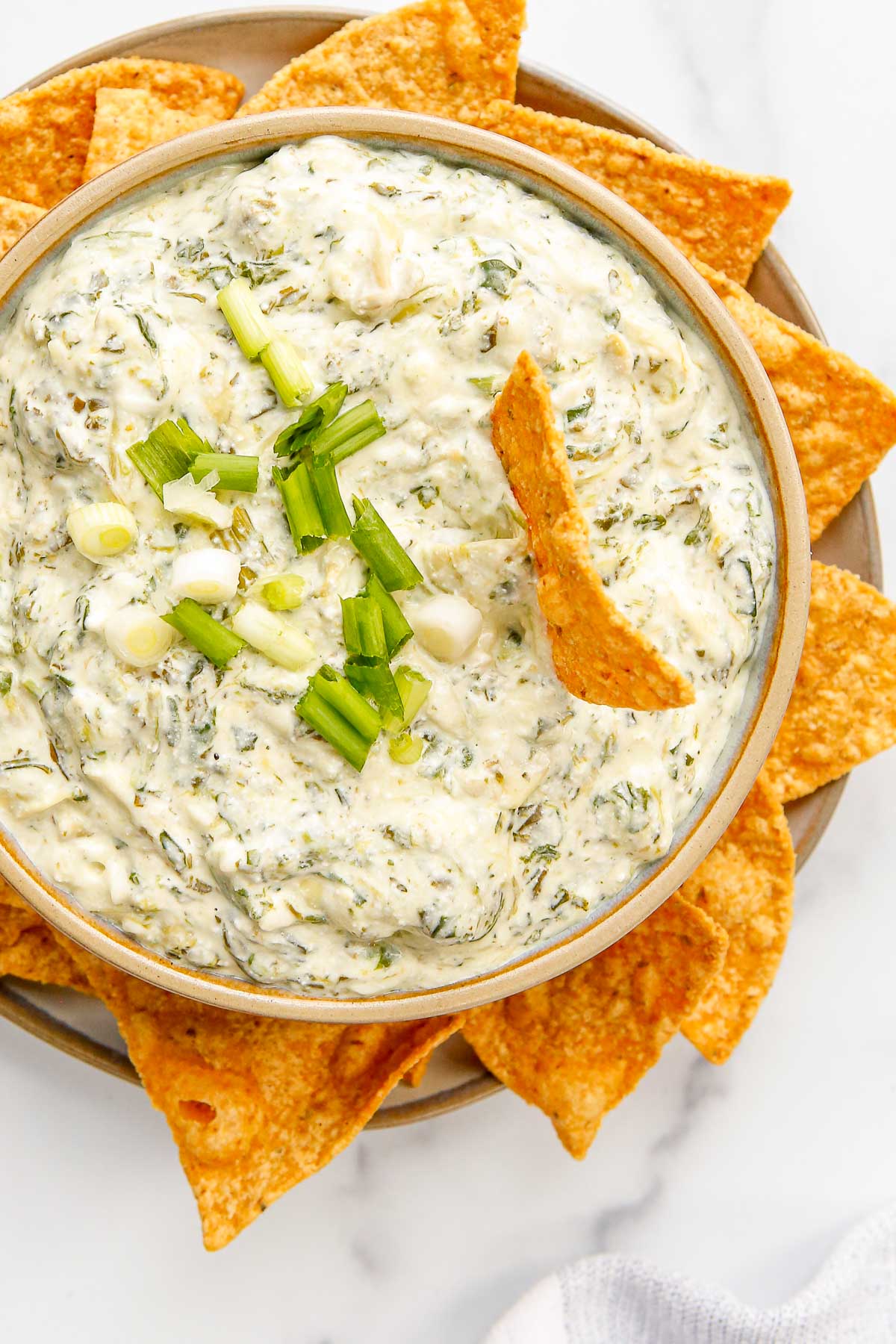 More Recipes You'll Love!
Did you make it? Please RATE THE RECIPE below!
Please SUBSCRIBE and FOLLOW ME on FACEBOOK , TWITTER , INSTAGRAM and PINTEREST !