Rich, creamy Tapioca Pudding is a classic dessert recipe everyone loves. Its whimsical texture and creamy custard never go out of style.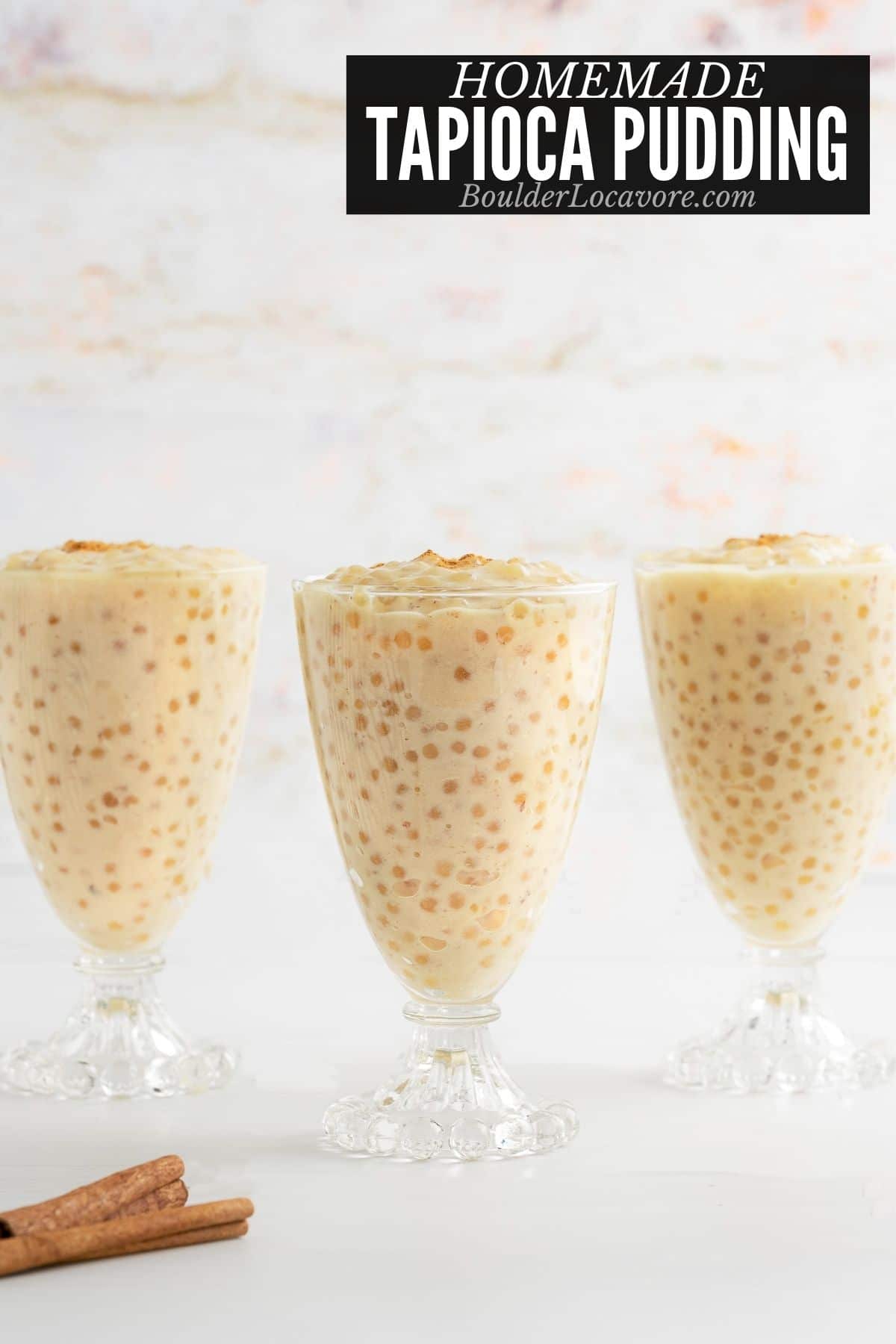 This is that tapioca pudding your mom….or grandmother used to make.
Sure, you can buy it premade at the store. But one bite of the homemade version will remind you why it has always been a favorite.
Once you make it you'll see why. It's creamy, rich, comforting.
Jump to: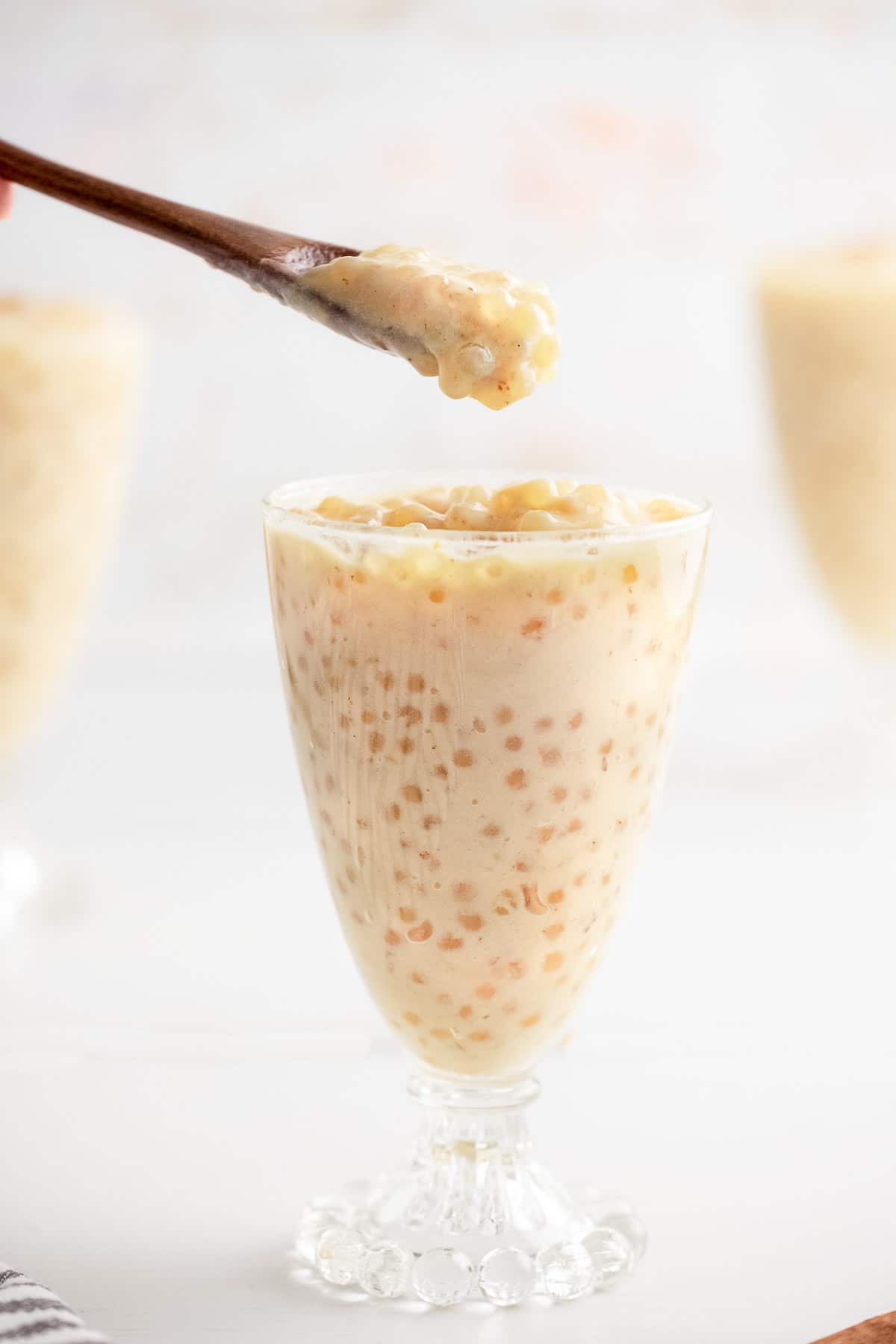 Luscious Tapioca Recipe
Sometimes it's just nice to do things the old fashioned way. And one bite will let you know why.
There's just something about the creamy vanilla-flavored pudding with the tiny tapioca orbs that keep generation after generation making and loving it.
You can eat it warm or cold.
Eat it as is or load it up with toppings (check our 'Variations' section below for ideas).
Recipe Ingredients Notes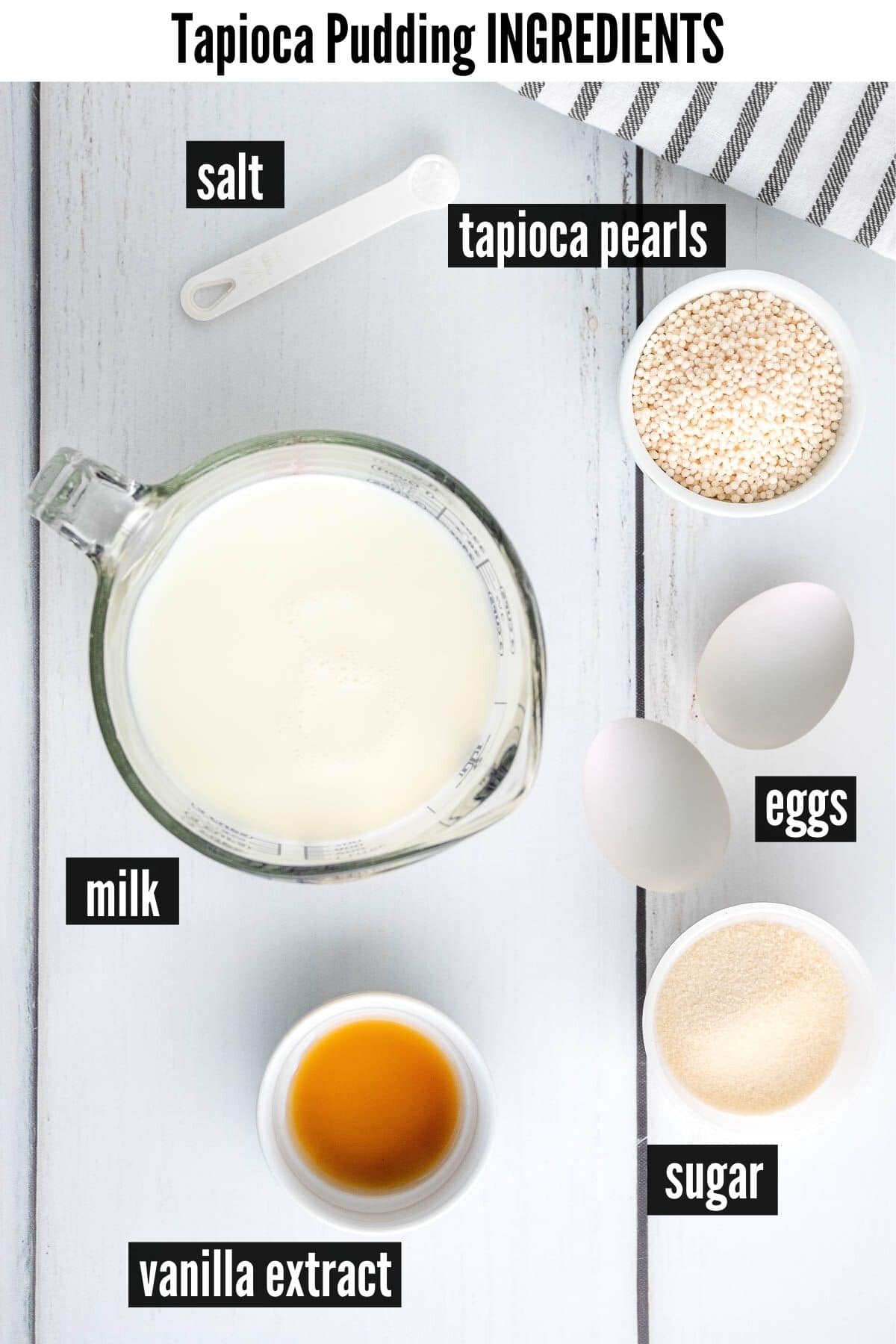 Tapioca. Use 'small pearl tapioca' (it will be noted on the package) and do not use Instant Tapioca.
You'll find tapioca pearls with the baking supplies. They are naturally gluten-free too.
Be sure NOT to use the large pearl tapioca used for making Boba or milk tea. We used it for this Spider Egg Pudding but it's not the right type for classic tapioca pudding.
Milk. We recommend whole milk for the best results.
Salt. Use kosher salt if possible. It's a less salty flavored salt.
Eggs. You'll need two.
Granulated sugar. This gives the tapioca pudding just the right amount of sweetness. You'll need 1/2 cup.
Variations
Coconut tapioca. Instead of dairy milk use coconut milk for a light coconut flavor.
Use less sugar. If you'd like to lighted up the sugar it can be reduced to 1/3 cup. In our tested we felt 1/2 cup was 'just right' but it's still sweet with 1/3 cup too.
Use one egg. The eggs give richness but it can be reduced to one egg if desired.
Use some cream. For an even richer pudding, replace some of the milk with cream. Still use a total of 3 cups of milk or milk plus cream.
Topping ideas. Sprinkle on some cinnamon or nutmeg. Add a dollop of whipped cream. Add some sliced berries or bananas.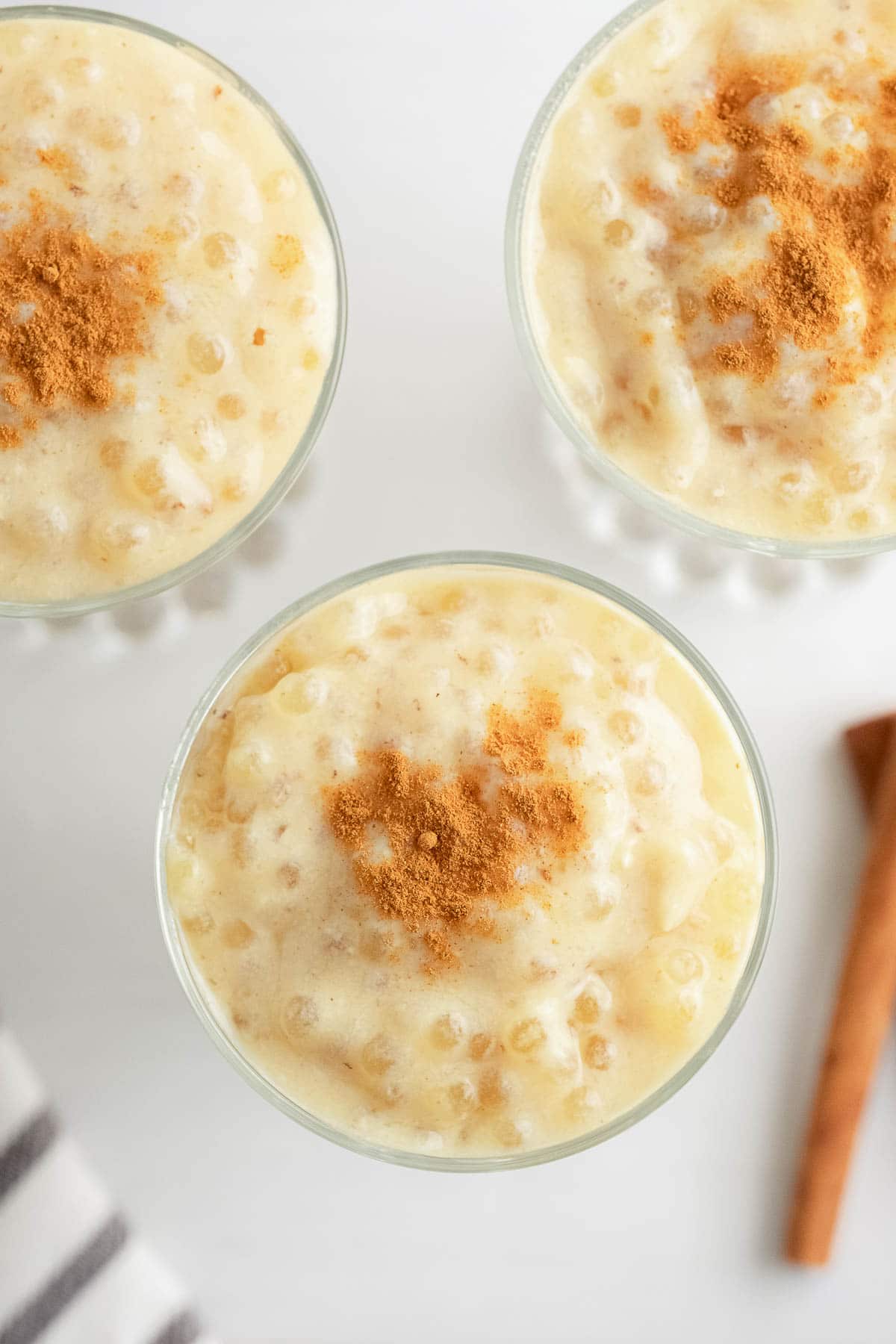 Do tapioca pearls need to be soaked first?
Read the instructions on the package of tapioca pearls you use regarding soaking.
Some versions require soaking first. For time saving we used a version that did not require soaking.
If using a soaked tapioca decrease the milk to 2 1/2 cups. Monitor the cooking time too as it may be faster.
Sample the pudding when it is done to determine if the pearls are softened and cooked.
What is tempering eggs?
One of the most important steps in making any custard with eggs is 'tempering' the eggs.
This is a method of adding just a bit of hot liquid to the eggs and whisking it in to gently warm the eggs.
The eggs are then added to the hot liquid and whisked to ensure the eggs don't scramble when added.
If eggs are added directly to the heated milk they would scramble and not integrate to make the rich, creamy custard.
How to Make it – Step-by-Step
STEP 1. Heat the tapioca mixture
Combine the milk, tapioca pearls, sugar and salt in a heavy, medium saucepan over medium heat (photo 1).
Stir often until the mixture is foamy on top and almost simmering.
Reduce heat to low.
Cook until the tapioca pearls are translucent and plump; 20-35 minutes.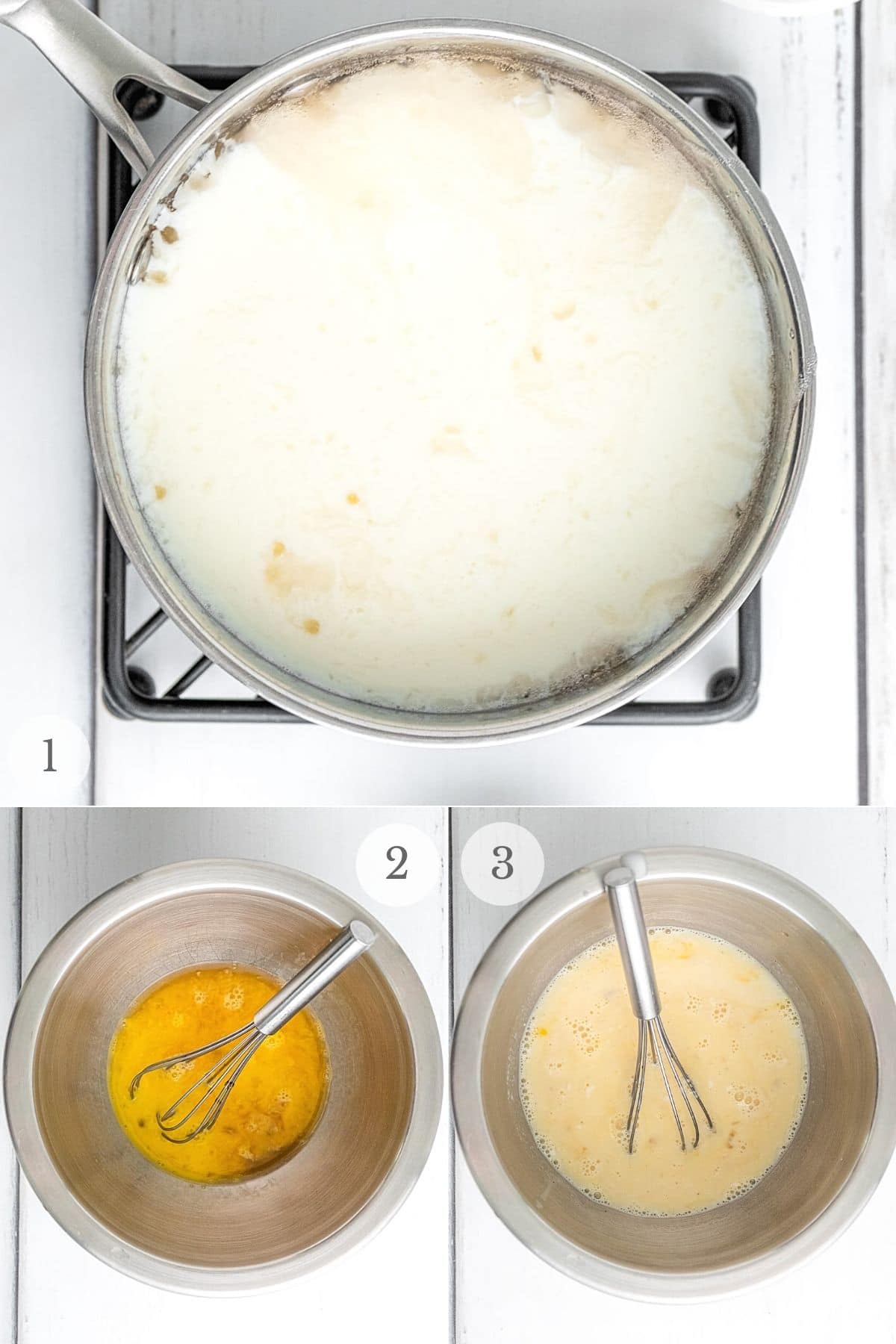 STEP 2. Mix eggs and vanilla extract
Combine the eggs and vanilla extract in a mixing bowl; whisk (photo 2).
STEP 3. Temper the eggs
Add a few large spoonfuls of the hot tapioca mixture into the egg mixture.
Whisk constantly to mix together and prevent the eggs from scrambling (photo 3).
Slowly return the mixture to the saucepan (photo 4). and whisk constantly to mix in.
STEP 4. Finish the tapioca
Increase the heat to medium and stir constantly until the tapioca thickens (photo 5); approximately 5 minutes.
Remove from heat and cool for 20 minutes before serving (it will continue to thicken).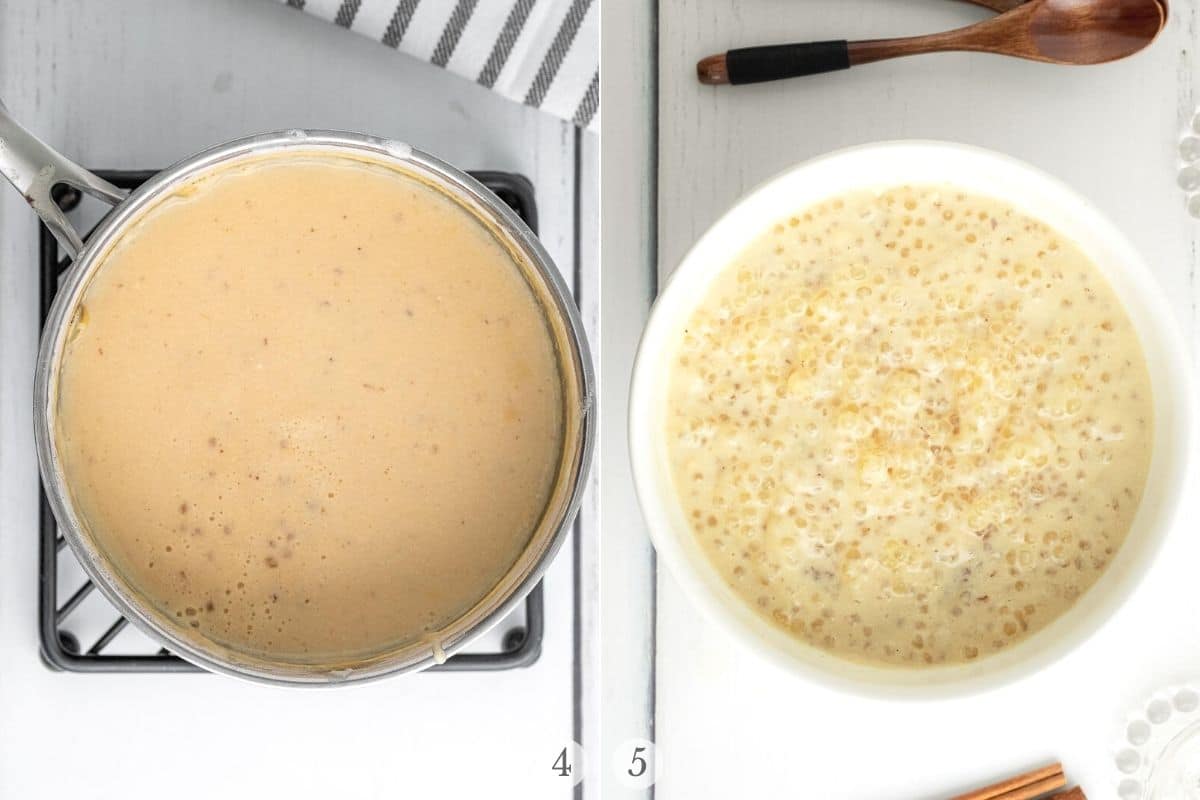 Pro Tips
Set plastic wrap on the surface of the pudding while it cools. This is a trick used for making curd recipes too.
It prevents a skin from developing on the top of the pudding!
Tapioca thickens as it cools. If the pudding doesn't look completely thickened when the cooking ends don't worry! It will continue to thicken as it cools.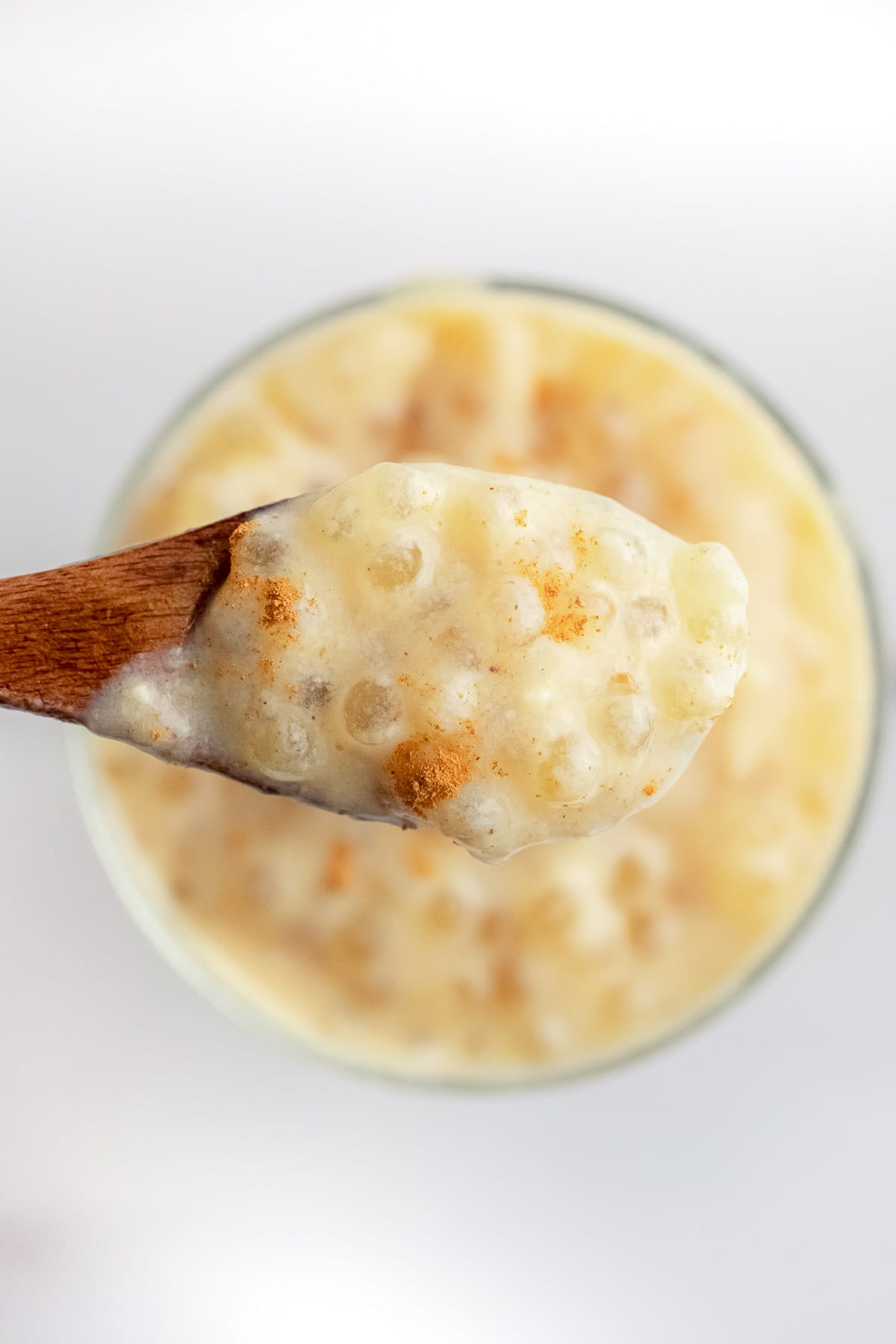 Frequently Asked Questions
What are the balls in tapioca pudding?
Those are tapioca pearls which come from a starch harvested from cassava root. The pearls only add texture. On their own they don't have much flavor. The flavor comes from the pudding ingredients.
Can tapioca be made with almond milk?
Yes! Try this slow cooker almond milk tapioca version. Coconut milk can be used too.
Storing Leftovers
Allow the pudding to fully cool. Place in an airtight container in the refrigerator for up to 1 week.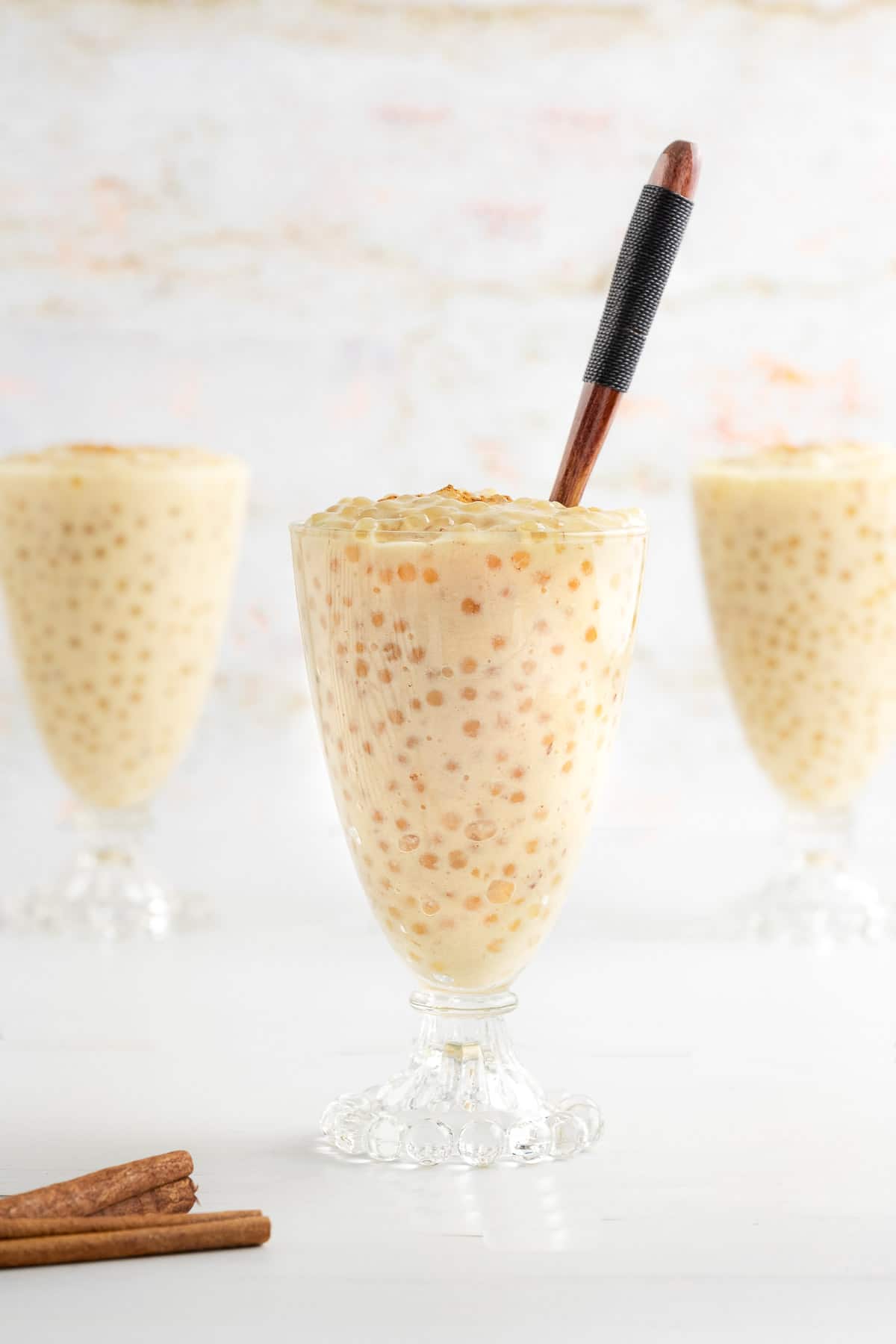 More Recipes You'll Love!
Did you make it? Please RATE THE RECIPE below!
Please
SUBSCRIBE
and
FOLLOW ME
on
FACEBOOK
,
TWITTER
,
INSTAGRAM
and
PINTEREST
!
Recipe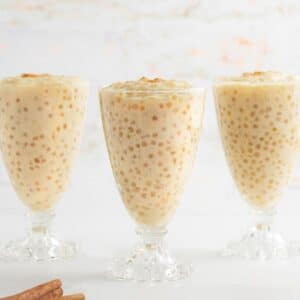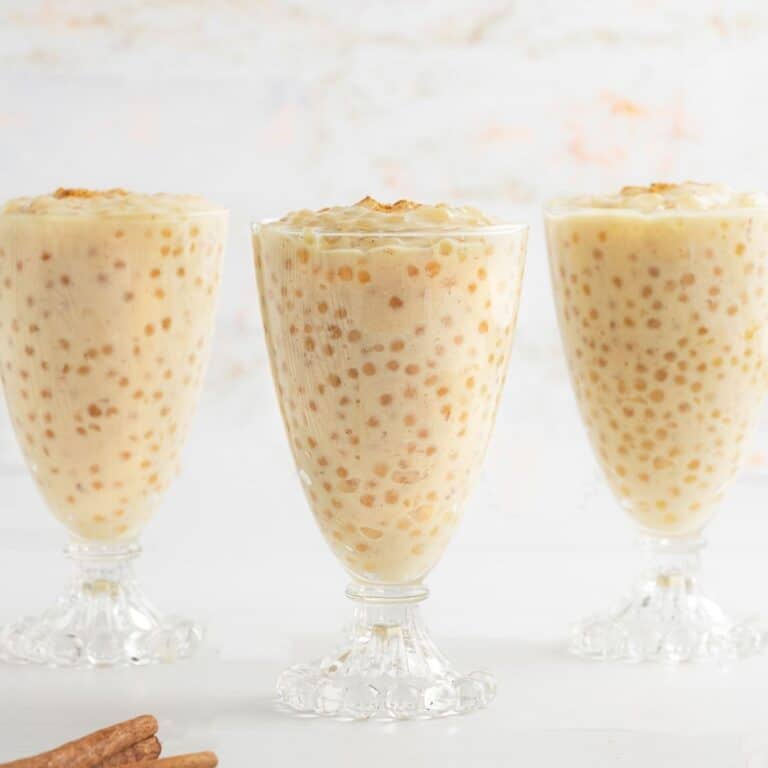 Tapioca Pudding
This tapioca pudding is so rich and creamy. It can be served warm or chilled. The flavors of vanilla, milk, and vanilla, with a creamy sweet tapioca base makes this dessert a household favorite. Prep Time 5 Minutes Cook Time 25-30 Minutes Serves 4 Makes: slightly less than 3 cups 5 ½ cup servings
Print
Save Recipe
Recipe Saved!
Pin
Rate
Servings:
5
1/2 cup servings (total yield: slightly less than 3 cups)
Ingredients
½

cup

small pearl tapioca

not instant

3

cups

whole milk

1/4

teaspoon

kosher salt

2

eggs

1/2

cup

granulated sugar

1 1/2

teaspoons

vanilla extract
Instructions
Add the milk, tapioca, granulated sugar and salt to a medium heavy saucepan. Stir to fully combine.

Cook over medium heat just until it is almost simmering (it will look foamy) and reduce the heat to low.

Cook stirring often, scraping the bottom of the pan to avoid the tapioca pearls sticking to the pan or the mixture burning. Cook until the tapioca pearls are plump and transluscent which can take between 20-35 minutes.

In a separate mixing bowl whisk together the eggs and vanilla extract.

Add a couple spoonfuls of the hot tapioca mixture to the eggs and whisk constantly to incorporate. Whisking is key to prevent the eggs from scrambling.

Slowly transfer the mixture back into the tapioca saucepan and again whisk constantly to mix in.

Increase the temperature to medium and stir constantly until the tapioca thickens; around 5 minutes. Remove from heat, place a piece of plastic wrap on the surface of the tapioca and allow to cool 20 minutes.

Seal in an air tight container for up to 3 days.
Notes
Tapioca Pearls
Use small tapioca pearls.
Do not use 'instant tapioca'.
We used Bob's Red Mill Small Tapioca Pearls which do not need to be soaked.
Check the package for the brand you use regarding soaking. If using a version that needs to be soaked, reduce the milk to 2 1/2 cups when preparing the recipe.
Cooking Pro Tips
When heating the tapioca mixture, stir often scraping the bottom of the saucepan. This helps prevent burning or the tapioca from sticking to the bottom of the pan.
Storing the tapioca pudding
Allow it to fully cool. Add to an airtight container and refrigerate for up to 1 week.
Nutrition
Calories:
250
kcal
|
Carbohydrates:
41
g
|
Protein:
7
g
|
Fat:
6
g
|
Saturated Fat:
3
g
|
Trans Fat:
1
g
|
Cholesterol:
80
mg
|
Sodium:
205
mg
|
Potassium:
221
mg
|
Fiber:
1
g
|
Sugar:
28
g
|
Vitamin A:
332
IU
|
Calcium:
179
mg
|
Iron:
1
mg