Now your favorite comfort food doesn't take hours to prepare. Gluten-Free Lasagna Soup are all the flavors you love in lasagna but in a soup! And a gluten-free one at that.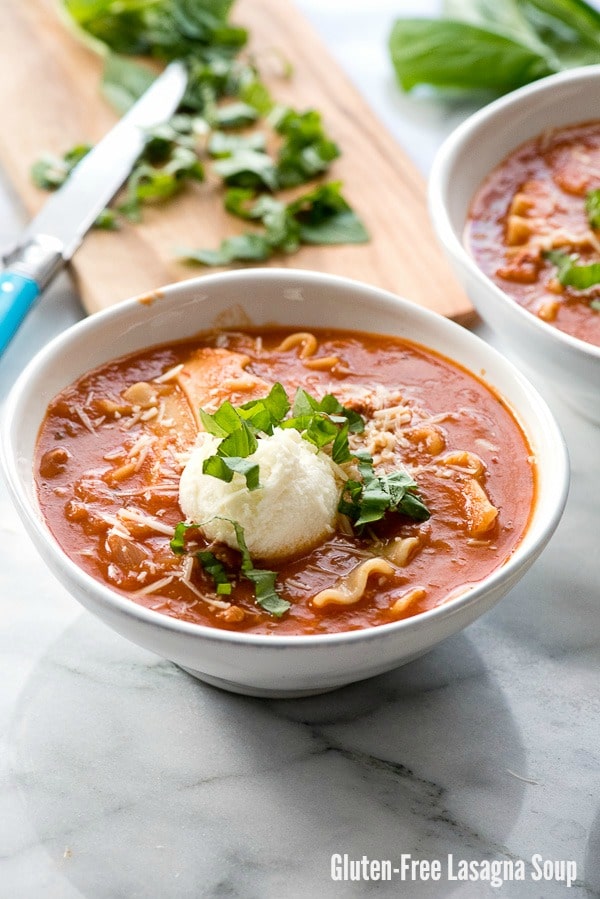 I have been thinking about recipes to share with you in the next few weeks before the holidays. I always think about fancier things like the Easy Whole Roast Duck with Chinese Five Spice or Lobster Risotto with Saffron and Haricot Vert I've shared in the past. But it struck me what I value in addition to the few upscale meals we prepare are fun options when entertaining a crowd. Recipes that don't take long to pull together and are 'just right' on days of lots of activity. Gluten-free Lasagna Soup fills the bill!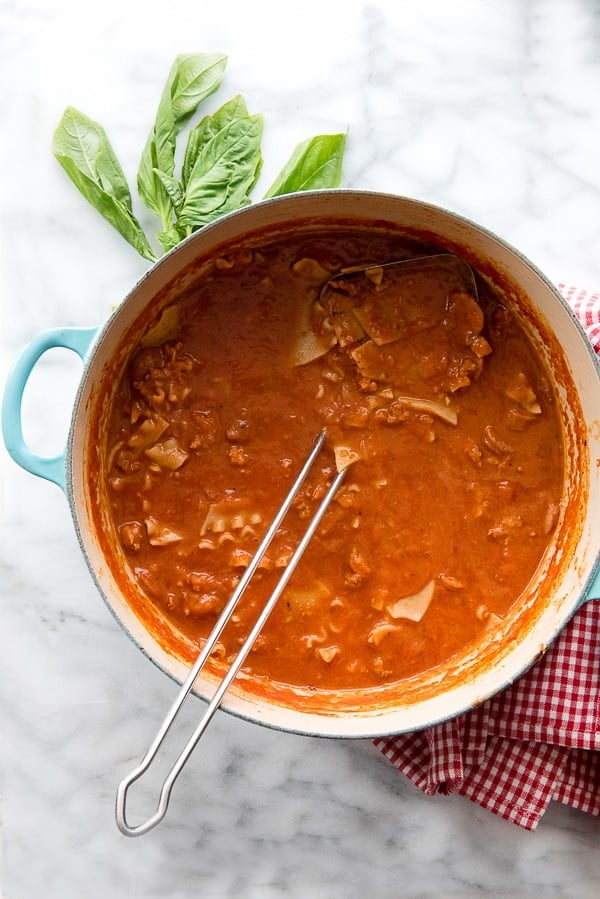 Lasagna is a go to comfort food in our household. I shied away from making it for awhile because it can take such a long time. I mastered a trick that makes it go much faster and allows the noodles to not have to be pre-cooked (check Step 9; makes perfectly cooked noodles every time with no pre-boiling), but it still has to cook for an hour basically. Along with traditional lasagna we love (and apparently so do Boulder Locavore readers as this is a top recipe from Pinterest) Cheesy Buffalo Chicken Lasagna and Mexican Lasagna with Hatch Chilies. Gluten-free Meat Lasagna Roll Ups and Spicy Sausage Skillet Lasagna are great riffs on the original recipe too.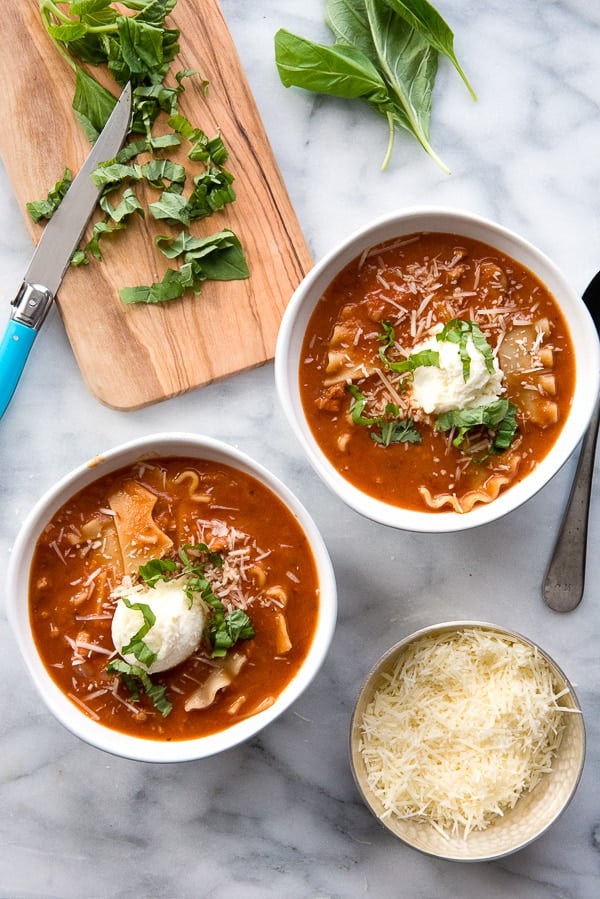 However, as our temperatures dip into the single digits I wanted to make a Lasagna Soup and one that is gluten-free. As you might guess Gluten-free Lasagna Soup tastes just like a deconstructed lasagna with tomato, Italian spices, Italian sausage and some familiar cheese to top it. I used a mix of loose hot Italian sausage and links of sweet Italian sausage which I often do when making traditional lasagna. It gives a bit of a kick to the creamy noodle soup.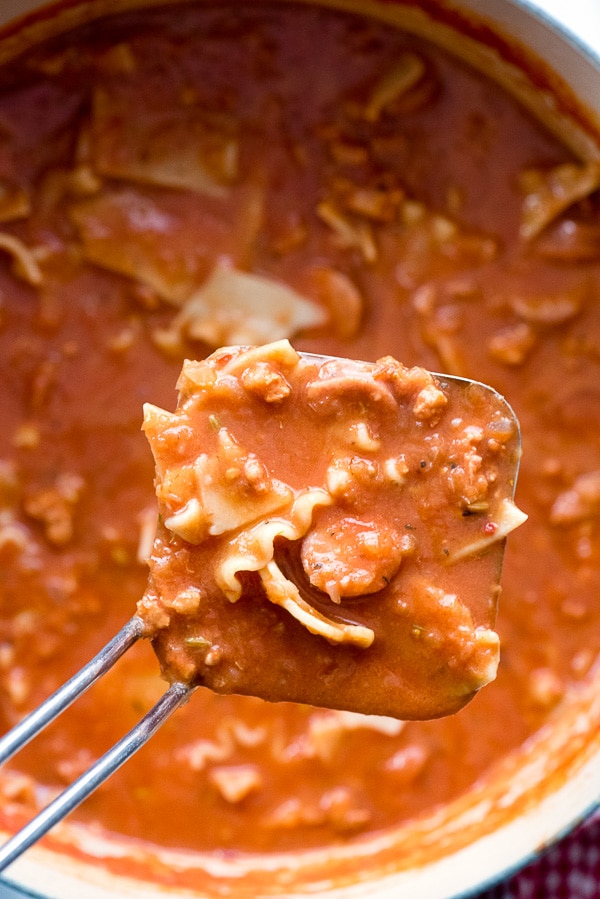 Gluten-free Lasagna Soup is easy to prepare and is done in about 35 minutes cooking time. The most effort is chopping onions to sauté along with garlic, sausage and herbs. Crushed tomatoes and chicken stock are added to simmer. Broken gluten-free lasagna noodles (a great way to use up those noodles that have fallen apart in the package!) are tossed in at the end and the soup is finished with a splash of Half and Half. A dollop of ricotta cheese, grated Parmesan cheese and fresh basil garnish individual servings. Can you think of a cozier soup to have by a roaring fire?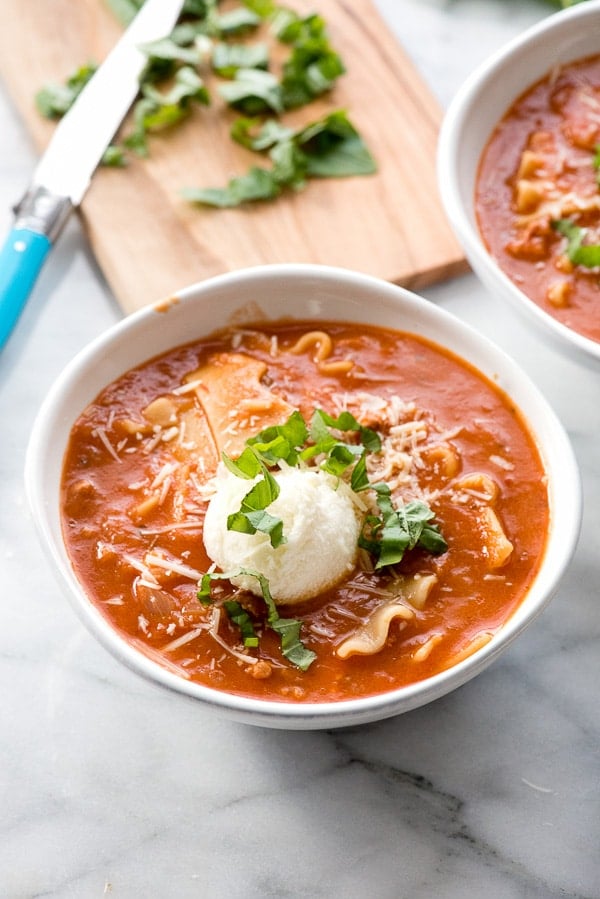 I'm sure this recipe can be adapted for gluten lasagna noodles as well. The noodles are broken up and added to the soup to cook until they are tender (about 14 minutes for the gluten-free noodles). Typically, gluten flours and noodles are more absorbent so they would most like cook faster and may require a bit more chicken stock to be added to the soup to prevent it thickening up too much. Just watch it and adjust as needed.