Brimming with Italian flavors and chunky colorful vegetables this White Bean Soup warms heart and soul. Best of all, it comes together lightning quick when made in the Instant Pot!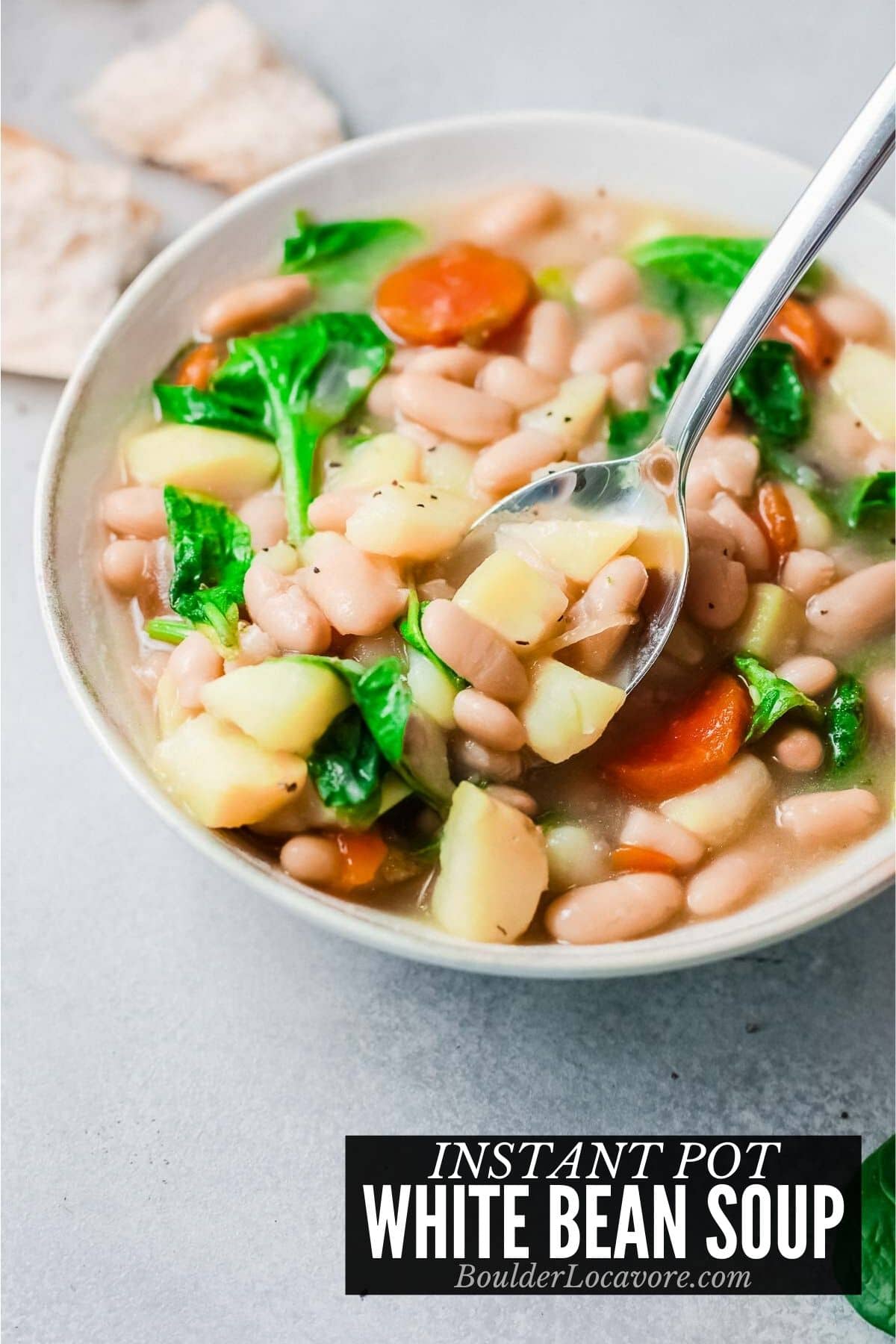 This delicious bean soup is a favorite comfort food recipe. It's very easy to make and to change up.
It's ready in less than 30 minutes and is naturally gluten-free.
Serve it alone or add Bruschetta Chicken, Italian Pasta Salad and Italian Cream Cake for a full meal!
Fast Delicious White Bean Soup
This White Bean Soup recipe is not your ordinary bean soup.
Garlic and Italian seasonings make it amazingly aromatic and flavorful.
Tender chunks of potatoes, carrots and baby spinach turn a light dish into a filling meal.
This is a perfect cozy soup for a chilly winter night, especially served with a side of crusty bread.
Since it's made in the Instant Pot, you can enjoy a steaming bowl of soup without heating up your whole kitchen.
This makes Cannellini Bean Soup a wonderful soup recipe for all-seasons, too.
Fire up the Instant Pot and have homemade White Bean Soup ready to eat in only 20 minutes!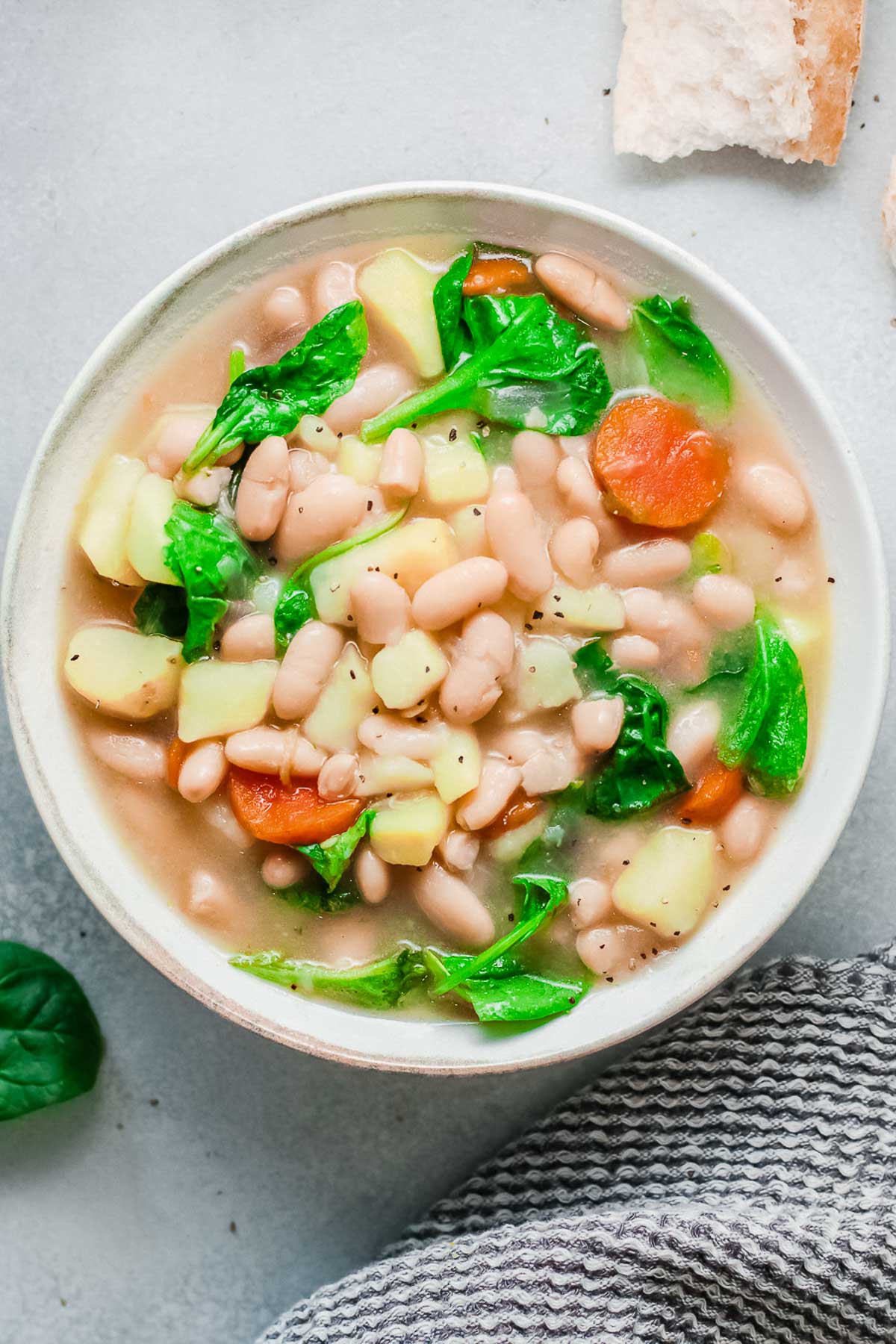 Recipe Ingredients + Notes
Olive oil. The oil is used to sauté the onions and provide great classic Italian flavor.
Red onion. Red onion gives wonderful flavor to the soup broth and adds some color to the ingredient combination.
Garlic. Fresh garlic is diced and sautéed briefly with the onions before the soup is pressure cooked.
Carrots. Peel and slice first.
Potatoes. Yukon Gold potatoes are best for pressure cooking because of how well they hold their form. Their skins are so thin that you don't need to peel them, unless you prefer to.
If you leave the peel on, some bits of the peel may separate from the potato when pressure cooking.
Chicken broth. We always recommend low sodium broth or stock. This keeps you in control of adding the amount of salt you choose rather than the broth taking that over.
Vegetable broth can be substituted to make this vegetarian.
Cannellini Beans. Canned, drained white cannellini beans are used in this soup recipe. They are delicious and pretty with the other ingredients. Using canned beans instead of dried beans makes the recipe go faster!
Canned Great Northern beans or Navy beans can be substituted if desired.
Baby spinach. Use fresh baby spinach. I can be purchased already washed in the produce section of the grocery store which is a time saver!
Italian seasoning. This seasoning blend is a combination of classic Italian spices. Oregano, marjoram, thyme, basil, rosemary and sage are usually included.
It's pre-blended so you don't need to use several separate spices. It's with the other spices at the grocery store. The flavor is absolutely delicious!
Optional Ingredients
Heavy cream. To stir in after cooking if you want the broth to be creamy.
Shaved Parmesan cheese. Delicious sprinkled on top of the finished white bean soup!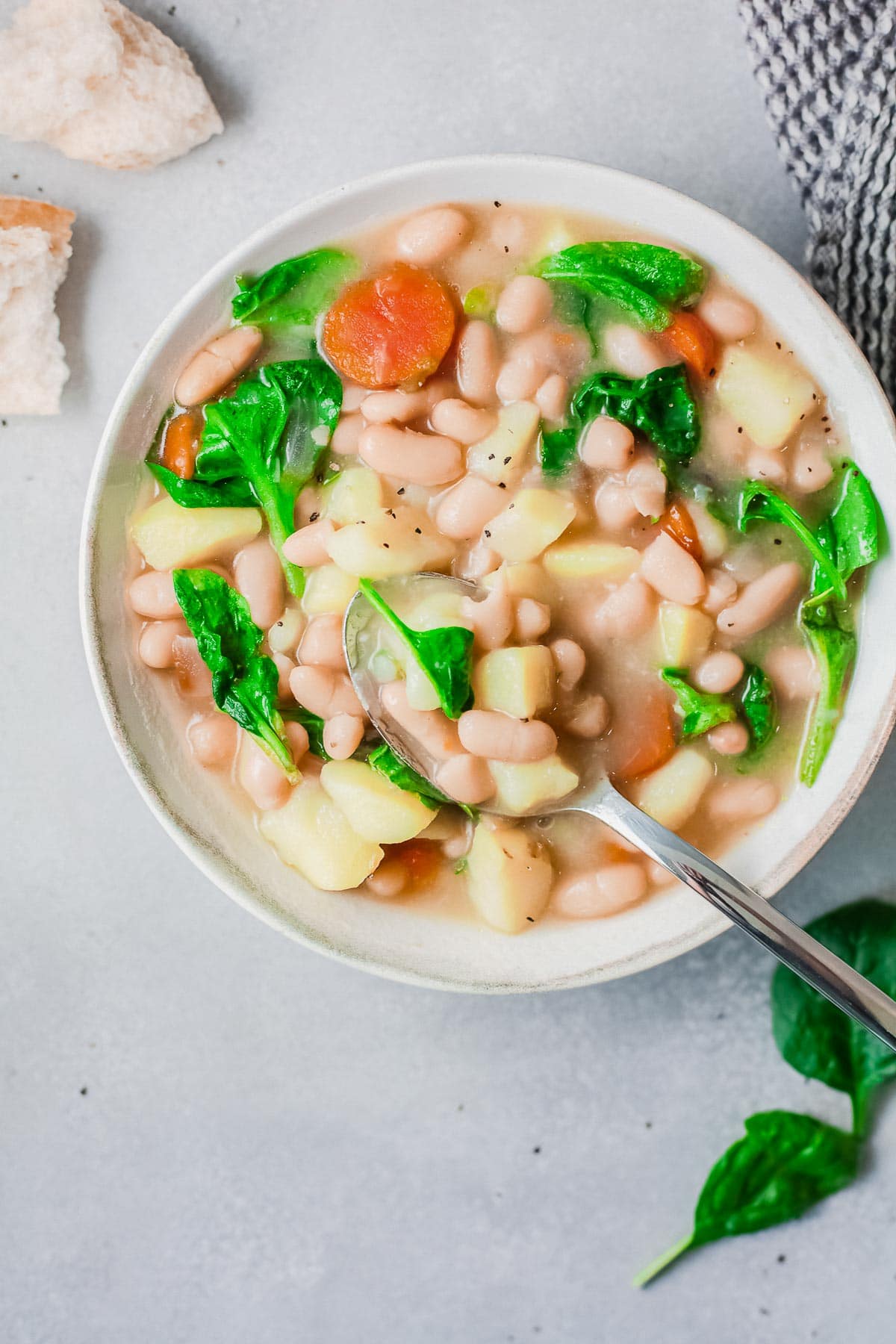 Variations
Ham. Add 1 cup of cooked chopped ham to the soup after cooking. A great way to use up any holiday ham leftovers!
Chicken. Stir in 1 cup of cooked shredded chicken for another filling variation that makes this meal extra hearty.
Bacon. Stir in some cooked bacon before or after cooking. Some rendered bacon fat could also replace the olive oil when sautéing the onions.
Add more vegetables. This soup is very flexible to change up. Add fresh or canned chopped tomatoes.
Some celery for some extra crunch and flavor. Fresh or frozen corn or peas are also delicious.
Use shallots instead of onions. Shallot have a flavor that is a cross between onions and garlic. Use them instead of onions for a different flavor.
Vegetarian. Substitute the chicken broth for vegetable broth to make vegetarian White Bean Soup.
Use an immersion blender at the end. To slightly thicken the soup use an immersion blender to pulverize some of the ingredients.
How to Make it – Step-by-Step
STEP 1. Sauté the onions and garlic
Set your Instant Pot to the SAUTE setting and add the oil. Sauté the onions in the heated oil until softened, then add the garlic and cook an additional minute.
STEP 2. Pressure Cook
Put the potatoes, carrots, and chicken stock into the Instant Pot over the onions and garlic (photos 1 and 2).
Lock the lid and valve and select HIGH PRESSURE for a cook time of 6 minutes.
Manually release remaining pressure and remove the lid of the pot. The potatoes should be fork tender (photo 3). Set the Instant Pot back to SAUTE.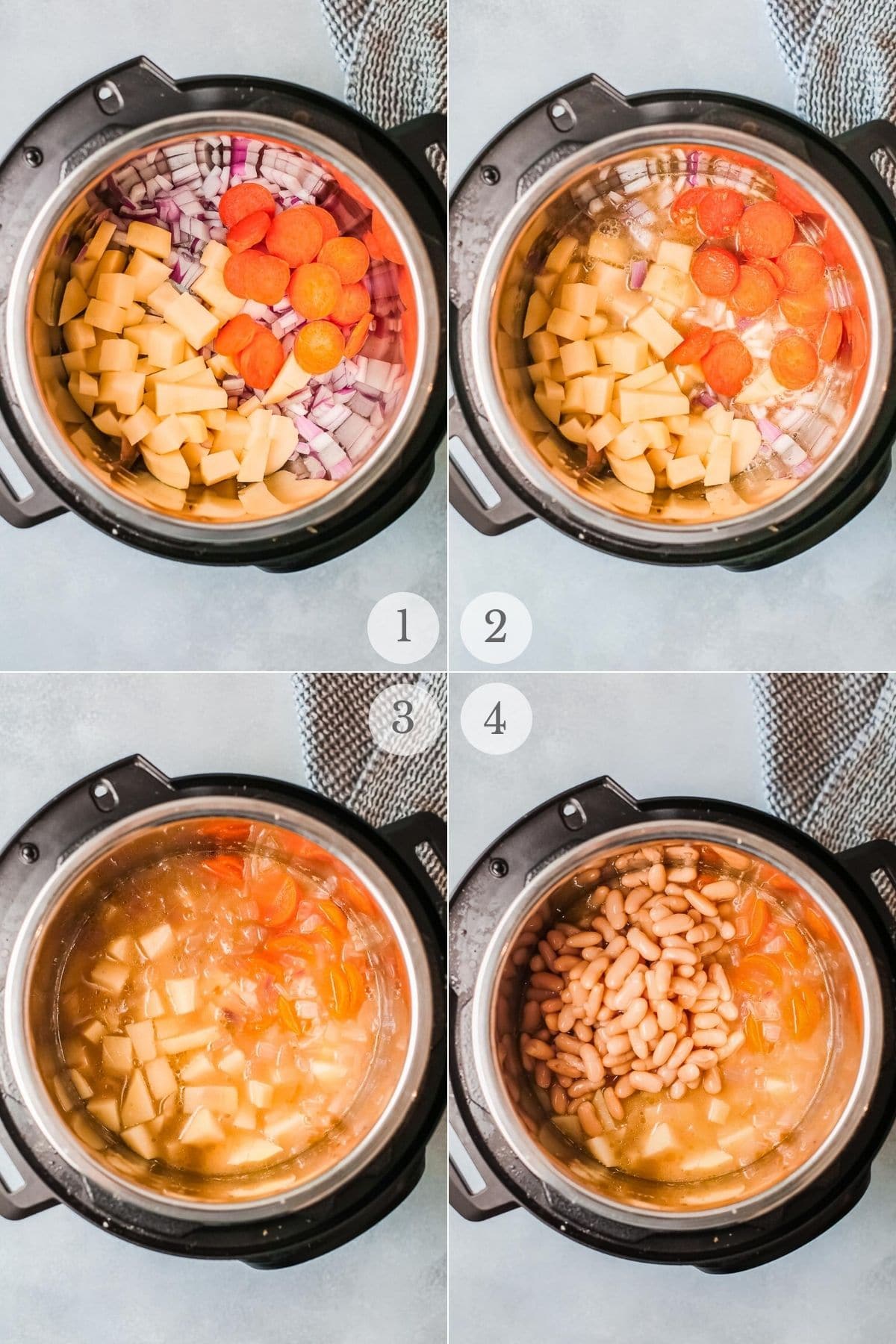 STEP 3. Add beans and spinach
Add the white beans, baby spinach and Italian seasoning (photo 5). Cook for 4 minutes.
The spinach will have just begun to wilt. Season with salt and pepper to taste and stir (photo 6).
Ladle the Cannellini Bean Soup into bowls and garnish with shaved Parmesan cheese. Simply delicious!
STEP 4. Add heavy cream (optional)
Stir heavy cream into the broth and heat until just warmed through.
This gives the White Bean Soup an even richer, creamier flavor.
It's delicious both with and without the added cream.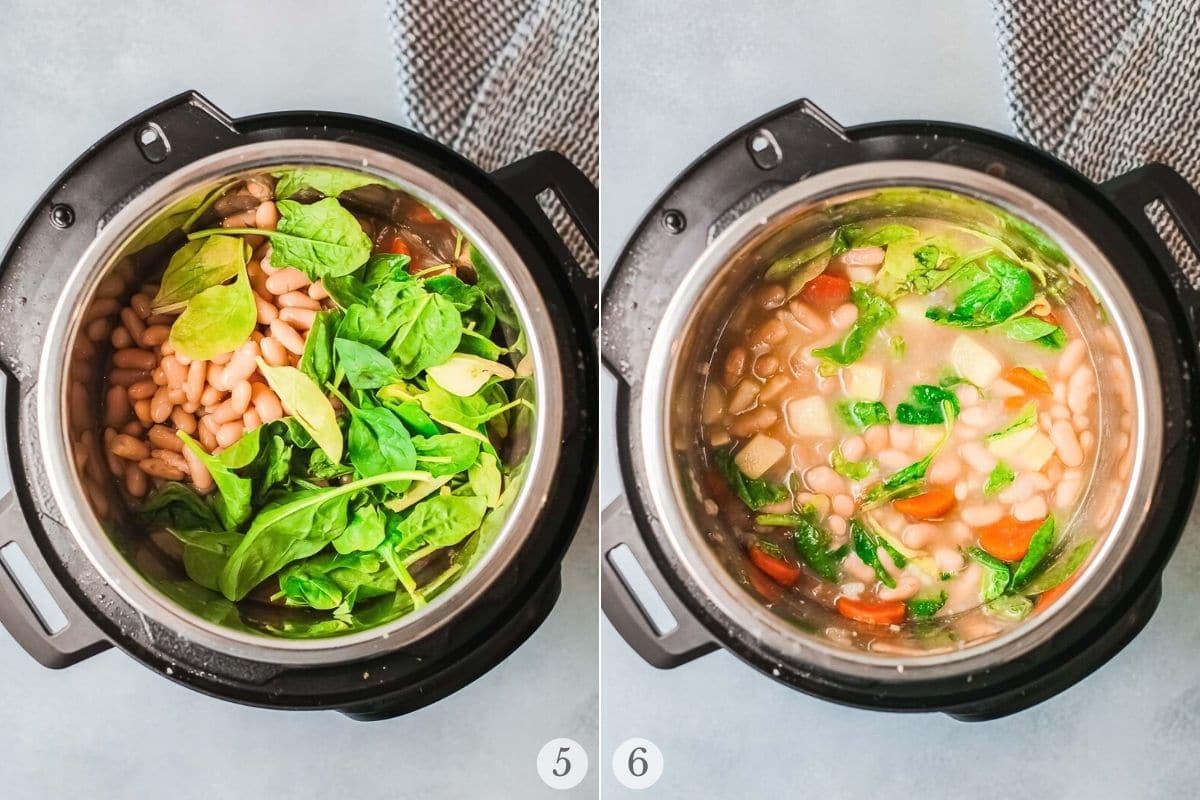 Recipe FAQ's + Pro Tips
Can dried beans be used in this soup recipe?
The cooking time for this particular recipe is based on using already cooked beans. This helps make it fast and easy.
Is this the same at Tuscan White Bean Soup?
I've researched the true definition of Tuscan White Bean soup and have not found a concrete definition of the soup. However this is very similar if not the same.
Some versions seem to use bacon and kale instead of spinach that is used in this recipe.
BUT if you like Tuscan White Bean soup I feel sure you'll love this recipe too!
I don't have an Instant Pot! How can I make this on the stove top?
Heat the olive oil in a stock pot over medium high heat.
Add the onions and carrots. Sauté until the onions have softened and are translucent (around 5 minutes)
Add the garlic and sauté and additional 1 minutes.
Add the potatoes, broth, seasonings. Bring to a boil, reduce the heat and simmer until the potatoes are cooked through (estimated 20 minutes)
Add the spinach and beans. Simmer for 4-5 minutes until the spinach wilts and the beans are warmed through.
Stir in the heavy cream if desired and serve!

Storing Leftovers
Keep any leftover soup in an airtight container in the refrigerator for 3 -4 days. Reheat in the microwave or the stove top.
This soup freezes well, too! The White Bean Soup can be stored in the freezer for about 3 months.
It's best frozen without the addition of the cream. Cream can separate when frozen and thawed.
For the creamy consistency, stir in the cream after thawing and reheating the soup.
More Recipes You'll Love!
Need a soup recipe that you can get on the table in record time? White Bean Soup made in the Instant Pot is the answer! You'll love this soup.