Just a few simple ingredients make these Puff Pastry appetizers a crowd pleasing hit of any dinner party. Caramelized onions and fresh figs are the stars of these quick and easy hors d'oeuvres!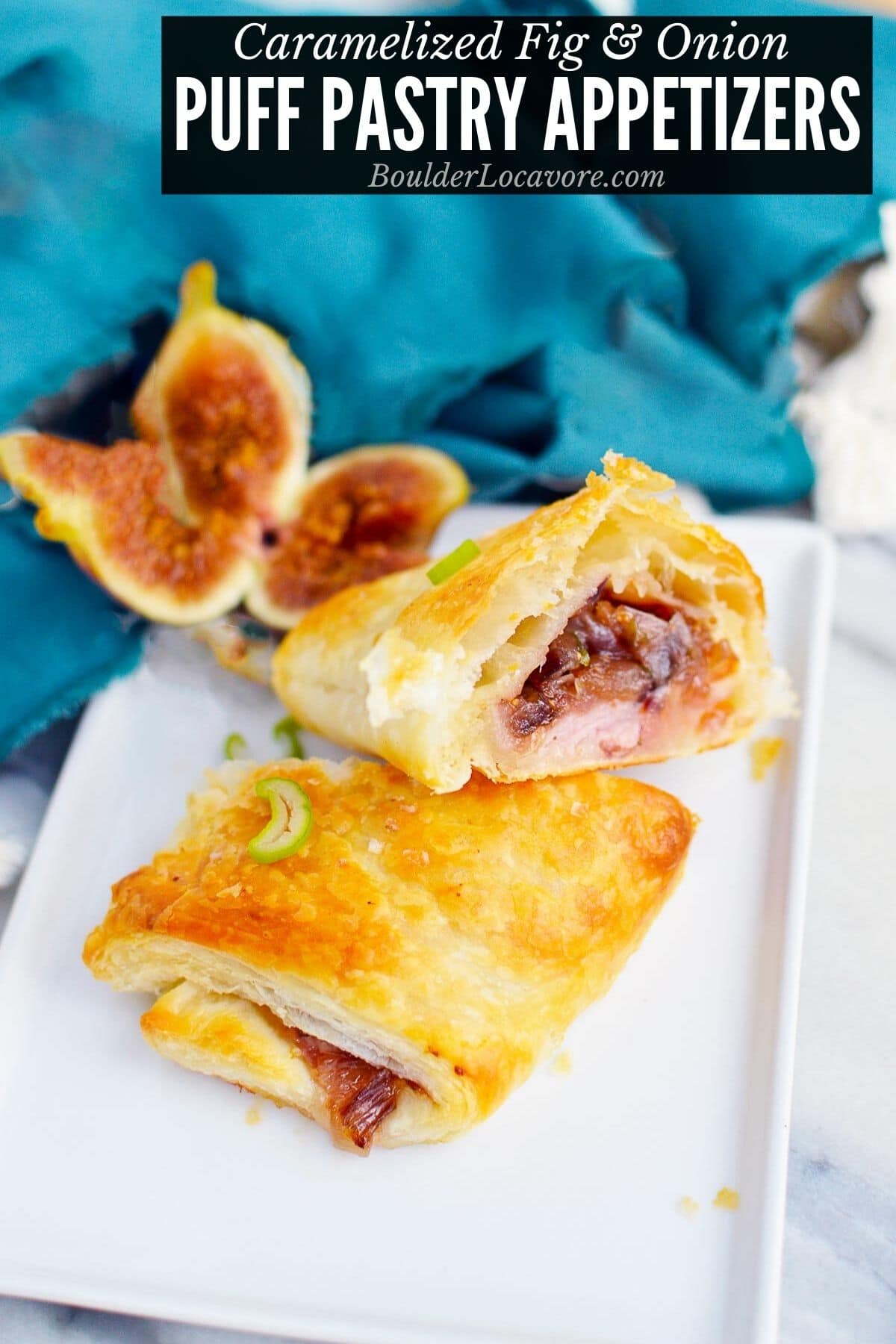 These easy appetizers are mini hand pies full of savory and sweet flavors.
The combination is the perfect balance between the two.
This easy appetizer recipe is a great way to enjoy fresh figs when they are in season.
What is Puff Pastry?
This flaky pastry almost melts in your mouth when it's baked.
Buttery and light, making a crisp casing for both sweet and savory recipes.
The key is a lot of butter!
Since it's available to buy in the frozen section of the grocery store, it makes recipes like this one fast and easy to prepare.
The end result is a sophisticated, elegant appetizer recipe (no one has to know how easy it was to make).
The frozen puff pastry should be thawed before using.
Also some brands use vegetable oil as an ingredient instead of butter.
I recommend using an option that uses butter instead of oil for best flavor.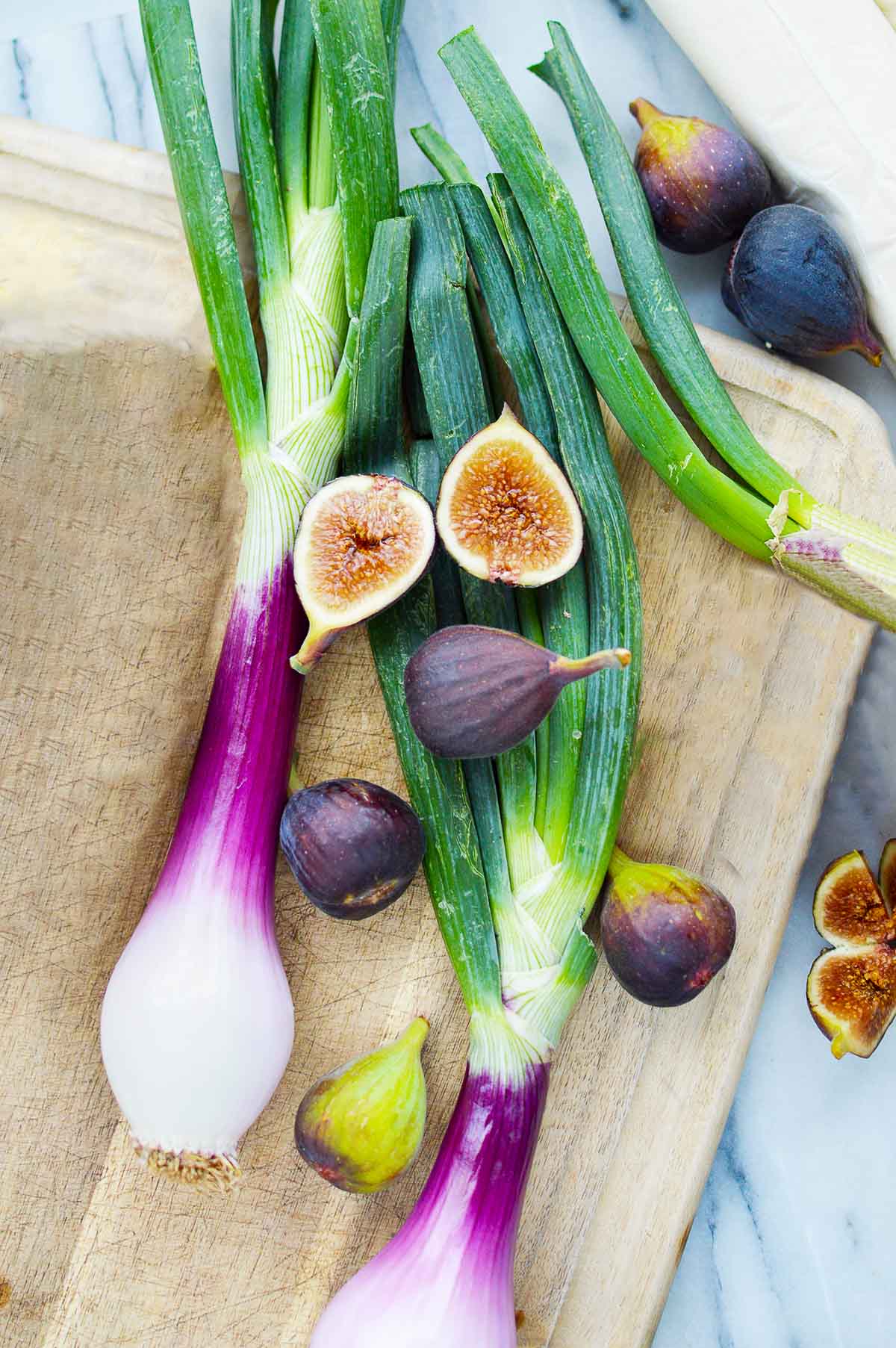 Recipe Ingredients
Onions – choose your favorite onions or shallots. They will caramelize as they cook making them soft and delicious.
Fresh Figs – the key is using fresh figs for this recipe. Mission figs and Brown Turkey figs are probably the most popular however there are multiple types of figs to choose from.
Salted Butter – this adds just the right amount of salt when sauteing the figs and onions.
Puff Pastry – available pre-made at the grocery store. Notes on gluten-free options farther down the post.
Apricot Jam – brushed on the outside of the puff pastry before baking for the perfect finishing touch and beautiful golden color!
Salt and Pepper
When are Figs in season?
In the United States there are two main fig seasons. The first one is short and only lasts the first two weeks of June.
The second runs from August through October.
How to Select Fresh Figs
They should have smooth skin, not deeply wrinkled. They should not be overly firm or squishy.
The outer skin is edible making preparing the figs easy.
Rinse them off, pat them dry and chop for sauteing.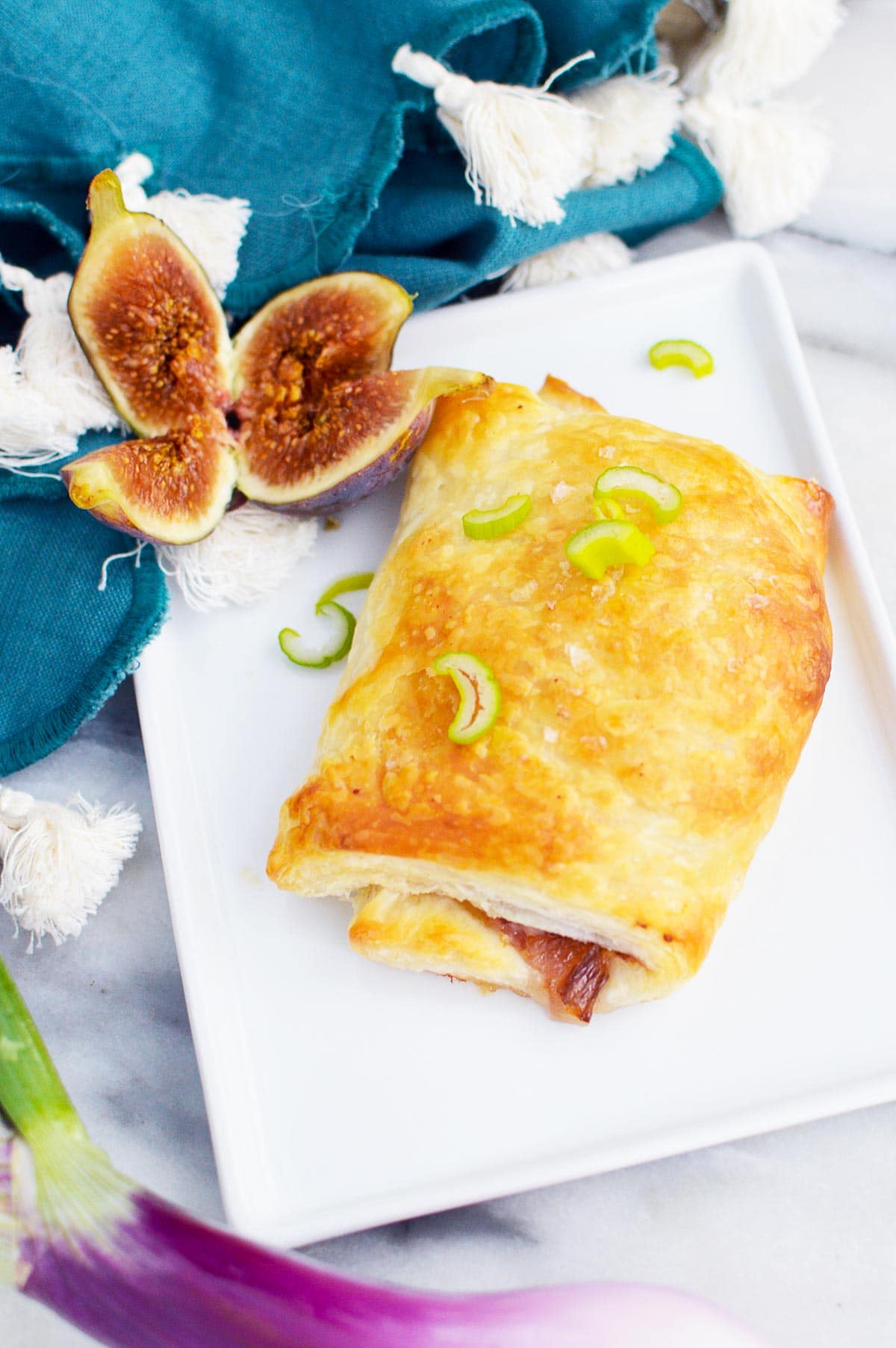 How to Make It – Step-by-Step
This recipe is very easy to make!
STEP 1: Preheat the oven to 400 degrees F. Line a rimmed baking sheet with parchment paper.
STEP 2: Heat a large non-stick skillet over medium heat and melt the butter. Add the onions and figs; saute until they are soft and caramelized.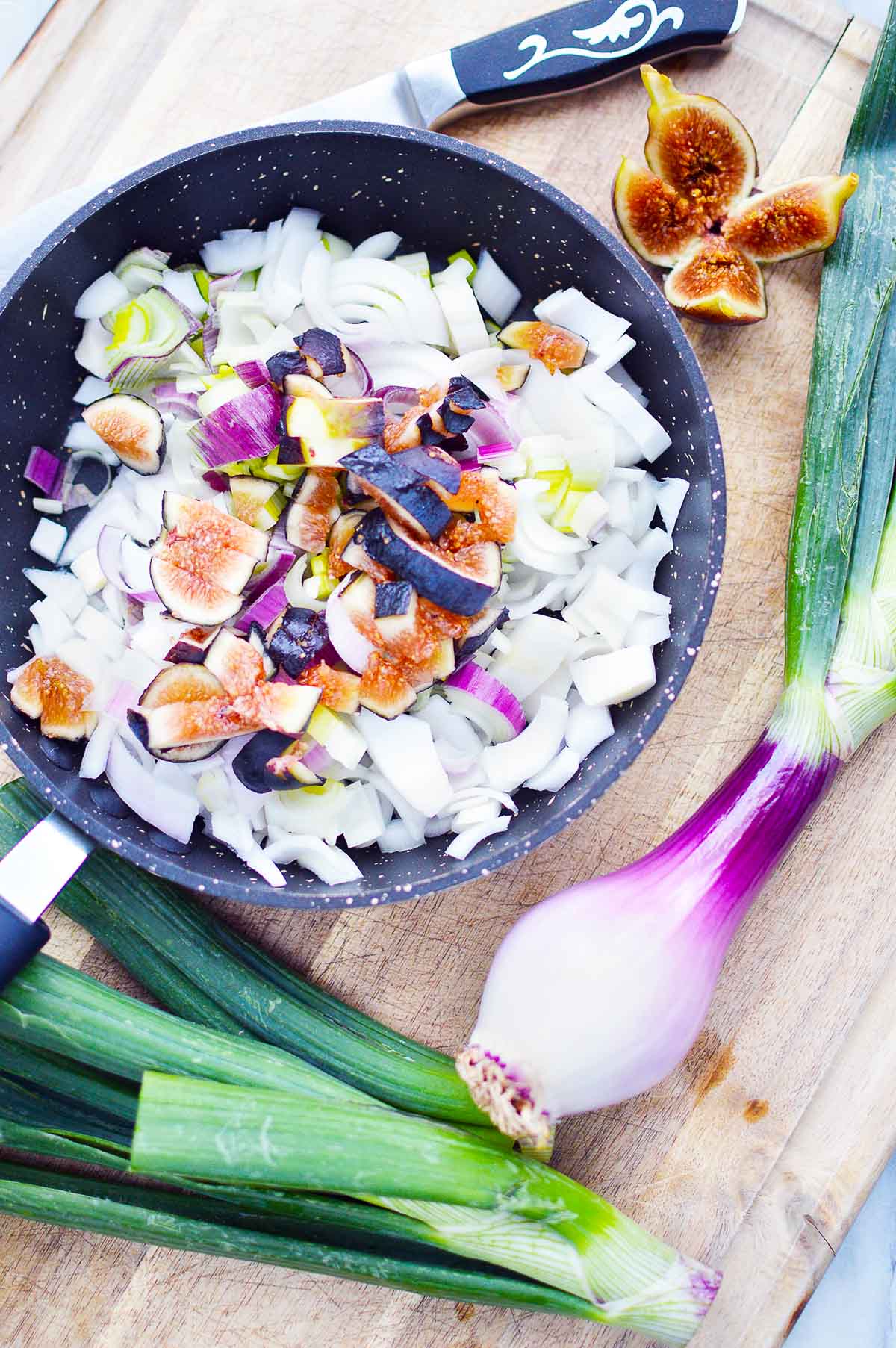 STEP 3: Unfold the puff pastry and cut into 8 pieces (note: it may have perforated lines already to divide the pieces). Place pieces on the prepared baking sheet.
STEP 4: Spoon some of the onion-fig mixture onto one side of a puff pastry piece. Repeat until all the filling is used.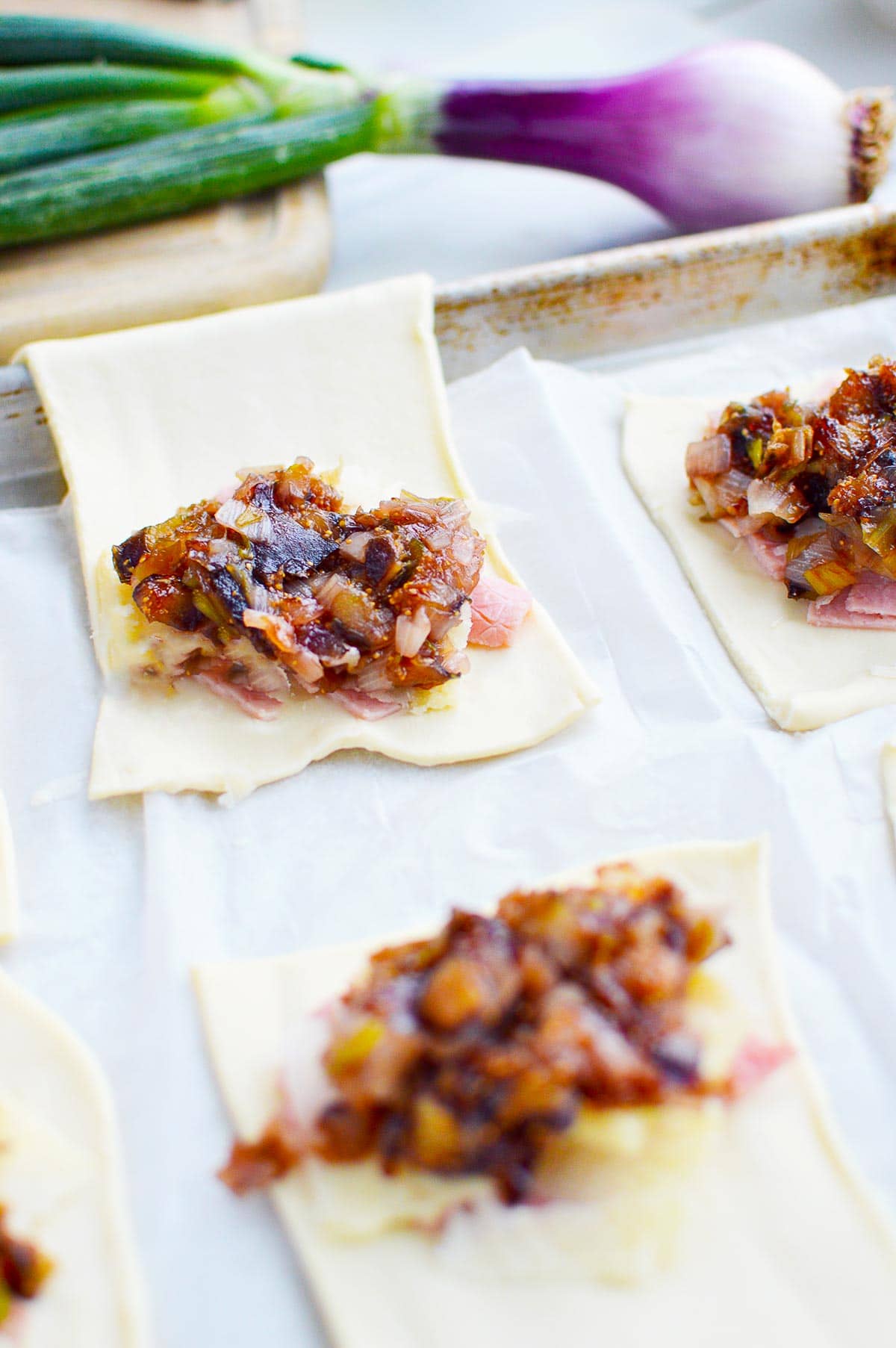 STEP 5: Fold the pastry over and pinch the long ends together. The shorter ends can stay open, the filling will not leak out. Brush the tops of each pastry with apricot jam.
STEP 6: Bake for 20 minutes or until the pastry has completely puffed, become deep golden in color and flaky. Allow to cool 5 minutes before serving.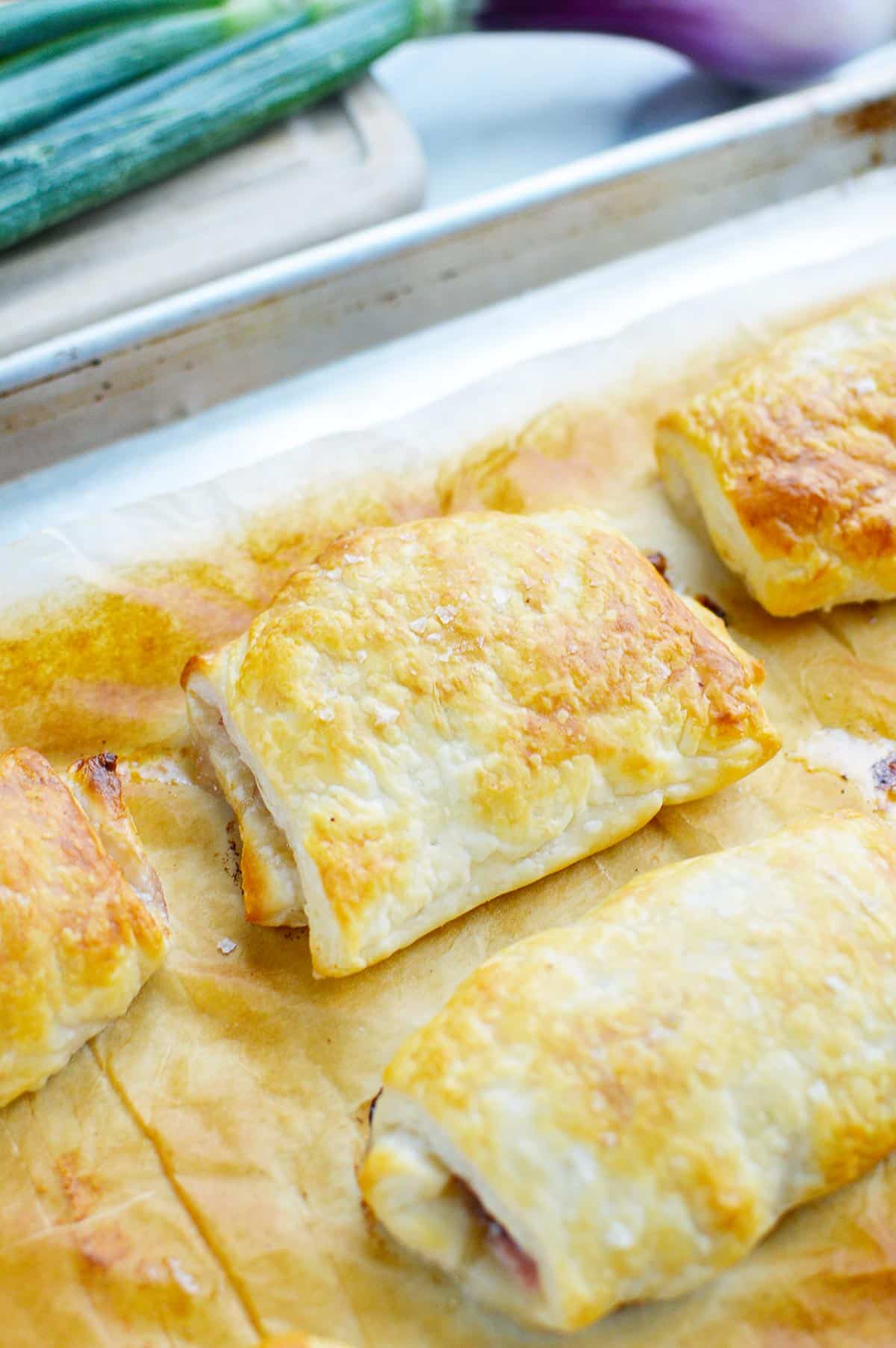 How to Serve it
These little savory hand pies can be served by themselves or in combination with other appetizers.
They make a delicious meal when serving a few with a side salad too.
Making it Gluten-Free
Unfortunately gluten-free puff pastry is a bit of a tricky thing to find. This is one of the few gluten products that's not readily available in gluten-free form.
However there are options!!
Where to Buy Gluten-Free Puff Pastry?
There are a few companies that make it, Schar being one.
In my experience and opinion they make delicious high quality gluten-free products.
They do not sell it online and it is only currently available regionally. You can use their find it link to see if it's at a grocery store in your area.
To use this feature set your zip code at the top. Scroll to the Puff Pastry and select. Select the mileage range from you next to 'within'.
NOTE: I recommend calling the store identified as having the product before going. I have found sometimes Schar products are carried at the store but a particular product may not be.
I located another brand I have not tried personally: Gfree Puff Pastry. Shipping is currently only available in the US and at stores (you'll find a Store Locator via the product link).
The product reviews on Amazon.com (it's not available for purchase currently on Amazon) are equally weighted for and against it.
Genuis Puff Pastry is another option however at this time I see it available in the UK only and not the US.
They too have a product finder option to look in your area.
How to Make Gluten-Free Puff Pastry
You can also make your own. Here are a few recipes from trusted sources to try:
Recipe from Gluten-Free on a Shoestring
Recipe from GF Jules (she has developed her own gluten-free flour blend and baking mixes too available on her site or on Amazon.com)
Recipe from Bob's Red Mill (they use pie crust mix for their recipe)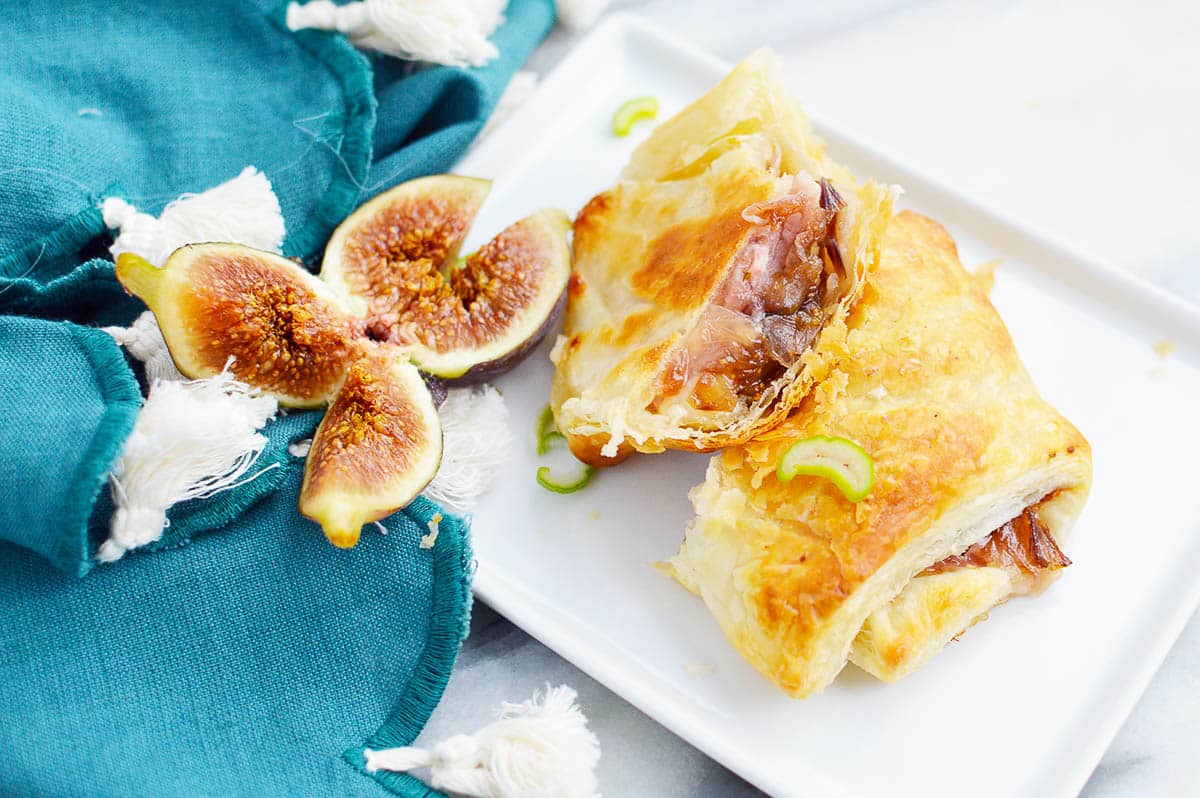 Try these Recipes too!
Did you make it? Please RATE THE RECIPE below!
Please SUBSCRIBE and FOLLOW ME on FACEBOOK , TWITTER , INSTAGRAM and PINTEREST !
Recipe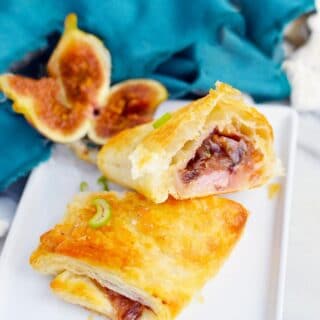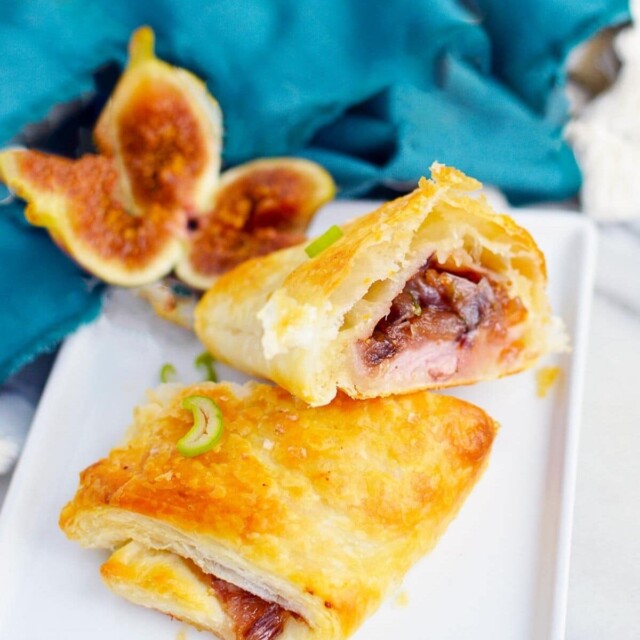 Caramelized Onion & Fig Puff Pastry
Light, flaky and buttery, these caramelized fig and onion appetizers are so easy and fast to make! They are an elegant appetizer without the effort!
Print
Save Recipe
Recipe Saved!
Pin
Rate
Ingredients
1

teaspoon

Salted Butter

2

cups

medium diced Onions

1 to 1.5

cups

chopped fresh Figs

Salt and pepper to preference

1

sheet of refrigerated Puff Pastry dough

make sure it is cold and not frozen

¼

cup

Apricot Jam
Instructions
Line a large rimmed baking sheet with parchment paper. Preheat the oven to 400 degrees F.

Heat a nonstick skillet over medium heat and melt the butter. Sauté the onions and figs until they are soft and caramelized. Salt and pepper to taste.

Unfold the puff pastry and cut into 8 (or number of your choosing) pieces and set onto the parchment paper lined tray.

Spoon some of the onion-fig mixture onto one side of each puff pastry piece. Repeat until all of the filling has been evenly used.

Fold over the puff pastry dough and pinch the long end closed. The ends will still be open as the filling will not leak out.

Brush the tops with a little bit of apricot jam.

Bake for about 20 minutes or until the pastries have completely puffed up and are golden brown.

Allow the pastries to rest for a few minutes before serving and enjoying.
Notes
Yield:

8 small hand pies depending on the size of your pastry dough and how many pieces you choose to cut it into. Adjust cooking time accordingly.
Nutrition
Calories:
229
kcal
|
Carbohydrates:
28
g
|
Protein:
3
g
|
Fat:
12
g
|
Saturated Fat:
3
g
|
Cholesterol:
1
mg
|
Sodium:
86
mg
|
Potassium:
151
mg
|
Fiber:
2
g
|
Sugar:
10
g
|
Vitamin A:
73
IU
|
Vitamin C:
4
mg
|
Calcium:
24
mg
|
Iron:
1
mg