Cherry Cream Cheese Pie is an old school favorite dessert recipe for good reason. It's easy to make, tastes like cherry cheesecake and is perfect to make any day special!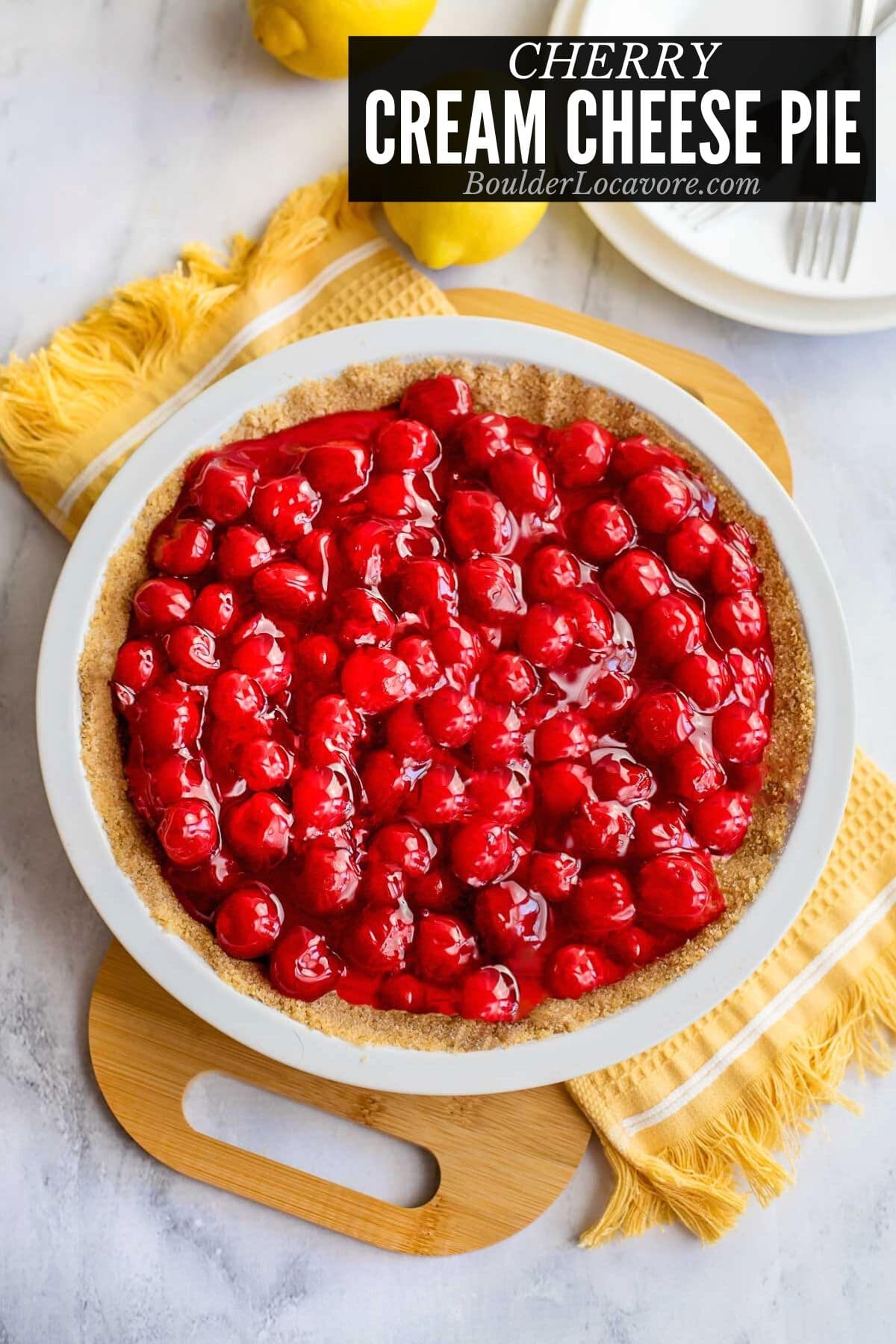 If you just did a double take and are thinking 'that's the pie my Grandmother/Mom used to make!', you are correct. It is exactly that recipe!
An easy classic pie developed mid 1900's that has woven its way onto every family dinner table for summer, Thanksgiving and/or Christmas.
It's a chilled tangy sweet dessert that's super simple to whip up with no baking.
Sprinkle some fresh blueberries in the topping and you have a perfect Fourth of July red, white and blue dessert.
Easy Cherry Pie recipe
This dessert is known by multiple names.
Cherry Cream Cheese Pie. Cherry-O Cream Cheese pie. Some even look at it as a cheesecake recipe.
My guess is it started on the back of a product package and landed in our Grandmother's recipes boxes.
Graham cracker crust, with a tangy, creamy, sweet lemony filling that softly sets (not firmly like a real cheesecake).
Topped with canned cherry pie filling (though we are sharing some other options too).
It becomes an easy choice thanks to simple assembly, great flavor and no baking.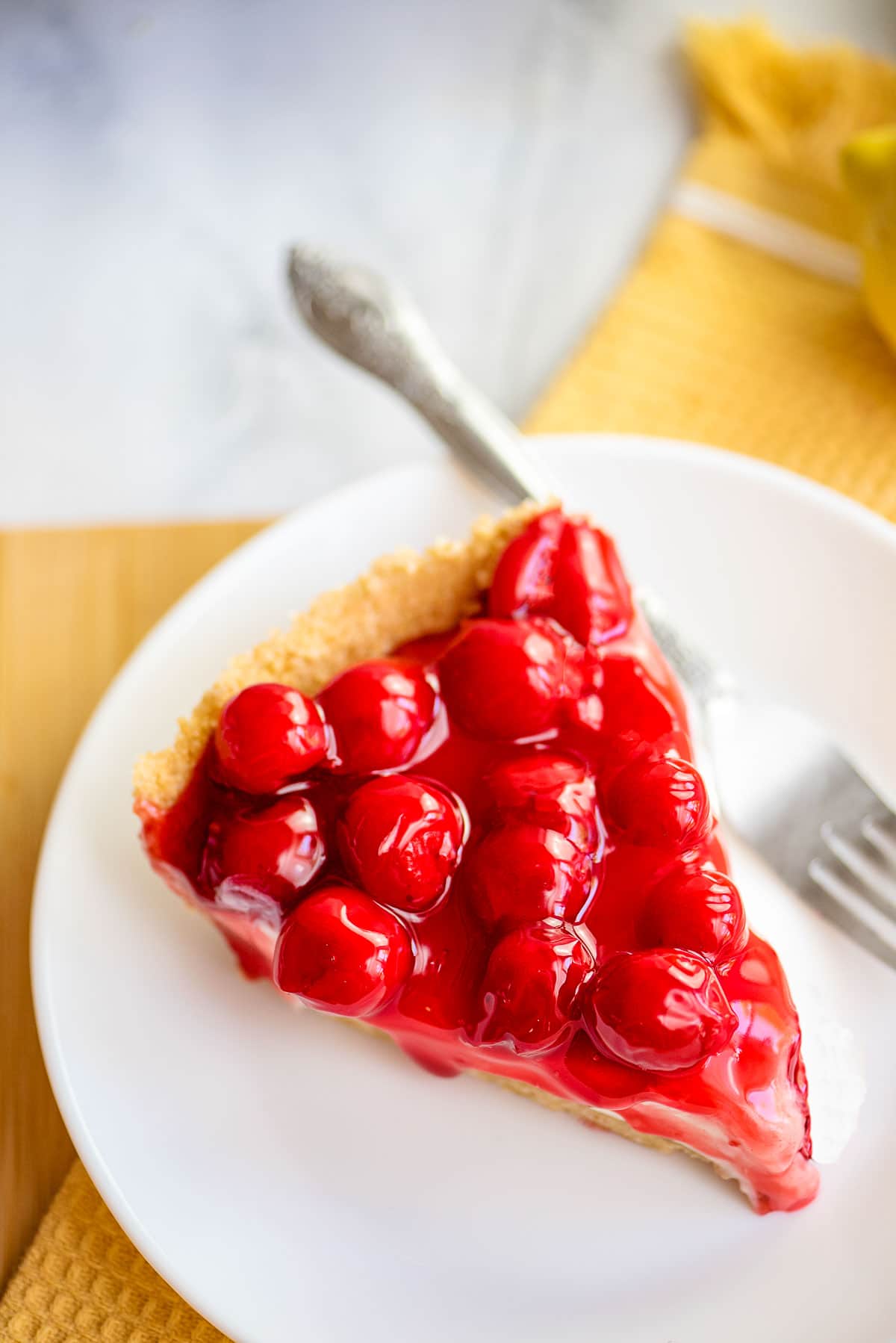 Recipe Ingredients
Cream Cheese – make sure it's completely softened to avoid lumps in the filling.
Sweetened Condensed Milk
Lemon Juice – use freshly squeezed lemon juice. Or if using bottled lemon juice be sure it's 100% real lemon juice.
Vanilla Extract
9-inch prepared Graham Cracker Crust – store bought or homemade.
Cherry Pie Filling – refrigerate the can when starting the recipe!
Gelatin – this is optional but gives the pie a bit more structure while still leaving it very creamy.
Rather use Homemade Cherry Pie filling?
Any type of cherry pie filling will work for this recipe.
If you have some time and would like to make it from scratch, this cherry pie filling recipe is delicious!
Easy Homemade Graham Cracker Crust
You can use a store crust for this recipe but homemade crusts are fast and easy!
This is my favorite Graham Cracker Crust recipe and I think you'll love it too!
How to Make Cherry Cream Cheese Pie – Step-by-Step
STEP 1: In a large bowl (or the bowl of a standing mixer) gradually beat cream cheese until fluffy and smooth (photos 1-2).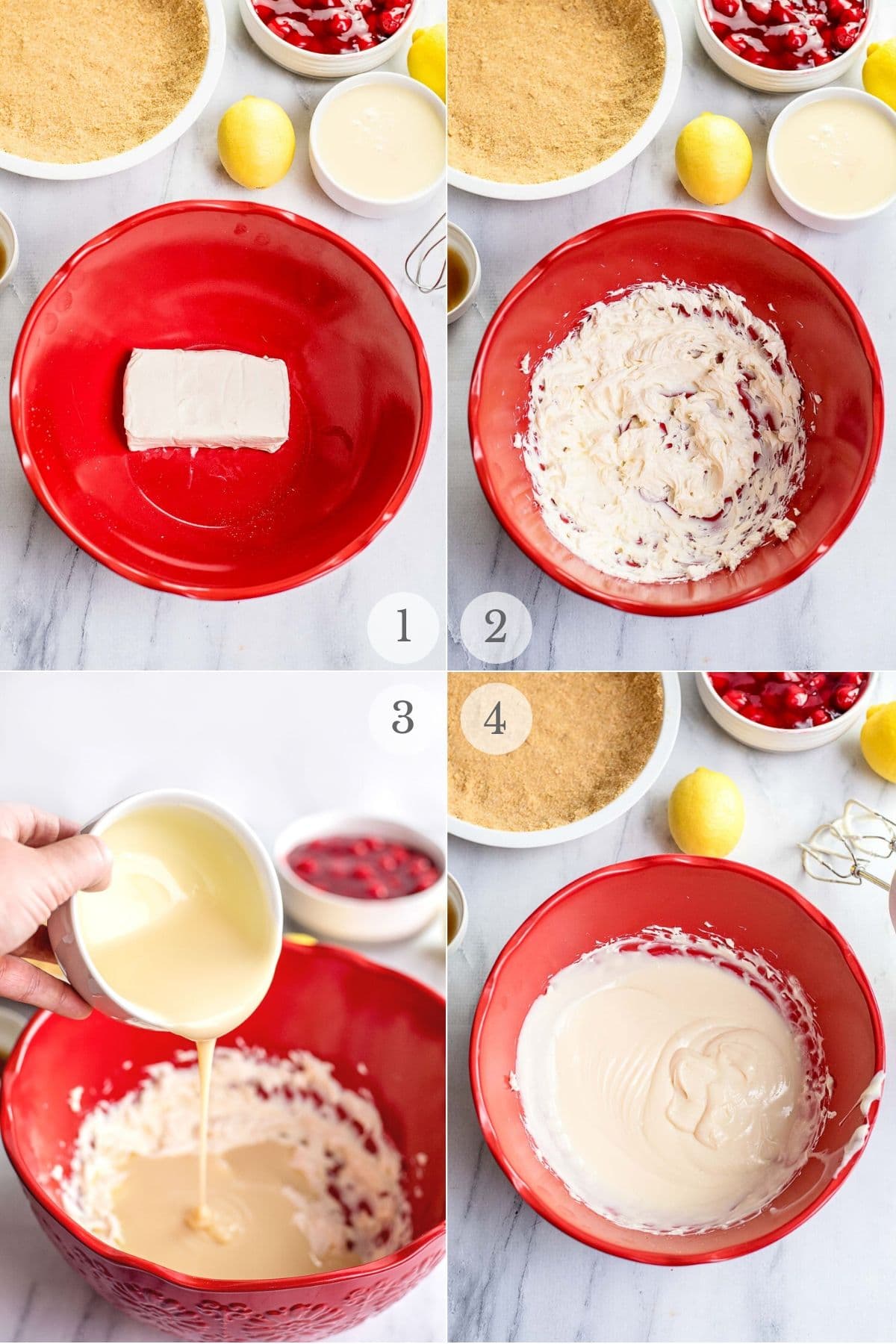 STEP 2: Pour in the sweetened condensed milk. Gradually beat in sweetened condensed milk until smooth (photos 3-4).
STEP 3: Pour in the lemon juice and vanilla; stir to combine (photos 5-8).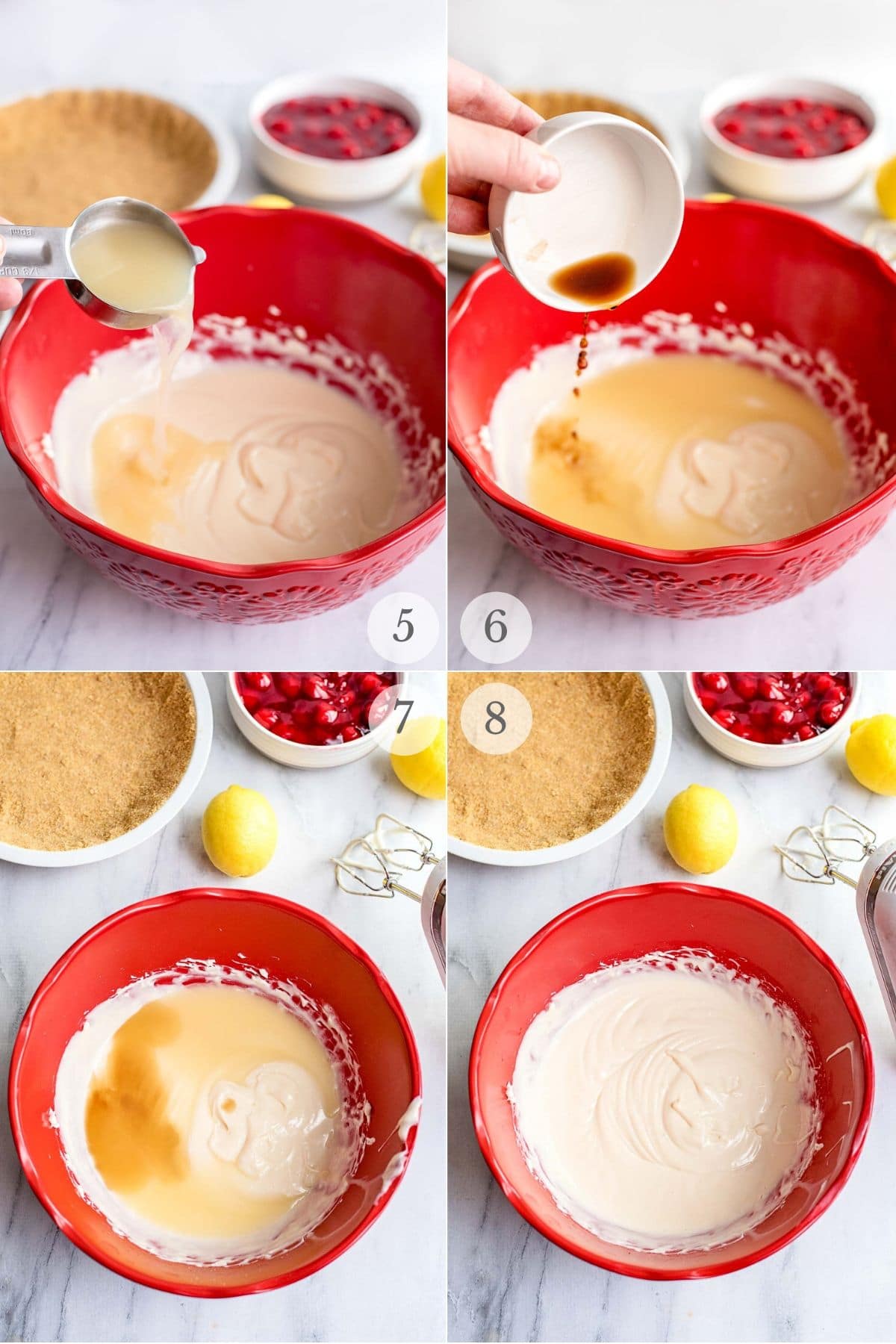 STEP 4: Spoon filling into the graham cracker crust (photos 9-10). Cover and chill for a minimum of 4 hours to overnight.
PRO TIP: I place the pie on a small rimmed baking sheet and put a piece of foil over it, tenting it slightly so it does not get in the filling.
I then cover that with plastic wrap to seal before chilling. It's now sealed but without risk of the plastic wrap sitting in the filling.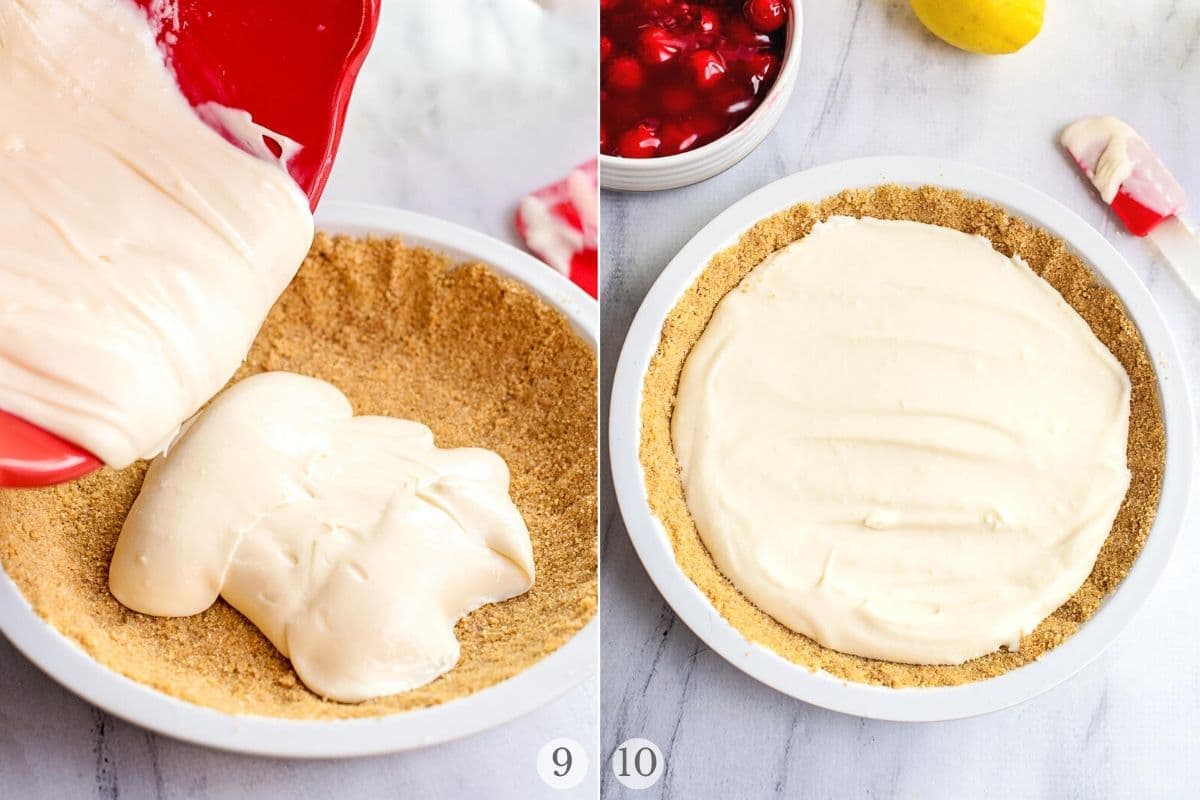 STEP 5: Right before serving, spoon the chilled cherry pie filling onto the top of the pie. OR spoon the cherry filling over individual slices.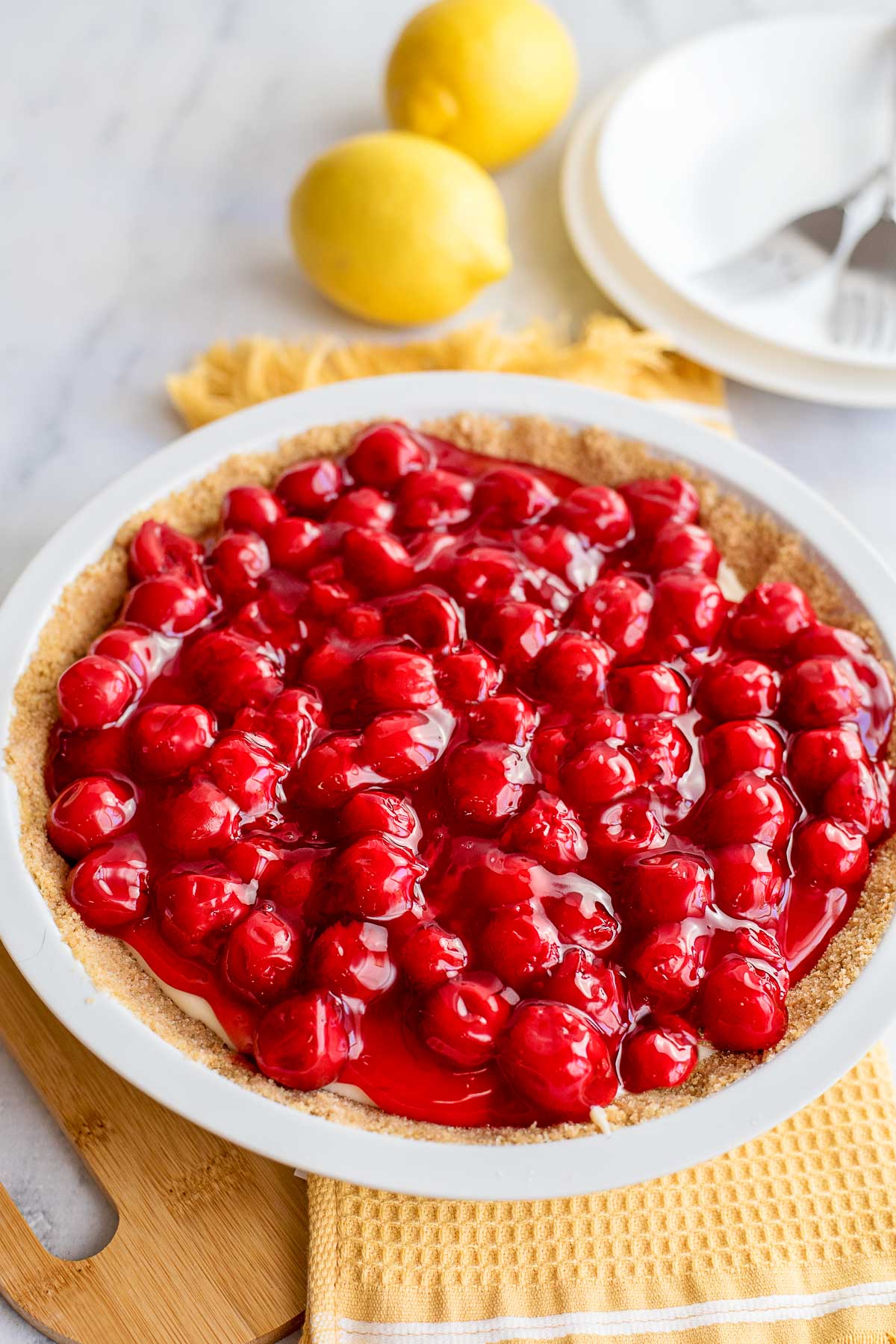 Tip For a Firmer Pie
This pie sets with a soft creamy consistency. My family prefers it with just a smidge more structure.
Even when using this trick the pie will not be firm, just firmer. No creamy consistency is lost.
If you prefer a firmer slice try this trick:
Add 1 teaspoon gelatin to the lemon juice. Allow it to sit for 1 minute to thicken (do not stir).
Add the lemon juice to the recipe as directed.
Variations
Swap in a Chocolate Cookie or Chocolate Graham cracker crust for a Black Forest flavor.
Top it with a Different Pie filling. Try a different pie filling on top like blueberry to change it up.
Want to make it lighter? Instead of pie filling topping, pile it high with fresh berries.
Pro Tips
Make sure the Cream Cheese is fully softened
This will avoid lumps in the filling.
Use REAL Lemon Juice
Fresh squeezed or 100% real lemon juice if it's bottled (not from concentrate).
Chill at least 4 Hours – Overnight is Better
To help the pie set, be sure to chill it at least 4 hours without the cherry pie filling on top!
If you can chill it overnight even better.
Refrigerate the unopened can of Cherry Pie filling
Being a softer setting chilled dessert, if the cherry pie filling is cold it will help the pie hold its structure when it's spooned on top.
Add the Pie Filling Only When Serving
The cherry pie filling should be added just before serving the pie!
It can be added on top as shown in the photos OR spooned on top of individual slices.
Do not add it to the pie when the filling is chilling. It will prohibit the filling from setting properly.
What if my Pie Doesn't Set Up?
I've seen this question on similar recipes. If you follow the recipe as written and the Pro Tips above your pie will set.
Remember, the filling is softer, almost like a firm pudding.
If that's too relaxed for you, follow the instructions in the recipe card for a firmer result.
How to Store it
This dessert is prettiest and has the best texture the day it is made.
Leftovers can be stored sealed with plastic wrap for up to 3 days in the refrigerator.
If it has the topping on it the red color may bleed into the pie but it will still taste delicious!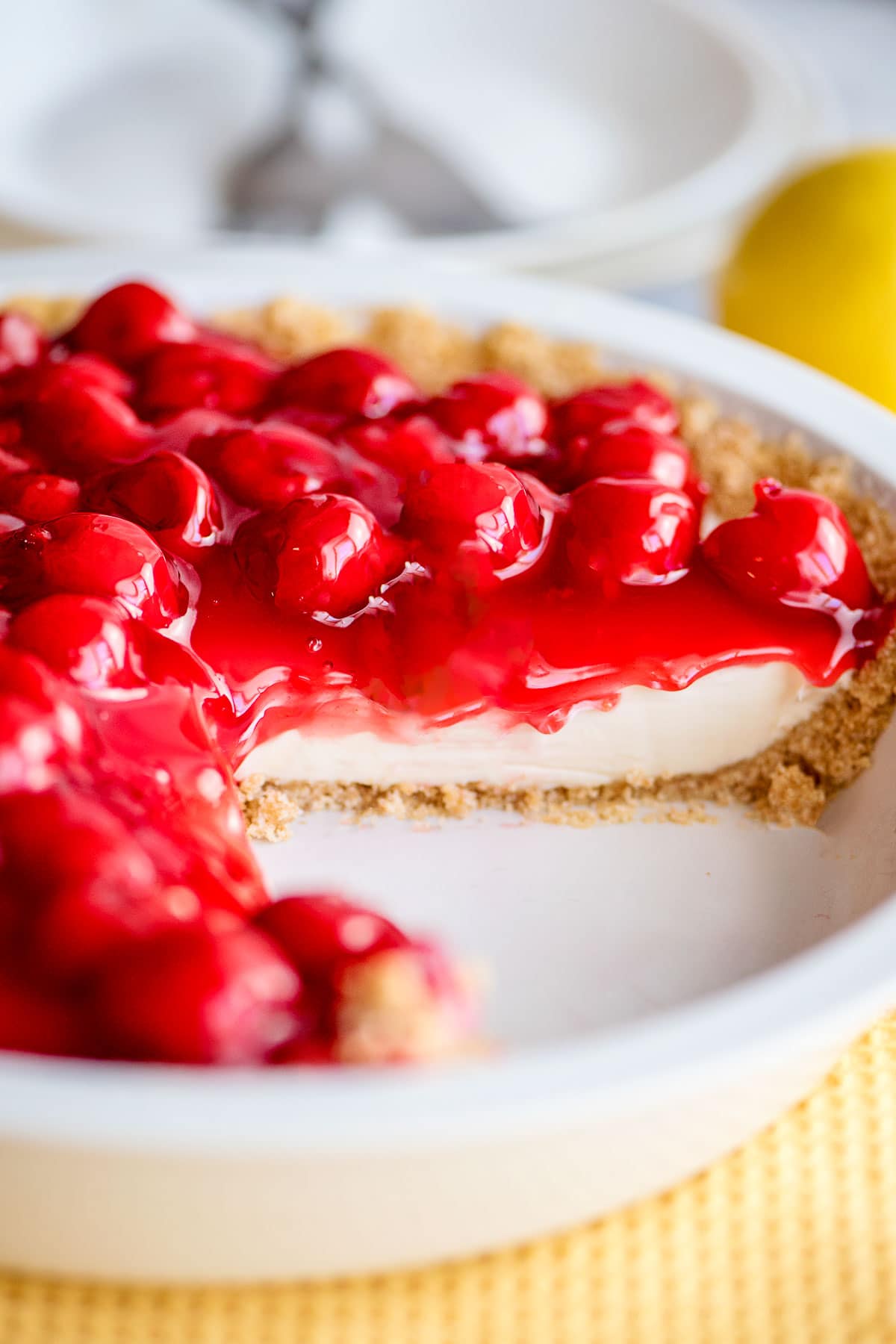 Try these Recipes too!
Did you make it? Please RATE THE RECIPE below!
Please SUBSCRIBE and FOLLOW ME on FACEBOOK , TWITTER , INSTAGRAM and PINTEREST !