Lemon Pound Cake with Blueberry Swirl combines to favorite flavors into one rich, moist EASY loaf cake! Perfect for parties or to make a day special.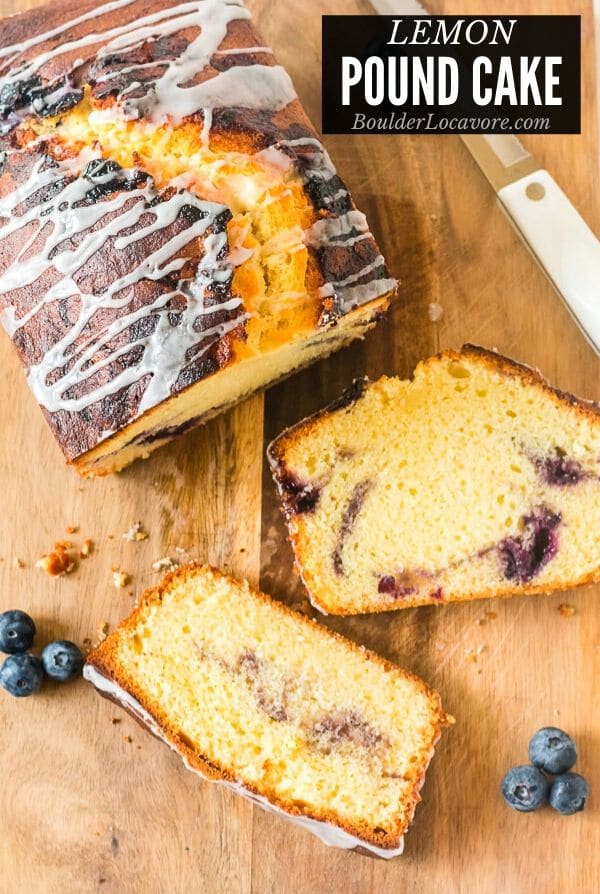 Lemon Pound Cake is always a favorite.
It's fresh and tangy in the summer. The bright lemon flavor is welcome during the dead of winter too.
This Lemon Pound Cake recipe has a special twist: a blueberry swirl in the middle and on top!
Lemon and blueberries go perfectly together especially in this moist, rich, tangy EASY cake recipe!
What is Pound Cake?
Pound Cake is a dense, rich buttery cake usually made in a loaf pan or Bundt cake pan.
The name comes from the original recipe which includes a pound each of butter, flour, eggs and sugar!
Lemon Pound Cake is moist, dense, tangy and sweet.
The blueberry swirl is a delicious addition but can always be left out for a pure lemon cake.
Lemon Pound Cake Ingredients
fresh Blueberries
Granulated Sugar
fresh Lemon Juice
All Purpose Flour (regular or gluten-free measure-for-measure blend)
Baking Powder
Kosher Salt
Unsalted Butter
Eggs
Sour Cream
Zest of 2 Lemons
Vanilla Extract
Confectioner's (powdered) Sugar
freshly squeezed Lemon Juice

Ingredient Notes
Use Fresh Lemon Juice
I too love the convenience of bottled lemon juice but for the best lemon flavor freshly squeeze the lemon juice.
This can be fast and easy.
First, place the lemons in the microwave for 10 seconds. This will cause the lemon to release more juice.
Use a hand held lemon juicer. They are affordable and make fast work our of juicing.
I have one for juicing oranges and limes too.
You'll taste the difference, trust me.
Flour
This recipe has been tested with regular all-purpose flour and gluten-free measure-for-measure flour blend.
Both work great!
The recipe has been tested at altitude too.
NOTE for gluten-free bakers:
Measure-for-measure flour blend is designed to be directly swapped in for all purpose (gluten) flour.
No additional binding agents are required.
If you are gluten-free I love Bob's Red Mill Gluten-free 1-to-1 Baking Flour.
Use fresh Baking Powder
Be sure to check the expiration date on your baking powder.
It looses its potency and won't work as well if it is not fresh.
Use fresh Confectioner's (Powdered) Sugar
This might seem like a weird suggestion but I notice when powdered sugar ages it takes on a stronger and unappealing flavor.
Check the package expiration date or buy a new bag to ensure the best tasting glaze.
Best Lemon Zester
There are many ways to zest a lemon. This Orange Zest post has some different methods.
My very favorite zester makes quick work of zesting all citrus fruits.
It feels like you are zesting butter, it's so smooth and easy.
I love it so much I give them as gifts.
PRO TIP: Zest the lemons then juice them.
How to Make Lemon Pound Cake – Step-by-Step
STEP 1: Preheat oven to 350 degrees. Spray a 9-inch by 5-inch loaf pan with non-stick cooking spray.
STEP 2: Making Blueberry Swirl (photo 1)
In a small sauce pan combine the blueberries, sugar and lemon juice listed in the recipe card ingredients.
Bring to a low boil and simmer for 5 minutes mashing the berries while they cook.
Set aside to cool.
STEP 3: Combine flour, baking powder and salt in a medium mixing bowl.
STEP 4: Cream the softened butter. Beat in granulated sugar.
STEP 5: Beat in eggs (photo 2).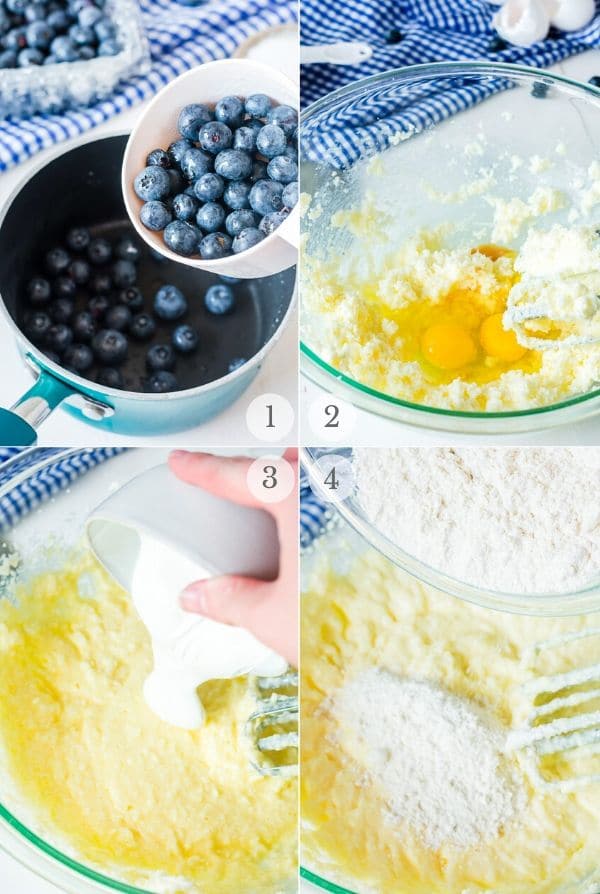 STEP 6: Beat in the sour cream, lemon juice, lemon zest and vanilla extract. Beat just until combined.
STEP 6: Beat in the dry ingredient just until combined (photo 4 & 5).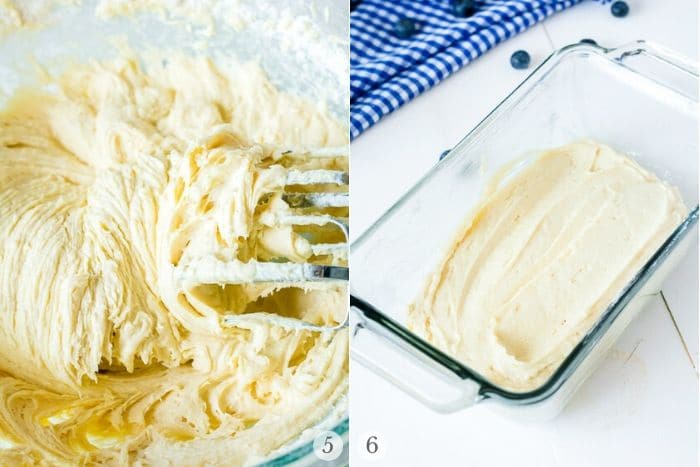 STEP 7: Spoon half the batter into the prepared loaf pan (photo 6).
STEP 8: Spoon half of the blueberry mixture on top of the batter (photo below). Using a dining knife swirl the blueberry mixture into the top of the batter.
PRO TIP: The cake batter will be thick.
If spreading the batter in the pan is difficult because it's sticking, spray a spatula or your fingers with non-stick spray to evenly spread the batter.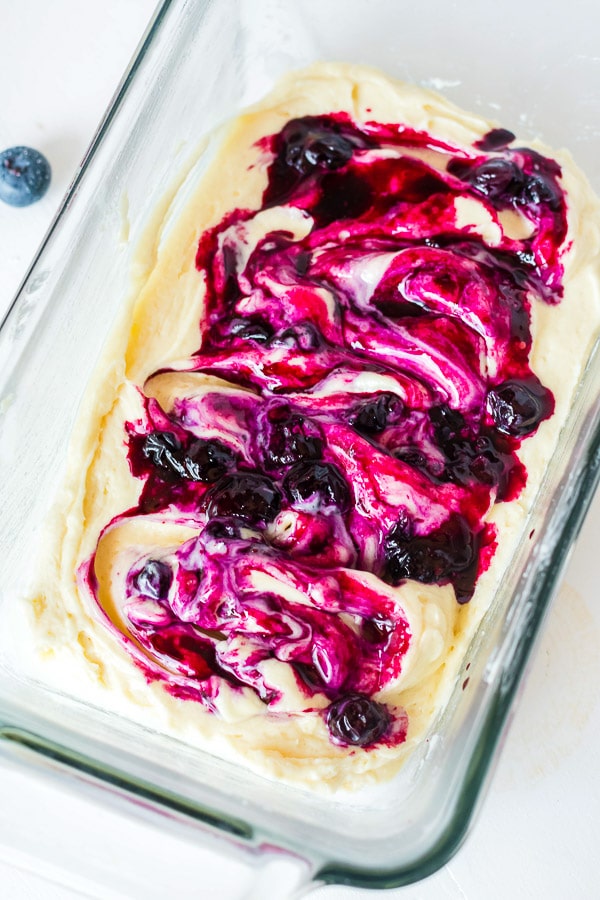 STEP 9: Spoon remaining batter into the pan. Repeat the swirl on the top with the remaining blueberry mixture.
STEP 10: Bake for 50-60 minutes until a toothpick inserted into the middle of the pound cake comes out clean. Allow the cake to rest in the pan for 10 minutes after baking. Then remove the cake and put it on a cooling rack to fully cool.
The Best Way to Glaze a Cake
Glazing cakes or bread can become messy business.
Not only can the glaze get all over but the cake will sit in it risking soggy cake.
First, allow the cake to fully cool before adding the glaze. Allow glaze to set before slicing.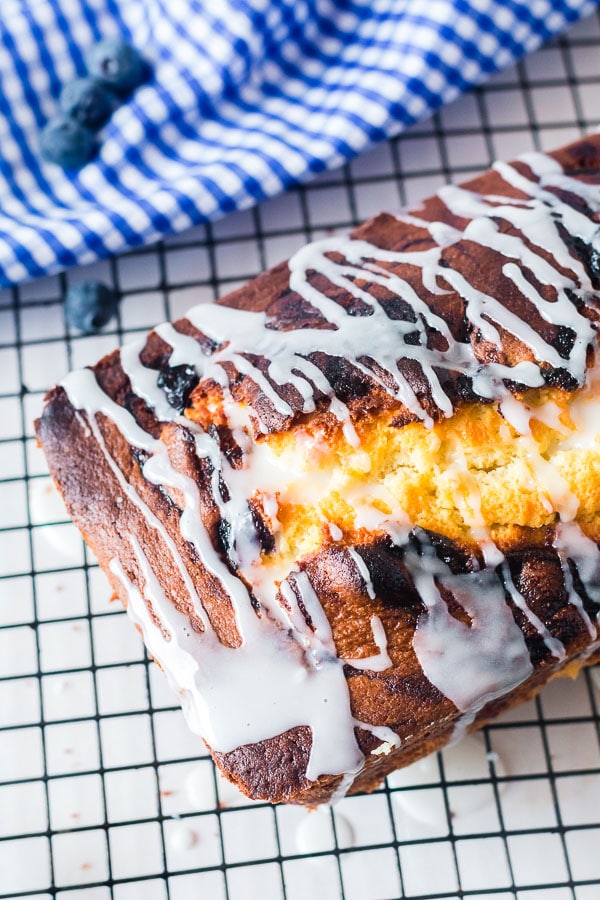 I have an easy method to glaze the cake perfectly and have easy clean up.
Place a cooling rack in a rimmed baking sheet lined with foil.
Place the cake on to of the rack.
PRO TIP: set this up before the cake comes out of the oven to save a step. Then move the cake directly onto the prepared rack and baking sheet.
Prepare the glaze as directed.
When the cake is completely cooled drizzle the glaze using a large spoon over the cake from side to side.
This allow the cake to be fully glazed and any excess glaze drips into the baking sheet below. When the excess glaze hardens, wrap up the foil to recycle it or toss it.
How to Store Pound Cake
In the Refrigerator
After the cake has cooled, wrap tightly with plastic wrap (I recommend Press-n-Seal) and store for up to 1 week.
The lemon pound cake may also be stored in an airtight container instead.
I have cut the cake into slices and stored them in an airtight glass sealed container which works great.
In the Freezer
Allow the cake to fully cool. Wrap with Press-n-Seal wrap (or regular plastic wrap).
Place in a freezer safe plastic bag, and squeeze out most of the air before sealing.
Alternatively once wrapped in plastic wrap it can be wrapped in foil.
Store for up to 6 months. Thaw in the refrigerator.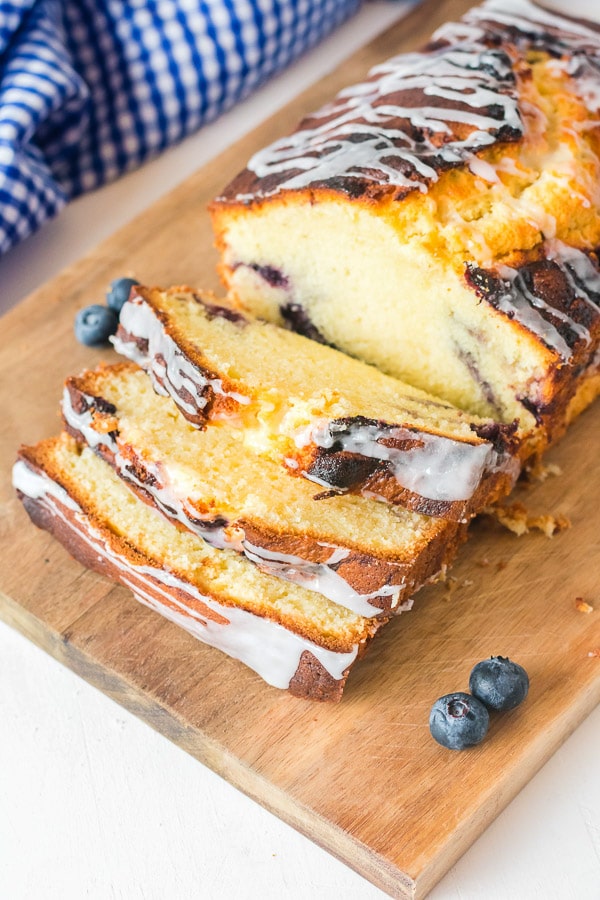 Lemon Lovers Recipes to Try!
Did you make it? Please RATE THE RECIPE below!
Please SUBSCRIBE and FOLLOW ME on FACEBOOK , TWITTER , INSTAGRAM and PINTEREST !
Lemon Pound Cake with Blueberry Swirl is a bright-flavored, tangy, sweet cake you'll love!