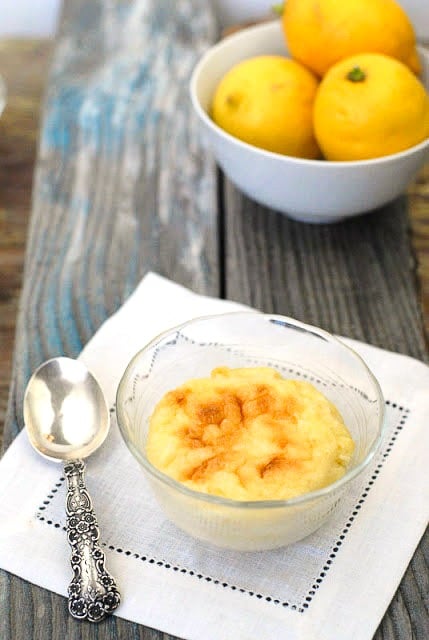 Recently I've had a childhood dessert tugging at my memories. It was something my Mom made frequently and has slipped my mind for years. The arrival of a box of citrus from snowbird relatives put my planning into high gear feeling this Guest Post would be a perfect time to try to make it myself for the first time. Though in Colorado we can expect several more cycles of teasingly spring temps followed by a ruthless, soppy dump of snow until late May, some of you may already be enjoying the feeling of the season's renewal. This recipe, Lemon Custard with Pillow Top, feels bright and an 'Ode to Spring' to me.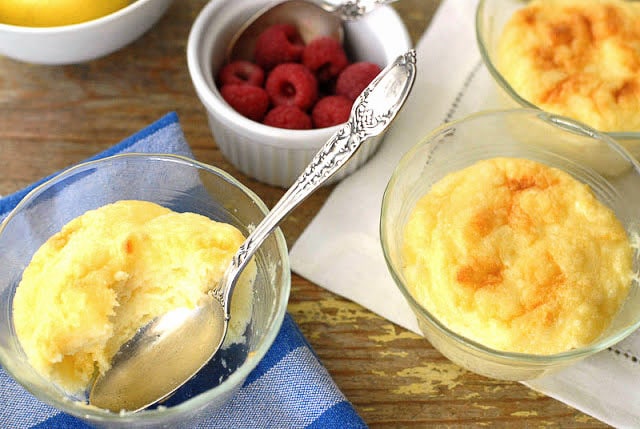 As a child I found this custard wondrous and magical. How one could prepare it so there was beautiful lemony custard on the bottom and a light cakey top was unimaginable. It's quite easy, I've learned with my first crack at. Though I prepared this from a family recipe, my mother believes my grandmother (who passed the recipe to my Mom) was first inspired to make it from a Joy of Cooking recipe so I want to be sure to give that nod here too not knowing the true roots of this in our family culinary lineage. I made mine in the same custard cups my Mom used to make it when I was a child. I will resist labeling them as 'vintage'.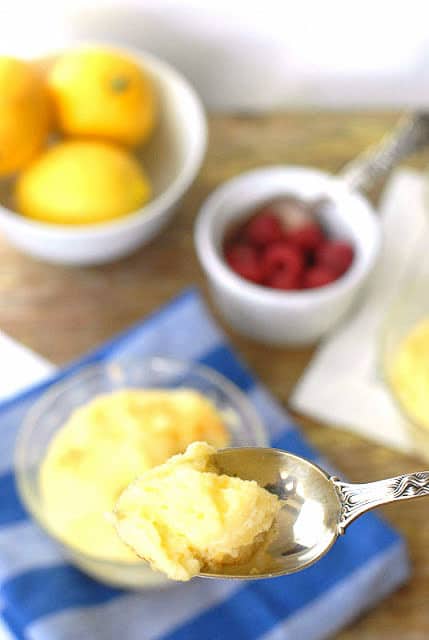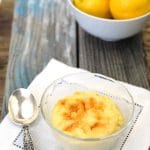 Lemon Custard with Pillow Top
These simple to make lemon custard cups with a light, pillow top are refreshing and unique. The custard batter naturally separates during cooking to form a layer of actual lemon custard and a meringue-like top. Fresh and light, they are always a welcome treat at the end of a meal!
Total Time
1
hour
30
minutes
Ingredients
2

tablespoons

of softened

, Unsalted Butter (plus extra to butter the ramekins)

2/3

cup

Extra Fine

(or 'Baker's') Sugar

1/8

teaspoon

Kosher Salt

4

large Eggs

, room temperature

3

tablespoons

All Purpose Flour

(gluten-free or regular)

¼

cup

freshly squeezed Lemon Juice

3

teaspoons

Lemon Zest

1

cup

Whole Milk
Instructions
Preheat oven to 325 degrees. Butter 6-6 ounce custard cups or ramekins.

Using a wooden or other sturdy mixing spoon, mash together the softened butter, sugar and salt until crumbly and combined.

Slowly stir in lemon juice (make sure to remove any seeds!) and lemon zest. When combined, stir in milk.

In a separate upright mixer bowl or using a hand held mixer, beat 4 egg whites until firm but not dry.

Fold the egg whites gently into the lemony batter just until combined.

Spoon gently into custard cups (do not pour). Place custard cups into a roasting pan where they will not touch each other. Add hot tap water to reach halfway up the side of the custard cups (water bath).

Cook until the custards are lightly browned on top and a knife comes out clean; approximately 30-40 minutes. Remove from oven and allow custards to remain in the water bath an additional 10-15 minutes to set.

Enjoy at any temperature!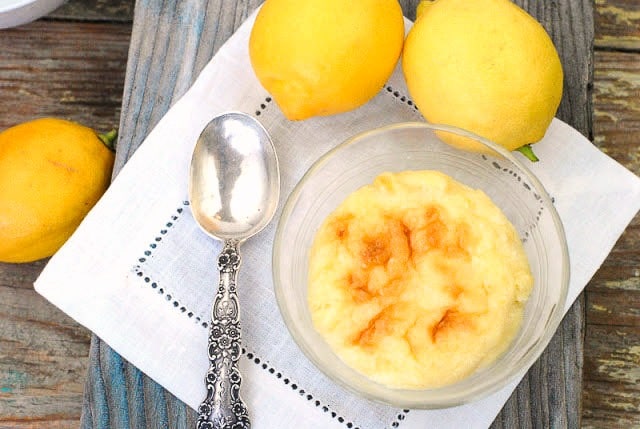 This post was originally published as a guest post on Ask Chef Dennis; the blog of a friend, colleague and talented chef Dennis Littley.