Having a fantastic, quick appetizer recipe that can be whipped up at a moment's notice is key for the holidays when guest pop by with little notice. Blueberry Walnut Baked Brie with honey is that appetizer! Served up in less than 15 minutes and brimming with creamy, buttery, sweet flavors and a nice crunch!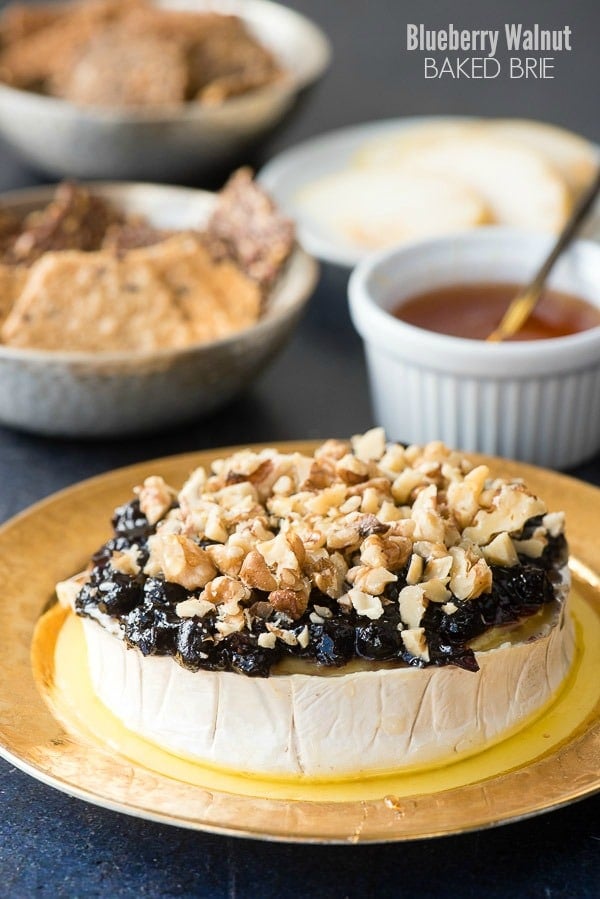 From the start of Thanksgiving week through the first of the new year, our house feels like a revolving door of guests, events and activities. Often I'm cobbling together quick eats on the fly, whether it be a snack, a nosh with a glass of wine with neighbors or a full blown meal. I've learned over time to stock up on certain staples so I'm armed and ready.
An all-time favorite to have on hand is ingredients to make Baked Brie. My latest favorite is Blueberry Walnut Baked Brie with drizzled Honey. It has only four ingredients, can be pulled together in 10 minutes and is an elegant appetizer to serve with crackers and sliced apples and pears. It feels fancy but is so simple to make.

How to Make Baked Brie
The beauty of baked brie is it only requires slicing off the very top layer of the cheese wheel (the 'rind' which is actually dried cheese), adding toppings and baking for 6-10 minutes.
This renders the cheese soft and warm and the toppings to blend together making for a wonderful creamy, buttery bite when sliced. It's important to monitor the cheese while it cooks so it doesn't melt into a cheesy puddle dashing your appetizer completely.
Typically, I have found 8-10 minute cooking time on a light-colored baking sheet is the right amount of time for baking brie. Dark baking sheets will bake more quickly (for anything you bake on them).
Recently I ordered some groceries to be delivered and couldn't select the brie myself. I whipped up this baked brie recipe and fortunately checked it earlier than usual; it was getting slouchy at 6 minutes. I pulled it out of the oven just in time.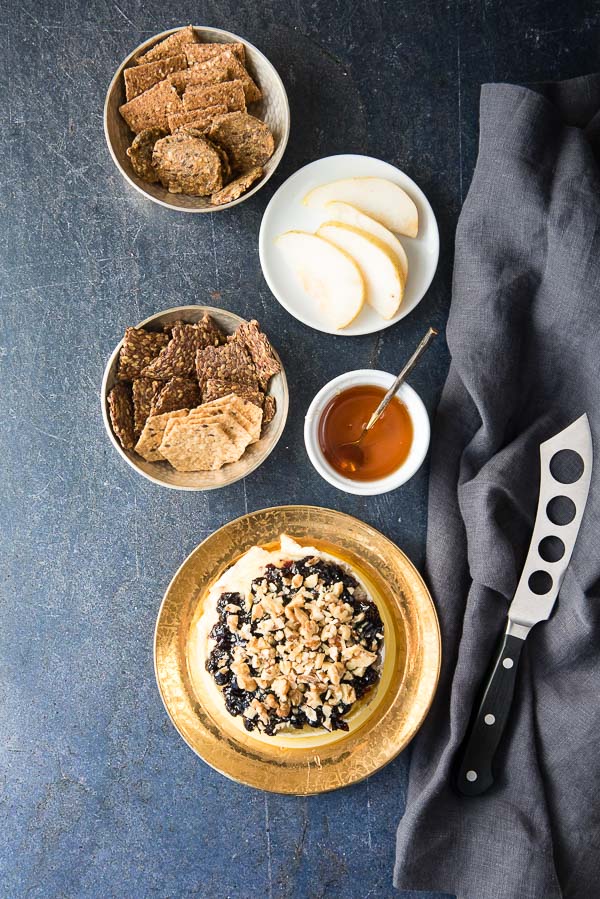 I had not noticed the brie I used for the Blueberry Walnut Baked Brie was a triple cream brie before making the recipe. Brie cheese is available in double and triple cream options. The more the cream the more the butterfat which will cause the cheese to melt more quickly.
If you've selected triple cream brie, watch it closely after about 4 minutes and if it shows signs of melting (liquid developing around the bottom, the crust peeling) remove it from the oven. A baked brie should be softened but still have its structure.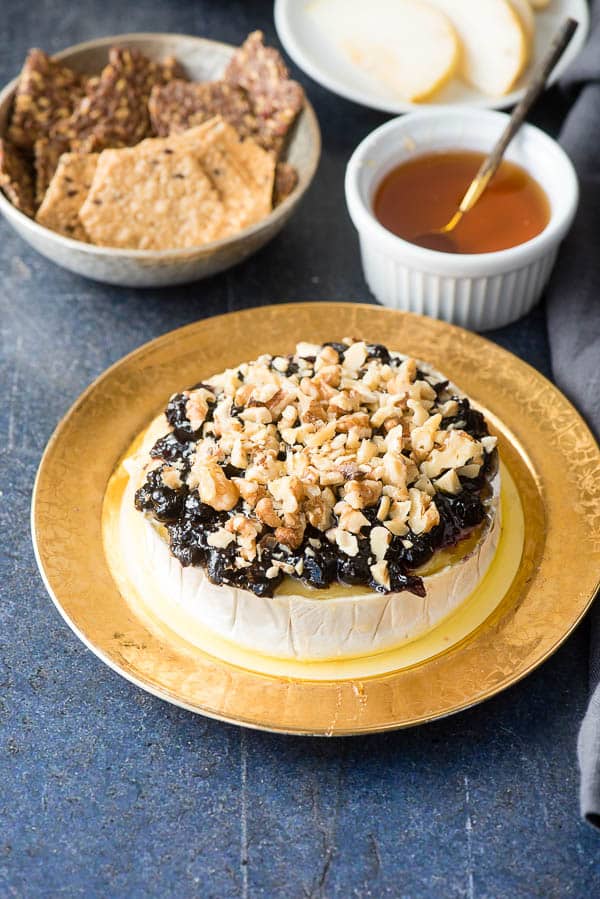 How to make Blueberry Walnut Baked Brie with Honey:
Recipe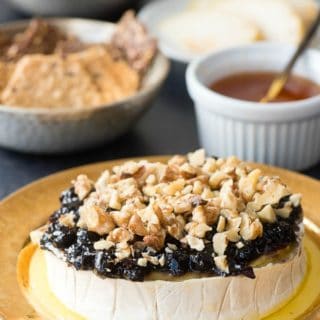 Blueberry Walnut Baked Brie
Baked brie is a quick and elegant appetizer that is so easy to make. The combination of blueberry preserves, walnuts and honey makes this recipe one everyone will love.
Print
Save Recipe
Recipe Saved!
Pin
Rate
Ingredients
1

8-ounce

wheel of Brie cheese

1/4

cup plus 3 tablespoons

Blueberry Preserves

2

tablespoons

finely chopped Walnuts

2

teaspoons

Honey
Instructions
Preheat the oven to 350 degrees. Line a small light-colored rimmed baking sheet with parchment paper. NOTE: dark colored baking sheets will require less baking time.

Carefully slice off the top of the brie removing only the white rind. Place the brie on the prepared baking sheet, uncut side down. Spoon the preserves over the cut side of the brie to cover. Evenly distribute the walnuts to cover the preserves. Bake 6-10 minutes (see notes) until the cheese is warmed and soft but not melted. Remove, drizzle with the honey and serve immediately.
Notes
Notes on type of Brie used: if using triple cream Brie it will cook more quickly. Check it at 4 minutes and monitor until the cheese is soft; remove from oven.
Nutrition
Calories:
42
kcal
|
Carbohydrates:
6
g
|
Protein:
0
g
|
Fat:
1
g
|
Saturated Fat:
0
g
|
Cholesterol:
0
mg
|
Sodium:
3
mg
|
Potassium:
16
mg
|
Fiber:
0
g
|
Sugar:
5
g
|
Vitamin C:
0.7
mg
|
Calcium:
4
mg
|
Iron:
0.1
mg