This fast and fabulous Instant Pot Smoked Paprika & Garlic Chicken Legs recipe will liven up your dinner menu and take no time to do it. From a fun new Instant Pot cookbook full of great, easy paleo recipes!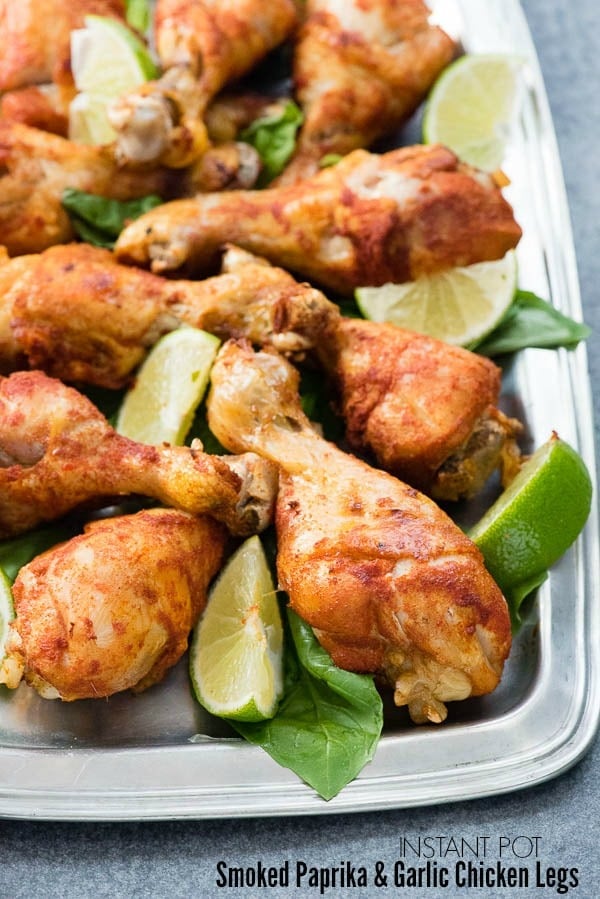 I seem to have less and less time right now to cook but thanks to my Instant Pot and a fun new cookbook that's not a problem: The 'I Love My Instant Pot' Paleo Recipe Book by Michelle Fagone.
I reviewed Michelle's first cookbook (The 'I Love My Instant Pot' Recipe Book) earlier this year and shared a delicious Instant Pot Chili Lime Chicken recipe.
Today's Instant Pot Smoked Paprika & Garlic Chicken Leg recipe from the new cookbook is another easy peasy, fast-and-fabulous recipe.
This cookbook would make a great Christmas gift for someone with an Instant Pot or one getting one for Christmas!
Jump to: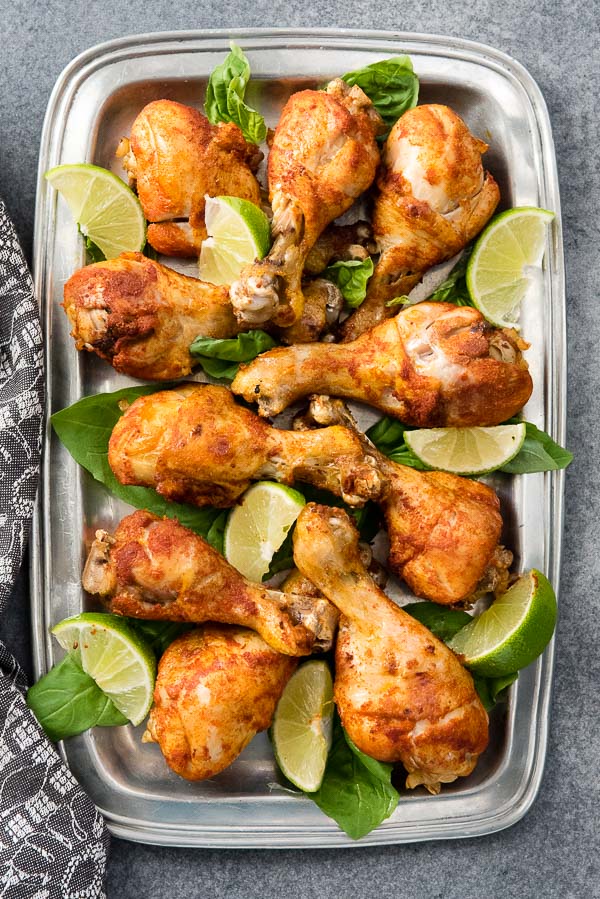 What Is Paleo?
Before diving into the cookbook, let's talk 'Paleo'.
It's an eating regime of whole foods; meats, fish, vegetables, some fruits, nuts. It's a grain and dairy-free eating approach that has been adopted by those wishing to reduce the chances of developing certain chronic diseases or desiring a grain-free diet.
It's a whole food way of eating that avoids processed foods. For those gluten-free, the Paleo diet is also gluten-free (though not all foods that are gluten-free are paleo).
I think of Paleo food as they way my parents generation ate before the onset of processed foods. And frankly with the recipes in this cookbook, you can make whole ingredient recipes in a flash; processed food won't be missed.
The 'I Love My Instant Pot' Paleo Recipe Book covers breakfast to dessert with all courses in between.
I pored over all the recipes searching for the perfect thing to share at this busy time of year and found so many things I want to make: Quick Lime Marmalade (to eat on Black Pepper Scones), Homemade Chai Latte (to save weekly purchasing of them), Bison Sloppy Joes (though I'd probably put them on gluten-free buns), Tom Kha Goong (my favorite Thai soup especially when I have a cold).
As one would expect with the speed and ease of Instant Pot cooking, the recipes are simple, straight forward and easy to follow. There are no fussy cooking techniques and recipes that will keep your breakfast, lunch and dinner table hopping with effortless interesting food.
There is an easy primer in the beginning of the book on using your Instant Pot, as well as accessories the author suggests.
I found the format easier to absorb than the Instant Pot manual. I also love that there is a list in the back of the book of 'Paleo 'Yes' and 'No' Foods' to help if one is following a paleo regime. You'll love the recipes whether you are eating Paleo or not.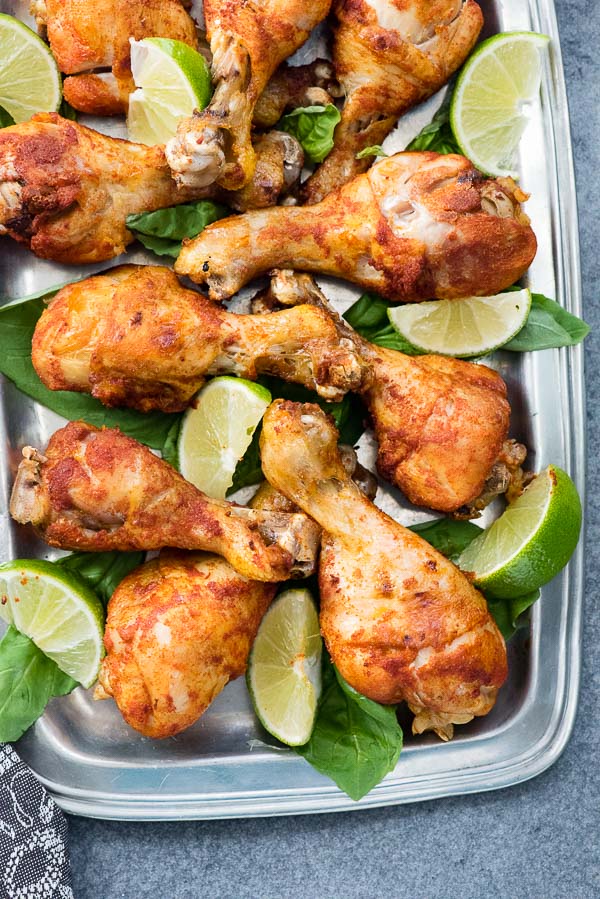 From the first thumbing through this cookbook these Instant Pot Smoked Paprika & Garlic Chicken Legs jumped off the page.
Smoked Paprika is one of my favorite spices with a deep, earthy flavor and gorgeous burnt red color.
Despite having only 4 ingredients this recipes is flavor-full and with a quick broil at the end the chicken legs are perfectly seared with juicy meat and crispy skin.
Ready in less than 30 minutes with little active cooking time.
Smoked Paprika vs regular Paprika
This recipe uses Smoked Paprika which taste very different than regular paprika. It has a deep earthy flavor.
For spicy food lovers you can swap it with HOT Smoked Paprika with will add some heat to the flavor.
Whichever version you use be sure to read the label to ensure you are getting the type you want!
Mind-Blowing Instant Pot Tips You Need!
While developing Instant Pot recipes for the past few years, I've uncovered some unexpected, useful tips you'll want too!
Sign-Up below and I'll tell you all my Instant Pot secrets!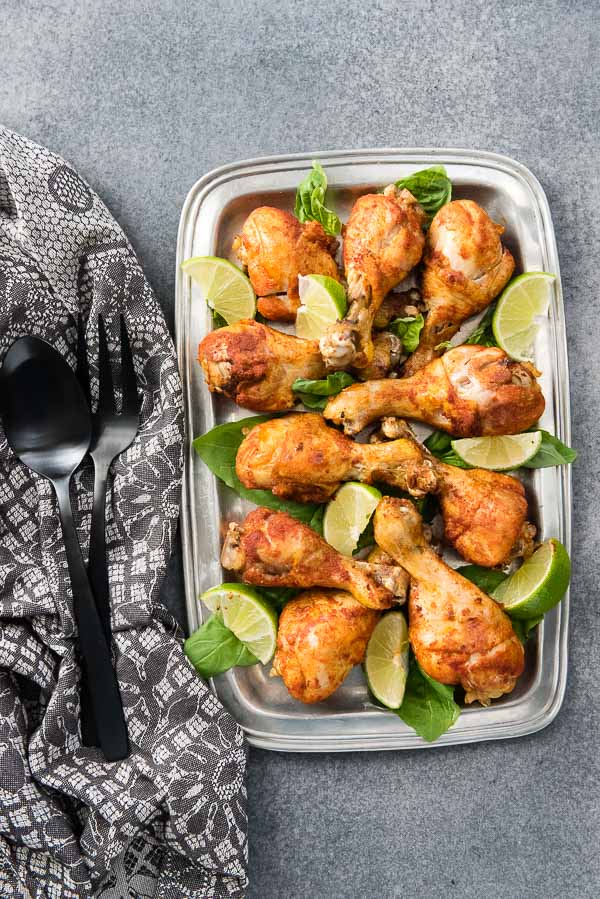 Recipe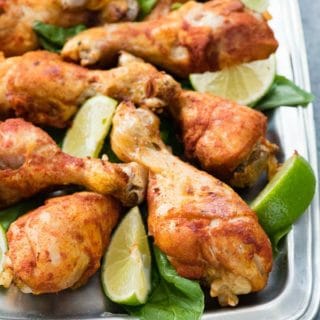 Instant Pot Smoked Paprika & Garlic Chicken Legs
Four simple ingredients create mouthwatering chicken legs in a flash. A simple trick at the end turns these flavor-packed drumsticks into crispy chicken you'll love
Print
Save Recipe
Recipe Saved!
Pin
Rate
Servings:
5
2 drumsticks each
Ingredients
1

tablespoon

Garlic Powder

1

tablespoon

Smoked Paprika*

1

teaspoon

Fine Sea Salt

3

pounds

(about 10) Chicken Legs/drumsticks

1

cup

Water
Instructions
In a small bowl, combine garlic powder, smoked paprika, and salt. Season chicken legs with the seasoning mix.

Add water to the Instant Pot and insert trivet. Arrange chicken standing up, meaty side down, on the trivet. Lock lid. Press the Poultry button (or High Pressure if there is no Poultry button) and cook for the default time of 15 minutes. When timer beeps, let pressure release naturally for 5 minutes. Quick release any remaining pressure until float valve drops and then unlock lid. Check the chicken using a meat thermometer to ensure the internal temperature is at least 165°F.

Meanwhile (while pressure is releasing) position the top oven rack aproximately 4 inches below the broiler and turn on the broiler (on HIGH). Place chicken legs on a foil-lined baking sheet sprayed with non-stick spray. Cook the chicken 2 minutes on one side (watching closely to ensure no burning), flip with tongs, and cook 1 1/2 to 2 minutes on the opposite side to crisp the chicken.

Transfer chicken to a serving plate and serve warm.
Notes
*A note on the paprika:
"Smoked paprika is an underused spice that should be at the front of your spice drawer. Sweet and smoky and a little mild, smoked paprika adds comfort to proteins and sauces, and it is lovely as a garnish on deviled eggs." -Michelle Fagone (I Love My Instant Pot Paleo Recipe Book)
To add more spicy heat, HOT Smoked Paprika can also be used.
Excerpted and adapted from The "I Love My Instant Pot" Paleo Recipe Book: From Deviled Eggs and Reuben Meatballs to Café Mocha Muffins, 175 Easy and Delicious Paleo Recipes Copyright © 2017 by Michelle Fagone (Cavegirl Cuisine) and published by Adams Media, a division of Simon and Schuster. Used by permission of the publisher. All rights reserved.
Nutrition
Calories:
426
kcal
|
Carbohydrates:
2
g
|
Protein:
32
g
|
Fat:
31
g
|
Saturated Fat:
8
g
|
Cholesterol:
180
mg
|
Sodium:
749
mg
|
Potassium:
457
mg
|
Vitamin A:
1040
IU
|
Vitamin C:
0.4
mg
|
Calcium:
21
mg
|
Iron:
1.8
mg