Instant Pot Chili is perfect for an easy, satisfying dinner! This Southwestern version is full of ground beef, black beans, corn, savory spices and more.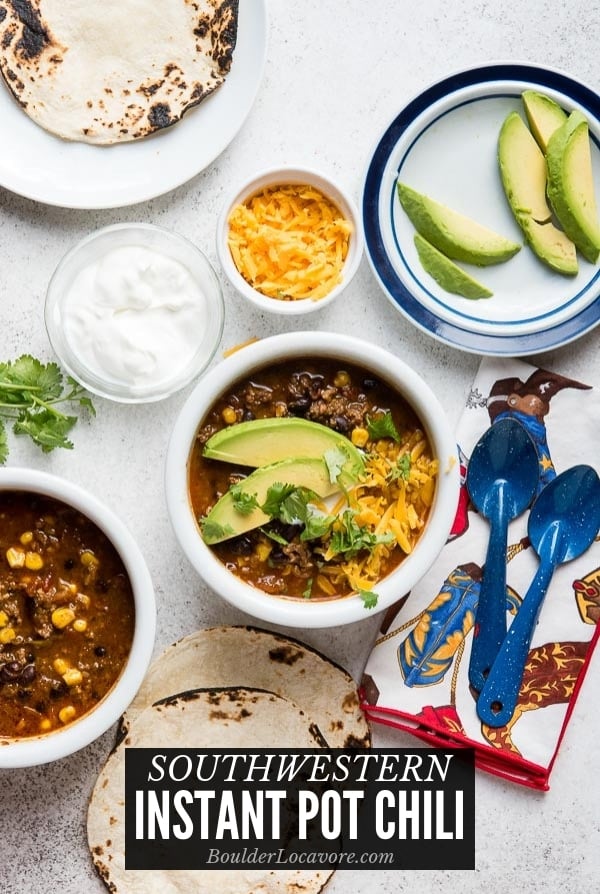 Cooler weather calls for soul-warming comfort food, but not more hours in the kitchen to make it!
This Southwestern Instant Pot Chili is a hearty recipe full of ground beef, black beans, corn, savory spices. It requires little preparation and cooks in about 30 minutes (but tastes like it's been simmering all day long)!
I was craving a meaty chili with signature ingredients from my favorite southwestern dishes: black beans, roasted tomatoes, corn, chipotle, and earthy spices.
If you love a white chili try Instant Pot White Chicken Chili or Instant Pot Turkey Chili .
Why Make Instant Pot Chili?
There are multiple reasons I love making Instant Pot Chili. Here are just a few:
Everything can be made in the Instant Pot making clean up a breeze
The Instant Pot produces the same flavor simmering for hours would but in less than an hour
It retains more nutrients in the ingredients
Once the lid is locked, nothing more is required from you!
I love using the Sauté feature on the Instant Pot to sauté the vegetables and brown the ground beef before adding all the ingredients. It's so easy!
No Instant Pot? No worries!
I've included slow cooker and conventional chili recipes at the bottom of this blog post.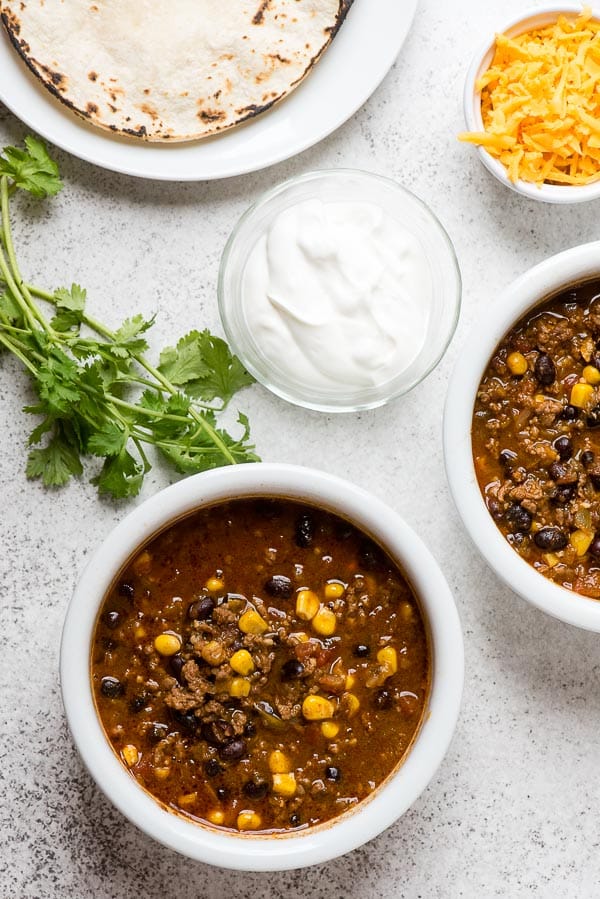 Ingredients in Southwestern Instant Pot Chili
The ingredients that really make this Instant Pot Chili have a southwestern flare are the earthy spices, chipotle, black beans, tomatoes with green chilies and corn.
They add an irresistible depth of flavor, without being overly spicy.
The tomatoes, black beans and corn add color and great texture in every bite.
Here are the ingredients:
Olive or Vegetable Oil
Yellow Onion
Bell Pepper
Garlic Cloves
Ground Beef
can Black Beans
can Rotel Chipotle Diced Tomatoes with Green Chilies & Chipotle Peppers*
Frozen Corn (doesn't need to be thawed)
Chili Powder
(not hot, regular smoked paprika)
Kosher Salt
Cumin
Oregano
Low Sodium Chicken Stock
The majority of the ingredients are spices, canned or frozen ingredients so just require measuring; no other prep.
Time Saving Tips for Making Instant Pot Chili
This recipe is already very quick to make. However there a few tips to make it even faster!
Use a food processor or mini chopper to chop the onion, garlic and bell pepper. I put the onion and garlic in together, then do the green pepper by itself.
While the vegetables are sautéing and ground beef is browning, combine all the spices in a small bowl so they can be added at once. Saves some time doing it in parallel.
Tip for Dealing with Spicy Chili
Though this Southwestern Instant Pot Chili recipe is not very spicy, spiciness is a personal preference and may differ for diners.
TIP: the way to cut the heat of spicy Mexican or Southwestern food is to use dairy products to counteract the heat.
Studies have been done about drinking water or beer, but it's dairy that tames the spiciness!
Adding sour cream as a topping is a perfect way to tone down a bowl of this Instant Pot Chili for anyone feeling the heat.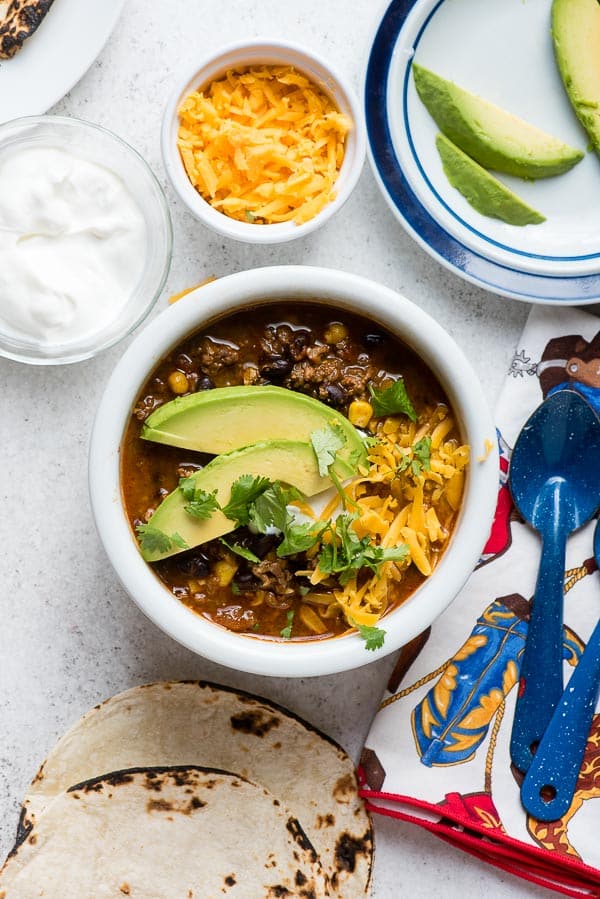 How to Make this Instant Pot Chili
Set the Instant Pot on the Sauté setting. When the insert is hot, add the oil.
When the top is shimmering add the onion, bell pepper and garlic. Sauté for 3 minutes.
Add the group beef, breaking it into small pieces as it sautés. Sauté until no pink remains on the meat.
Select the Keep Warm setting while adding the rest of the ingredients. Stir well to combine.
Place the top on the Instant Pot, seal (ensure the release valve is set to Sealing) and select Manual. Cook on High Pressure for 15 minutes and then let naturally release. When the pressure has fully released serve!
Converting for Different Instant Pot Sizes
This recipe was developed using a 6-quart Instant Pot Duo. The times and settings reflect that device.
To convert the recipe for different Instant Pot sizes:
8-quart: increase the chicken stock to 1 1/2 cups (the minimum liquid for that model Instant Pot)
3-quart: make the recipe as written
Chili is a more flexible recipe so though an 8-quart Instant Pot takes longer to come to pressure (so the ingredients will cook longer) and a 3-quart takes less time, the chili can accommodate the time differences and be delicious!
Instant Pot Chili is Even Better the Next Day
As with other types of chili, Southwestern Instant Pot Chili gets better the days following making it.
The flavors continue to blend and mature!
How Long Can Instant Pot Chili be Refrigerated?
Chili can be stores in an air tight container or bag for 3-4 days.
Can Southwestern Instant Pot Chili be Frozen?
Yes! Once the Instant Pot Chili has cooked, allow it to cool fully.
How to Freeze
Place it in the freezer-safe container (or freezer bag), leaving ½ inch space for expansion.
Freeze for 4-6 month.
To thaw: allow the Instant Pot Chili to thaw in the refrigerator (it may take several hours or overnight), then fully reheat before serving.
Toppings for Instant Pot Chili
One of the most delicious and fun aspects of Southwestern Instant Pot Chili is adding toppings!
Most toppings you'd add to tacos work perfectly with this chili. Here are some favorites:
Mexican Crema or Sour Cream
Shredded Cheese
Sliced avocado
Chopped cilantro
Sliced scallions
Soft corn tortillas for dipping
Serve with this delicious Cornbread recipe!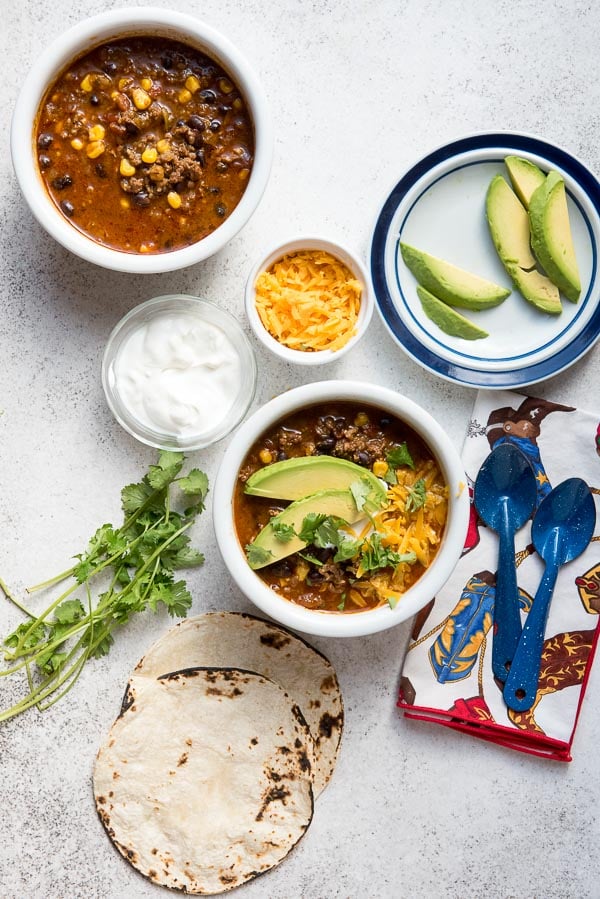 Mind-Blowing Instant Pot Tips You Need to Know!
After developing Instant Pot recipes for the past few years, I've uncovered some unexpected, useful tips I think you'll want to know!
Sign-Up below and I'll tell you all my Instant Pot secrets!
More Chili Recipes You'll Love
Have you made this Southwestern Instant Pot Chili recipe? Please RATE THE RECIPE below!
Originally published: September 28, 2017. Updated February 2019.