One of the easiest ways to stay hydrated is simple: drink more water. But it's boring, right? My Secret for Staying Hydrated: Infused Spa Water. So easy to make. Keep it in your refrigerator and feel like you are at a spa! Did you know drinking more water can boost your metabolism and help with weight loss too? And that's just the start of it.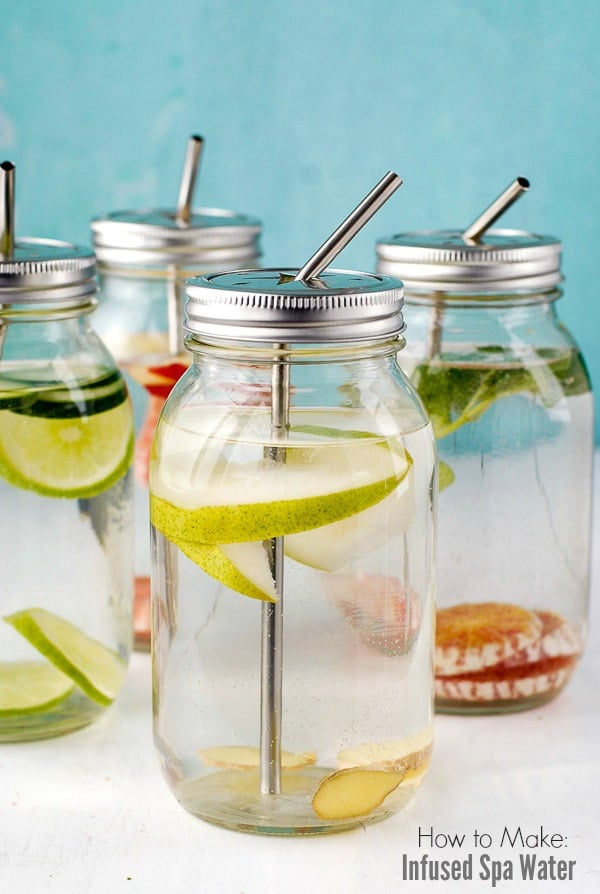 This post was originally published in January 2015 and has been updated in January 2017.
The topic of hydration surfaces a lot both in the heat of summer AND winter. Winter can be especially drying. Water is essential for keeping the body in tip top shape to support health and weight loss goals. It keeps all the bodily systems functioning at their prime and keeps the metabolism going to help burn off that holiday excess. Candidly though I chug water in the summer, it's more of a chore in the winter. I have to make it fun for myself or I'm not going to do it. Enter Infused Spa Water!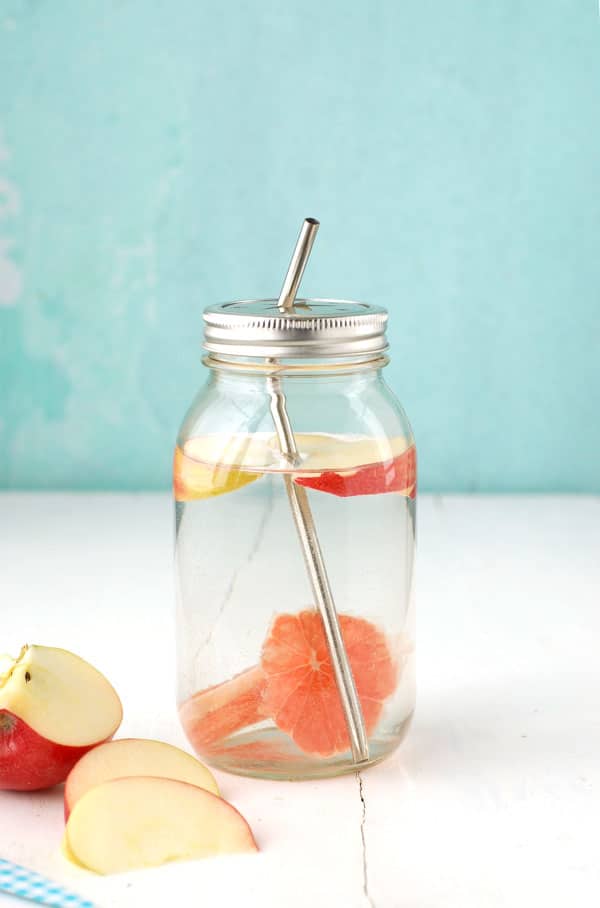 How much water should an adult drink in one day?
That question is met with a variety of answers but truly comes down to an individual need. As a general rule of thumb the current thinking in the medical community is 1.5 liters (approximately 1.5 quarts) is adequate for most adults. That amount does change however based on location such as hot and humid areas where more moisture is lost through perspiration. Or in higher altitudes where it is dry. Exercise increases the need for water and intense exercise all the more. Ultimately a person should consume enough water to not feel thirsty, and their urine should be very pale.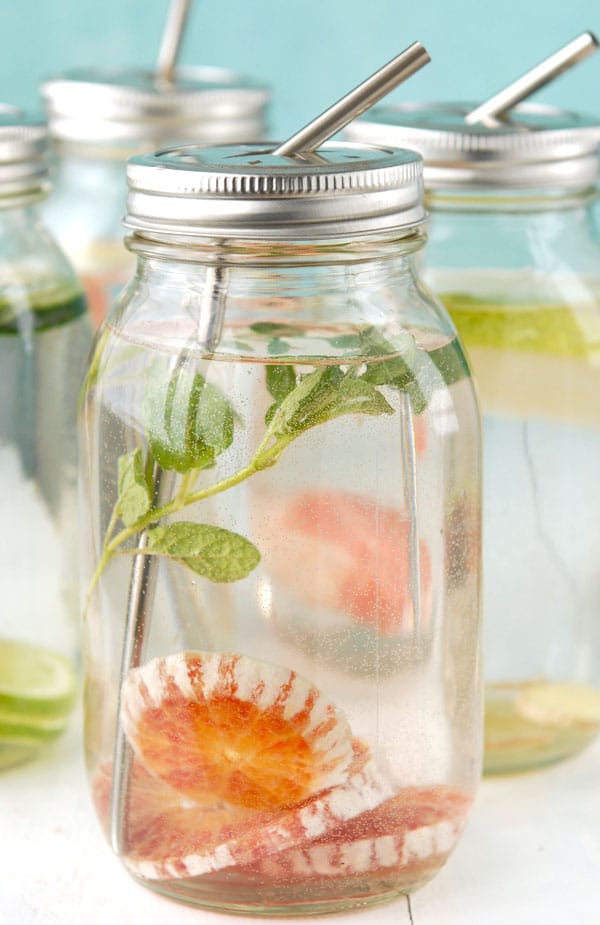 Despite being parched at this time of year, I struggle to drink water. I've begun to do something daily which has changed my water drinking habits completely. Every morning while making breakfast I fill a few quart size Mason jars with filtered water and add a few slices of fruits, vegetables and/or herbs to them. I let them sit at room temperature for about 30 minutes which is ample time for the flavors to infuse into the water AND the water is then not too cold (which is a showstopper; I like room temperature water).
If you prefer cold water you can store the jars, sealed, in the refrigerator until to your preferred temperature (or if drinking them later in the day). The key is that once they are prepared you are more likely to drink them. And if you prepare them while you are making breakfast, it's not an extra trip to the kitchen (which encourages procrastination, for me at least!).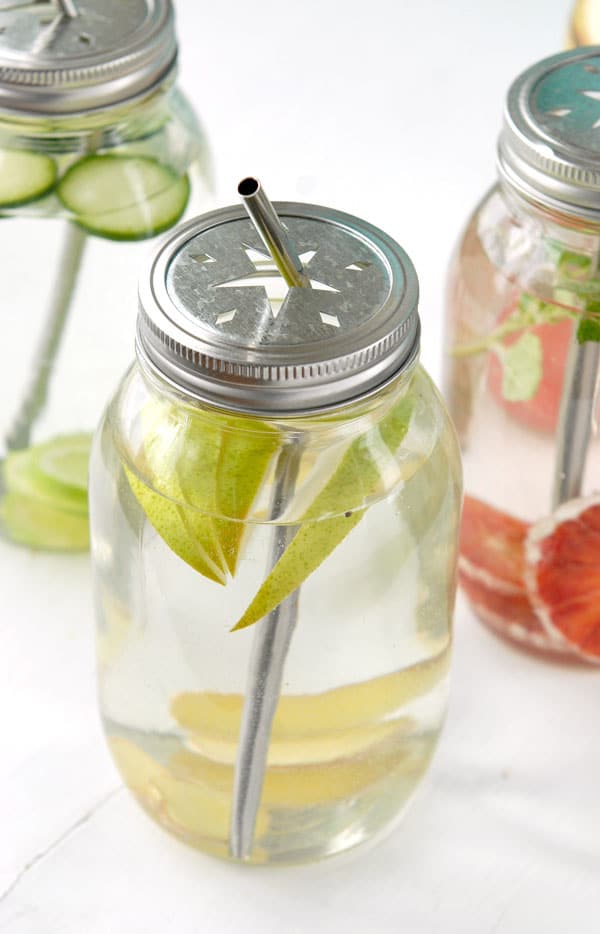 Once the water is infused to the flavor level of your liking, the fruit, vegetables and/or herbs may be removed; or if like me, the visual aspect of the infused water is part of what compels you to drink up, keep them in the water and the flavor will continue to intensify. The fruits and vegetables may be consumed as well after the water is gone. I have a jar on my desk at all time and find myself easily getting my daily fill of water now.
I also love drinking the water with metal straws. They taste clean, are reuseable, and make the water taste more refreshing.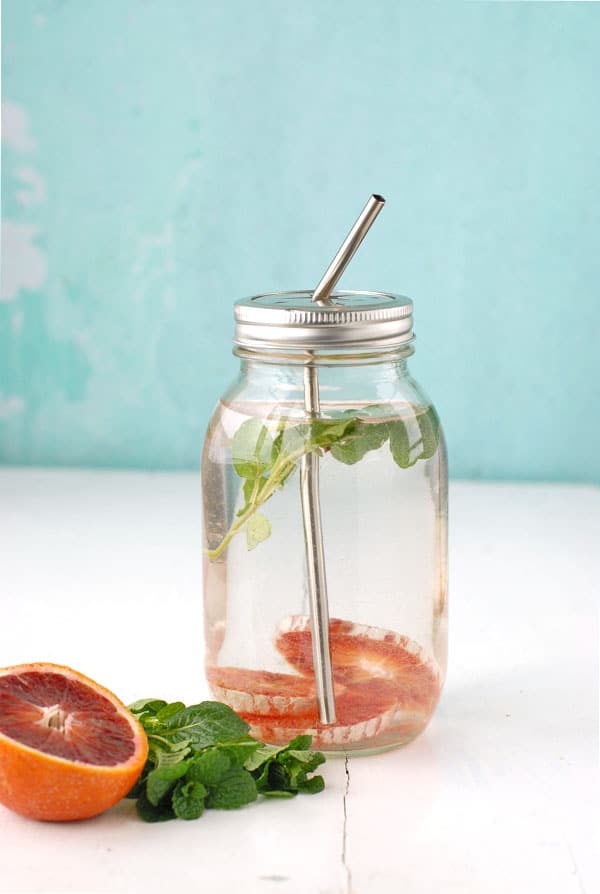 Any combination of fruit, vegetables and herbs you love can be used. Only a few slices of each are needed to infuse the water fully (leaving excess fruit and vegetables to nibble on as well). I love changing the combinations up daily.
A classic, relaxing, spa-like flavor is Cucumber and Lime. I'm loving Pear and Ginger root for a winter warming touch. Grapefruit and Apple (green apples are very fresh and bright) and Blood Orange and Mint have been in frequent rotation as well.
Mint Water is a favorite in the summer (and uses the obscene amount of feral mint which has taken over one of my garden beds). Tropical fruits take the edge off a dreary winter day with the taste of vacation! I typically don't use smaller fruits such as pomegranate arils as they can get stuck in a straw. Mix it up and make it fun! Kids love it too.
How to make Infused Spa Water:
Recipe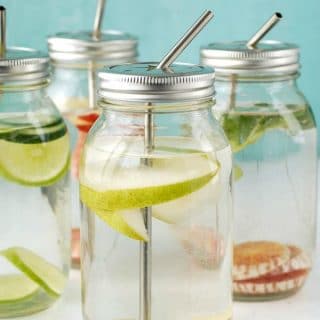 Infused Spa Water
The recipe for infused spa water is flexible to allow creativity on flavors and seasonal ingredients. Creating multiple jars of different flavors to store in the refridgerator to ensure there are tasty options whenever you are thirsty is a great idea!
Print
Save Recipe
Recipe Saved!
Pin
Rate
Ingredients
1

quart

Filtered Water

1/4

cup

Sliced fruit, vegetables and/or herb

1

Metal straw

optional
Instructions
Fill a quart Mason jar with filtered water and sliced of fruit, vegetables and/or herbs.

Allow to infuse at room temperature for 30 minutes and drink, or chill.
Nutrition
Calories:
1
kcal
|
Carbohydrates:
1
g
|
Protein:
0
g
|
Fat:
0
g
|
Saturated Fat:
0
g
|
Cholesterol:
0
mg
|
Sodium:
50
mg
|
Potassium:
64
mg
|
Fiber:
0
g
|
Sugar:
0
g
|
Vitamin A:
480
IU
|
Vitamin C:
3.5
mg
|
Calcium:
56
mg
|
Iron:
0.6
mg