Chili Lime Chicken is a lightly spicy, tangy, sweet recipe that cooks in 10 minutes in the Instant Pot!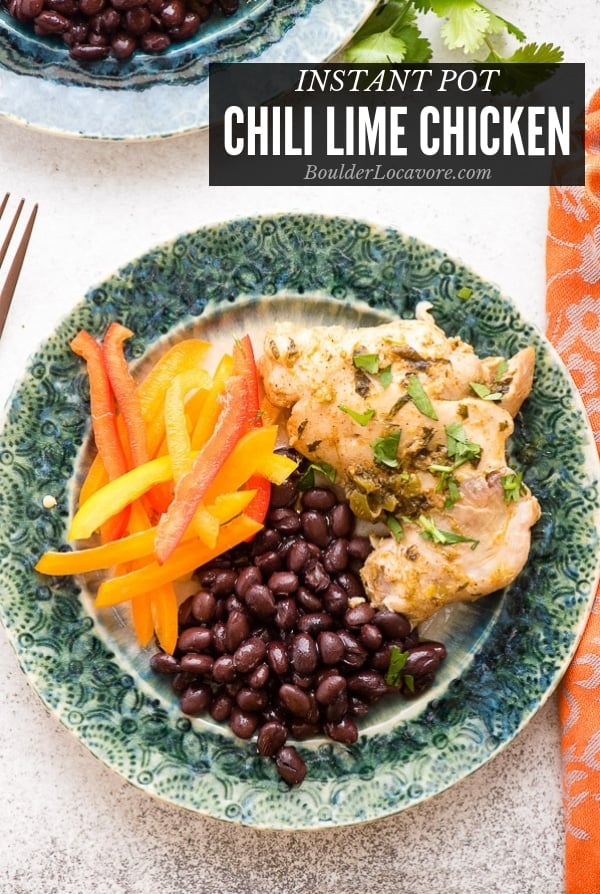 Easy chicken recipes are always a win for dinner. Chili Lime Chicken is no exception!
So fast and easy to make in the Instant Pot.
Any time of year this recipe is a favorite!
Need a non Instant Pot recipe? A delicious conventional recipe is shared above the recipe card below.
What is Chili Lime Chicken?
I love this chicken recipe! Chili Lime Chicken has a wonderful combination of sweet, lightly spicy and tangy flavors and is so easy to prepare.
The recipe is fast to prepare and marinates overnight.
Actual cooking time is only 10 minutes. It's great for any meal AND for meal prepping.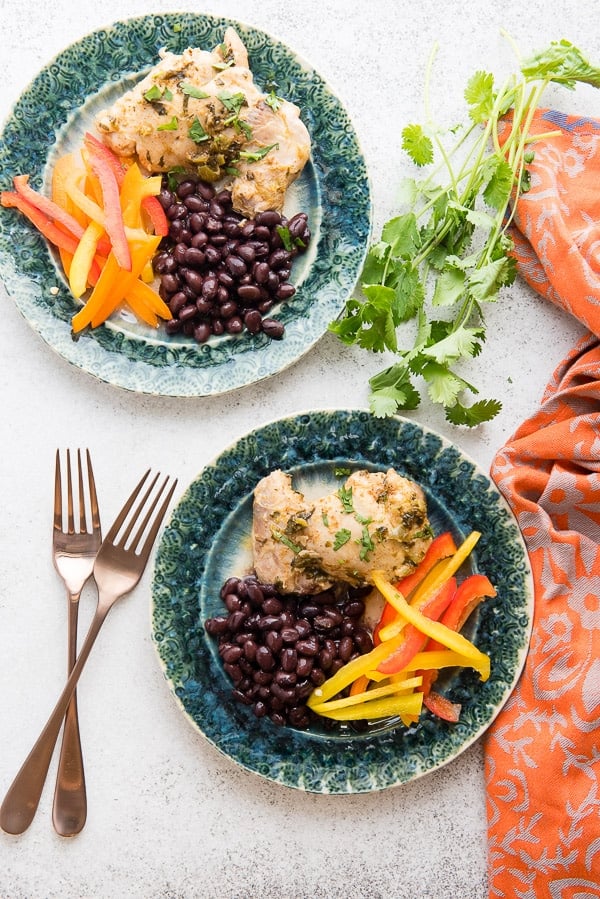 Chili Lime Chicken Ingredients
This easy to find ingredients combine to make the most flavorful, juicy chicken thighs!
fresh lime juice
Zest from 1 lime
olive oil
jalapenos
garlic cloves
honey
sea salt
chili powder
fresh cilantro
boneless chicken thighs
cup chicken broth
Note about Jalapeno Peppers
Jalapeno peppers can vary incredibly in heat. I have not found the recipe overly spicy.
If you are a spicy-lover and don't find it spicy enough, you can always add hot sauce at the end.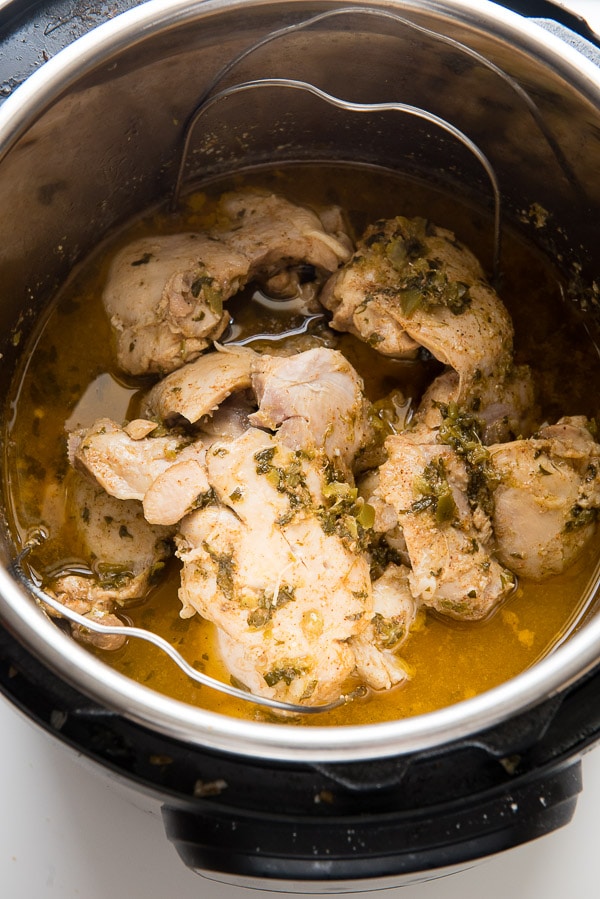 How to Make Chili Lime Chicken in the Instant Pot – Step by Step
A delicious chicken marinade is made the night before cooking. The boneless chicken thighs marinate overnight. The chicken it ready to cook quickly for dinner the following day!
For a detailed printable recipe, refer to the recipe card at the end of the blog post.
Combine all ingredients except for chicken and chicken broth in a large mixing bowl OR a gallon zipper plastic bag.
Pat chicken thighs dry with a paper towel.
Add the chicken into marinade. Cover and refrigerate overnight.
NOTE: if using a plastic bag, seal squeeze out the air before sealing. Massage the marinade into the chicken from the outside of the bag.
To Cook Chili Lime Chicken:
Place trivet in a 6-quart Instant Pot and place steamer basket on trivet.
Pour in chicken broth.
Arrange thighs on steamer basket and pour extra marinade over the thighs.
Lock Instant Pot lid.
Press the Manual button and adjust time to 10 minutes.
When timer beeps, let pressure release naturally for 10 minutes.
Quick release any additional pressure until float valve drops and then unlock lid.
Check the chicken using an meat thermometer to ensure the internal temperature reads 165°F (minimum). (Instant Read thermometers work best for this)
NOTE: Each time I've made this recipe the chicken has been at the correct temperature.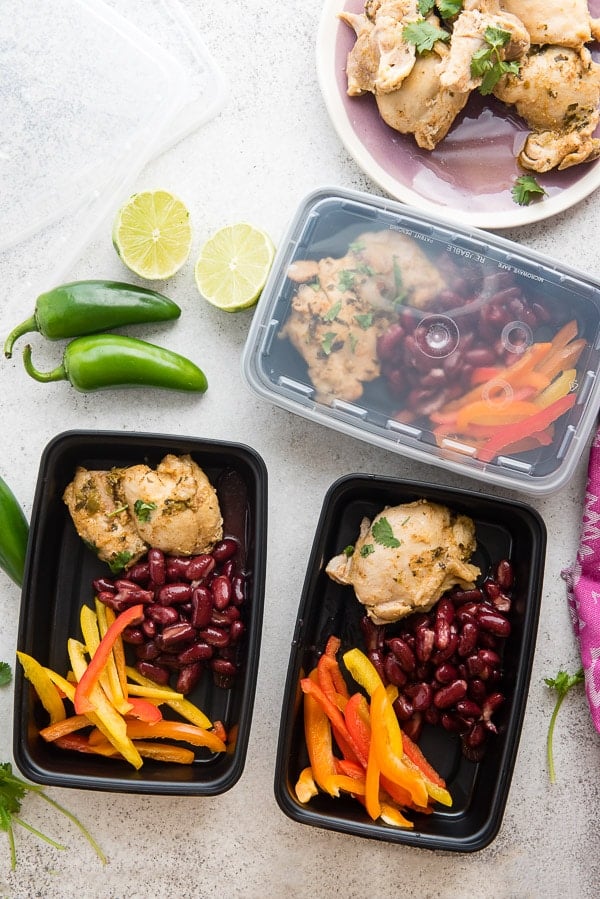 How Long to Store Chili Lime Chicken
After cooking, you can store the Chili Lime Chicken….
Storing in the Refrigerator
In an airtight container for 3-4 days.
Storing in the Freezer
In an airtight container or freezer bag (remove air before sealing) for up to 3 months.
Great for Meal Prepping
Are you a Meal Prepper? This Chili Lime Chicken is perfect for that!
The recipe calls for 3 pounds of chicken thighs which is 8-9 boneless thighs.
Unless you have a large and hungry family, you'll have leftovers.
Meal Prepping Containers
I love these meal prep containers on Amazon which are perfect for meal prepping.
Add a chicken thigh and some side dishes into the container and refrigerate. Heat for lunch or dinner the next day. OR freeze it, making your own future meal!
The containers are dishwasher/microwave/freezer safe, BPA free, leak resistant and stackable (love that).
When you can make moist, juicy Chili Lime Chicken in bulk, meal prepping becomes a cinch.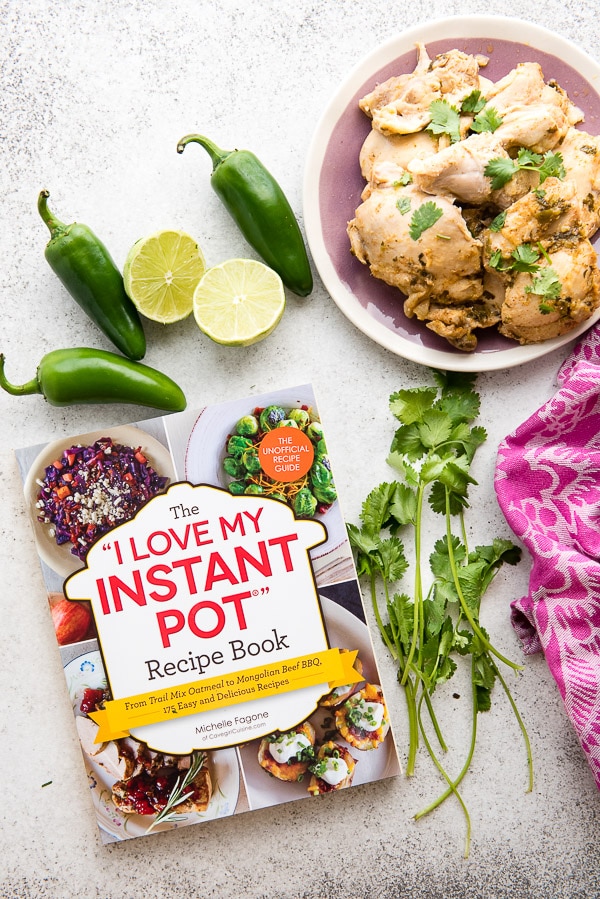 The "I Love My Instant Pot" Recipe Book'
This Chili Lime Chicken recipe is from The "I Love My Instant Pot" Recipe Book' by Michelle Fagone. I reviewed this cook book and loved it.
It's full of 175 'easy and delicious' recipes to cook in the Instant Pot.
You'll find more of Michelle's Instant Pot cookbooks listed in my Amazon.com store.
5 MIND-BLOWING INSTANT POT TIPS YOU NEED!
I've uncovered some unexpected, useful tips you'll want to know.
Sign-Up below and I'll tell you all my Instant Pot secrets!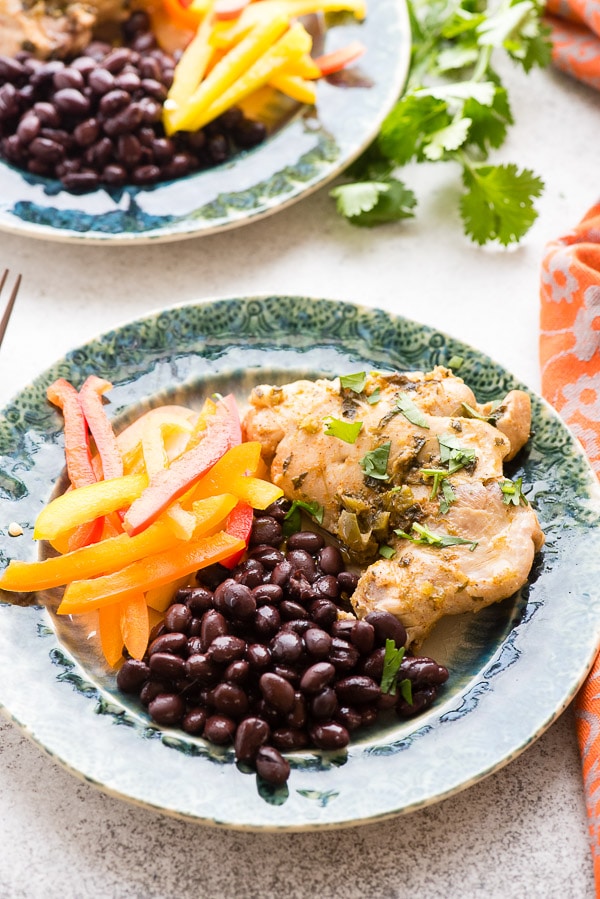 Don't have an Instant Pot yet? I think you'll love this Sweet Chipotle Chicken Bites recipe (from another, conventional, fast dinner recipe book The Weeknight Dinner Cookbook)
Try these Chicken Recipes too!
Lemon Rosemary Chicken Thighs with Vegetables
Did you make it? Please RATE THE RECIPE below!
FOLLOW ME on FACEBOOK , TWITTER , INSTAGRAM and PINTEREST !
Disclosure: I was provided a copy of this cookbook for the purposes of the review. All opinions are my own.
Originally published: April 11, 2017