Denver Omelet is always a breakfast hit and a Muffin Tin Denver Omelet is so easy! Eggs, ham, bell pepper, onion and cheese get the day going with a bang.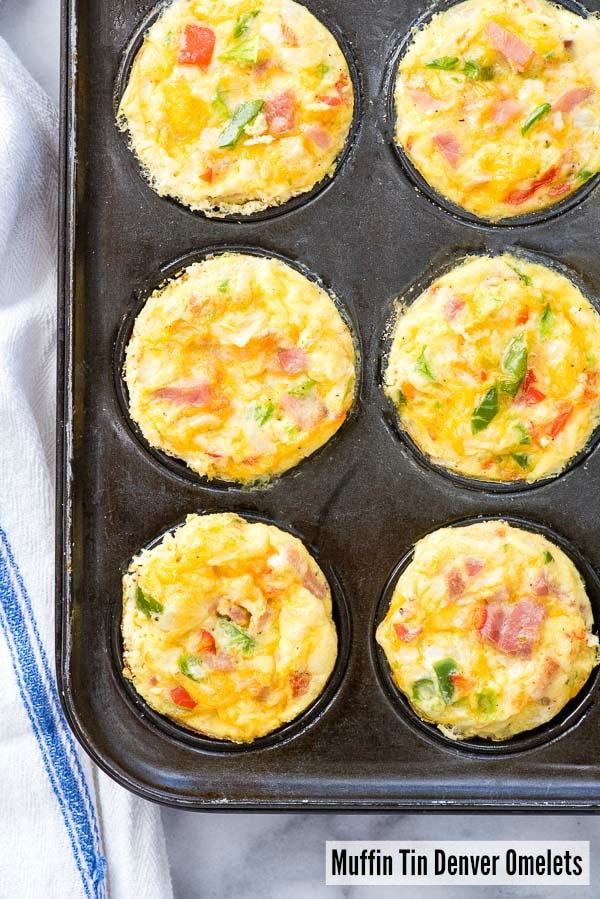 We've all heard breakfast is the most important meal of the day, but I think it also can be the most difficult.
Busy mornings, lack of inspiration, schedules that are set up to leave the least amount of time between rolling out of bed and peeling out the door. Sound familiar?
I am a breakfast protein lover. Protein sustains your energy level longer making it a perfect breakfast choice.
I often will eat lunch or dinner food for breakfast, loving something warm and savory to start the day.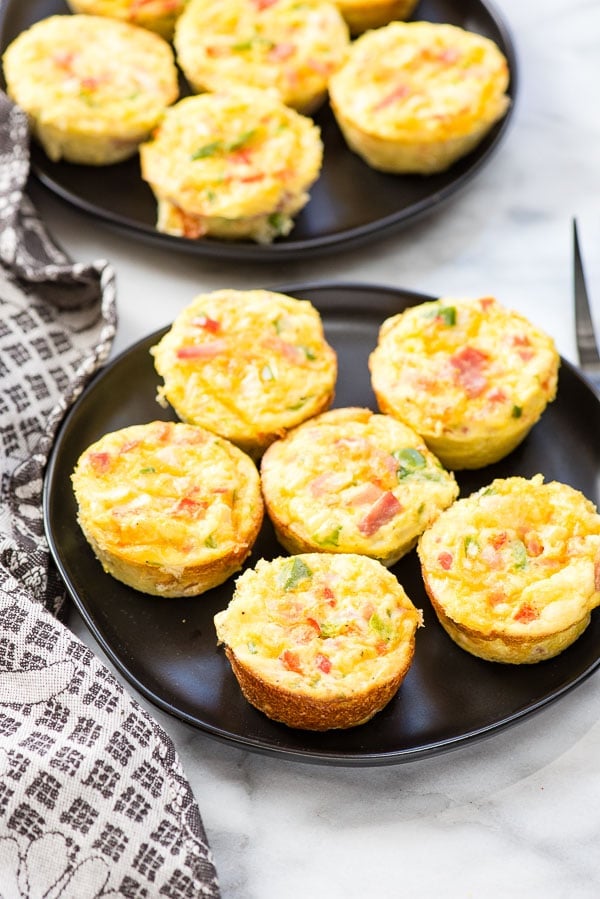 Between making school lunches, driving a kid to school, taking care of a puppy, I rarely have time to eat much in the morning and certainly nothing that would take more than a few minutes.
I have a new favorite: a Muffin Tin Denver Omelet. Need an easy, protein and flavor-packed breakfast recipe? This is the recipe.
What IS a Denver Omelet?
This classic omelet can be found on any restaurant breakfast menu due to its popularity. Ham, onion, bell pepper (usually green) and cheese fill the Denver omelet.
There is a magical flavor that happens with these ingredients. The salty ham, sweetness from the peppers, savory onion and of course cheese!
No other seasonings outside salt and pepper are needed to make this omelet perfection.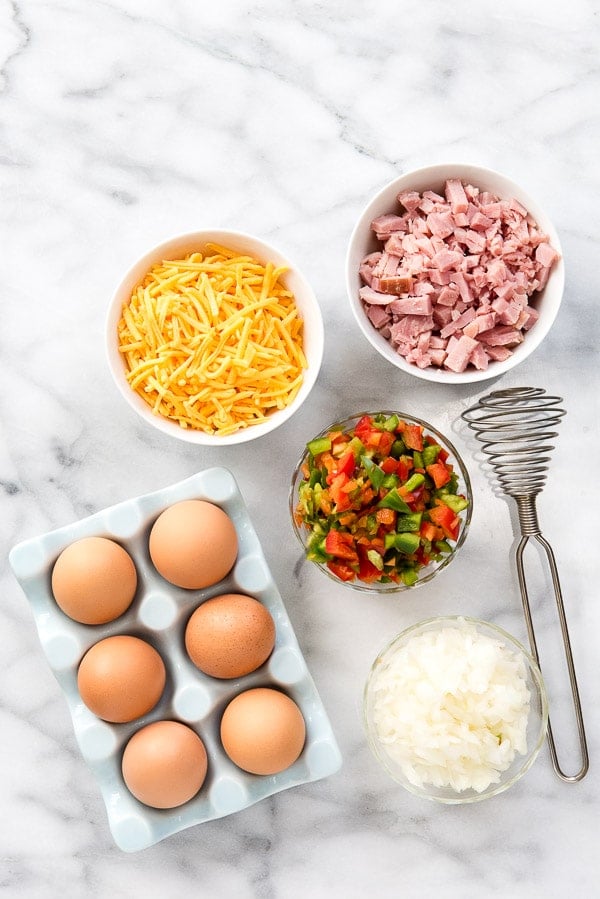 Muffin Tin Eggs are Delicious and Easy!
A Muffin Tin Denver Omelet are closer to a mini frittata in consistency. They are completely easy to make, delicious and cook in 20-25 minutes.
They can be frozen and reheated (instructions on how to freeze Muffin Tin Denver Omelets below).
Just like a traditional size Denver omelet, eggs, cheese, ham, onion, and peppers make a savory, protein-packed entre for any meal. Kid approved too!
A Portable Denver Omelet
The consistency of the Muffin Tin Denver Omelet makes them portable too!
Warm them up before taking off or use the microwave at work to heat them.
I love to add some greens and salsa on the top for a savory meal.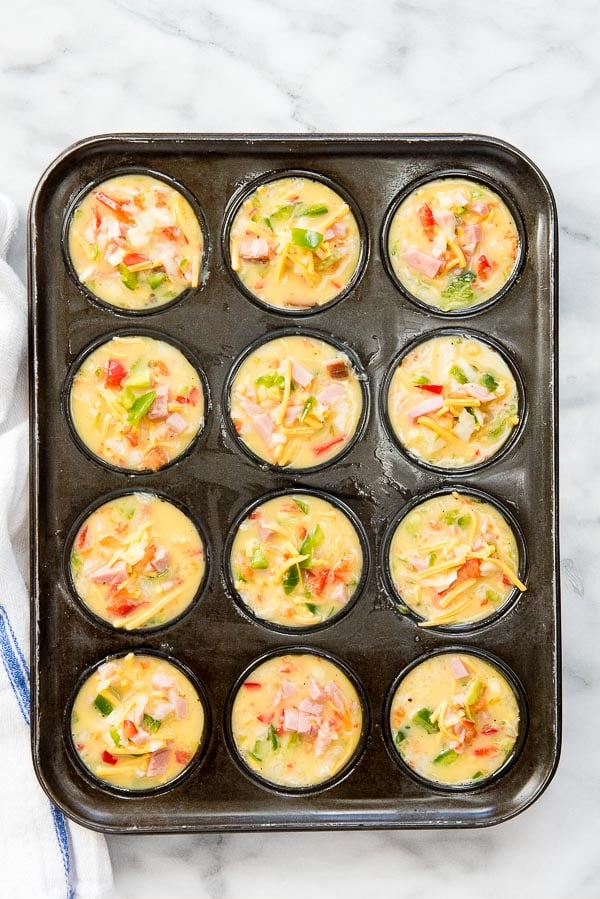 How to make Muffin Tin Denver Omelet – Step by Step:
Making these mini omelets couldn't be easier!
Whisk together the eggs and milk followed by the salt and pepper.
Stir the ham, onion, sweet bell pepper and cheese into the eggs and pour into prepared muffin tins.
Bake for 20-25 minutes until they rise and look like mini soufflés!
When taken out of the oven the muffin tin eggs slowly deflate making a totally tasty, cheesy mini Denver omelet.
Tip for Mess-Free Baking
Because the muffin tins are filled almost to the top, to prevent spilling, place the prepared muffin tin on a large, rimmed baking sheet before filling.
This makes it much easier to transport the tray to and from the oven and keeps the muffin tin stable in the oven too!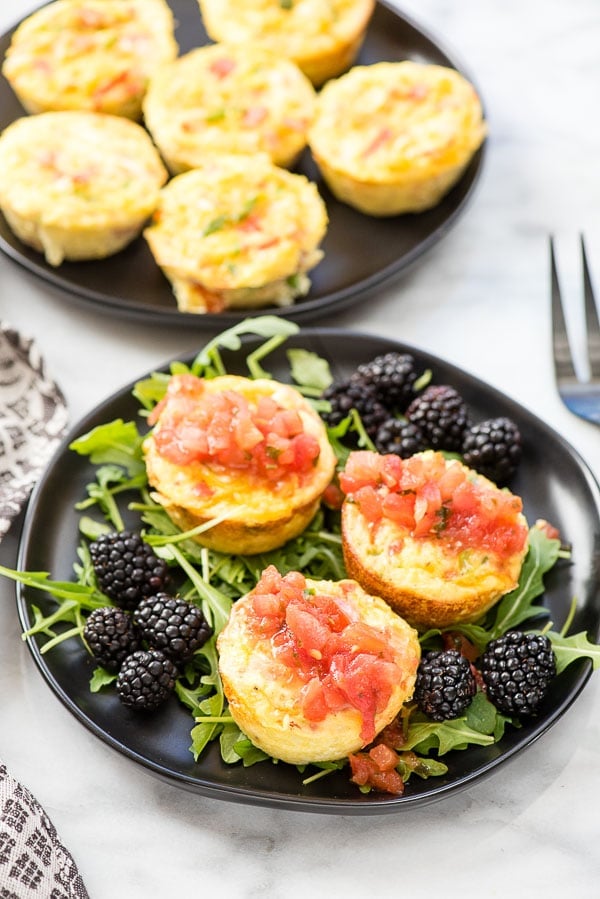 How To Freeze Muffin Tin Denver Omelets
Freezing these mini Denver omelets is so easy! It provides a quick breakfast option any time.
Line a rimmed baking sheet with wax paper or parchment paper.
Once the muffin tin eggs have cooled, place them on the prepared baking sheet with space in between.
Place into the freezer and allow them to fully freeze.
When frozen, add them to a large plastic storage bag or freezer-proof container and place back in the freezer until use.
Note: because they were individually frozen first, they should not stick together and can be removed individually when desired.
How To Reheat chilled or thawed Muffin Tin Denver Omelets
Simply microwave for 1 minute.
More Muffin Tin Recipes to Try:
If you've tried this Muffin Tin Denver Omelet recipe forget to rate the recipe below!
FOLLOW MEon FACEBOOK, TWITTER, INSTAGRAM and PINTEREST to see more delicious food and what I'm up to!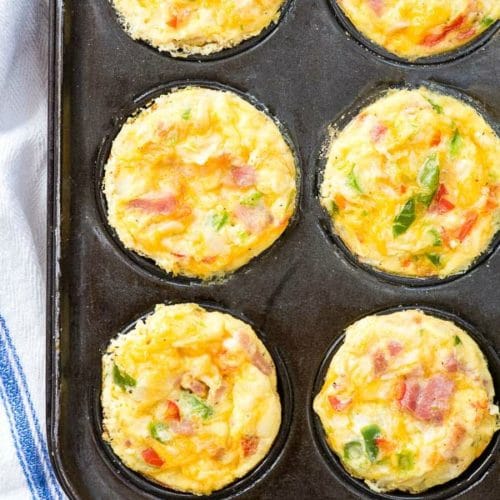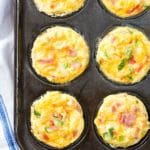 Muffin Tin Denver Omelet
A fast, easy way to get breakfast on the table or on the go. Mini Muffin Tin Denver Omelets are a cinch to make with less than 5 minutes active cooking time. They can be chilled and reheated, or frozen.
Servings
6
2 mini omelets per serving
Ingredients
10

large

Eggs

1/4

cup

Milk

1/8

teaspoon

Black Pepper

1/4

teaspoon

Kosher Salt

1/2

cup

diced Ham

1/3

cup

diced Bell Pepper

1/3

cup

dinced Yellow Onion

1/3

cup

grated Cheddar Cheese
Instructions
Preheat oven to 350 degrees. Spray a 12-cavity muffin tin (or 2 6-cavity muffin tins) and place on a rimmed baking sheet.

In a 4 cup glass measuring cup or mixing bowl, whisk together the eggs and milk. Add the pepper and salt; whisk in.

Add the ham, bell pepper, onion and cheese; stir to combine. Evenly distribute in the prepared muffin tin (will fill to just below to the top of each cavity).

Bake for 20-25 minutes until set (will rise and be puffy on top). Remove and allow to cool slightly (normal for them to deflate).
Nutrition Facts
Muffin Tin Denver Omelet
Amount Per Serving
Calories 167
Calories from Fat 90
% Daily Value*
Total Fat 10g 15%
Cholesterol 322mg 107%
Sodium 383mg 16%
Potassium 165mg 5%
Total Carbohydrates 2g 1%
Protein 14g 28%
* Percent Daily Values are based on a 2000 calorie diet.