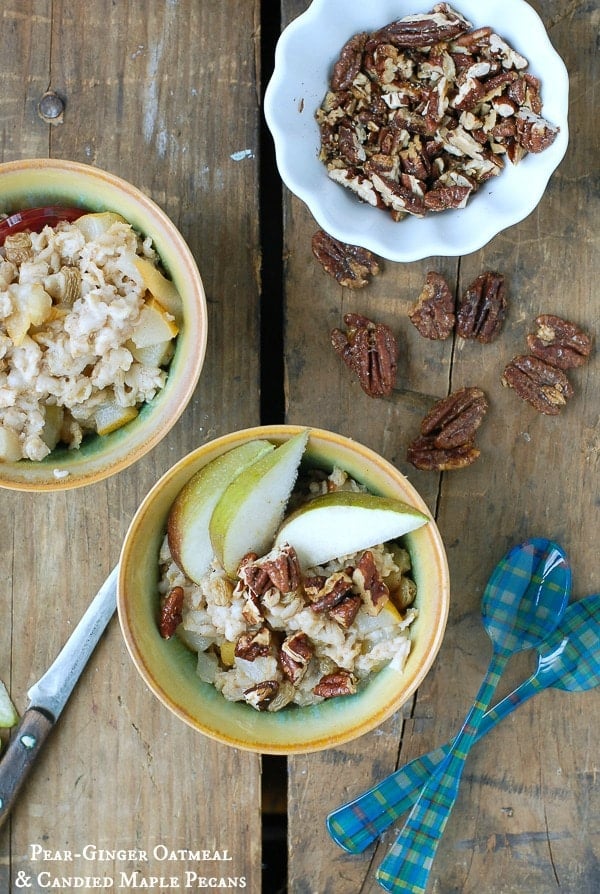 Fall is here and though we in Colorado are ping-ponging between our first snow last week back to the mid 80's this week, the season for comfort food has arrived!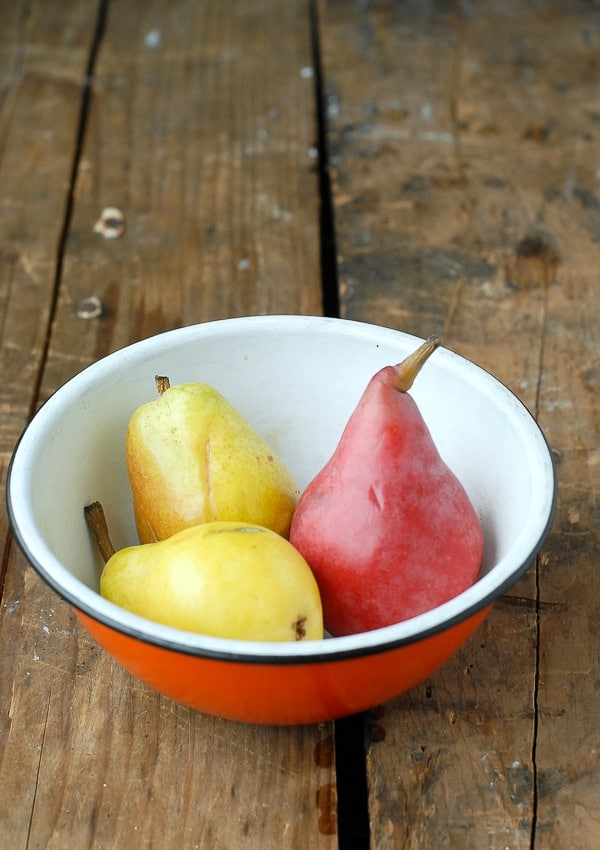 I love incorporating seasonal ingredients in classic dishes to give them a twist. Weekday morning breakfasts can be a bit lack luster I find, and perfect candidates for a bit of seasonal tszujing up. Oatmeal for me definitely falls in the comfort food genre; probably more from the childhood nostalgia of it than the actual flavor……since by itself there isn't any, right?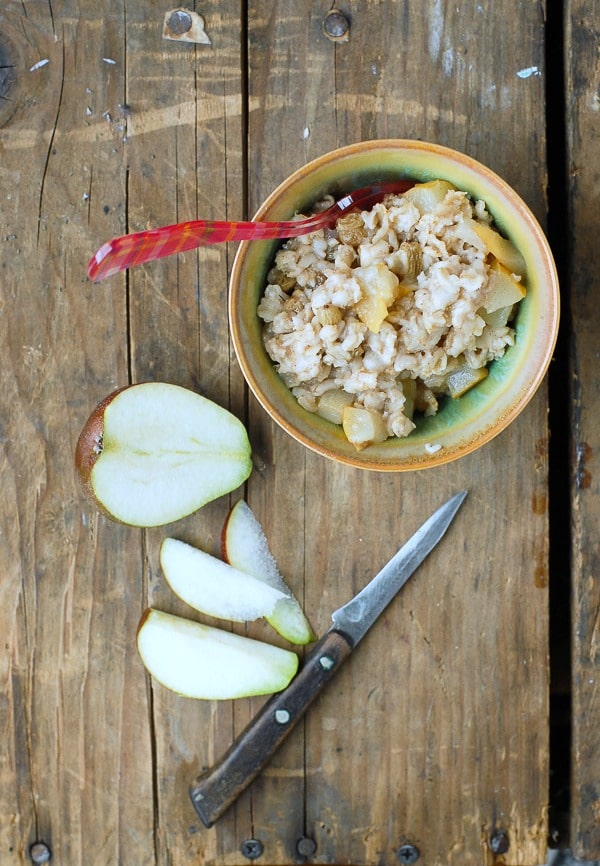 As I was cooking up the breakfast I'm sharing today I had an unexpected flashback to my childhood remembering a bowl of simple oatmeal served with a pat of butter, sprinkle of brown sugar and a bit of milk that forms a moat around the edge of the oats. There may have been a dash of cinnamon in there too. I think we always had it that way and I loved it!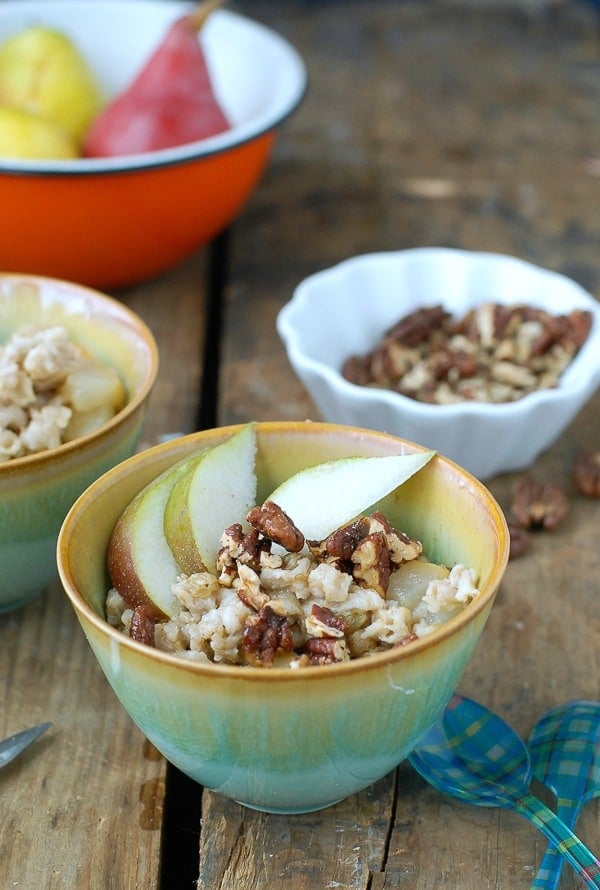 As an adult however I tend to use a few tricks I learned in college that allow more natural flavors to come through. If you like fruit in your oatmeal, add it when the water is coming to a boil before you add the oats. It's perfect for firmer fruits such as apples or pears, as well as for reconstituting raisins to make them plump and soft. Adding the fruit when the water is coming to a boil allows the fruits to be soft when the oatmeal is done and release fruit sugar into the water making the oatmeal sweeter naturally.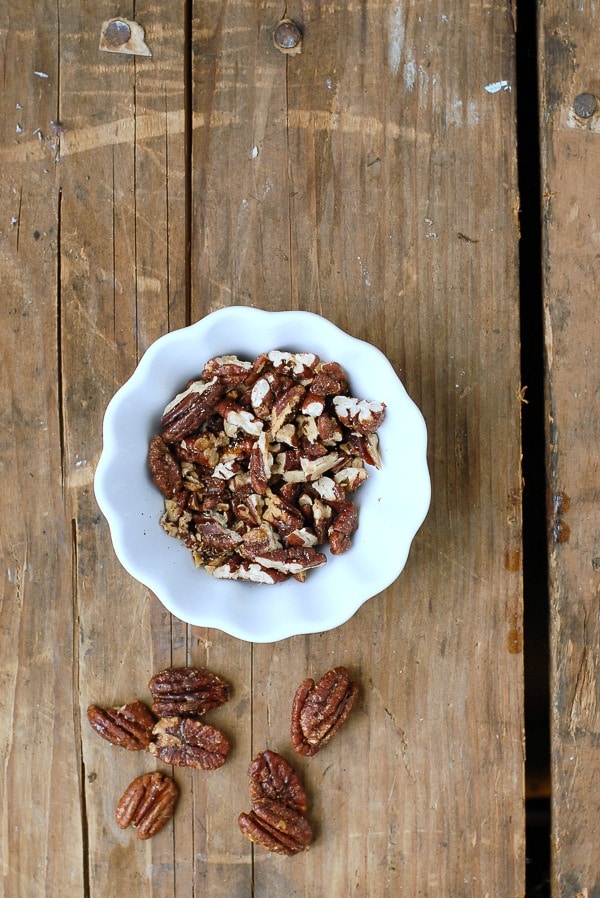 This oatmeal celebrates autumn with pear, crystallized ginger, golden raisins and pumpkin pie spice. Lightly sweet, it is a filling dish with a naturally sweet flavor (but always could take a drizzle of honey or maple syrup if you are so inclined)! I personally love multiple textures in my dishes so added Candied Maple Pecans chopped up as a topping. The pecans are a fantastic stand alone for snacking, on salads, desserts and are whipped up in about 30 minutes. Two recipes that are great together to kick off your fall mornings!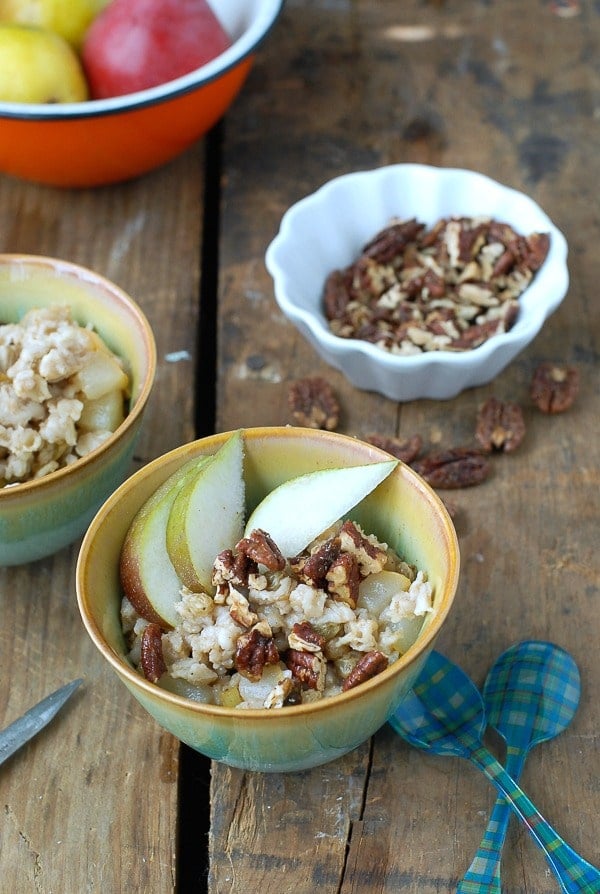 Try These Too!
Candied Pecans with Cinnamon Sugar