Want to make a fun, festive Easter cake that is super easy to make (and people will be mystified how you did it)? This Easter Egg Pinata Cake is the answer. It's a box mix hack so any type of cake can be used (regular, gluten-free, allergy-friendly, etc)!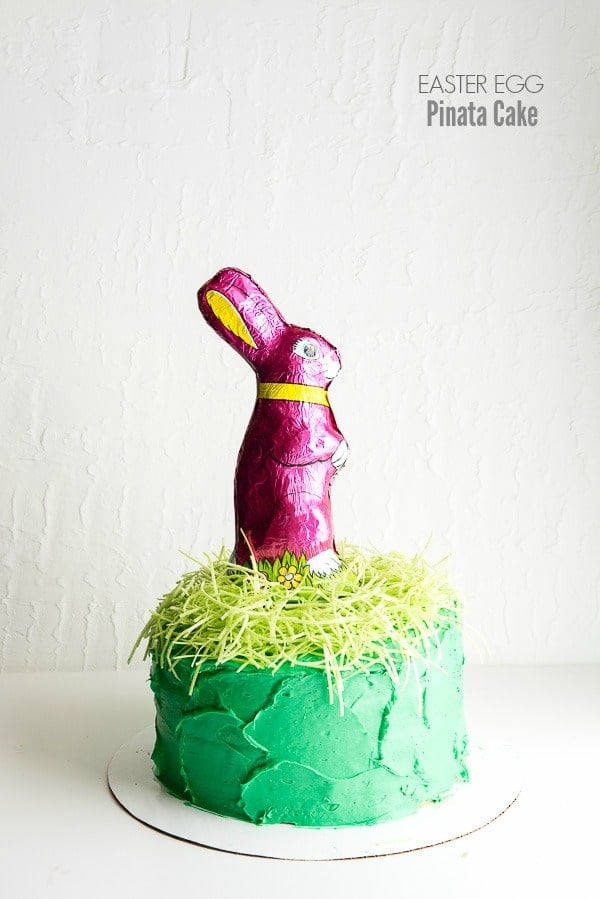 I'm really excited about today's post! It's an Easter Egg Pinata Cake that anyone can make. I mean it; a.n.y.one. It's a box mix 'hack' which means you can use any box cake mix. Mainstream, gluten-free, allergy-friendly, organic, really processed; any mix. If you want to substitute your favorite from-scratch recipe, go for it! My goal was to share a fun whimsical cake for Easter that is easy to make but packs a punch in the surprise and cuteness department. You can let me know how you think I did!
This idea sprang from my birthday cake week late last month when both of my gluten-free kids had birthdays. For my younger, my son, there is usually a thematic request. This year that came late and was for a video game that isn't popular enough to find characters to put on top of the cake (like last year's Gluten-Free Funfetti Minecraft Cake).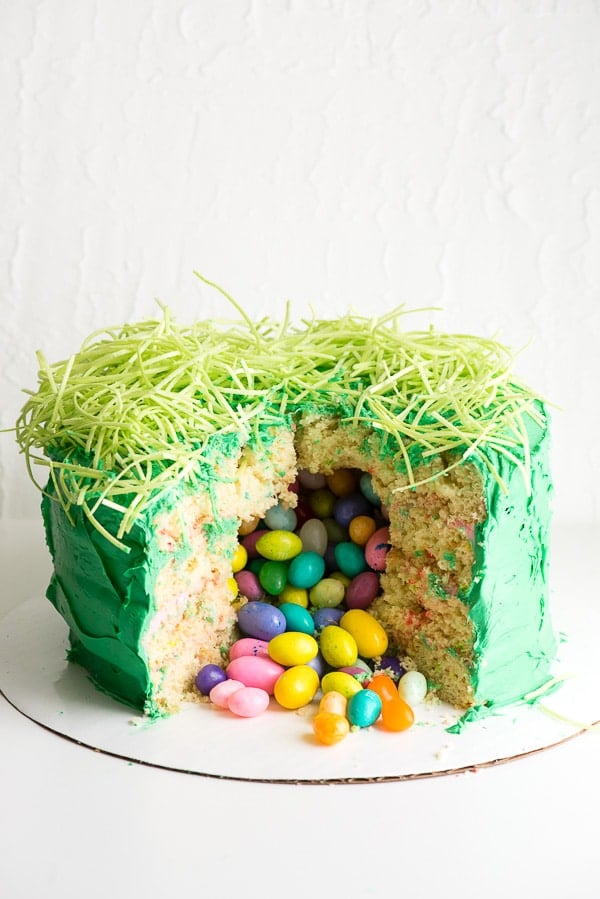 I decided to go in a completely different direction to make a unicorn cake. 'Unicorn' being the technique you've probably seen on Pinterest with the swirly colors. Somewhere in the making of it I decided to make a piñata cake (like the Great Pumpkin Pinata Cake I made for Halloween a few years ago). I found his favorite candy and some great happy colored candy too to put inside. Then I decided to go a bit nuts with the outside and make it a more literal unicorn cake. It turned out looking like it was for a 4 year old girl rather than a 14 year old boy but gave me the idea for today's Easter Egg Pinata Cake.
My goal for the cake today was that it would be easy, flexible for people's preferences or dietary needs, would not require hours in the kitchen and would not have to be perfect (I don't do 'perfect' so well with fussy baked goods). I think you'll agree this meets those objectives.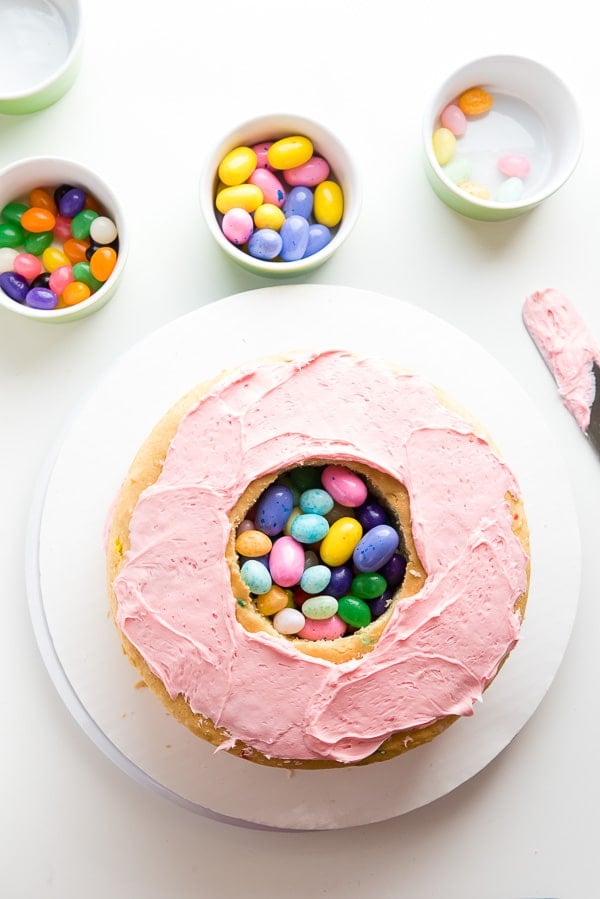 In a nutshell 2 boxed mixes of cakes are made into 8-inch or 9-inch layer cakes (mine is 9-inch layers of boxed Gluten-Free Funfetti Cake). A 3 ½ inch hole is cut in the center of two of the layers (I used the mouth of a glass to cut around). I have a trick to ensure they line up too.
One of the layers with a hole is 'frosted' onto a whole layer (I used prepared strawberry frosting which is gluten-free). The second layer with a hole is frosted onto that one. A mix of egg-shaped candies are placed into the hole (about 1 ½ cups of candy) and the last layer is frosted on top.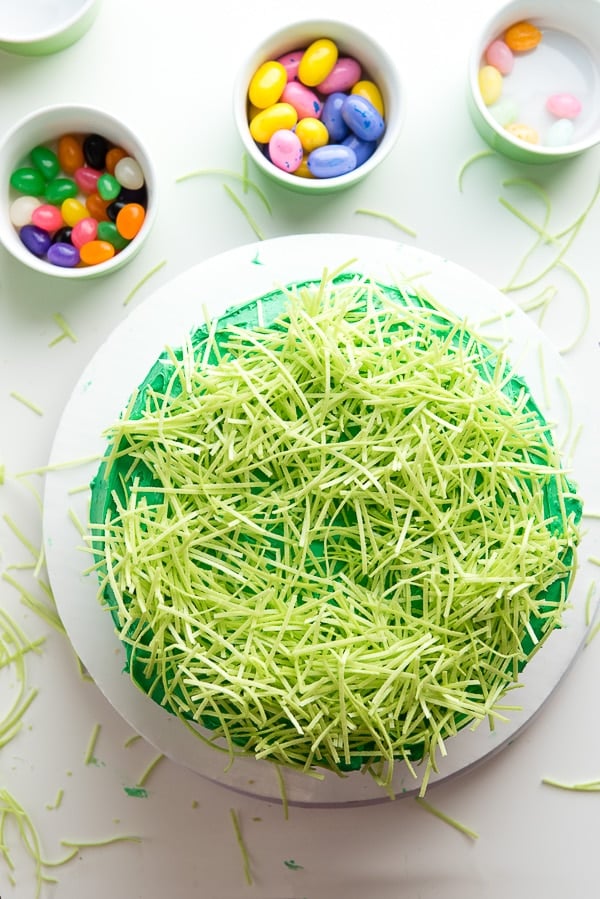 The entire cake is frosted and the top decorated. I found some edible grass that I loved and put that on the top (which is also great if your cake is not totally level; no one will ever know). You could use more candy, or cut up thin green licorice ropes or candy straws (the sugared sour candy in thin strings) for faux grass. I also fell in love with this pink foil bunny and decided it would be the perfect finishing touch.
Letting the cake layers fully chill and the cake fully chill helps with clean cutting of the holes, slices and for frosting. Also for those making gluten-free cake, gluten-free baked goods really are the best consistency when fully cooled.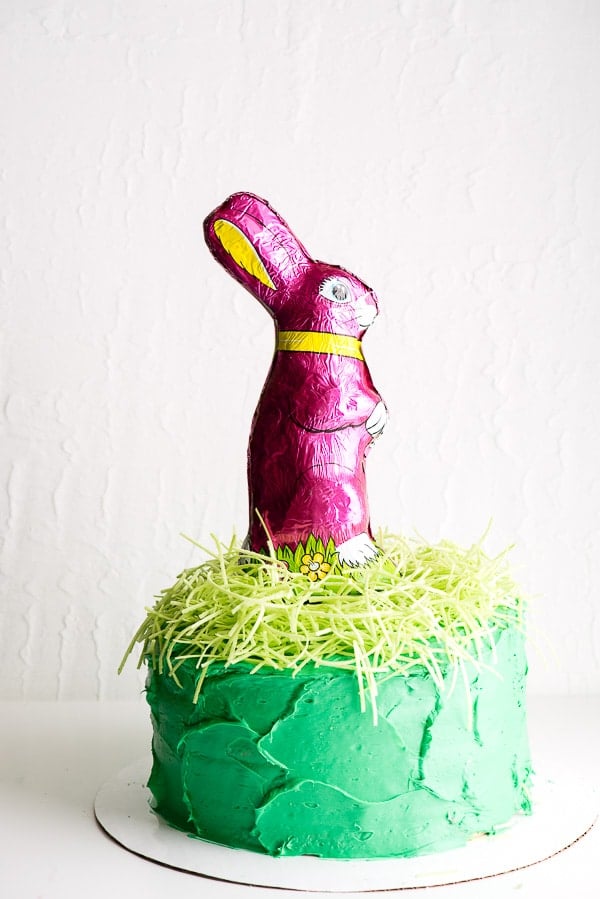 I did not level my cake layers but you certainly can. When I do that I use a cake leveler from Wilton I bought last year that really works great. I do use a cake turntable to make frosting easier.
That's it! You can do this, right? No worries; there are step by step photos in the recipe for help. What a fun surprise for your Easter meal to unveil this Easter Egg Pinata Cake. Don't tell anyone there is a surprise inside and see what joy it brings. Trust me!