Easter Cake with a surprise inside is super easy to make and people will be mystified how you did it! It's a box mix hack so any type of cake can be used (regular, gluten-free, allergy-friendly, etc)!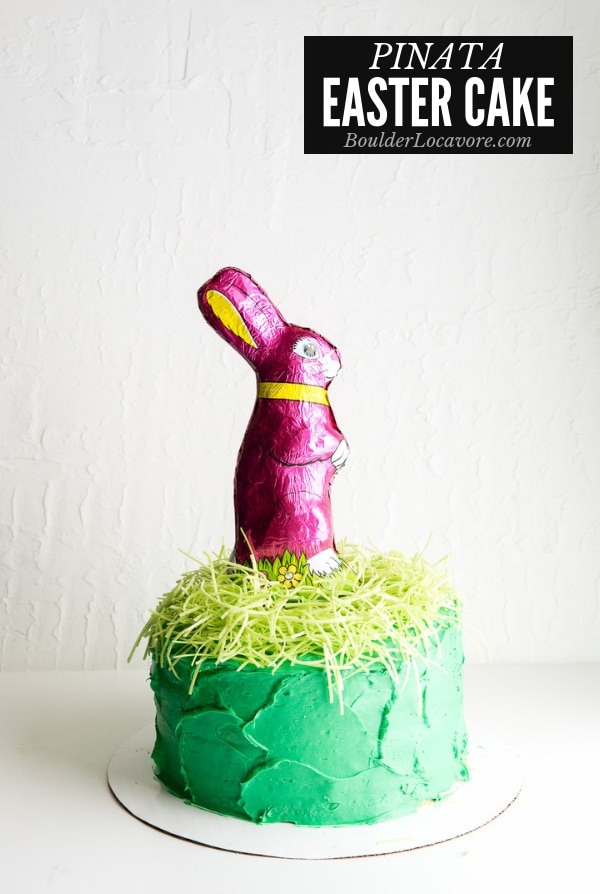 A fun cake makes any day festive and creating an Easter Cake with a little bit of whimsy is perfect this time of year.
My goal for the cake today was:
It's easy
Anyone of any skill level can make it
Flexible for people's preferences or dietary needs,
Would not require hours in the kitchen, and
Would not have to be perfect (I don't do 'perfect' so well with fussy baked goods).
I think you'll agree this meets those objectives.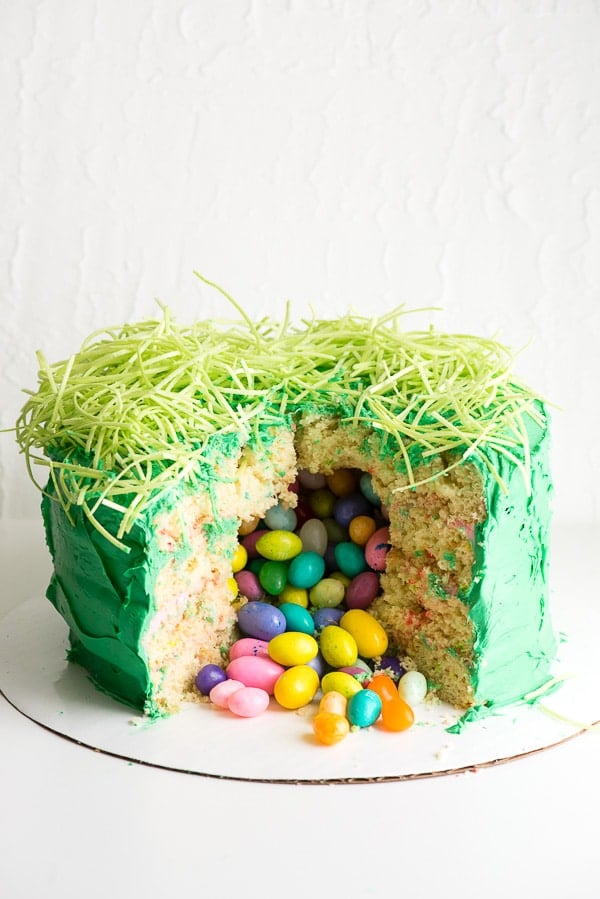 What is a Pinata Cake?
I always personally love an unexpected surprise and pinata cakes are perfect for that.
A normal looking cake on the outside but when cut into reveals a cache of candy!
I was hooked after making one for Halloween a few years ago.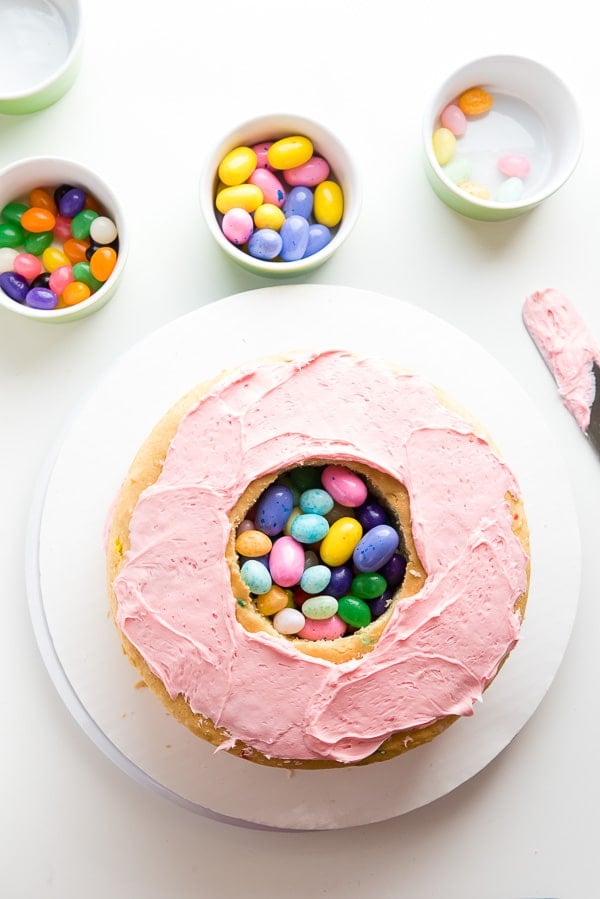 Ingredients for this Easter Cake
My goal was to make this Easter Cake really, really easy and a complete surprise at the same time.
All the ingredients are readily available in grocery stores and you can adjust to your preferences!
Box Cake Mix (I used Funfetti) with other ingredients specified for the mix
Prepared Frosting (I used Strawberry inside and green Vanilla on the outside)
Easter candy
Outside decoration (your choice):

Edible grass
Green dyed coconut
Hollow Chocolate Bunny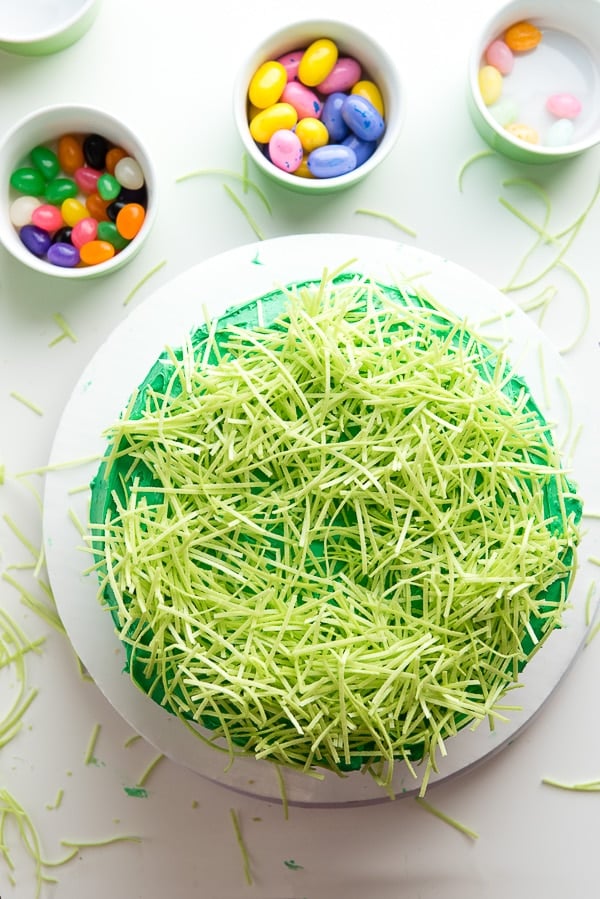 Easter Cake Top – Decorating Ideas
The top of the Easter Cake can be decorated in any way you find fun.
Here are some ideas:
I found some edible grass that I loved and put that on the top

TIP: this is great if your cake is not totally level; no one will ever know.

You could use more candy, or
Cut up thin green licorice ropes (cut them into thin strips if a thin variety is unavailable), or
Candy straws (the sugared sour candy in thin strings) for faux grass.
Color shredded coconut green (how to in this Easter Muddy Buddies recipe)
I also fell in love with this pink hollow chocolate foil bunny and decided it would be the perfect finishing touch.
TIP for Adding a Large Chocolate Bunny
Small solid chocolate foil-covered bunnies could sit on top of the cake by themselves.
To place a large chocolate bunny (hollow) on the top of the cake as shown in the photos, I inserted toothpicks into the bottom of the bunny to stabilize it on top of the cake.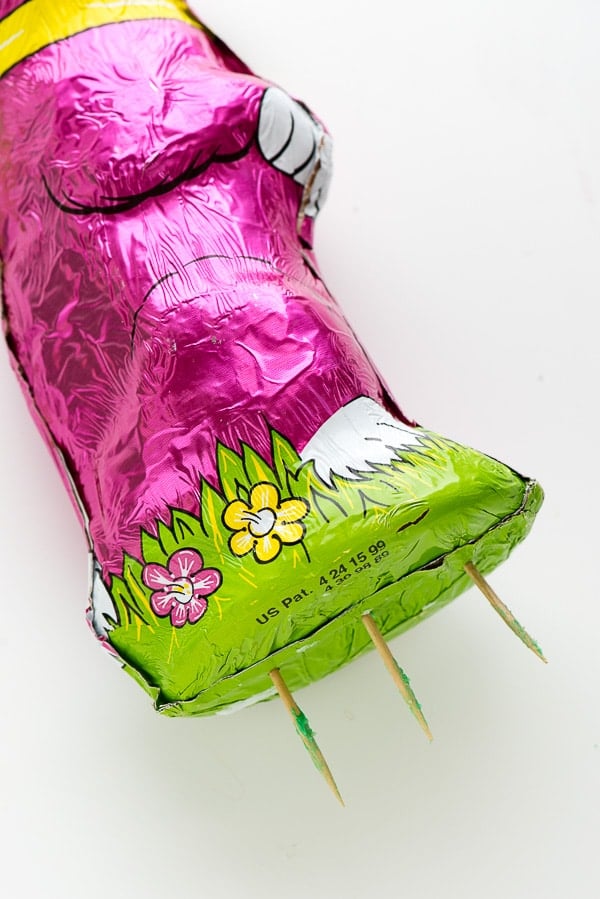 Easter Cake PRO TIPS
There are some simple tips that make this Easter Cake perfect every time!
Letting the cake layers fully chill and the cake fully chill helps with clean cutting of the holes, slices and for frosting.

How To: wrap cake layers in plastic wrap and chill (keeps cake moist and from drying out).

Any cake mix works for this Easter Cake (regular, gluten-free, allergy-friendly or your favorite from-scratch recipe)
Gluten-Free cake: gluten-free baked goods are the best consistency when fully cooled.
I did not level my cake layers but you certainly can. I use a cake leveler from Wilton that really works great.
Using a cake turntable will make frosting easier.
How to Make this Easter Cake – Step by Step
The steps for making this Easter Cake are really easy. Anyone can do it!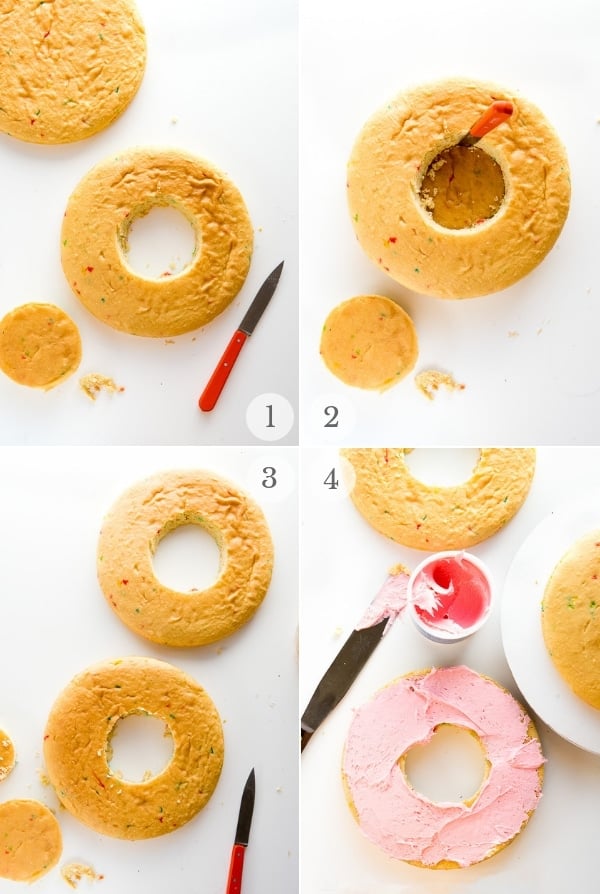 Prepare (bake and cool) the cake mixes to make 8-inch or 9-inch layer cakes (2 per mix). Note: cake layers may be wrapped in plastic wrap and chilled before proceeding for easier cutting and frosting.
Cut a 3 ½ inch hole in the center of one layer of the cake TIP: I used the rim of a large glass as a guide. (photo 1)
Place the layer with a hole on top of a second layer aligning the sides to have the layers directly underneath each other. Cut a hole in the second cake. (photo 2 & 3)
Place an uncut layer of cake on a serving plate or cake cardboard.
Spread a layer of frosting on the bottom side of one of the cut layers of cake (photo 4) and place it on top of the bottom layer. (photo 5)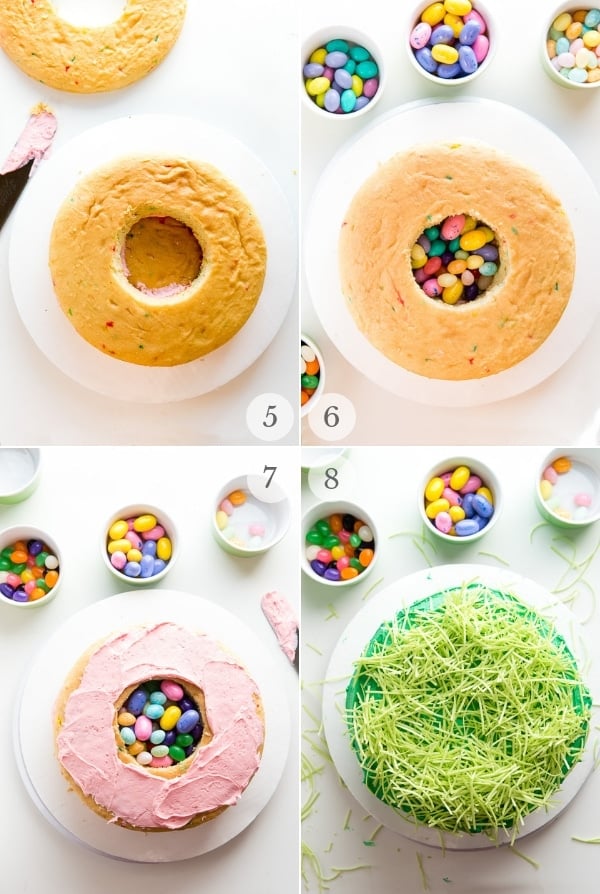 Repeat with the second cut layer, aligning it so the holes are directly above each other.
Fill the hole with the assorted Easter candy. (photo 6)
Spread a layer of frosting on top of the third layer (photo 7) and place the last (uncut) layer on top.
Frost the outside of the cake and decorate the top. (photo 8)
Chill fully for the best slicing.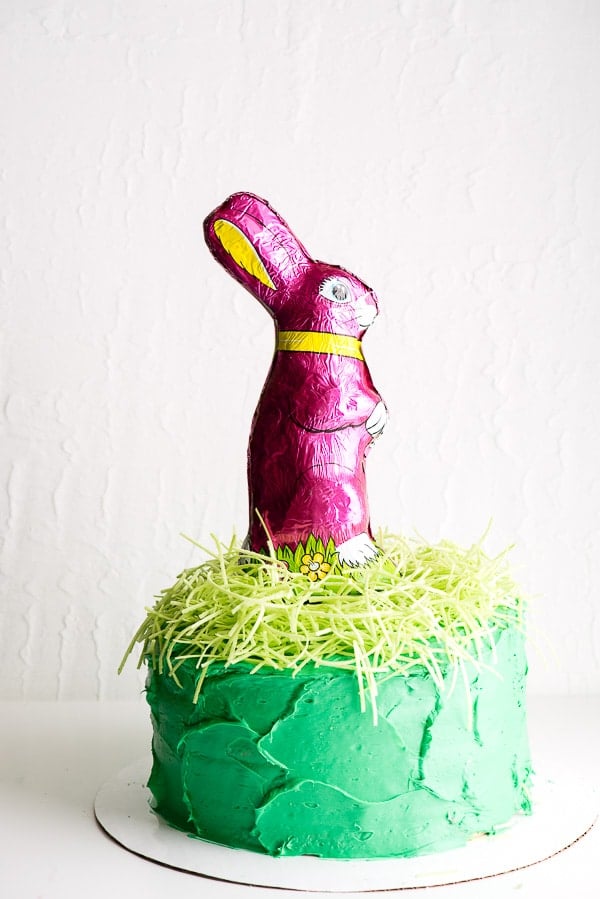 Did you make it? Please RATE THE RECIPE below!
Originally published: March 14, 2017